Participating in sports and physical activities offers numerous benefits, such as improved physical fitness, enhanced mental well-being, and opportunities for social interaction. However, along with the many positive aspects, the risk of sports injuries is an inherent reality that athletes and enthusiasts must acknowledge. Whether you are a seasoned athlete or a recreational sports enthusiast, understanding the importance of injury prevention and adopting safety measures can significantly reduce the likelihood of sustaining injuries and contribute to a more enjoyable and sustainable sports experience.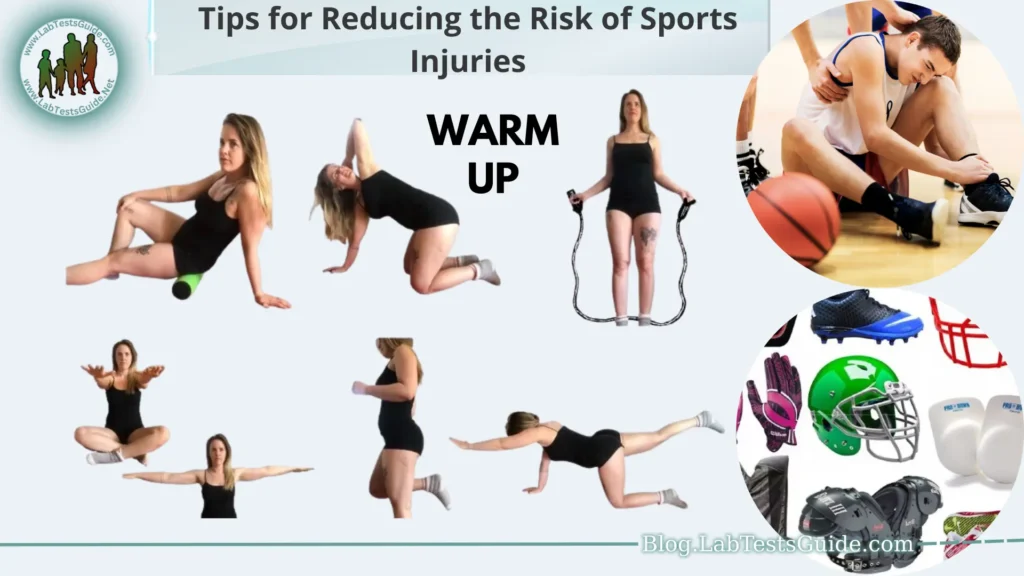 In this comprehensive guide, we will explore a variety of practical tips and strategies to help you reduce the risk of sports injuries. From proper warm-up and conditioning techniques to selecting appropriate gear and equipment, and from practicing proper form to understanding the significance of rest and nutrition, we will cover a range of essential aspects that contribute to injury prevention. Additionally, we will delve into sports-specific tips, offering tailored advice for various activities. While complete elimination of injuries may not be possible, the knowledge and practices shared here will empower you to make informed decisions and minimize the risk of injuries, allowing you to fully embrace the joy and benefits of participating in sports.
What Is Injury Prevention in Sports?
Here are some key points about injury prevention in sports.
Pre-Activity Preparation: Proper warm-up exercises and dynamic stretching before sports activities can help prepare the body for the physical demands and reduce the risk of muscle strains and sprains.
Conditioning and Strength Training: Regular conditioning and strength training programs can improve the body's resilience, enhance muscular strength, and reduce the likelihood of injuries.
Correct Technique and Form: Learning and practicing the proper techniques for various sports movements can help minimize the risk of acute and overuse injuries.
Proper Gear and Equipment: Wearing appropriate footwear, protective gear, and well-maintained equipment can provide crucial support and safeguard against injuries.
Monitoring Intensity and Load: Avoiding sudden spikes in training intensity and gradually increasing workload can prevent overuse injuries and burnout.
Rest and Recovery: Adequate rest and recovery periods are vital for allowing the body to heal and rebuild, reducing the risk of overuse injuries.
Nutrition and Hydration: Maintaining a balanced diet and staying hydrated are essential for optimal athletic performance and injury prevention.
Environmental Considerations: Being aware of environmental factors like weather conditions and playing surfaces can help athletes take necessary precautions and prevent accidents.
Sports-Specific Measures: Different sports have unique injury risks, so implementing sports-specific injury prevention strategies is essential.
Proper Medical Care: Promptly seeking professional medical attention for injuries, and following a rehabilitation plan, can ensure a safe and successful return to sports activities.
Educating Athletes and Coaches: Raising awareness about injury prevention and safety measures among athletes, coaches, and parents can lead to a safer sports environment.
How to Listen to Your Body:
Here are some key points on how to listen to your body.
Recognize Pain and Discomfort: Pay attention to any sensations of pain or discomfort during and after physical activities. Differentiate between normal muscle soreness after exercise and sharp, persistent pain that may indicate an injury.
Know Your Limits: Understand your physical capabilities and limitations. Avoid pushing yourself too hard, too quickly, and respect your body's boundaries during workouts and sports activities.
Rest and Recovery: Acknowledge the importance of rest and recovery. Provide your body with enough time to recuperate after intense workouts or competitions, as adequate rest is crucial for preventing overuse injuries and fatigue.
Identify Warning Signs: Be aware of warning signs of overtraining or potential injuries, such as chronic fatigue, decreased performance, frequent headaches, or persistent joint pain.
Listen to Fatigue: Pay attention to feelings of fatigue. If you feel excessively tired or drained, it may be a signal that you need additional rest or a change in your training routine.
Stay Hydrated and Nourished: Listen to your body's thirst and hunger cues. Proper hydration and nutrition are vital for maintaining peak performance and preventing injuries.
Modify Training as Needed: Adapt your training program based on your body's response. If you experience pain or discomfort, consider modifying your workouts or seeking advice from a qualified coach or trainer.
Manage Stress: Emotional and mental well-being can impact physical performance. Be mindful of stress and its effects on your body, and incorporate stress-reducing practices into your routine.
Communicate with Healthcare Professionals: If you experience persistent pain or discomfort, consult with healthcare professionals such as doctors, physiotherapists, or sports medicine specialists for proper evaluation and treatment.
Develop Body Awareness: Develop body awareness through activities like meditation, yoga, or mindfulness practices. Understanding how your body feels and functions can enhance your ability to listen to its needs.
Understanding Common Sports Injuries:
Here are some key points to help you gain insights into common sports injuries.
Sprains and Strains: Sprains occur when ligaments, which connect bones to each other, are stretched or torn. Strains involve stretching or tearing muscles or tendons, which connect muscles to bones. These injuries often result from sudden movements, overextension, or improper form.
Fractures: Fractures are breaks or cracks in bones. They can occur due to direct impacts, falls, or high-impact collisions during sports activities.
Tendonitis: Tendonitis is inflammation of the tendons caused by repetitive movements, overuse, or excessive stress on the tendons. Common areas affected include the shoulders, elbows, knees, and ankles.
Dislocations: A dislocation happens when a bone is forced out of its normal position within a joint. It can occur during falls, collisions, or awkward landings.
Concussions: Concussions are a type of traumatic brain injury that results from a blow or jolt to the head. They are common in contact sports like football, rugby, and soccer.
Stress Fractures: Stress fractures are tiny cracks in bones caused by overuse and repetitive impact, often seen in runners and athletes in high-impact sports.
Rotator Cuff Injuries: These injuries affect the shoulder's rotator cuff muscles and tendons and are common in sports that involve repetitive overhead arm movements, such as baseball and tennis.
Patellofemoral Syndrome: Also known as runner's knee, this condition involves pain around the kneecap and is often caused by overuse or improper tracking of the kneecap during movement.
Achilles Tendon Injuries: Injuries to the Achilles tendon, which connects the calf muscles to the heel bone, can occur due to sudden movements or overuse, particularly in sports involving jumping and running.
Hamstring Injuries: Hamstring strains are common in sports that require quick acceleration and deceleration, such as sprinting and soccer.
Proper Warm-up and Cool-down:
Here are some key points about the importance and benefits of incorporating warm-up and cool-down into your fitness regimen.
Warm-Up:
Increased Blood Flow: Warm-up exercises increase blood flow to the muscles, which delivers more oxygen and nutrients, preparing them for physical activity.
Improved Muscle Elasticity: Gentle dynamic stretches during the warm-up help improve muscle elasticity and flexibility, reducing the risk of strains and tears during exercise.
Mental Preparation: Warm-up activities help mentally prepare athletes for the upcoming physical demands, enhancing focus and concentration.
Activation of Nervous System: Warm-ups activate the nervous system, enabling better coordination and reaction times during sports activities.
Gradual Increase in Heart Rate: A gradual increase in heart rate during the warm-up helps prevent a sudden spike in blood pressure when engaging in intense exercise.
Injury Prevention: Proper warm-up reduces the risk of injuries by preparing the body and muscles for the specific movements and stresses of the sport or activity.
Warm-Up Techniques:
Light aerobic activity (e.g., jogging, cycling) to elevate heart rate.
Dynamic stretching (e.g., leg swings, arm circles) to improve flexibility.
Sport-specific movements to mimic the actions of the activity.
Cool-Down:
Decreased Heart Rate: Cool-down exercises gradually lower the heart rate, helping the body transition from a state of intense activity to a resting state.
Waste Removal: Gentle cool-down activities assist in flushing out waste products, such as lactic acid, from the muscles, reducing muscle soreness and stiffness.
Improved Recovery: Cool-down promotes blood circulation to aid in the recovery process and prevent the pooling of blood in the extremities.
Reduced Risk of Dizziness and Fainting: Cooling down gradually prevents abrupt changes in blood pressure, decreasing the risk of dizziness or fainting.
Relaxation and Mental Recovery: Cool-down activities, such as deep breathing and gentle stretches, promote relaxation and mental well-being after physical exertion.
Cool-Down Techniques:
Gentle aerobic activity (e.g., slow walking or jogging) to gradually decrease heart rate.
Static stretching (e.g., hamstring stretch, calf stretch) to improve flexibility and reduce muscle tension.
Deep breathing exercises to promote relaxation.
Conditioning and Strength Training:
Here are some key points about the importance and benefits of conditioning and strength training.
Conditioning:
Improved Cardiovascular Fitness: Cardiovascular or aerobic conditioning involves activities that increase your heart rate and respiratory rate, such as running, cycling, or swimming. It enhances the efficiency of your heart and lungs, improving your endurance and stamina.
Enhanced Metabolic Function: Regular conditioning exercises can boost your metabolism, promoting better calorie burning and weight management.
Greater Energy Levels: Improved cardiovascular fitness leads to better oxygen delivery to the muscles and increased energy levels for everyday activities and sports.
Mental Benefits: Conditioning exercises release endorphins, which can improve mood, reduce stress, and enhance mental well-being.
Lower Risk of Chronic Diseases: Regular aerobic exercise is associated with a reduced risk of various chronic conditions, including cardiovascular diseases, diabetes, and obesity.
Conditioning Techniques:
Running or jogging
Cycling
Swimming
Dancing
Rowing
Jumping rope
Strength Training:
Increased Muscle Strength: Strength training involves resistance exercises that target different muscle groups, leading to increased muscle strength and power.
Enhanced Muscular Endurance: Regular strength training improves the ability of your muscles to perform repetitive tasks without fatigue, which is especially beneficial for sports and daily activities.
Injury Prevention: Strengthening muscles and supporting structures can help stabilize joints and reduce the risk of injuries during sports and other physical activities.
Strength training contributes to better bone density, reducing the risk of osteoporosis and fractures, especially in older individuals.
Body Composition: Strength training can help in achieving a leaner body composition by increasing muscle mass and boosting metabolism.
Strength Training Techniques:
Weightlifting with free weights or machines
Bodyweight exercises (e.g., push-ups, squats, lunges)
Resistance band exercises
Functional training using kettlebells or medicine balls
Choosing the Right Gear and Equipment:
Here are some key points to consider when selecting sports gear and equipment.
Safety and Protection:
Prioritize gear that offers adequate safety and protection for the specific sport or activity you engage in.
Look for helmets, pads, mouthguards, and other protective gear designed to reduce the risk of head injuries, impact, and bodily harm.
Fit and Comfort:
Ensure that your gear fits properly and feels comfortable. Ill-fitting equipment may cause discomfort or hinder your performance.
Try on different sizes and brands to find the best fit for your body type.
Quality and Durability:
Invest in high-quality gear and equipment that can withstand the demands of your sport and last longer.
Check for reputable brands and read reviews to ensure durability and reliability.
Sport-Specific Gear:
Use gear specifically designed for your sport or activity. Each sport has unique requirements, and using appropriate gear enhances safety and performance.
For example, use cleats for soccer or football, specific shoes for running, and proper racquets for tennis.
Maintenance and Inspection:
Regularly inspect and maintain your gear to ensure it remains in good condition.
Follow manufacturer guidelines for cleaning and storage to prolong the lifespan of your equipment.
Breathability and Moisture Wicking: Choose gear made from breathable and moisture-wicking materials to keep you cool and dry during intense physical activities.
Weight and Mobility:
Consider the weight and mobility of your gear, especially for sports that require quick movements and agility.
Lighter and more flexible equipment can enhance performance in certain sports.
Budget Considerations:
Set a budget for your gear and equipment purchases, but avoid compromising safety and quality for lower costs.
Look for deals and discounts on reputable brands to find a balance between cost and quality.
Proper Footwear:
Invest in appropriate footwear that provides good support and stability for your chosen sport or activity.
Different sports may require specialized shoes for specific movements and surfaces.
Personal Preference: Consider personal preferences when choosing gear, such as color, design, and additional features that suit your style and comfort.
Practicing Proper Techniques and Form:
Here are some key points to consider when focusing on proper techniques and form.
Injury Prevention: Proper techniques distribute forces evenly throughout the body, reducing the risk of overloading specific muscles or joints and preventing injuries.
Improved Performance: Correct form allows muscles to work efficiently, leading to improved strength, speed, and agility, ultimately enhancing overall performance.
Muscle Activation: Proper techniques ensure that the right muscles are engaged during movements, promoting balanced muscle development and minimizing muscular imbalances.
Movement Efficiency: Efficient movements conserve energy and reduce unnecessary strain on the body, allowing athletes to perform at their best for longer periods.
Sport-Specific Techniques: Learn and practice techniques that are specific to your sport. Each sport requires unique movements and skills, and mastering these can significantly enhance performance.
Seek Professional Guidance: Work with experienced coaches, trainers, or instructors who can provide personalized guidance and correction to improve your techniques.
Focus on Fundamentals: Master the fundamental movements and skills before advancing to more complex techniques. Building a solid foundation is essential for long-term success.
Video Analysis: Use video recording to analyze your movements. This allows you to identify areas that need improvement and track progress over time.
Listen to Feedback: Be open to feedback from coaches, teammates, or training partners. Constructive criticism helps identify areas for improvement.
Body Awareness: Develop body awareness to understand how your body moves and to recognize when you are using proper techniques during practice and competition.
Environmental Considerations:
Here are some key points to keep in mind regarding environmental considerations.
Extreme Weather Conditions:
Stay informed about weather forecasts and be prepared for various weather conditions, such as extreme heat, cold, rain, or storms.
Dress appropriately with suitable clothing and gear for the specific weather conditions.
Hydration and Nutrition:
Environmental factors, such as high temperatures or humidity, can increase fluid loss through sweating.
Stay well-hydrated and replenish electrolytes during and after physical activities, especially in hot and humid environments.
Adjust your nutrition to account for increased energy expenditure in extreme conditions.
Sun Protection:
Use sunscreen with sufficient sun protection factor (SPF) to shield your skin from harmful UV rays, especially during outdoor activities.
Wear a hat and sunglasses for additional sun protection.
Altitude Considerations:
At higher altitudes, the air is thinner, which can affect oxygen levels and lead to altitude-related illnesses.
Gradually acclimate to higher altitudes and be mindful of signs of altitude sickness.
Air Quality:
In urban areas or during wildfires, air quality may be compromised, leading to respiratory issues.
Monitor air quality levels before outdoor activities, and consider indoor alternatives if necessary.
Terrain and Playing Surfaces:
Be aware of the terrain and playing surfaces in outdoor activities, as uneven or slippery surfaces can increase the risk of falls and injuries.
Wear appropriate footwear and gear for the specific terrain.
Environmental Conservation:
Respect and protect the natural environment when engaging in outdoor activities.
Follow Leave No Trace principles, such as packing out trash and minimizing impact on the environment.
Wildlife Awareness:
In certain environments, there may be wildlife that could pose risks or require protection.
Be informed about the local wildlife and follow guidelines to avoid encounters or disturbances.
FAQs:
Why is injury prevention important in sports?
Injury prevention is essential in sports to reduce the risk of physical harm, promote the well-being of athletes, and ensure long-term participation. By implementing safety measures and proper training techniques, athletes can minimize the likelihood of injuries, enhance performance, and enjoy a sustainable sports experience.
How can I warm up properly before sports activities?
A proper warm-up involves engaging in light aerobic exercises, dynamic stretching, and sport-specific movements to gradually raise the heart rate, increase blood flow, and improve flexibility. This prepares the body for physical activity, reducing the risk of muscle strains and other injuries.
What should I consider when choosing sports gear and equipment?
When selecting gear and equipment, prioritize safety, comfort, and quality. Ensure proper fit, especially for protective gear like helmets and pads. Use sport-specific equipment designed to withstand the demands of your chosen activity, and maintain it regularly for optimal performance and longevity.
How can I practice proper techniques and form in sports?
Practicing proper techniques involves seeking guidance from experienced coaches or trainers, focusing on fundamental movements, and incorporating video analysis. Regular practice and a willingness to receive feedback are essential for improving skills and maintaining correct form.
What are the environmental considerations in sports?
Environmental considerations include being mindful of weather conditions, staying hydrated and protected from the sun, adapting to high altitudes, respecting the environment, and being aware of potential hazards like wildlife and uneven terrain.
How can I prevent overuse injuries in sports?
To prevent overuse injuries, balance your training routine with adequate rest and recovery periods. Incorporate cross-training to vary the stress placed on your body, and listen to your body's signals of fatigue or discomfort.
What should I do if I sustain a sports injury?
If you sustain a sports injury, immediately stop the activity and apply the RICE method (Rest, Ice, Compression, Elevation) to manage initial injury care. Seek professional medical attention to assess the severity of the injury and receive appropriate treatment and rehabilitation guidance.
How can I create a safe sports environment for myself and others?
Promote a safe sports environment by following rules and safety guidelines, providing appropriate supervision, maintaining facilities and equipment, and encouraging open communication about injuries and safety concerns.
Can proper nutrition help prevent sports injuries?
Yes, proper nutrition plays a crucial role in injury prevention. Consuming a balanced diet that provides essential nutrients can support muscle function, energy levels, and overall health, reducing the risk of injuries and improving recovery.
Should I consult a healthcare professional for personalized injury prevention advice?
Yes, consulting with healthcare professionals, such as doctors, physiotherapists, or sports medicine specialists, can provide personalized advice and injury prevention strategies tailored to your specific needs and sport-specific requirements.
Conclusion:
In conclusion, prioritizing injury prevention in sports is paramount for athletes and sports enthusiasts alike. By following the tips and strategies outlined in this comprehensive guide, individuals can significantly reduce the risk of sports injuries and enhance their overall sports experience. Proper warm-up and cool-down routines, choosing the right gear and equipment, practicing proper techniques and form, and being mindful of environmental considerations are all key elements in safeguarding the body during physical activities. Additionally, maintaining proper nutrition, managing workload, and seeking professional guidance when needed contribute to a safer and more enjoyable sports journey. Embracing a holistic approach to injury prevention fosters a culture of safety, longevity, and optimal performance in sports, allowing individuals to fully embrace the benefits and joys of being active participants in their chosen activities.