Inflammation is a natural response of the body's immune system to protect itself from injury, infection, or illness. However, chronic inflammation can have negative effects on our health and is linked to various diseases, including heart disease, diabetes, arthritis, and certain types of cancer. Fortunately, there are several lifestyle changes and habits that can help reduce inflammation in the body and promote overall well-being.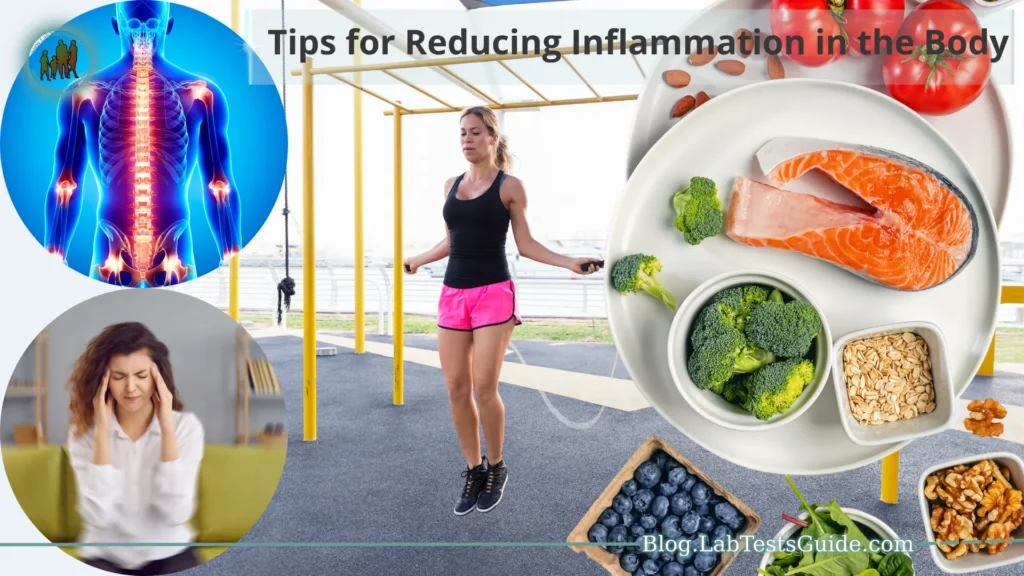 In this guide, we will explore some effective tips for reducing inflammation. These tips encompass dietary choices, physical activity, stress management, and other lifestyle factors that can have a significant impact on inflammation levels. It's important to note that while these suggestions can be beneficial for many individuals, it's always recommended to consult with a healthcare professional for personalized advice, especially if you have specific health concerns or conditions.
Follow an Anti-Inflammatory Diet
Here are some key principles to follow:
Emphasize Fruits and Vegetables: Include a variety of colorful fruits and vegetables in your diet. They are rich in antioxidants, vitamins, and minerals that help combat inflammation. Berries, leafy greens, cruciferous vegetables (like broccoli and cabbage), and citrus fruits are particularly beneficial.
Choose Whole Grains: Opt for whole grains like brown rice, quinoa, oats, and whole wheat bread instead of refined grains. Whole grains provide fiber and nutrients that can help reduce inflammation.
Include Healthy Fats: Incorporate sources of healthy fats in your diet, such as avocados, olive oil, nuts, and seeds. These fats contain omega-3 fatty acids and monounsaturated fats, which have anti-inflammatory properties.
Consume Fatty Fish: Fatty fish, such as salmon, mackerel, sardines, and trout, are rich in omega-3 fatty acids. These fatty acids have been shown to reduce inflammation in the body. Aim for at least two servings of fatty fish per week.
Limit Processed Foods: Processed foods often contain high levels of refined sugars, unhealthy fats, and artificial additives, all of which can promote inflammation. Minimize your intake of processed snacks, fast food, sugary drinks, and packaged meals.
Reduce Red Meat Consumption: While lean cuts of red meat can be part of a balanced diet, excessive consumption may contribute to inflammation. Consider replacing some red meat servings with alternative protein sources like poultry, fish, beans, lentils, and tofu.
Spice it up: Incorporate anti-inflammatory herbs and spices into your cooking. Turmeric, ginger, garlic, cinnamon, and rosemary are known for their anti-inflammatory properties and can add flavor to your meals.
Stay Hydrated: Drink plenty of water throughout the day to stay hydrated. Proper hydration helps maintain optimal bodily functions and supports a healthy inflammatory response.
Increase Omega-3 Fatty Acids
Here are some ways to increase your intake:
Eat Fatty Fish: Fatty fish such as salmon, mackerel, sardines, trout, and tuna are excellent sources of omega-3 fatty acids. Aim to include these fish in your diet at least twice a week to boost your omega-3 intake.
Consider Fish Oil Supplements: If it's challenging to consume enough fatty fish, you may consider taking fish oil supplements. These supplements provide concentrated doses of omega-3 fatty acids. However, it's best to consult with your healthcare provider before starting any new supplements to ensure they are suitable for you.
Include Chia Seeds and Flaxseeds: Chia seeds and flaxseeds are plant-based sources of omega-3 fatty acids. You can sprinkle them on yogurt, cereals, or salads, or add them to smoothies for an extra nutritional boost.
Walnuts and Almonds: Walnuts and almonds are nuts that contain omega-3 fatty acids. Snack on a handful of these nuts or incorporate them into your meals and recipes to increase your omega-3 intake.
Add Hemp Seeds: Hemp seeds are another plant-based source of omega-3 fatty acids. They can be sprinkled on salads, added to smoothies, or used in baking to provide a nutty flavor and boost omega-3 content.
Fortified Foods: Some food products, such as certain brands of eggs, yogurt, milk, and bread, are fortified with omega-3 fatty acids. Check product labels to identify fortified options that can help increase your intake.
Limit Sugar and Refined Carbohydrates
Excessive consumption of sugar and refined carbohydrates can contribute to inflammation in the body. These substances can lead to spikes in blood sugar levels and trigger inflammatory responses. To reduce inflammation, consider the following tips:
Reduce Added Sugars: Minimize your intake of foods and beverages with added sugars such as sugary drinks, candies, pastries, and desserts. Be mindful of hidden sources of added sugars in processed foods like sauces, condiments, and packaged snacks.
Choose Whole Foods: Opt for whole, unprocessed foods that are naturally low in sugar and refined carbohydrates. Focus on fresh fruits, vegetables, whole grains, lean proteins, and healthy fats. These foods provide essential nutrients and fiber that can help reduce inflammation.
Read Food Labels: When purchasing packaged foods, carefully read the nutrition labels. Avoid products with high amounts of added sugars or ingredients like corn syrup, fructose, sucrose, or other forms of refined sugars. Look for whole grain options and products with minimal processing.
Substitute Refined Carbs with Whole Grains: Replace refined carbohydrates such as white bread, white rice, and white pasta with whole grain alternatives like whole wheat bread, brown rice, quinoa, and whole grain pasta. Whole grains contain more fiber, vitamins, and minerals, and have a lower impact on blood sugar levels.
Be Mindful of Sweetened Beverages: Sugary drinks like soda, fruit juices, energy drinks, and sweetened coffee or tea can be significant sources of added sugars. Choose water, herbal tea, or unsweetened beverages instead. If you prefer flavored drinks, infuse water with fruits or opt for naturally flavored sparkling water.
Practice Moderation: It's okay to enjoy occasional treats, but aim to consume them in moderation. Reserve sugary or high-carb foods for special occasions rather than making them a regular part of your diet.
Opt for Healthy Snacks: Choose nutritious snacks that are low in added sugars and refined carbohydrates. Snack on fresh fruits, raw vegetables with hummus, nuts, seeds, or Greek yogurt with berries instead of processed snacks or sugary treats.
Incorporate Anti-Inflammatory Herbs and Spices
Here are some herbs and spices to consider incorporating into your diet:
Turmeric: Turmeric contains curcumin, a compound with strong anti-inflammatory properties. Add turmeric to curries, soups, stews, and stir-fries. Combining it with black pepper can enhance its absorption.
Ginger: Ginger has been used for centuries for its anti-inflammatory and digestive properties. Use fresh ginger in stir-fries, smoothies, teas, or grate it into dressings and marinades.
Garlic: Garlic contains sulfur compounds that have anti-inflammatory effects. Add minced garlic to sautés, roasted vegetables, sauces, and marinades for a burst of flavor.
Cinnamon: Cinnamon is known for its antioxidant and anti-inflammatory properties. Sprinkle it on oatmeal, yogurt, smoothies, or use it in baked goods and desserts.
Rosemary: Rosemary is a fragrant herb that contains rosmarinic acid, known for its anti-inflammatory effects. Use it in marinades, roasted vegetables, soups, or sprinkle it over grilled meats.
Basil: Basil contains essential oils with anti-inflammatory properties. Use fresh basil leaves in salads, pasta dishes, sauces, or make a homemade pesto.
Cayenne Pepper: Cayenne pepper contains capsaicin, which gives it its spicy kick and may help reduce inflammation. Add a dash of cayenne to chili, soups, or roasted vegetables for some heat.
Black Pepper: Black pepper contains piperine, a compound that may enhance the absorption of other beneficial compounds, such as curcumin from turmeric. Use freshly ground black pepper in your recipes.
Oregano: Oregano contains compounds with anti-inflammatory and antioxidant properties. Use dried or fresh oregano in pasta sauces, pizza, roasted vegetables, or salad dressings.
Thyme: Thyme contains thymol, a compound with anti-inflammatory effects. Use it in roasted vegetables, soups, stews, or as a seasoning for meats and poultry.
Stay Hydrated
Here are some key points to remember when it comes to staying hydrated:
Drink Sufficient Water: Water is essential for optimal bodily functions, including the regulation of inflammation. Aim to drink an adequate amount of water throughout the day. The general recommendation is to consume at least 8 cups (64 ounces) of water daily, but individual needs may vary based on factors such as activity level, climate, and overall health.
Monitor Urine Color: A simple way to assess your hydration status is to observe the color of your urine. Ideally, it should be pale yellow or straw-colored. Darker urine may indicate dehydration, while excessively clear urine may suggest overhydration.
Hydrate Before, During, and After Exercise: Physical activity can lead to fluid loss through sweat. Stay hydrated by drinking water before, during, and after exercise. Consider sipping on water or a sports drink that contains electrolytes for longer and more intense workouts.
Include Hydrating Foods: Some fruits and vegetables have high water content and can contribute to your overall hydration. Watermelon, cucumbers, oranges, strawberries, and lettuce are examples of hydrating foods that can support your fluid intake.
Limit Dehydrating Beverages: Certain beverages, such as caffeinated drinks (coffee, tea, energy drinks) and alcohol, can have a diuretic effect and increase fluid loss. While moderate consumption is generally fine for most individuals, it's important to balance these beverages with adequate water intake.
Set Hydration Reminders: If you struggle to remember to drink enough water, consider setting reminders or using smartphone apps that can help track your water intake and send notifications when it's time to hydrate.
Customize Hydration to Your Needs: Factors such as age, activity level, climate, and health conditions can impact your individual hydration needs. If you have specific health concerns or if you're in extreme conditions (e.g., hot weather, high altitude), consult with a healthcare professional to determine the appropriate hydration plan for you.
Exercise Regularly
Here are some tips for incorporating regular exercise into your routine:
Choose Activities You Enjoy: Find physical activities that you genuinely enjoy doing. Whether it's walking, jogging, swimming, cycling, dancing, playing a sport, or practicing yoga, engaging in activities that you find enjoyable increases the likelihood of sticking with them long term.
Aim for a Mix of Cardiovascular and Strength Training: Include a combination of cardiovascular exercises (such as brisk walking, running, cycling, or aerobic classes) and strength training (using weights, resistance bands, or bodyweight exercises). Cardiovascular exercises help improve heart health, while strength training builds muscle and supports overall body function.
Start Slowly and Gradually Increase Intensity: If you're new to exercise or returning after a break, start slowly and gradually increase the intensity and duration of your workouts. This helps prevent injuries and allows your body to adapt to the demands of physical activity.
Set Realistic Goals: Set achievable goals for your exercise routine. It could be increasing the number of steps you take per day, aiming for a certain duration of exercise each week, or working towards specific fitness milestones. Having goals can help keep you motivated and track your progress.
Be Consistent: Consistency is key when it comes to reaping the benefits of exercise. Aim for at least 150 minutes of moderate-intensity aerobic activity or 75 minutes of vigorous-intensity aerobic activity per week, along with strength training exercises two or more days a week. Distribute the exercise throughout the week to ensure regularity.
Listen to Your Body: Pay attention to your body's signals and adjust your exercise routine accordingly. If you experience pain or discomfort, modify your activities or seek guidance from a healthcare professional or qualified fitness instructor.
Incorporate Active Lifestyle Habits: Look for opportunities to be active throughout the day. Take the stairs instead of the elevator, go for walks during breaks, or engage in activities like gardening, housework, or playing with your children or pets.
Include Flexibility Exercises: Incorporate flexibility exercises such as stretching, yoga, or Pilates into your routine. These activities promote flexibility, mobility, and relaxation.
Manage Stress
Here are some strategies to manage stress effectively:
Practice Mindfulness and Meditation: Mindfulness and meditation techniques can help calm the mind, reduce stress, and promote relaxation. Set aside a few minutes each day for mindfulness practices, deep breathing exercises, or guided meditation.
Engage in Physical Activity: Exercise not only benefits the body but also has a positive impact on mental health. Engaging in regular physical activity, such as walking, jogging, dancing, or yoga, can help reduce stress and promote a sense of well-being.
Prioritize Self-Care: Take time for self-care activities that help you relax and rejuvenate. This can include activities such as taking a bath, reading a book, practicing a hobby, listening to music, or spending time in nature.
Connect with Others: Social support is crucial for managing stress. Spend time with loved ones, talk to friends or family members, or join social groups or clubs that align with your interests. Sharing your thoughts and feelings with others can provide emotional support and help alleviate stress.
Set Realistic Goals and Prioritize Tasks: Feeling overwhelmed by a long to-do list can contribute to stress. Set realistic goals and prioritize tasks based on importance and urgency. Breaking tasks into smaller, manageable steps can make them more achievable and reduce stress.
Practice Time Management: Efficiently managing your time can help reduce stress. Create a schedule or to-do list, set realistic deadlines, and allocate time for breaks and relaxation. Avoid overcommitting and learn to delegate tasks when possible.
Get Sufficient Sleep: Sleep deprivation can increase stress levels. Establish a consistent sleep routine and aim for 7-9 hours of quality sleep each night. Create a relaxing bedtime routine, ensure a comfortable sleep environment, and limit exposure to electronic devices before bed.
Seek Support: If stress becomes overwhelming or chronic, consider seeking professional help from a therapist or counselor. They can provide guidance, tools, and support to help you manage stress effectively.
Practice Relaxation Techniques: Explore relaxation techniques such as deep breathing exercises, progressive muscle relaxation, aromatherapy, or engaging in activities like tai chi or gentle yoga. Find techniques that resonate with you and incorporate them into your routine.
Get Enough Sleep
Here are some tips for getting enough quality sleep:
Establish a Consistent Sleep Schedule: Set a consistent sleep schedule by going to bed and waking up at the same time every day, even on weekends. This helps regulate your body's internal clock and promotes better sleep quality.
Create a Relaxing Bedtime Routine: Develop a relaxing routine before bed to signal to your body that it's time to wind down. Engage in activities such as reading a book, taking a warm bath, practicing relaxation exercises, or listening to calming music.
Create a Sleep-Friendly Environment: Ensure that your sleep environment is conducive to quality sleep. Make your bedroom cool, dark, and quiet. Use comfortable bedding and invest in a supportive mattress and pillows.
Limit Stimulants and Electronics: Avoid consuming stimulants like caffeine and nicotine close to bedtime, as they can interfere with sleep. Additionally, limit exposure to electronic devices, such as smartphones, tablets, and televisions, as the blue light emitted can disrupt sleep patterns.
Avoid Heavy Meals and Fluid Intake Before Bed: Eating large meals or consuming excessive fluids close to bedtime can cause discomfort and disrupt sleep. Try to finish your meals and limit fluid intake a few hours before bedtime.
Create a Relaxing Sleep Environment: Consider using techniques to create a calming sleep environment. This can include using white noise machines, earplugs, or eye masks to block out distractions and promote uninterrupted sleep.
Limit Napping: If you have trouble sleeping at night, avoid long or late afternoon naps. If you do nap, keep it short (around 20-30 minutes) and earlier in the day to avoid interfering with nighttime sleep.
Manage Stress and Anxiety: Stress and anxiety can interfere with sleep. Engage in stress management techniques, such as relaxation exercises, mindfulness, or seeking support from a therapist or counselor, to help alleviate stress and promote better sleep.
Exercise Regularly: Regular physical activity can promote better sleep. Aim for at least 30 minutes of moderate-intensity exercise most days of the week. However, avoid vigorous exercise close to bedtime, as it can be stimulating and disrupt sleep.
Avoid Alcohol and Excessive Fluid Intake Before Bed: While alcohol may initially make you feel drowsy, it can disrupt sleep patterns and lead to fragmented sleep. Limit alcohol intake, especially close to bedtime. Additionally, reducing fluid intake in the evening can help prevent frequent awakenings for bathroom visits.
Maintain a Healthy Weight
Here are some tips to help maintain a healthy weight:
Balanced Diet: Follow a balanced, portion-controlled diet that includes a variety of nutrient-dense foods. Focus on whole grains, lean proteins, fruits, vegetables, and healthy fats. Avoid or limit foods high in added sugars, unhealthy fats, and processed ingredients.
Portion Control: Be mindful of portion sizes to avoid overeating. Use smaller plates, measure food portions, and pay attention to your body's hunger and fullness cues. Eating slowly and savoring each bite can help prevent overeating.
Eat Mindfully: Practice mindful eating by paying attention to the taste, texture, and sensations of food. Avoid distractions such as screens or eating on the go, as they can lead to mindless eating and over consumption.
Regular Physical Activity: Engage in regular physical activity to support weight management. Aim for a combination of cardiovascular exercises, strength training, and flexibility exercises. Find activities that you enjoy and make them a part of your routine.
Set Realistic Goals: Set realistic and achievable goals for weight management. Avoid crash diets or extreme measures that can be unsustainable or harmful to your health. Instead, focus on making gradual, long-term lifestyle changes.
Seek Professional Guidance: If you're struggling with weight management or have specific health concerns, consider consulting with a registered dietitian or healthcare professional. They can provide personalized guidance, create a tailored eating plan, and help you navigate any underlying health conditions.
Monitor Your Progress: Keep track of your weight and body measurements regularly to monitor your progress. However, remember that weight is just one aspect of health, and other factors such as body composition and overall well-being should also be considered.
Practice Stress Management: Chronic stress can contribute to weight gain and inflammation. Incorporate stress management techniques, such as exercise, mindfulness, relaxation exercises, or engaging in hobbies, to help manage stress and support weight management.
Get Adequate Sleep: Sleep deprivation can affect hormone regulation and appetite, potentially leading to weight gain. Prioritize getting enough quality sleep to support weight management efforts.
Be Patient and Consistent: Sustainable weight management takes time and consistency. Be patient with yourself, celebrate small victories, and focus on overall health rather than quick fixes or drastic weight loss.
FAQs
What is inflammation, and why is it harmful?
Inflammation is the body's natural response to injury or infection. However, chronic inflammation can damage healthy cells and tissues, leading to various health issues such as heart disease, diabetes, and autoimmune disorders.
What are some common causes of inflammation?
Common causes of inflammation include a poor diet high in processed foods, sugar, and unhealthy fats, smoking, lack of exercise, chronic stress, and certain medical conditions.
How can diet help reduce inflammation?
A diet rich in anti-inflammatory foods such as fruits, vegetables, whole grains, and fatty fish like salmon can help reduce inflammation. Avoiding processed foods, excessive sugar, and trans fats is also essential.
Are there specific foods that can reduce inflammation?
Yes, foods like turmeric, ginger, green tea, berries, nuts, and olive oil have anti-inflammatory properties and can help reduce inflammation when incorporated into your diet.
What role does exercise play in reducing inflammation?
Regular physical activity can reduce chronic inflammation by improving circulation and promoting the release of anti-inflammatory substances. Aim for at least 150 minutes of moderate-intensity exercise per week.
How does stress management affect inflammation?
Chronic stress can contribute to inflammation. Practicing stress-reduction techniques such as meditation, yoga, deep breathing, and mindfulness can help lower inflammation levels.
Can getting enough sleep help reduce inflammation?
Yes, quality sleep is essential for reducing inflammation. Aim for 7-9 hours of restorative sleep per night to help your body repair and recover.
Is it important to stay hydrated to reduce inflammation?
Yes, proper hydration is crucial for overall health and can help reduce inflammation. Drinking enough water supports the body's natural detoxification processes.
Do supplements like omega-3 fatty acids help with inflammation?
Omega-3 fatty acids, found in fish oil supplements, have anti-inflammatory properties and may help reduce inflammation. Consult with a healthcare professional before starting any supplements.
Can certain habits worsen inflammation, and how can they be avoided?
Unhealthy habits like smoking, excessive alcohol consumption, and a sedentary lifestyle can worsen inflammation. Quitting smoking, moderating alcohol intake, and adopting an active lifestyle can help reduce inflammation.
Conclusion
In conclusion, reducing inflammation in the body is crucial for maintaining good health and preventing chronic diseases. By following a healthy lifestyle that includes an anti-inflammatory diet, regular exercise, adequate sleep, stress management, and avoiding harmful habits like smoking and excessive alcohol consumption, you can effectively reduce inflammation levels in your body. Additionally, incorporating antioxidant-rich foods, staying hydrated, and considering appropriate supplements may also aid in reducing inflammation. It's important to consult with a healthcare professional before making significant changes to your diet or starting any new supplements. By adopting these practices, you can promote overall well-being and support your body's natural ability to combat inflammation.