As students embark on their educational journey, their health and well-being become pivotal factors in determining their overall success and academic performance. The college or university environment can be both exciting and challenging, with new experiences, academic demands, and social interactions shaping their daily lives. However, it is not uncommon for students to encounter various health issues during this phase, ranging from stress and sleep problems to common illnesses and the risks of substance abuse. Thus, it is essential to equip students with the knowledge and tools to prevent and manage these health concerns effectively, enabling them to thrive academically and personally.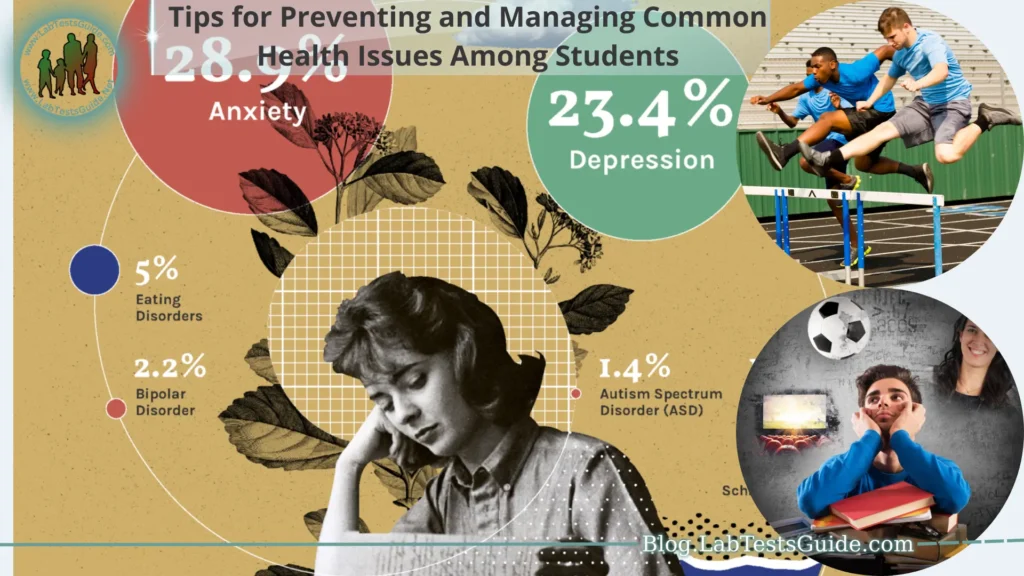 This comprehensive guide aims to provide valuable tips and insights for preventing and managing common health issues among students. From maintaining a healthy diet and staying physically active to managing stress, promoting mental well-being, and fostering healthy relationships, this resource will cover various aspects of student health. By following these practical strategies and embracing a proactive approach to their well-being, students can create a healthy and balanced lifestyle that optimizes their learning potential and enriches their college experience.
What Is Student Health and Why Does It Matter?
Student health refers to the physical, mental, emotional, and social well-being of individuals pursuing education at schools, colleges, or universities.
It is a crucial aspect of a student's life as it directly impacts their academic performance, overall success, and quality of life during their educational journey.
Student health encompasses various factors, including diet, exercise, sleep, stress management, and access to healthcare services.
Maintaining good health allows students to stay focused, attentive, and motivated in their studies, leading to better academic outcomes.
A healthy student is more likely to engage in extracurricular activities, build meaningful relationships, and have a positive college experience.
Proper physical health reduces the risk of illnesses, allows students to attend classes regularly, and minimizes absenteeism due to preventable health issues.
Good mental and emotional well-being enables students to cope with the challenges of academic and personal life, fostering resilience and adaptability.
When students prioritize their health, they are better equipped to handle stress, manage time effectively, and strike a healthy work-life balance.
Addressing student health concerns helps create a supportive and thriving learning environment, benefiting not only individual students but the entire academic community.
Overall, prioritizing student health contributes to the personal development, academic success, and long-term well-being of students, preparing them for a successful future beyond their educational years.
How to Maintain a Balanced Diet and Nutrition on Campus:
Plan Your Meals: Take some time each week to plan your meals and snacks. This will help you make healthier choices and avoid relying on fast food or unhealthy options.
Eat Regularly: Don't skip meals, especially breakfast, as it provides the energy and nutrients needed to start your day. Aim for three balanced meals and healthy snacks in between.
Include Fruits and Vegetables: Incorporate a variety of fruits and vegetables into your meals. They are rich in vitamins, minerals, and antioxidants essential for overall health.
Choose Whole Grains: Opt for whole-grain options like whole wheat bread, brown rice, and oats. They provide more fiber and nutrients compared to refined grains.
Watch Portion Sizes: Be mindful of portion sizes to avoid overeating. Use smaller plates and avoid going back for seconds unless you're genuinely hungry.
Limit Sugary and Processed Foods: Reduce the intake of sugary snacks, sodas, and processed foods high in added sugars, salt, and unhealthy fats.
Stay Hydrated: Drink plenty of water throughout the day to stay hydrated and maintain optimal bodily functions.
Balance Macronutrients: Include a balance of carbohydrates, proteins, and healthy fats in your meals. Proteins are essential for tissue repair, and healthy fats support brain function and hormone regulation.
Be Cautious with Cafeteria and Fast Food: While campus cafeterias and fast-food options can be convenient, they may not always offer the healthiest choices. Try to make better selections when eating out.
Pack Healthy Snacks: Keep nutritious snacks like nuts, fruits, yogurt, or granola bars in your bag or dorm room to avoid reaching for unhealthy options when hunger strikes.
Be Mindful of Alcohol Consumption: If you choose to drink alcohol, do so in moderation and be aware of its impact on your overall health and academic performance.
Utilize Campus Resources: Some colleges offer nutritional counseling or provide healthier food options. Take advantage of these resources to make informed choices.
Learn to Cook: If possible, consider cooking your meals. It gives you more control over ingredients and allows you to experiment with healthy recipes.
Don't Skip Vegetables in Dining Halls: Make sure to include vegetables in your meals at the campus dining halls. They are often readily available and contribute to a balanced diet.
Practice Moderation: While it's essential to eat healthily, it's also okay to indulge occasionally in your favorite treats. Just practice moderation and focus on overall balanced eating patterns.
Staying Physically Active:
Find an Activity You Enjoy: Engage in physical activities that you genuinely enjoy. Whether it's dancing, cycling, playing a sport, or going for a hike, doing something you love will make staying active more enjoyable and sustainable.
Incorporate Exercise into Your Daily Routine: Look for opportunities to be active throughout the day. Take the stairs instead of the elevator, walk or bike to class if possible, and use breaks between classes to stretch or take a short walk.
Join Campus Sports and Fitness Programs: Many colleges offer sports teams, fitness classes, and intramural activities. Joining these programs not only keeps you active but also helps you connect with like-minded individuals.
Set Realistic Fitness Goals: Set achievable fitness goals to stay motivated. Start with small, attainable targets and gradually challenge yourself to improve over time.
Exercise with Friends: Working out with friends can make exercising more enjoyable and keep you accountable to your fitness routine.
Create a Workout Schedule: Plan your exercise sessions ahead of time and include them in your daily or weekly schedule. Treating them as important appointments will help you prioritize physical activity.
Explore On-Campus Facilities: Check out the on-campus gym or fitness center. They often have a range of equipment and classes to cater to different preferences and fitness levels.
Mix Up Your Routine: Vary your workouts to prevent boredom and work different muscle groups. Combine cardio exercises with strength training and flexibility exercises for a well-rounded fitness regimen.
Take Active Study Breaks: Instead of staying sedentary during study breaks, do some quick exercises like jumping jacks, squats, or stretches to boost your energy and focus.
Utilize Outdoor Spaces: Take advantage of green spaces on campus for outdoor workouts, yoga sessions, or simply to walk and clear your mind.
Use Fitness Apps and Trackers: Consider using fitness apps or wearable trackers to monitor your activity levels, set goals, and track your progress.
Managing Stress and Mental Health:
Identify Stress Triggers: Recognize the situations or factors that cause you stress. Awareness of triggers can help you find effective ways to cope with them.
Practice Mindfulness and Meditation: Engage in mindfulness techniques and meditation to reduce stress and promote a sense of calm and mental clarity.
Exercise Regularly: Physical activity releases endorphins, which are natural mood lifters. Regular exercise can help alleviate stress and improve overall mental well-being.
Prioritize Sleep: Ensure you get enough sleep each night. Lack of sleep can exacerbate stress and negatively impact your mental health.
Time Management: Develop effective time management skills to balance academic commitments, social activities, and personal time. Proper planning can reduce feelings of being overwhelmed.
Seek Support: Talk to friends, family members, or a counselor about your feelings and experiences. Sometimes, sharing your thoughts can provide relief and support.
Practice Deep Breathing: Deep breathing exercises can help you relax and reduce stress in moments of tension or anxiety.
Set Realistic Goals: Avoid overloading yourself with unrealistic expectations. Set achievable goals and celebrate your accomplishments, no matter how small.
Take Breaks: Give yourself regular breaks to relax and recharge. Stepping away from stressful situations can improve focus and productivity.
Limit Caffeine and Stimulants: While caffeine can provide a temporary energy boost, excessive consumption can increase anxiety and stress levels.
Engage in Relaxation Activities: Incorporate activities like reading, listening to music, or spending time in nature to unwind and de-stress.
Connect with Others: Build a support network and stay connected with friends and peers. Social connections can provide emotional support during challenging times.
Seek Professional Help: If you find yourself struggling with persistent stress or mental health issues, don't hesitate to reach out to a mental health professional or counseling services on campus.
Limit Screen Time: Reduce excessive screen time, especially on social media, as it can contribute to feelings of comparison and stress.
Practice Self-Compassion: Be kind to yourself and acknowledge that it's okay to have challenging moments. Treat yourself with the same understanding and compassion you would offer a friend.
Getting Enough Sleep:
Establish a Consistent Sleep Schedule: Try to go to bed and wake up at the same time every day, even on weekends. Consistency helps regulate your internal body clock and improves sleep quality.
Create a Relaxing Bedtime Routine: Develop a calming pre-sleep routine to signal your body that it's time to wind down. This could include activities like reading, gentle stretching, or listening to soothing music.
Limit Screen Time Before Bed: Avoid using electronic devices with bright screens, such as smartphones or laptops, at least an hour before bedtime. The blue light emitted by screens can disrupt your sleep-wake cycle.
Keep Your Bedroom Comfortable: Ensure your sleeping environment is conducive to rest. Keep the room dark, cool, and quiet, and invest in a comfortable mattress and pillows.
Limit Caffeine and Stimulants: Reduce or avoid consuming caffeine and other stimulants close to bedtime, as they can interfere with falling asleep.
Avoid Heavy Meals and Alcohol Before Bed: Large or heavy meals and alcohol consumption close to bedtime can disrupt your sleep patterns.
Get Regular Exercise: Regular physical activity can promote better sleep. However, try to finish exercising a few hours before bedtime to allow your body to wind down.
Manage Stress: Practice stress-reducing techniques, such as meditation, deep breathing, or journaling, before going to bed to clear your mind and relax.
Limit Daytime Naps: If you need to take a nap during the day, keep it short (around 20-30 minutes) and avoid napping too close to your bedtime.
Be Mindful of Sleep Medications: Avoid relying on sleep medications unless prescribed by a healthcare professional. They may have side effects and can lead to dependency.
Avoid Using Your Bed for Activities Other Than Sleep: Try to associate your bed primarily with sleep to condition your body to recognize it as a place of rest.
Limit Fluid Intake Before Bed: Reducing fluid intake before bedtime can help minimize nighttime awakenings to use the bathroom.
Promoting Sexual Health:
Educate Yourself: Start by educating yourself about sexual health, safe sex practices, and methods of contraception. Knowledge is crucial for making informed decisions.
Use Protection: Always use condoms or other barrier methods during sexual activity to protect against sexually transmitted infections (STIs) and unintended pregnancies.
Communicate with Partners: Open and honest communication with sexual partners is essential. Discuss boundaries, preferences, and the importance of practicing safe sex together.
Get Regular STI Testing: If you are sexually active, consider getting tested regularly for STIs, even if you and your partner(s) appear healthy. Early detection and treatment are vital for maintaining sexual health.
Seek Confidential Healthcare Services: Many college campuses offer confidential sexual health services, including STI testing, contraception, and counseling. Utilize these resources to take care of your sexual health.
Consensual Relationships: Ensure that all sexual encounters are consensual and based on mutual respect and understanding. Consent must be clear, enthusiastic, and ongoing.
Plan for Birth Control: If you are sexually active and not ready for parenthood, consider using a reliable form of contraception, such as birth control pills, intrauterine devices (IUDs), or contraceptive patches.
Know Emergency Contraception Options: Familiarize yourself with emergency contraception options like the morning-after pill, which can prevent pregnancy when used correctly within a specific timeframe after unprotected sex.
Communicate with Healthcare Providers: When discussing sexual health with healthcare providers, be open and honest about your sexual history and any concerns you may have.
Respect Personal Boundaries: Respect your own boundaries and the boundaries of others. It's okay to say no to sexual activity if you are not ready or comfortable.
Be Informed About Consent: Understand the meaning of consent and the importance of affirmative consent in sexual interactions.
Promote Safe Sex Practices: Encourage friends and peers to prioritize sexual health and promote safe sex practices within the campus community.
Avoiding Substance Abuse:
Understand the Risks: Educate yourself about the risks and consequences of substance abuse, including the impact on physical health, mental well-being, academic performance, and relationships.
Know Your Triggers: Identify situations or emotions that may lead to substance use and develop healthy coping mechanisms to deal with stress or difficult emotions.
Set Clear Boundaries: Establish clear boundaries for yourself regarding substance use. Decide how much, if any, alcohol or other substances you are comfortable consuming, and stick to your limits.
Choose a Supportive Social Circle: Surround yourself with friends who prioritize a substance-free lifestyle and encourage healthy activities and choices.
Attend Substance-Free Events: Seek out and participate in substance-free events and activities on campus to have fun without relying on drugs or alcohol.
Practice Assertiveness: Learn to say no to peer pressure and resist engaging in substance use if you don't feel comfortable doing so.
Find Healthy Alternatives: Explore healthy ways to unwind and socialize, such as joining clubs or organizations, exercising, attending concerts, or engaging in creative hobbies.
Seek Help if Needed: If you find it challenging to avoid substance use or feel overwhelmed by peer pressure, don't hesitate to seek support from friends, family, or campus counseling services.
Stay Informed About Substance Abuse: Keep yourself informed about the dangers of substance abuse, the signs of addiction, and available resources for recovery.
Avoid Enabling Behavior: If you have friends who struggle with substance abuse, avoid enabling their behavior by not participating in or supporting their substance use.
Create a Personal Support System: Build a network of supportive friends, mentors, or advisors who can help you stay on track with your commitment to avoiding substance abuse.
Immunization and Vaccination:
Understand the Importance of Vaccination: Educate yourself about the significance of immunization in preventing serious infectious diseases and protecting both individual and community health.
Know the Recommended Vaccinations: Be aware of the vaccines recommended for your age group and region. Regularly check with healthcare providers or campus health services to stay up-to-date with the vaccination schedule.
Get Vaccinated Before Starting College: Ensure that you are up-to-date with all required vaccinations before beginning college to protect yourself and others in the campus community.
Complete Catch-Up Vaccinations: If you missed any vaccinations during childhood or adolescence, consider completing catch-up vaccinations as recommended by healthcare professionals.
Stay Informed About Outbreaks: Stay informed about disease outbreaks or public health alerts in your area and be prepared to take necessary preventive measures.
Know Your Health History: Be aware of your vaccination history and any potential allergies or medical conditions that may impact your eligibility for certain vaccines.
Consider Travel Vaccinations: If you plan to travel internationally, check with healthcare providers about travel vaccinations specific to your destination.
Encourage Vaccination in the Campus Community: Promote vaccination awareness and encourage your peers to get vaccinated to create a safer and healthier campus environment.
Address Vaccine Misinformation: Address vaccine misinformation or myths with evidence-based information and encourage others to rely on credible sources for vaccination-related knowledge.
Get Your Annual Flu Vaccine: Obtain a flu shot annually to protect yourself and prevent the spread of seasonal influenza on campus.
Be Aware of Vaccine Side Effects: Educate yourself about common vaccine side effects and understand that they are generally mild and short-lived compared to the potential risks of vaccine-preventable diseases.
First Aid and Emergency Preparedness:
Familiarize Yourself with First Aid Basics: Learn essential first aid techniques such as CPR, treating cuts and burns, splinting injuries, and responding to allergic reactions.
Attend First Aid Training: Consider taking a certified first aid training course to gain hands-on experience and confidence in responding to emergency situations.
Create a First Aid Kit: Assemble a well-stocked first aid kit that includes bandages, antiseptic wipes, gauze, adhesive tape, scissors, and other essential supplies.
Know Emergency Numbers: Save important emergency contact numbers, including campus security, local emergency services, and the nearest hospital, in your phone or write them down in a visible location.
Be Prepared for Natural Disasters: Understand the potential natural disasters in your area, such as earthquakes, hurricanes, or tornadoes, and have a plan in place for evacuation and safety.
Know the Campus Emergency Procedures: Familiarize yourself with the campus emergency protocols, evacuation routes, and assembly points in case of a campus-wide emergency.
Stay Informed About Emergency Alerts: Sign up for campus emergency alerts or notifications to receive timely information about potential risks or emergencies on campus.
Designate an Emergency Contact: Share your emergency contact information with a trusted friend or family member who can be reached in case of an emergency.
Carry Identification and Medical Information: Always carry your identification and any relevant medical information, such as allergies or chronic health conditions, in case of a medical emergency.
Stay Calm and Assess the Situation: In an emergency, try to stay calm and assess the situation before taking action. Make sure the scene is safe before providing assistance.
Call for Help: If the situation requires immediate medical attention or professional assistance, call emergency services right away.
FAQs:
What are some common health issues that students may face during their college years?
Common health issues among students include stress, sleep problems, colds and flu, allergies, poor nutrition, mental health concerns (such as anxiety and depression), and the risks of substance abuse.
How can I maintain a balanced diet and proper nutrition while living on campus?
To maintain a balanced diet, opt for a variety of fruits, vegetables, whole grains, lean proteins, and healthy fats. Avoid excessive consumption of sugary snacks and processed foods. Plan your meals, use portion control, and consider using on-campus dining facilities that offer healthier options.
What are effective ways to manage stress and promote mental well-being as a student?
Effective stress management techniques include regular exercise, mindfulness practices (like meditation and deep breathing), time management, seeking support from friends and counselors, and engaging in enjoyable hobbies or activities.
How many hours of sleep should I aim for as a college student, and how can I improve my sleep quality?
College students should aim for 7 to 9 hours of sleep per night. To improve sleep quality, establish a consistent sleep schedule, create a relaxing bedtime routine, limit screen time before bed, and ensure your sleeping environment is comfortable and conducive to rest.
What vaccinations are recommended for college students, and why are they important?
Recommended vaccinations for college students include those for measles, mumps, rubella (MMR), meningitis, tetanus, diphtheria, and pertussis (Tdap), and influenza (flu). Vaccinations are crucial for preventing the spread of contagious diseases and protecting the health of both individuals and the campus community.
How can I avoid substance abuse and make responsible choices regarding alcohol and other drugs?
Avoid substance abuse by setting clear boundaries, understanding the risks, seeking healthy social connections, and finding alternative ways to cope with stress. Practice responsible alcohol consumption, know your limits, and never drive under the influence.
What are the best practices for practicing safe sex and promoting sexual health on campus?
Safe sex practices include using condoms or other barrier methods to prevent STIs and unintended pregnancies. Communicate openly with sexual partners, get tested regularly for STIs, and consider vaccinations for diseases like HPV.
What should I do in case of a medical emergency on campus?
In case of a medical emergency on campus, call campus security or local emergency services immediately. Provide any necessary first aid if trained to do so, and stay with the person until help arrives.
Are there resources or support services available on campus for managing chronic health conditions?
Yes, many campuses offer health services that can help students manage chronic health conditions. Reach out to campus health centers or counseling services for support and assistance.
How can I balance academics, social life, and self-care to maintain overall health and well-being?
Balance academics, social life, and self-care by creating a schedule that allows time for studying, socializing, and self-care activities. Prioritize sleep, exercise, and healthy habits while maintaining a social life and academic commitments.
Conclusion:
In conclusion, prioritizing and managing common health issues among students is vital for fostering a thriving and successful college experience. By maintaining a balanced diet, staying physically active, managing stress, getting enough sleep, and practicing safe behaviors, students can take charge of their well-being and enhance their academic performance and overall quality of life. Utilizing campus resources, seeking support when needed, and staying informed about vaccinations and preventive measures further contribute to creating a healthy and safe campus community. By embracing these practices, students can equip themselves with the knowledge and tools to navigate the challenges of college life while cultivating a foundation for lifelong habits that promote optimal health and well-being.