Living with a chronic condition can present unique challenges that require ongoing management and care. Whether you have diabetes, asthma, arthritis, heart disease, or any other chronic condition, it's important to develop effective strategies to maintain your health and well-being. This guide offers a comprehensive set of tips and recommendations to help you better manage your chronic condition and improve your quality of life.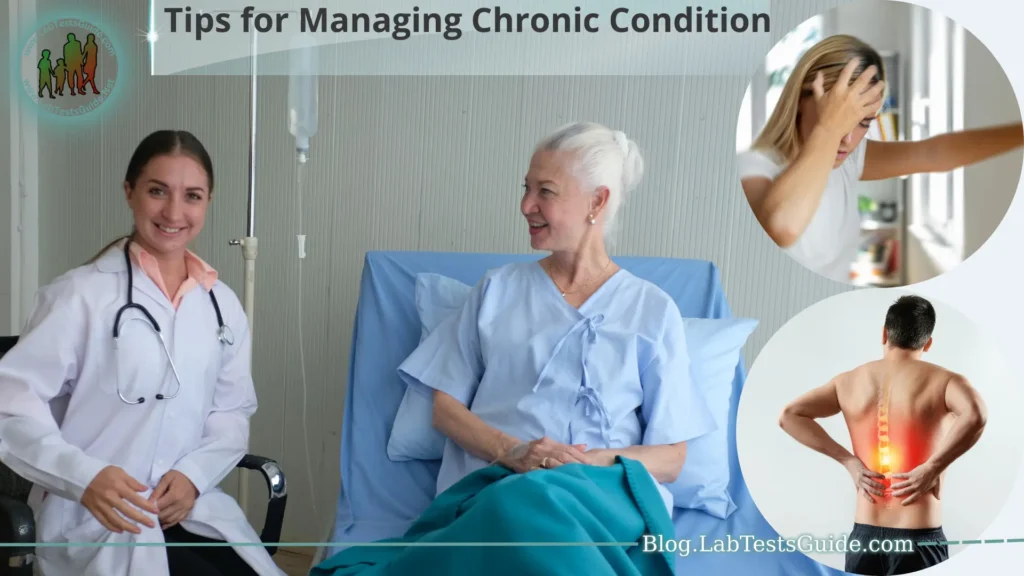 By understanding your condition, building a support network, making lifestyle modifications, adhering to medication and treatment plans, practicing self-care, and seeking emotional support, you can take control of your health and minimize the impact of your chronic condition. While each individual's experience is unique, these tips are designed to provide general guidance and can be adapted to suit your specific needs.
Understanding Your Chronic Condition
Here are some tips to help you gain a deeper understanding:
Educate Yourself: Take the time to learn about your condition from reliable sources such as healthcare professionals, reputable websites, and educational materials. Understand the underlying causes, potential complications, and available treatment options. Knowledge empowers you to make informed decisions about your health.
Know Your Symptoms and Triggers: Pay close attention to the symptoms you experience and identify potential triggers that worsen your condition. Keeping a symptom diary or using health-tracking apps can help you track patterns and identify factors that may contribute to flare-ups or exacerbations.
Track Your Progress: Regularly monitor your condition's progress and the effectiveness of your management strategies. Keep track of any changes in symptoms, improvements, or setbacks. This information will be valuable when discussing your condition with healthcare professionals and adjusting your treatment plan.
Building a Support Network
Here are some tips for building a support network:
Reach Out to Friends and Family: Share your journey with trusted friends and family members. Explain your condition, how it affects you, and what support you may need. Their understanding and support can make a significant difference in managing your chronic condition.
Join Support Groups: Look for local or online support groups specific to your chronic condition. Connecting with others who share similar experiences can provide a sense of belonging, empathy, and valuable insights. These groups often offer a safe space to discuss challenges, share tips, and receive support from people who truly understand.
Consider Therapy or Counseling: Chronic conditions can take a toll on your mental and emotional well-being. Seeking therapy or counseling can provide you with a professional outlet to express your feelings, learn coping strategies, and develop resilience in dealing with the emotional aspects of your condition.
Lifestyle Modifications
Here are some key lifestyle modifications to consider:
Adopt a Healthy Diet: Focus on a well-balanced diet rich in fruits, vegetables, whole grains, lean proteins, and healthy fats. Limit processed foods, sugary drinks, and excessive sodium intake. If necessary, consult with a registered dietitian who can provide personalized dietary recommendations based on your specific condition.
Engage in Regular Physical Activity: Regular exercise offers numerous benefits, including improved cardiovascular health, weight management, enhanced mood, and increased energy levels. Speak with your healthcare provider to determine the appropriate exercise regimen for your condition, and aim for a combination of aerobic, strength training, and flexibility exercises.
Get Adequate Sleep: Quality sleep is crucial for overall health and well-being. Establish a consistent sleep routine, create a comfortable sleep environment, and practice good sleep hygiene habits. If you have trouble sleeping due to your condition, discuss it with your healthcare provider for guidance.
Manage Stress: Chronic conditions can be stressful, and excessive stress can exacerbate symptoms. Find healthy ways to manage stress, such as practicing relaxation techniques (e.g., deep breathing, meditation, yoga), engaging in hobbies, spending time in nature, or seeking support from a therapist or counselor.
Medication and Treatment Compliance
Here are some tips to help you stay on track:
Follow Prescribed Medications: Take your medications exactly as prescribed by your healthcare provider. Set reminders, use pill organizers, or utilize medication reminder apps to help you remember to take your medications on time. If you experience side effects or have concerns about your medication, discuss them with your healthcare provider rather than making changes on your own.
Attend Regular Medical Appointments: Keep up with your scheduled medical appointments, including check-ups, follow-ups, and screenings. These visits allow your healthcare team to monitor your condition, make necessary adjustments to your treatment plan, and address any concerns you may have.
Communicate with Your Healthcare Team: Open and honest communication with your healthcare provider is essential. Discuss any changes in symptoms, medication side effects, or concerns you may have. Your healthcare team can provide guidance, answer questions, and help you make informed decisions about your treatment.
Stay Informed: Educate yourself about your medications and treatments. Understand their purpose, potential side effects, and how they fit into your overall management plan. This knowledge will empower you to actively participate in your healthcare decisions and communicate effectively with your healthcare provider.
Self-Care Practices
Here are some self-care tips to consider:
Practice Relaxation Techniques: Incorporate relaxation techniques into your daily routine to reduce stress and promote a sense of calm. Deep breathing exercises, progressive muscle relaxation, meditation, and mindfulness can help you relax and manage anxiety.
Take Time for Yourself: Prioritize self-care activities that bring you joy and relaxation. It can be reading a book, taking a warm bath, going for a walk in nature, or engaging in hobbies you enjoy. Taking time for yourself helps recharge your energy and improves your overall well-being.
Engage in Hobbies and Activities You Enjoy: Pursuing activities that bring you happiness and fulfillment can positively impact your mental and emotional health. Find activities that you are passionate about, such as painting, gardening, playing an instrument, or any other hobbies that bring you a sense of joy.
Maintain a Positive Outlook: Cultivate a positive mindset and focus on the things you can control. Practice gratitude by expressing appreciation for the small victories, moments of joy, and supportive relationships in your life. Surround yourself with positive influences and seek out uplifting and inspiring resources.
Managing Flare-Ups and Exacerbations
Here are some tips for managing flare-ups and exacerbations:
Recognize Warning Signs: Be aware of the early warning signs or triggers that indicate a potential flare-up or exacerbation. These may include increased pain, changes in symptoms, fatigue, or emotional distress. By recognizing these signs, you can take early action to prevent or minimize the severity of the episode.
Have a Plan in Place: Work with your healthcare provider to develop a personalized action plan for managing flare-ups. This plan may include specific steps to take, such as adjusting medication dosages, using rescue medications, implementing home remedies, or seeking immediate medical attention. Ensure that you have clear instructions and resources readily available when needed.
Seek Medical Help When Needed: If your symptoms worsen significantly or become unmanageable, don't hesitate to seek medical assistance. Reach out to your healthcare provider, go to an urgent care facility, or call emergency services if necessary. Prompt medical intervention can help prevent complications and provide the appropriate treatment during flare-ups.
Follow Self-Care Measures: During a flare-up, prioritize self-care measures to support your recovery. Rest and give yourself permission to take it easy. Engage in relaxation techniques, practice pain management strategies, and ensure you're following your regular self-care routines, such as maintaining a healthy diet, getting adequate sleep, and managing stress levels.
Seeking Emotional Support
Here are some ways to seek and receive the emotional support you may need:
Addressing Anxiety and Depression: Chronic conditions can often be accompanied by feelings of anxiety, depression, or other mental health concerns. If you're experiencing emotional difficulties, it's essential to address them. Speak openly with your healthcare provider about your emotional well-being so that appropriate interventions, such as therapy, counseling, or medication, can be recommended.
Finding Emotional Support: Seek support from family, friends, or support groups who can provide empathy, understanding, and a listening ear. Share your feelings, concerns, and experiences with individuals who are supportive and compassionate. Online communities and forums dedicated to your specific condition can also be a valuable source of emotional support and connection.
Engage in Mindfulness and Meditation: Practice mindfulness and meditation to cultivate a sense of calm and reduce stress. These techniques can help you stay present, manage anxiety, and improve your overall emotional well-being. Consider attending mindfulness or meditation classes or using smartphone apps that offer guided meditation exercises.
Healthy Coping Strategies
Here are some healthy coping strategies to consider:
Set Realistic Goals: Break down larger tasks into smaller, achievable goals. This helps you stay focused, motivated, and gives you a sense of accomplishment. Celebrate your successes, no matter how small they may seem.
Practice Problem-Solving: Approach challenges systematically by identifying the problem, brainstorming possible solutions, and implementing them one step at a time. Utilize your support network and healthcare team to gain different perspectives and advice.
Seek Professional Help When Needed: Don't hesitate to seek professional help if you're feeling overwhelmed or struggling with managing your condition. Therapists, counselors, or support groups can provide valuable guidance, support, and coping strategies tailored to your specific needs.
conclusion
In conclusion, managing chronic conditions requires a proactive and holistic approach that encompasses various aspects of your life. By educating yourself, building a support system, communicating with your healthcare team, and following your treatment plan, you can effectively manage your condition and improve your overall well-being. Adopting a healthy lifestyle, monitoring your symptoms, seeking preventive care, and prioritizing self-care are essential components of managing chronic conditions. Remember to stay informed, seek emotional support, and be patient with yourself as you navigate the challenges of living with a chronic condition. With proper care and attention, you can lead a fulfilling life and maintain a good quality of life despite your chronic condition.