Welcome to "Monsoon Health Essentials: Tips to Safeguard Your Infant from Illnesses." The monsoon season brings with it a refreshing change, but it also poses unique challenges to the health of our little ones. As parents or caregivers, it is crucial to be prepared and well-informed about the potential risks and necessary precautions to protect our infants during this time. This guide aims to provide you with comprehensive knowledge and practical tips to ensure your baby's well-being, enabling you to embrace the beauty of the monsoon while keeping illnesses at bay.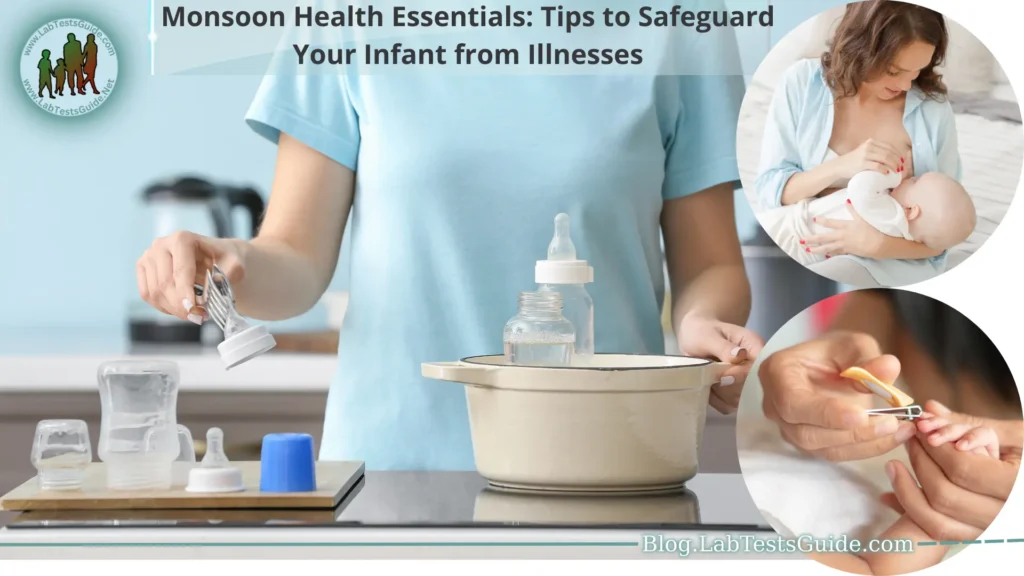 The monsoon season, characterized by increased humidity and rainfall, creates an environment conducive to the growth and spread of various infections and diseases. Infants, with their developing immune systems, are more susceptible to these illnesses. Therefore, understanding the common monsoon-related health risks for infants and implementing preventive measures is of utmost importance. In this guide, we will explore various aspects of monsoon healthcare for your little one, including maintaining hygiene, proper dressing, nutrition and feeding practices, vaccinations, home remedies for minor ailments, indoor playtime ideas, and essential tips for traveling during the monsoon. By following these guidelines, you can create a safe and healthy environment for your infant, ensuring a happy and illness-free monsoon season for your family.
What Is Monsoon and What Sicknesses Can It Bring to Your Infant?
Monsoon refers to a seasonal weather pattern characterized by the alternating wet and dry phases, influenced by the shifting wind patterns. It typically occurs in tropical and subtropical regions.
During the monsoon season, warm, moist air from the ocean moves towards land, causing heavy rainfall and increased humidity.
Monsoon seasons vary across different regions, but they are generally associated with specific months of the year.
Sicknesses that Monsoon Can Bring to Your Infant:
Common Cold and Flu: The increased humidity and temperature fluctuations during monsoon can make infants more susceptible to viral infections, leading to colds and flu.
Waterborne Diseases: Stagnant water during the monsoon can become breeding grounds for mosquitoes and waterborne pathogens like cholera, typhoid, and gastroenteritis.
Respiratory Infections: The damp and humid conditions can trigger respiratory issues such as bronchitis and asthma in infants.
Skin Infections: Fungal infections like ringworm and diaper rash are more common during the monsoon due to increased moisture and sweating.
Vector-borne Diseases: Mosquito-borne illnesses such as dengue, malaria, and chikungunya are prevalent during the monsoon, posing a significant risk to infants.
Gastrointestinal Infections: Contaminated food and water can lead to stomach infections like diarrhea, which can be severe in infants.
Allergies: Monsoon can exacerbate existing allergies or lead to new allergic reactions in susceptible infants.
Heat-related Illnesses: Though monsoon brings rain and cooler temperatures, there may still be occasional hot and humid days, increasing the risk of heat-related illnesses in infants.
How to Ensure Your Infant's Well-being During Monsoon:
Keep the Surroundings Clean: Regularly clean and disinfect your home to prevent the breeding of mosquitoes and other pests. Eliminate stagnant water and ensure proper drainage to avoid water accumulation.
Maintain Personal Hygiene: Practice proper handwashing techniques before handling your baby and encourage others to do the same. This helps prevent the transmission of germs and infections.
Dress Your Infant Appropriately: Choose lightweight and breathable fabrics for your baby's clothing. Avoid overdressing to prevent overheating, and use rain gear like waterproof jackets and boots for outdoor outings.
Ensure a Balanced Diet: Continue breastfeeding your baby as it provides essential nutrients and antibodies that help bolster their immune system. If your baby has started solid foods, ensure they receive a well-balanced diet with fresh and cooked foods.
Vaccinate Your Infant: Follow the recommended vaccination schedule to protect your baby from common infectious diseases. Vaccinations can significantly reduce the risk of serious illnesses during the monsoon season.
Monitor Indoor Air Quality: Ensure good ventilation in your home to reduce humidity and prevent mold growth. Use air purifiers if necessary to maintain clean air.
Seek Prompt Medical Attention: If your infant shows any signs of illness, such as fever, cough, or diarrhea, consult a pediatrician immediately. Early medical intervention can prevent complications.
Use Natural Remedies for Minor Ailments: For mild colds or skin irritations, you can use home remedies like warm saline nasal drops or natural skin soothers under the guidance of a healthcare professional.
Maintain Toy Hygiene: Regularly clean and sanitize your baby's toys to prevent the spread of germs and infections.
Protect Against Mosquito-borne Diseases: Use mosquito nets and baby-safe mosquito repellents to shield your infant from mosquito bites, especially during evenings and nights.
Avoid Crowded Places: During the monsoon season, it's wise to limit your baby's exposure to crowded places to reduce the risk of infections.
Keep Your Baby Well-Hydrated: Ensure your infant stays well-hydrated, especially during humid days, by offering breast milk or water, depending on their age.
Hygiene and Cleanliness:
Bathing: Bathe your baby daily with lukewarm water to keep them clean and refreshed. Pay special attention to cleaning their skin folds and diaper area to prevent fungal infections.
Handwashing: Wash your hands thoroughly with soap and water before and after handling your baby, especially after changing diapers or coming from outside.
Sterilizing Accessories: Sterilize feeding bottles, pacifiers, and other infant accessories regularly to kill harmful bacteria. Boiling them in water or using a sterilizer can be effective.
Clean Diapers: Change your baby's diapers frequently to avoid skin irritation and diaper rash. Use gentle baby wipes or clean water and soft cotton cloths for cleaning.
Maintain a Clean Environment: Keep your home and surroundings clean by regular sweeping, mopping, and dusting. Vacuum upholstery and carpets to reduce dust and allergens.
Prevent Dampness: Wipe off any water spills or leaks promptly to prevent dampness, which can lead to mold growth and respiratory issues.
Regularly Wash Baby's Clothes: Wash your baby's clothes with mild detergent and rinse them thoroughly to remove any residue that might cause skin irritation.
Use Mild Cleaning Products: Opt for mild and baby-friendly cleaning agents when cleaning surfaces or toys. Harsh chemicals can be harmful to your baby's sensitive skin.
Keep Toilets Clean: Ensure that the bathroom and toilet areas are well-maintained and sanitized to prevent the spread of germs.
Trim Baby's Nails: Trim your baby's nails regularly to prevent dirt and bacteria from accumulating under them.
Dressing Your Infant Appropriately:
Choose Breathable Fabrics: Opt for light and breathable fabrics like cotton to keep your baby comfortable during humid weather. Cotton allows better air circulation and helps prevent skin irritation.
Layer Clothing: Monsoon weather can be unpredictable, with sudden temperature changes. Dress your baby in layers so you can add or remove clothing as needed to keep them cozy.
Use Rain Gear: Invest in waterproof jackets or raincoats for your baby to protect them from getting wet during outings. Waterproof boots or shoes can also keep their feet dry.
Avoid Overdressing: Be cautious not to overdress your baby, as excessive clothing can lead to overheating and discomfort. Check for signs of sweating or feeling too warm.
Cover Their Head: Use a soft and breathable hat or cap to protect your baby's head from raindrops and to shield them from direct sunlight.
Keep Extra Clothes Handy: While you're outside, always carry extra clothing, especially if there's a chance of heavy rain. Quick changes can help prevent your baby from catching a chill.
Choose Loose-fitting Clothes: Loose-fitting clothes not only provide better ventilation but also reduce the risk of friction and skin irritation.
Dress According to Indoor Temperatures: Adjust your baby's clothing according to indoor temperatures. If using air conditioning, ensure they are not exposed directly to cold air.
Dry Clothes Thoroughly: After washing your baby's clothes, dry them thoroughly before use to avoid dampness that can lead to mold and mildew.
Check for Allergens: If your baby has known allergies, avoid clothing made from materials that might trigger their allergies.
Use Soft and Comfortable Footwear: Choose soft and comfortable footwear that fits properly and provides good support. Avoid shoes or socks that may cause blisters or discomfort.
Nutrition and Feeding:
Continue Breastfeeding: Breast milk is the best source of nutrition for your baby. If you are breastfeeding, continue to do so during the monsoon season. Breast milk contains antibodies that help boost your baby's immune system, protecting them from infections.
Hydrate Properly: Ensure that your baby stays well-hydrated, especially during humid days. If your baby is exclusively breastfed, they do not require additional water until they start consuming solid foods.
Safe Water and Food Practices: If your baby has started solid foods, ensure that the water used for cooking and preparation is safe and filtered. Use clean utensils and wash fruits and vegetables thoroughly.
Balanced Diet: Introduce a variety of nutritious foods as per your baby's age and readiness. Include a mix of fruits, vegetables, grains, and proteins to provide essential nutrients for their growth and development.
Homemade Baby Food: Prepare homemade baby food using fresh ingredients. Avoid processed foods or foods that are high in sugar, salt, or additives.
Small and Frequent Meals: Offer small and frequent meals to your baby rather than large portions at a time. This approach helps in better digestion and prevents overeating.
Watch for Allergies: Introduce new foods one at a time and observe for any allergic reactions. Common food allergens include cow's milk, eggs, wheat, peanuts, and soy.
Avoid Street Food: Refrain from giving your baby street food or food from unhygienic places to reduce the risk of foodborne illnesses.
Maintain Proper Food Storage: Store baby food and leftovers in airtight containers in the refrigerator. Discard any food that has been left out for too long.
Avoid Cold Foods and Drinks: During monsoon, avoid giving your baby excessively cold foods or drinks as they may lead to throat discomfort or a cough.
Sterilize Feeding Accessories: Ensure that bottles, nipples, and other feeding accessories are properly sterilized to prevent infections.
Maintaining Indoor Air Quality:
Ventilation: Ensure proper ventilation in your home by opening windows and doors during periods of low humidity and mild temperatures. This allows fresh air to circulate and helps reduce indoor pollutants.
Use Air Purifiers: Consider using air purifiers with HEPA filters to remove dust, pollen, mold spores, and other airborne particles that could affect your baby's respiratory health.
Prevent Dampness: Keep your home dry and free from dampness. Use dehumidifiers if necessary, especially in areas prone to moisture buildup.
Avoid Smoking Indoors: Avoid smoking inside the house, as secondhand smoke can be harmful to your baby's delicate lungs and increase the risk of respiratory issues.
Clean Air Ducts and Filters: Regularly clean air conditioning vents, filters, and exhaust fans to prevent the accumulation of dust and allergens.
Minimize Use of Harsh Chemicals: Limit the use of strong cleaning agents, aerosols, and room fresheners that may release harmful chemicals into the air. Opt for eco-friendly and baby-safe alternatives.
Keep Pets Clean: If you have pets, bathe and groom them regularly to minimize pet dander and fur that can trigger allergies in your baby.
Use Natural Air Fresheners: Instead of artificial air fresheners, consider using natural air fresheners like lemon or lavender essential oils or placing indoor plants known for their air-purifying properties.
Regular House Cleaning: Regularly dust and clean your home to reduce the presence of allergens and dust mites that could affect your baby's respiratory health.
Keep Humidity in Check: Maintaining an optimal indoor humidity level (around 40-50%) can help prevent mold growth and reduce the risk of respiratory issues.
Vaccinations and Preventive Measures:
Follow the Immunization Schedule: Ensure that your baby receives all the recommended vaccinations as per the immunization schedule provided by your country's health authorities. Vaccinations protect your baby from various infectious diseases.
Stay Updated on Booster Doses: Keep track of booster doses and additional vaccinations that may be required to maintain immunity against certain diseases.
Encourage Vaccination for Family Members: Ensure that family members, especially those in close contact with the baby, are up-to-date with their vaccinations. This helps create a protective cocoon around the infant, known as "herd immunity."
Avoid Crowded Places: During the monsoon season, when contagious infections are more prevalent, try to avoid crowded places where the risk of exposure to infections is higher.
Hand Hygiene: Emphasize the importance of handwashing for everyone in the family, especially before handling the baby or feeding them.
Avoid Sick Individuals: Avoid exposing your baby to anyone who is visibly sick or has symptoms of an infectious illness.
Mosquito Bite Prevention: Protect your baby from mosquito bites by using mosquito nets and baby-safe mosquito repellents, especially during evenings and nights.
Keep Baby's Surroundings Clean: Maintain a clean and hygienic environment for your baby, as it helps reduce the risk of infections.
Ensure Safe Water and Food: Use safe and filtered water for drinking and cooking. Prepare and store food in a clean and hygienic manner.
Keep Baby Indoors During Heavy Rain: Avoid taking your baby out during heavy rainfall, as it may expose them to waterborne diseases and infections.
Home Remedies for Common Monsoon Ailments:
Nasal Congestion and Cold:
Use saline nasal drops to clear nasal passages and relieve congestion.
Steam inhalation in a well-ventilated room can help ease breathing.
Elevate the baby's head slightly while sleeping to reduce congestion.
Cough:
Honey can soothe a mild cough in babies over one year old. Consult a pediatrician before using honey.
Create a homemade cough syrup by mixing ginger juice and honey in equal proportions.
Diaper Rash:
Keep the diaper area clean and dry. Use water or mild baby wipes during diaper changes.
Apply petroleum jelly or diaper rash cream to soothe and protect the irritated skin.
Skin Irritations:
Use a mild soap and lukewarm water for bathing to prevent skin dryness and irritation.
Apply coconut oil or aloe vera gel to soothe and moisturize the skin.
Gastrointestinal Upset (Diarrhea):
Continue breastfeeding to provide essential fluids and nutrients.
Offer oral rehydration solutions (ORS) to prevent dehydration.
Introduce the BRAT diet (bananas, rice, applesauce, toast) to ease digestion.
Teething Discomfort:
Gently massage the baby's gums with a clean finger to alleviate teething pain.
Provide teething rings or toys made of safe, non-toxic materials for the baby to chew on.
Insect Bites and Stings:
Apply a paste of baking soda and water or calamine lotion to reduce itching and inflammation.
Use ice packs wrapped in a cloth to soothe the affected area.
Minor Cuts and Scrapes:
Wash the wound with clean water and mild soap.
Apply a small amount of antiseptic ointment and cover with a clean bandage.
Mild Skin Fungal Infections (Ringworm):
Apply an antifungal cream recommended by a pediatrician.
Keep the affected area clean and dry.
Mild Fever:
Dress the baby in light, breathable clothing.
Offer plenty of fluids to prevent dehydration.
Sponge the baby with lukewarm water to lower body temperature.
FAQs:
Is it safe to take my baby outside during the monsoon season?
While occasional outings are generally safe, it's best to avoid heavy rainfall and crowded places. Always dress your baby appropriately and use rain gear to protect them from getting wet.
How can I protect my baby from mosquito bites during the monsoon?
Use mosquito nets and baby-safe mosquito repellents when your baby is sleeping or outdoors. Dress them in long-sleeved clothing and cover their legs to minimize exposed skin.
What vaccinations are important for my baby during the monsoon season?
Follow the recommended vaccination schedule for your baby, which includes protection against common infectious diseases like flu, hepatitis, rotavirus, and more.
How can I prevent diaper rash during the monsoon?
Change your baby's diapers frequently and keep the diaper area clean and dry. Use petroleum jelly or diaper rash cream to soothe and protect the skin.
My baby has a cold. Can I use home remedies to ease their discomfort?
Saline nasal drops and steam inhalation can help relieve nasal congestion. Ensure your baby stays well-hydrated and consult a pediatrician for appropriate remedies.
What precautions should I take to maintain indoor air quality for my baby?
Use air purifiers with HEPA filters, maintain proper ventilation, and keep your home dry and free from dampness. Avoid smoking indoors and use natural air fresheners.
How can I prevent waterborne diseases for my baby during the monsoon?
Ensure safe water and food practices by using filtered water for drinking and cooking. Wash fruits and vegetables thoroughly, and avoid street food.
My baby has a fever. What can I do at home to comfort them?
Dress your baby in light, breathable clothing, offer plenty of fluids, and keep them well-hydrated. Sponge them with lukewarm water to lower their body temperature.
Can I use home remedies for teething discomfort in my baby?
Gently massage your baby's gums with a clean finger, and provide safe teething rings or toys for them to chew on. Consult a pediatrician for additional advice.
Should I continue breastfeeding my baby during the monsoon season?
Yes, breastfeeding is essential during the monsoon season as it provides crucial nutrients and antibodies to boost your baby's immune system.
Conclusion:
In conclusion, safeguarding your infant's health during the monsoon season is of paramount importance. By following the provided tips and guidelines, you can create a safe and nurturing environment for your baby. Maintaining proper hygiene and cleanliness, dressing them appropriately, ensuring a balanced diet, and staying up-to-date with vaccinations are essential preventive measures. Additionally, being vigilant about their well-being, using home remedies for minor ailments, and seeking timely medical attention when needed contribute to a healthy monsoon experience for your little one. Remember, your baby's health is a shared responsibility, and with proactive care and love, you can make this monsoon season a delightful and illness-free time for your family.