"Stay Active, Stay Motivated" is a motivational phrase that encourages individuals to maintain physical activity and keep their enthusiasm and determination high. It highlights the importance of leading an active lifestyle and maintaining motivation to achieve personal goals, whether they are related to fitness, health, career, personal development, or any other aspect of life.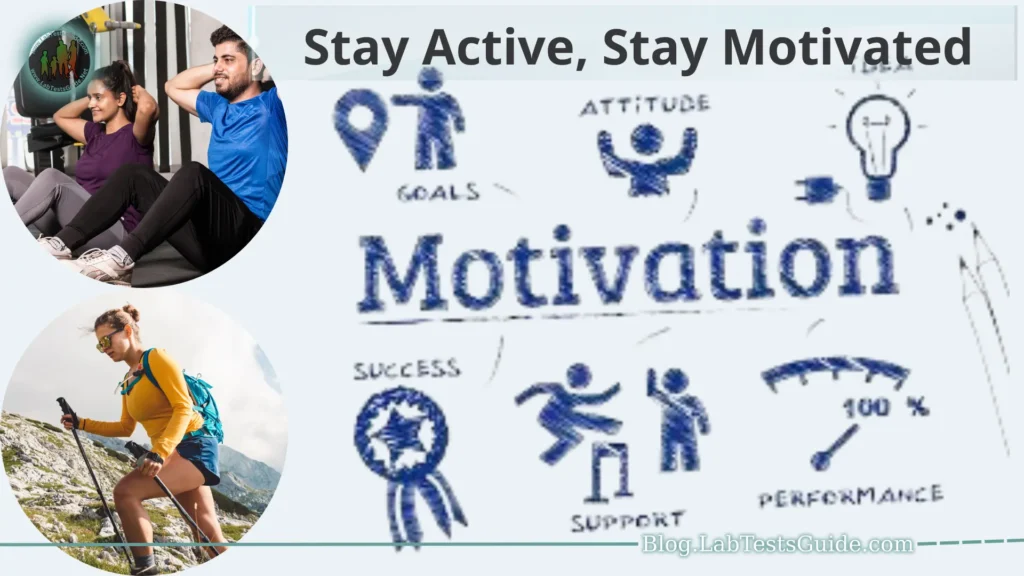 This guide aims to provide practical strategies and tips to help you discover and sustain the motivation needed to lead a healthier life. From setting clear goals and identifying personal rewards to creating a supportive environment and overcoming setbacks, each section offers valuable insights to inspire and empower you on your journey toward a more active and healthier you. Remember that small steps can lead to significant progress, and by adopting a positive mindset and embracing the process, you can transform motivation into lasting habits for a fulfilling and vibrant life.
Why Is Motivation Important for Staying Active and Healthy?
Sustained Commitment: Adopting a healthy lifestyle requires consistency and dedication. Motivation acts as the driving force behind your commitment to regular exercise and making healthier choices, even when obstacles or distractions arise.
Overcoming Challenges: The journey to better health can be challenging, especially when facing setbacks, plateaus, or busy schedules. Motivation provides the resilience and determination to push through difficulties and stay on track with your fitness and wellness goals.
Behavioral Change: Developing new habits and breaking old, unhealthy ones requires motivation. It helps you initiate and maintain the behavioral changes necessary to lead a healthier life.
Long-term Vision: Motivation helps you focus on the long-term benefits of staying active and healthy. It encourages you to look beyond immediate gratification and make choices that will positively impact your overall well-being in the future.
Mental and Emotional Well-being: Regular physical activity has numerous mental health benefits, such as reducing stress, anxiety, and depression. Motivation empowers you to prioritize self-care and mental well-being by engaging in activities that promote a positive mindset.
Physical Health: Being active and making healthier choices contribute to improved physical health, reducing the risk of various chronic diseases like heart disease, diabetes, and obesity. Motivation serves as the catalyst to pursue activities that enhance your physical well-being.
Increased Energy and Productivity: Regular exercise boosts energy levels and enhances cognitive function. Motivation drives you to be more productive and efficient in other areas of life, creating a positive cycle of accomplishment.
Boosted Self-confidence: Achieving fitness and health goals instills a sense of accomplishment and boosts self-confidence. Motivation fuels your belief in your abilities and empowers you to take on new challenges.
Positive Social Influence: Motivated individuals often inspire others around them. By staying active and prioritizing health, you can positively influence friends, family, and colleagues to embark on their wellness journeys.
Quality of Life: Leading an active and healthy lifestyle contributes to an overall improved quality of life. Motivation helps you see the value and joy in engaging in activities that bring you fulfillment and happiness.
How to Common Challenges in Maintaining Motivation?
Lack of Visible Results: It can be discouraging when you don't see immediate changes in your fitness or health. To overcome this challenge, focus on non-scale victories, such as increased energy levels, improved mood, or enhanced strength and flexibility. Celebrate small achievements along the way to stay motivated.
Busy Schedule: Balancing work, family, and other commitments can make it challenging to find time for exercise and healthy habits. Plan your workouts in advance and schedule them like any other important appointment. Even short bursts of physical activity can make a difference, so find creative ways to incorporate movement into your daily routine.
Plateaus: Progress may slow down or stall at times, leading to frustration. To combat plateaus, consider changing your workout routine, increasing the intensity, or trying a new activity to challenge your body in different ways.
Lack of Support: Surrounding yourself with supportive friends, family, or workout buddies can make a significant difference. Share your goals with them, and they can provide encouragement, accountability, and companionship on your fitness journey.
Demotivating Comparisons: Constantly comparing yourself to others can lead to feelings of inadequacy. Remember that everyone's fitness journey is unique, and focus on your own progress and improvements instead.
Injury or Illness: Physical setbacks can be demotivating, but it's crucial to listen to your body and allow it time to heal. Work with a healthcare professional or a fitness trainer to modify your routine and gradually get back into activity when you're ready.
Weather and Seasonal Changes: Extreme weather or seasonal transitions might make it difficult to maintain outdoor activities. Have backup plans for indoor exercises, such as home workouts, fitness classes, or using gym facilities.
Monotony and Boredom: Doing the same exercises repeatedly can lead to boredom. Add variety to your workouts by trying new activities, participating in group classes, or exploring different outdoor pursuits.
Negative Mindset: Negative thoughts and self-doubt can sap motivation. Practice positive affirmations, surround yourself with positive influences, and engage in activities that lift your spirits and reinforce a positive mindset.
Lack of Time Management: Poor time management can hinder your ability to prioritize your health. Set specific goals, create a daily schedule, and allocate time for exercise and healthy eating to ensure consistency.
Burnout: Overdoing it or setting unrealistic expectations can lead to burnout. Embrace rest days, listen to your body, and find a balance between challenging yourself and allowing time for recovery.
Financial Constraints: Gym memberships or specialized equipment may not be financially feasible for everyone. Explore budget-friendly exercise options like bodyweight workouts, jogging, or using free fitness resources available online.
Set Clear Goals:
Be Specific: Define your goals with clarity. Instead of a vague goal like "get healthier," be specific, such as "exercise for 30 minutes five days a week" or "reduce sugar intake to one dessert per week."
Make Them Measurable: Ensure your goals are measurable so that you can track your progress. For example, "lose 10 pounds in three months" or "run a 5K race in under 25 minutes."
Set Achievable Goals: Make sure your goals are realistic and attainable based on your current fitness level and lifestyle. Setting unattainable goals can lead to frustration and demotivation.
Relevance to Your Life: Your goals should align with your values and aspirations. Consider how achieving these goals will positively impact your life and keep you motivated.
Time-Bound: Set a specific timeframe for achieving your goals. Having a deadline creates a sense of urgency and helps you stay committed.
Break Down Larger Goals: If you have significant long-term goals, break them into smaller, manageable milestones. This approach makes the journey less overwhelming and allows you to celebrate progress along the way.
Write Them Down: Document your goals in a journal or digital note. Writing them down increases commitment and serves as a visual reminder of what you want to achieve.
Prioritize Goals: If you have multiple goals, prioritize them based on their importance to you. Focusing on one or two key objectives at a time can prevent feeling overwhelmed.
Make Your Goals Personal: Your goals should be meaningful to you and not based on external pressures or comparisons with others. Connect emotionally with your objectives to maintain intrinsic motivation.
Adjust and Review Regularly: As you progress or encounter new challenges, be open to adjusting your goals. Regularly review your progress and make necessary modifications to keep your journey on track.
Celebrate Achievements: Acknowledge and celebrate each milestone you reach. Celebrating your successes reinforces positive behavior and boosts motivation to continue.
Stay Accountable: Share your goals with a supportive friend, family member, or a fitness buddy. Being accountable to someone can help you stay on track and provide valuable encouragement.
Identify Personal Rewards:
Reflect on Your Values: Consider what is genuinely important to you in life. Reflect on how improved health and fitness align with your values and long-term aspirations. This deeper connection to your goals will make the rewards more meaningful.
Intrinsic vs. Extrinsic Rewards: Distinguish between intrinsic rewards (internal satisfaction and sense of accomplishment) and extrinsic rewards (external incentives). While both have their place, intrinsic rewards are more sustainable and can foster long-term motivation.
Emphasize Non-Material Rewards: Look beyond material goods and focus on rewards that nourish your mind, body, and soul. Non-material rewards might include increased energy, improved mood, reduced stress, better sleep, or enhanced self-confidence.
Create a Reward List: Make a list of potential rewards that you can earn upon achieving certain milestones or goals. This list should be tailored to your preferences and interests, ensuring that the rewards are personally enticing.
Small and Frequent Rewards: Incorporate both small and frequent rewards for short-term goals. These immediate reinforcements can keep you motivated on a daily or weekly basis.
Long-Term Rewards: For more substantial achievements, plan long-term rewards that you can look forward to. Examples might include a weekend getaway, a spa day, or trying out a new activity you've always wanted to explore.
Track Your Progress: Keep a record of your successes, no matter how small they may seem. Tracking progress can help you acknowledge your accomplishments and reinforce the positive behaviors that lead to success.
Reward Without Guilt: It's essential to feel deserving of your rewards. Avoid associating rewards with feelings of guilt or "cheating." They are a natural part of the process and can contribute to overall motivation.
Modify Rewards as Needed: Be flexible with your rewards if you find that some are no longer motivating or meaningful. As you evolve in your journey, your preferences may change, and that's okay.
Share Your Successes: Celebrate your achievements with supportive friends, family, or an online community. Sharing your accomplishments with others who understand your efforts can enhance the sense of satisfaction and motivation.
Reward Non-Fitness Achievements: Recognize and celebrate achievements outside of fitness too. Accomplishments in other areas of life can positively impact your overall motivation and well-being.
Find an Enjoyable Physical Activity:
Here are some steps to help you discover a physical activity that you genuinely enjoy.
Explore Different Activities: Start by exploring a variety of physical activities. Try different sports, fitness classes, outdoor activities, and recreational games to see which ones resonate with you the most.
Consider Your Interests: Think about your hobbies and interests outside of fitness. If you enjoy dancing, consider taking dance classes. If you love nature, hiking or cycling might be appealing options.
Assess Your Fitness Level: Choose activities that align with your current fitness level. If you're a beginner, look for beginner-friendly classes or activities that provide a gentle introduction to exercise.
Ask for Recommendations: Seek recommendations from friends, family, or fitness professionals. They may suggest activities that you haven't considered or that align well with your preferences.
Take Advantage of Trial Classes: Many gyms and fitness studios offer trial classes. Take advantage of these opportunities to test different activities without committing to a long-term membership.
Pay Attention to Enjoyment: During and after each activity, pay attention to how you feel. Notice which activities bring you joy, make you feel energized, and leave you wanting to come back for more.
Be Open to New Experiences: Don't be afraid to try something new and step out of your comfort zone. You might discover a hidden passion for an activity you never expected to enjoy.
Combine Socializing and Exercise: Joining group activities or fitness classes can provide social interaction and make exercising more enjoyable. Having like-minded people around you can boost motivation.
Choose Activities You Can Do Anywhere: Opt for activities that are accessible and can be done anywhere, such as walking, jogging, bodyweight exercises, or yoga.
Consider Your Schedule: Find activities that fit well into your daily routine. If you have limited time, look for shorter workouts or activities that can be easily integrated into your busy schedule.
Embrace Outdoor Activities: Outdoor activities like hiking, biking, swimming, or playing team sports can be a refreshing change of pace from indoor workouts and offer a closer connection to nature.
Create Variety: Keep your routine exciting by incorporating different activities throughout the week. This prevents boredom and helps you stay motivated.
Create a Supportive Environment:
Here are some steps to help you foster a supportive environment.
Communicate Your Goals: Share your health and fitness goals with your family, friends, or close circle. By communicating your aspirations, they can provide encouragement, understanding, and support.
Surround Yourself with Positive Influences: Spend time with people who inspire and uplift you. Seek out friends or acquaintances who share similar health goals or are already leading a healthy lifestyle. Positive influences can help reinforce your commitment.
Find a Workout Buddy: Having a workout buddy can be incredibly beneficial. Partnering with someone who shares your fitness interests creates accountability, makes workouts more enjoyable, and provides mutual encouragement.
Join Fitness Classes or Groups: Participating in fitness classes or joining workout groups can introduce you to like-minded individuals with similar interests. The camaraderie and social aspect of group activities can boost motivation.
Create a Home Gym or Exercise Space: If feasible, set up a dedicated space for exercise at home. Having a designated area for workouts can make it more convenient and enjoyable to engage in physical activity.
Remove Temptations: Rid your home of unhealthy snacks and foods that might tempt you to deviate from your goals. Instead, stock up on nutritious options to support healthy eating habits.
Encourage Family Participation: Involve your family in physical activities. Plan outdoor outings, bike rides, or hikes together. This promotes a healthy lifestyle for everyone and strengthens family bonds.
Establish Regular Workout Times: Consistency is key to success. Set specific times for your workouts and treat them as non-negotiable appointments. This helps establish a routine and reduces the chances of skipping exercise.
Use Technology to Stay Connected: Stay connected with online fitness communities, health apps, or social media groups focused on health and wellness. These platforms provide motivation, information, and support.
Seek Professional Support: Consider working with a fitness trainer, nutritionist, or wellness coach. These professionals can provide personalized guidance, help you set realistic goals, and keep you accountable.
Celebrate Each Other's Successes: Celebrate not only your achievements but also the successes of others in your support network. Acknowledging each other's progress fosters a positive and encouraging atmosphere.
Be Mindful of Negative Influences: Be aware of individuals or situations that might undermine your motivation or tempt you to deviate from your goals. When possible, minimize exposure to negative influences.
Track Your Progress:
Here are some tips on how to effectively track your progress.
Set Clear Metrics: Determine specific metrics that align with your goals. These could include tracking the number of workouts per week, steps taken, distance covered, weight lifted, or improvements in flexibility and endurance.
Use a Fitness Journal or App: Keep a fitness journal or use a reliable fitness app to record your workouts, meals, and other health-related activities. Many apps have built-in tracking features that make it easy to log and visualize your progress.
Take Measurements and Photos: Beyond the numbers on the scale, consider taking body measurements and progress photos. These visual markers can provide a clearer picture of your transformation over time.
Set Milestones: Break your long-term goals into smaller milestones. Celebrate each milestone you achieve, whether it's completing a certain number of workouts or reaching a specific weight.
Track Non-Physical Changes: Don't just focus on physical changes. Keep track of improvements in energy levels, mood, sleep quality, and overall well-being. These non-physical changes are just as important indicators of progress.
Use a Calendar or Planner: Mark your workout days and other health-related activities on a calendar or planner. Seeing your commitment scheduled in advance can reinforce your dedication.
Be Consistent with Tracking: Make tracking a habit. Regularly update your journal or app to ensure accuracy and continuity in monitoring your progress.
Set Timeframes for Assessment: Decide how often you'll assess your progress. Weekly or monthly assessments can help you stay on top of your goals and make necessary adjustments.
Graph Your Progress: If you prefer visual representations, create graphs or charts to visualize your progress over time. Seeing your improvement graphically can be incredibly motivating.
Review and Reflect: Take time to review your progress regularly. Reflect on your achievements, challenges, and areas for growth. Use this reflection to set new goals and adjust your approach as needed.
Reward Yourself for Milestones: Celebrate your achievements and milestones with non-food rewards. Treat yourself to something you enjoy when you reach a significant goal.
Share Your Progress: If you're comfortable, share your progress with supportive friends, family, or an online community. Their positive feedback can fuel your motivation and provide additional encouragement.
Overcoming Setbacks and Plateaus:
Here are some strategies to overcome setbacks and plateaus.
Accept and Embrace It: Acknowledge that setbacks and plateaus are normal and happen to everyone. Avoid self-blame and negative self-talk. Instead, view these challenges as opportunities for growth and learning.
Reevaluate Your Goals: Take a step back and reevaluate your goals. Are they still realistic and attainable? Adjust them if necessary to ensure they align with your current circumstances and capabilities.
Identify the Cause: Try to pinpoint the factors contributing to the setback or plateau. It could be due to overtraining, poor nutrition, lack of sleep, or other lifestyle factors. Identifying the cause will help you address it effectively.
Modify Your Routine: Change up your workout routine to break through plateaus. Incorporate new exercises, increase the intensity, or try a different workout style to challenge your body in different ways.
Set New Challenges: Create mini-goals or challenges to keep yourself motivated. It could be increasing the number of steps taken daily, improving your flexibility, or achieving a personal best in a specific exercise.
Seek Professional Guidance: Consider consulting a fitness trainer or coach to get expert advice on overcoming plateaus. They can offer personalized guidance and create a new workout plan tailored to your needs.
Review Your Nutrition: Assess your diet to ensure you're fueling your body properly. Balanced nutrition is crucial for progress and recovery. Consider consulting a nutritionist if you need assistance.
Rest and Recovery: Adequate rest and recovery are essential for avoiding burnout and overcoming plateaus. Make sure to allow your body enough time to recuperate between intense workouts.
Stay Consistent: Avoid the temptation to give up when facing setbacks or plateaus. Consistency is key to progress. Stay committed to your fitness routine, even during challenging times.
Track Progress: Review your progress over time to remind yourself of how far you've come. Recognizing the improvements you've made can be motivating during challenging periods.
Practice Patience: Overcoming setbacks and plateaus may take time. Be patient with yourself and trust the process. Avoid rushing into drastic changes that might not be sustainable.
Lean on Support: Reach out to your support network for encouragement and motivation. Share your struggles with friends, family, or fitness buddies who can provide understanding and support.
Mix Up Your Routine:
Here are some ideas to help you mix up your routine.
Try New Activities: Explore different types of exercises and activities. If you typically focus on cardio, try incorporating strength training, yoga, or Pilates into your routine. Experiment with activities like dancing, martial arts, or rock climbing to keep things fresh.
Interval Training: Incorporate interval training into your workouts. Alternating between high-intensity bursts and periods of rest or lower intensity can boost calorie burn and improve cardiovascular fitness.
Switch Up Reps and Sets: If you're strength training, change the number of repetitions and sets you do. For example, switch from high-rep, low-weight sets to low-rep, high-weight sets to challenge your muscles in different ways.
Change Exercise Order: Alter the order in which you perform your exercises. This simple change can provide a new perspective on your workout and keep your mind engaged.
Use Different Equipment: If you primarily use gym machines, try incorporating free weights or resistance bands. Changing the equipment you use can activate different muscle stabilizers and create new challenges.
Explore Outdoor Workouts: Take advantage of nature by exercising outdoors. Go for a hike, run on a trail, cycle in a park, or do bodyweight exercises at the beach. The change of scenery can invigorate your workouts.
Join Group Classes: Participate in group fitness classes that interest you. Many gyms offer a variety of classes such as spinning, Zumba, kickboxing, or boot camp. Working out in a group setting can be motivating and fun.
Embrace Bodyweight Exercises: Learn bodyweight exercises that can be done anywhere, such as push-ups, squats, lunges, and planks. Bodyweight workouts offer versatility and convenience.
Incorporate Circuit Training: Create a circuit workout by combining different exercises with minimal rest in between. Circuit training keeps your heart rate elevated and offers a full-body workout.
Play Sports: Engage in recreational sports like basketball, soccer, tennis, or volleyball. Playing sports is a great way to stay active while having fun and competing with others.
Follow Online Workouts: Access a variety of workout routines through online platforms. Many fitness websites and apps offer different workouts and training programs to cater to various interests and fitness levels.
Set Weekly Challenges: Challenge yourself to achieve specific goals each week. Whether it's increasing your daily step count, trying a new exercise, or completing a certain number of workouts, setting challenges can add excitement to your routine.
Reward Yourself:
Here are some tips for effectively rewarding yourself.
Set Milestone Rewards: Define specific milestones on your fitness journey, such as completing a month of consistent workouts, achieving a weight loss goal, or mastering a challenging exercise. Reward yourself when you reach these milestones.
Choose Meaningful Rewards: Select rewards that hold personal significance and align with your interests and values. It could be something related to your fitness journey or a non-fitness-related treat that brings you joy.
Non-Food Rewards: While occasional indulgences in favorite treats are fine, consider focusing on non-food rewards to celebrate your accomplishments. This helps avoid an unhealthy association between food and reward.
Plan in Advance: Decide on your rewards in advance and incorporate them into your goal-setting process. Knowing what you'll receive for achieving a milestone can boost motivation.
Vary Your Rewards: Mix up your rewards to keep the excitement high. It could be buying new workout clothes, treating yourself to a massage, spending time doing a favorite hobby, or planning a fun day trip.
Celebration Rituals: Create celebration rituals to mark your achievements. It could be as simple as giving yourself a pat on the back, doing a victory dance, or taking a moment to reflect on your progress.
Visualize Rewards: Visualize yourself enjoying the rewards when you're working towards your goals. This positive imagery can enhance your determination to succeed.
Share Your Rewards: Share your accomplishments and rewards with supportive friends, family, or fitness buddies. Their encouragement and acknowledgment can make the rewards even more enjoyable.
Avoid Guilt: Remember that rewards are an essential part of staying motivated. Don't feel guilty for treating yourself after reaching a milestone; you deserve it!
Stay Realistic: Ensure that your rewards are attainable and in proportion to your achievements. Small rewards for short-term goals and more significant rewards for major milestones work well.
Create a Rewards System: Establish a points or token system for your achievements. Accumulate points for each milestone reached, and exchange them for rewards at regular intervals.
Reward Effort, Not Just Outcome: Acknowledge the effort and commitment you put into your journey, regardless of the outcome. Sometimes progress takes time, and it's essential to recognize the hard work you're putting in.
Focus on Long-Term Benefits:
Define Your Why: Understand the deeper reasons behind your desire for a healthier life. Reflect on how improved health and fitness will positively impact your overall quality of life, longevity, and happiness.
Create a Vision Board: Visualize your long-term goals and aspirations by creating a vision board. Include images, quotes, and reminders of the life you envision for yourself as you pursue a healthier lifestyle.
Think Beyond Aesthetics: While looking and feeling better may be initial motivators, consider the broader health benefits of regular exercise and a balanced diet. Focus on improved energy, reduced risk of chronic diseases, better sleep, and enhanced mental well-being.
Educate Yourself: Learn about the scientific evidence supporting the long-term health benefits of exercise and proper nutrition. Knowing the positive impact on your body can reinforce your commitment to a healthy lifestyle.
Break Down Long-Term Goals: Divide your long-term goals into smaller, achievable steps. Celebrate the progress you make along the way, knowing that each step brings you closer to the long-term benefits.
Establish Sustainable Habits: Instead of relying on quick fixes or short-term solutions, prioritize building sustainable habits. Embrace a balanced and realistic approach that you can maintain over time.
Emphasize Feeling Good: Shift your focus from just appearances to how exercise and healthy choices make you feel. Appreciate the boost in energy, mental clarity, and overall well-being that comes from an active lifestyle.
Practice Mindfulness: Cultivate mindfulness and be present in your fitness and nutrition journey. Recognize the positive effects of your efforts in the present moment, which will strengthen your commitment for the long term.
Reward Progress and Effort: Celebrate the effort you put into your health and fitness journey, not just the outcomes. Acknowledge the discipline and dedication you show regularly, knowing it will lead to lasting benefits.
Be Patient and Persistent: Realize that long-term benefits take time to manifest. Stay patient and persistent, trusting that your consistent efforts will yield positive results over time.
Surround Yourself with Like-Minded Individuals: Engage with a community of people who prioritize long-term health and well-being. Being part of a supportive group can keep you motivated and reinforce your commitment.
Track Your Progress: Keep a record of your achievements and improvements over time. Reflecting on your progress can remind you of the long-term benefits you've already gained and inspire you to continue on your path.
Make it a Habit:
Here are steps to help make it a habit.
Start Small: Begin with manageable changes that fit easily into your daily routine. Setting overly ambitious goals can be overwhelming and hinder habit formation.
Consistency is Key: Be consistent in your actions. Regularity is crucial for turning activities into habits. Aim to engage in your chosen physical activity and healthy habits on most days of the week.
Set a Specific Schedule: Establish a specific time for your workouts or healthy behaviors. Consistency in the timing helps build the habit more effectively.
Use Reminders: Set reminders on your phone or place sticky notes in visible areas to prompt you to take action. Visual cues can be powerful in triggering the habit loop.
Pair Habits Together: Pair your new healthy habit with an existing one. For example, if you want to start eating a healthy breakfast, do it after brushing your teeth in the morning.
Create a Trigger: Associate a specific trigger with the habit you want to build. This could be a particular time of day, a specific location, or an event that consistently occurs before the habit.
Start with 21 Days: While the idea of forming a habit in 21 days is a myth, committing to practicing your chosen behavior daily for a few weeks can set a strong foundation for habit formation.
Track Your Progress: Keep a habit tracker to mark off the days when you successfully complete the behavior. Tracking progress creates accountability and provides a sense of accomplishment.
Reward Yourself: Celebrate your consistency and success in building the habit. Treat yourself to non-food rewards or positive affirmations to reinforce the behavior.
Find Accountability: Share your habit-building journey with a friend or family member who can provide encouragement and hold you accountable.
Focus on the Process: Emphasize the daily action and the process of habit formation rather than solely focusing on the end result. Trust that the results will come with time and consistency.
Be Kind to Yourself: If you miss a day or slip up, don't be too hard on yourself. It's normal to face challenges when forming habits. Get back on track and continue with your efforts.
Stay Informed and Educated:
Read Reliable Sources: Stay updated on health and fitness topics by reading articles, books, or research papers from reputable sources, such as medical journals, fitness experts, and reliable websites.
Follow Fitness Experts: Follow certified fitness professionals, nutritionists, and health experts on social media or subscribe to their newsletters to receive valuable tips, advice, and the latest information.
Attend Workshops and Seminars: Participate in workshops, seminars, or webinars related to fitness, nutrition, and overall well-being. These events provide opportunities to learn from experts and ask questions.
Listen to Podcasts: Tune into podcasts that focus on health, fitness, and wellness. Podcasts are a convenient way to absorb information while on the go.
Stay Updated on Trends: Keep yourself informed about the latest trends and innovations in the health and fitness industry. However, critically evaluate these trends before incorporating them into your routine.
Engage in Online Forums and Communities: Join online forums or social media groups focused on health and fitness. Engaging in discussions with like-minded individuals can provide valuable insights and support.
Consult Professionals: When in doubt or faced with specific health concerns, seek advice from healthcare professionals, fitness trainers, or registered dietitians. Their expertise can guide you on the right path.
Learn About Nutrition: Educate yourself about nutrition, food labels, and how to make healthier food choices. Understanding the nutritional value of your diet is essential for overall health.
Stay Informed About Exercise: Learn about different types of exercises, proper form, and techniques to ensure you're performing workouts safely and effectively.
Read Success Stories: Read success stories and testimonials of individuals who have achieved their health and fitness goals. These stories can be inspiring and show you what's possible with dedication and perseverance.
Watch Documentaries: Watch health and fitness documentaries to gain insights into various aspects of well-being, from nutrition to exercise to mental health.
Evaluate Information Critically: Be discerning about the information you come across. Not all sources are reliable, and misinformation is common, especially on the internet. Verify information from multiple credible sources before accepting it as fact.
FAQs:
How do I find the motivation to start an exercise routine?
Start by setting clear and achievable goals, finding an activity you enjoy, and incorporating exercise into your daily routine. Consider joining fitness classes or finding a workout buddy for added motivation.
What can I do to stay motivated when I feel like giving up on my fitness goals?
Remind yourself of your reasons for starting in the first place. Celebrate small victories, seek support from friends or online communities, and focus on the long-term benefits of staying active and healthy.
How can I maintain motivation when progress seems slow or I hit a plateau?
Mix up your routine, set new challenges, and track your progress to stay motivated during plateaus. Focus on the process, not just the outcomes, and be patient with yourself as progress may take time.
What are some practical tips to stay consistent with my exercise routine?
Set a specific schedule, use reminders or alarms, create a supportive environment, and find activities you genuinely enjoy. Making exercise a habit will help with consistency.
How do I overcome common challenges, such as lack of time or feeling too tired to exercise?
Prioritize your health by scheduling workouts, even if they are short, and consider making small lifestyle changes to create more time for exercise. Focus on the energizing and mood-boosting effects of physical activity to combat tiredness.
How do I handle setbacks or missed workouts without feeling discouraged?
Acknowledge setbacks as part of the process and avoid self-criticism. Focus on getting back on track and celebrating your effort rather than dwelling on temporary obstacles.
How do I find an exercise routine that suits my fitness level and interests?
Experiment with different activities and classes until you find something you enjoy. Consider consulting a fitness professional to create a personalized workout plan that matches your fitness level and goals.
What role does nutrition play in staying motivated and active?
Proper nutrition fuels your body for exercise and recovery, affecting your energy levels and overall well-being. A balanced diet supports your fitness efforts and helps you maintain motivation.
How can I stay motivated when I don't see immediate results from my efforts?
Focus on non-scale victories, such as increased stamina, improved mood, or better sleep. Trust the process and remind yourself that sustainable progress takes time.
How can I avoid burnout or losing interest in my fitness routine?
Mix up your workouts, take rest days when needed, and engage in activities outside of your fitness routine to prevent burnout. Keep things enjoy.
Conclusion:
In conclusion, finding motivation to stay active and healthy is a continuous journey that requires dedication, perseverance, and a positive mindset. By setting clear goals, embracing challenges, and creating a supportive environment, individuals can overcome obstacles and maintain their drive to lead a healthier lifestyle. Staying informed, seeking enjoyment in physical activities, and celebrating progress through rewards are essential elements in sustaining long-term commitment. Emphasizing the benefits of improved well-being, both physically and mentally, encourages individuals to make healthy choices a habit, ultimately leading to a fulfilling and vibrant life filled with vitality and positive energy.