The journey of pregnancy brings forth numerous changes, both physical and emotional, underscoring the importance of maintaining an active lifestyle. Engaging in safe and appropriate exercise during pregnancy offers a plethora of benefits, from boosting mood and energy levels to promoting better posture and preparing the body for the demands of childbirth. This guide will provide you with essential insights and practical tips on how to navigate the realm of staying active during pregnancy, ensuring a healthier and more enjoyable experience for both you and your growing baby.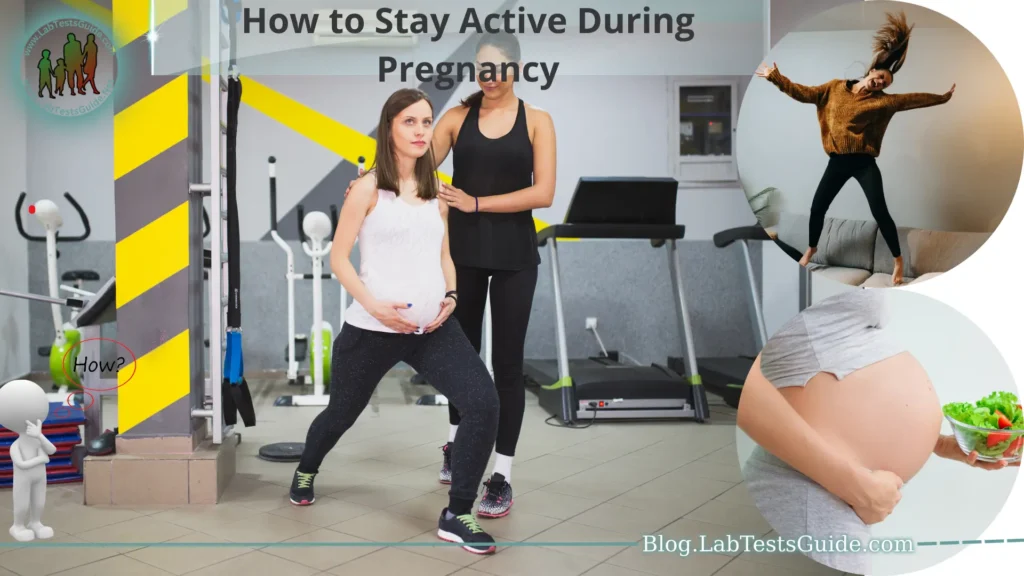 What Is Prenatal Exercise?
Definition: Prenatal exercise refers to physical activities and workouts specifically tailored for pregnant women to promote their overall health and well-being during pregnancy.
Benefits: Engaging in prenatal exercise can help improve cardiovascular fitness, maintain muscle strength and flexibility, enhance mood, alleviate discomfort, and even aid in better sleep.
Safety First: Prenatal exercise should be done with careful consideration of individual health and medical history. It's crucial to consult a healthcare provider before starting any new exercise routine during pregnancy.
Adaptation: Prenatal exercise routines are designed to adapt to the changing needs of a pregnant body. As the pregnancy progresses, exercises may need to be modified to accommodate the growing belly and shifting balance.
Low-Impact Focus: Many prenatal exercises focus on low-impact activities such as walking, swimming, stationary cycling, and prenatal yoga. These exercises reduce stress on joints and minimize the risk of injury.
Pelvic Floor Exercises: Pelvic floor exercises, like Kegels, play a significant role in prenatal exercise. Strengthening these muscles can aid in labor and postpartum recovery.
Moderation: While exercise is beneficial, moderation is key. Overexertion should be avoided, and workouts should be adjusted to the comfort level of the individual.
Hydration and Nutrition: Proper hydration and balanced nutrition are vital components of prenatal exercise. Drinking enough water and consuming nutrient-rich foods support both maternal and fetal health.
Listening to Your Body: Pregnant women should pay attention to their body's signals. If an exercise feels uncomfortable or causes pain, it's important to stop or modify the activity.
Social Support: Joining prenatal exercise classes or groups can provide not only a sense of community but also guidance from instructors experienced in working with pregnant women.
Postpartum Considerations: Prenatal exercise can also have positive effects postpartum. However, the postpartum period requires its own set of considerations, including gradual re-entry into exercise and a focus on healing.
How to Safely Stay Active During Pregnancy:
Consult Your Healthcare Provider: Before starting any exercise program, consult your healthcare provider to ensure you have medical clearance and to discuss any specific precautions or limitations based on your individual health and pregnancy conditions.
Choose Safe Activities: Opt for low-impact exercises like walking, swimming, stationary cycling, and prenatal yoga. These activities minimize stress on your joints and reduce the risk of injury.
Warm Up and Cool Down: Always begin with a gentle warm-up to increase blood flow to your muscles and follow it with a proper cool-down to help your body gradually return to its resting state.
Stay Hydrated: Drink plenty of water before, during, and after your workout to stay properly hydrated, as dehydration can have negative effects on both you and your baby.
Listen to Your Body: Pay attention to how your body responds during exercise. If you feel discomfort, pain, dizziness, or shortness of breath, stop immediately and consult your healthcare provider.
Avoid Overexertion: Pregnancy is not the time to push your limits. Maintain a moderate level of exertion, and avoid activities that require intense effort or breathlessness.
Modify as Needed: As your pregnancy progresses, your body will change. Modify exercises to accommodate your growing belly, shifting balance, and any discomfort you may experience.
Include Pelvic Floor Exercises: Strengthening your pelvic floor muscles through exercises like Kegels can help prepare your body for labor and reduce the risk of postpartum issues.
Maintain Proper Nutrition: Eat a balanced diet that provides the necessary nutrients for both you and your baby. Fuel your body appropriately before and after exercise.
Supportive Clothing and Footwear: Wear comfortable, supportive clothing and well-fitting shoes that provide stability and reduce the risk of falls.
Avoid High-Risk Activities: Skip activities with a higher risk of falling or injury, such as contact sports, activities with a risk of abdominal trauma, and exercises that involve lying flat on your back after the first trimester.
Monitor Core Temperature: Avoid overheating by exercising in a well-ventilated area and wearing lightweight clothing. Overheating can be harmful to your baby's development.
Stay Mindful of Balance: Your balance may change as your belly grows. Engage in exercises that enhance balance and stability to reduce the risk of falls.
Get Proper Sleep: Rest is crucial for both you and your baby. Make sure to get adequate sleep and listen to your body's signals when it comes to rest and recovery.
Seek Professional Guidance: If you're unsure about how to design a safe exercise routine, consider working with a certified prenatal fitness instructor who has expertise in tailoring workouts for pregnant women.
Creating a Balanced Exercise Routine:
Set Realistic Goals: Understand your fitness level and set achievable goals that align with your pregnancy stage. Focus on maintaining your current fitness level rather than aiming for significant improvements.
Incorporate Cardiovascular Exercises: Cardiovascular exercises like brisk walking, swimming, and stationary cycling improve heart health, boost circulation, and provide a general sense of well-being. Aim for at least 150 minutes of moderate-intensity cardio per week.
Include Strength Training: Incorporate strength exercises to maintain muscle tone and support your changing body. Focus on major muscle groups using bodyweight exercises, resistance bands, or light weights. Perform 2-3 sessions per week.
Prioritize Core and Pelvic Floor: Engage in exercises that strengthen your core and pelvic floor muscles. Pelvic tilts, modified planks, and Kegels can help maintain stability and support throughout pregnancy.
Integrate Flexibility and Stretching: Gentle stretching and flexibility exercises, like prenatal yoga or static stretches, can alleviate muscle tension, improve flexibility, and promote relaxation.
Mind Your Posture: Include exercises that encourage good posture, as pregnancy can cause shifts in your center of gravity. Balance exercises, yoga poses, and back-strengthening movements are beneficial.
Stay Hydrated and Fuel Up: Drink water before, during, and after your workout to stay hydrated. Consume a balanced meal or snack that combines carbohydrates, proteins, and healthy fats about an hour before exercising.
Rest and Recovery: Give your body sufficient time to recover between workouts. Listen to your body's cues and don't hesitate to take rest days when needed.
Modify As You Progress: Adjust your routine as your pregnancy advances. Reduce high-impact activities, modify exercises that become uncomfortable, and prioritize stability.
Warm-Up and Cool-Down: Begin each session with a 5-10 minute warm-up to increase blood flow and prepare your muscles. Afterward, cool down with gentle stretches to promote flexibility.
Seek Professional Guidance: If you're new to exercise or have specific concerns, consult a certified prenatal fitness instructor or a healthcare provider to design a safe and effective routine.
Listen to Your Body: Pay attention to how you feel during and after exercise. If you experience pain, dizziness, or unusual discomfort, stop immediately and consult your healthcare provider.
Staying Hydrated and Well-Nourished:
Hydration Matters: Drink water regularly throughout the day to stay hydrated. Aim for at least 8-10 glasses of water daily, and more if you're physically active or in a hot environment.
Pre-Exercise Hydration: Drink about 16-20 ounces of water an hour before exercise. This helps prevent dehydration during your workout.
During Exercise: Sip water during your workout to prevent overheating and maintain adequate fluid levels. Listen to your body's cues, and don't wait until you're thirsty to drink.
Post-Exercise Hydration: Rehydrate after exercise by drinking water to replace fluids lost during the workout. Coconut water or diluted fruit juices can also provide electrolytes.
Balanced Nutrition: Consume a balanced diet rich in fruits, vegetables, whole grains, lean proteins, and healthy fats. This supports your energy levels, provides essential nutrients, and aids in your baby's development.
Regular Meals and Snacks: Eat small, balanced meals and snacks throughout the day to maintain stable blood sugar levels and prevent energy crashes.
Pre-Exercise Snack: Consume a light snack 1-2 hours before exercising. Opt for a mix of complex carbs and proteins, like a banana with yogurt or a small whole-grain sandwich.
Post-Exercise Recovery: After your workout, refuel with a snack or meal that combines carbohydrates and protein. This helps with muscle recovery and replenishing energy stores.
Avoid Empty Calories: Limit foods and drinks high in added sugars, unhealthy fats, and empty calories. These provide little nutritional value and can lead to excessive weight gain.
Vitamins and Minerals: Ensure you're getting adequate amounts of essential vitamins like folic acid, iron, calcium, and omega-3 fatty acids. Consider prenatal supplements as advised by your healthcare provider.
Listen to Cravings: While it's important to prioritize nutrient-dense foods, it's also okay to listen to your cravings in moderation. Cravings can sometimes signal a need for certain nutrients.
Limit Caffeine: Limit your caffeine intake, as excessive caffeine can impact nutrient absorption and potentially affect your baby's development. Opt for decaffeinated options when possible.
Consult a Registered Dietitian: If you're unsure about your dietary needs during pregnancy, consult a registered dietitian who specializes in prenatal nutrition for personalized guidance.
Ensuring Proper Warm-Up and Cool-Down:
Warm-Up:
Start Gradually: Begin with 5-10 minutes of low-intensity cardio, like brisk walking or gentle cycling, to increase your heart rate and warm up your muscles.
Dynamic Stretches: Perform dynamic stretches that mimic the movements you'll be doing during your workout. Focus on gentle movements that gradually increase your range of motion.
Joint Mobility: Include movements that target your joints, such as ankle circles, arm swings, and hip rotations. This helps lubricate the joints and prepare them for exercise.
Body Awareness: Engage in movements that increase your awareness of your body's alignment and posture. This is particularly important during pregnancy to maintain balance and stability.
Breathing Exercises: Incorporate deep breathing exercises to oxygenate your muscles and enhance relaxation. Breathing helps prepare your body for physical activity.
Cool-Down:
Gradual Transition: Slow down your exercise intensity during the last 5-10 minutes of your workout. This allows your heart rate to gradually return to its resting state.
Static Stretches: Perform static stretches, holding each stretch for 15-30 seconds. Focus on major muscle groups you've engaged during your workout.
Focus on Flexibility: Emphasize stretches that target muscles that might have tightened during your workout. Pay attention to areas that may be prone to discomfort during pregnancy.
Hydration: Drink water after your workout to replenish fluids lost during exercise. Proper hydration supports your body's recovery process.
Mindfulness and Relaxation: Use the cool-down as an opportunity to calm your mind. Incorporate deep breathing or relaxation techniques to ease any tension.
Reflection: Take a moment to reflect on your workout and how your body feels. Listen to any signals your body is sending, and adjust your routine as needed.
Adaptation for Pregnancy:
During pregnancy, avoid static stretches that involve lying flat on your back after the first trimester, as this can restrict blood flow to the uterus.
Modify stretches to accommodate your growing belly. Use props like cushions or yoga blocks to support your body.
Benefits:
A proper warm-up increases blood flow, warms up muscles, and enhances flexibility.
An effective cool-down helps prevent post-workout soreness, reduces the risk of injury, and promotes relaxation.
Modifications for Each Trimester:
First Trimester:
Consultation: Always consult your healthcare provider before starting any new exercise routine.
Focus on Cardio: Engage in low-impact cardio activities like brisk walking, swimming, or stationary cycling to boost your energy levels.
Avoid Overexertion: Listen to your body; if you feel tired, take breaks as needed.
Hydration: Stay hydrated to prevent nausea and dehydration.
Core Exercises: Continue core exercises that focus on stability rather than intensity.
Monitor Body Temperature: Avoid overheating and stay in well-ventilated areas.
Modify Intense Movements: Reduce the intensity of jumps, twists, and sudden changes in direction.
Pelvic Floor Awareness: Begin practicing pelvic floor exercises.
Second Trimester:
Reevaluate Exercises: Check with your healthcare provider if you can continue previous exercises or need modifications.
Modify Ab Exercises: Avoid traditional crunches and opt for exercises that support the growing belly.
Balance and Stability: Engage in exercises that improve balance to accommodate your changing center of gravity.
Posture Focus: Incorporate exercises that promote good posture to relieve strain on the lower back.
Breathing Techniques: Practice breathing techniques that will aid relaxation and preparation for labor.
Stay Hydrated: Continue to drink water regularly, especially as your blood volume increases.
Third Trimester:
Simplify Movements: Focus on simplified movements that minimize impact and reduce the risk of falls.
Supportive Gear: Wear supportive footwear to counterbalance changes in balance.
Use Props: Utilize props like stability balls or chairs for balance during strength exercises.
Pelvic Floor Exercises: Continue practicing pelvic floor exercises to support labor and postpartum recovery.
Gentle Stretching: Incorporate gentle stretches to alleviate muscle tension and improve flexibility.
Monitor Breathing: Pay attention to breathing during exercises to avoid breathlessness.
Monitor Intensity: Reduce exercise intensity and duration as needed; prioritize comfort.
Stay Mindful of Ligaments: Hormonal changes can make your joints more flexible, so avoid overstretching.
Staying Mindful and Relaxed:
Here's how to stay present and find moments of calm throughout your pregnancy journey.
Mindful Breathing: Practice deep and mindful breathing techniques to reduce stress and increase relaxation. Focus on slow, deep breaths that help calm your nervous system.
Prenatal Yoga: Engage in prenatal yoga sessions that emphasize breath awareness, gentle stretches, and meditation. Yoga can help you connect with your body and find moments of tranquility.
Meditation: Dedicate time to meditation each day, even if it's just for a few minutes. Guided pregnancy meditation apps or videos can help you stay centered and focused.
Nature Walks: Take leisurely walks in nature to immerse yourself in the calming effects of the outdoors. Enjoy the beauty of your surroundings and the fresh air.
Visualizations: Use positive visualizations to ease stress and anxiety. Imagine a peaceful scene or envision a smooth and healthy pregnancy journey.
Warm Baths: Enjoy warm baths to relax your muscles and create a serene environment. Add some soothing scents, like lavender, to enhance the experience.
Avoid Overexertion: Be mindful not to overexert yourself, both mentally and physically. Give yourself permission to rest when needed without feeling guilty.
Digital Detox: Take breaks from screens and social media to reduce mental clutter and promote a sense of calm.
Journaling: Write in a journal to express your thoughts, fears, and joys during pregnancy. This practice can provide emotional release and clarity.
Massage and Self-Care: Indulge in self-care activities like prenatal massage, gentle stretching, or even pampering yourself with a relaxing bath.
Connecting with Your Baby: Spend quiet moments connecting with your baby. Place your hands on your belly, talk to your baby, and visualize a bond between the two of you.
Limit Stressors: Minimize exposure to stressful situations and environments that could contribute to feelings of anxiety.
Stay Present: Embrace mindfulness by staying present in the moment. Focus on what you're doing without worrying about the past or future.
Positive Affirmations: Repeat positive affirmations daily to reinforce a positive mindset and promote emotional well-being.
Seek Support: Share your feelings with a partner, friend, or support group. Talking about your experiences can provide relief and connection.
Engaging in Social Support:
Here's how to engage in social support and build a network of encouragement during this special time.
Join Prenatal Classes: Enroll in prenatal fitness classes, yoga sessions, or childbirth education classes. These provide opportunities to meet other expectant parents and bond over shared experiences.
Online Communities: Participate in online forums, social media groups, and pregnancy-related platforms. Connect with people from around the world who are going through similar journeys.
Local Support Groups: Check if there are local support groups or meetups for pregnant women in your community. These in-person gatherings offer a chance to build friendships and share stories.
Connect with Friends and Family: Reconnect with friends and family who have been through pregnancy or have parenting experience. Their insights and guidance can be invaluable.
Attend Workshops and Seminars: Attend workshops and seminars on pregnancy, childbirth, and parenting. These events often create opportunities to connect with others who are on the same path.
Create a Pregnancy Journal or Blog: Document your pregnancy journey through a journal or an online blog. This can be a great way to share your experiences and connect with a supportive audience.
Involve Your Partner: Encourage your partner to be actively involved in your pregnancy journey. Attend classes, appointments, and activities together.
Communicate with Your Healthcare Provider: Don't hesitate to ask questions or discuss your concerns with your healthcare provider. They can offer guidance and connect you with local resources.
Share Experiences: Be open about your own experiences and challenges. Sharing your journey can encourage others to open up as well.
Listen and Empathize: Be a good listener and offer empathetic support to others. Sometimes, just knowing that someone understands can provide immense comfort.
Organize Social Gatherings: Plan casual meetups with friends or acquaintances who are also expecting. These gatherings can foster a sense of community.
Virtual Hangouts: Organize virtual catch-ups with friends who might not be in your local area. Video calls allow you to maintain connections regardless of distance.
Mindful Sharing: While sharing experiences is beneficial, be mindful of individual differences and sensitivities. Respect personal choices and diverse viewpoints.
Celebrate Milestones Together: Celebrate pregnancy milestones with your support network. This could include baby showers, gender reveal parties, or simply enjoying quality time together.
Be Open to New Connections: Approach social interactions with an open heart. You might find unexpected friendships that enrich your pregnancy experience.
FAQs:
Is exercise safe during pregnancy?
In most cases, exercise is safe during pregnancy, but it's essential to consult your healthcare provider before starting any new exercise routine. They can provide personalized guidance based on your health and pregnancy status.
What are the benefits of staying active during pregnancy?
Staying active can help improve cardiovascular fitness, maintain muscle strength, manage weight gain, reduce discomfort, boost mood, and prepare your body for labor and postpartum recovery.
What types of exercises are safe during pregnancy?
Low-impact activities like walking, swimming, stationary cycling, and prenatal yoga are generally safe options. Always choose exercises that are comfortable and avoid high-impact or risky activities.
How often should I exercise during pregnancy?
Aim for at least 150 minutes of moderate-intensity aerobic activity spread throughout the week. Listen to your body and adjust the frequency as needed.
Can I continue strength training during pregnancy?
Yes, you can continue strength training, but focus on maintaining rather than increasing muscle mass. Use lighter weights or resistance bands, and avoid exercises that strain the abdominal muscles.
How do I know if I'm overexerting myself during exercise?
Pay attention to your body's signals. If you feel exhausted, breathless, dizzy, or experience pain, it's a sign to stop and rest.
Should I modify my exercises as my pregnancy progresses?
Yes, as your body changes, you'll need to modify exercises to accommodate your growing belly, changes in balance, and comfort level. Consult your healthcare provider for guidance.
Are there exercises I should avoid during pregnancy?
Avoid exercises that involve lying flat on your back after the first trimester, high-impact activities, contact sports, and exercises that pose a risk of falling or abdominal trauma.
Is it okay to do core exercises during pregnancy?
Yes, but focus on core stability exercises rather than intense ab workouts. Avoid exercises that involve crunches or deep twisting.
What role do pelvic floor exercises play during pregnancy?
Pelvic floor exercises, like Kegels, help strengthen the muscles that support your bladder, uterus, and bowels. A strong pelvic floor can aid in labor and postpartum recovery.
Conclusion:
In conclusion, maintaining an active lifestyle throughout pregnancy can contribute significantly to your overall well-being and enhance your pregnancy journey. By prioritizing safe and suitable exercises, staying mindful of your body's signals, and seeking support from healthcare providers, instructors, and a supportive community, you can enjoy the physical and mental benefits that exercise offers during this transformative time. Remember that every pregnancy is unique, so tailor your approach to align with your individual needs, and embrace the opportunity to nurture both your own health and the well-being of your growing baby.