As the sun shines brightly and the temperatures soar, summer brings with it a vibrant and energizing atmosphere. It's a time for outdoor adventures, beach days, and spending quality moments with friends and family. However, amidst the fun and excitement, it's crucial to prioritize your health and well-being during this season. The scorching heat, increased sun exposure, and other seasonal challenges can pose risks to our bodies and minds if we don't take adequate care.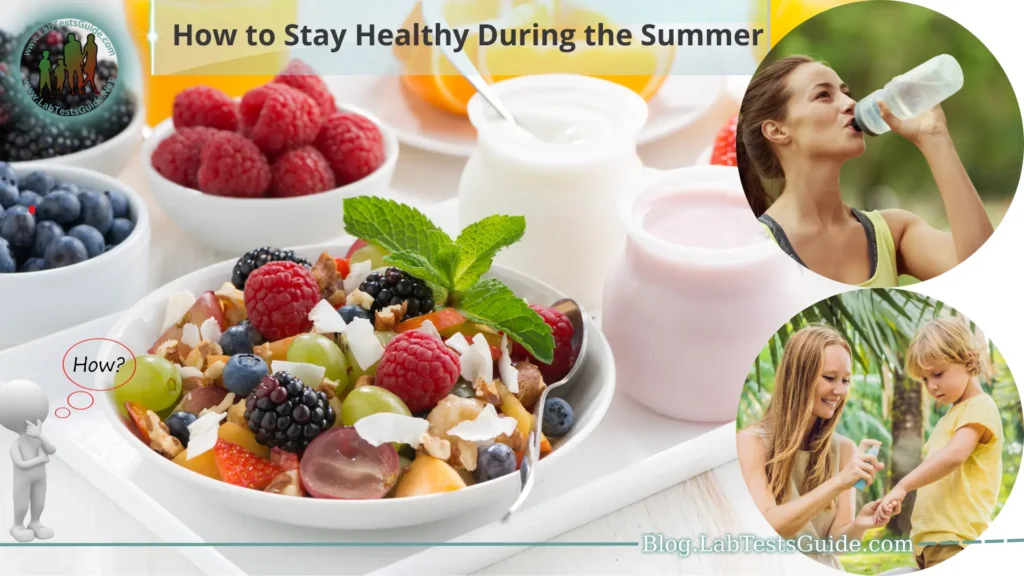 In this guide, we will explore various tips and strategies to help you stay healthy and safe throughout the summer months. From essential practices like staying hydrated and protecting your skin from harmful UV rays to managing heat-related illnesses and incorporating healthy eating habits, we will cover a comprehensive range of topics to keep you in the best shape possible. By following these guidelines, you can make the most of this delightful season while maintaining your health and vitality. Let's embark on a journey to embrace a summer full of joy, well-being, and unforgettable experiences.
What is Summer Health and Why Does it Matter?
Definition of Summer Health: Summer health refers to the well-being and physical condition of individuals during the hot and often humid summer season. It encompasses various aspects, including hydration, sun protection, healthy eating, exercise, and mental well-being.
Seasonal Health Challenges: Summer presents unique challenges to our bodies due to increased temperatures and prolonged exposure to sunlight. Dehydration, heat-related illnesses, sunburn, and seasonal allergies are some common health issues faced during this time.
Importance of Staying Healthy: Maintaining good health during summer is crucial to ensure an enjoyable and fulfilling season. It allows us to participate in outdoor activities, travel, and make the most of the vibrant atmosphere without being hindered by health problems.
Enhanced Physical Performance: By prioritizing summer health, individuals can experience improved physical performance, making it easier to engage in sports, exercise, and other recreational activities.
Protecting Against Sun Damage: Summer health practices, such as using sunscreen and wearing protective clothing, help shield the skin from harmful UV rays, reducing the risk of skin cancer and premature aging.
Mental Well-being: Summer health isn't just about physical aspects; it also encompasses mental well-being. Taking care of our mental health during this season can lead to reduced stress and increased overall happiness.
Prevention of Heat-related Illnesses: Understanding and implementing measures to prevent heat exhaustion and heatstroke are essential in safeguarding our health and preventing life-threatening conditions.
Seasonal Nutrition: Focusing on a balanced diet that incorporates seasonal fruits and vegetables helps provide essential nutrients, antioxidants, and hydration, supporting overall health and vitality.
Improved Sleep Quality: Maintaining a healthy summer lifestyle can positively impact sleep quality, leading to better rest and increased energy levels throughout the day.
Long-term Health Benefits: Prioritizing summer health practices contributes to long-term benefits, promoting a healthy lifestyle that extends beyond the summer months and positively impacting our overall well-being.
How to Stay Hydrated During the Summer:
Drink Plenty of Water: The most obvious but essential tip is to drink an ample amount of water throughout the day. Aim for at least 8-10 glasses of water daily, and increase your intake if you're engaging in physical activities or spending time outdoors.
Monitor Your Urine: Pay attention to the color of your urine as it can indicate your hydration level. Pale yellow or straw-colored urine generally suggests good hydration, while darker urine may indicate dehydration.
Carry a Water Bottle: Always keep a reusable water bottle with you wherever you go. Having water readily available will remind you to drink regularly and prevent dehydration.
Set Hydration Reminders: If you have a busy schedule, consider setting reminders on your phone or using hydration apps to prompt you to drink water at regular intervals.
Opt for Hydrating Foods: Include fruits and vegetables with high water content in your diet, such as watermelon, cucumber, oranges, and lettuce. These foods provide not only hydration but also essential vitamins and minerals.
Avoid Excessive Alcohol and Caffeine: Alcohol and caffeinated beverages can contribute to dehydration. Limit your consumption of these drinks, especially when you're spending time outdoors in the heat.
Electrolyte Balance: In addition to water, it's crucial to maintain electrolyte balance, especially if you're engaging in intense physical activities. You can consume electrolyte-rich drinks or eat foods like bananas, coconut water, and yogurt.
Drink Before You're Thirsty: Thirst is a late indicator of dehydration, so try to drink water before you feel thirsty. By the time you feel thirsty, you may already be mildly dehydrated.
Seek Shade and Rest: During hot days, take breaks in shaded or cool areas, and avoid strenuous activities during peak heat hours. This will reduce the amount of water lost through sweating.
Be Mindful of Air Conditioning: Air conditioning can lead to increased fluid loss through evaporation, so ensure you're adequately hydrated when spending extended periods in air-conditioned environments.
Sun Protection:
Apply Sunscreen: Use a broad-spectrum sunscreen with an SPF (Sun Protection Factor) of at least 30, and apply it generously to all exposed skin before going outside. Reapply every two hours, or more frequently if swimming or sweating.
Wear Protective Clothing: Cover up with lightweight, loose-fitting clothing that covers your arms and legs. Choose clothing with UPF (Ultraviolet Protection Factor) for added sun protection.
Don a Wide-Brimmed Hat: Wear a wide-brimmed hat that shades your face, ears, and neck from direct sunlight. A hat with a brim of at least three inches provides optimal protection.
Sunglasses with UV Protection: Wear sunglasses that block 100% of UVA and UVB rays to protect your eyes from harmful sun exposure and reduce the risk of cataracts and other eye conditions.
Seek Shade: Limit direct sun exposure during peak hours, typically between 10 a.m. and 4 p.m. If possible, stay in shaded areas, especially when the sun's rays are strongest.
Use Sun-Protective Umbrellas: When spending extended time outdoors, consider using sun-protective umbrellas or canopies to create additional shade.
Sun-Protective Accessories: Use UV-protective accessories, such as UV-blocking sleeves or gloves, to protect hands and arms when engaging in outdoor activities.
Be Extra Cautious Near Water, Sand, and Snow: These surfaces can reflect and intensify the sun's rays, increasing the risk of sunburn. Take extra precautions in these environments.
Avoid Tanning Beds: Tanning beds emit harmful UV radiation, which can significantly increase the risk of skin cancer. Avoid using tanning beds altogether.
Perform Regular Skin Checks: Keep an eye on your skin and check for any changes, such as new moles, changes in size, shape, or color of existing moles, or any unusual skin growths. If you notice anything concerning, consult a dermatologist promptly.
Healthy Eating in Summer:
Embrace Seasonal Fruits and Vegetables: Take advantage of the abundance of fresh, seasonal produce available during the summer. Enjoy fruits like watermelon, berries, peaches, and vegetables like cucumbers, tomatoes, and zucchini, which are not only delicious but also packed with essential vitamins and minerals.
Stay Hydrated with Water-Rich Foods: Hydration is crucial in the summer, and you can boost your water intake by consuming water-rich foods like watermelon, cantaloupe, oranges, and celery.
Opt for Light and Refreshing Meals: In the heat of summer, heavy and greasy meals can feel overwhelming. Choose light and refreshing dishes, such as salads, cold soups, and grilled vegetables, to keep you feeling energized and satisfied.
Incorporate Whole Grains: Swap refined grains for whole grains like quinoa, brown rice, and whole wheat to add fiber and nutrients to your diet.
Barbecue Healthily: Grilling is a popular summer activity, but it's essential to choose lean meats like chicken, turkey, or fish. Additionally, grill vegetables and fruits for a delicious and nutritious side dish.
Limit Sugary and Carbonated Drinks: Sugary sodas and carbonated beverages can be tempting, but they are high in empty calories and can lead to dehydration. Instead, opt for infused water, unsweetened iced tea, or naturally flavored water for a healthier alternative.
Homemade Frozen Treats: Instead of reaching for store-bought ice cream loaded with added sugars and preservatives, make your own frozen treats using natural fruit purees or yogurt for a healthier, cooling option.
Practice Food Safety: With higher temperatures, the risk of foodborne illnesses increases. Ensure that perishable foods are properly stored and avoid leaving them out in the sun for an extended period.
Control Portion Sizes: Summertime often involves social gatherings and barbecues, which can lead to overeating. Be mindful of portion sizes and listen to your body's hunger cues.
Snack Smartly: Opt for healthy snacks like nuts, seeds, yogurt, or fresh fruits instead of processed snacks high in salt and unhealthy fats.
Staying Active Safely:
Choose the Right Time: Exercise during the cooler parts of the day, such as early morning or late evening, to avoid the peak heat and reduce the risk of heat-related illnesses.
Dress Appropriately: Wear lightweight, breathable, and moisture-wicking clothing to stay cool and comfortable during physical activities. Don't forget to wear a hat and sunglasses for added sun protection.
Sunscreen and Sun Protection: Apply sunscreen before heading outdoors and reapply as needed, especially if you'll be exercising for an extended period. Use sun-protective clothing and seek shade when possible to avoid sunburn and UV damage.
Stay Hydrated: Drink plenty of water before, during, and after your workout to prevent dehydration. Consider carrying a water bottle with you during exercise.
Warm-up and Cool Down: Always perform a proper warm-up and cool-down to prepare your muscles for physical activity and prevent injury.
Modify Intensity: Adjust your workout intensity to match the heat and your fitness level. Consider lower-intensity activities during extremely hot days.
Take Breaks: Incorporate rest breaks during exercise sessions to allow your body to cool down and recover.
Listen to Your Body: Pay attention to any signs of heat-related illnesses, such as dizziness, nausea, excessive sweating, or weakness. If you experience any of these symptoms, stop exercising immediately and seek shade and hydration.
Choose Water Activities: Swimming and water-based exercises are excellent options for staying active during summer, as they provide a refreshing and low-impact workout.
Exercise Indoors: On exceptionally hot or poor air quality days, consider exercising indoors at a gym or using workout videos at home to stay active safely.
Buddy System: Exercise with a friend or family member. Not only is it more fun, but it also ensures someone is there to assist in case of an emergency.
Be Mindful of Allergens: If you have allergies, be cautious of outdoor activities that may expose you to allergens like pollen or mold. Consider indoor exercises on high pollen days.
Managing Heat-related Illnesses:
Recognize the Symptoms: Familiarize yourself with the symptoms of heat-related illnesses, such as heat exhaustion and heatstroke. Common signs include heavy sweating, weakness, dizziness, headache, nausea, rapid pulse, and confusion.
Seek Shade and Rest: If you or someone else shows signs of heat exhaustion, immediately move to a shaded area and rest. Lie down with elevated feet if possible to aid circulation.
Hydrate: Drink cool water or an electrolyte-rich beverage if you're experiencing heat exhaustion. Sip slowly to avoid overwhelming your stomach.
Cool the Body: Use cold compresses or wet towels to cool the body. Applying cool water to the skin helps bring down body temperature.
Fan or Air Conditioning: If available, use a fan or seek air-conditioned environments to help cool down.
Remove Excess Clothing: Loosen or remove unnecessary clothing to allow better air circulation and aid in cooling.
Heatstroke Emergency: Heatstroke is a medical emergency. If someone is experiencing high body temperature (above 103°F or 39.4°C), unconsciousness, or confusion, call emergency services immediately.
Do Not Use Ice Water: While cold water is helpful for heat exhaustion, avoid using ice water or ice packs for heatstroke. They can constrict blood vessels and hinder the body's ability to cool down.
Provide First Aid: While waiting for medical assistance for a heatstroke victim, try to cool them down using cool water and fan the person if possible.
Preventive Measures: To avoid heat-related illnesses, take preventive measures like staying hydrated, wearing lightweight and breathable clothing, and avoiding prolonged exposure to high temperatures.
Adequate Rest and Sleep:
Prioritize Sleep: Make sleep a priority by setting a consistent sleep schedule, even during the summer months. Aim for 7-9 hours of sleep each night for optimal rest and rejuvenation.
Create a Relaxing Bedtime Routine: Establish a calming bedtime routine to signal your body that it's time to wind down. This can include activities like reading, meditating, or taking a warm bath.
Keep Your Bedroom Cool: Ensure your bedroom is cool and well-ventilated, as a comfortable sleep environment can promote better sleep quality.
Use Fans or Air Conditioning: If the summer heat disrupts your sleep, use fans or air conditioning to keep your bedroom at a comfortable temperature.
Limit Screen Time Before Bed: Avoid screens like phones, tablets, and computers at least an hour before bedtime, as the blue light can interfere with your sleep-wake cycle.
Watch Your Caffeine Intake: Be mindful of your caffeine consumption, especially in the afternoon and evening, as it can disrupt sleep patterns.
Manage Stress and Anxiety: Practice relaxation techniques such as deep breathing, yoga, or mindfulness to manage stress and promote a peaceful mindset before bedtime.
Exercise Regularly: Engage in regular physical activity, but try to avoid vigorous exercise close to bedtime, as it may make falling asleep more challenging.
Limit Alcohol and Heavy Meals: Avoid consuming large meals and alcohol close to bedtime, as they can interfere with your sleep and may cause disruptions during the night.
Nap Wisely: If you need to take a nap during the day, keep it short (20-30 minutes) and avoid napping too close to your bedtime.
Wear Comfortable Sleepwear: Choose lightweight, breathable sleepwear to stay comfortable during warm summer nights.
Allergies and Summer Health Issues:
Understand Seasonal Allergies: Summer can bring about seasonal allergies triggered by pollen from grass, trees, and weeds. Educate yourself about common allergens and their effects on your health.
Monitor Pollen Levels: Check daily pollen forecasts to be aware of high pollen days. Limit outdoor activities when pollen levels are at their peak, usually in the early morning and late afternoon.
Keep Windows Closed: To reduce allergens indoors, keep windows and doors closed, especially during high pollen times. Use air conditioning with a clean filter to circulate air instead.
Maintain Good Indoor Air Quality: Regularly clean and dust your home, including carpets, upholstery, and bedding, to minimize indoor allergens. Consider using air purifiers to further improve air quality.
Shower and Change Clothes: After spending time outdoors, shower to remove pollen from your skin and hair. Change into clean clothes to prevent pollen from spreading indoors.
Use Allergy Medications: Over-the-counter antihistamines or nasal sprays can help alleviate allergy symptoms. Consult with a healthcare professional to find the right medication for you.
Wear Sunglasses: Wearing sunglasses can help protect your eyes from pollen and reduce eye allergy symptoms.
Stay Informed about Air Quality: During summer, air pollution can worsen, especially in urban areas. Be aware of air quality alerts and avoid outdoor activities during poor air quality days.
Prevent Insect Bites: To avoid allergic reactions to insect bites, use insect repellents, wear protective clothing, and avoid areas with high insect activity.
Stay Hydrated: Drinking plenty of water can help flush out toxins and allergens from your body, potentially reducing allergy symptoms.
FAQs:
How much water should I drink during the summer?
Aim to drink at least 8-10 glasses of water per day during the summer. If you're engaging in physical activities or spending time outdoors in the heat, you may need to increase your water intake.
What sunscreen SPF should I use?
Use a broad-spectrum sunscreen with an SPF of at least 30. This provides protection against both UVA and UVB rays. Remember to reapply sunscreen every two hours, especially if you're swimming or sweating.
How can I stay active safely in the summer?
Exercise during the cooler parts of the day, wear appropriate clothing, stay hydrated, and listen to your body. Choose low-impact activities or opt for indoor exercises on extremely hot days.
What are the common symptoms of heat exhaustion?
Common symptoms of heat exhaustion include heavy sweating, weakness, dizziness, headache, nausea, rapid pulse, and confusion.
How can I improve my sleep quality during the summer?
Maintain a consistent sleep schedule, create a calming bedtime routine, keep your bedroom cool, limit screen time before bed, and avoid caffeine and heavy meals close to bedtime.
What are common allergens during the summer?
Common allergens during the summer include pollen from grass, trees, and weeds. Other allergens may include mold spores and insect stings.
How can I manage seasonal allergies?
Monitor pollen levels, keep windows closed, maintain good indoor air quality, shower after being outdoors, and use allergy medications as needed. Consult with a healthcare professional for personalized advice.
What precautions should I take to protect myself from insect bites?
Use insect repellents, wear protective clothing, avoid areas with high insect activity, and be cautious around standing water where mosquitoes breed.
How can I prevent heatstroke during hot weather?
Stay hydrated, avoid strenuous activities during peak heat hours, seek shade, and never leave children or pets in parked cars.
What are some healthy eating tips for the summer?
Embrace seasonal fruits and vegetables, stay hydrated with water-rich foods, opt for light and refreshing meals, and limit sugary and carbonated drinks.
Conclusion:
In conclusion, staying healthy during the summer is essential for enjoying the season to the fullest. By following simple yet crucial practices, such as staying hydrated, using sun protection, maintaining a balanced diet, and engaging in safe physical activities, you can protect yourself from potential heat-related issues and enjoy the warm weather with peace of mind. Additionally, being mindful of allergies and taking steps to manage them can prevent discomfort and enhance your overall well-being. Prioritizing adequate rest and sleep ensures you have the energy and vitality to make the most of the long sunny days. Remember, a proactive approach to summer health not only enhances your immediate experiences but also sets the foundation for long-term well-being, helping you create cherished memories and embrace each summer with vitality and joy.