The modern world's relentless pace and technological saturation have underscored the importance of seeking solace in nature. This exploration delves into the profound mental health benefits that can be derived from spending time amidst the beauty and tranquility of the natural world. Amidst the chaos of daily life, nature stands as a refuge, offering stress relief, cognitive rejuvenation, emotional restoration, and a chance to reconnect with our innate affinity for the natural environment.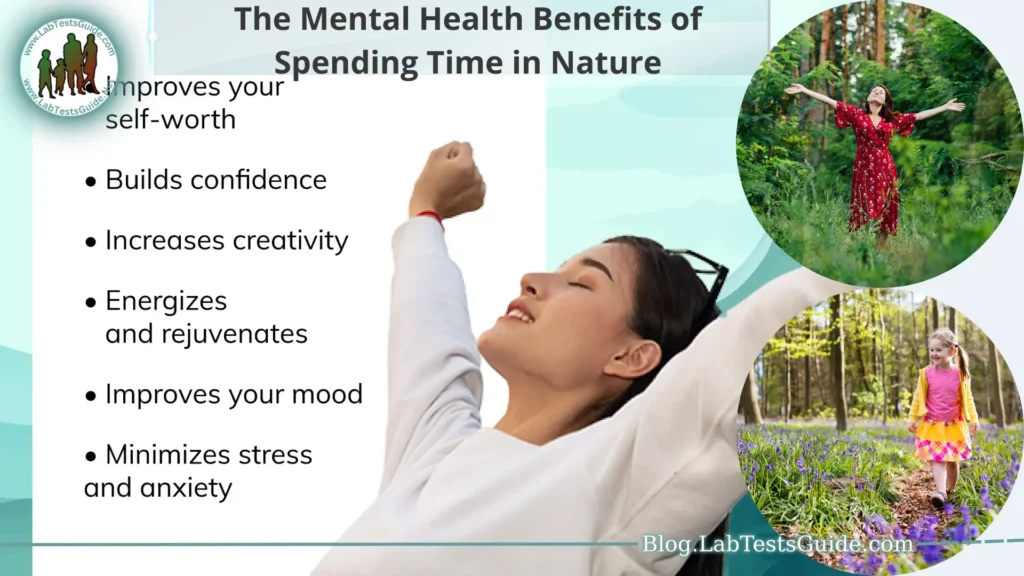 What Is the Relationship Between Nature and Mental Health?
Biophilic Connection: Humans have an inherent connection with nature due to evolution, often referred to as biophilia. This affinity suggests that being in nature can positively influence our mental well-being.
Stress Reduction: Nature has a calming effect on the mind and body, leading to reduced stress levels. The visual and sensory elements of natural environments can trigger relaxation responses.
Attention Restoration: Spending time in nature allows our overtaxed attention systems to recover. Natural settings require less directed attention, allowing for effortless focus and cognitive restoration.
Mood Enhancement: Nature exposure is associated with improved mood and emotional balance. The release of endorphins and neurotransmitters like serotonin contributes to these positive effects.
Mind-Body Connection: Engaging in outdoor activities promotes physical exercise, which in turn has a direct impact on mental health. Exercise triggers the release of chemicals that contribute to improved mood and reduced anxiety.
Social Interaction: Nature-based activities often encourage social interaction, fostering a sense of belonging and community. Group activities in natural settings can combat feelings of isolation and promote well-being.
Cognitive Benefits: Nature experiences have been linked to enhanced creativity, problem-solving skills, and increased attention span. Nature's sensory stimuli engage our brains in unique ways.
Restoration of Mental Fatigue: Nature provides a respite from the cognitive demands of urban environments, allowing mental fatigue to dissipate and cognitive function to be restored.
Emotional Regulation: Natural environments offer a supportive backdrop for emotional processing and regulation. They can help reduce symptoms of anxiety, depression, and other mood disorders.
Connection to Something Larger: Being in nature can provide a sense of awe and connectedness to something larger than oneself, which can foster feelings of meaning and purpose.
Escape from Urbanization: Urban living can lead to sensory overload and increased stress. Nature provides an escape from the hustle and bustle of city life, allowing for rejuvenation.
Promotion of Physical Health: Nature encourages physical activities like walking, hiking, and outdoor sports, all of which contribute to better physical health and subsequently, improved mental well-being.
Holistic Well-being: The combination of reduced stress, improved mood, enhanced cognitive function, and physical activity contributes to a holistic approach to mental health and well-being.
How to Incorporate Nature into Your Daily Routine for Improved Mental Health:
Morning Nature Ritual: Start your day by spending a few minutes outside. Whether it's sipping your morning coffee on the balcony or taking a short walk around your neighborhood, this can set a positive tone for the day.
Lunchtime Walks: Use your lunch break to take a brisk walk in a nearby park or green space. This midday connection with nature can help refresh your mind and boost productivity in the afternoon.
Nature Breaks: Integrate short nature breaks into your schedule. Step outside for a few minutes between tasks to breathe in fresh air, stretch, and reset your focus.
Outdoor Workspaces: If possible, arrange your workspace near a window with a view of nature. Natural light and greenery can enhance your mood and concentration.
Nature-Based Hobbies: Explore outdoor hobbies such as gardening, birdwatching, or photography. Engaging in these activities can bring you closer to nature while nurturing your interests.
Exercise Outdoors: Opt for outdoor workouts like jogging, hiking, or yoga in a park. Combining physical activity with nature amplifies the mental health benefits.
Digital Detox in Nature: Designate specific times to disconnect from screens and immerse yourself in nature. This break from technology can reduce stress and promote mindfulness.
Weekend Nature Escapes: Plan weekend outings to natural settings, such as hiking trails, beaches, or botanical gardens. Spending more extended periods in nature offers profound relaxation.
Mindful Nature Walks: Practice mindful walking in nature. Pay attention to your senses—the sights, sounds, smells—fostering a meditative experience that calms the mind.
Nature Journaling: Keep a nature journal to document your experiences, thoughts, and observations while in natural surroundings. Reflecting on these moments can enhance your appreciation for nature.
Outdoor Meals: Whenever possible, enjoy your meals outside. Whether it's a picnic or a simple snack, dining in nature can make eating a more enjoyable and mindful experience.
Sunrise or Sunset Observance: Witnessing the beauty of a sunrise or sunset can be a serene and reflective practice. Take a moment to appreciate the changing colors and the sense of continuity.
Volunteer for Outdoor Activities: Engage in community or environmental volunteer activities that involve spending time outdoors. This not only connects you with nature but also with others who share the interest.
Explore Nearby Green Spaces: Research nearby parks, nature reserves, or even urban gardens that you can easily visit. Regular visits to these spaces can be a source of consistent connection with nature.
Create a Nature-Inspired Environment: Bring nature indoors with plants, natural materials, and nature-inspired artwork. Creating a nature-inspired space can evoke feelings of tranquility.
Stress Reduction and Relaxation:
Nature's Calming Influence: Natural environments, with their soothing sights, sounds, and scents, have a natural calming effect on the mind and body.
Biophilic Response: The innate human affinity for nature triggers a biophilic response, reducing stress hormone levels like cortisol and promoting a sense of ease.
Restorative Environments: Natural settings offer a break from urban environments, allowing the brain to recover from the cognitive demands of daily life.
Mindful Presence: Immersing yourself in nature encourages mindfulness, as you focus on the present moment, detaching from stressors and worries.
Relaxation Response: Spending time outdoors activates the parasympathetic nervous system, which counteracts the "fight or flight" stress response.
Deep Breathing: Natural surroundings invite deep and intentional breathing, which has a direct impact on lowering stress and anxiety levels.
Visual Delight: Natural scenes, like flowing water or swaying trees, captivate attention without effort, providing a pleasant distraction from stressors.
Natural Sounds: The gentle rustling of leaves or the chirping of birds creates a peaceful auditory backdrop that helps alleviate stress.
Sunlight Exposure: Exposure to natural sunlight boosts the production of serotonin, enhancing mood and overall well-being.
Aromatherapy: Natural fragrances, such as the smell of pine trees or the ocean breeze, can trigger relaxation responses and reduce tension.
Restful Activities: Engage in calming activities in nature, such as picnicking, reading, or simply lying down and gazing at the sky.
Digital Detox: Time spent in nature provides a break from digital devices, reducing the constant influx of information and potential stress triggers.
Natural Rhythms: Connecting with the natural rhythm of the environment can synchronize your own internal rhythms, promoting a sense of balance and tranquility.
Grounding: Walking barefoot on natural surfaces like grass or sand—known as grounding or earthing—can help reduce stress and improve sleep quality.
Nature as a Refuge: Having a designated outdoor space, whether it's a garden or a balcony, allows for quick access to a stress-relieving environment.`
Attention Restoration and Cognitive Benefits:
Effortless Engagement: Natural environments provide a soft fascination that captures attention without requiring cognitive effort, allowing mental fatigue to dissipate.
Directed vs. Soft Attention: Urban environments demand directed attention, leading to cognitive fatigue, while nature offers a restorative break through soft attention.
Restoring Focus: Time in nature replenishes cognitive resources, enhancing the ability to concentrate, make decisions, and solve problems effectively.
Enhanced Creativity: Exposure to natural beauty and novelty sparks creative thinking and imaginative problem-solving.
Attention Fatigue Recovery: Nature acts as a "mental palette cleanser," enabling the mind to recover from the overstimulation of screens and urban settings.
Executive Function Boost: The prefrontal cortex, responsible for complex cognitive tasks, benefits from nature exposure, resulting in improved planning and organization skills.
Stress Reduction and Cognitive Performance: Lower stress levels from nature experiences contribute to improved cognitive performance and better decision-making.
Sensory Variety: Nature offers a rich tapestry of sights, sounds, and textures, engaging multiple senses and preventing sensory adaptation.
Brain Plasticity: Nature's ever-changing environment stimulates the brain's plasticity, fostering cognitive flexibility and adaptability.
Rejuvenation of Mental Resources: Exposure to natural scenes allows the brain's mental resources to replenish, boosting cognitive endurance.
Restorative Silence: Natural settings often provide spaces of relative silence, allowing the mind to escape from the constant noise of urban life.
Involuntary Attention: Nature's captivating features, like a flowing stream or a flickering fire, attract involuntary attention, giving the brain a break from directed focus.
Mind-Wandering: Nature encourages mind-wandering, a cognitive state linked to enhanced creativity, insight, and problem-solving.
Elevated Mood: Improved cognitive function in natural settings contributes to elevated mood and emotional well-being.
Awe and Cognitive Shifts: Experiencing awe in nature can lead to cognitive shifts, expanding perspectives and fostering a sense of interconnectedness.
Mood Enhancement and Emotional Well-being:
Natural Mood Boosters: Exposure to nature triggers the release of endorphins and serotonin, contributing to feelings of joy and contentment.
Positive Affect: Time spent in natural settings is linked to increased positive affect and a reduction in negative emotions.
Stress Reduction: Nature's calming influence lowers stress levels, leading to an improved overall mood and emotional state.
Anxiety Alleviation: Immersion in nature reduces symptoms of anxiety, helping individuals feel more at ease and relaxed.
Depression Mitigation: Nature exposure can be a supportive element in managing symptoms of depression, promoting a more positive outlook.
Elevated Self-Esteem: Connecting with nature fosters a sense of accomplishment and self-worth, contributing to enhanced self-esteem.
Escape from Ruminations: Natural environments divert attention from negative thought patterns and ruminations, providing relief from distress.
Enhanced Vitality: Natural surroundings evoke feelings of vitality and energy, counteracting feelings of lethargy or emotional depletion.
Mindfulness and Acceptance: Nature encourages mindfulness, helping individuals accept their emotions and thoughts without judgment.
Emotional Regulation: Time in nature can enhance emotional regulation skills, enabling better management of intense feelings.
Cathartic Release: Being in nature provides a safe space for emotional expression, offering catharsis and promoting emotional release.
Connection with Beauty: Exposure to natural beauty fosters appreciation and gratitude, elevating mood and cultivating positive emotions.
Social Bonding: Nature-based group activities facilitate social bonding, leading to increased feelings of belonging and happiness.
Sense of Wonder: Nature's awe-inspiring aspects evoke wonder and amazement, counteracting feelings of monotony and routine.
Holistic Well-being: Improved mood and emotional well-being from nature experiences contribute to a holistic sense of wellness and vitality.
Physical Activity and Mind-Body Connection:
Natural Exercise: Engaging in outdoor activities like hiking, biking, or jogging combines physical exertion with the mental benefits of nature immersion.
Holistic Health: Regular physical activity in natural settings supports both physical fitness and mental well-being, creating a harmonious mind-body connection.
Stress Reduction: Exercise triggers the release of endorphins, natural mood enhancers that alleviate stress and promote a positive emotional state.
Anxiety Relief: Physical activity in nature reduces symptoms of anxiety by directing focus away from worry and encouraging relaxation.
Cognitive Boost: Exercise improves blood flow to the brain, enhancing cognitive function and contributing to clearer thinking and better memory.
Dopamine Release: Physical movement outdoors stimulates the release of dopamine, which supports motivation, pleasure, and overall mood.
Enhanced Self-Esteem: Achieving fitness goals in natural settings can boost self-esteem and body image, leading to improved emotional well-being.
Mindful Movement: Engaging in mindful movement, such as yoga or tai chi in nature, strengthens the mind-body connection and promotes relaxation.
Energy Restoration: Outdoor physical activities recharge energy levels and combat feelings of fatigue or mental exhaustion.
Emotional Expression: Physical activity provides an outlet for emotional expression, allowing for the release of tension and pent-up feelings.
Natural Rhythms: Aligning exercise with natural cycles, like jogging in the morning sunlight, can regulate circadian rhythms and improve sleep quality.
Sensory Engagement: Outdoor workouts engage multiple senses, fostering a deeper connection with your surroundings and promoting mindfulness.
Variety and Exploration: Nature offers diverse terrains for physical activities, providing variety that prevents exercise monotony and enhances motivation.
Vitamin D Intake: Exposure to sunlight during outdoor activities facilitates vitamin D synthesis, which supports immune function and mood regulation.
Holistic Wellness: The integration of physical activity with the therapeutic benefits of nature contributes to a comprehensive sense of well-being.
Social Interaction and Community Engagement:
Nature as a Social Hub: Natural environments provide a neutral and welcoming space for social interactions and community bonding.
Group Activities: Participating in nature-based group activities like hiking clubs or community gardening fosters a sense of belonging and camaraderie.
Shared Experiences: Engaging in outdoor adventures with others creates shared memories, strengthening social connections and friendships.
Reduced Isolation: Nature-related events and gatherings counteract feelings of isolation and loneliness by facilitating social contact.
Collaborative Projects: Collaborative efforts like tree planting or conservation initiatives create a sense of purpose and unity within the community.
Positive Peer Influence: Interacting with like-minded individuals who value nature promotes positive behaviors and encourages outdoor engagement.
Social Support: Being part of a nature-oriented community offers emotional support during challenges and provides a network for sharing experiences.
Communication Skills: Interacting in natural settings hones communication skills, as it encourages active listening and meaningful conversations.
Empathy Development: Connecting with others through shared appreciation of nature fosters empathy and understanding within social circles.
Interconnectedness: The shared experience of nature reminds us of our interconnectedness with each other and the environment, promoting a sense of unity.
Learning Opportunities: Group outings to nature provide opportunities to learn from others, expanding knowledge about local flora, fauna, and ecosystems.
Breaking Barriers: Nature-centered activities break down social barriers, fostering interactions among diverse groups and promoting inclusivity.
Celebration of Culture: Nature-based events can celebrate cultural traditions, strengthening cultural identity and community ties.
Volunteerism and Service: Engaging in environmental volunteer work provides a sense of purpose and encourages community involvement.
Long-Term Connections: Establishing meaningful relationships in nature-focused communities often leads to lasting friendships and support networks.
Nature as a Coping Strategy and Therapy:
Ecotherapy Definition: Ecotherapy, also known as nature therapy or green therapy, involves using the healing power of nature to address psychological and emotional challenges.
Nature's Therapeutic Qualities: Nature's tranquility, sensory stimulation, and beauty offer a therapeutic backdrop for coping with stress, trauma, and mental health issues.
Stress Reduction: Spending time in natural environments reduces stress hormones, fostering a sense of calm and aiding in stress management.
Mindfulness and Grounding: Nature facilitates mindfulness, grounding individuals in the present moment and promoting emotional regulation.
Sensory Engagement: The varied sensory experiences in nature, from textures to sounds, stimulate the senses, diverting attention from distressing thoughts.
Catharsis and Expression: Nature provides a safe space for emotional expression, allowing individuals to process and release feelings through activities like journaling or art.
Exposure Therapy: Controlled exposure to nature-related triggers can help individuals gradually confront and manage anxiety or phobias.
Nature Walks and Talk Therapy: Combining talk therapy with outdoor walks creates a relaxed and open atmosphere for discussing personal challenges.
Wilderness Therapy: Intensive outdoor programs, often in remote natural settings, offer therapeutic interventions and personal growth opportunities.
Nature Retreats: Retreats in natural environments provide focused time for self-reflection, healing, and personal development.
Restorative Environments: Healing gardens, botanical sanctuaries, and natural landscapes are intentionally designed to promote mental and emotional well-being.
Bibliotherapy in Nature: Combining reading or journaling with nature experiences enhances the therapeutic benefits of both practices.
Resilience Building: Nature challenges individuals with uncertainties, teaching adaptability and resilience, essential for coping with life's adversities.
Mind-Body Alignment: Nature-based therapy aligns with holistic approaches, acknowledging the interconnectedness of mental, emotional, and physical well-being.
Self-Care Practice: Regular engagement with nature as a coping strategy fosters self-awareness, self-compassion, and a proactive approach to mental health.
FAQs:
Why is spending time in nature beneficial for mental health?
Spending time in nature has been shown to reduce stress, improve mood, enhance cognitive function, and promote emotional well-being. Nature provides a restorative environment that offers a break from the demands of daily life.
How does nature reduce stress and anxiety?
Nature exposure triggers the release of chemicals like endorphins and serotonin that help lower stress hormone levels. Natural environments also encourage relaxation, mindfulness, and a diversion from stressors.
Can nature really improve cognitive function?
Yes, nature offers a form of "attention restoration" where directed attention fatigue is alleviated, leading to improved focus, creativity, and cognitive performance.
Are there specific nature activities that are more beneficial for mental health?
Engaging in a variety of nature activities, from walking and hiking to gardening and meditation, can all have positive effects on mental health. The key is finding activities that you enjoy and that help you connect with nature.
What is ecotherapy?
Ecotherapy, also known as nature therapy or green therapy, involves using the healing power of nature to support mental and emotional well-being. It encompasses various therapeutic techniques that incorporate nature experiences.
Can nature-based activities help with depression?
Yes, spending time in nature has been shown to alleviate symptoms of depression. Natural settings can improve mood, reduce feelings of hopelessness, and provide a supportive environment for healing.
Do urban green spaces offer similar benefits as natural landscapes?
While urban green spaces may not have the same level of wilderness as natural landscapes, they still offer stress reduction, mood enhancement, and cognitive benefits. Even small pockets of nature can have a positive impact on mental health.
Is there a recommended amount of time to spend in nature for optimal mental health benefits?
There is no set time requirement, but even short interactions with nature can yield positive effects. Incorporating regular nature breaks and longer outdoor activities can amplify the benefits.
Can nature-based therapies replace traditional forms of therapy?
Nature-based therapies can complement traditional therapies, but they may not replace them entirely. They offer an alternative approach that can be effective for some individuals, especially those who resonate with nature.
What if I don't have easy access to nature?
Even if you're in an urban environment, you can still benefit from small doses of nature, such as houseplants, nature sounds, or images of natural landscapes. Additionally, exploring nearby parks and green spaces can provide a connection to nature.
Conclusion:
In a world marked by constant demands and technological distractions, the simple act of immersing oneself in nature emerges as a potent antidote for nurturing mental well-being. The profound stress reduction, cognitive rejuvenation, and emotional balance that nature bestows underscore its role as an accessible and powerful tool for self-care. From the restorative silence of a forest to the shared joy of community gardens, nature not only provides respite but also connects us to a deeper sense of interconnectedness. Embracing nature's therapeutic embrace is a proactive step toward cultivating a holistic sense of health, one that encompasses the mind, body, and spirit.