Your immune system is a powerful defense mechanism that plays a crucial role in protecting your body against harmful pathogens, viruses, and diseases. A strong and well-functioning immune system is essential for maintaining good health and overall well-being. However, in today's fast-paced and stressful world, it's easy for our immune systems to become compromised, leaving us vulnerable to illnesses.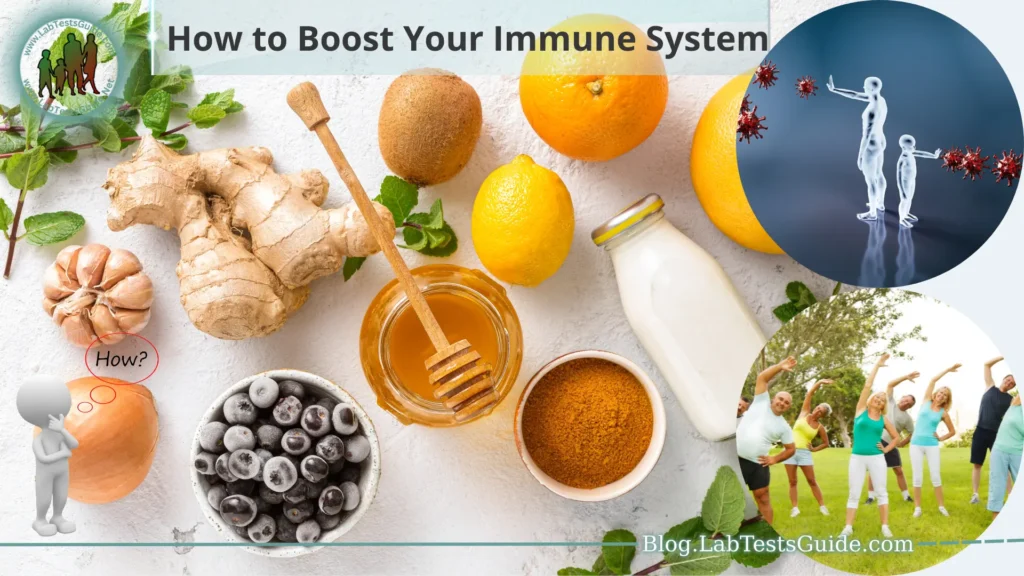 In this guide, we will explore a variety of effective strategies and lifestyle changes that can help you boost and support your immune system. From adopting a healthy diet and engaging in regular exercise to managing stress and practicing good hygiene, we will cover a wide range of approaches to strengthen your body's natural defenses. Whether you're looking to prevent common colds and flu or aiming for a more robust immune system to combat serious infections, this comprehensive guide will provide you with valuable insights and practical tips to optimize your immune health and enhance your overall quality of life. Let's embark on a journey towards a stronger and healthier immune system together.
What Is the Immune System?
Here are some key points to understand the immune system.
Defense Mechanism: The immune system serves as the body's defense mechanism, acting like a shield against infectious agents and harmful substances. It is responsible for identifying and destroying foreign invaders that can cause illnesses.
White Blood Cells: White blood cells, also known as leukocytes, are the key players in the immune system. They come in various types, including phagocytes that engulf and digest pathogens, and lymphocytes that recognize and remember specific invaders for future responses.
Immune Response: When the immune system detects a foreign substance, it triggers an immune response. This can involve inflammation, activation of immune cells, and the release of antibodies to neutralize the threat.
Innate and Adaptive Immunity: The immune system can be categorized into innate immunity, which provides immediate but non-specific defense, and adaptive immunity, which develops over time and specifically targets particular pathogens.
Organs and Tissues: The immune system operates throughout the body and involves various organs and tissues, such as the thymus, spleen, lymph nodes, bone marrow, tonsils, and mucous membranes.
Immunological Memory: One of the remarkable features of the immune system is its ability to create immunological memory. This means that once the body has encountered a specific pathogen, it can mount a faster and more effective response upon subsequent exposures.
Autoimmunity: In some cases, the immune system can mistakenly attack the body's own cells and tissues, leading to autoimmune diseases. This occurs when the immune system fails to recognize "self" from "non-self."
Immune System Health: The immune system's effectiveness can be influenced by various factors, including diet, exercise, sleep, stress levels, and overall lifestyle.
How to Strengthen Your Immune System:
Maintain a Balanced Diet: Eat a variety of nutrient-rich foods, including fruits, vegetables, whole grains, lean proteins, and healthy fats. These provide essential vitamins, minerals, and antioxidants that support immune function.
Regular Exercise: Engage in moderate physical activity regularly. Exercise can enhance circulation, promote healthy white blood cell circulation, and reduce inflammation, all of which contribute to a stronger immune system.
Prioritize Sleep: Aim for 7-9 hours of quality sleep each night. Sufficient rest allows your body to repair and regenerate, supporting immune function and overall health.
Manage Stress: Chronic stress can weaken the immune system. Practice relaxation techniques such as meditation, deep breathing, yoga, or spending time in nature to reduce stress levels.
Hydration: Stay adequately hydrated throughout the day. Water helps flush out toxins and supports the proper functioning of immune cells.
Avoid Smoking and Excessive Alcohol: Smoking and excessive alcohol consumption can impair immune function. Minimize or quit these habits to strengthen your immune system.
Practice Good Hygiene: Wash your hands frequently with soap and water to prevent the spread of infections. Practice good food safety measures to avoid foodborne illnesses.
Get Vaccinated: Stay up-to-date with recommended vaccinations to protect against preventable diseases and boost your immune response.
Consider Immune-Boosting Supplements: Consult with a healthcare professional before taking any supplements. Certain vitamins and minerals, such as vitamin C, D, zinc, and probiotics, may provide immune support.
Maintain a Healthy Weight: Obesity can negatively impact immune function. Aim for a balanced diet and regular exercise to manage a healthy weight.
Stay Socially Connected: Strong social connections can positively influence immune health. Engage in meaningful relationships and spend time with loved ones.
Avoid Overuse of Antibiotics: Overusing antibiotics can lead to antibiotic resistance and weaken your immune system's ability to fight infections. Use antibiotics responsibly as prescribed by a healthcare professional.
Recognize Immune System Disorders: Be aware of signs of immunodeficiency or autoimmune disorders. Seek medical attention if you suspect any immune-related issues.
Maintain a Healthy Diet:
Here are some dietary guidelines to help you maintain a healthy diet and boost your immune function.
Eat Plenty of Fruits and Vegetables: Include a variety of colorful fruits and vegetables in your diet. They are rich in vitamins, minerals, and antioxidants that help protect your cells from damage and strengthen your immune response.
Consume Whole Grains: Opt for whole grains like brown rice, quinoa, oats, and whole wheat bread instead of refined grains. Whole grains provide essential nutrients and fiber, which support overall health and gut function.
Incorporate Lean Proteins: Include lean sources of protein in your meals, such as poultry, fish, beans, lentils, tofu, and low-fat dairy products. Proteins are essential for the production of antibodies and other immune cells.
Include Healthy Fats: Incorporate sources of healthy fats, such as avocados, nuts, seeds, and olive oil. These fats have anti-inflammatory properties and support the absorption of fat-soluble vitamins like vitamin D.
Prioritize Vitamin C: Vitamin C is known for its immune-boosting properties. Include citrus fruits, strawberries, kiwi, bell peppers, broccoli, and tomatoes in your diet.
Get Sufficient Vitamin D: Vitamin D plays a crucial role in immune function. You can obtain it from fatty fish, fortified dairy products, egg yolks, and exposure to sunlight.
Include Zinc-Rich Foods: Zinc is essential for immune cell function. Consume foods like nuts, seeds, legumes, whole grains, and lean meats to ensure adequate zinc intake.
Probiotics for Gut Health: Incorporate probiotic-rich foods like yogurt, kefir, sauerkraut, kimchi, and other fermented foods. A healthy gut microbiome is vital for a strong immune system.
Limit Added Sugars: Reduce the intake of added sugars and sugary beverages, as they can suppress immune function and contribute to inflammation.
Stay Hydrated: Drink plenty of water throughout the day to maintain proper hydration and support various bodily functions, including immune responses.
Regular Exercise and Physical Activity:
Here's how regular exercise and physical activity can boost your immunity.
Enhanced Circulation: Exercise increases blood flow, which allows immune cells and antibodies to travel more efficiently throughout the body. This improved circulation helps immune cells detect and respond to pathogens more effectively.
Immune Cell Activation: Physical activity triggers changes in immune cells, leading to a temporary increase in their activity. This heightened activity helps the immune system to identify and combat potential threats.
Reduces Chronic Inflammation: Chronic inflammation can weaken the immune system over time. Regular exercise has anti-inflammatory effects, reducing chronic inflammation and promoting a healthier immune response.
Promotes Lymphatic System Function: The lymphatic system is a crucial part of the immune system, responsible for draining waste and toxins from the body. Exercise helps improve lymphatic circulation, aiding in the removal of harmful substances.
Stress Reduction: Exercise is an excellent way to reduce stress, which can have a detrimental impact on the immune system. Lower stress levels contribute to a stronger immune response.
Improves Sleep Quality: Regular physical activity can enhance sleep quality, allowing the body to recharge and repair. Restorative sleep is vital for optimal immune function.
Weight Management: Maintaining a healthy weight through exercise can help prevent obesity-related immune system dysfunction.
Combats Chronic Diseases: Regular exercise reduces the risk of chronic diseases, such as heart disease, diabetes, and obesity, which can weaken the immune system.
Enhances Antibody Response: Exercise has been shown to improve the production of antibodies after vaccination, making immunizations more effective.
Social Interaction: Participating in group activities or team sports provides social interaction, which positively impacts mental well-being and immune health.
Prioritize Sleep and Rest:
Here's why you should prioritize sleep and rest for optimal immune health.
Immune System Recovery: During sleep, the body goes into repair mode, and the immune system becomes more active. Adequate rest allows the immune system to produce and release cytokines, which are essential for fighting infections and inflammation.
Enhanced Immune Response: Sleep helps regulate the release of antibodies and immune cells, improving the body's ability to recognize and destroy harmful pathogens.
Reduced Inflammation: Chronic sleep deprivation can lead to increased inflammation in the body, which can weaken the immune system. Sufficient sleep helps keep inflammation in check.
Increased T Cell Function: T cells are a type of white blood cell critical for immune responses. Sleep deprivation can impair T cell function, making it harder for the body to fight infections.
Hormonal Balance: Sleep plays a role in maintaining hormonal balance, including hormones that regulate the immune system. Disruptions in sleep patterns can impact these hormones and compromise immune function.
Recovery from Illness: During sleep, the body focuses on healing and recovering from illness or injuries. Resting adequately when sick allows the immune system to work more efficiently.
Cognitive Function: Good sleep supports cognitive function and mental clarity, which can positively impact decision-making and adherence to healthy behaviors, including immune-boosting habits.
Stress Reduction: Restorative sleep reduces stress levels, and lower stress contributes to a stronger immune system.
Tips for Improving Sleep Quality:
Maintain a Consistent Sleep Schedule: Try to go to bed and wake up at the same time each day, even on weekends.
Create a Relaxing Bedtime Routine: Develop a calming routine before bedtime, such as reading a book, meditating, or taking a warm bath.
Limit Screen Time: Reduce exposure to electronic devices like phones and computers before bedtime, as the blue light can interfere with sleep.
Create a Comfortable Sleep Environment: Make your bedroom conducive to sleep by keeping it cool, dark, and quiet.
Limit Stimulants: Avoid caffeine and other stimulants close to bedtime, as they can disrupt sleep patterns.
Be Mindful of Diet: Avoid heavy or spicy meals close to bedtime, and consider a light, balanced snack if you're hungry.
Manage Stress: Practice stress-reduction techniques like deep breathing or mindfulness to promote relaxation before sleep.
Manage Stress:
Here are some effective strategies for managing stress.
Identify Stressors: Take note of the situations, people, or activities that trigger stress in your life. Awareness of stressors can help you develop coping strategies.
Practice Mindfulness: Mindfulness involves being present in the moment and non-judgmentally observing your thoughts and feelings. Mindfulness practices like meditation, deep breathing, and yoga can reduce stress and promote relaxation.
Engage in Regular Exercise: Physical activity is an excellent way to relieve stress. Engage in activities you enjoy, such as walking, jogging, dancing, or any form of exercise that makes you feel good.
Establish Boundaries: Learn to say no to additional responsibilities when you feel overwhelmed. Setting boundaries helps you prioritize self-care and reduce stress levels.
Prioritize Self-Care: Take time for yourself to engage in activities that bring you joy and relaxation, whether it's reading, hobbies, spending time in nature, or taking a warm bath.
Social Support: Share your feelings and concerns with friends, family, or support groups. Talking to others and receiving support can help alleviate stress.
Time Management: Organize your tasks and set realistic goals to avoid feeling overwhelmed by a busy schedule.
Limit Media Exposure: Limit exposure to negative news and social media, which can contribute to stress and anxiety.
Practice Gratitude: Cultivate a daily practice of gratitude by acknowledging and appreciating the positive aspects of your life.
Seek Professional Help: If stress becomes overwhelming or persists, consider seeking guidance from a mental health professional who can provide support and coping strategies.
Healthy Lifestyle Habits: Maintain a healthy diet, get regular exercise, and prioritize sleep, as these habits can help your body better cope with stress.
Humor and Laughter: Incorporate humor and laughter into your life, as they can be powerful stress-relievers.
Avoid Harmful Substances:
Here are some substances to be cautious about.
Smoking and Tobacco Products: Smoking weakens the immune system and increases the risk of infections, respiratory diseases, and cancer. Avoid smoking and exposure to secondhand smoke.
Excessive Alcohol Consumption: Heavy alcohol intake can suppress the immune system, making the body more vulnerable to infections. Limit alcohol consumption to moderate levels or avoid it altogether.
Illicit Drugs: Illicit drugs can have detrimental effects on the immune system and overall health. Avoid the use of illegal substances.
Unhealthy Diet: A diet high in processed foods, excessive sugar, and unhealthy fats can negatively impact immune function. Opt for a balanced diet with nutrient-rich foods to support your immune system.
Environmental Toxins: Be aware of environmental toxins in your surroundings, such as pollutants, chemicals, and pesticides. Minimize exposure to these substances whenever possible.
Prescription Drug Abuse: Misusing prescription medications or taking antibiotics unnecessarily can contribute to antibiotic resistance and weaken the immune system. Always follow your healthcare provider's instructions for medication use.
Over-the-Counter Medications: Overusing certain over-the-counter medications, such as pain relievers and cold remedies, can have adverse effects on the immune system. Use them as directed and consult a healthcare professional if necessary.
Unsafe Food and Water: Contaminated food and water can lead to foodborne illnesses, compromising the immune system. Follow proper food safety practices and drink clean, safe water.
Limiting Sun Exposure: While some sunlight is essential for vitamin D synthesis, excessive sun exposure without protection can damage the skin and weaken the immune system. Use sunscreen and protective clothing when spending time outdoors.
Lack of Hygiene: Poor hygiene practices can lead to the spread of infections. Wash your hands frequently, especially after using the restroom and before eating, to reduce the risk of illnesses.
FAQs:
How can I boost my immune system naturally?
You can boost your immune system naturally by adopting a healthy lifestyle. This includes maintaining a balanced diet rich in fruits, vegetables, and whole grains, engaging in regular exercise, getting enough sleep, managing stress, staying hydrated, avoiding harmful substances like smoking and excessive alcohol, and practicing good hygiene.
Are there specific foods that can boost the immune system?
Yes, certain foods are known for their immune-boosting properties. Foods rich in vitamin C (such as citrus fruits, bell peppers, and strawberries), vitamin D (fatty fish, fortified dairy), zinc (nuts, seeds, legumes), and antioxidants (berries, leafy greens) can support the immune system.
Does exercise really help in improving the immune system?
Yes, regular exercise can enhance immune function. It improves circulation, activates immune cells, reduces inflammation, and contributes to stress reduction, all of which positively impact the immune system.
Can stress weaken the immune system?
Yes, chronic stress can weaken the immune system. Prolonged stress can lead to the release of stress hormones that suppress immune function, making the body more susceptible to infections.
Is it necessary to get vaccinated to boost the immune system?
Vaccinations are essential for providing protection against various infectious diseases and boosting the immune system's response to specific pathogens. Consult with a healthcare professional to ensure you are up-to-date with recommended vaccinations.
Are there any supplements that can boost immunity?
Some supplements, such as vitamin C, vitamin D, zinc, and probiotics, may support immune function. However, it's essential to consult with a healthcare professional before taking any supplements to determine appropriate dosages and ensure they are safe for you.
Can lack of sleep affect the immune system?
Yes, insufficient sleep can weaken the immune system. During sleep, the body repairs and rejuvenates, and immune functions like the production of cytokines and antibodies occur. Lack of sleep can impair these processes.
How can I reduce my exposure to environmental toxins?
Reducing exposure to environmental toxins involves being mindful of your surroundings. Avoid smoking and secondhand smoke, limit exposure to air pollutants, use natural and non-toxic cleaning products, and be cautious with pesticides and chemicals in your home.
Can a healthy weight positively impact the immune system?
Yes, maintaining a healthy weight through a balanced diet and regular exercise can positively impact the immune system. Obesity can lead to chronic inflammation and impair immune function.
Should I take antibiotics for every illness to boost my immune system?
No, antibiotics are effective against bacterial infections but not viral infections. Taking antibiotics unnecessarily can contribute to antibiotic resistance and weaken the immune system's ability to fight infections. Only take antibiotics as prescribed by a healthcare professional.
Conclusion:
In conclusion, maintaining a strong and resilient immune system is crucial for overall health and well-being. By adopting a holistic approach that includes a balanced diet, regular exercise, sufficient sleep, stress management, and avoiding harmful substances, you can effectively boost your immune system's function. Prioritizing vaccinations, practicing good hygiene, and staying socially connected further contribute to a robust immune response. Remember that small lifestyle changes can have a significant impact on your immune health, helping you ward off infections, reduce the severity of illnesses, and lead a healthier, more fulfilling life. By taking charge of your immune health, you empower yourself to face life's challenges with greater vitality and resilience.