Maintaining good posture while studying or using electronic devices is essential for overall well-being and preventing long-term health issues. Many people spend extended periods sitting and working with computers, tablets, or smartphones, which can lead to poor posture habits and musculoskeletal discomfort. This guide aims to provide tips and strategies to help you maintain proper posture during these activities, promoting a healthier and more comfortable experience. By implementing these recommendations, you can reduce the risk of developing postural problems and enhance your productivity and concentration levels while studying or using electronic devices.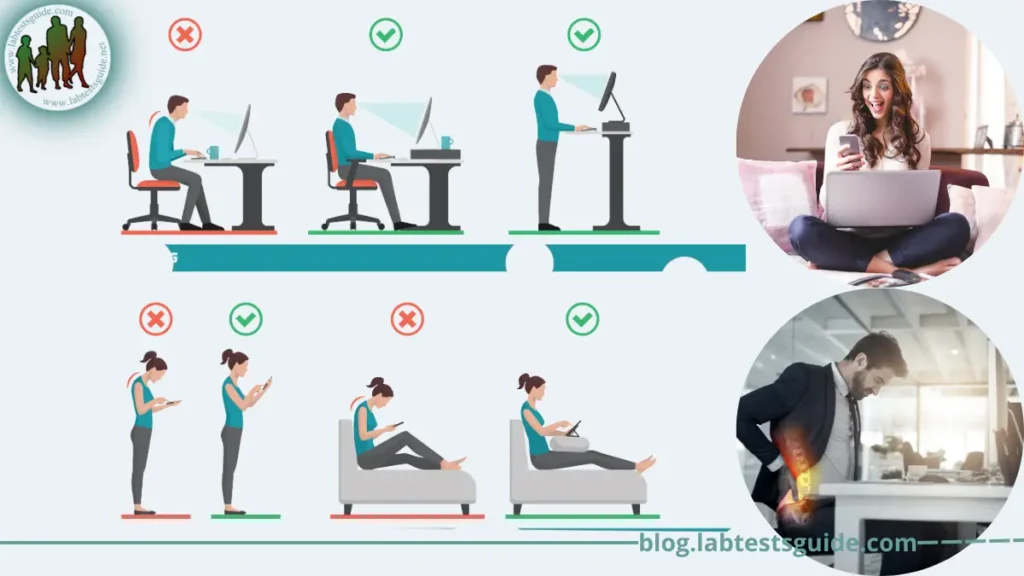 Importance of Good Posture:
Here are some reasons why maintaining good posture while studying or using electronic devices is important:
Spinal Alignment: Proper posture helps align the spine, keeping it in its natural, neutral position. This alignment reduces strain on the vertebrae, discs, and ligaments of the spine, minimizing the risk of developing back and neck pain.
Muscle Balance and Efficiency: Maintaining good posture ensures that the muscles supporting the spine, including the back, abdominal, and shoulder muscles, are balanced and working efficiently. This balanced muscle activity helps prevent muscle imbalances, weakness, and fatigue.
Improved Breathing and Oxygenation: Good posture allows for optimal lung expansion, allowing you to breathe more deeply and efficiently. Adequate oxygenation is vital for maintaining alertness, concentration, and overall cognitive function.
Enhanced Digestion: Sitting or slouching in a hunched position can compress the abdominal organs and interfere with digestion. Good posture supports proper organ alignment, facilitating optimal digestion and preventing issues such as acid reflux and bloating.
Reduced Risk of Musculoskeletal Disorders: Poor posture habits can lead to the development of musculoskeletal disorders, including chronic back pain, neck pain, and repetitive strain injuries (RSIs). By maintaining good posture, you can minimize the risk of these conditions and their associated discomfort and limitations.
Boosted Energy and Mood: Research has shown that maintaining good posture can improve energy levels and enhance mood. Proper posture promotes a sense of confidence, alertness, and positivity, which can positively impact your studying or electronic device usage experience.
By recognizing the importance of good posture and incorporating strategies to maintain it, you can promote better physical health, reduce the likelihood of discomfort, and enhance your overall well-being while studying or using electronic devices.

Ergonomic Setup for Studying or Using Electronic Devices:
The following elements when setting up your workspace.
Chair: Choose a chair with adjustable height and proper lumbar support. Sit with your back against the chair backrest, ensuring your spine is aligned and supported. Adjust the chair height so that your feet are flat on the floor or use a footrest if needed.
Desk or Table: Use a desk or table that is at a comfortable height, allowing your forearms to rest parallel to the floor when using the keyboard and mouse. Ensure that there is enough space to position your devices and work materials without crowding.
Monitor or Screen: Position the monitor directly in front of you at eye level. Adjust the monitor height so that the top of the screen is at or slightly below eye level. Maintain a comfortable viewing distance, typically around 20-30 inches (50-76 cm) away from your eyes.
Keyboard and Mouse: Keep the keyboard and mouse at a height that allows your wrists to remain in a neutral, straight position. Consider using an ergonomic keyboard and mouse to minimize strain on your hands and wrists. Use keyboard shortcuts and ergonomic accessories like wrist rests to reduce repetitive strain.
Lighting: Ensure proper lighting in your workspace to reduce eye strain. Avoid glare on your screen by positioning the monitor perpendicular to windows or using window blinds or curtains. Use adjustable desk lamps to supplement ambient lighting if needed.
By setting up your workspace ergonomically, you can maintain good posture, minimize strain on your body, and create a comfortable and conducive environment for studying or using electronic devices. Remember to make adjustments based on your individual needs and preferences to optimize your posture and well-being.

Tips for Maintaining Good Posture:
Here are some tips to help you maintain good posture while studying or using electronic devices.
Sit up Straight:
Keep your back straight and aligned against the chair backrest.
Avoid slouching or hunching forward, which can strain your spine.

Keep Your Feet Flat on the Floor:
Ensure that your feet are firmly planted on the floor or a footrest.
Avoid crossing your legs or sitting with one leg tucked under you for extended periods.

Align Your Head and Neck:
Position your monitor or screen at eye level to keep your head and neck in a neutral position.
Avoid tilting your head forward or backward excessively.

Position Your Arms and Wrists:
Keep your elbows close to your body and bent at a 90-degree angle.
Position your keyboard and mouse at a height that allows your wrists to remain straight and relaxed.
Avoid resting your wrists on hard surfaces while typing or using the mouse.

Take Breaks and Stretch:
Take regular breaks from sitting and using electronic devices.
Stand up, walk around, and stretch your muscles to relieve tension and promote circulation.
Incorporate exercises that target your back, neck, and shoulder muscles to improve posture and prevent stiffness.

Remember, maintaining good posture is a conscious effort. Initially, it may require reminders and adjustments, but with practice, it will become a habit. Regularly assess your posture and make necessary corrections throughout your study or device usage sessions. Taking care of your posture can significantly contribute to your overall comfort, productivity, and long-term well-being.
Exercises to Improve Posture:
Here are some exercises that can help improve your posture by strengthening the muscles that support proper alignment.
Upper Back Stretch:
Stand tall with your feet shoulder-width apart.
Interlace your fingers and extend your arms forward, rounding your upper back.
Hold the stretch for 15-20 seconds while focusing on opening your upper back.
Repeat 3-5 times.

Wall Angels:
Stand with your back against a wall and your feet slightly away from the wall.
Place your arms against the wall with your elbows bent at 90 degrees and your palms facing forward.
Slowly slide your arms up and down the wall, maintaining contact with the wall at all times.
Repeat for 10-15 repetitions, focusing on keeping your back, shoulders, and arms against the wall.
Cat-Camel Stretch:
Begin on your hands and knees, with your hands directly beneath your shoulders and knees beneath your hips.
Round your back toward the ceiling, tucking your chin into your chest (cat position).
Slowly arch your back, lifting your chest and tailbone while looking up (camel position).
Move back and forth between cat and camel positions, focusing on the fluid movement of your spine.
Repeat for 10-12 repetitions.

Plank:
Start in a push-up position with your hands directly beneath your shoulders and your body in a straight line from head to toes.
Engage your core muscles and hold this position for 20-30 seconds, or as long as you can maintain proper form.
Avoid sagging or arching your back. Focus on keeping your body aligned and your abdominal muscles activated.
Gradually increase the duration as your strength improves.

Shoulder Blade Squeezes:
Sit or stand with your arms relaxed at your sides.
Squeeze your shoulder blades together, as if trying to hold a pencil between them.
Hold this position for 5-10 seconds and then release.
Repeat for 10-12 repetitions, focusing on the contraction and relaxation of the shoulder blades.

Remember to consult with a healthcare professional or a certified trainer before starting any new exercise program, especially if you have pre-existing medical conditions or concerns.
Incorporating these exercises into your routine can help strengthen the muscles responsible for good posture, improve spinal alignment, and increase body awareness. Consistency is key, so aim to perform these exercises regularly for optimal results.

Conclusion:
Maintaining good posture while studying or using electronic devices is vital for your overall well-being and long-term health. By implementing ergonomic setups, following posture tips, and incorporating posture-improving exercises, you can minimize the risk of developing musculoskeletal issues, improve your comfort, and enhance your productivity. Remember to be mindful of your posture throughout your study or device usage sessions, making necessary adjustments to support proper alignment.
By prioritizing good posture, you can reduce the likelihood of experiencing discomfort, fatigue, and long-term postural problems. Taking care of your posture is an investment in your physical health, cognitive function, and overall quality of life. So, make it a habit to sit up straight, align your body properly, and take breaks to stretch and move. Your body will thank you for it.
Maintaining good posture is an ongoing practice, and it may take time to develop new habits. Stay committed, be mindful of your posture, and gradually integrate these strategies into your daily routine. With consistency and conscious effort, you can achieve and maintain good posture, improving your well-being both during your study or electronic device usage and in your everyday life.