The prevention of common illnesses is crucial for maintaining overall health and well-being. By adopting preventive measures, individuals can reduce their risk of contracting various diseases and promote a healthy lifestyle. This section will provide an overview of the importance of preventive measures and their role in avoiding common illnesses.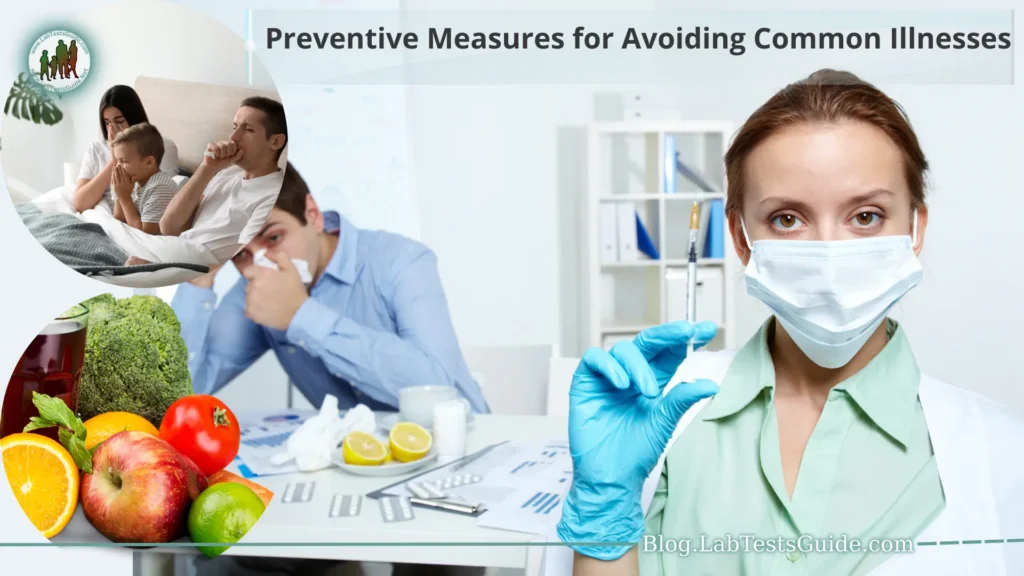 Preventive measures encompass a range of practices and behaviors that can help protect against infectious diseases, chronic conditions, and other health problems. These measures often focus on promoting personal hygiene, healthy habits, and minimizing exposure to disease-causing pathogens. By incorporating these practices into daily routines, individuals can strengthen their immune systems, reduce the likelihood of illness, and enhance their quality of life.
General Preventive Measures
Hand Hygiene:
Wash hands frequently with soap and water for at least 20 seconds, especially before eating, after using the restroom, and after coughing or sneezing.
Use hand sanitizers with at least 60% alcohol when soap and water are not readily available.
Avoid touching the face, particularly the eyes, nose, and mouth, to prevent the transmission of germs.
Vaccinations:
Stay up to date with recommended vaccinations for diseases such as influenza, measles, mumps, rubella, hepatitis, pneumonia, and others as advised by healthcare professionals.
Follow the vaccination schedule for children and ensure they receive all recommended vaccines.
Healthy Diet:
Consume a balanced diet rich in fruits, vegetables, whole grains, lean proteins, and healthy fats.
Limit the intake of processed foods, sugary beverages, and excessive salt.
Stay hydrated by drinking an adequate amount of water throughout the day.
Regular Exercise:
Engage in moderate-intensity aerobic exercises for at least 150 minutes per week or vigorous-intensity aerobic exercises for 75 minutes per week.
Incorporate strength training exercises at least twice a week.
Find activities you enjoy to make exercise a regular part of your routine.
Adequate Sleep:
Maintain a consistent sleep schedule, aiming for 7-9 hours of quality sleep per night.
Create a sleep-friendly environment by ensuring a comfortable mattress, a dark and quiet room, and a cool temperature.
Stress Management:
Practice stress-reducing techniques such as deep breathing exercises, meditation, yoga, or engaging in hobbies and activities that bring joy.
Seek support from friends, family, or professionals to manage stress effectively.
Avoiding Smoking and Excessive Alcohol Consumption:
Quit smoking or avoid exposure to secondhand smoke.
Limit alcohol consumption to moderate levels (up to one drink per day for women and up to two drinks per day for men).
Respiratory Illnesses
Here are some preventive measures specifically for respiratory illnesses:
Regular Handwashing:
Wash hands frequently with soap and water for at least 20 seconds, especially after coughing, sneezing, or being in public places.
If soap and water are not available, use hand sanitizers with at least 60% alcohol.
Covering Mouth and Nose When Coughing or Sneezing:
Use a tissue or the crook of your elbow to cover your mouth and nose when coughing or sneezing.
Dispose of used tissues immediately in a proper waste bin.
Avoiding Close Contact with Sick Individuals:
Stay away from people who are visibly sick and maintain a safe distance of at least 6 feet.
If you are sick, minimize close contact with others to prevent spreading the illness.
Getting Vaccinated for Influenza and Pneumonia:
Follow the recommended vaccination schedules for influenza and pneumonia as advised by healthcare professionals.
Influenza vaccines should be taken annually, as flu viruses change each year.
Maintaining Indoor Air Quality:
Ensure proper ventilation in indoor spaces to reduce the concentration of respiratory droplets.
Use air purifiers or filters to improve air quality if necessary.
Gastrointestinal Illnesses
Here are some preventive measures specifically for avoiding gastrointestinal illnesses:
Proper Food Handling and Preparation:
Wash hands thoroughly with soap and water before handling food.
Use separate cutting boards and utensils for raw meats, poultry, seafood, and fresh produce to avoid cross-contamination.
Cook food thoroughly, especially meat, poultry, and eggs, to kill harmful bacteria.
Store food at appropriate temperatures to prevent bacterial growth.
Safe Water and Hygiene Practices:
Consume clean and safe drinking water from trusted sources. If unsure, boil water or use water purification methods.
Wash fruits and vegetables thoroughly under running water before consumption.
Avoid consuming raw or undercooked seafood, especially shellfish.
Adequate Cooking of Food:
Ensure that food, especially meat, seafood, and eggs, is cooked to the appropriate internal temperature to kill bacteria.
Use a food thermometer to check the internal temperature of cooked food.
Avoiding Raw or Undercooked Meat and Seafood:
Avoid consuming raw or undercooked meat, poultry, seafood, and eggs, as they can harbor harmful bacteria.
Properly cook these foods to eliminate potential pathogens.
Washing Fruits and Vegetables Thoroughly:
Rinse fruits and vegetables under running water to remove dirt, bacteria, and pesticide residues.
Use a vegetable brush to scrub the surface of firm produce to remove any contaminants.
Vector-Borne Illnesses
Here are some preventive measures specifically for avoiding vector-borne illnesses:
Use of Insect Repellents:
Apply insect repellents containing DEET, picaridin, or other recommended ingredients to exposed skin and clothing.
Follow the instructions on the repellent product for proper and safe use.
Wearing Protective Clothing:
Wear long-sleeved shirts, long pants, socks, and closed-toe shoes to minimize exposure to vectors.
Tuck in shirts, tuck pants into socks, and use mosquito nets while sleeping in areas with high vector activity.
Eliminating Standing Water:
Remove sources of stagnant water, such as uncovered containers, flower pots, and discarded tires, which serve as breeding grounds for mosquitoes.
Empty and clean pet water dishes, birdbaths, and other outdoor containers regularly.
Using Bed Nets:
Use insecticide-treated bed nets, especially in areas where vector-borne diseases like malaria are prevalent.
Ensure that bed nets are properly installed and tucked under the mattress for maximum effectiveness.
Keeping Living Areas Clean and Free from Clutter:
Maintain a clean and clutter-free living environment to minimize hiding places for vectors.
Regularly clean indoor and outdoor areas, and dispose of waste properly.
Sexually Transmitted Infections (STIs)
Here are some preventive measures specifically for avoiding STIs:
Safe Sexual Practices:
Practice abstinence or engage in sexual activity with a mutually monogamous partner who has tested negative for STIs.
Use barrier methods, such as condoms (male or female), during sexual intercourse to reduce the risk of STI transmission.
Limit the number of sexual partners to decrease the likelihood of exposure to STIs.
Consistent and Correct Condom Use:
Use condoms consistently and correctly during vaginal, anal, or oral sex.
Choose condoms made of latex or polyurethane, as they provide effective protection against most STIs.
Use a new condom for each sexual act and follow the instructions for proper condom use.
Regular STI Testing:
Get tested for STIs regularly, especially if engaging in sexual activity with multiple partners or if there is a change in sexual partners.
Encourage partners to get tested as well and have open and honest conversations about sexual health.
Mutual Monogamy or Reduced Number of Partners:
Engage in sexual activity with a mutually monogamous partner who has tested negative for STIs.
Limit the number of sexual partners to reduce the risk of exposure to STIs.
Communication and Disclosure:
Have open and honest communication with sexual partners about STIs, testing, and sexual health.
Disclose your STI status to sexual partners, and encourage them to do the same.
Mental Health
Here are some preventive measures specifically for promoting mental health:
Self-Care and Stress Management Techniques:
Practice self-care activities that promote relaxation and emotional well-being, such as engaging in hobbies, reading, taking baths, or listening to music.
Set boundaries and prioritize self-care by allocating time for activities that bring joy and reduce stress.
Practice mindfulness, deep breathing exercises, or meditation to manage stress and promote mental clarity.
Seeking Support and Counseling:
Reach out to trusted friends, family members, or support groups for emotional support and to share feelings and experiences.
Consider seeking professional help from therapists or counselors if experiencing persistent or overwhelming mental health challenges.
Take advantage of mental health services and resources available in your community or through online platforms.
Maintaining Social Connections:
Foster healthy relationships and maintain social connections with friends, family, and community members.
Engage in social activities, join clubs or groups with shared interests, and participate in community events to build a support network.
Balancing Work and Personal Life:
Establish a healthy work-life balance by setting clear boundaries between work and personal time.
Prioritize self-care, relaxation, and leisure activities outside of work to prevent burnout and promote mental well-being.
Engaging in Relaxation Activities:
Engage in activities that promote relaxation and stress reduction, such as yoga, exercise, spending time in nature, or practicing creative arts.
Find activities that provide a sense of fulfillment, purpose, and enjoyment.
FAQs
What are common illnesses that can be prevented with proper measures?
Common illnesses that can often be prevented include colds, flu, food poisoning, and various infections.
2. How can I prevent getting sick during flu season?
To prevent the flu, consider getting a flu vaccine, practicing good hand hygiene, and avoiding close contact with sick individuals.
3. What are some food safety tips to prevent foodborne illnesses?
To prevent food poisoning, ensure proper food storage, cooking, and hygiene practices in the kitchen. Avoid undercooked meat and practice safe food handling.
4. What can I do to boost my immune system and prevent infections?
Maintaining a healthy lifestyle with a balanced diet, regular exercise, adequate sleep, and stress management can strengthen your immune system.
5. How can I prevent the common cold and respiratory infections?
Frequent handwashing, avoiding close contact with sick people, and getting the flu vaccine can help prevent colds and respiratory infections.
6. What precautions should I take to avoid sexually transmitted infections (STIs)?
Practicing safe sex, using condoms, and getting regular STI screenings can help prevent the spread of sexually transmitted infections.
7. How can I reduce the risk of skin-related illnesses like sunburn and skin cancer?
Protect your skin from harmful UV rays by wearing sunscreen, protective clothing, and avoiding excessive sun exposure.
8. What measures can I take to prevent dental problems and gum disease?
Maintaining good oral hygiene by brushing, flossing, and regular dental check-ups can prevent dental problems and gum disease.
9. How can I prevent lifestyle-related illnesses such as obesity and diabetes?
Eating a balanced diet, engaging in regular physical activity, and monitoring your sugar intake can help prevent obesity and diabetes.
10. What's the importance of vaccinations in preventing certain diseases?
Vaccinations are essential in preventing a wide range of diseases, including measles, mumps, rubella, and more. They help create herd immunity and protect both individuals and communities.
Conclusion
In conclusion, by implementing these preventive measures in your daily life, you can greatly reduce the risk of common illnesses and maintain good health. Practicing good hygiene, maintaining a healthy diet, staying physically active, getting enough sleep, managing stress, staying up to date with vaccinations, avoiding close contact with sick individuals, maintaining a clean living environment, practicing safe behaviors, and staying informed are all important steps to take. However, it's important to remember that while these measures can significantly lower the risk, they do not provide absolute protection. If you have any specific concerns or symptoms, it's always best to consult with a healthcare professional for personalized advice and guidance. Stay proactive and prioritize your health to live a happy and healthy life.