In today's fast-paced and demanding world, many individuals experience stress and anxiety on a regular basis. Whether it's due to work pressures, personal relationships, financial concerns, or other life challenges, managing stress and anxiety is crucial for overall well-being and mental health.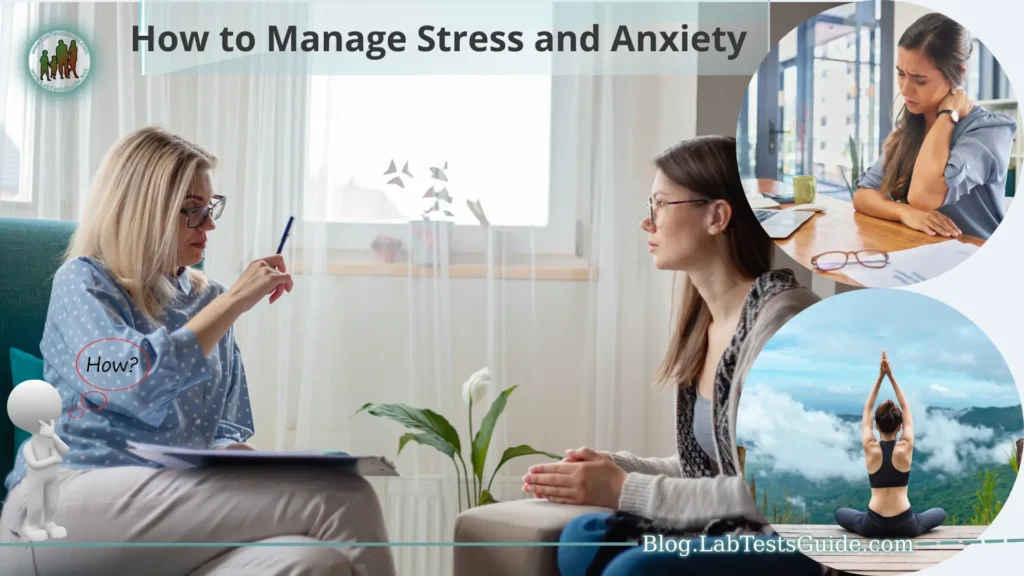 This guide aims to provide practical strategies and techniques to help you effectively manage stress and anxiety. It will explore various aspects of stress and anxiety, including their definitions, common causes, signs and symptoms, and the impact they can have on your daily life. Moreover, it will offer a range of techniques and lifestyle changes that can contribute to stress reduction and enhanced emotional well-being.
Understanding Stress and Anxiety
Definition of Stress:
Stress is the body's natural response to challenging or threatening situations. It is a physiological and psychological reaction that prepares us to face perceived dangers or demands. While some stress can be motivating and help us perform better, excessive or chronic stress can have negative effects on our physical and mental health.
Definition of Anxiety:
Anxiety is a feeling of unease, worry, or fear that often arises from the anticipation of future events or situations. It is a normal human emotion, but when it becomes excessive and uncontrollable, it can interfere with daily activities and overall well-being. Anxiety disorders are a group of mental health conditions characterized by persistent and intense anxiety that can significantly impact a person's life.
Causes of Stress and Anxiety:
Various factors can contribute to the development of stress and anxiety, including:
Work-related pressures: High workloads, tight deadlines, and job insecurity can lead to stress and anxiety.
Personal relationships: Conflict or strained relationships with family, friends, or romantic partners can be a source of stress.
Financial concerns: Worries about money, debts, or financial stability can contribute to stress and anxiety.
Life changes: Significant life events such as moving, getting married, or experiencing loss can trigger stress.
Health issues: Chronic illnesses or dealing with a serious health condition can lead to stress and anxiety.
Trauma: Past traumatic experiences can impact mental well-being and contribute to anxiety disorders.
Environmental factors: Noise, pollution, and overcrowding can also play a role in increasing stress levels.
It's important to recognize that everyone experiences stress and anxiety differently. While some individuals may cope well with certain stressors, others may find them overwhelming. Understanding the causes and individual triggers can be helpful in developing effective strategies to manage stress and anxiety.
Signs and Symptoms of Stress and Anxiety
Stress and anxiety can manifest in various ways, both physically and emotionally. It's important to be aware of the signs and symptoms so that you can identify when you or someone you know may be experiencing excessive stress or anxiety. Here are some common signs and symptoms:
Physical Symptoms:
Headaches or migraines
Muscle tension or stiffness
Fatigue or low energy
Sleep disturbances, such as insomnia or restless sleep
Digestive issues, including stomachaches, nausea, or diarrhea
Rapid heartbeat or palpitations
Sweating or trembling
Changes in appetite, such as overeating or loss of appetite
Emotional and Behavioral Symptoms:
Feeling overwhelmed or constantly on edge
Irritability or moodiness
Restlessness or feeling agitated
Racing thoughts or difficulty concentrating
Persistent worry or fear
Avoiding certain situations or activities due to anxiety
Changes in social interactions or withdrawal from others
Increased use of substances like alcohol or drugs as a coping mechanism
Difficulty relaxing or experiencing a sense of calmness
Cognitive Symptoms:
Negative thinking patterns or excessive worrying
Difficulty making decisions or feeling indecisive
Memory problems or forgetfulness
Lack of focus or trouble concentrating
Racing thoughts or mind going blank
It's important to note that these symptoms can vary from person to person, and some individuals may experience additional or different symptoms. If you consistently notice these signs and symptoms and they begin to interfere with your daily functioning or quality of life, it may be beneficial to seek support from a healthcare professional.
Healthy Lifestyle Habits for Stress Management
Here are some Healthy tips Lifestyle Habits for Stress Management.
Relaxation Techniques: Engaging in regular physical activity is one of the most effective ways to manage stress. Exercise helps to release endorphins, which are natural mood boosters, and it promotes better sleep, reduces muscle tension, and improves overall well-being. Aim for at least 30 minutes of moderate-intensity exercise most days of the week, such as brisk walking, jogging, swimming, or cycling.
Proper Nutrition: Maintaining a balanced diet can have a positive impact on stress levels. Avoid excessive consumption of caffeine, sugar, and processed foods, as they can contribute to anxiety and energy crashes. Instead, focus on whole foods, including fruits, vegetables, lean proteins, whole grains, and healthy fats. Eating regular, well-balanced meals can help stabilize your energy levels and support your overall well-being.
Adequate Sleep: Getting sufficient sleep is crucial for stress management. Lack of sleep can exacerbate stress and anxiety symptoms. Aim for 7-9 hours of quality sleep each night. Establish a bedtime routine, create a relaxing sleep environment, and avoid electronic devices before bed to promote better sleep hygiene.
Relaxation Techniques: Incorporating relaxation techniques into your daily routine can help reduce stress levels. Consider practices such as deep breathing exercises, progressive muscle relaxation, guided imagery, or mindfulness meditation. These techniques can promote a sense of calmness, reduce muscle tension, and improve mental clarity.
Cognitive Strategies for Stress and Anxiety Management:
Positive Self-Talk: Pay attention to your inner dialogue and replace negative thoughts with positive and affirming ones. Challenge and reframe negative self-talk by focusing on realistic and constructive perspectives. Practice self-compassion and remind yourself that it's okay to make mistakes or face challenges.
Time Management: Effective time management can reduce stress and create a sense of control. Prioritize tasks, break them into smaller, manageable steps, and create a schedule or to-do list. Avoid overcommitting yourself and learn to delegate tasks when possible. Setting realistic goals and deadlines can help you stay organized and reduce feelings of overwhelm.
Problem-Solving: When faced with a stressful situation, approach it with a problem-solving mindset. Break the problem down into smaller components, brainstorm possible solutions, and evaluate their pros and cons. Develop an action plan and take one step at a time. Remember to focus on what you can control and be open to seeking assistance or advice when needed.
Reframing: Reframe negative or stressful situations by shifting your perspective. Look for silver linings, opportunities for growth, or alternative explanations. Instead of catastrophizing or assuming the worst, try to adopt a more balanced and realistic view. Practice gratitude by focusing on the positive aspects of your life.
Mindfulness and Meditation: Mindfulness involves being fully present in the current moment without judgment. Engage in mindfulness exercises, such as deep breathing or body scans, to help calm your mind and reduce anxiety. Meditation practices, including focused attention or loving-kindness meditation, can cultivate a sense of inner peace and promote emotional well-being.
Social Support and Connection:
Here are some Social Support .
Seeking Support from Friends and Family: Reach out to trusted friends or family members and share your feelings and concerns. Talking about your stress and anxiety with someone who cares about you can provide emotional support and help alleviate the burden. They may offer a fresh perspective, advice, or simply lend a listening ear.
Joining Support Groups: Consider joining support groups or community organizations where you can connect with others who may be experiencing similar stress or anxiety. Sharing your experiences in a safe and understanding environment can provide validation, encouragement, and helpful coping strategies. Online support groups can also be valuable if in-person options are limited.
Counseling or Therapy: Seeking professional help from a counselor or therapist can be beneficial for managing stress and anxiety. These professionals can provide guidance, teach coping skills, and help you gain insights into your thoughts and behaviors. Therapy can be individual, group, or family-based, depending on your needs and preferences.
Stress Reduction Techniques:
Here are some Stress Reduction Techniques.
Deep Breathing Exercises: Practice deep breathing exercises to activate the body's relaxation response. Take slow, deep breaths in through your nose, allowing your abdomen to expand, and exhale slowly through your mouth. Focus on your breath and let go of tension with each exhale. Deep breathing can help reduce heart rate, lower blood pressure, and induce a sense of calmness.
Progressive Muscle Relaxation: Progressive muscle relaxation involves systematically tensing and then relaxing different muscle groups in your body. Start from your toes and work your way up to your head, tensing each muscle group for a few seconds and then releasing the tension. This technique helps relieve muscle tension and promotes a sense of relaxation.
Guided Imagery: Use guided imagery to create a mental image of a peaceful, calming place. Close your eyes and visualize yourself in a serene environment, such as a beach or a forest. Engage all your senses to make the image vivid and immersive. This technique can help redirect your focus, reduce stress, and promote relaxation.
Journaling: Write down your thoughts, feelings, and concerns in a journal. This practice can help you gain clarity, process emotions, and identify patterns or triggers of stress and anxiety. It also serves as a creative outlet and a means of self-expression. Consider writing gratitude lists or focusing on positive experiences to shift your mindset.
Engaging in Hobbies and Creative Outlets: Participate in activities that bring you joy and provide a sense of relaxation. Engaging in hobbies such as painting, playing an instrument, gardening, or crafting can serve as a form of stress relief. These activities allow you to focus on the present moment, promote a sense of accomplishment, and provide a break from stressors.
Time Management and Prioritization
Setting Goals: Set clear and achievable goals that align with your values and priorities. Identify what you want to accomplish and break larger goals into smaller, manageable tasks. Having a clear direction helps you stay focused and reduces the feeling of being overwhelmed.
Prioritizing Tasks: Determine which tasks are most important and urgent. Prioritize your to-do list based on their significance and deadline. Focus on completing high-priority tasks first before moving on to less critical ones. This helps prevent procrastination and ensures that important responsibilities are addressed in a timely manner.
Delegation and Saying No: Recognize that you don't have to do everything by yourself. Delegate tasks to others when appropriate and when it lightens your load. Learn to say no to non-essential commitments or tasks that don't align with your priorities. Setting boundaries and managing your time effectively also means valuing your own well-being.
Creating a Schedule or To-Do List: Develop a schedule or to-do list that outlines your tasks and activities. Use digital or physical tools that work best for you, such as a planner, calendar, or task management apps. Break down your day into time blocks, allocate specific tasks to each block, and stick to the schedule as much as possible. This helps provide structure and ensures that you allocate time for essential activities.
Seeking Professional Help
When to Consult a Healthcare Provider:
Here are some signs that indicate it's time to consult a healthcare provider:
Persistent feelings of anxiety or worry that interfere with your ability to function.
Difficulty managing stress or coping with daily challenges.
Physical symptoms, such as frequent headaches, digestive issues, or sleep disturbances.
Changes in appetite, weight, or energy levels.
Substance abuse or reliance on substances to cope with stress.
Thoughts of self-harm or suicide.
Types of Professionals who can Help:

There are various healthcare professionals who specialize in helping individuals manage stress and anxiety.
Psychologists: They provide counseling and therapy to help individuals understand and manage their emotions, thoughts, and behaviors.
Psychiatrists: They are medical doctors who can diagnose and treat mental health conditions. They may prescribe medication if necessary.
Licensed Therapists/Counselors: These professionals offer therapy and counseling services, utilizing various therapeutic approaches to address stress and anxiety.
Social Workers: They provide support and counseling to individuals and families, often assisting with practical solutions and connecting them to community resources.
Therapy and Medication Options:
Therapy can be an effective way to address stress and anxiety. Different therapeutic approaches, such as cognitive-behavioral therapy (CBT), mindfulness-based therapy, or exposure therapy, may be utilized to help individuals develop coping skills and manage stressors.
In some cases, medication may be prescribed by a psychiatrist to help manage symptoms of anxiety. Medication can be used in conjunction with therapy or as a standalone treatment, depending on the severity of symptoms and individual needs.
It's important to consult with a healthcare professional who can evaluate your specific situation and recommend the most appropriate treatment approach.
FAQs
What is stress and anxiety?
Stress is the body's response to a perceived threat or challenge, while anxiety is a more persistent, excessive worry about future events. Both can negatively impact mental and physical health.
2. What are some common symptoms of stress and anxiety?
Common symptoms include restlessness, muscle tension, racing thoughts, increased heart rate, sweating, and difficulty concentrating.
3. How can I manage stress and anxiety effectively?
Practice relaxation techniques, such as deep breathing, progressive muscle relaxation, and mindfulness meditation. Engage in regular physical activity, as exercise can help reduce stress hormones and boost mood. Maintain a healthy diet and stay hydrated. Get enough sleep to support your body's stress recovery processes. Establish a daily routine to provide structure and reduce uncertainty.
4. Should I seek professional help for managing anxiety?
If anxiety significantly interferes with your daily life, consider consulting a mental health professional, such as a therapist or psychiatrist, for evaluation and treatment options.
5. How can I cope with overwhelming anxiety in the moment?
Practice grounding techniques like the 5-4-3-2-1 method: Name five things you can see, four things you can touch, three things you can hear, two things you can smell, and one thing you can taste. Use positive self-talk and remind yourself that anxiety is temporary. Focus on your breath and engage in deep, slow breathing exercises.
6. What role does a healthy lifestyle play in managing stress and anxiety?
Eating a balanced diet, getting regular exercise, and prioritizing sleep can help regulate mood and reduce stress. Limit caffeine and alcohol intake, as they can exacerbate anxiety symptoms.
7. Can relaxation techniques help with stress and anxiety management?
Yes, techniques like deep breathing, progressive muscle relaxation, and guided imagery can help calm the body's stress response and reduce anxiety.
8. How can I manage stress related to work or school?
Set realistic goals and prioritize tasks. Break large projects into smaller, manageable steps. Take short breaks to recharge and reduce stress during the day. Communicate openly with supervisors, teachers, or professors about your workload and stressors.
9. Are there lifestyle changes that can help with long-term anxiety management?
Incorporate stress-reducing activities into your daily routine, such as exercise, mindfulness, or yoga. Cultivate a strong support network of friends and family. Limit exposure to stressful situations or triggers when possible.
Conclusion
In conclusion, managing stress and anxiety is essential for maintaining overall well-being. By identifying the sources of stress, practicing relaxation techniques, engaging in regular exercise, and seeking support when needed, you can effectively reduce and cope with stress and anxiety. Remember that everyone's journey is unique, so it's important to find the strategies that work best for you. Don't hesitate to reach out to professionals if you need additional support in managing your stress and anxiety.