Having healthy skin and a glowing complexion is something that many people strive for. Our skin is not only the largest organ in our body but also serves as a protective barrier against external elements. It is essential to take care of our skin to maintain its health and appearance. By incorporating these practices into our daily lives, we can improve skin health complexion.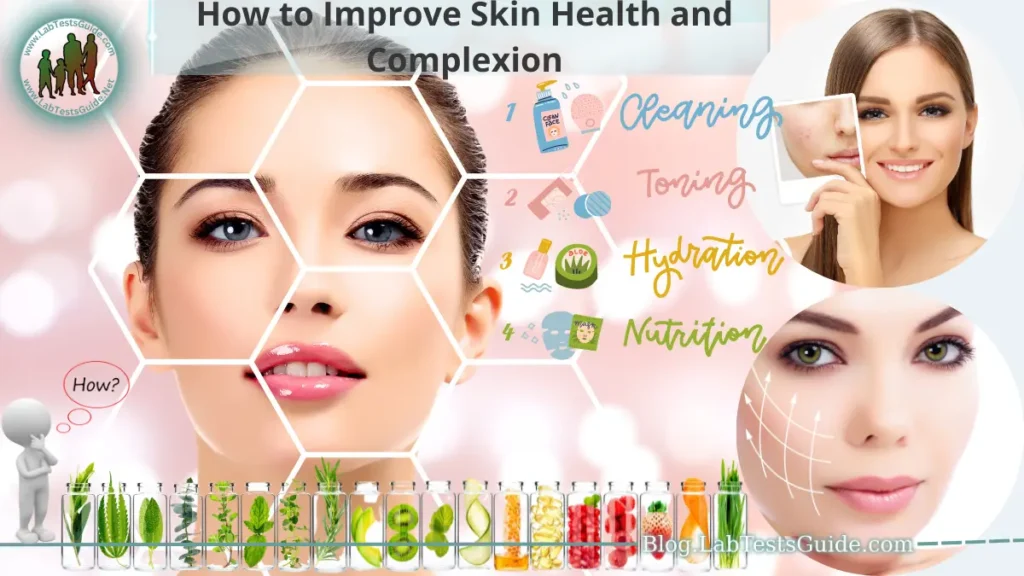 Skin health goes beyond mere aesthetics. When our skin is in good condition, it can help prevent infections, regulate body temperature, and protect us from harmful UV rays. Additionally, having clear and radiant skin can boost our confidence and overall well-being.
However, achieving and maintaining healthy skin requires effort and a holistic approach. It involves adopting a consistent skincare routine, making healthy lifestyle choices, and understanding the role of skincare ingredients.
what is Importance of skin health and complexion?
Here are some key reasons why they are significant.
Protection: Our skin acts as a protective barrier, shielding our body from harmful external factors such as pollutants, pathogens, UV radiation, and chemicals. Healthy skin ensures that this protective function remains intact, reducing the risk of infections, diseases, and damage.
Overall Well-being: Skin health is closely linked to overall well-being. When our skin is healthy, we tend to feel more confident, comfortable, and at ease in our bodies. On the other hand, skin conditions such as acne, eczema, or psoriasis can affect self-esteem, mood, and quality of life.
Appearance and Self-esteem: The condition of our skin significantly impacts our appearance and self-esteem. A clear, smooth, and radiant complexion is often associated with youthfulness, attractiveness, and vitality. When we feel good about our skin, it can enhance our self-confidence and contribute to a positive self-image.
Communication: Our skin plays a role in non-verbal communication, expressing emotions, and conveying information about our health. Changes in skin color, texture, or complexion can be indicators of underlying health issues, allergies, or imbalances in the body. Maintaining skin health allows us to present ourselves positively and communicate effectively.
Aging Gracefully: As we age, our skin undergoes natural changes, such as reduced collagen and elastin production, leading to wrinkles, sagging, and fine lines. By taking care of our skin, we can slow down the aging process, maintain a more youthful appearance, and promote healthy aging.
Hydration and Comfort: Healthy skin retains moisture and hydration, preventing dryness, itching, and discomfort. Adequately moisturized skin feels soft, supple, and nourished, contributing to overall physical comfort.
Prevention and Early Detection: Regularly caring for our skin enables us to prevent or detect potential issues early on. By following a skincare routine and regularly examining our skin, we can identify changes, spots, or moles that may require medical attention, potentially catching skin cancer or other conditions in their early stages.
In summary, skin health and complexion are important for protection, overall well-being, appearance, self-esteem, communication, aging gracefully, comfort, and the prevention and early detection of skin conditions. By prioritizing and maintaining skin health, we can enjoy the benefits of a healthy, radiant, and confident lifestyle.
How to skincare routine?
Here is a basic guide on how to establish an effective skincare routine.
Determine Your Skin Type: Understanding your skin type is crucial as it helps you choose products and techniques that cater to its specific needs. Common skin types include normal, dry, oily, combination, and sensitive. You can consult a dermatologist or perform a self-assessment to determine your skin type.
Cleanse:
Choose a gentle cleanser that suits your skin type. Avoid harsh soaps or cleansers that can strip away natural oils.
Wash your face twice a day, in the morning and evening, to remove dirt, impurities, and excess oil.
Wet your face with lukewarm water, apply the cleanser in gentle circular motions, and rinse thoroughly.
Pat your face dry with a clean towel, being careful not to rub or tug on the skin.
Exfoliate (1-2 times per week):
Exfoliation helps remove dead skin cells, unclog pores, and improve skin texture.
Choose a physical exfoliant (such as a scrub) or a chemical exfoliant (containing alpha or beta hydroxy acids) based on your skin type and sensitivity.
Gently massage the exfoliant onto damp skin, focusing on areas prone to congestion or roughness. Rinse thoroughly and pat dry.
Moisturize:
Apply a suitable moisturizer to hydrate and nourish your skin.
Choose a moisturizer that matches your skin type and addresses specific concerns (e.g., anti-aging, oil control, or sensitivity).
Apply the moisturizer to your face and neck, using gentle upward motions. Allow it to absorb into the skin before proceeding to the next step.
Sun Protection:
Apply a broad-spectrum sunscreen with an SPF of at least 30 to protect your skin from harmful UV rays.
Apply sunscreen generously to all exposed areas, including the face, neck, and any other areas not covered by clothing.
Reapply sunscreen every two hours, or more frequently if sweating or swimming.
Optional Steps:
Eye Cream: If desired, apply an eye cream to address specific concerns like dark circles, puffiness, or fine lines. Gently tap the product around the orbital bone using your ring finger.
Serums or Treatments: Use targeted serums or treatments to address specific skincare concerns like acne, hyperpigmentation, or aging. Apply them after cleansing and before moisturizing.
Face Masks: Incorporate face masks into your routine as needed, depending on your skin's requirements. Use masks formulated for your skin type or concerns, such as hydrating masks, clay masks, or sheet masks.
Remember to patch test new products and introduce them gradually into your routine to ensure compatibility and avoid potential irritation. Additionally, maintaining a healthy lifestyle, including proper hydration, a balanced diet, regular exercise, and stress management, can complement your skincare routine and contribute to overall skin health.
Healthy Lifestyle Habits:
Here are some essential habits to incorporate into your routine.
Balanced Diet:
Consume a nutritious diet rich in vitamins, minerals, and antioxidants.
Include fruits, vegetables, whole grains, lean proteins, and healthy fats in your meals.
Foods like berries, leafy greens, fatty fish, nuts, and seeds are particularly beneficial for skin health.
Hydration:
Drink an adequate amount of water throughout the day to keep your body and skin hydrated.
Aim for at least 8 glasses (about 2 liters) of water daily, or adjust according to your activity level and climate.
Regular Exercise:
Engage in regular physical activity to improve blood circulation, promote a healthy complexion, and reduce stress.
Choose activities you enjoy, such as walking, jogging, yoga, or swimming, and aim for at least 30 minutes of exercise most days of the week.
Stress Management:
Chronic stress can negatively impact skin health, leading to various issues like acne, inflammation, and accelerated aging.
Practice stress management techniques such as meditation, deep breathing exercises, yoga, or engaging in hobbies that help you relax.
Adequate Sleep:
Get sufficient sleep to allow your body to repair and rejuvenate.
Aim for 7-9 hours of quality sleep each night to promote healthy skin and overall well-being.
Avoid Smoking and Excessive Alcohol Consumption:
Smoking and excessive alcohol consumption can have detrimental effects on the skin, leading to premature aging, dullness, and increased risk of skin problems.
Quit smoking and consume alcohol in moderation, or preferably, avoid it altogether.
Sun Protection:
Protect your skin from harmful UV rays by practicing sun safety habits.
Wear sunscreen with a broad-spectrum SPF of 30 or higher, seek shade during peak sun hours, wear protective clothing, and use sunglasses and wide-brimmed hats.
Avoid Excessive Touching and Picking:
Minimize touching your face excessively, as it can transfer bacteria and lead to breakouts.
Avoid picking at acne or blemishes, as it can cause inflammation, scarring, and infection.
Regular Skincare Check-ups:
Visit a dermatologist regularly for skin check-ups, especially if you notice any unusual changes, moles, or persistent skin concerns.
Professional guidance can help identify and address any underlying skin issues.
By incorporating these healthy lifestyle habits into your routine, you can support your skincare efforts, enhance skin health, and achieve a radiant complexion. Remember that consistency is key, and it may take time to see noticeable improvements, so be patient and stay committed to your healthy habits.
Skincare Ingredients:
Here are some common skincare ingredients and their benefits.
Antioxidants:
Examples: Vitamin C, Vitamin E, Green Tea Extract, Resveratrol.
Benefits: Antioxidants help protect the skin from free radicals, environmental damage, and oxidative stress. They can reduce inflammation, improve skin tone, and enhance collagen production.
Retinoids:
Examples: Retinol, Retin-A (Tretinoin), Adapalene.
Benefits: Retinoids are derivatives of Vitamin A and are known for their anti-aging properties. They can improve skin texture, reduce the appearance of fine lines and wrinkles, stimulate collagen production, and promote cell turnover.
Hyaluronic Acid:
Benefits: Hyaluronic acid is a humectant that attracts and retains moisture in the skin. It hydrates and plumps the skin, reducing the appearance of fine lines and wrinkles. It also helps improve skin elasticity and provides a smooth and supple complexion.
Niacinamide:
Benefits: Niacinamide (Vitamin B3) has multiple benefits for the skin. It can help regulate oil production, improve skin barrier function, fade hyperpigmentation and dark spots, minimize pore appearance, and reduce inflammation.
Peptides:
Benefits: Peptides are amino acid chains that can stimulate collagen production, improve skin elasticity, and reduce the appearance of wrinkles. They can also aid in wound healing and support the skin's natural repair processes.
Alpha Hydroxy Acids (AHAs):
Examples: Glycolic Acid, Lactic Acid.
Benefits: AHAs exfoliate the skin by removing dead skin cells, promoting cell turnover, and improving skin texture. They can help fade hyperpigmentation, smooth rough skin, and enhance the effectiveness of other skincare products.
Beta Hydroxy Acid (BHA):
Example: Salicylic Acid.
Benefits: BHA is oil-soluble and can penetrate the pores, making it effective for treating acne and congested skin. It exfoliates, unclogs pores, reduces inflammation, and helps regulate sebum production.
Vitamin C:
Benefits: Vitamin C is a powerful antioxidant that brightens the skin, evens out skin tone, fades dark spots and hyperpigmentation, stimulates collagen synthesis, and provides protection against UV damage.
Ceramides:
Benefits: Ceramides are lipids naturally found in the skin. They help strengthen the skin's barrier, improve moisture retention, and protect against environmental aggressors. Ceramides help keep the skin hydrated, smooth, and supple.
When incorporating skincare ingredients into your routine, it's essential to consider your skin type, concerns, and potential sensitivities or allergies. It's recommended to start with a lower concentration and gradually increase as your skin tolerates the ingredient. Consulting with a dermatologist or skincare professional can provide personalized guidance on which ingredients are most suitable for your specific needs.
Additional Tips for Healthy Skin:
here are some additional tips to maintain healthy skin.
Cleanse Your Face Twice Daily:
Wash your face in the morning and evening to remove dirt, oil, and impurities.
Use a gentle cleanser suitable for your skin type and avoid over-cleansing, as it can strip the skin of its natural oils.
Remove Makeup Before Bed:
Always remove your makeup before going to bed to allow your skin to breathe and regenerate overnight.
Use a gentle makeup remover or a double cleansing method (using an oil-based cleanser followed by a water-based cleanser) for effective removal.
Don't Over-Exfoliate:
While exfoliation is beneficial, excessive exfoliation can irritate the skin and disrupt its natural barrier.
Limit exfoliation to 1-2 times per week and adjust the frequency based on your skin's tolerance and needs.
Protect Your Skin from the Sun:
Apply sunscreen with a broad-spectrum SPF of 30 or higher, even on cloudy days.
Reapply sunscreen every two hours, or more frequently if sweating or swimming.
Wear protective clothing, hats, and sunglasses when exposed to the sun.
Avoid Harsh Ingredients:
Be cautious of skincare products containing harsh ingredients, such as alcohol, sulfates, and fragrances, which can irritate the skin.
Read ingredient labels and opt for products with gentle, non-irritating formulations.
Practice Gentle Skincare Techniques:
Avoid rubbing or pulling on the skin when applying products or drying your face. Instead, use gentle patting or pressing motions.
Use soft, clean towels and avoid harsh scrubbing, which can cause irritation and micro-tears in the skin
Keep Your Hands Off Your Face:
Avoid touching your face frequently, as it can transfer bacteria and contribute to breakouts or skin irritation.
Be mindful of resting your face on your hands, as this can also introduce dirt and oils onto the skin.
Get Sufficient Sleep:
Aim for 7-9 hours of quality sleep each night to support skin rejuvenation and repair.
Sleep on a clean pillowcase to minimize contact with bacteria and oils that can transfer onto your skin.
Manage Stress:
Chronic stress can contribute to skin issues such as acne, inflammation, and premature aging.
Practice stress-reducing techniques such as meditation, deep breathing exercises, or engaging in activities you enjoy.
Remember that everyone's skin is unique, and it may take time to find the right products and techniques that work for you. Be patient and consistent with your skincare routine, and if you have specific concerns, it's always advisable to consult a dermatologist for personalized guidance.
FAQs:
How long does it take to see results from a skincare routine?
Results can vary depending on individual factors, skin concerns, and the specific products used. Generally, it may take several weeks to a few months of consistent use before noticeable improvements in skin health and complexion are observed.
Can diet affect skin health?
Yes, diet plays a role in skin health. A balanced diet rich in fruits, vegetables, whole grains, lean proteins, and healthy fats can provide essential nutrients and antioxidants that support healthy skin. Certain foods, such as those high in sugar or processed ingredients, may contribute to skin issues like acne or inflammation in some individuals.
How often should I exfoliate my skin?
Exfoliation frequency depends on your skin type and the type of exfoliant being used. For most people, exfoliating 1-2 times per week is sufficient. However, individuals with sensitive skin may need to exfoliate less frequently to avoid irritation.
Do I still need sunscreen on cloudy days?
Yes, UV rays can penetrate through clouds and cause skin damage even on cloudy days. It is important to wear sunscreen daily, regardless of the weather conditions.
Can I use multiple skincare products together?
Yes, you can use multiple skincare products together, but it is essential to consider compatibility and not overload your skin. Layering products from thinnest to thickest consistency and allowing each product to absorb fully before applying the next can help maximize their effectiveness.
Is it necessary to use different skincare products for the morning and evening?
The skincare needs during the day and night can differ. In the daytime, it is important to focus on sun protection and lightweight hydration. At night, the focus can be on repair and rejuvenation, using products that promote cell turnover and provide deeper hydration.
Can stress affect my skin?
Yes, stress can impact skin health. It can contribute to increased inflammation, breakouts, and exacerbate skin conditions like eczema or psoriasis. Practicing stress management techniques and self-care can help minimize these effects.
Should I moisturize if I have oily skin?
Yes, even oily skin needs moisturization. Look for lightweight, oil-free moisturizers that won't clog pores. Proper moisturization can help balance oil production and maintain the skin's barrier function.
Can I use retinoids if I have sensitive skin?
Retinoids can be potent and may cause irritation, especially in individuals with sensitive skin. It is recommended to start with a lower concentration, use them sparingly, and gradually increase usage over time to allow the skin to adjust. Consulting a dermatologist is advisable for personalized advice.
How do I know if a skincare product is suitable for my skin?
Patch testing is a recommended method to check for any adverse reactions or allergies. Apply a small amount of the product on a small area of your skin (e.g., behind the ear or inner forearm) and observe for 24-48 hours. If there are no adverse reactions, the product is likely suitable for use.
Conclusion:
In conclusion, prioritizing skin health and improving complexion requires a comprehensive approach that includes establishing a skincare routine, adopting healthy lifestyle habits, and understanding the role of beneficial skincare ingredients. By consistently following a cleansing, exfoliation, moisturization, and sun protection routine, along with maintaining a balanced diet, staying hydrated, engaging in regular exercise, managing stress, and avoiding harmful habits, individuals can enhance their skin's vitality and achieve a radiant complexion. Additionally, incorporating ingredients such as antioxidants, retinoids, hyaluronic acid, and vitamin C can provide targeted benefits. Embracing these practices, seeking professional guidance when needed, and being patient and consistent in one's skincare journey can lead to long-lasting improvements in skin health and overall well-being.