Flexibility and joint mobility play pivotal roles in maintaining overall physical health and enhancing daily activities. Whether you are an athlete looking to improve performance, an individual seeking to prevent injuries, or someone aiming to maintain an active and pain-free lifestyle, focusing on flexibility and joint mobility can be incredibly beneficial. This comprehensive guide is designed to provide you with valuable insights, effective strategies, and practical exercises to help you achieve optimal flexibility and joint function.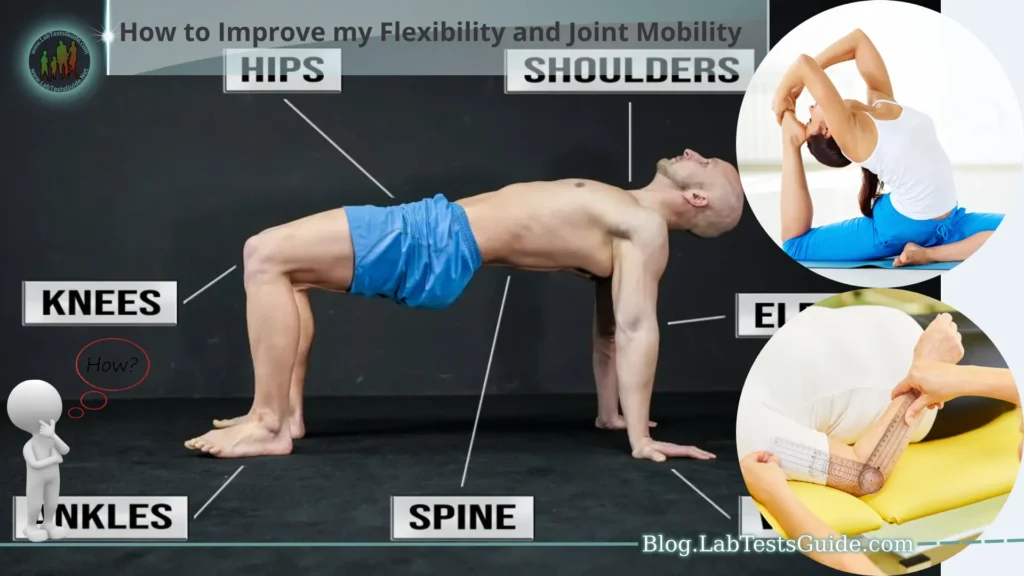 In this guide, we will delve into the importance of flexibility and joint mobility, exploring how these aspects impact various aspects of your life. We will discuss the wide-ranging benefits of increased flexibility, including enhanced athletic performance, reduced risk of injuries, and improved posture. Additionally, we will emphasize the significance of joint mobility for maintaining joint health, preventing stiffness, and promoting a full range of motion. By understanding the key components that contribute to flexibility and joint mobility, you will be better equipped to tailor your exercise routine and make positive changes in your daily habits to lead a more flexible and mobile life.
What is Flexibility and Joint Mobility?
Flexibility refers to the ability of muscles and connective tissues to lengthen and move through a range of motion. It is a crucial component of physical fitness that affects how freely and easily you can move your body.
Joint mobility, on the other hand, pertains to the capacity of joints to move smoothly and painlessly through their full range of motion. It is influenced by the health of the joint structures, including ligaments, tendons, cartilage, and synovial fluid.
Both flexibility and joint mobility are essential for performing daily activities, sports, and exercises effectively and efficiently. They contribute to better posture, balance, and coordination.
These aspects of physical functionality are not solely reserved for athletes; individuals of all ages and activity levels can benefit from improved flexibility and joint mobility.
Factors affecting flexibility and joint mobility include genetics, age, lifestyle habits, previous injuries, and exercise routines.
Maintaining flexibility and joint mobility is particularly important as we age, as it helps reduce the risk of joint stiffness, muscle imbalances, and injury.
Flexibility and joint mobility can be improved through regular stretching exercises, specific joint mobility drills, and other physical activities that encourage a full range of motion.
Different types of flexibility exist, such as static and dynamic flexibility, each serving unique purposes in movement and performance.
Stretching and mobility exercises should be performed with proper form and technique to prevent injuries and ensure maximum effectiveness.
A holistic approach that includes proper nutrition, hydration, and recovery is essential to support the improvement of flexibility and joint mobility.
How to Improve Flexibility and Joint Mobility:
Here are some practical strategies and effective exercises to help you achieve your goal.
Stretching Exercises: Incorporate both static and dynamic stretching into your routine. Static stretches involve holding a position for a period, while dynamic stretches involve controlled movements through a range of motion. Focus on all major muscle groups, paying special attention to areas of tightness.
Joint Mobility Exercises: Perform exercises that specifically target joint mobility, such as shoulder circles, hip circles, ankle rolls, and wrist movements. These exercises help lubricate the joints and improve their overall function.
Yoga and Pilates: Consider adding yoga or Pilates classes to your fitness routine. These practices emphasize flexibility, balance, and core strength, all of which contribute to improved joint mobility and range of motion.
Foam Rolling and Self-Myofascial Release: Use a foam roller to release tension in muscles and fascia. This can help improve flexibility and joint mobility by increasing blood flow and reducing muscle knots.
Proper Warm-up and Cool-down: Always warm up before engaging in stretching or exercise. A warm-up prepares your muscles and joints for activity, reducing the risk of injury. After your workout, cool down with gentle stretches to maintain flexibility and prevent muscle tightness.
Consistency is Key: Make flexibility and joint mobility exercises a regular part of your routine. Aim to stretch and perform mobility exercises at least a few times a week for noticeable improvements.
Gradual Progression: Avoid pushing yourself too hard too quickly, as this can lead to injury. Gradually increase the intensity and duration of your stretches and exercises over time.
Listen to Your Body: Pay attention to how your body feels during stretching and mobility exercises. You should feel a gentle stretch, but never pain. If you experience pain, stop and consult a healthcare professional.
Stay Hydrated: Drink plenty of water to keep your muscles and joints lubricated and functioning optimally.
Balanced Nutrition: Maintain a balanced diet that includes essential nutrients like vitamins C and D, calcium, and omega-3 fatty acids, which support joint health.
Stay Active: Engage in regular physical activity that includes a variety of movements to keep your body flexible and mobile.
Seek Professional Guidance: If you're new to stretching or have specific concerns about your joints, consider consulting a physical therapist or certified fitness professional. They can tailor a program to your needs and ensure you're performing exercises correctly.
Assessing Your Current Flexibility and Joint Mobility:
Here are some steps and techniques to help you assess your flexibility and joint mobility.
Range of Motion Tests: Perform range of motion tests for major joints in your body, such as shoulders, hips, knees, and ankles. Move each joint through its full range of motion and take note of any limitations, discomfort, or pain. Compare your movements to what is considered normal for your age and gender.
Goniometer Measurement: A goniometer is a tool used to measure the angle of a joint's range of motion accurately. You can visit a physical therapist or a trained professional to get precise measurements of your joint mobility.
Flexibility Tests: Use flexibility tests to evaluate the length and suppleness of your muscles. Common flexibility tests include the sit-and-reach test for hamstrings and lower back, the shoulder flexibility test, and the quadriceps flexibility test.
Muscle Imbalance Assessment: Look for signs of muscle imbalances, which can impact joint mobility. For example, tight hip flexors and weak glutes can lead to limited hip mobility.
Functional Movement Screen (FMS): FMS is a series of movement patterns designed to identify imbalances and weaknesses that may hinder your overall movement. It is often used by fitness professionals and physical therapists to assess movement quality and risk of injury.
Self-Evaluation through Exercise: During your regular workouts or stretching sessions, pay attention to areas of your body that feel stiff or restricted. Note any difficulties in performing specific movements or exercises.
Keep a Flexibility Journal: Record your daily or weekly flexibility and mobility exercises, along with your progress. This journal can help you track improvements over time and identify areas that need more attention.
Ask for Feedback: If you're working with a fitness professional, physical therapist, or experienced partner, ask for their feedback on your movements and areas that may need improvement.
Functional Tests: Assess your ability to perform functional movements relevant to your daily activities or sports. For example, if you enjoy playing golf, observe how well you can rotate your torso during your swing.
Be Mindful of Pain: Pay attention to any pain or discomfort during assessments. If you experience pain, especially sharp or intense pain, stop immediately and consult a healthcare professional.
Creating a Safe and Effective Exercise Plan:
Here are the steps to design a personalized exercise plan.
Assess Your Current Abilities: Review the results of your flexibility and joint mobility assessments. Identify areas of improvement and any limitations or restrictions that need attention.
Set Realistic Goals: Determine what you want to achieve with your exercise plan. Whether it's increasing flexibility in certain muscle groups, enhancing joint range of motion, or addressing specific mobility issues, setting clear and achievable goals will help guide your training.
Choose Appropriate Exercises: Select exercises that target the areas you want to improve. Include a mix of stretching exercises for flexibility and joint mobility drills to promote functional movement.
Progression: Start with exercises suitable for your current level of flexibility and mobility. Gradually progress the intensity, duration, and complexity of exercises as you become more comfortable and confident.
Frequency and Duration: Decide how often you'll perform your exercise routine. Aim for at least three to five sessions per week to see noticeable improvements. Each session should last around 20 to 30 minutes, including warm-up and cool-down periods.
Warm-Up: Always begin your exercise sessions with a proper warm-up. Engage in light aerobic activity like brisk walking or cycling for 5 to 10 minutes to increase blood flow and prepare your muscles and joints for stretching and mobility exercises.
Stretching Techniques: Incorporate static and dynamic stretching into your routine. Hold static stretches for 15-30 seconds to improve flexibility, and include dynamic stretches that mimic movements you'll perform during your activities or sports.
Joint Mobility Drills: Include exercises that specifically target joint mobility, such as shoulder circles, hip rotations, and ankle rolls. These exercises help increase synovial fluid circulation and improve joint function.
Proper Form and Breathing: Pay attention to proper form during exercises and maintain controlled breathing. Avoid holding your breath during stretches or mobility drills.
Cool-Down: After completing the main exercises, cool down with gentle stretches and deep breathing to promote relaxation and reduce muscle tension.
Stretching Exercises for Flexibility:
Hamstring Stretch: Sit on the floor with one leg extended straight in front of you and the other bent, placing the sole of the foot against the inner thigh. Reach forward toward the toes of the extended leg, keeping your back straight. Hold the stretch for 15-30 seconds on each side.
Quadriceps Stretch: Stand or hold onto a stable surface for support. Bend one knee and bring your heel towards your buttocks, holding your ankle with the corresponding hand. Keep your knees close together and push your hips slightly forward. Hold for 15-30 seconds on each leg.
Calf Stretch: Stand facing a wall with one foot forward and the other foot back. Lean forward, placing your hands on the wall, and press your back heel into the floor. Keep both feet pointing forward and hold the stretch for 15-30 seconds on each side.
Hip Flexor Stretch: Kneel on one knee, with the other foot in front, forming a 90-degree angle at the front knee. Push your hips forward slightly until you feel a stretch in the front of the hip. Hold for 15-30 seconds on each side.
Butterfly Stretch: Sit on the floor with your feet together and your knees bent out to the sides. Hold your feet with your hands and gently press your knees toward the floor. Hold the stretch for 15-30 seconds.
Triceps Stretch: Raise one arm overhead and bend it, reaching your hand down your upper back. Use your other hand to gently push on the bent elbow. Hold the stretch for 15-30 seconds on each arm.
Chest Stretch: Stand in a doorway and place your forearms on either side of the door frame. Step forward with one leg to gently stretch your chest muscles. Hold the stretch for 15-30 seconds.
Child's Pose: Start on your hands and knees, then sit back onto your heels, stretching your arms and hands forward. This stretches the lower back and shoulders. Hold for 30 seconds.
Cat-Cow Stretch: On your hands and knees, arch your back upwards like a cat, then drop your belly down and lift your head, creating an arch in your back. Move smoothly between these positions for 30 seconds.
Seated Forward Bend: Sit on the floor with your legs extended in front of you. Reach forward and try to touch your toes or ankles, keeping your back straight. Hold for 15-30 seconds.
Flexibility and Joint Mobility Training for Different Age Groups:
Here's how flexibility and joint mobility training can be adapted for different age groups.
Children and Adolescents:
Focus on age-appropriate activities that promote movement and flexibility without putting excessive strain on developing joints.
Encourage participation in sports, dance, gymnastics, and other physical activities that involve a variety of movements.
Incorporate playful stretching exercises and activities to make flexibility training enjoyable and engaging.
Emphasize proper form and technique to establish good movement habits from a young age.
Avoid overtraining or specialization in a single sport, as it can lead to imbalances and injuries.
Young Adults (20s to 30s):
Continue to engage in regular physical activities that promote flexibility and joint mobility, including yoga, Pilates, and dynamic stretching.
Include resistance training to build muscle strength, which can support joint stability and flexibility.
Prioritize proper warm-ups and cool-downs before and after exercise sessions to reduce the risk of injuries.
Stay mindful of posture and body mechanics during daily activities and desk work to prevent joint stiffness and pain.
Middle-Aged Adults (40s to 60s):
Incorporate joint mobility exercises to maintain or improve range of motion, particularly in areas prone to stiffness (e.g., hips and shoulders).
Use foam rolling or self-myofascial release techniques to alleviate muscle tension and enhance flexibility.
Pay attention to stretching major muscle groups regularly to reduce the risk of age-related joint limitations.
Consider low-impact exercises like swimming and cycling to preserve joint health while still staying physically active.
Older Adults (60s and beyond):
Focus on gentle stretching exercises to maintain flexibility and prevent joint stiffness.
Participate in activities like tai chi or gentle yoga, which emphasize balance, coordination, and flexibility.
Incorporate strength training to preserve muscle mass, as strong muscles provide support for aging joints.
Stay active in daily life, taking regular short walks and avoiding prolonged periods of inactivity to promote joint health.
Recovery and Self-Care for Enhanced Flexibility and Joint Mobility:
Here are some recovery and self-care strategies for enhancing flexibility and joint mobility.
Rest Days: Incorporate rest days into your exercise schedule. Giving your body time to recover is crucial for preventing overuse injuries and promoting optimal muscle and joint health.
Sleep: Ensure you get enough quality sleep each night. Sleep is essential for overall recovery and helps your body repair tissues and recharge for the next day's activities.
Hydration: Stay hydrated throughout the day to support joint lubrication and muscle function. Drink plenty of water before, during, and after exercise.
Nutrition: Follow a balanced diet that provides essential nutrients for muscle and joint health. Include foods rich in antioxidants and anti-inflammatory properties, such as fruits, vegetables, nuts, and omega-3 fatty acids.
Foam Rolling and Self-Myofascial Release: Use a foam roller or massage tools to release tension in muscles and fascia. Self-myofascial release techniques can improve flexibility, reduce muscle soreness, and enhance recovery.
Epsom Salt Baths: Consider taking Epsom salt baths, which may help relax muscles and alleviate soreness.
Ice or Heat Therapy: Apply ice packs to sore areas after intense workouts to reduce inflammation, or use heat therapy to relax muscles before stretching exercises.
Stretching and Mobility on Rest Days: Engage in light stretching or mobility exercises on rest days to maintain flexibility and promote blood flow to your muscles and joints.
Mindfulness and Breathing Techniques: Practice mindfulness and deep breathing exercises to reduce stress and tension, which can contribute to improved flexibility and joint mobility.
Massage Therapy: Consider regular massage sessions to address tight muscles and improve circulation.
Mindfulness and Breathing Techniques:
Here are some mindfulness and breathing exercises to incorporate into your routine.
Diaphragmatic Breathing (Deep Breathing): Find a comfortable seated or lying position. Place one hand on your chest and the other on your abdomen. Inhale deeply through your nose, feeling your abdomen rise as you fill your lungs with air. Exhale slowly through your mouth, allowing your abdomen to fall. Focus on the sensation of your breath and repeat for several cycles.
Body Scan Meditation: Lie down in a comfortable position or sit with your eyes closed. Bring your attention to each part of your body, starting from your toes and gradually moving up to your head. Notice any tension or discomfort and consciously release it as you exhale.
Mindful Stretching: During stretching exercises, pay full attention to the sensations in your muscles and joints. Focus on the gentle stretching feeling and let go of any distracting thoughts. Be present in the moment as you move through each stretch.
Yoga and Tai Chi: Participate in yoga or tai chi classes, which combine breath control with mindful movement. These practices encourage body awareness, deep breathing, and relaxation.
Box Breathing (Square Breathing): Inhale deeply for a count of four, hold your breath for a count of four, exhale for a count of four, and then hold your breath for another count of four. Repeat this pattern for several cycles.
Guided Meditation: Use guided meditation apps or videos that focus on relaxation, mindfulness, and breath awareness. These resources can help guide your practice and enhance your mindfulness skills.
Breath-Focused Stretching: Coordinate your breath with your stretches. Inhale as you prepare for the stretch, and exhale as you move deeper into the stretch. This synchronization can help you relax and achieve a greater range of motion.
Walking Meditation: While walking, focus your attention on each step and the sensations in your feet and legs. Breathe deeply and be present in the moment during your walk.
Mindful Awareness During Daily Activities: Apply mindfulness techniques to everyday tasks, such as washing dishes or brushing your teeth. Stay present in the activity and observe the sensations and movements involved.
Gratitude Practice: Cultivate gratitude and positivity by taking a few moments each day to acknowledge things you are grateful for. This practice can help reduce stress and promote mental well-being, which can positively impact physical health.
FAQs:
Why is flexibility important for overall health and fitness?
Flexibility is crucial for maintaining a full range of motion in joints and muscles. It enhances athletic performance, reduces the risk of injuries, and promotes better posture and coordination.
Is it better to stretch before or after a workout?
It's generally recommended to perform a dynamic warm-up before a workout to prepare your muscles and joints. Save static stretching for after the workout or as a separate session for better results.
Can I improve flexibility at any age?
Yes, flexibility can be improved at any age with the right exercises and consistent practice. While it may take longer to see progress as you age, regular training can still yield positive results.
How often should I stretch to improve flexibility?
Aim to stretch at least three to five times a week for noticeable improvements. Consistency is key to achieving and maintaining flexibility gains.
What are the best stretches for improving joint mobility?
Joint mobility exercises such as shoulder circles, hip rotations, and ankle rolls are effective for enhancing joint function and range of motion.
Can I overstretch and hurt myself?
Yes, overstretching can lead to muscle strains, ligament injuries, and joint pain. Always stretch within a comfortable range and avoid forcing your body into extreme positions.
Can flexibility training help with joint pain?
Yes, flexibility training can help alleviate joint pain by reducing muscle tension and promoting proper joint alignment. However, if you have chronic joint pain, consult a healthcare professional for a proper diagnosis and treatment plan.
Are there any specific stretches for desk workers or people with sedentary lifestyles?
Yes, stretches targeting the hips, lower back, and shoulders are beneficial for desk workers or individuals with sedentary lifestyles. Incorporate exercises like seated spinal twists and chest openers to counteract the effects of prolonged sitting.
Can I use flexibility exercises to improve my performance in sports or physical activities?
Absolutely! Flexibility plays a vital role in enhancing sports performance. It can improve stride length in runners, range of motion in athletes, and overall fluidity of movement in various activities.
Conclusion:
In conclusion, improving flexibility and joint mobility is a valuable endeavor for individuals of all ages and fitness levels. By incorporating a well-rounded exercise plan that includes stretching exercises, joint mobility drills, yoga, and mindfulness practices, individuals can experience a multitude of benefits. Enhanced flexibility and joint mobility lead to improved athletic performance, reduced risk of injuries, better posture, and increased overall well-being. Through consistent effort, proper form, and mindful self-care, individuals can unlock their body's potential for greater range of motion, enabling them to lead active and pain-free lives. Remember that progress may take time, but with patience and dedication, the journey towards enhanced flexibility and joint mobility can be both rewarding and transformative.