Stress is a common experience that can significantly impact our physical, mental, and emotional well-being. Managing stress effectively is crucial for maintaining a healthy lifestyle. While there are various approaches to stress management, exercise and physical activity have proven to be powerful tools in reducing stress levels and promoting overall well-being.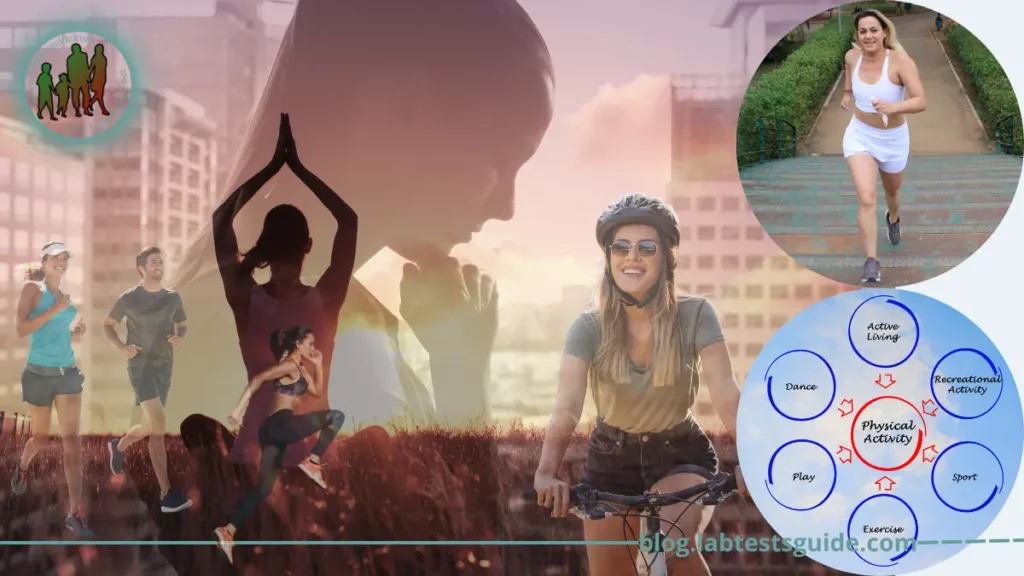 This guide explores the relationship between exercise and stress management, highlighting the benefits of incorporating physical activity into your daily routine. It provides insights into the effects of stress on health, common causes of stress, and how exercise can help alleviate stress. Additionally, it offers practical tips for creating an exercise routine tailored for stress relief and suggests other strategies that complement physical activity in managing stress.
Whether you're new to exercise or looking for additional ways to manage stress, this guide aims to equip you with the knowledge and tools necessary to leverage exercise and physical activity as effective stress management techniques. By incorporating these practices into your lifestyle, you can enhance your overall well-being and achieve a healthier balance in your life.
Understanding Stress:
Definition of Stress: Stress is a natural response of the body to any demand or challenge, whether physical, mental, or emotional. It is the body's way of preparing itself to react to perceived threats or pressures. While some level of stress can be beneficial in certain situations, chronic or excessive stress can have detrimental effects on health.
Effects of Stress on Health: Stress can affect various aspects of our health, including both physical and mental well-being. Prolonged or intense stress can lead to a range of health problems, such as cardiovascular issues, weakened immune system, digestive disorders, sleep disturbances, and mental health disorders like anxiety and depression.
Common Causes of Stress: Stress can stem from various sources, and the triggers may vary from person to person. Some common causes of stress include work-related pressures, financial difficulties, relationship issues, major life changes, academic demands, health concerns, and societal expectations. Identifying the specific stressors in your life can help you better manage and cope with them.
Understanding stress and its impact on our health is crucial for developing effective strategies to manage and mitigate its effects. By recognizing the signs and causes of stress, you can take proactive steps to reduce its impact and promote your overall well-being.
Exercise and its Impact on Stress:
Engaging in exercise can help manage and alleviate the effects of stress in several ways.
Physical Activity as a Stress Management Tool: Exercise serves as a valuable tool for managing stress because it helps release endorphins, which are natural mood-boosting chemicals in the brain. Endorphins promote feelings of happiness, relaxation, and overall well-being, counteracting the negative effects of stress.
How Exercise Reduces Stress: Exercise reduces stress through various physiological and psychological mechanisms. Physiologically, exercise increases blood flow, delivering more oxygen and nutrients to the brain and other vital organs. It also triggers the release of neurotransmitters like dopamine and serotonin, which play a key role in regulating mood and reducing stress.
Psychologically, engaging in exercise provides a distraction from stressors, shifting your focus and allowing you to temporarily escape from daily worries. It can also serve as a form of self-care and self-expression, boosting self-confidence and self-esteem, which are essential in managing stress effectively.
Types of Exercises for Stress Relief: Various types of exercises can help alleviate stress. Aerobic exercises, such as running, cycling, or swimming, are effective in reducing stress levels by increasing heart rate and promoting the release of endorphins. Strength training exercises, such as weightlifting or resistance training, can also be beneficial, as they enhance overall physical fitness and improve mood.
Additionally, mind-body exercises like yoga, tai chi, and Pilates combine physical movement with mental focus and deep breathing, promoting relaxation and stress reduction. These exercises not only improve flexibility and strength but also encourage mindfulness and a sense of calm.
Incorporating a combination of aerobic, strength training, and mind-body exercises into your routine can provide a comprehensive approach to managing stress and improving overall well-being. It's important to choose exercises that you enjoy and that suit your fitness level and preferences.
Benefits of Exercise for Stress Management:
Exercise offers numerous benefits for managing stress. By incorporating regular physical activity into your routine, you can experience a wide range of physical, psychological, and emotional advantages that contribute to overall stress reduction and well-being.
Physical Benefits:
Engaging in regular exercise has positive effects on your physical health, which in turn can help combat the effects of stress. Some physical benefits of exercise include.
Reduced muscle tension: Physical activity helps relieve muscle tension and promotes relaxation throughout the body, easing physical symptoms of stress such as headaches and body aches.
Improved sleep: Regular exercise can enhance the quality of your sleep, allowing you to feel more refreshed and rejuvenated. Sufficient rest contributes to better stress management.
Boosted energy levels: Exercise increases oxygen and nutrient delivery to tissues and improves cardiovascular fitness, leading to increased energy levels and stamina throughout the day.
Enhanced immune system: Regular physical activity strengthens the immune system, reducing the risk of illnesses and infections that can be exacerbated by stress.
Psychological Benefits:

Exercise has a profound impact on mental well-being and can significantly improve your psychological state. Some psychological benefits of exercise for stress management include:
Stress reduction: Engaging in physical activity helps lower stress hormone levels, such as cortisol, while simultaneously increasing endorphin production, leading to a reduction in stress and anxiety.
Mood enhancement: Exercise stimulates the release of "feel-good" neurotransmitters like serotonin and dopamine, improving mood and promoting a sense of well-being.
Increased resilience: Regular exercise can enhance your ability to cope with stress by boosting self-confidence, self-efficacy, and overall resilience.
Emotional Benefits:

Exercise plays a crucial role in managing and regulating emotions. Some emotional benefits of exercise for stress management include.
Stress relief: Engaging in physical activity provides a healthy outlet for pent-up emotions and helps reduce emotional tension.
Anxiety reduction: Regular exercise can alleviate symptoms of anxiety by promoting relaxation, reducing excessive worry, and enhancing a sense of calm.
Emotional well-being: Physical activity stimulates the release of endorphins, which are natural mood elevators, promoting a sense of happiness, contentment, and emotional well-being.
By incorporating exercise into your routine, you can experience these multifaceted benefits, leading to improved stress management, enhanced overall well-being, and a better quality of life. The next section will provide guidance on creating an exercise routine tailored for stress relief.
Creating an Exercise Routine for Stress Relief:
Here are some key considerations and practical tips to help you establish an exercise routine that promotes stress reduction and overall well-being.
Setting Realistic Goals: Start by setting realistic and achievable goals for your exercise routine. Consider your current fitness level, time availability, and personal preferences. Setting attainable goals will help you stay motivated and prevent feelings of overwhelm.
Choosing Suitable Exercises: Select exercises that you enjoy and that align with your fitness level and preferences. Incorporate a variety of activities to keep your routine engaging and prevent boredom. It could include a mix of aerobic exercises (e.g., jogging, dancing, swimming), strength training (e.g., weightlifting, bodyweight exercises), and mind-body exercises (e.g., yoga, tai chi).
Incorporating Regular Physical Activity: Consistency is key when it comes to managing stress through exercise. Aim for at least 150 minutes of moderate-intensity aerobic exercise or 75 minutes of vigorous-intensity aerobic exercise per week, as recommended by health guidelines. Break it down into manageable chunks, such as 30 minutes of exercise on most days of the week, to make it more achievable.
Overcoming Barriers to Exercise: Identify and address any barriers that may hinder your exercise routine. Time constraints, lack of motivation, or physical limitations can be common barriers. Find strategies to overcome these barriers, such as scheduling dedicated exercise time, finding an exercise buddy for accountability, or modifying exercises to accommodate any physical limitations.
Remember, the goal is to establish a routine that works for you and can be sustained in the long term. Listen to your body, and make adjustments as needed to ensure a safe and enjoyable exercise experience.
Additional Strategies for Managing Stress:
In addition to exercise, there are several other strategies and activities that can complement and enhance your stress management efforts. Incorporating these techniques into your routine can provide a holistic approach to stress reduction and overall well-being.
Mind-Body Exercises (e.g., Yoga, Tai Chi): Mind-body exercises combine physical movement with mental focus, deep breathing, and mindfulness. Practices like yoga, tai chi, and Pilates promote relaxation, reduce stress, and enhance mind-body connection. These exercises can help calm the mind, improve flexibility, and foster a sense of inner peace and balance.
Outdoor Activities and Nature-Based Exercise: Spending time in nature and engaging in outdoor activities have been shown to have positive effects on stress reduction. Take advantage of outdoor activities like walking, hiking, biking, or gardening. Being in nature can help reduce stress levels, improve mood, and promote a sense of tranquility and well-being.
Social Support and Group Exercises: Engaging in exercise with others can provide social support and enhance your stress management efforts. Joining group exercise classes, team sports, or workout groups can create a sense of camaraderie, accountability, and motivation. Interacting with others who share similar goals can help alleviate stress and boost your overall well-being.
Relaxation Techniques (e.g., Meditation, Deep Breathing): Incorporating relaxation techniques into your routine can further enhance stress reduction. Practices such as meditation, deep breathing exercises, progressive muscle relaxation, or guided imagery can help promote a sense of calm, reduce anxiety, and improve overall relaxation response. These techniques can be practiced alongside or independent of exercise for added stress relief.
By incorporating these additional strategies and activities into your stress management routine, you can create a comprehensive approach that addresses the physical, mental, and emotional aspects of stress. Experiment with different techniques to find what works best for you and combine them with regular exercise for optimal results.
Tips for Getting Started:
Here are some tips to help you begin your journey.
Consulting a Healthcare Professional: Before starting any exercise program, especially if you have any underlying health conditions or concerns, it's advisable to consult with a healthcare professional. They can provide personalized recommendations, guidance, and ensure that you approach exercise safely and effectively.
Starting Slowly and Gradually Increasing Intensity: If you're new to exercise or have been inactive for a while, it's important to start slowly and gradually increase intensity over time. Begin with low-impact activities and shorter durations, and then gradually build up your endurance and intensity levels. This approach minimizes the risk of injury and allows your body to adapt gradually.
Finding Activities That You Enjoy: Choose activities that you genuinely enjoy. Engaging in exercises that you find fun and enjoyable increases the likelihood of sticking with them long-term. Experiment with different types of exercises and find what resonates with you—whether it's dancing, swimming, hiking, or playing a team sport.
Listening to Your Body and Adjusting Accordingly: Pay attention to your body's cues and listen to its signals. If you feel pain, discomfort, or excessive fatigue during exercise, it's important to take a step back, rest, and reassess. Pushing yourself too hard can lead to injuries or burnout. Always prioritize safety and make modifications as needed.
Remember, everyone's journey is unique, and progress may vary. Be patient and kind to yourself as you embark on this path of incorporating exercise into your routine for stress management. The key is to establish a sustainable and enjoyable routine that fits your lifestyle and supports your well-being.
Conclusion:
Incorporating exercise and physical activity into your daily routine is a powerful approach to managing stress and promoting overall well-being. Exercise offers a wide range of benefits, including physical, psychological, and emotional advantages that contribute to stress reduction.
By engaging in regular exercise, you can experience reduced muscle tension, improved sleep, boosted energy levels, and enhanced immune function. Exercise also promotes stress reduction, mood enhancement, increased resilience, and improved cognitive function. These benefits, combined with the enjoyment and fulfillment that exercise brings, create a positive cycle of stress management and overall well-being.
Creating an exercise routine for stress relief involves setting realistic goals, choosing suitable exercises, incorporating regular physical activity, and overcoming barriers. Additionally, you can enhance your stress management efforts by incorporating mind-body exercises, outdoor activities, social support, and relaxation techniques.
Remember to start slowly, listen to your body, and gradually increase the intensity of your workouts. Find activities that you enjoy and make exercise a sustainable part of your lifestyle. Celebrate your progress and be kind to yourself throughout your journey.