A glimpse into the widespread impact of laughter on our lives, underscoring its universal nature and hinting at the upcoming discussion on its substantial contributions to mental and physical health.Discover the remarkable advantages of laughter for both your mental and physical health. Explore the science behind its positive effects and learn how incorporating more laughter into your life can lead to a happier and healthier you.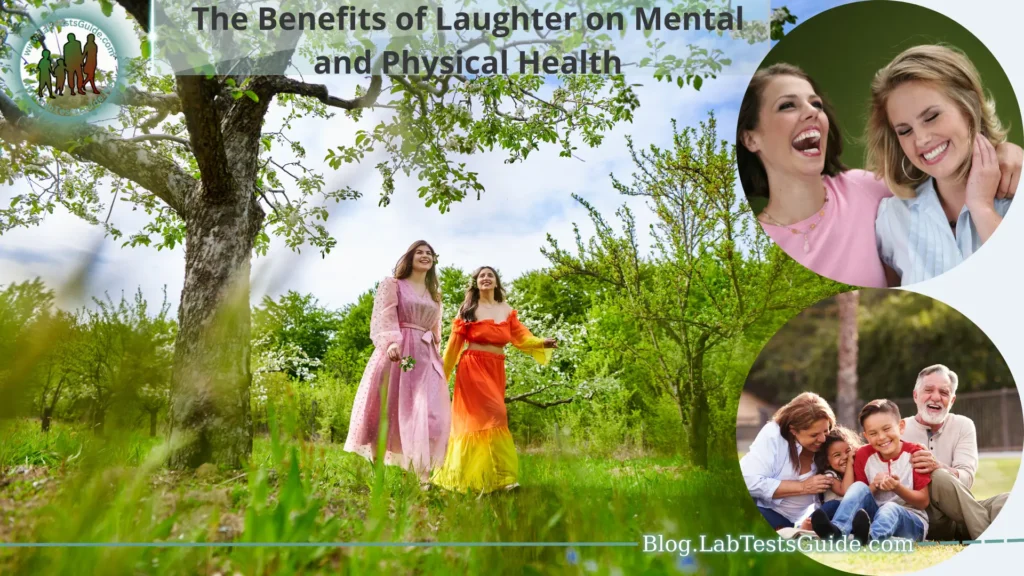 What Is Laughter's Impact on Mental and Physical Health?
Mental Health:
Stress Reduction: Laughter triggers the release of endorphins, which are natural stress reducers.
Anxiety Alleviation: Regular laughter can help lower anxiety levels and promote a sense of relaxation.
Mood Enhancement: The act of laughing can elevate mood and increase feelings of happiness.
Depression Relief: Laughter may aid in reducing symptoms of mild to moderate depression by boosting neurotransmitters.
Cognitive Resilience: Engaging in laughter may enhance cognitive flexibility and problem-solving skills.
Physical Health:
Cardiovascular Benefits: Laughter can improve blood flow and relax blood vessels, leading to better cardiovascular health.
Immune System Boost: The release of neuropeptides during laughter may enhance the immune system's response.
Pain Management: Laughing triggers the release of endorphins, offering a natural form of pain relief.
Muscle Relaxation: The act of laughing can lead to muscle relaxation, helping to alleviate tension.
Respiratory Benefits: Deep laughter can enhance lung function and improve respiratory circulation.
How to Harness the Benefits: Incorporating Laughter for Improved Mental and Physical Health:
Discover Humor in Everyday Moments: Train your mind to find amusement in ordinary situations and interactions.
Engage in Comedy and Playful Activities: Indulge in comedy media and activities that resonate with your sense of humor.
Nurture Laughter in Relationships: Prioritize spending time with people who encourage laughter and positivity.
Practice Laughter Yoga and Exercises: Explore laughter yoga techniques and incorporate intentional laughter into your routine.
Cultivate a Positive Environment: Surround yourself with individuals who naturally bring out your laughter.
Embrace Playfulness and Creative Expression: Engage in creative outlets and approach tasks with a playful attitude.
Practice Self-Compassion and Lightness: Develop the ability to laugh at your own mistakes and practice self-acceptance.
Attend Comedy Shows or Participate in Events: Attend live comedy performances and engage in events that celebrate humor.
Share Humor Through Modern Channels: Exchange funny content and memes with friends using digital platforms.
Practice Mindful Laughter for Present-Moment Awareness: Engage in laughter mindfully, fully immersing yourself in the experience.
The Science Behind Laughter:
Neurological Response to Humor: Humor engages brain regions involved in reward processing, like the mesolimbic pathway.
Release of Endorphins: Laughter triggers the release of endorphins, natural painkillers and mood enhancers.
Stress Reduction Mechanisms: Laughter decreases cortisol levels, reducing stress and promoting relaxation.
Activation of Social Bonding: Oxytocin release during laughter fosters social connections and strengthens relationships.
Impact on Neurotransmitters: Laughter affects neurotransmitters like dopamine, enhancing mood and motivation.
Brain Connectivity and Creativity: Laughter stimulates brain regions that promote creativity and cognitive flexibility.
Immune System Modulation: Laughter influences immune cells, potentially enhancing defense mechanisms.
Cardiovascular Effects: Laughter improves blood flow, supporting cardiovascular health.
Pain Perception Alteration: Endorphins released during laughter may lead to reduced sensitivity to pain.
Respiratory and Muscular Benefits: Deep laughter can enhance lung function and trigger muscle relaxation.
Mental Health Benefits:
Stress Reduction and Relaxation: Laughter helps lower cortisol levels, promoting a sense of relaxation and reducing stress.
Anxiety Relief and Mood Elevation: Regular laughter can alleviate anxiety, elevate mood, and enhance emotional well-being.
Depression Symptom Alleviation: Laughter's effect on neurotransmitters may aid in reducing mild to moderate depression symptoms.
Enhanced Resilience and Coping: Engaging in laughter fosters resilience, helping individuals cope with challenges more effectively.
Positive Mindset Cultivation: Laughter encourages a positive outlook, leading to increased optimism and life satisfaction.
Social Interaction and Connection: Shared laughter promotes social bonding, decreasing feelings of loneliness and isolation.
Strengthened Relationships: Couples and friends who laugh together often experience improved relationship quality.
Cognitive Boost and Brain Health: Laughter's impact on the brain supports cognitive function and may protect against cognitive decline.
Enhanced Creativity and Problem-Solving: Laughing stimulates brain regions associated with creativity, contributing to innovative thinking.
Mindfulness and Present-Moment Awareness: Laughter serves as a mindfulness tool, grounding individuals in the present and reducing rumination.
Physical Health Benefits:
Cardiovascular Health Enhancement: Laughter improves blood flow, leading to healthier blood vessels and reduced risk of heart disease.
Immune System Strengthening: Laughter triggers the release of immune-boosting substances, potentially enhancing immune responses.
Natural Pain Relief: Endorphins released during laughter act as natural painkillers, offering relief from discomfort.
Muscle Relaxation and Tension Reduction: The act of laughing promotes muscle relaxation, easing physical tension and discomfort.
Respiratory Benefits: Deep laughter can improve lung function, enhancing respiratory circulation and oxygen intake.
Stimulation of Digestive Processes: Laughter massages abdominal organs and stimulates digestion, aiding overall gut health.
Calorie Expenditure and Metabolism: Laughter can slightly increase calorie expenditure and boost metabolism over time.
Stress Hormone Moderation: Regular laughter helps regulate stress hormone levels, contributing to a balanced hormonal profile.
Blood Pressure Regulation: Laughter's cardiovascular effects contribute to maintaining healthy blood pressure levels.
Improved Sleep Patterns: Reduced stress and relaxation induced by laughter can lead to improved sleep quality.
Pain Management:
Endorphin Release and Pain Reduction: Laughter triggers the release of endorphins, natural painkillers that can alleviate discomfort.
Distraction and Pain Perception: Engaging in laughter can divert attention away from pain, reducing its perceived intensity.
Muscle Relaxation and Tension Relief: Laughing promotes muscle relaxation, easing tension and contributing to pain relief.
Stimulation of Circulation: Laughter enhances blood flow, which can aid in delivering nutrients and oxygen to affected areas.
Release of Positive Neurotransmitters: Neurotransmitters like dopamine released during laughter can mitigate pain signals.
Promotion of Healing and Recovery: Reduced stress through laughter may support the body's natural healing processes.
Long-Term Pain Management Strategy: Incorporating regular laughter into daily life can contribute to a holistic approach to pain management.
Combining Laughter Therapy with Treatment: Laughter therapy can complement medical treatments, offering an additional avenue for pain relief.
Enhanced Quality of Life: Laughter's pain-relieving effects can lead to improved overall well-being and daily functioning.
Positive Emotional Shift and Coping Mechanism: Laughing can help individuals cope with chronic pain by fostering a positive mindset.
Social Bonding and Relationships:
Shared Positive Experiences: Laughter creates shared positive moments, fostering strong emotional connections between individuals.
Icebreaker and Social Lubricant: Laughter serves as an icebreaker, breaking down barriers and facilitating interaction.
Enhanced Communication: Humor and laughter can improve communication by making interactions more engaging and relatable.
Strengthened Group Dynamics: Shared laughter within groups promotes a sense of unity and enhances group cohesion.
Empathy and Understanding: Sharing laughter allows individuals to relate to each other's emotions and experiences more deeply.
Conflict Resolution: Humor can diffuse tension during conflicts, leading to more constructive conversations.
Intimacy and Emotional Intertwining: Couples who share laughter often experience higher relationship satisfaction and emotional closeness.
Supportive Relationships: Friends who laugh together provide emotional support and act as a source of comfort.
Building Trust and Loyalty: Humor and laughter can build trust and loyalty, essential components of strong relationships.
Long-Lasting Bonds: Shared laughter contributes to lasting memories, strengthening the longevity of relationships.
Laughter Yoga and Therapeutic Approaches:
Laughter Yoga Basics: Laughter Yoga combines laughter exercises with deep breathing techniques for physical and emotional benefits.
Intentional Laughter Practice: Laughter Yoga involves voluntary laughter, which can transform into genuine laughter, releasing endorphins.
Stress Reduction and Relaxation: Laughter Yoga promotes relaxation by reducing stress hormones and inducing a sense of calm.
Enhanced Immune Function: Regular practice of Laughter Yoga may enhance immune responses through stress reduction.
Social Connection and Group Dynamics: Participating in group Laughter Yoga sessions fosters camaraderie and social bonding.
Therapeutic Laughter Techniques: Therapists use humor and laughter to address various psychological and emotional challenges.
Laughter as Coping Mechanism: Therapeutic laughter helps individuals cope with trauma, grief, or difficult life situations.
Humor in Counseling and Therapy: Humor is integrated into therapeutic approaches to create rapport and facilitate healing.
Positive Impact on Mental Health: Therapeutic laughter interventions can improve mood, decrease anxiety, and enhance overall well-being.
Incorporating Laughter in Healthcare: Laughter is increasingly recognized in medical settings for its potential in promoting healing and recovery.
FAQs:
Can laughter really improve my mood and mental health?
Yes, laughter triggers the release of endorphins, which are natural mood enhancers, and can reduce stress and anxiety.
Is laughter effective in managing physical pain?
Laughing releases endorphins, acting as natural painkillers, and can divert attention from pain.
How does laughter contribute to better relationships?
Laughter fosters emotional connections, eases tension during conflicts, and enhances communication.
Can laughter yoga be beneficial for stress relief?
Absolutely, laughter yoga combines laughter exercises with deep breathing to reduce stress and promote relaxation.
Is laughter therapy a recognized form of treatment?
Yes, laughter therapy is used by some therapists to address emotional challenges and promote healing.
Can humor be effectively used in counseling and therapy?
Yes, humor can build rapport between clients and therapists, making the therapeutic process more comfortable.
Can therapeutic laughter help with mental health issues?
Therapeutic laughter interventions can improve mood, alleviate anxiety, and contribute to overall mental well-being.
How does laughter contribute to social bonding?
Shared laughter creates positive experiences and strengthens emotional connections among individuals.
Are there cultural considerations when using laughter in therapy?
Yes, cultural norms and sensitivities should be considered when incorporating humor and laughter in therapy.
Can laughter be incorporated into healthcare settings?
Yes, laughter is being recognized for its potential in promoting healing and enhancing overall well-being in medical contexts.
Conclusion:
Incorporating laughter into our lives offers a wealth of benefits for both our mental and physical well-being. Its ability to reduce stress, enhance mood, and strengthen social connections underscores its profound impact. Whether through laughter yoga, therapeutic techniques, or simply finding humor in everyday moments, the power of laughter is undeniable. Embracing laughter as a tool for better health is a joyful and accessible way to improve our quality of life, fostering positivity and creating lasting bonds."