The digital age has revolutionized the way we live, work, and connect, but it has also brought to light the importance of maintaining our eye health in the face of increased screen time. As digital devices become an integral part of our daily routines, the strains they impose on our eyes have become a growing concern. This guide delves into the various aspects of preserving optimal eye health in the digital era, offering insights into understanding digital eye strain, ergonomic practices, blue light effects, healthy habits, and more. By adopting these practices, we can navigate the digital landscape while safeguarding the well-being of our eyes.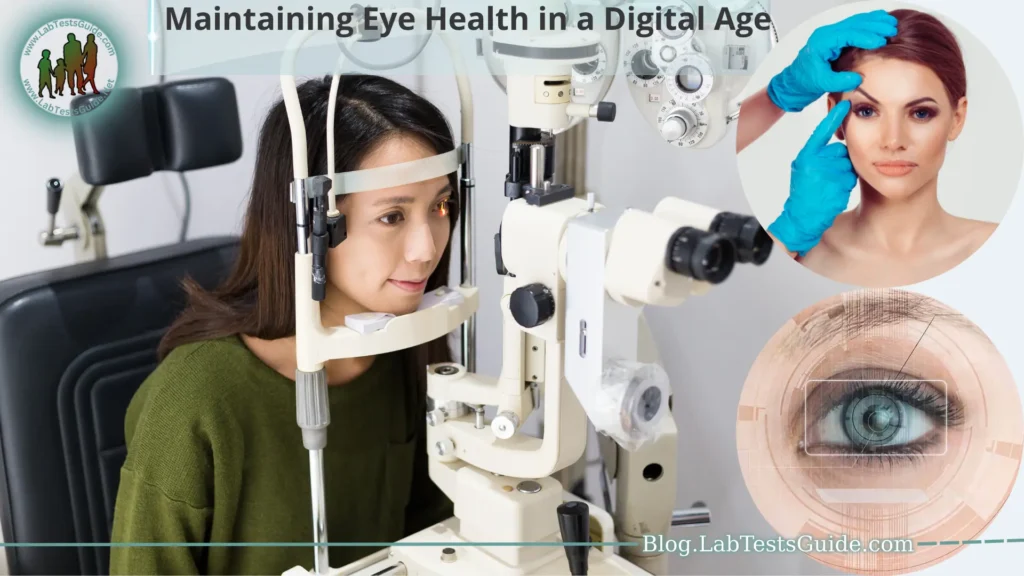 What is Digital Eye Strain?
Definition: Digital eye strain, also known as computer vision syndrome, refers to a collection of symptoms that result from prolonged use of digital devices such as computers, smartphones, and tablets.
Causes:
It is caused by a combination of factors related to extended screen use and our interaction with digital devices.
Prolonged focusing on screens without breaks strains the eye muscles.
Reduced blinking while staring at screens leads to dry eyes.
Poor lighting and glare on screens cause eye discomfort.
Blue light emitted by screens can impact sleep patterns and contribute to eye strain.
Symptoms:
Digital eye strain presents various uncomfortable symptoms, including.
Dryness and irritation of the eyes
Eye fatigue and discomfort
Blurred or double vision
Headaches and neck pain
Difficulty focusing on distant objects after screen use
Prevalence: With the widespread use of digital devices in both work and leisure activities, digital eye strain has become increasingly common across all age groups.
Impact: Prolonged and unchecked digital eye strain can lead to long-term discomfort and potential worsening of symptoms, affecting overall eye health and visual comfort.
Prevention and Management: Addressing digital eye strain involves a combination of ergonomic adjustments, mindful screen usage, regular breaks, proper lighting, and potentially using blue light filters or protective eyewear.
Importance of Awareness: Understanding digital eye strain is crucial in today's technology-driven world to ensure we prioritize our eye health and take proactive steps to mitigate its effects.
How to Alleviate Digital Eye Strain:
Follow the 20-20-20 Rule: Take a 20-second break every 20 minutes and look at an object 20 feet away to relax your eyes.
Optimize Screen Setup: Position your screen at eye level and about 20-30 inches away from your eyes.
Manage Lighting: Ensure ambient lighting is neither too bright nor too dim to reduce strain.
Use Blue Light Filters: Activate blue light filters on devices, especially during the evening, to minimize blue light exposure.
Blink Regularly: Consciously blink more often to prevent dry eyes and maintain moisture.
Practice Good Posture: Sit in a chair with proper back support and position the screen to avoid neck strain.
Take Frequent Breaks: Incorporate short breaks into your screen time routine to rest your eyes.
Stay Hydrated: Drink water regularly to prevent dry eyes.
Adjust Device Settings: Increase text size and contrast for easier reading.
Mindful Screen Usage: Set time limits for screen use and engage in non-screen activities during breaks.
Create an Ergonomic Workspace: Set up an ergonomic workstation to reduce strain on your body.
Get Regular Eye Exams: Schedule routine eye check-ups to monitor your eye health.
Digital Detox Before Bed: Avoid screens at least an hour before bedtime to improve sleep quality.
Outdoor Time and Exercise: Spend time outdoors and engage in physical activity to rest your eyes.
Consider Anti-Glare Screens: Use anti-glare filters to minimize reflections and glare from screens.
Ergonomics and Workspace Setup:
Screen Position: Position your screen at eye level to prevent neck strain.
Chair Support: Choose a chair that supports your lower back to maintain proper posture.
Screen Distance and Angle: Keep the screen about 20-30 inches away from your eyes and adjust its angle to reduce glare.
Keyboard and Mouse Placement: Arrange your keyboard and mouse at a comfortable height and distance from your body.
Document Placement: Use a document holder to keep reference materials at eye level and reduce neck strain.
Footrest and Leg Space: Utilize a footrest if needed and ensure enough space under the desk for leg comfort.
Lighting Consideration: Ensure even and adequate lighting in the workspace to reduce eye strain.
Cable Management and Accessories: Organize cables to prevent clutter and use ergonomic accessories if necessary.
Maintain Proper Posture: Sit back in the chair with back support, keep feet flat on the floor, and maintain a neutral wrist position.
Regular Adjustments: Make ongoing adjustments to your setup to maintain comfort and prevent strain during long periods of use.
The 20-20-20 Rule and Beyond:
Adhere to the 20-20-20 Rule: Every 20 minutes, take a 20-second break to look at an object 20 feet away, reducing eye strain.
Incorporate Additional Eye Exercises: Beyond the 20-20-20 rule, perform gentle eye exercises during breaks, like focusing on near and far objects to improve flexibility.
Mindful Blinking and Palming: Blink consciously and practice palming by rubbing your hands together and gently placing them over closed eyes for a moment of relaxation.
Full-Body Movement Breaks: Integrate brief physical stretches or movements during breaks to alleviate overall tension and promote blood circulation.
Set Screen Time Limits: Implement digital detox periods or use apps that remind you to take breaks, ensuring sustained healthy screen habits.
Hydration and Nutrition: Stay hydrated and consume foods rich in eye-supporting nutrients like omega-3 fatty acids, vitamin A, and antioxidants.
Proper Sleep Hygiene: Maintain a consistent sleep schedule and create a sleep-conducive environment, promoting overall eye health and well-being.
Blue Light and its Effects:
Understanding Blue Light: Blue light is a high-energy visible light present in digital screens and sunlight, which can impact our circadian rhythm and eye health.
Potential Effects on Sleep: Exposure to blue light, especially at night, can suppress melatonin production, affecting sleep quality and disrupting the sleep-wake cycle.
Digital Eye Strain: Prolonged exposure to blue light from screens can contribute to eye strain, discomfort, dryness, and even potential long-term vision issues.
Protective Measures: Use blue light filters or night mode settings on devices to reduce blue light emission, especially before bedtime.
Blue Light Glasses: Consider wearing blue light-filtering glasses to block a portion of blue light and alleviate eye strain during screen use.
Balanced Exposure: Balance screen time with outdoor activities to regulate circadian rhythm and minimize the impact of excessive blue light exposure.
Mindful Evening Routine: Limit screen use at least an hour before sleep to allow natural melatonin production and improve overall sleep quality.
Healthy Digital Device Habits:
Manage Screen Time: Set limits on daily screen use for work and leisure activities to prevent excessive exposure.
Create Screen-Free Zones: Designate specific areas, such as the bedroom or dining area, where digital devices are not allowed.
Practice the Pomodoro Technique: Work in focused intervals (e.g., 25 minutes) followed by a short break, promoting productivity and reducing eye strain.
Notifications Management: Disable non-essential notifications to minimize distractions and encourage mindful screen use.
Digital Sabbaticals: Dedicate periods of time, like weekends, for a complete break from screens to refresh and recharge.
Offline Activities: Engage in hobbies, physical activities, and social interactions that don't involve screens, promoting a balanced lifestyle.
Scheduled Breaks: Incorporate regular breaks during screen time to rest your eyes and prevent digital eye strain.
Bedtime Routine: Avoid screens before bedtime to promote healthy sleep and reduce the impact of blue light on melatonin production.
Mindful Consumption: Choose quality content and apps that add value, minimizing mindless scrolling and reducing screen time.
Lead by Example: Encourage family members to adopt healthy digital habits by modeling responsible screen usage yourself.
Set Curfew for Devices: Establish a time in the evening when all devices are turned off to facilitate winding down before sleep.
Eye Care and Regular Check-ups:
Routine Eye Exams: Schedule regular eye check-ups with an optometrist or ophthalmologist to monitor your eye health and detect potential issues early.
Vision Correction Updates: Update your eyeglass or contact lens prescription as needed to ensure clear and comfortable vision.
Discuss Screen Usage: During eye exams, discuss your digital device usage and any discomfort you experience, allowing your eye care professional to provide tailored recommendations.
Screen-Related Symptoms: Inform your eye care provider about symptoms like dryness, eye fatigue, or blurred vision after screen use, as they can provide appropriate guidance.
Personal and Family History: Share any personal or family history of eye conditions, as this information can help in assessing your risk factors.
Protective Eyewear: If you spend extended periods on screens, ask your eye care professional about specialized eyewear designed to reduce digital eye strain.
UV Protection: Consider sunglasses with UV protection when outdoors to shield your eyes from harmful UV rays that can contribute to eye issues.
Lifestyle Factors: Discuss your lifestyle habits, including diet, physical activity, and sleep patterns, as they impact overall eye health.
Follow Recommendations: Follow the advice and recommendations provided by your eye care professional to address any existing issues and maintain optimal eye health.
Children's Eye Care: Schedule regular eye exams for children as well, to ensure proper vision development and detect any issues early on.
Creating a Healthy Sleep Environment:
Control Bedroom Lighting: Keep the bedroom dark and use blackout curtains to block external light sources that can interfere with sleep.
Limit Screen Time Before Bed: Avoid screens at least an hour before sleep to reduce exposure to blue light that can disrupt melatonin production.
Comfortable Bedding: Invest in a comfortable mattress and pillows that provide proper support for a good night's sleep.
Optimal Room Temperature: Maintain a cool, comfortable room temperature to promote restful sleep.
Quiet Atmosphere: Minimize noise by using white noise machines, earplugs, or other methods to create a quiet sleeping environment.
Relaxation Techniques: Practice relaxation techniques like deep breathing, meditation, or gentle stretching before bed to unwind.
Consistent Sleep Schedule: Go to bed and wake up at the same time each day to regulate your body's internal clock.
Limit Stimulants: Avoid caffeine, nicotine, and heavy meals close to bedtime, as they can disrupt sleep.
Manage Stress: Address stress and worries through journaling, mindfulness, or talking to a therapist to prevent sleep disturbances.
Keep Devices Out: Remove electronic devices from the bedroom to prevent the temptation of late-night screen use.
Pre-Sleep Ritual: Develop a calming pre-sleep routine, such as reading a book or taking a warm bath, to signal to your body that it's time to wind down.
FAQs:
What is digital eye strain?
Digital eye strain, also known as computer vision syndrome, refers to the discomfort and symptoms that arise from prolonged use of digital devices like computers, smartphones, and tablets.
What are the symptoms of digital eye strain?
Symptoms include dry eyes, eye fatigue, blurred vision, headaches, neck and shoulder pain, and difficulty focusing on distant objects after screen use.
How can I alleviate digital eye strain?
Follow the 20-20-20 rule (take a 20-second break every 20 minutes), optimize your workspace ergonomics, use blue light filters, and maintain a healthy screen usage routine.
Does blue light affect sleep?
Yes, exposure to blue light, especially before bedtime, can suppress melatonin production and disrupt sleep patterns.
Can blue light cause long-term damage to the eyes?
Prolonged exposure to blue light may contribute to eye strain and discomfort, but there's limited evidence of long-term damage. Blue light-blocking strategies can help mitigate its effects.
How can I encourage my children to have healthy screen habits?
Set limits on screen time, encourage outdoor activities, and lead by example by demonstrating responsible screen usage yourself.
How often should I get my eyes checked?
Regular eye exams are recommended every 1-2 years, or as advised by your eye care professional, to monitor eye health and address any changes.
Are there specific nutrients that support eye health?
Nutrients like vitamin A, omega-3 fatty acids, and antioxidants are beneficial for eye health. Including a balanced diet rich in these nutrients can help maintain good vision.
Can I reduce digital eye strain by using special glasses?
Blue light-filtering glasses and computer glasses can help reduce eye strain by minimizing blue light exposure and optimizing screen clarity.
Is it possible to prevent digital eye strain completely?
While it might not be possible to prevent it entirely, adopting healthy screen habits, optimizing your workspace, and practicing eye care techniques can significantly reduce the risk of digital eye strain.
Conclusion:
In an era dominated by digital technology, prioritizing and maintaining eye health is paramount. With the prevalence of digital eye strain and the potential long-term effects of screen-centric lifestyles, adopting a multifaceted approach becomes crucial. By embracing practices such as the 20-20-20 rule, optimizing workspace ergonomics, managing blue light exposure, and fostering mindful screen habits, individuals can mitigate the challenges posed by prolonged screen use. Coupled with regular eye check-ups, a balanced lifestyle, and a focus on healthy sleep patterns, one can achieve a harmonious coexistence with technology while safeguarding the well-being of their eyes in the dynamic landscape of the digital age.