Maintaining healthy skin is essential for everyone, including housewives. As a housewife, you may often find yourself juggling various responsibilities, which can sometimes leave little time for self-care. However, taking care of your skin should be a priority, as healthy skin not only enhances your appearance but also contributes to your overall well-being.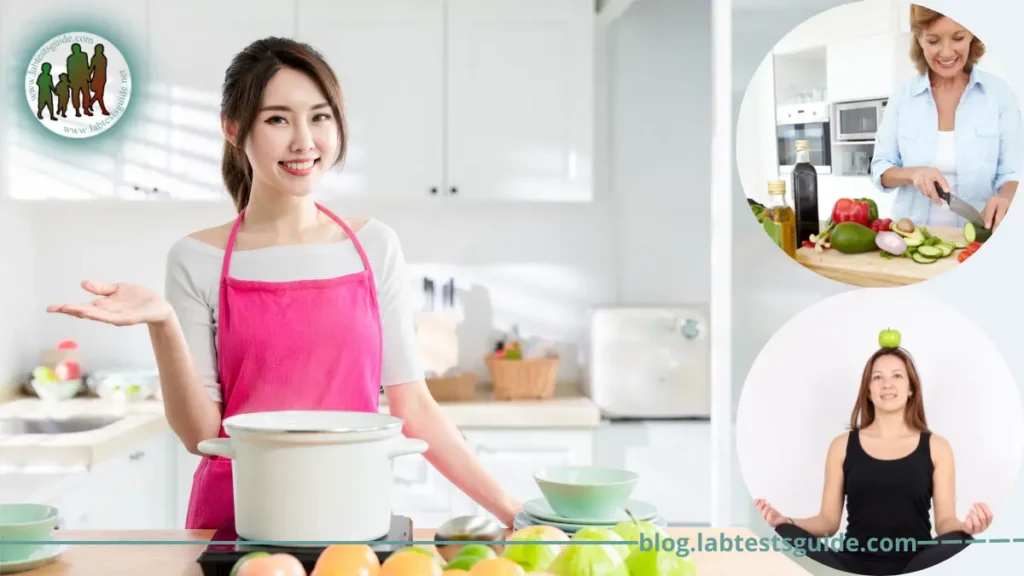 This guide aims to provide valuable information and practical tips for housewives to maintain healthy skin. It will cover the importance of skincare, daily skincare routines, the role of a healthy diet and hydration, exercise and stress management, and tips specifically tailored for housewives. Additionally, it will address common skin issues and highlight the significance of seeking professional help when needed.
By implementing these recommendations into your daily routine, you can achieve and maintain healthy, radiant skin, ensuring that you feel confident and comfortable in your role as a housewife. Let's explore the various aspects of skincare and discover how you can prioritize your skin health amidst your busy schedule.
Importance of Maintaining Healthy Skin:
Here are some key reasons why maintaining healthy skin is important, especially for housewives.
Protection from Environmental Factors: Your skin acts as a barrier between your body and the external environment. It protects you from harmful UV rays, pollutants, toxins, and microorganisms. By keeping your skin healthy, you enhance its ability to shield you from these environmental factors.
Boosts Self-Confidence: When your skin looks and feels healthy, it can significantly boost your self-confidence and self-esteem. As a housewife, feeling good about your appearance can positively impact your overall well-being and how you approach your daily tasks.
Slows Down the Aging Process: Healthy skin has a better chance of maintaining its youthful appearance for longer. Proper skincare routines and practices can help slow down the aging process, reducing the appearance of wrinkles, fine lines, and sagging skin.
Prevents Skin Issues: Maintaining a healthy skin barrier can help prevent various skin issues such as dryness, acne, eczema, and irritation. By following a consistent skincare routine, you can reduce the likelihood of experiencing these problems.
Promotes Healthier Complexion: Healthy skin has an even tone, smooth texture, and natural radiance. By taking care of your skin, you can achieve a more vibrant and healthier complexion, enhancing your overall appearance.
Enhances Overall Well-Being: Skincare is not just about the outer appearance. It can also have a positive impact on your overall well-being. Pampering yourself with skincare rituals and taking time to care for your skin can be a form of self-care, helping you relax, de-stress, and improve your mental health.
Remember, healthy skin is a long-term investment. By prioritizing skincare as a housewife, you can enjoy the benefits of improved self-confidence, protection from environmental factors, and overall well-being.
Daily Skincare Routine:
Here are the key steps to include in your routine.
Cleansing: Start your day by cleansing your face with a gentle facial cleanser suitable for your skin type. Cleansing removes dirt, oil, and impurities accumulated overnight or during the day. Use lukewarm water and avoid harsh scrubbing to prevent irritation.
Toning: After cleansing, apply a toner to balance the pH of your skin and remove any residual impurities. Toners also help tighten the pores and prepare your skin for better absorption of other skincare products.
Moisturizing: Apply a moisturizer that suits your skin type. Moisturizers hydrate and nourish the skin, keeping it soft and supple. Look for moisturizers with ingredients like hyaluronic acid, glycerin, or ceramides for optimal hydration.
Sun Protection: Apply a broad-spectrum sunscreen with SPF 30 or higher before heading outdoors. Sunscreen protects your skin from harmful UV rays that can lead to premature aging, sunburns, and skin cancer. Reapply sunscreen every two hours if you're outside for an extended period.
Nighttime Routine: Before going to bed, repeat the cleansing step to remove makeup, dirt, and pollutants. Follow it with a night cream or moisturizer to replenish your skin while you sleep. Consider using products with ingredients like retinol or antioxidants for additional benefits.
Eye Care: Apply a gentle eye cream or gel around the eyes to hydrate the delicate skin and reduce the appearance of fine lines, puffiness, and dark circles. Use your ring finger to gently tap the product in.
Lip Care: Don't forget to take care of your lips. Apply a lip balm or moisturizing lip product to keep them hydrated and prevent dryness and chapping.
Special Treatments: If you have specific skin concerns like acne, hyperpigmentation, or aging skin, incorporate targeted treatments such as serums, masks, or exfoliants into your routine. Consult with a dermatologist to determine the best options for your skin type and concerns.
Remember to be consistent with your skincare routine and choose products suitable for your skin type. It's also essential to remove makeup before following your skincare routine in the evening. Additionally, staying hydrated, eating a balanced diet, and getting enough sleep will complement your skincare efforts and contribute to overall skin health.
Healthy Diet for Skin:
Here are some dietary tips to nourish your skin from within.
Eat a Balanced Diet: Focus on consuming a balanced diet that includes a variety of fruits, vegetables, whole grains, lean proteins, and healthy fats. These provide essential nutrients, vitamins, and antioxidants that contribute to healthy skin.
Include Antioxidant-Rich Foods: Antioxidants help protect your skin from damage caused by free radicals, which can accelerate aging and skin problems. Include foods like berries, citrus fruits, leafy greens, tomatoes, nuts, and seeds, which are rich in antioxidants like vitamins C, E, and A.
Omega-3 Fatty Acids: Incorporate foods rich in omega-3 fatty acids, such as fatty fish (salmon, mackerel, sardines), walnuts, chia seeds, and flaxseeds. Omega-3s help maintain skin elasticity, reduce inflammation, and keep the skin hydrated.
Stay Hydrated: Hydration is crucial for healthy skin. Drink an adequate amount of water throughout the day to maintain optimal skin hydration. Herbal teas and water-rich fruits and vegetables can also contribute to your daily fluid intake.
Limit Processed Foods and Sugar: Processed foods and high-sugar diets can contribute to inflammation, acne breakouts, and premature aging. Minimize your intake of processed snacks, sugary beverages, and refined carbohydrates. Instead, opt for whole, unprocessed foods.
Vitamin C and Collagen: Vitamin C plays a vital role in collagen production, which is essential for skin elasticity and firmness. Include foods like citrus fruits, strawberries, bell peppers, broccoli, and kiwi, which are excellent sources of vitamin C.
Green Tea: Incorporate green tea into your routine as it contains antioxidants that can help protect your skin from damage. It also has anti-inflammatory properties that can benefit various skin conditions.
Probiotics: Consuming probiotic-rich foods like yogurt, kefir, sauerkraut, and kimchi can promote a healthy gut, which in turn can contribute to healthier skin.
Remember, a healthy diet alone cannot guarantee perfect skin, but it plays a crucial role in supporting overall skin health. Pair a nutritious diet with a consistent skincare routine and other healthy lifestyle habits for the best results. If you have specific dietary concerns or skin conditions, consult with a healthcare professional or a registered dietitian for personalized advice.
Staying Hydrated:
Here's why staying hydrated is important and how you can ensure you're getting enough fluids.
Benefits of Hydration for Skin: Hydration is key to maintaining the elasticity, plumpness, and overall health of your skin. When you're properly hydrated, your skin appears more supple, radiant, and less prone to dryness, flakiness, and wrinkles. Water helps flush out toxins, supports skin cell renewal, and aids in the delivery of nutrients to your skin.
Daily Water Intake: The general recommendation for daily water intake is around 8 glasses or 2 liters (about half a gallon). However, individual needs may vary based on factors like body weight, activity level, climate, and overall health. Pay attention to your body's signals and aim to drink enough water to keep yourself adequately hydrated throughout the day.
Other Hydrating Beverages: While water is the best choice for hydration, you can also include other hydrating beverages in your routine. Herbal teas, infused water, coconut water, and fresh fruit juices (without added sugars) can contribute to your overall fluid intake. However, be mindful of the added sugar content in certain beverages.
Hydrating Foods: In addition to beverages, certain fruits and vegetables have high water content and can contribute to your hydration. Watermelon, cucumbers, citrus fruits, berries, lettuce, and celery are examples of hydrating foods that can support your skin health.
Hydration Tips:
To ensure you stay hydrated throughout the day, consider the following tips.
Carry a reusable water bottle with you wherever you go to have a convenient source of hydration.
Set reminders or establish a routine to drink water at regular intervals.
Drink water before, during, and after physical activity or when exposed to hot weather.
Spice up your water by infusing it with fruits, herbs, or cucumber slices for added flavor.
Limit the consumption of dehydrating beverages like caffeinated drinks and alcohol, as they can have a diuretic effect.

Remember, maintaining proper hydration is not only beneficial for your skin but also for your overall health and well-being. By making hydration a priority in your daily routine, you can support healthy, radiant skin as a housewife.
Regular Exercise:
Here's how exercise contributes to skin health and some tips to incorporate physical activity into your routine.
Improved Blood Circulation: Exercise increases blood flow throughout your body, including your skin. Improved circulation ensures that your skin receives an adequate supply of oxygen and nutrients, promoting a healthy complexion.
Detoxification: Sweating during exercise helps eliminate toxins from your body, including through your skin. This can contribute to a clearer complexion and reduce the likelihood of skin issues like acne breakouts.
Stress Reduction: Exercise is a natural stress reliever. Regular physical activity can help reduce stress levels, which in turn can have a positive impact on your skin. High-stress levels can lead to skin problems like acne, eczema, and dullness. Exercise helps promote a more balanced, calm state of mind.
Enhanced Skin Health: Exercise can contribute to improved skin elasticity, giving your skin a more youthful appearance. It can also help regulate oil production, resulting in a more balanced complexion.
Tips for Incorporating Exercise.
Find Activities You Enjoy: Choose exercises that you enjoy to make it easier to stick to a routine. This can include walking, jogging, dancing, yoga, swimming, or any other physical activity that gets your body moving.
Make it a Habit: Schedule exercise sessions into your weekly routine. Aim for at least 150 minutes of moderate-intensity aerobic activity or 75 minutes of vigorous-intensity aerobic activity per week, as recommended by health guidelines. You can break it down into smaller sessions throughout the day if needed.
Get Active Throughout the Day: Look for opportunities to be active during your daily tasks. Take the stairs instead of the elevator, do household chores vigorously, or go for short walks during your breaks.
Protect Your Skin: When exercising outdoors, protect your skin from UV rays by applying sunscreen, wearing a hat, and seeking shade when necessary.
Stay Hydrated: Drink water before, during, and after exercise to stay properly hydrated. Hydration is essential for skin health.
Post-Workout Skincare: After exercising, cleanse your skin to remove sweat and impurities. Follow it with moisturizer to replenish hydration.
Remember, to consult with your healthcare provider before starting any new exercise regimen, especially if you have any underlying health conditions. Regular exercise, combined with a proper skincare routine and a healthy diet, can contribute to vibrant, healthy skin as a housewife.
Managing Stress:
Here are some strategies to help you manage stress effectively.
Identify Stress Triggers: Pay attention to the situations, activities, or thoughts that tend to trigger stress for you. By identifying these triggers, you can develop strategies to address them more effectively.
Practice Relaxation Techniques: Incorporate relaxation techniques into your daily routine to help reduce stress levels. Deep breathing exercises, meditation, yoga, and mindfulness can help calm your mind and relax your body. Even a few minutes of dedicated relaxation can make a significant difference.
Engage in Physical Activity: Regular exercise, as mentioned earlier, is not only beneficial for your skin but also helps manage stress. Engage in activities you enjoy, such as walking, dancing, or cycling, as they can boost your mood and relieve stress.
Prioritize Self-Care: Make self-care a priority in your daily routine. Set aside time for activities that help you relax and rejuvenate, whether it's reading a book, taking a bath, practicing a hobby, or spending time in nature. Taking care of yourself is essential for managing stress.
Establish Boundaries: Set clear boundaries in your personal and household responsibilities. Delegate tasks, seek support from family members, and communicate your needs effectively. Overloading yourself with too many responsibilities can lead to increased stress levels.
Connect with Loved Ones: Maintain strong connections with family and friends. Social support is crucial for managing stress. Share your feelings, seek advice, and engage in meaningful conversations with your loved ones.
Time Management: Prioritize your tasks and manage your time effectively. Break down larger tasks into smaller, more manageable ones. This can help reduce feelings of overwhelm and allow you to tackle tasks more efficiently, reducing stress in the process.
Healthy Coping Mechanisms: Avoid unhealthy coping mechanisms like excessive consumption of alcohol, smoking, or overeating. Instead, focus on healthier alternatives such as journaling, listening to music, engaging in hobbies, or seeking professional help if needed.
Get Sufficient Sleep: Quality sleep is crucial for managing stress. Establish a regular sleep routine and create a comfortable sleep environment. Aim for 7-9 hours of uninterrupted sleep each night to allow your body and mind to recharge.
Seek Support: If you find it challenging to manage stress on your own, don't hesitate to seek support from a therapist or counselor. They can provide valuable guidance and help you develop effective stress management strategies.
Remember, managing stress is an ongoing process, and what works for one person may not work for another. Explore different techniques, be patient with yourself, and find the strategies that resonate with you. By effectively managing stress, you can improve your overall well-being and maintain healthier, radiant skin as a housewife.
Getting Enough Sleep:
Here's why sleep is important and some tips to help you improve your sleep quality.
Skin Repair and Regeneration: During sleep, your body goes into a state of rest and repair. This is when your skin cells regenerate, collagen production increases, and the skin's barrier function is restored. Sufficient sleep allows your skin to repair and rejuvenate, leading to a healthier complexion.
Reduced Inflammation and Puffiness: Lack of sleep can contribute to increased inflammation and puffiness in the skin. On the other hand, quality sleep helps reduce inflammation, giving your skin a more even tone and reducing the appearance of puffiness.
Prevention of Premature Aging: Chronic sleep deprivation can accelerate the aging process and lead to the formation of fine lines, wrinkles, and dull-looking skin. Adequate sleep helps prevent premature aging and promotes a more youthful appearance.
Improved Skin Hydration: During sleep, your body regulates its hydration levels. Sufficient sleep helps maintain optimal moisture balance in your skin, preventing dryness and promoting a healthy glow.
Tips for Better Sleep:
Establish a Consistent Sleep Schedule: Try to go to bed and wake up at the same time every day, even on weekends. This helps regulate your body's internal clock and improves sleep quality.
Create a Sleep-Friendly Environment: Make your bedroom a calm, comfortable, and dark environment. Use blackout curtains, earplugs, or a white noise machine if needed. Ensure your mattress, pillows, and bedding are comfortable and supportive.
Practice Relaxation Techniques: Engage in relaxation techniques before bed to signal your body and mind that it's time to unwind. This can include activities like reading, taking a warm bath, practicing deep breathing, or listening to calming music.
Limit Screen Time Before Bed: The blue light emitted by electronic devices can interfere with your sleep quality. Avoid using screens (such as smartphones, tablets, or laptops) for at least an hour before bed. Instead, engage in relaxing activities that prepare you for sleep.
Avoid Stimulants: Limit your consumption of caffeine and avoid heavy meals, nicotine, and alcohol close to bedtime. These substances can disrupt sleep patterns and affect the quality of your rest.
Establish a Bedtime Routine: Create a relaxing routine before bed to signal to your body that it's time to sleep. This can include activities like gentle stretching, reading a book, or practicing mindfulness meditation.
Manage Stress: Stress can interfere with sleep. Practice stress management techniques such as journaling, deep breathing exercises, or engaging in relaxation activities to help alleviate stress and promote better sleep.
Exercise Regularly: Regular physical activity can contribute to better sleep quality. However, avoid exercising too close to bedtime as it may energize your body and make it difficult to fall asleep. Aim to finish your workout at least a few hours before bedtime.
Remember, everyone's sleep needs may vary. Aim for 7-9 hours of uninterrupted sleep per night and listen to your body's signals to determine the amount of sleep that leaves you feeling refreshed and rested. By prioritizing and improving your sleep habits, you can support your overall well-being and promote healthier, glowing skin as a housewife.
Avoiding Harmful Habits:
Here are some habits to steer clear of.
Smoking: Smoking is detrimental to your overall health and can significantly affect your skin. It damages collagen and elastin, leading to premature aging, wrinkles, and a dull complexion. Quitting smoking is one of the best things you can do for your skin and overall well-being.
Excessive Sun Exposure: Prolonged and unprotected exposure to the sun's harmful ultraviolet (UV) rays can lead to skin damage, including sunburns, premature aging, and an increased risk of skin cancer. Always protect your skin by wearing sunscreen with a high SPF, seeking shade, and wearing protective clothing, hats, and sunglasses when you're outdoors.
Poor Skincare Habits: Neglecting proper skincare can contribute to skin issues. Avoid going to bed without removing makeup, as it can clog pores and lead to breakouts. Cleanse your face gently using a suitable cleanser, moisturize regularly, and exfoliate to remove dead skin cells and promote a clearer complexion. Also, be mindful of using harsh products that can irritate your skin.
Over-washing or Harsh Scrubbing: While cleansing your skin is important, over-washing or scrubbing your skin too vigorously can strip away its natural oils and disrupt its balance. Use a gentle cleanser suitable for your skin type and avoid excessive scrubbing, especially if you have sensitive or acne-prone skin.
Picking or Squeezing Blemishes: It can be tempting to pick or squeeze pimples, but doing so can lead to inflammation, scarring, and the spread of bacteria. Allow blemishes to heal naturally or seek professional help from a dermatologist if needed.
Unhealthy Diet: A poor diet lacking in essential nutrients can negatively impact your skin health. Avoid excessive consumption of processed foods, sugary snacks, and greasy or fried foods. Instead, focus on a balanced diet rich in fruits, vegetables, whole grains, lean proteins, and healthy fats to nourish your skin from within.
Excessive Stress: Chronic stress can contribute to various skin issues, including acne breakouts, sensitivity, and a dull complexion. Implement stress management techniques, engage in self-care activities, and seek support when needed to minimize stress levels and promote skin health.
Inadequate Sleep: Lack of sleep can lead to dull skin, under-eye circles, and a compromised complexion. Prioritize quality sleep by establishing a consistent sleep schedule, creating a sleep-friendly environment, and adopting relaxation techniques before bed.
By avoiding these harmful habits and adopting healthier alternatives, you can protect and enhance your skin health as a housewife. Remember, consistency and a holistic approach to skincare and lifestyle habits are key to maintaining a healthy and radiant complexion.
Skincare Tips for Housewives:
Here are some skincare tips specifically tailored for housewives.
Cleanse Your Skin Twice Daily: Cleanse your face in the morning and evening to remove dirt, oil, and impurities that can accumulate throughout the day. Use a gentle cleanser suitable for your skin type to avoid stripping away natural oils.
Moisturize Regularly: Hydrating your skin is crucial to keep it healthy and supple. After cleansing, apply a moisturizer that suits your skin type to lock in moisture. Pay attention to areas that tend to get drier, such as elbows, knees, and hands.
Protect Your Skin from the Sun: Even if you spend most of your time indoors, harmful UV rays can still penetrate windows and affect your skin. Apply a broad-spectrum sunscreen with at least SPF 30 daily, even on cloudy days, and reapply as needed. Consider using a moisturizer or foundation that contains SPF for added convenience.
Use Gentle and Nourishing Products: Opt for skincare products that are gentle and nourishing to your skin. Look for ingredients like hyaluronic acid, antioxidants (vitamin C, E), and natural oils to hydrate, protect, and replenish your skin.
Exfoliate Regularly: Exfoliation helps remove dead skin cells and promotes a smoother complexion. Incorporate a gentle exfoliator into your skincare routine once or twice a week, depending on your skin's sensitivity. Avoid over-exfoliating, as it can cause irritation.
Take Breaks from Makeup: While makeup can enhance your appearance, it's important to allow your skin to breathe. Take makeup-free days whenever possible to let your skin recover and minimize the risk of clogged pores and breakouts.
Stay Hydrated: Drink an adequate amount of water throughout the day to keep your skin hydrated from within. Proper hydration helps maintain skin elasticity and promotes a healthy complexion.
Eat a Balanced Diet: Nourish your skin by incorporating a balanced diet rich in fruits, vegetables, whole grains, lean proteins, and healthy fats. These nutrients provide essential vitamins and antioxidants that support skin health.
Manage Stress: Stress can take a toll on your skin. Implement stress management techniques such as regular exercise, deep breathing exercises, mindfulness, and engaging in activities you enjoy. Taking care of your mental well-being positively impacts your skin health.
Prioritize Self-Care: As a housewife, it's easy to put your needs last. However, carving out time for self-care activities like taking a bath, practicing yoga, or enjoying a hobby can rejuvenate your skin and overall well-being.
Remember, consistency and patience are key when it comes to skincare. Listen to your skin's needs, adapt your routine as necessary, and consult with a dermatologist if you have specific concerns. By following these skincare tips, you can maintain healthy and radiant skin as a housewife.
Dealing with Common Skin Issues:
Here are some tips to help you address and manage these concerns.
Acne Breakouts:
Cleanse your face twice daily with a gentle cleanser to remove excess oil and impurities.
Avoid picking or squeezing pimples, as it can lead to inflammation and scarring.
Use non-comedogenic (non-pore-clogging) skincare and makeup products.
Consider incorporating acne-fighting ingredients like salicylic acid or benzoyl peroxide into your skincare routine.
If acne persists or becomes severe, consult a dermatologist for personalized treatment options.

Dry Skin:
Use a gentle cleanser that doesn't strip away your skin's natural oils.
Moisturize your skin regularly with a hydrating moisturizer.
Avoid hot showers or baths, as hot water can further dry out your skin.
Consider using a humidifier in your home to add moisture to the air.
Drink plenty of water to hydrate your skin from within.

Dull Complexion:
Exfoliate regularly to remove dead skin cells and promote a brighter complexion.
Use a brightening face mask or incorporate products with ingredients like vitamin C or glycolic acid to boost radiance.
Stay hydrated by drinking water and maintaining a balanced diet.
Consider using a daily moisturizer with illuminating properties to enhance your skin's glow.

Hyperpigmentation:
Protect your skin from sun exposure by using sunscreen with a high SPF.
Incorporate skincare products with ingredients like vitamin C, niacinamide, or kojic acid, known for their brightening properties.
Consult a dermatologist for professional treatments like chemical peels or laser therapy if the hyperpigmentation is persistent or severe.

Sensitivity or Irritation:
Avoid using harsh or irritating skincare products.
Patch test new products before applying them to your entire face.
Choose fragrance-free and hypoallergenic products if you have sensitive skin.
Use a gentle, non-abrasive cleanser and moisturizer specifically formulated for sensitive skin.
If irritation occurs, discontinue use of the product and consult a dermatologist if needed.

Under-Eye Circles:
Get enough sleep and establish a consistent sleep routine.
Apply a hydrating eye cream or serum to moisturize the under-eye area.
Use a cold compress or chilled cucumber slices to temporarily reduce puffiness.
Consider using a concealer specifically formulated for under-eye circles to camouflage their appearance.

Eczema or Dermatitis:
Keep your skin moisturized with a fragrance-free, hypoallergenic moisturizer.
Avoid triggers that may worsen your condition, such as certain fabrics or harsh chemicals.
Use mild, fragrance-free cleansers and avoid hot water when washing your skin.
If eczema persists or worsens, consult a dermatologist for proper diagnosis and treatment options.

Remember, everyone's skin is unique, so it's essential to find what works best for you. If you're experiencing persistent or severe skin issues, it's advisable to consult a dermatologist for a personalized evaluation and treatment plan.
Seeking Professional Help:
Here are some situations when it's advisable to seek professional assistance.
Persistent or Severe Skin Issues: If you've been dealing with a particular skin issue, such as persistent acne, chronic eczema, or stubborn hyperpigmentation, and over-the-counter remedies have not provided satisfactory results, it's time to consult a dermatologist. They can evaluate your skin condition, provide an accurate diagnosis, and recommend appropriate treatment options tailored to your specific needs.
Skin Allergies or Reactions: If you develop an allergic reaction to a skincare product or notice unexplained skin irritation or rash, it's important to consult a professional. They can help identify the allergen or irritant causing the reaction and guide you on how to avoid it in the future.
Changing Skincare Needs: As you age, your skin's needs may change. If you're unsure about the right skincare products and routines for your current skin condition, a dermatologist or skincare specialist can assess your skin and recommend suitable products and treatments to address your concerns.
Preexisting Skin Conditions: If you have preexisting skin conditions such as rosacea, psoriasis, or melasma, it's essential to consult a professional for proper management. They can provide you with a comprehensive treatment plan that may include prescription medications, specialized skincare products, or in-office procedures.
Cosmetic Procedures: If you're considering cosmetic procedures like chemical peels, laser treatments, or injectables, it's crucial to consult a qualified dermatologist or aesthetician. They can assess your skin, discuss your goals, and recommend the most suitable procedures for your desired outcomes.
Skin Cancer Screening: Regular skin cancer screenings are important, especially if you have a history of excessive sun exposure, family history of skin cancer, or notice any suspicious moles or lesions. A dermatologist can perform a thorough examination, identify any potential signs of skin cancer, and guide you on further diagnostic tests or treatments if needed.
Remember, professionals in the field of dermatology and skincare are trained to diagnose and treat various skin conditions. They have the expertise and knowledge to provide personalized recommendations based on your specific concerns. Seeking professional help ensures that you receive appropriate guidance and access to advanced treatments when necessary, ultimately helping you achieve optimal skin health.
Conclusion:
Maintaining healthy skin as a housewife requires a consistent and holistic approach. By incorporating a daily skincare routine, adopting a healthy diet, staying hydrated, engaging in regular exercise, managing stress, getting enough sleep, and avoiding harmful habits, you can promote and maintain the health and radiance of your skin.
Taking care of your skin is not only beneficial for your appearance but also for your overall well-being. When you prioritize skincare, you can enjoy the confidence that comes with healthy and glowing skin, enhancing your self-esteem and overall quality of life.
Additionally, it's important to seek professional help when needed. If you encounter persistent or severe skin issues, experience allergic reactions, or have specific concerns that require specialized attention, consulting a dermatologist or skincare professional can provide you with personalized guidance, diagnosis, and treatment options.
Remember, every individual's skin is unique, and what works for one person may not work for another. It may take some trial and error to find the skincare routine and products that suit your specific needs. Be patient and listen to your skin, making adjustments as necessary.
By prioritizing your skincare and making it a part of your daily routine, you can maintain healthy, vibrant skin as a housewife and feel confident in your own skin. Your skin is a reflection of your overall health and well-being, so invest the time and effort to care for it, and enjoy the benefits of a radiant complexion.