The stage by highlighting the significance of skin health and its interconnectedness with diet. Skin, as the body's largest organ, plays a crucial role in protection and appearance. Understanding the profound impact that dietary choices have on skin health is essential, as it sheds light on the potential for achieving radiant and healthy skin through mindful nutritional decisions.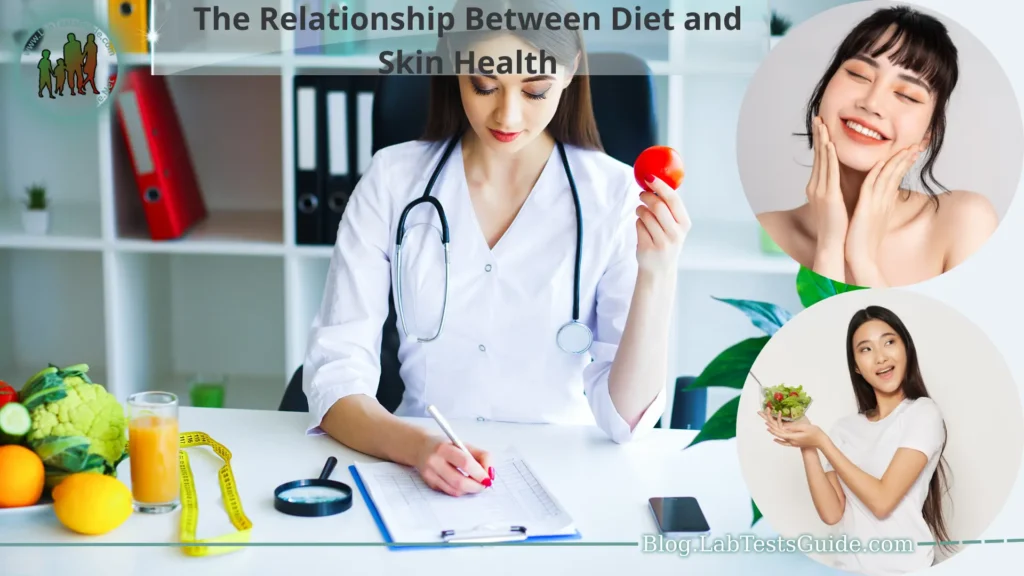 Explore the intricate connection between your diet and skin health. Discover how nutrition impacts your complexion and learn tips for achieving radiant and glowing skin through dietary choices.
What Is Skin Health and Why Does It Matter?
Skin's Vital Role: The skin is the body's largest organ, serving as a protective barrier against external factors like UV radiation, pathogens, and pollutants. It also plays a crucial role in regulating body temperature and fluid balance.
Physical and Emotional Well-being: Healthy skin contributes to an individual's overall well-being, both physically and emotionally. Clear and vibrant skin can boost self-confidence and mental health.
Indicator of Internal Health: The condition of the skin often reflects an individual's internal health. Skin issues might signal underlying problems such as nutritional deficiencies, hormonal imbalances, or chronic illnesses.
Aging and Skin Health: Skin health is closely tied to the aging process. Well-nourished skin is more resilient and better equipped to combat signs of aging like wrinkles, sagging, and dullness.
Impact of Lifestyle Choices: Lifestyle factors, including diet, hydration, sleep, and stress management, significantly influence skin health. A balanced diet can provide the nutrients needed for skin repair, collagen production, and protection against oxidative stress.
Nutrition's Role: Proper nutrition, especially vitamins (A, C, E), minerals (zinc, selenium), and essential fatty acids (omega-3, omega-6), supports skin regeneration, fights inflammation, and maintains elasticity.
Holistic Approach: Skin health is best achieved through a holistic approach that combines proper skincare, a balanced diet, regular exercise, and stress reduction. This synergy maximizes the potential for healthy and glowing skin.
Long-Term Benefits: Investing in skin health early in life can have long-term benefits, as it sets the stage for aging gracefully and minimizing the risk of chronic skin conditions.
Confidence and Self-esteem: Clear and well-maintained skin can enhance an individual's self-esteem, leading to a more positive self-image and improved quality of life.
Educational Awareness: Understanding the connection between diet and skin health empowers individuals to make informed choices, potentially reducing the prevalence of skin-related issues.
Personalized Care: Recognizing that each person's skin is unique and may require tailored approaches underscores the importance of individualized skincare routines and dietary choices.
How to Cultivate a Skin-Friendly Diet:
Prioritize Nutrient-Rich Foods: Choose whole foods packed with vitamins, minerals, and antioxidants to nourish your skin from the inside out.
Hydrate Adequately: Drink plenty of water and consume hydrating foods to maintain skin moisture and a healthy glow.
Incorporate Essential Fatty Acids: Include sources of omega-3 and omega-6 fatty acids for supple skin and reduced inflammation.
Embrace Antioxidant-Rich Foods: Eat foods rich in antioxidants to combat free radicals and protect your skin cells.
Support Collagen Production: Consume vitamin C-rich foods and amino acids to encourage collagen synthesis, promoting skin elasticity.
Include Healthy Fats: Choose sources of healthy fats to maintain skin integrity and reduce dryness.
Moderate Sugar and Processed Foods: Limit sugary and processed foods to prevent skin aging caused by glycation.
Choose Lean Proteins: Opt for lean protein sources to aid in skin repair and rejuvenation.
Balance Nutrient Intake: Ensure a balanced intake of essential nutrients for overall skin health.
Limit Dairy and High-Glycemic Foods: Consider reducing dairy and high-glycemic foods if they seem to affect your skin negatively.
Practice Portion Control: Maintain a healthy weight through portion control to prevent skin-related issues.
Structure and Function of the Skin:
Layers of the Skin: The skin has three primary layers: the epidermis (outermost), dermis (middle), and subcutaneous tissue (innermost).
Epidermis – Barrier Protection: The epidermis serves as a protective barrier against external elements, preventing water loss and shielding the body from pathogens.
Dermis – Structural Support: The dermis contains collagen and elastin fibers that provide strength, elasticity, and support to the skin.
Subcutaneous Tissue – Insulation and Cushioning: The subcutaneous layer helps insulate the body, regulate temperature, and cushion against impacts.
Skin's Connection to Overall Health: The skin's condition can reflect overall health. Issues like redness or rashes might indicate internal problems.
Sweat Glands and Temperature Regulation: Sweat glands release sweat to cool the body, maintaining a stable internal temperature.
Sebaceous Glands and Sebum Production: Sebaceous glands produce sebum, an oily substance that moisturizes the skin and maintains its pH balance.
Blood Vessels and Nutrient Supply: Blood vessels supply oxygen and nutrients to the skin cells, supporting its health and function.
Nerve Endings and Sensation: Nerve endings in the skin allow you to sense touch, temperature, pressure, and pain.
Hair and Nail Growth: Hair follicles produce hair, while the nail matrix generates nails, both made of keratin.
Melanin and Sun Protection: Melanin provides pigment to the skin and helps protect against harmful UV radiation.
Wound Healing and Regeneration: The skin can regenerate and heal wounds, depending on the depth and severity.
Nutrients Essential for Healthy Skin:
Vitamins:
Vitamin A: Promotes skin cell turnover and repair, helping maintain a smooth texture and reducing the appearance of fine lines.
Vitamin C: Vital for collagen synthesis, it aids in wound healing and protects the skin against oxidative damage.
Vitamin E: An antioxidant that defends the skin against free radicals and supports skin barrier function.
Minerals:
Zinc: Supports skin health by regulating inflammation, aiding in wound healing, and controlling oil production.
Selenium: Works alongside antioxidants to protect skin cells from damage caused by UV radiation and pollution.
Fatty Acids:
Omega-3 Fatty Acids: Known for their anti-inflammatory properties, they help maintain the skin's natural moisture balance.
Omega-6 Fatty Acids: Assist in skin barrier function and play a role in managing inflammation.
Impact of Diet on Common Skin Conditions:
Acne:
Certain high glycemic index (GI) foods and dairy products can worsen acne due to their potential to increase inflammation.
Antioxidant-rich foods, omega-3 fatty acids, and zinc may help alleviate acne-related inflammation.
Eczema:
Foods like dairy, eggs, nuts, and wheat can trigger eczema flare-ups in sensitive individuals.
A diet rich in anti-inflammatory foods, such as fatty fish and leafy greens, might help manage eczema symptoms.
Rosacea:
Spicy foods, alcohol, and caffeine can trigger rosacea symptoms by dilating blood vessels and causing inflammation.
Consuming foods with anti-inflammatory properties and staying hydrated may help minimize rosacea flare-ups.
Hydration and Skin Elasticity:
Importance of Hydration: Adequate hydration is crucial for overall health, and it plays a significant role in maintaining skin health and elasticity.
Collagen and Elastin: Skin's elasticity primarily relies on two proteins: collagen and elastin. Collagen provides structural support, while elastin allows the skin to stretch and return to its original state.
Water's Role: Water is essential for the proper functioning of these proteins. Collagen molecules require water to maintain their structure, and elastin fibers need water to maintain their flexibility.
Moisture Barrier: Well-hydrated skin retains a healthy moisture barrier, which prevents water loss and maintains skin integrity. This barrier function contributes to overall skin suppleness and elasticity.
Signs of Dehydration: When the skin lacks sufficient moisture, it can become dry, rough, and lose its natural plumpness. Dehydrated skin is more prone to fine lines and wrinkles.
Environmental Factors: Factors like exposure to sun, wind, air conditioning, and heating can lead to dehydration. Proper hydration helps counteract the effects of these environmental stressors.
Hydrating from Within: Drinking an adequate amount of water is crucial for maintaining skin hydration. While there's no fixed amount for everyone, a general guideline is to drink enough water to keep urine pale yellow.
Diet's Role: Hydration isn't just about water intake. Foods with high water content, such as fruits (watermelon, oranges) and vegetables (cucumbers, lettuce), contribute to overall hydration.
Avoiding Overhydration: While hydration is important, excessive water intake doesn't necessarily lead to more hydrated skin. The body's ability to absorb water is limited, and overhydration might lead to electrolyte imbalances.
Balancing Lifestyle Factors: Adequate sleep, a balanced diet rich in antioxidants and healthy fats, and proper skincare routines also contribute to skin health and elasticity.
Age and Hydration: As we age, the skin's natural ability to retain moisture decreases, making proper hydration even more crucial for maintaining elasticity and minimizing the appearance of aging.
Holistic Approach: Healthy skin is the result of a combination of factors, including hydration, nutrition, skincare, and lifestyle. A holistic approach supports not only skin elasticity but overall well-being.
The Gut-Skin Connection:
Gut Microbiota: The gut is home to a diverse community of microorganisms known as the gut microbiota. These microorganisms play a vital role in digestion, nutrient absorption, and immune function.
Skin Health Link: Research suggests that the balance of the gut microbiota can impact various aspects of skin health, including inflammation, sensitivity, and certain skin conditions.
Inflammation: An imbalance in the gut microbiota, known as dysbiosis, can lead to increased inflammation in the body. This inflammation may contribute to the development or exacerbation of skin conditions like acne, eczema, and psoriasis.
Immune System Regulation: The gut microbiota helps regulate the immune system. A healthy gut supports a balanced immune response, which in turn can influence how the body responds to skin-related issues.
Leaky Gut: A compromised gut barrier, often referred to as "leaky gut," can allow harmful substances to enter the bloodstream. This can trigger immune responses that might manifest as skin problems.
Brain-Gut-Skin Axis: The brain, gut, and skin communicate through what's known as the "brain-gut-skin axis." Emotional and psychological factors, such as stress, can impact gut health, potentially affecting the skin.
Probiotics and Prebiotics: Consuming probiotics (beneficial bacteria) and prebiotics (fiber that feeds beneficial bacteria) can help promote a healthy gut microbiota. These can positively impact both gut and skin health.
Diet's Role: A balanced diet rich in fiber, fruits, vegetables, and whole foods supports a diverse gut microbiota. In turn, this can help reduce inflammation and contribute to healthier skin.
Personalized Response: The gut-skin connection varies among individuals. Some might notice improvements in their skin by addressing gut health, while others may not experience a direct correlation.
Consultation and Care: For those with persistent skin issues, consulting with a healthcare professional or dermatologist can help determine if gut health plays a role and guide appropriate interventions.
Holistic Approach: Recognizing the interplay between gut and skin health emphasizes the importance of a holistic approach to well-being, where diet, lifestyle, and skincare are considered interconnected elements.
Creating a Skin-Friendly Diet Plan:
Assess Your Goals: Determine whether you're looking to address specific skin issues, improve overall skin health, or maintain your current skin condition.
Prioritize Nutrient-Rich Foods: Opt for a variety of fruits, vegetables, whole grains, lean proteins, and healthy fats.
Hydration Matters: Drink plenty of water throughout the day to maintain skin hydration and elasticity.
Essential Fatty Acids: Include sources of omega-3 fatty acids (fatty fish, flaxseeds, walnuts) and omega-6 fatty acids (vegetable oils, seeds).
Antioxidant-Rich Choices: Antioxidants protect against oxidative stress, promoting healthy skin.
Collagen-Boosting Nutrients: Consume vitamin C-rich foods (citrus fruits, bell peppers) to support collagen synthesis.
Healthy Fats for Skin Health: Incorporate sources of healthy fats like avocados, olive oil, and nuts for skin nourishment.
Moderate Sugar and Processed Foods: Reduce consumption of sugary foods and refined carbohydrates to prevent glycation and skin aging.
Lean Proteins and Repair: Prioritize lean protein sources (poultry, fish, beans) for tissue repair and skin rejuvenation.
Balanced Nutrient Intake: Aim for a balanced intake of vitamins (A, E, D), minerals (zinc, selenium), and other essentials.
Dairy and High-Glycemic Foods: Consider reducing dairy and high-GI foods if they affect your skin negatively.
Mind Portion Sizes: Control portion sizes to maintain a healthy weight, which can impact skin health.
Monitor Food Sensitivities: Be mindful of any food sensitivities that could influence skin reactions.
Probiotic-Rich Choices: Include probiotic-rich foods (yogurt, kefir, sauerkraut) to support gut health, which indirectly affects skin.
FAQs:
How does diet affect skin health?
Diet plays a crucial role in skin health by providing essential nutrients for skin repair, hydration, and protection against oxidative stress.
Which nutrients are essential for healthy skin?
Essential nutrients for healthy skin include vitamins (A, C, E), minerals (zinc, selenium), and fatty acids (omega-3, omega-6).
Can diet impact common skin conditions like acne and eczema?
Yes, certain foods can influence the severity of skin conditions. High glycemic index foods and dairy might worsen acne, while trigger foods like dairy, eggs, and nuts can affect eczema.
How does hydration affect skin elasticity?
Adequate hydration is crucial for maintaining skin elasticity, as water supports collagen and elastin fibers, essential for skin's stretch and bounce-back.
What's the gut-skin connection?
The gut-skin connection highlights the interaction between gut health and skin health. A balanced gut microbiota can impact skin conditions like acne and eczema.
Can a skin-friendly diet slow down aging?
Yes, a diet rich in antioxidants, healthy fats, and collagen-boosting nutrients can help maintain skin's youthful appearance and minimize signs of aging.
Should I avoid certain foods for better skin health?
While triggers vary, reducing high glycemic index foods, dairy, and processed sugars might benefit skin health for some individuals.
Is drinking water enough for skin hydration?
While water intake is important, hydrating foods like fruits and vegetables also contribute to skin hydration.
Can probiotics improve skin health?
Probiotics can support gut health, indirectly influencing skin conditions. Consult a healthcare professional for personalized advice.
What's the holistic approach to skin health?
A holistic approach involves combining a skin-friendly diet, proper skincare, exercise, stress management, and other lifestyle factors for overall skin wellness.
Conclusion:
In conclusion, the intricate relationship between diet and skin health underscores the significance of mindful nutritional choices in achieving radiant and resilient skin. Vitamins, minerals, essential fatty acids, and hydration are key elements that nourish the skin from within, supporting collagen synthesis, maintaining elasticity, and protecting against oxidative stress. The gut-skin connection further highlights the far-reaching impact of a balanced diet on skin conditions, emphasizing the need for a holistic approach. By embracing a skin-friendly diet alongside proper skincare, staying hydrated, managing stress, and adopting a holistic lifestyle, individuals can pave the way for healthier, glowing skin that reflects overall well-being.