Talking to your child about sex is an essential aspect of parenting that can shape their understanding of relationships, consent, and their own bodies. While it may feel uncomfortable or challenging, having open and honest conversations about sex is crucial for their overall well-being and safety. As a parent, you play a vital role in providing accurate information and creating a safe space for your child to ask questions and explore this topic.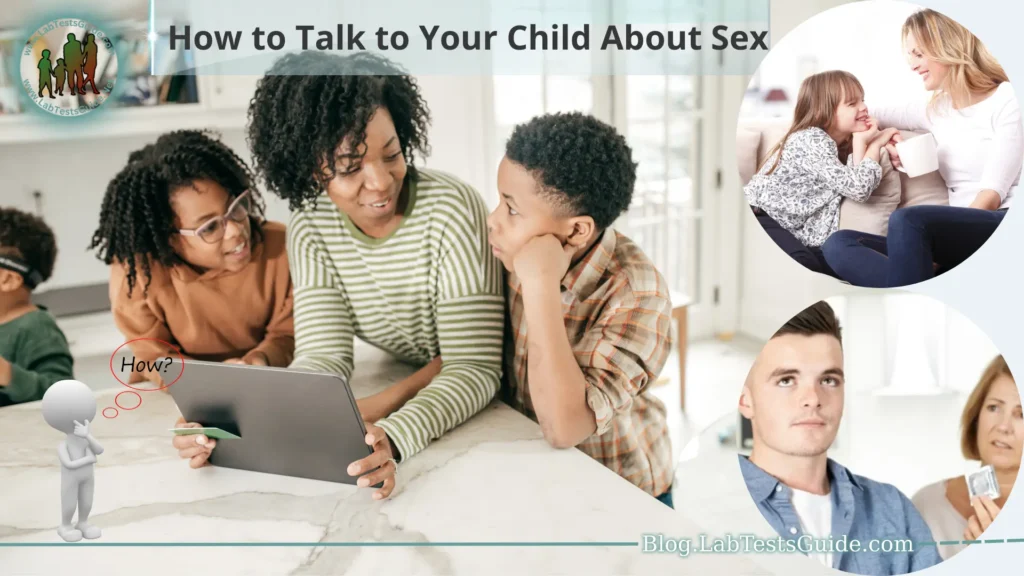 The goal of this guide is to offer practical advice and guidance on how to approach the topic of sex with your child at different stages of their development. It will provide age-appropriate strategies to help you navigate through potentially difficult discussions, build trust, and foster a healthy understanding of sexuality. Remember, having open communication about sex not only equips your child with the knowledge they need to make informed decisions but also strengthens your parent-child relationship, promoting mutual respect and support throughout their journey into adulthood.
What Is Sex Education and Why Is It Important?
Definition: Sex education is a comprehensive and age-appropriate learning process that aims to provide individuals, especially children and adolescents, with accurate information about human sexuality, relationships, and sexual health.
Knowledge Empowerment: Sex education empowers young individuals with the necessary knowledge to make informed decisions about their bodies, relationships, and sexual behaviors. It equips them with the tools to understand the physical and emotional aspects of human sexuality.
Safety and Health: By learning about sexual health, contraception, and sexually transmitted infections (STIs), young people can protect themselves and others from potential risks and make responsible choices regarding their sexual activities.
Consent and Boundaries: Sex education emphasizes the importance of consent and respecting personal boundaries in all types of relationships, promoting healthy communication and mutual understanding.
Reducing Misconceptions: Providing accurate information through sex education helps dispel myths and misconceptions surrounding sex, preventing the spread of misinformation.
Promoting Healthy Relationships: Sex education encourages the development of healthy relationships based on mutual respect, trust, and effective communication.
Addressing Peer Pressure: Young individuals are exposed to various pressures regarding sex from their peers. Sex education equips them with the knowledge and confidence to make decisions that align with their values and comfort levels, regardless of external influences.
Empowering Parents: Sex education can also support parents by providing resources and guidance on how to have age-appropriate conversations with their children about sex, fostering open communication within families.
Social and Emotional Well-being: Understanding sexual health and relationships contributes to overall emotional well-being, promoting positive body image and self-esteem.
Lifelong Learning: Sex education is not a one-time conversation but a continuous process that evolves as individuals grow and encounter new challenges throughout their lives. It lays the foundation for a lifetime of informed decision-making and responsible behavior.
How to Initiate the Conversation:
Choose the Right Time and Place: Find a comfortable and private setting where both you and your child can talk openly without distractions. Avoid rushing the conversation or choosing a moment when your child might feel stressed or preoccupied.
Be Calm and Approachable: Approach the conversation with a calm and open demeanor. Let your child know they can talk to you about anything without fear of judgment or punishment.
Start Early: Begin age-appropriate discussions about bodies, privacy, and boundaries from an early age. As your child grows, gradually introduce more complex topics.
Use Age-Appropriate Language: Tailor your language to your child's age and comprehension level. Avoid using euphemisms or overly technical terms. Keep the language simple and easy to understand.
Ask Open-Ended Questions: Encourage your child to share their thoughts and feelings by asking open-ended questions. This allows them to express themselves freely and lets you gauge their understanding.
Utilize Teachable Moments: Take advantage of natural opportunities, such as TV shows, news, or books, to initiate discussions about sex-related topics. This can make the conversation feel more organic and less forced.
Share Information Gradually: Instead of overwhelming your child with a lot of information at once, share knowledge in small, digestible pieces. This approach allows them to absorb and process the information effectively.
Be Honest and Accurate: Provide factual information and avoid spreading myths or false beliefs. If you don't know the answer to a question, admit it, and find the correct information together.
Focus on Values and Boundaries: Emphasize the importance of respecting personal boundaries and the boundaries of others. Discuss values related to healthy relationships and the significance of consent.
Listen and Validate: Be an active listener, and acknowledge your child's feelings and perspectives. Validating their emotions will help build trust and encourage them to confide in you.
Address Safety and Risks: Discuss the potential risks of engaging in sexual activities, such as pregnancy and sexually transmitted infections. Teach them about contraceptive options and the importance of protecting their health.
Be Patient and Understanding: Understand that talking about sex can be uncomfortable for both you and your child. Be patient, and allow the conversation to unfold naturally.
Revisit the Topic: Remember that sex education is an ongoing conversation. Revisit the topic periodically, offering additional information and support as your child's understanding and curiosity develop.
Seek Professional Help if Needed: If you find it challenging to initiate or continue the conversation, consider seeking guidance from a sex educator, counselor, or healthcare professional.
Preparing Yourself for the Conversation:
Reflect on Your Beliefs and Attitudes: Before initiating the conversation, take some time to reflect on your own beliefs and attitudes about sex. Be aware of any biases or discomfort you may have and work on addressing them to approach the conversation with an open mind.
Educate Yourself: Ensure you have accurate and up-to-date information about sexual health, human development, and age-appropriate sex education topics. Read books, attend workshops, or consult reputable online resources to equip yourself with the knowledge needed to answer your child's questions.
Practice Active Listening: Prepare yourself to be an active listener during the conversation. This means giving your child your full attention, showing empathy, and acknowledging their feelings and perspectives.
Be Comfortable with Your Language: Use language that feels comfortable to you and aligns with your family's values. Finding the right words to discuss sensitive topics can make the conversation more approachable for both you and your child.
Discuss the Conversation with Your Partner: If you have a partner or co-parent, discuss the approach and key points you both want to cover during the conversation. Being on the same page will help create a consistent and supportive environment for your child.
Anticipate Potential Questions: Think about the kinds of questions your child might ask and prepare yourself to address them honestly and age-appropriately. This can help you feel more confident and prepared during the conversation.
Stay Calm and Non-Judgmental: Keep in mind that your child may ask unexpected or challenging questions. Stay calm and avoid reacting with judgment. Encourage open communication by showing acceptance and understanding.
Decide on a Framework: Plan a general framework for the conversation, especially if it's the first time you're discussing sex with your child. Start with basic concepts and gradually introduce more complex topics as your child grows and becomes more comfortable.
Respect Your Child's Boundaries: While it's important to discuss sex education openly, also respect your child's comfort level. If they seem hesitant or disinterested, don't force the conversation. Let them know you're available whenever they want to talk.
Consider Using Educational Resources: Look for age-appropriate books, videos, or online resources that can supplement your conversation and provide additional information to your child in an engaging way.
Establishing Open Communication:
Build Trust and a Safe Environment: Creating an environment of trust is crucial for open communication. Let your child know they can talk to you about anything without fear of judgment or punishment. Assure them that you are there to support and listen to them.
Start Early and Be Available: Begin fostering open communication from a young age by encouraging your child to express themselves freely. Be available for conversations whenever your child feels ready to talk, even if it's not directly related to sex.
Use Everyday Opportunities: Look for everyday opportunities to engage with your child, such as during car rides, meal times, or before bedtime. These informal moments can often lead to meaningful discussions.
Encourage Questions: Let your child know that questions about sex and sexuality are normal and welcomed. Be open and honest in your responses, even if the questions catch you off guard.
Be a Good Listener: Actively listen to what your child has to say. Show empathy and understanding, even if their thoughts or feelings differ from yours. This will encourage them to share more openly with you.
Avoid Overreacting: If your child shares something surprising or potentially challenging, remain composed. Overreacting may cause them to withdraw or hesitate to share in the future.
Be Age-Appropriate: Tailor your responses and level of detail to your child's age and maturity. Provide information that matches their developmental stage and comprehension level.
Use Positive Language: Frame discussions in a positive and non-judgmental manner. Avoid using fear-based language or shaming when discussing sex or sexual behavior.
Share Your Values: While promoting open communication, also share your family's values about relationships, respect, and responsible behavior. However, allow space for your child to form their own opinions.
Be Honest and Admit Mistakes: If you don't have an answer to a question or make a mistake during the conversation, admit it. Honesty and humility demonstrate that you are approachable and human.
Respect Privacy: Let your child know that they can discuss personal matters with you in confidence. Respect their privacy and avoid sharing their disclosures with others without permission.
Age-Appropriate Talks:
Early Childhood (4-7 years old):
Addressing Basic Body Parts and Functions: Use simple and accurate language to teach your child the names of their body parts, including genitals, and explain their functions.
Understanding Boundaries and Consent: Teach your child about personal boundaries and the importance of saying "no" if they feel uncomfortable with any physical contact.
Middle Childhood (8-11 years old):
Discussing Puberty and Physical Changes: Introduce the concept of puberty and explain the physical changes that occur during this stage, such as the growth of breasts and facial hair.
Introducing Reproduction and Conception: Provide a basic explanation of reproduction, emphasizing the role of sperm and eggs in creating a baby.
Early Adolescence (12-14 years old):
Talking About Menstruation and Periods: For girls, discuss menstruation and what to expect during their period. Address any concerns or questions they may have.
Exploring Sexual Attraction and Orientation: Recognize that adolescents may experience feelings of attraction to others and discuss the concept of sexual orientation in an age-appropriate manner.
Late Adolescence (15-18 years old):
Talking About Intimate Relationships: Discuss the emotional aspects of relationships, the importance of communication, and the potential risks and responsibilities involved in intimate relationships.
Understanding Safe Sex and Contraception: Provide detailed information about sexually transmitted infections (STIs), safe sex practices, and the various methods of contraception.
Navigating Online Safety (All Ages):
Discussing Online Risks: Talk about the potential dangers of sharing personal information online, the importance of privacy settings, and the significance of being cautious while interacting on the internet.
Addressing Sexting: If your child is in their teens, discuss the potential consequences of sexting and emphasize the importance of respecting other people's boundaries.
Discussing Sexual Consent (All Ages): Teach the Concept of Consent: Emphasize the importance of obtaining clear and enthusiastic consent from their partner in any sexual activity. Reinforce the idea that both parties should feel comfortable and willing.
Addressing Safety and Consent:
Teach the Concept of Consent: From an early age, teach your child the importance of consent in all types of interactions, not just sexual ones. Explain that everyone has the right to say "yes" or "no" to any kind of physical contact, and that they should always respect others' boundaries as well.
Define Boundaries: Help your child understand what personal boundaries are and how to set them. Encourage them to express their discomfort if someone crosses their boundaries and assure them that it is okay to say no.
Emphasize Communication Skills: Teach your child effective communication skills, including how to express their feelings and desires clearly and assertively. Let them know that open and honest communication is key to healthy relationships.
Recognize Signs of Discomfort: Help your child recognize signs of discomfort or coercion in any situation. Encourage them to trust their instincts and seek help if they feel unsafe or pressured.
Discuss Online Safety: Talk about the importance of online safety, especially when interacting with strangers or sharing personal information. Encourage them to come to you if they encounter any concerning or inappropriate content online.
Explain the Concept of Power Imbalance: Help your child understand power imbalances in relationships, such as age differences or differences in authority. Teach them that in such situations, the younger or less powerful person may be more vulnerable and that consent cannot be freely given under these circumstances.
Discuss Relationship Red Flags: As your child enters their teenage years, discuss red flags in relationships, such as jealousy, possessiveness, and controlling behavior. Teach them to recognize unhealthy dynamics and seek support if they encounter them.
Set an Example: Model respectful behavior and communication in your own relationships. Your child learns a lot from observing how you interact with others.
Be Supportive: Assure your child that they can come to you with any concerns or questions related to safety and consent. Let them know you are there to support and protect them.
Reinforce that Consent Can Change: Explain that consent can be revoked at any time, even during a sexual activity. Emphasize the importance of respecting their partner's decision if they change their mind.
Reinforce Personal Responsibility: Teach your child about personal responsibility and accountability for their actions. Help them understand that they are responsible for respecting others' boundaries and seeking consent in all interactions.
Address Substance Use: If your child is of age and may encounter situations involving substances, talk about the importance of making clear decisions about consent when both parties are fully aware and able to give consent.
Promoting Healthy Relationships and Values:
Emphasize Respect and Communication: Teach your child the importance of treating others with respect and kindness. Encourage open and honest communication in all relationships, fostering an atmosphere where everyone feels heard and valued.
Set Positive Examples: Demonstrate healthy relationship dynamics in your own interactions with your partner, friends, and family. Your child learns from observing your behavior, so modeling healthy relationships is essential.
Discuss Boundaries: Explain the significance of setting and respecting personal boundaries in relationships. Help your child understand that they have the right to say "no" to any form of physical or emotional contact they are uncomfortable with.
Teach Empathy and Understanding: Foster empathy by encouraging your child to consider others' feelings and perspectives. Help them understand that every individual is unique and deserving of kindness and empathy.
Address Peer Pressure: Talk to your child about the influence of peer pressure and how to handle situations where they might feel pressured to engage in behaviors that go against their values. Encourage them to make decisions based on their beliefs and principles.
Discuss Healthy Conflict Resolution: Teach your child constructive ways to resolve conflicts in relationships, emphasizing active listening and finding solutions that are fair to both parties.
Promote Gender Equality: Encourage gender equality by challenging stereotypes and promoting opportunities for both boys and girls to pursue their interests and goals without limitations based on gender norms.
Discuss Media Influence: Talk about how media, including TV shows, movies, and social media, can shape perceptions of relationships and sexuality. Teach your child to critically analyze media messages and distinguish between fiction and reality.
Address Dating Violence: As your child enters the dating age, discuss the warning signs of dating violence and abusive relationships. Help them understand the importance of seeking help if they or someone they know experiences abuse.
Share Values About Intimacy: Discuss your family's values and beliefs about sex, intimacy, and sexual relationships. Reinforce the idea that intimacy should be consensual, respectful, and based on mutual understanding.
Encourage Self-Respect: Instill a sense of self-respect and confidence in your child. Help them understand their self-worth and the importance of making choices that align with their values.
Reinforce Personal Responsibility: Teach your child about taking responsibility for their actions and their impact on others. Help them understand that their choices have consequences, and they should be accountable for their behavior.
Using Resources and Media:
Recommended Books and Websites for Parents and Children: Research age-appropriate books and websites that cover sex education topics for children. These resources can provide valuable information in a child-friendly and engaging manner. As a parent, familiarize yourself with these resources to ensure their accuracy and relevance.
Utilizing Age-Appropriate Videos: Look for educational videos that address sex education topics in a way that aligns with your child's age and comprehension level. These videos can be a helpful supplement to your conversations, providing visual aids and examples to support their understanding.
Educational Apps and Games: Explore interactive apps and games that promote healthy discussions about sex and relationships. Some apps are designed to teach children about anatomy, puberty, and personal boundaries in a fun and engaging manner.
Online Resources for Parents: Seek reputable websites and online forums that offer guidance to parents on how to approach sex education discussions. These resources can provide valuable tips, FAQs, and articles to support your role as a parent.
Use Media as Conversation Starters: Watch age-appropriate TV shows or movies with your child and use relevant scenes as a starting point for discussions. This approach can make the conversation more relatable and less intimidating.
Family-Friendly Documentaries: Look for family-friendly documentaries that discuss sex education and related topics. Watching these documentaries together can spark meaningful conversations and provide additional information.
Attend Workshops or Seminars: Participate in workshops or seminars related to sex education and parenting. These events can provide you with valuable insights and strategies for approaching the topic with your child.
Choose Age-Appropriate Content: Ensure that any media or resources you use are suitable for your child's age and maturity level. Avoid exposing them to content that may be too advanced or potentially distressing.
Discuss the Media's Influence: After watching or using media resources, have a conversation with your child about how certain messages or portrayals of relationships and sex may not reflect real-life situations. Teach them to think critically about media content.
Supplement with Real-Life Examples: While media resources can be helpful, use real-life examples and personal experiences to reinforce the information. Share stories and anecdotes that relate to the topics you discuss.
Additional Tips for Effective Communication:
Be Patient and Understanding: Understand that discussions about sex can be sensitive and uncomfortable for both you and your child. Be patient and give them time to process information and ask questions at their own pace.
Avoid Lecturing: Instead of lecturing, engage in two-way conversations. Encourage your child to express their thoughts and feelings while actively listening to what they have to say.
Use Age-Appropriate Language: Tailor your language to your child's age and developmental stage. Avoid using jargon or complex terms that may confuse or overwhelm them.
Normalize the Conversation: Make discussing sex a normal part of your family's communication. This helps your child feel more comfortable bringing up the topic when they have questions or concerns.
Keep it Positive: Maintain a positive and non-judgmental tone during the conversation. Avoid shaming or using fear-based tactics when discussing sex and relationships.
Address Cultural and Religious Values: Take into consideration your family's cultural and religious values when discussing sex education. Be respectful of your child's background and beliefs while providing comprehensive information.
Respect Their Privacy: While it's essential to encourage open communication, respect your child's need for privacy. Assure them that they can come to you whenever they have questions, but also give them space when needed.
Use Real-Life Examples: Relate sex education topics to real-life situations that your child can understand. This helps them grasp complex concepts and see the relevance of the information.
Be Honest About Your Limitations: If there are topics you feel uncomfortable discussing or are unsure about, be honest with your child. Let them know that you may need to research or seek help from a professional to provide accurate information.
Promote Body Positivity: Encourage a positive body image and self-esteem in your child. Teach them to appreciate their bodies and respect the bodies of others.
Revisit and Reinforce: Don't limit the conversation to a single talk. Revisit sex education topics regularly, offering additional information and support as your child grows and encounters new situations.
FAQs:
When should I start talking to my child about sex?
It's best to start early, using age-appropriate language and concepts. Begin discussing basic body parts and boundaries as early as preschool age. As your child grows, gradually introduce more complex topics such as puberty and reproduction.
How do I know what information is appropriate for my child's age?
Tailor the information to match your child's developmental stage and understanding. Use simple language for young children and provide more detailed information as they get older and become more curious.
What if my child feels uncomfortable discussing sex with me?
Be patient and understanding. Let your child know that it's normal to feel uncomfortable but that you are there to support and answer any questions they may have. Creating a non-judgmental environment will encourage them to open up over time.
How do I approach the topic of consent with my child?
Start by teaching the concept of consent in non-sexual situations, such as sharing toys or hugging. As they grow older, incorporate discussions about consent in relationships and intimate interactions.
How do I handle challenging questions about sex from my child?
Remain calm and non-judgmental when faced with challenging questions. If you don't have an immediate answer, let them know that you will find the information together. Honesty and openness are essential.
Should I discuss sexual orientation and gender identity with my child?
Yes, it's important to create an inclusive environment and discuss the concepts of sexual orientation and gender identity with age-appropriate language. Be open to answering their questions and supporting them in understanding diversity.
How can I address the influence of media on my child's perception of sex?
Watch media together and discuss the messages portrayed. Teach your child to think critically about what they see and help them understand the difference between fiction and reality.
What do I do if my child asks about topics I'm not comfortable discussing?
Be honest and let them know that some topics may be more challenging for you to discuss. However, reassure them that you will find accurate information and answer their questions to the best of your ability.
How often should I have discussions about sex with my child?
Sex education should be an ongoing conversation. Revisit topics regularly and be open to addressing new questions and concerns that arise as your child grows.
Should I involve my child's other parent or caregiver in these conversations?
Involving other parents or caregivers can create a supportive and consistent approach to sex education. It's essential to be on the same page about the information you provide and the values you promote.
Conclusion:
In conclusion, having open and age-appropriate conversations with your child about sex is a vital aspect of parenting that fosters trust, mutual understanding, and informed decision-making. By starting early, creating a safe and non-judgmental environment, and utilizing appropriate resources, you can address sex education topics with confidence. Emphasizing the importance of consent, promoting healthy relationships and values, and encouraging critical thinking about media portrayals are essential components of effective communication. Be patient, listen actively, and revisit the topics regularly, understanding that sex education is a continuous journey of learning and understanding. By empowering your child with accurate information and supportive guidance, you set the foundation for their healthy sexual development and overall well-being as they navigate their path to adulthood.