Parenting is a challenging and rewarding journey that comes with the responsibility of nurturing and guiding our children towards becoming well-rounded individuals. One essential aspect of this journey is setting limits for our children. Establishing boundaries is crucial for their emotional, social, and cognitive development, as it provides them with a sense of safety, structure, and understanding of acceptable behavior. However, finding the right balance between being firm and nurturing can be a daunting task for many parents. This guide aims to provide practical insights and strategies to help parents set effective limits that foster healthy growth and development in their children.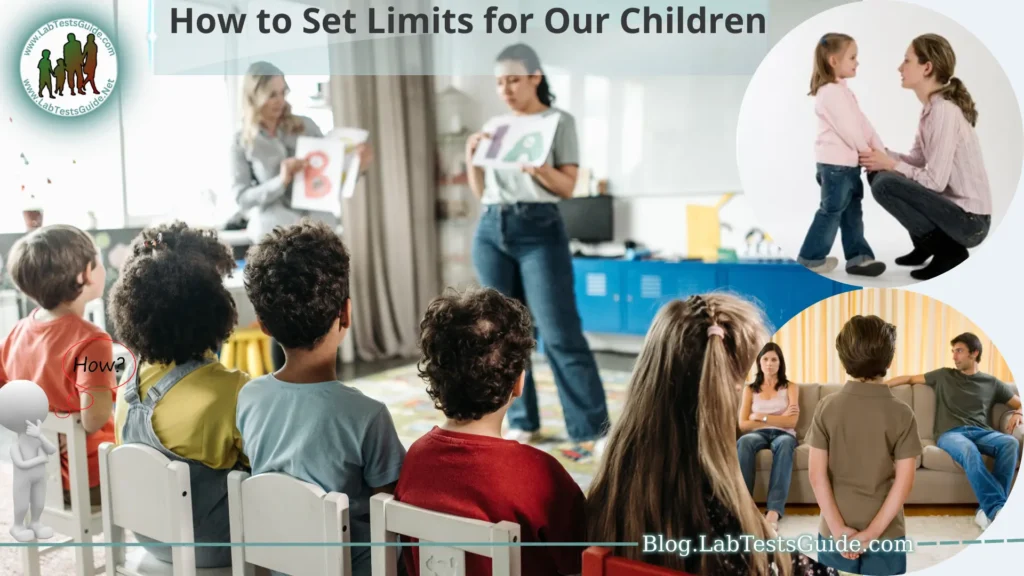 In this comprehensive guide, we will explore various aspects of setting limits for children, from understanding the importance of boundaries to tailoring age-appropriate limits and fostering open communication. We will delve into the significance of consistency and fairness in enforcing limits, as well as the use of positive discipline techniques to teach valuable lessons. Furthermore, we will discuss the role of parents as positive role models and how to handle challenges and resistance effectively. By the end of this guide, parents will be equipped with the tools and knowledge to create a nurturing and supportive environment that encourages their child's independence and responsibility while fostering a loving and respectful parent-child relationship.
What Is Setting Limits for Children?
Definition: Setting limits for children refers to establishing clear boundaries and rules to guide their behavior, actions, and choices in a positive and constructive manner.
Boundaries and Expectations: It involves defining the expectations parents have for their children's behavior and actions to promote a safe and nurturing environment.
Teaching Responsibility: Setting limits teaches children to take responsibility for their actions and helps them understand the consequences of their behavior.
Creating Structure: Limits provide a structured framework that aids in a child's emotional and social development by offering predictability and stability.
Developing Self-Discipline: By adhering to set limits, children learn self-discipline and develop the ability to make informed decisions.
Emotional Regulation: Limits assist children in understanding and managing their emotions, fostering emotional intelligence.
Safety and Protection: Setting boundaries helps protect children from potential dangers and harmful situations.
Encouraging Respect: Limits promote respect for oneself and others, enhancing interpersonal relationships and empathy.
Fostering Independence: By allowing children to explore within set boundaries, parents encourage independence while maintaining a sense of security.
Nurturing Parent-Child Relationship: Effective limit-setting strengthens the bond between parents and children through open communication and mutual understanding.
How to Adapt Limit-Setting Strategies for Different Developmental Stages:
Here's how parents can adapt limit-setting strategies for various developmental stages.
Infancy (0-12 months):
Safety First: Focus on creating a safe physical environment by baby-proofing the home.
Provide Gentle Guidance: Infants rely on caregivers for their needs, so respond to their cues promptly and empathetically.
Establish Routines: Introduce simple routines for feeding, sleeping, and playtime to provide a sense of predictability.
Toddlerhood (1-3 years):
Consistent Boundaries: Set clear and consistent limits while being patient with their explorative behavior.
Distraction and Redirecting: Toddlers have limited impulse control, so distract or redirect their attention when necessary.
Positive Reinforcement: Praise and reward good behavior to reinforce positive habits.
Preschool (3-5 years):
Explain Rules: Start explaining the reasons behind rules to help them understand the purpose of boundaries.
Offer Choices: Provide controlled choices to give them a sense of autonomy while staying within limits.
Use Time-Outs Sparingly: Time-outs can be introduced at this stage for short durations to teach self-regulation.
School Age (6-12 years):
Involve Them in Rule-Setting: Include children in creating some of the household rules to foster their responsibility.
Set Logical Consequences: Implement logical consequences that are related to their actions to teach accountability.
Encourage Problem-Solving: Help them develop problem-solving skills and conflict resolution techniques.
Adolescence (13-18 years):
Negotiate Boundaries: Adolescents are seeking independence, so negotiate some rules to accommodate their growing responsibilities.
Respect Their Input: Show respect for their opinions and discuss the reasons behind the limits.
Be Supportive: Offer guidance and support as they navigate peer pressure and challenging situations.
Young Adulthood (18+ years):
Transition to Guidance: Move from setting limits to providing guidance and support as they become more independent.
Promote Self-Regulation: Encourage self-discipline and decision-making skills they have developed throughout childhood.
Setting the Foundation:
Here are some key aspects to consider when setting the foundation.
Unconditional Love and Support: Show unconditional love and support to your child, fostering a secure attachment. Let them know that your love is unwavering, regardless of their behavior.
Clear Parenting Goals and Values: Define your parenting goals and values. Understand what principles you want to instill in your child, and ensure both parents are on the same page.
Open Communication: Encourage open communication with your child. Create an environment where they feel comfortable sharing their thoughts and feelings without fear of judgment.
Lead by Example: Be a positive role model for your child. Demonstrate the behaviors and values you wish to see in them.
Consistency: Consistency is key when setting the foundation. Ensure that both parents present a united front in enforcing rules and boundaries.
Empathy and Understanding: Practice empathy and understanding towards your child's feelings and needs. Recognize that they are still developing emotionally and may struggle with certain situations.
Teach Emotional Regulation: Help your child recognize and manage their emotions. Offer guidance on expressing feelings in a healthy and constructive manner.
Encourage Independence: Foster a sense of independence in your child by allowing them age-appropriate responsibilities and choices. This will help them develop self-reliance and confidence.
Establish Routines: Set consistent daily routines for meals, sleep, playtime, and other activities. Predictability and structure provide a sense of security for children.
Positive Reinforcement: Use positive reinforcement to acknowledge and reward your child's good behavior. Praise and encouragement can reinforce positive habits.
Create a Safe Environment: Ensure the physical and emotional environment at home is safe and supportive. A safe space allows your child to explore and learn with confidence.
Age-Appropriate Limits:
Here are some considerations for age-appropriate limit-setting at different stages.
Infancy (0-12 months):
Physical Safety: Focus on ensuring a safe environment by removing choking hazards and using appropriate baby-proofing measures.
Feeding and Sleeping: Set routines for feeding and sleeping to establish a sense of predictability and security for the baby.
Gentle Guidance: Respond to their needs promptly and provide nurturing care to build trust.
Toddlerhood (1-3 years):
Supervision: Keep a watchful eye on toddlers as they explore their surroundings, ensuring they don't get into potentially dangerous situations.
Simple Rules: Introduce straightforward rules, such as not touching hot stoves or electrical outlets, and explain the reasons behind them.
Time Limits: Limit screen time and ensure they engage in age-appropriate activities that promote physical and cognitive development.
Preschool (3-5 years):
Clearly Defined Rules: Introduce more specific rules about sharing toys, using polite language, and being respectful to others.
Consistent Consequences: Establish simple consequences for not following rules, such as timeouts for a short duration.
Encourage Independence: Allow them to perform age-appropriate tasks independently, like dressing themselves or tidying up their toys.
School Age (6-12 years):
Responsibilities: Assign age-appropriate chores and responsibilities to promote a sense of contribution to the family.
Screen Time Guidelines: Set clear limits on screen time and encourage balanced engagement in other activities, such as sports or hobbies.
Homework and Study Time: Establish routines for completing homework and studying, providing a conducive environment for learning.
Adolescence (13-18 years):
Negotiated Boundaries: Involve teenagers in setting some of the rules and boundaries, allowing them to have some autonomy.
Curfew and Independence: Set appropriate curfew times based on their age and level of responsibility, gradually allowing more independence as they demonstrate maturity.
Discussing Social Media Usage: Have open conversations about responsible social media use and the importance of online safety.
Communicating Expectations:
Here are some strategies for communicating expectations effectively.
Be Clear and Specific: Clearly articulate the expectations you have for your child. Use simple and age-appropriate language to avoid confusion.
Explain the Reasoning: Provide explanations for the rules and boundaries you set. Help children understand the logic behind each expectation to foster their understanding and cooperation.
Use Positive Language: Frame expectations in a positive manner. Instead of saying, "Don't run in the house," say, "Please walk inside the house to stay safe."
Set Realistic Goals: Ensure that the expectations are attainable and aligned with your child's developmental stage and abilities.
Be Consistent: Consistency is crucial in reinforcing expectations. Enforce the same rules consistently to create a predictable environment for your child.
Encourage Two-Way Communication: Create an open and safe space for your child to express their thoughts and concerns. Listen actively and consider their perspective.
Use Visual Aids: For younger children or those who respond well to visuals, consider using charts or pictures to represent expectations and routines.
Praise and Positive Reinforcement: Acknowledge and praise your child when they meet or exceed expectations. Positive reinforcement encourages them to continue exhibiting desirable behaviors.
Be Patient and Understanding: Children may take time to adapt to new expectations. Be patient and understanding as they learn and make mistakes along the way.
Model the Behavior: Lead by example and demonstrate the behavior you expect from your child. Children often learn by observing their parents and caregivers.
Address Challenges Calmly: When expectations are not met, address the situation calmly and discuss the consequences. Avoid reacting with anger or frustration.
Adapt as Needed: As your child grows and develops, reevaluate and adapt expectations to match their changing capabilities and maturity.
Consistency and Fairness:
Here's why consistency and fairness are important and how they can be implemented.
Importance of Consistency:
Predictability: Consistency provides children with a sense of predictability and stability, which helps reduce anxiety and build trust.
Clear Expectations: When rules are consistently enforced, children understand what is expected of them, leading to better compliance.
Establishing Routines: Consistency in daily routines, such as mealtimes and bedtime, helps children feel secure and well-adjusted.
Reinforces Learning: Repetition is crucial for children to internalize rules and develop self-discipline.
Implementing Consistent Limit-Setting:
Unified Parenting Approach: Both parents should agree on the rules and consequences to ensure consistency in the household.
Regular Communication: Discuss and review the rules with your child, reminding them of the expectations and reasons behind them.
Avoiding Exceptions: While occasional flexibility may be necessary, avoid making exceptions to the rules too often, as it can lead to confusion.
Be a Role Model: Demonstrate consistent behavior yourself, as children often learn by observing their parents.
Importance of Fairness:
Building Trust: Fair treatment fosters trust between parents and children, encouraging open communication.
Promoting Sibling Relationships: Treating siblings fairly helps prevent rivalry and jealousy among children.
Encouraging a Sense of Justice: Fairness instills in children a sense of justice and empathy towards others.
Implementing Fair Limit-Setting:
Tailor Limits to Individual Needs: Consider each child's age, temperament, and developmental stage when setting limits, as what works for one child may not be suitable for another.
Listen to Their Perspective: Encourage your child to express their feelings and concerns about rules, and be willing to consider their input.
Be Objective: Base consequences on the actions rather than the child's personality. Avoid using punishment as a way to express frustration or anger.
Address Sibling Conflicts Fairly: When dealing with conflicts between siblings, take the time to listen to both sides before resolving the issue.
Positive Reinforcement: Praise and reward children when they exhibit positive behavior and follow the rules consistently. Positive reinforcement encourages them to continue making good choices.
Consequences and Discipline:
Here are some key points to consider when implementing consequences and discipline.
Understand the Purpose of Consequences: Consequences are meant to teach, not to punish. They help children understand the impact of their actions and learn to take responsibility for their behavior.
Be Consistent and Logical: Ensure that consequences are consistently applied when a rule is broken. The consequences should also be logically related to the behavior.
Natural Consequences: Natural consequences occur naturally as a result of a child's behavior. For example, if a child refuses to eat dinner, they may feel hungry later.
Logical Consequences: Logical consequences are imposed by parents and are related to the misbehavior. For instance, if a child breaks a toy, they may need to help pay for a replacement.
Avoid Harsh Punishments: Avoid using harsh punishments that may cause fear or harm to the child. Instead, focus on teaching valuable lessons through consequences.
Time-Out: Time-out can be used as a brief break from a situation to help a child calm down and reflect on their behavior. It should be used sparingly and for short durations.
Loss of Privileges: Temporarily removing privileges, such as screen time or outings, can be an effective consequence for certain misbehaviors.
Positive Reinforcement: Praise and reward positive behavior to encourage children to make good choices and reinforce desired actions.
Use Discipline as a Teaching Moment: Approach discipline as a teaching opportunity rather than a way to exert control. Talk to your child about their actions and help them understand the consequences.
Teach Problem-Solving: Encourage children to think about alternative ways to handle challenging situations and help them develop problem-solving skills.
Dealing with Screen Time and Technology:
Here are some strategies for parents to effectively handle screen time and technology usage.
Set Clear Rules and Limits:
Establish clear guidelines for screen time, including the duration and appropriate times for usage.
Define tech-free zones, such as during family meals and before bedtime.
Be a Good Role Model: Demonstrate responsible technology use yourself. Set an example for your child by limiting your own screen time and being present during family activities.
Use Parental Controls: Utilize parental control features on devices to restrict access to inappropriate content and set time limits.
Encourage Balanced Activities: Encourage a balanced lifestyle with a variety of activities, such as outdoor play, reading, sports, and creative hobbies.
Engage in Co-Viewing and Co-Playing: Watch TV shows or play video games with your child to understand the content and discuss it together.
Prioritize Educational Content: Encourage the use of technology for educational purposes, such as interactive learning apps and age-appropriate educational games.
Be Mindful of Content: Monitor the content your child consumes, ensuring it is age-appropriate and aligns with your family values.
Establish a Wind-Down Routine: Create a calming pre-bedtime routine that does not involve screens, as screen time before sleep can interfere with quality rest.
Communicate About Online Safety: Educate your child about online safety, including the importance of not sharing personal information with strangers online.
Encourage Physical Activity: Promote physical activities and sports to counterbalance sedentary screen time.
Limit Multi-Tasking: Discourage multitasking while using screens, as it can hinder focus and attention.
Have Open Discussions: Maintain open communication with your child about technology use, addressing their questions and concerns.
Collaborating with Your Child:
Here's how to effectively collaborate with your child.
Age-Appropriate Involvement: Tailor the level of involvement based on your child's age and developmental stage. Younger children may participate in simpler decisions, while older children can handle more complex choices.
Active Listening: Listen attentively to your child's ideas, opinions, and concerns. Show that their input is valued and respected.
Give Choices: Offer controlled choices whenever possible to give your child a sense of autonomy. For example, let them decide between two acceptable options.
Shared Decision-Making: Involve your child in family decisions, such as planning outings or establishing household routines.
Problem-Solving Together: Encourage your child to come up with solutions to problems they encounter, guiding them through the process without imposing your ideas.
Acknowledge Feelings: Validate your child's emotions and feelings, even if you don't always agree. Let them know it's okay to express themselves.
Foster Independence: Encourage your child to take on age-appropriate responsibilities, allowing them to develop skills and gain confidence.
Support Their Interests: Be supportive of your child's hobbies and interests, providing opportunities for them to explore and develop their passions.
Family Meetings: Conduct regular family meetings to discuss important matters and allow everyone to have a say in family decisions.
Celebrate Achievements: Acknowledge and celebrate your child's achievements, both big and small. Positive reinforcement motivates them to continue participating actively.
FAQs:
Why is setting limits important for children?
Setting limits is essential for children's development as it provides them with a sense of safety, structure, and guidance. Limits teach children responsibility, self-discipline, and respect for boundaries.
How do I know what limits to set for my child's age?
Understanding your child's developmental stage is crucial. Research age-appropriate behaviors and consult parenting resources to determine suitable limits for each stage.
Should I be strict or lenient when setting limits?
Striking a balance is key. Be firm and consistent with essential rules, but also allow flexibility and negotiation in certain situations to promote independence and responsibility.
What if my child constantly challenges the limits I set?
It's common for children to test boundaries. Stay firm, reinforce the importance of the limit, and provide consistent consequences for breaking rules.
How can I effectively communicate limits to my child?
Use clear and positive language when explaining rules. Discuss the reasons behind the limits and encourage open communication to address any questions or concerns.
How can I avoid power struggles with my child over limits?
Focus on building a strong parent-child relationship based on trust and respect. Involve your child in setting some limits and offer choices within established boundaries.
Should I enforce consequences immediately after a rule is broken?
Whenever possible, apply consequences promptly to help your child understand the connection between their behavior and the outcome.
What if my child does not respond well to consequences?
Every child is different. If certain consequences are not effective, consider alternative approaches, such as positive reinforcement, to encourage desired behavior.
Is it okay to negotiate limits with my child?
Yes, negotiating certain limits can be beneficial, especially with older children and teenagers. It helps them understand the rationale behind rules and fosters autonomy.
How do I handle disagreements with my partner about limit-setting?
Communicate openly and respectfully with your partner to find common ground. Discuss your parenting goals and values to reach a consensus on limit-setting.
Is it okay to change limits as my child grows?
Yes, adapting limits to match your child's developmental stage and maturity is essential. Be willing to modify rules as needed to support their growth.
Conclusion:
In conclusion, setting limits for children is a crucial aspect of parenting that fosters their emotional, social, and cognitive development. By establishing clear and age-appropriate boundaries, parents provide their children with a safe and structured environment to thrive. Effective communication of expectations, consistency in enforcing rules, and fair treatment contribute to a positive parent-child relationship and promote responsible behavior. Collaborating with children in decision-making empowers them to take ownership of their actions and builds valuable life skills. While navigating the challenges of screen time and technology, parents must strike a balance between using technology for educational purposes and promoting balanced activities. By adopting a thoughtful and adaptable approach to limit-setting, parents can create a nurturing environment that supports their child's growth, independence, and well-being.