How to Reduce Cortisol: To reduce cortisol levels, practice stress management techniques like meditation and deep breathing. Exercise regularly and get enough sleep. Establish a balanced routine, eat a healthy diet, and limit alcohol and tobacco. Engage in enjoyable activities and seek social support. Practice time management and consider relaxation techniques such as massage or aromatherapy. Consult a healthcare professional for personalized guidance.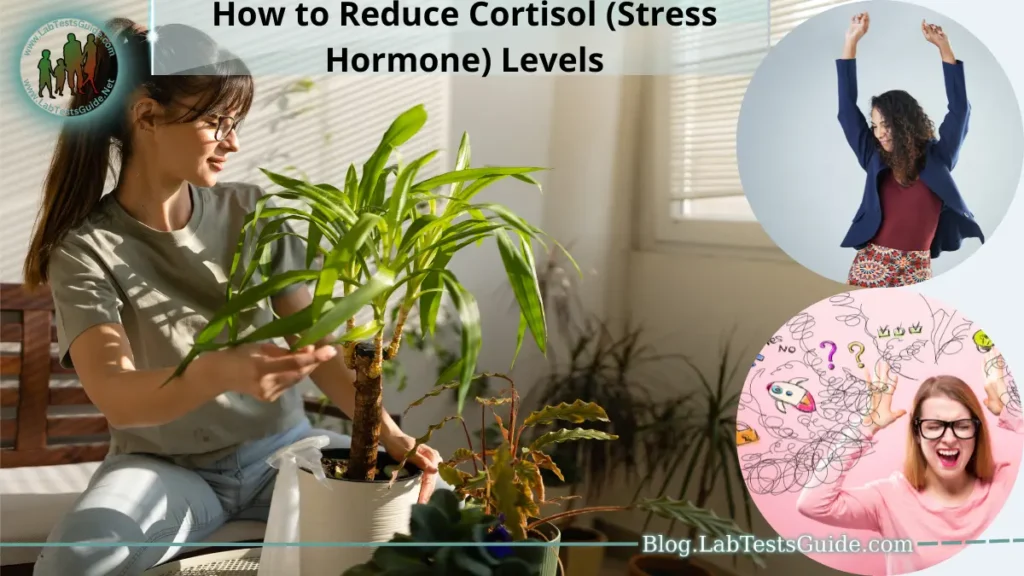 Cortisol plays a crucial role in the body's "fight-or-flight" response, mobilizing energy and resources to deal with stress. In the short term, cortisol can be beneficial by increasing alertness and providing a burst of energy. However, prolonged elevation of cortisol levels can have detrimental effects on physical and mental health.
What is Cortisol (Stress Hormone) ?
Cortisol is a hormone produced by the adrenal glands, which are small glands located on top of each kidney. It belongs to a class of hormones known as glucocorticoids. Cortisol plays a crucial role in the body's response to stress.
What are Lifestyle Changes for Cortisol Reduction:
Reducing cortisol levels involves making positive changes to your lifestyle and daily habits. By implementing the following strategies, you can effectively manage stress and promote cortisol reduction.
Regular Exercise and Physical Activity:
Engage in regular exercise, such as aerobic activities, strength training, or yoga.
Aim for at least 30 minutes of moderate-intensity exercise most days of the week.
Exercise helps release endorphins, which are natural mood boosters and stress reducers.
Healthy Diet and Nutrition:
Consume a balanced diet rich in fruits, vegetables, whole grains, lean proteins, and healthy fats.
Limit the intake of processed foods, sugary snacks, and caffeine.
Avoid excessive alcohol consumption, as it can contribute to stress and disrupt sleep patterns.
Sufficient Sleep and Rest:
Prioritize getting adequate sleep and establish a consistent sleep schedule.
Aim for 7-9 hours of quality sleep per night.
Create a calming bedtime routine to promote relaxation before sleep.
Stress Management Techniques:
Practice stress management techniques, such as deep breathing exercises, meditation, and mindfulness.
Engage in activities that help you relax and unwind, such as listening to music, taking baths, or practicing hobbies.
Consider incorporating stress-reducing techniques like progressive muscle relaxation or guided imagery into your routine.
Social Support and Relationships:
Cultivate and maintain supportive relationships with friends, family, and loved ones.
Seek emotional support from trusted individuals when you're feeling stressed or overwhelmed.
Participate in social activities and engage in positive social interactions.
Time Management and Prioritization:
Learn effective time management skills to reduce stress and prevent feeling overwhelmed.
Prioritize tasks and set realistic goals to avoid unnecessary stress.
Delegate responsibilities when possible and practice saying "no" when necessary to avoid overcommitment.
By implementing these lifestyle changes, you can create a healthier and more balanced environment for your mind and body, leading to reduced cortisol levels and improved stress management. Remember that consistency and patience are key, as it may take time to notice significant improvements.
Understanding the Effects of High Cortisol Levels:
Here are some common effects of elevated cortisol levels.
Impaired Immune Function: Chronic stress and elevated cortisol can suppress the immune system, making you more susceptible to infections, illnesses, and delayed healing.
Weight Gain and Metabolic Changes: High cortisol levels can contribute to weight gain, particularly around the abdomen. Cortisol can increase appetite and lead to cravings for high-calorie and sugary foods. It can also affect metabolism and promote the accumulation of visceral fat.
Sleep Disruptions: Elevated cortisol can interfere with sleep patterns, making it difficult to fall asleep or stay asleep. It can also lead to fragmented sleep, causing fatigue and daytime drowsiness.
Cognitive Impairment: Prolonged exposure to high cortisol levels can affect cognitive function, leading to difficulties with memory, concentration, and decision-making. It may also contribute to brain fog and decreased mental clarity.
Mood Disorders: Cortisol dysregulation is associated with an increased risk of mood disorders such as anxiety and depression. Elevated cortisol levels can disrupt neurotransmitter balance and affect the regulation of mood and emotions.
Cardiovascular Issues: Chronic stress and high cortisol levels can contribute to cardiovascular problems. It can increase blood pressure, promote inflammation, and affect blood lipid levels, increasing the risk of heart disease and stroke.
Digestive Problems: Cortisol can impact digestion and nutrient absorption, leading to gastrointestinal issues such as stomach ulcers, acid reflux, and irritable bowel syndrome (IBS). It can also contribute to appetite changes and affect the gut microbiome.
Reduced Libido and Reproductive Issues: Elevated cortisol can disrupt reproductive hormone balance, leading to decreased libido, menstrual irregularities, and fertility problems.
Bone Loss: Prolonged cortisol elevation can contribute to bone loss and increase the risk of osteoporosis.
Skin and Hair Issues: High cortisol levels can affect the health and appearance of the skin and hair. It may contribute to acne, thinning hair, and slower wound healing.
It's important to note that the effects of cortisol can vary from person to person, and individuals may experience different symptoms or intensities of symptoms. If you suspect high cortisol levels or experience any of these effects, it's advisable to consult with a healthcare professional for proper evaluation and guidance.
Relaxation Techniques and Mind-Body Practices:
Here are some techniques you can try.
Deep Breathing Exercises:
Practice deep breathing exercises, such as diaphragmatic breathing or belly breathing.
Inhale deeply through your nose, allowing your belly to rise, and exhale slowly through your mouth.
Deep breathing triggers the body's relaxation response, reducing stress and calming the mind.
Meditation and Mindfulness:
Set aside dedicated time for meditation or mindfulness practice.
Focus your attention on the present moment, observing your thoughts and sensations without judgment.
This practice can help reduce stress, promote relaxation, and improve overall mental well-being.
Yoga and Tai Chi:
Engage in yoga or tai chi, which combine movement, breath control, and mindfulness.
These practices help relax the body, release tension, and improve flexibility and balance.
Regular practice can promote a sense of calmness and reduce cortisol levels.
Progressive Muscle Relaxation:
Practice progressive muscle relaxation by systematically tensing and releasing different muscle groups.
Start with your toes and progressively work your way up to your head.
This technique helps release physical tension and promotes a deep sense of relaxation.
Guided Imagery and Visualization:
Use guided imagery or visualization techniques to create mental images that evoke relaxation and calmness.
Close your eyes and imagine yourself in a peaceful and serene environment.
Visualize positive outcomes and focus on the sensations and emotions associated with those images.
Incorporating these relaxation techniques into your daily routine can help reduce cortisol levels, alleviate stress, and promote a sense of well-being. Experiment with different practices to find what works best for you, and try to establish a consistent practice for maximum benefit. Remember, regularity and persistence are key to reaping the rewards of these mind-body techniques.
Cognitive and Behavioral Strategies:
Here are some cognitive and behavioral strategies to consider.
Cognitive Restructuring:
Identify and challenge negative or distorted thoughts that contribute to stress.
Replace negative thoughts with more realistic and positive ones.
Practice reframing stressful situations and viewing them from a different perspective.
Stress-Reducing Activities:
Engage in activities that help reduce stress and promote relaxation.
Find hobbies or leisure activities that bring you joy and allow you to unwind.
Examples include reading, listening to music, gardening, painting, or playing a musical instrument.
Time for Hobbies and Interests:
Carve out time in your schedule for activities that you enjoy and find fulfilling.
Pursuing hobbies and interests can provide a sense of pleasure, distraction from stress, and a break from daily routines.
Journaling and Expressive Writing:
Keep a journal to express and process your thoughts, emotions, and experiences.
Write about stressful events, gratitude, or positive experiences to gain perspective and reduce emotional burden.
Regular journaling can promote self-reflection and emotional release.
It's worth noting that cognitive and behavioral strategies may require practice and consistency to be effective. Over time, these techniques can help you develop healthier coping mechanisms, reduce stress, and lower cortisol levels. Consider incorporating them into your daily routine and adjusting them to suit your individual needs and preferences.
Environmental Changes for Cortisol Reduction:
Here are some environmental changes you can consider.
Decluttering and Organizing Spaces:
Declutter and organize your living and working spaces to create a more serene and calming environment.
A clean and organized space can help reduce visual distractions and promote a sense of calm.
Creating a Relaxing Environment:
Design your environment to promote relaxation and tranquility.
Use calming colors, soft lighting, and natural elements like plants or water features.
Create a designated space for relaxation, such as a cozy corner with comfortable seating or a meditation area.
Limiting Media Consumption:
Be mindful of the amount and type of media you consume, particularly news and social media.
Limit exposure to negative or stressful content that can trigger anxiety and heighten cortisol levels.
Set boundaries on screen time and establish media-free periods during your day.
Nature and Green Spaces:
Spend time in nature and green spaces whenever possible.
Take walks in parks, gardens, or natural settings to enjoy the calming and stress-reducing effects of being in nature.
Incorporate indoor plants into your living or workspace to bring a touch of nature indoors.
By making these environmental changes, you can create a more peaceful and supportive environment that promotes relaxation, reduces stress, and helps lower cortisol levels. Remember that everyone's ideal environment may differ, so personalize these changes based on your preferences and needs.
Herbal and Natural Remedies:
Here are some remedies that have been traditionally used for their potential stress-reducing properties.
Adaptogenic Herbs:
Adaptogenic herbs like ashwagandha, rhodiola rosea, and holy basil have been traditionally used to support the body's response to stress.
These herbs may help regulate cortisol levels, enhance resilience, and promote overall well-being.
It's important to note that individual responses to adaptogenic herbs may vary, so consult with a healthcare professional before use.
Ashwagandha:
Ashwagandha is an adaptogenic herb known for its stress-relieving properties.
It may help reduce cortisol levels, alleviate anxiety, and promote a sense of calmness.
Ashwagandha supplements are available in various forms, such as capsules or powders.
Rhodiola Rosea:
Rhodiola rosea is an adaptogenic herb that has been used to combat stress and fatigue.
It may help reduce cortisol levels, improve mood, and increase energy levels.
Rhodiola rosea supplements are available in different forms, including capsules and tinctures.
Holy Basil:
Holy basil, also known as tulsi, is an herb traditionally used in Ayurvedic medicine to promote relaxation and stress relief.
It has adaptogenic properties and may help lower cortisol levels, reduce anxiety, and support overall well-being.
Holy basil can be consumed as a herbal tea or taken in supplement form.
Valerian Root:
Valerian root is a herbal remedy that has been used to promote relaxation and improve sleep quality.
It may help reduce cortisol levels and alleviate symptoms of stress-related sleep disorders.
Valerian root is commonly available as a supplement or in herbal tea form.
It's important to note that while herbal and natural remedies may have potential benefits, their effectiveness and safety can vary depending on individual circumstances. Before incorporating any herbal remedy or supplement into your routine, it's recommended to consult with a healthcare professional to ensure it is suitable for you, considering factors such as existing health conditions, medications, and potential interactions.
How to Incorporate Herbal and Natural Remedies for Cortisol Reduction:
Here are some steps to incorporate these remedies effectively.
Research and Educate Yourself: Learn about different herbal and natural remedies known for their potential cortisol-reducing effects. Understand their benefits, possible side effects, recommended dosages, and any contraindications.
Consult with a Healthcare Professional: Before starting any herbal or natural remedy, consult with a qualified healthcare professional, such as a doctor, naturopath, or herbalist. They can assess your specific health situation, provide personalized advice, and ensure that the remedies are safe and suitable for you.
Determine the Right Remedy: Based on your consultation, identify the herbal or natural remedy that aligns with your needs and preferences. Popular options may include adaptogenic herbs like ashwagandha, rhodiola rosea, holy basil, or other stress-relieving herbs like valerian root.
Quality and Dosage: Ensure that you select high-quality herbal products from reputable sources to ensure purity and potency. Follow the recommended dosage instructions provided on the product label or as advised by your healthcare professional.
Consider Form and Administration: Herbal remedies are available in various forms, such as capsules, powders, tinctures, or herbal teas. Choose the form that is convenient for you and suits your preferences. Follow the recommended method of administration for optimal results.
Maintain Consistency: Consistency is key when incorporating herbal and natural remedies. Follow a regular schedule and dosage to allow the herbs to work effectively over time. Results may not be immediate, so be patient and give the remedies time to take effect.
Monitor and Evaluate: Keep track of your experience with the herbal remedies. Monitor any changes in your stress levels, overall well-being, and potential side effects. Regularly communicate with your healthcare professional to assess progress and make any necessary adjustments.
Holistic Approach: Remember that herbal and natural remedies are just one aspect of managing cortisol levels and stress. Combine their use with other stress-reducing techniques such as lifestyle changes, relaxation practices, and seeking support from professionals or loved ones.
By following these steps and incorporating herbal and natural remedies in a responsible manner, you can potentially benefit from their cortisol-reducing properties. Remember to prioritize your health and safety by seeking professional guidance and monitoring your progress throughout the process.
FAQs:
Are herbal and natural remedies safe for everyone?
While herbal and natural remedies are generally considered safe, they may not be suitable for everyone. It's essential to consult with a healthcare professional before incorporating them into your routine, especially if you have any underlying health conditions, are taking medications, or are pregnant or breastfeeding.
How long does it take for herbal remedies to reduce cortisol levels?
The time it takes for herbal remedies to reduce cortisol levels can vary among individuals. It's important to note that herbal remedies may take time to build up in your system and produce noticeable effects. Consistency is key, and it may take several weeks or even months to experience significant changes.
Can I take multiple herbal remedies together?
It's generally best to consult with a healthcare professional before combining multiple herbal remedies. Some herbs may interact with medications or have additive effects. Your healthcare provider can assess potential interactions and provide guidance on the most appropriate combination of remedies for your specific needs.
Can herbal remedies completely eliminate stress and cortisol?
Herbal remedies can be helpful in reducing cortisol levels and managing stress, but it's important to have realistic expectations. Stress is a complex issue influenced by various factors. Herbal remedies should be viewed as part of a holistic approach that includes lifestyle changes, stress management techniques, and professional support.
Are there any side effects associated with herbal remedies for cortisol reduction?
Herbal remedies can have side effects, although they tend to be milder compared to pharmaceutical medications. Some individuals may experience allergic reactions, digestive issues, or interactions with medications. It's crucial to consult with a healthcare professional, disclose any pre-existing conditions or medications, and closely monitor your response to herbal remedies.
Conclusion:
Reducing cortisol levels and managing stress is crucial for promoting overall well-being. Incorporating herbal and natural remedies, along with lifestyle changes and relaxation techniques, can be valuable in achieving this goal. However, it's important to approach these remedies with caution and seek guidance from a healthcare professional to ensure safety and effectiveness.
By making lifestyle changes such as regular exercise, healthy nutrition, sufficient sleep, and stress management techniques, you can support cortisol reduction. Relaxation techniques like deep breathing, meditation, yoga, and progressive muscle relaxation can also help reduce stress and promote a sense of calmness.
Incorporating environmental changes such as decluttering spaces, creating a relaxing environment, and limiting media consumption can contribute to a stress-reducing atmosphere. Additionally, considering herbal and natural remedies like adaptogenic herbs or specific herbal extracts may provide potential benefits, but professional guidance is recommended.
Remember, stress management is a holistic process that requires a comprehensive approach. It's important to personalize strategies, monitor progress, and seek professional help when needed. By implementing these techniques and maintaining a healthy lifestyle, you can work towards reducing cortisol levels, managing stress effectively, and improving your overall well-being.