Migraines are severe headaches that can cause intense pain, throbbing, and a range of other symptoms. They can significantly disrupt daily life and negatively impact a person's overall well-being. While there are various pharmaceutical treatments available for migraines, many people prefer to explore natural remedies as an alternative or complementary approach.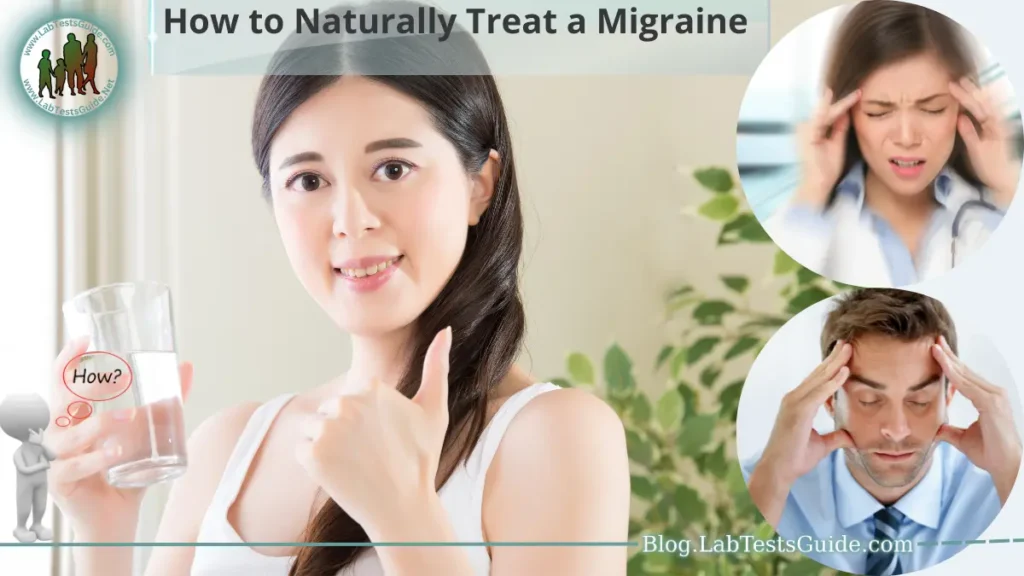 This guide aims to provide you with a comprehensive overview of how to naturally treat migraines. It will cover lifestyle changes that can help prevent migraines, as well as various natural remedies and alternative therapies that may provide relief. Additionally, you will learn how to maintain a migraine diary to track triggers and identify effective treatments. However, it is important to note that these natural treatments may not work for everyone, and consulting with a healthcare professional is always advisable, especially if you have frequent or severe migraines.
Understanding Migraines:
What is a Migraine?
A migraine is a type of headache characterized by recurrent, moderate to severe pain that is often accompanied by other symptoms. These symptoms can include sensitivity to light and sound, nausea, vomiting, and visual disturbances such as auras (flashing lights or zigzag lines). Migraines typically affect one side of the head, although they can also occur on both sides. They can last anywhere from a few hours to several days and can significantly interfere with daily activities.
Causes of Migraines:
The exact cause of migraines is not fully understood, but they are believed to involve a combination of genetic, environmental, and neurological factors. Some common triggers for migraines include.
Hormonal changes: Fluctuations in estrogen levels, particularly in women, can trigger migraines. This is why many women experience migraines around the time of their menstrual cycle or during pregnancy.
Environmental factors: Certain environmental stimuli can trigger migraines, such as bright lights, loud noises, strong smells, and changes in weather or barometric pressure.
Emotional and physical factors: Stress, anxiety, tension, and physical exertion can all contribute to the onset of migraines.
Dietary factors: Certain foods and beverages, such as aged cheese, chocolate, caffeine, alcohol, and artificial sweeteners, have been associated with triggering migraines in some individuals.
Sleep patterns: Both lack of sleep and excessive sleep can trigger migraines.
Medications: Some medications, including certain types of birth control pills and vasodilators, have been linked to migraines.
It's important to note that triggers can vary greatly from person to person, and identifying individual triggers is an essential step in managing migraines effectively.
Lifestyle Changes for Migraine Prevention:
Establishing a Regular Sleep Schedule: Maintaining a consistent sleep routine can help prevent migraines. Aim for a regular sleep schedule, going to bed and waking up at the same time each day, even on weekends. Create a sleep-friendly environment by ensuring your bedroom is dark, quiet, and comfortable.
Managing Stress Levels: Stress is a common trigger for migraines, so it's important to find effective stress management techniques. Engage in activities that help you relax and unwind, such as practicing mindfulness, deep breathing exercises, yoga, meditation, or engaging in hobbies you enjoy. Regular exercise can also help reduce stress levels.
Avoiding Trigger Foods and Beverages: Identify any specific foods or beverages that trigger your migraines and avoid or limit their consumption. Common trigger foods include processed meats, aged cheeses, chocolate, caffeine, alcohol, and artificial sweeteners. Keeping a food diary can help you track and identify potential triggers.
Maintaining a Healthy Diet: Adopting a healthy diet can contribute to overall well-being and potentially reduce the frequency and severity of migraines. Focus on consuming whole foods, including plenty of fruits, vegetables, whole grains, lean proteins, and healthy fats. Stay hydrated by drinking an adequate amount of water throughout the day.
Regular Exercise and Physical Activity: Engaging in regular exercise has been shown to reduce the frequency and intensity of migraines. Aim for at least 30 minutes of moderate-intensity aerobic exercise, such as brisk walking, cycling, or swimming, on most days of the week. However, it's important to listen to your body and avoid intense physical exertion during a migraine episode.
Practicing Relaxation Techniques: Incorporate relaxation techniques into your daily routine to help prevent migraines. These can include progressive muscle relaxation, guided imagery, biofeedback, or relaxation apps. Find what works best for you and make it a regular practice.
By making these lifestyle changes, you can create a healthier and more balanced environment for your body, potentially reducing the frequency and intensity of migraines. However, it's important to remember that lifestyle changes may take time to show significant effects, and it's advisable to continue consulting with a healthcare professional for personalized guidance and support.
Natural Remedies for Migraine Relief:
Applying Cold or Warm Compresses: Placing a cold or warm compress on your head or neck can provide relief during a migraine. Experiment with both options to see which temperature works best for you. Apply the compress to the affected area for 15-20 minutes at a time.
Practicing Relaxation and Deep Breathing Exercises: Engaging in relaxation techniques and deep breathing exercises can help relax the body and alleviate migraine symptoms. Find a quiet and comfortable space, close your eyes, and focus on your breath. Inhale deeply through your nose, hold for a few seconds, and exhale slowly through your mouth.
Trying Acupressure or Massage Therapy:Acupressure and massage therapy may help relieve migraine pain. Apply gentle pressure to specific points on your body, such as the space between your thumb and index finger or the base of your skull. Alternatively, schedule a session with a licensed massage therapist who specializes in migraine relief.
Using Essential Oils:Certain essential oils, such as lavender and peppermint, have been reported to help alleviate migraine symptoms. Apply a few drops of diluted essential oil to your temples, forehead, or neck, and gently massage the area. Alternatively, use a diffuser to spread the aroma throughout the room.
Trying Herbal Supplements: Some herbal supplements, such as butterbur and feverfew, have shown promise in reducing the frequency and severity of migraines. However, it's important to consult with a healthcare professional before starting any new supplements to ensure they are safe for you and won't interact with any medications you may be taking.
Applying Peppermint or Lavender Oil: Peppermint and lavender oils can provide a cooling and soothing sensation that may help relieve migraine pain. Mix a few drops of either oil with a carrier oil, such as coconut or almond oil, and apply it to your temples, forehead, or the back of your neck.
Consuming Ginger or Feverfew:Ginger has anti-inflammatory properties and may help reduce migraine symptoms. You can consume ginger in various forms, such as ginger tea, ginger capsules, or adding fresh ginger to your meals. Feverfew is an herb that has been traditionally used for migraines. It's available in capsule form, and some studies suggest it may help prevent migraines.
Remember, natural remedies may vary in effectiveness from person to person, and it's important to monitor your individual response. If your migraines are severe or frequent, it's always advisable to consult with a healthcare professional for proper diagnosis and guidance on the best treatment options for you.
Alternative Therapies for Migraine Relief:
Acupuncture: Acupuncture is an ancient Chinese practice that involves inserting thin needles into specific points on the body. It is believed to stimulate energy flow and promote healing. Some studies have shown that acupuncture can be effective in reducing the frequency and intensity of migraines. If you're considering acupuncture, seek out a licensed and experienced practitioner.
Biofeedback: Biofeedback is a technique that helps individuals gain control over their bodily functions by providing real-time feedback about physiological responses. It can be used to monitor and manage stress, muscle tension, and other factors that may contribute to migraines. Biofeedback training typically involves using sensors to monitor heart rate, muscle tension, and skin temperature, with the goal of learning to control these responses through relaxation techniques.
Chiropractic Care: Chiropractic care focuses on aligning the spine and improving overall nervous system function. Some individuals find relief from migraines through chiropractic adjustments, which aim to alleviate tension and restore proper spinal alignment. It's important to seek treatment from a qualified and licensed chiropractor.
Yoga and Meditation: Yoga and meditation practices can help reduce stress and promote relaxation, potentially providing relief from migraines. Certain yoga poses, such as forward bends and gentle twists, may help relieve tension and improve blood flow. Meditation can be practiced in conjunction with yoga or on its own, focusing on deep relaxation and calming the mind.
Cognitive Behavioral Therapy (CBT): Cognitive Behavioral Therapy is a form of therapy that focuses on identifying and changing negative thought patterns and behaviors. It can be helpful for individuals with migraines by addressing stress, anxiety, and other emotional factors that may contribute to migraines. CBT techniques can include relaxation exercises, stress management strategies, and cognitive restructuring.
Alternative therapies can be used alongside conventional treatments and lifestyle changes to provide additional support for migraine management. However, it's important to consult with a healthcare professional before starting any new therapy to ensure it is safe and appropriate for your specific condition. They can help guide you in choosing the most suitable options and develop a comprehensive treatment plan.
Maintaining a Migraine Diary:
Tracking Triggers and Patterns: Keeping a migraine diary can be a valuable tool in identifying triggers and patterns associated with your migraines. Each time you experience a migraine, record the following information in your diary:
Date and time: Note the date and time when the migraine started and ended.
Symptoms: Record the specific symptoms you experience during each migraine episode, such as the intensity of the pain, any visual disturbances, nausea, or sensitivity to light and sound.
Possible triggers: Take note of any potential triggers that preceded the migraine, such as specific foods or beverages, environmental factors, stressors, hormonal changes, or changes in sleep patterns.
Medications and treatments: Record the medications or natural remedies you used to alleviate the migraine and their effectiveness. This will help you identify which treatments work best for you.
Duration and severity: Rate the duration and severity of the migraine on a scale from 1 to 10, with 1 being mild and 10 being severe. This will help you track the overall impact of your migraines over time.
Other factors: Consider including any other relevant information, such as your emotional state, weather conditions, or activities you were engaged in before the migraine started.
Identifying Effective Treatments: By maintaining a migraine diary, you can identify patterns and triggers that contribute to your migraines. Over time, you may notice certain triggers consistently leading to migraines or specific treatments providing relief. This information can help you make informed decisions about lifestyle changes, natural remedies, or alternative therapies that are most effective for you.
Additionally, sharing your migraine diary with your healthcare professional can provide them with valuable insights into your condition, enabling them to tailor a treatment plan that best suits your needs. They can help you identify patterns, recommend appropriate interventions, and adjust your treatment approach accordingly.
Remember to be consistent and diligent in maintaining your migraine diary. It can take time to identify patterns, but with patience and regular tracking, you can gain valuable insights into your migraines and make more informed choices in managing and preventing them.
When to Seek Medical Attention:
Warning Signs for Medical Attention: While many migraines can be managed with lifestyle changes, natural remedies, and alternative therapies, there are certain situations when it's important to seek immediate medical attention. Pay close attention to the following warning signs:
Sudden and severe headache: If you experience a sudden and extremely severe headache, unlike any migraine you've had before, it could be a sign of a more serious underlying condition. Seek medical attention promptly.
Changes in migraine patterns: If your migraine patterns change significantly, such as a sudden increase in frequency, severity, or duration, it's important to consult with a healthcare professional. They can help determine if there are underlying causes or if adjustments to your treatment plan are necessary.
Neurological symptoms: If you experience new or unusual neurological symptoms during a migraine, such as difficulty speaking, weakness or numbness on one side of your body, vision loss, or confusion, it could be a sign of a more serious condition. Seek immediate medical attention.
Migraines that interfere with daily life: If your migraines significantly impact your daily life, despite trying various management techniques, it's advisable to consult with a healthcare professional. They can provide further guidance and explore additional treatment options.
Consulting a Healthcare Professional: It's important to establish a relationship with a healthcare professional who specializes in headaches or neurology. They can provide an accurate diagnosis, develop an appropriate treatment plan, and monitor your progress over time. Seek medical attention if:
You're experiencing migraines for the first time or if your symptoms change.
Your migraines are becoming more frequent, severe, or prolonged.
Your migraines are not responding to self-care measures or over-the-counter medications.
You require medication for relief, but the migraines persist or worsen.
A healthcare professional can help determine the best course of action, whether it's adjusting your current treatment plan, exploring new medications, or conducting further investigations to rule out other underlying conditions.
Remember, while natural and alternative remedies can be beneficial, it's essential to involve a healthcare professional in your migraine management to ensure an accurate diagnosis and appropriate medical care.
Conclusion:
Migraines can be debilitating and have a significant impact on daily life. While there are pharmaceutical treatments available, many individuals seek natural and alternative approaches for managing and preventing migraines. By understanding the underlying causes of migraines and making lifestyle changes, such as maintaining a regular sleep schedule, managing stress levels, avoiding trigger foods, and engaging in regular exercise, you can potentially reduce the frequency and severity of migraines.
In addition to lifestyle changes, there are various natural remedies and alternative therapies that may provide relief. These include applying cold or warm compresses, practicing relaxation and deep breathing exercises, trying acupressure or massage therapy, using essential oils, and considering herbal supplements. Alternative therapies, such as acupuncture, biofeedback, chiropractic care, yoga, and cognitive behavioral therapy, can also be beneficial in managing migraines.
To better understand your migraines and identify triggers and patterns, maintaining a migraine diary is crucial. Tracking your symptoms, possible triggers, treatments used, and the effectiveness of those treatments can help you make informed decisions about managing your migraines and provide valuable information to your healthcare professional.
However, it's important to remember that everyone's experience with migraines is unique, and what works for one person may not work for another. It's advisable to consult with a healthcare professional who specializes in migraines to develop a personalized treatment plan that addresses your specific needs.
Lastly, if you experience warning signs such as sudden and severe headaches, changes in migraine patterns, neurological symptoms, or migraines that significantly interfere with daily life, seek immediate medical attention.
By combining natural treatments, alternative therapies, lifestyle changes, and medical guidance, you can take an active role in managing your migraines and improving your quality of life.