Quitting smoking is one of the most challenging but rewarding journeys a person can embark on. Smoking is not only detrimental to our health but also impacts those around us through secondhand smoke. Breaking free from nicotine addiction requires commitment, determination, and a well-prepared plan.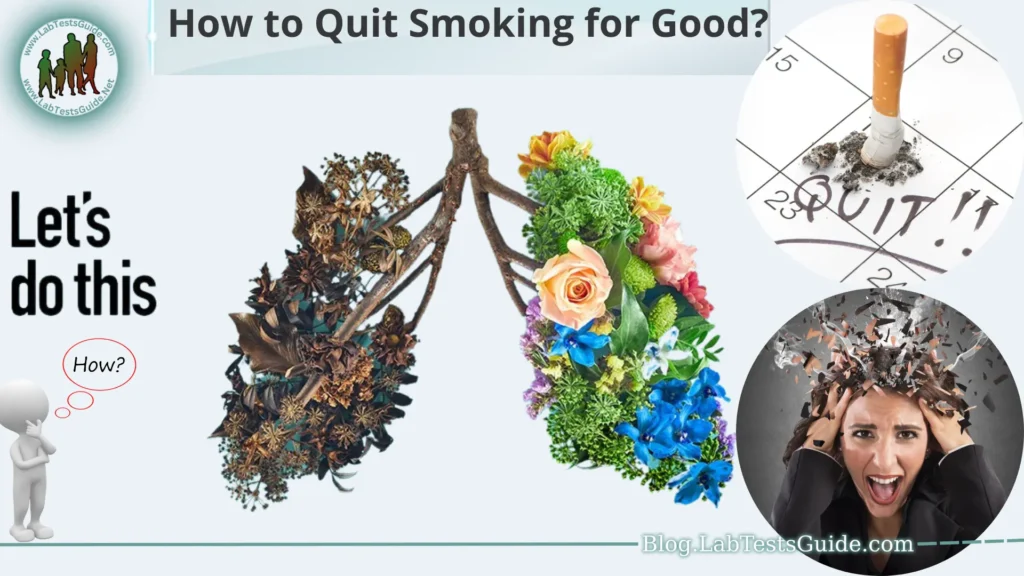 Discover effective strategies to quit smoking for good. Get expert tips, support, and motivation to kick the habit and embrace a healthier lifestyle. Start your smoke-free journey today!
What Is Nicotine Addiction?
Definition: Nicotine addiction refers to the physical and psychological dependence on nicotine, a highly addictive chemical found in tobacco products like cigarettes, cigars, and chewing tobacco.
Mechanism: When nicotine is inhaled or consumed, it rapidly reaches the brain, where it stimulates the release of neurotransmitters like dopamine, creating feelings of pleasure and relaxation.
Brain Reward System: The brain's reward system reinforces the desire to repeat the pleasurable experience, leading to a cycle of cravings and reinforcement that strengthens the addiction.
Rapid Onset of Addiction: Nicotine addiction can develop quickly, often after just a few uses, as the brain becomes accustomed to the presence of nicotine and demands more to maintain the pleasurable sensations.
Tolerance and Dependence: With continued use, the body develops tolerance, requiring higher nicotine doses to achieve the same effects. As dependence grows, individuals find it challenging to quit without experiencing withdrawal symptoms.
Physical and Psychological Aspects: Nicotine addiction involves both physical and psychological components. Physical withdrawal symptoms, such as irritability, headaches, and increased appetite, accompany psychological cravings.
Triggers and Associations: Over time, smokers develop associations with certain activities or situations, making them more susceptible to cravings and increasing the difficulty of quitting.
Health Consequences: Nicotine addiction is associated with a range of severe health problems, including respiratory issues, heart disease, stroke, and various cancers.
Impact on Mental Health: Nicotine addiction can exacerbate mental health conditions such as anxiety and depression, creating a cycle of dependence as individuals may use smoking as a coping mechanism.
Overcoming Addiction: Quitting smoking is challenging but essential for improving overall health. Various strategies, including counseling, support groups, and nicotine replacement therapy, can help individuals successfully overcome nicotine addiction.
How to Build Healthy Eating Habits:
Here are essential steps to help you develop and maintain healthy eating habits.
Set Clear Goals: Define your specific health and nutrition goals. Whether it's to lose weight, improve energy levels, or support overall well-being, having clear objectives will keep you motivated and focused.
Eat a Balanced Diet: Aim for a balanced diet that includes a variety of nutrient-dense foods. Incorporate fruits, vegetables, whole grains, lean proteins, and healthy fats into your meals to ensure you get a wide range of essential nutrients.
Practice Portion Control: Be mindful of portion sizes to avoid overeating. Use smaller plates and listen to your body's hunger and fullness cues to prevent unnecessary calorie consumption.
Hydrate Well: Drink plenty of water throughout the day. Staying hydrated supports digestion, helps control appetite, and maintains overall bodily functions.
Plan Your Meals: Plan your meals and snacks in advance to avoid impulsive, unhealthy choices. Meal planning also helps you maintain a balanced diet and prevents last-minute temptations.
Avoid Processed Foods: Minimize your intake of processed and sugary foods, as they often lack essential nutrients and may contribute to health issues in the long term.
Read Food Labels: Learn to read food labels to understand the ingredients and nutritional content of the products you consume. Aim for foods with lower levels of added sugars, sodium, and unhealthy fats.
Eat Mindfully: Practice mindful eating by savoring each bite, eating slowly, and paying attention to the taste and texture of your food. This helps you recognize when you're full and promotes better digestion.
Include Healthy Snacks: Keep nutritious snacks on hand, such as fruits, nuts, yogurt, or whole-grain crackers. These healthy alternatives will help you resist the temptation of less nutritious options.
Cook at Home: Cooking at home gives you greater control over the ingredients and preparation methods, allowing you to make healthier choices and avoid hidden unhealthy additives.
Limit Sugary Beverages: Reduce or eliminate sugary drinks like soda and juice from your diet. Opt for water, herbal tea, or infused water for a healthier alternative.
Practice Moderation: Allow yourself occasional treats or indulgences, but in moderation. Avoid labeling certain foods as "forbidden," as this can lead to feelings of deprivation and potential binge eating.
Seek Support: Share your healthy eating goals with friends, family, or join a community or support group to stay motivated and accountable.
Celebrate Progress: Celebrate your successes, no matter how small. Recognizing your achievements will keep you encouraged to continue your journey towards healthier eating habits.
Understanding Nicotine Addiction:
Nicotine addiction is a complex and powerful condition that affects millions of people worldwide. To gain a deeper insight into this addictive process, consider the following key points.
Definition: Nicotine addiction refers to the compulsive need for nicotine, a highly addictive chemical found in tobacco products. This addiction drives individuals to continue smoking or using tobacco despite adverse health consequences.
Brain Chemistry: When nicotine is inhaled or consumed, it quickly enters the bloodstream and reaches the brain. Once there, it interacts with various neurotransmitters, particularly dopamine, which creates feelings of pleasure and relaxation.
Rapid Addiction Development: The brain's reward system quickly associates the pleasurable effects of nicotine with positive reinforcement, leading to the rapid development of addiction. In many cases, addiction can develop after just a few instances of tobacco use.
Physical Dependence: With continued nicotine consumption, the body develops physical dependence, leading to withdrawal symptoms when nicotine levels decrease. These symptoms can include irritability, anxiety, difficulty concentrating, and increased appetite.
Psychological Dependence: Apart from physical dependence, nicotine addiction involves psychological aspects. Smoking can become associated with certain activities, environments, or emotional states, making it challenging to quit due to these triggers.
Tolerance and Escalation: Over time, individuals may build a tolerance to nicotine, requiring larger amounts to achieve the same effects. This escalation can lead to increased tobacco use and more severe health consequences.
Health Implications: Nicotine addiction is associated with a myriad of health issues, including respiratory problems, heart disease, stroke, and various types of cancer. Additionally, secondhand smoke poses risks to non-smokers' health.
Difficulty Quitting: Due to the powerful addictive nature of nicotine, quitting can be immensely challenging. Many individuals make multiple quit attempts before achieving long-term success.
Withdrawal Symptoms: When attempting to quit, individuals may experience a range of withdrawal symptoms, which can include intense cravings, mood swings, insomnia, and increased irritability.
Quitting Support: Seeking professional help, counseling, or participating in support groups can significantly increase the chances of successfully quitting smoking and overcoming nicotine addiction.
Importance of Willpower and Determination: Overcoming nicotine addiction requires strong willpower, determination, and a commitment to positive lifestyle changes.
Long-term Benefits: Quitting smoking and breaking free from nicotine addiction leads to numerous health benefits, such as improved lung function, reduced risk of heart disease, and a decreased likelihood of developing certain cancers.
Preparing for Your Quit Journey:
Here are essential steps to help you get ready for this life-changing endeavor.
Commit to Quitting: Make a firm decision to quit smoking and embrace the benefits of a smoke-free life. Understanding the importance of quitting will motivate you during challenging times.
Set a Quit Date: Choose a specific date to quit smoking. Mark it on your calendar and use the time leading up to it to mentally prepare for the change.
Inform Friends and Family: Let your close friends and family know about your decision to quit smoking. Their support and encouragement can make a significant difference in your quit journey.
Build a Support System: Surround yourself with supportive people who understand your goal to quit smoking. Joining a support group or seeking help from a quitline can provide valuable guidance and encouragement.
Remove Triggers: Identify triggers that prompt you to smoke and take steps to avoid or manage them. Common triggers may include stress, certain social situations, or specific locations.
Prepare Coping Strategies: Develop healthy coping mechanisms to deal with stress and difficult emotions without turning to cigarettes. Consider activities like exercise, deep breathing, or hobbies to distract yourself from cravings.
Seek Professional Help: Consult with a healthcare provider or counselor to discuss your quit plan. They can offer personalized advice, recommend medications or therapies, and monitor your progress.
Identify Nicotine Replacement Options: Consider nicotine replacement therapy (NRT) products like patches, gums, lozenges, or inhalers to help manage withdrawal symptoms and cravings.
Clear Smoking Paraphernalia: Get rid of all smoking-related items, including cigarettes, lighters, and ashtrays, from your home, car, and workplace. This can reduce the temptation to smoke.
Create a Quit Kit: Assemble a quit kit with items that can help you through tough moments, such as stress-relief toys, sugar-free gum, healthy snacks, or a list of reasons why you want to quit.
Educate Yourself: Learn about the benefits of quitting smoking and the potential health improvements you can experience. Understanding the positive impact on your body can reinforce your commitment.
Practice Positive Affirmations: Adopt a positive mindset and remind yourself regularly that you are capable of quitting smoking successfully. Positive affirmations can strengthen your resolve.
Creating a Quit Plan:
Here's a step-by-step guide to help you create a comprehensive quit plan.
Set a Specific Quit Date: Choose a definite date to quit smoking. This will serve as your target to work towards and will give you a clear starting point for your quit journey.
Identify Your Triggers: Recognize the situations, emotions, or activities that typically trigger your urge to smoke. Understanding your triggers will help you prepare coping strategies for dealing with them.
Establish Your Reasons to Quit: List all the reasons why you want to quit smoking. These may include improving your health, saving money, setting a positive example for loved ones, and enhancing your quality of life.
Seek Support: Inform your friends, family, and co-workers about your decision to quit. Their support, encouragement, and understanding will be invaluable during challenging moments.
Consider Nicotine Replacement Therapy (NRT): Discuss with your healthcare provider the option of using NRT products such as patches, gums, lozenges, or inhalers. NRT can help reduce withdrawal symptoms and cravings.
Develop Coping Strategies: Prepare alternative coping mechanisms to handle stress, anxiety, or triggers without resorting to smoking. Techniques like deep breathing, meditation, or physical activity can be helpful.
Remove Smoking Paraphernalia: Clear your living space of all cigarettes, lighters, ashtrays, and any reminders of smoking. This step will create a smoke-free environment, reducing the temptation to smoke.
Inform Your Social Circle: Let your friends and acquaintances know about your quit plan. Informing them will help prevent situations where you might be offered a cigarette.
Practice Mindful Awareness: Be mindful of your smoking patterns and any instances when you smoke without thinking. This awareness will help you break unconscious habits associated with smoking.
Create a Reward System: Establish a reward system for yourself. Set up small, achievable milestones and reward yourself with non-smoking-related treats when you reach them.
Plan for Withdrawal Symptoms: Anticipate and prepare for withdrawal symptoms, such as irritability or cravings. Knowing what to expect will make it easier to cope with these temporary challenges.
Consider Professional Help: If you find it challenging to quit on your own, consider seeking professional help, such as counseling or support groups. These resources can provide additional guidance and encouragement.
Visualize Success: Imagine yourself as a non-smoker, enjoying improved health and well-being. Visualization can strengthen your determination and increase your belief in your ability to quit successfully.
Make Your Quit Plan Visible: Write down your quit plan and place it in a prominent location, such as on your fridge or bathroom mirror. Having a visible reminder will reinforce your commitment.
Stay Positive and Persistent: Quitting smoking is a journey with its ups and downs. Stay positive, be patient with yourself, and remain persistent even if you experience setbacks.
Managing Cravings and Triggers:
Here are effective strategies to help you overcome cravings and handle triggers.
Recognize Triggers: Identify the specific situations, emotions, or activities that trigger your cravings for cigarettes. Common triggers include stress, socializing with smokers, drinking alcohol, or certain places you associate with smoking.
Develop Alternative Habits: Replace smoking with healthier habits to cope with triggers. For example, if you used to smoke when feeling stressed, try deep breathing exercises, yoga, or taking a walk to manage stress.
Delay the Urge: When a craving hits, tell yourself to wait for at least 10 minutes before giving in. During this time, distract yourself with an activity or engage in deep breathing to let the craving pass.
Stay Busy: Keep yourself occupied with activities that require both hands and mind. This can be anything from gardening to playing a musical instrument or doing puzzles.
Avoid Smoking Triggers: If possible, avoid situations or places that trigger your cravings, especially during the early stages of quitting when your willpower is still building.
Stay Hydrated: Drinking water can help reduce cravings and keep you hydrated. Carry a water bottle with you and sip on it throughout the day.
Chew on Gum or Snack on Healthy Foods: Satisfy the oral fixation associated with smoking by chewing on sugarless gum, eating carrot sticks, or having healthy snacks like nuts or fruits.
Practice Mindfulness: Be mindful of your cravings without giving in to them. Observe the thoughts and sensations that arise without judgment, and let them pass naturally.
Engage in Physical Activity: Exercise can help reduce cravings and improve your mood. Incorporate regular physical activity into your routine, such as walking, jogging, or yoga.
Reach Out for Support: Talk to your support system when you're experiencing strong cravings. Share your feelings, and they can provide encouragement and help you stay focused on your quit goals.
Use Nicotine Replacement Therapy (NRT): Consider using NRT products, like patches or gums, to manage cravings and withdrawal symptoms during the initial phase of quitting.
Practice Relaxation Techniques: Learn relaxation techniques such as meditation, progressive muscle relaxation, or guided imagery to reduce stress and curb cravings.
Keep a Quit Journal: Write down your thoughts and feelings during challenging moments. This self-reflection can help you understand your triggers better and develop effective coping strategies.
Celebrate Small Victories: Acknowledge and reward yourself for each successful day without smoking. Celebrating progress will reinforce positive behavior and motivate you to continue.
Be Kind to Yourself: Be patient and compassionate with yourself during the quit journey. Quitting smoking is challenging, and it's okay to have occasional slip-ups. Focus on the progress you've made and keep moving forward.
Engaging in Physical Activity:
Here's how incorporating physical activity into your life can support your efforts to quit smoking.
Distraction from Cravings: When a craving strikes, going for a walk, doing yoga, or participating in any form of exercise can redirect your focus away from smoking, making it easier to resist the urge to smoke.
Stress Reduction: Exercise is an excellent stress-reliever, and quitting smoking can be a stressful process. Physical activity triggers the release of endorphins, which are natural mood-lifters that can help alleviate stress and improve your overall well-being.
Mood Enhancement: Regular exercise can enhance your mood and reduce feelings of anxiety or depression, which are common withdrawal symptoms during the quitting process.
Improved Lung Function: As you quit smoking, your lung function will begin to improve. Engaging in cardiovascular activities like running, cycling, or swimming can further strengthen your lungs and enhance your overall respiratory health.
Weight Management: Some individuals may experience weight gain after quitting smoking due to changes in metabolism and eating habits. Physical activity helps maintain a healthy weight by burning calories and building lean muscle.
Better Sleep: Quitting smoking can initially disrupt your sleep patterns. However, regular exercise can promote better sleep quality, helping you feel more rested and energized during the day.
Increased Energy: As your body adjusts to life without nicotine, exercise can boost your energy levels and combat feelings of fatigue or lethargy.
Social Support: Joining group fitness classes or sports activities can provide social support, allowing you to connect with others who share your interest in leading a healthy lifestyle.
Sense of Achievement: Setting exercise goals and achieving them can give you a sense of accomplishment, similar to successfully quitting smoking. Celebrate your fitness milestones and use them as a reminder of your progress.
Enhanced Willpower: Regular exercise requires discipline and determination, which can positively influence your ability to stay committed to your quit goals.
Long-term Health Benefits: Engaging in physical activity contributes to your overall health and reduces the risk of various chronic conditions, including heart disease, diabetes, and certain cancers.
Reduced Craving Intensity: Studies suggest that exercise can help decrease the intensity of smoking cravings, making it easier to resist the urge to smoke.
Cognitive Benefits: Exercise has been shown to improve cognitive function and memory, which can be especially beneficial during the quitting process when some individuals experience cognitive challenges.
Adopting a Healthier Lifestyle:
Here are key components of adopting a healthier lifestyle.
Nutrition: Focus on a balanced and nutritious diet that includes a variety of fruits, vegetables, whole grains, lean proteins, and healthy fats. Proper nutrition provides the essential nutrients your body needs to function optimally.
Hydration: Stay adequately hydrated by drinking plenty of water throughout the day. Hydration supports bodily functions, helps flush out toxins, and can aid in managing cravings.
Regular Exercise: Incorporate regular physical activity into your routine. Engage in activities you enjoy, such as walking, jogging, swimming, or dancing, to promote overall health and well-being.
Adequate Sleep: Prioritize getting enough restorative sleep each night. Quality sleep is crucial for physical and mental health and can support your efforts to quit smoking.
Stress Management: Implement stress-reduction techniques like meditation, yoga, or deep breathing exercises. Managing stress effectively can help prevent relapses and improve your overall outlook.
Avoid Alcohol and Substances: Limit or avoid alcohol and other substances that may lower your inhibitions and increase the risk of relapsing into smoking.
Seek Emotional Support: Surround yourself with a supportive network of friends and family. Having emotional support during your quit journey can make a significant difference.
Avoid Secondhand Smoke: Steer clear of secondhand smoke to protect your health and reduce the risk of triggering cravings.
Regular Health Check-ups: Schedule regular health check-ups with your healthcare provider to monitor your progress and address any health concerns.
Manage Weight Gain: Be mindful of your diet and physical activity to manage potential weight gain after quitting smoking. Make healthy food choices and stay active to maintain a healthy weight.
Limit Caffeine Intake: Reduce your caffeine consumption, as excessive caffeine may trigger cravings and contribute to feelings of restlessness or anxiety.
Practice Mindfulness: Incorporate mindfulness practices into your daily life. Being present and aware of your thoughts, feelings, and actions can help you stay focused on your quit goals.
Develop Healthy Habits: Replace smoking with healthier habits and activities. Whether it's reading, spending time in nature, or pursuing hobbies, finding enjoyable alternatives can support your quit journey.
Positive Reinforcement: Celebrate your successes, no matter how small. Recognizing your achievements will boost your motivation and reinforce positive behavior.
Stay Persistent: Adopting a healthier lifestyle is a gradual process. Be patient with yourself and stay persistent, even if you face challenges along the way.
Seeking Professional Help:
Here's how to seek professional help during your quit journey.
Consult with a Healthcare Provider: Schedule an appointment with your healthcare provider, such as a doctor or nurse. They can assess your overall health, discuss your smoking history, and provide personalized advice and support.
Discuss Quitting Options: Your healthcare provider can inform you about various quitting methods, including nicotine replacement therapy (NRT), prescription medications, and behavioral therapies. They can help you choose the most suitable approach for your individual needs.
Prescription Medications: If appropriate, your healthcare provider may prescribe medications that can aid in reducing withdrawal symptoms and cravings, making quitting more manageable.
Nicotine Replacement Therapy (NRT): Your healthcare provider can recommend and provide NRT products, such as nicotine patches, gums, lozenges, or inhalers. NRT can help you gradually reduce nicotine dependence and manage withdrawal symptoms.
Behavioral Counseling: Consider seeking counseling from a qualified professional, such as a counselor or therapist, specializing in smoking cessation. Behavioral counseling can provide strategies for coping with triggers and developing healthier habits.
Support Groups: Joining a support group, either in-person or online, can connect you with others on a quit journey. These groups offer encouragement, understanding, and shared experiences to help you stay motivated.
Access Quitlines: Many countries offer quitlines, toll-free telephone support services that provide guidance and encouragement. Trained counselors can answer your questions and offer quit tips to support your journey.
Telehealth Services: Take advantage of telehealth services if in-person visits are challenging. Many healthcare providers offer virtual appointments, allowing you to receive support from the comfort of your home.
Develop a Quit Plan Together: Work with your healthcare provider to create a personalized quit plan that includes strategies for managing cravings, coping with triggers, and tracking your progress.
Regular Follow-Ups: Keep in touch with your healthcare provider and attend scheduled follow-up appointments. Regular check-ins can help monitor your progress, adjust your quit plan if needed, and provide ongoing support.
Recognize Barriers: If you face obstacles or relapses during your quit journey, be open and honest with your healthcare provider. They can help you identify potential barriers and provide guidance to overcome them.
Address Dual Diagnosis: If you have mental health conditions like anxiety or depression, inform your healthcare provider, as quitting smoking may impact these conditions. Addressing dual diagnosis can improve your overall chances of quitting successfully.
Coping with Relapses:
Here are valuable strategies to cope with relapses and get back on track.
Acknowledge and Accept: Recognize that relapses happen to many people attempting to quit smoking. Accept that it's a normal part of the quitting process and avoid self-blame or feelings of failure.
Reflect on Triggers: Take time to identify the triggers or situations that led to the relapse. Understanding these triggers will help you develop more effective coping strategies in the future.
Learn from the Experience: Use the relapse as a learning opportunity. Identify what went wrong and the challenges you faced. This knowledge will empower you to approach your quit journey with greater awareness.
Reaffirm Your Commitment: Reaffirm your commitment to quitting smoking. Remind yourself of the reasons you decided to quit in the first place and the benefits of living a smoke-free life.
Don't Give Up: A relapse doesn't mean you've failed or that you can't quit for good. Dust yourself off and see the relapse as a temporary setback. Keep a positive mindset and stay persistent.
Seek Support: Reach out to your support system, including friends, family, or support groups. Share your experience and feelings, and draw encouragement from others who have been through similar challenges.
Modify Your Quit Plan: Review your quit plan and make any necessary adjustments based on what you've learned from the relapse. Add new coping strategies or seek additional professional help if needed.
Set Realistic Goals: Set achievable goals for your quit journey. Break the process into smaller steps, and celebrate each milestone you reach along the way.
Practice Self-Compassion: Be kind to yourself during this time. Quitting smoking is difficult, and you deserve patience and understanding as you work towards your goals.
Avoid "All-or-Nothing" Thinking: Don't view a relapse as a complete failure. Instead, focus on the progress you've made and the time you've spent smoke-free. A slip-up doesn't erase the progress you've already achieved.
Use Past Successes as Motivation: Remember any previous times you successfully quit, even if it was for a short period. Use those experiences as motivation to try again and build on your past achievements.
Avoid Triggers: After a relapse, avoid triggers that contributed to the setback. Create a smoke-free environment and make healthier choices to reduce the risk of relapsing again.
Visualize Success: Imagine yourself as a successful non-smoker. Visualize the benefits of being smoke-free and use this positive image as motivation to keep going.
Reward Yourself: Set up a reward system for each day or week you remain smoke-free. Treat yourself to something you enjoy as a way to celebrate your progress.
Take It One Day at a Time: Focus on staying smoke-free today and worry less about tomorrow. Taking small steps each day will lead to long-term success.
Celebrating Your Success:
Here are ways to celebrate your achievements.
Set Milestones: Break your quit journey into achievable milestones, such as one day, one week, one month, or three months without smoking. Celebrate each milestone you reach.
Treat Yourself: Reward yourself with something special for each milestone achieved. It could be a favorite meal, a small gift, or an activity you enjoy.
Share with Loved Ones: Share your success with friends, family, or a support group. Their encouragement and acknowledgment will strengthen your commitment to staying smoke-free.
Acknowledge Progress: Take a moment to reflect on how far you've come since quitting smoking. Celebrate the positive changes you've experienced, such as improved breathing or increased energy.
Keep a Success Journal: Maintain a journal to document your successes, both big and small. Write down how you feel, your accomplishments, and the positive changes you've noticed in your life.
Focus on Non-Smoking Benefits: Celebrate the health benefits of quitting smoking, such as improved lung function, reduced risk of diseases, and better overall well-being.
Create a Smoke-Free Tradition: Develop a new tradition or activity to mark your smoke-free milestones. It could be planting a tree, taking a day trip, or trying out a new hobby.
Treat Your Senses: Engage your senses in celebration. Enjoy the smell of fresh flowers, indulge in your favorite music, or savor the taste of a delicious, healthy meal.
Share Your Story: Share your quit journey and success with others who may be considering quitting smoking. Your experience can inspire and motivate others to take the same positive steps.
Visualize Your Future: Imagine your future as a non-smoker and envision the healthier, smoke-free life you're creating. Visualizing your success can reinforce your determination.
Celebrate Quit Anniversaries: Mark the date you quit smoking as your "Quitiversary" and celebrate it each year as a reminder of your commitment to a smoke-free life.
Be Proud of Yourself: Give yourself credit for your accomplishments. Quitting smoking is a significant achievement, and you should be proud of the progress you've made.
Revisit Your Reasons: Remind yourself of the reasons you decided to quit smoking. Celebrate how your choice to quit aligns with your values and long-term goals.
Express Gratitude: Express gratitude to those who have supported you throughout your quit journey. Their encouragement and understanding have been instrumental in your success.
Stay Positive: Embrace a positive outlook and focus on the future as a healthier, smoke-free individual. Celebrating your success is an ongoing process as you continue to thrive in your non-smoking life.
FAQs:
Is quitting smoking cold turkey the best approach?
Quitting cold turkey, or abruptly stopping smoking without any gradual reduction, can work for some people, but it may be challenging for others. The best approach varies from person to person. Some individuals find success with quitting cold turkey, while others benefit from a gradual reduction or the use of nicotine replacement therapy (NRT) or medications. It's essential to choose the method that suits your needs and preferences.
What is nicotine replacement therapy (NRT), and how does it work?
Nicotine replacement therapy (NRT) involves using products like patches, gums, lozenges, inhalers, or nasal sprays that provide controlled amounts of nicotine to help manage withdrawal symptoms and cravings during the quitting process. NRT can help reduce the dependence on nicotine, making it easier to quit smoking.
Will I gain weight after quitting smoking?
Weight gain is a common concern when quitting smoking, but not everyone experiences it. Some individuals may gain a few pounds as their metabolism adjusts after quitting, but this can often be managed through a balanced diet and regular exercise. The health benefits of quitting smoking far outweigh the potential weight gain.
How long do withdrawal symptoms last after quitting smoking?
Withdrawal symptoms vary from person to person, but they typically peak within the first few days of quitting and improve within a few weeks. Common withdrawal symptoms include cravings, irritability, restlessness, difficulty concentrating, and increased appetite. Staying hydrated, getting enough rest, and engaging in physical activity can help manage withdrawal symptoms.
Can I use e-cigarettes to quit smoking?
E-cigarettes, also known as vaping devices, are not approved smoking cessation tools and are not recommended for quitting smoking. They still contain nicotine and can maintain the addiction to nicotine. Moreover, there are potential health risks associated with vaping, so it's best to explore other proven quitting methods.
How can I cope with stress and anxiety without smoking?
Coping with stress and anxiety is essential during the quitting process. Consider incorporating stress-relief techniques such as meditation, deep breathing exercises, yoga, or engaging in physical activity. Seeking support from friends, family, or a counselor can also be helpful.
What should I do if I relapse and start smoking again?
Relapses can happen, and it's essential not to be too hard on yourself if it occurs. Acknowledge the relapse, learn from the experience, and reaffirm your commitment to quitting. Seek support from your support system or healthcare provider, modify your quit plan if needed, and use the experience as motivation to continue your quit journey.
Are there any medications that can help me quit smoking?
Yes, there are prescription medications that can assist in quitting smoking. These medications, such as bupropion and varenicline, work by reducing withdrawal symptoms and blocking the pleasurable effects of nicotine. Consult with your healthcare provider to determine if these medications are suitable for you.
How long does it take to see health improvements after quitting smoking?
Health improvements start to occur soon after quitting smoking. Within 20 minutes of quitting, blood pressure and heart rate begin to decrease. Within a few weeks, lung function improves, and the risk of heart disease starts to decrease. Over time, the risk of various smoking-related illnesses continues to decrease significantly.
Conclusion:
In conclusion, embarking on a journey to quit smoking is a transformative and challenging process, but one that offers immense rewards for both physical and mental well-being. Throughout this journey, understanding nicotine addiction, building healthy habits, and seeking professional support are crucial steps toward success. Coping with triggers, managing cravings, and embracing physical activity will fortify your determination. Remember, setbacks may occur, but adopting a positive mindset, learning from relapses, and celebrating each milestone are essential for staying motivated. By adopting a healthier lifestyle, envisioning a smoke-free future, and staying committed to your goals, you can break free from nicotine addiction and embrace the countless benefits of a smoke-free life. Your decision to quit smoking is a testament to your strength and determination, leading you toward a healthier, happier, and smoke-free future.