The eyes are a vital part of our overall well-being, and as a housewife, it is important to take care of your eye health. This guide will provide you with valuable information and practical tips on how to prevent and manage common eye problems. By following these suggestions, you can maintain optimal eye health and ensure clear vision for your daily activities. From lifestyle habits to proper eye hygiene, this guide will equip you with the knowledge needed to protect and care for your eyes effectively. Let's delve into the details and learn how to prioritize your eye health as a housewife.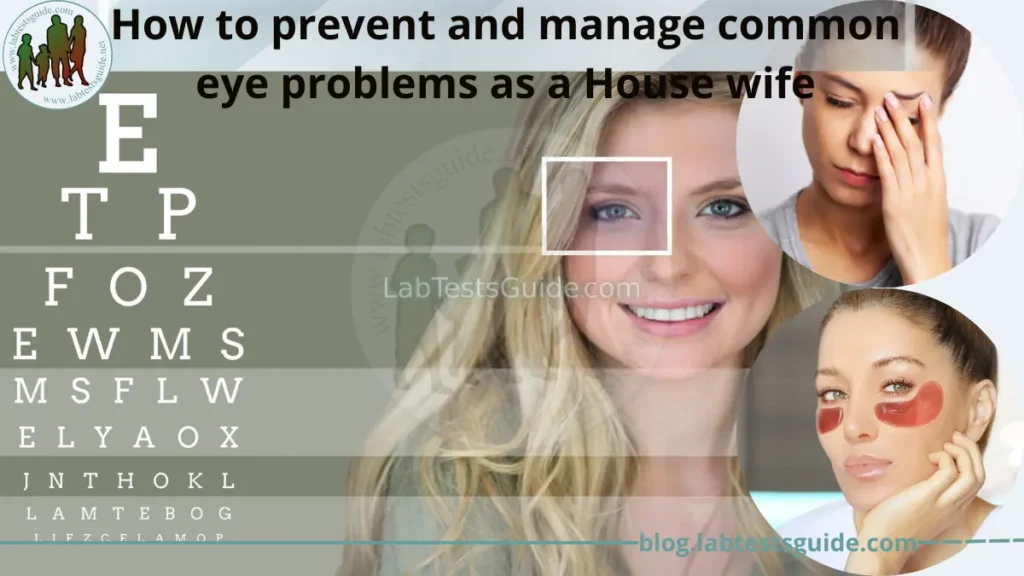 Maintaining a Healthy Lifestyle:
Here are some key aspects to consider.
Balanced Diet and Nutrition: Eat a variety of fruits, vegetables, whole grains, lean proteins, and healthy fats. Include foods rich in eye-friendly nutrients such as omega-3 fatty acids (found in fish), vitamin C (found in citrus fruits and leafy greens), vitamin E (found in nuts and seeds), and lutein and zeaxanthin (found in dark leafy greens and colorful fruits and vegetables).
Hydration and Weight Management: Stay hydrated by drinking an adequate amount of water throughout the day. Maintaining a healthy weight through regular exercise and a balanced diet helps reduce the risk of conditions like diabetes, which can affect eye health.
Avoid Smoking: Smoking is linked to an increased risk of developing eye diseases such as macular degeneration, cataracts, and optic nerve damage. Quitting smoking or avoiding exposure to secondhand smoke is beneficial for your overall health, including your eyes.
Limit Alcohol Consumption: Excessive alcohol consumption can have negative effects on your eye health. Limit your alcohol intake to moderate levels or avoid it altogether.
By adopting a healthy lifestyle, you can support your overall well-being, including your eye health. Consult with a healthcare professional or nutritionist for personalized guidance on a balanced diet and exercise routine tailored to your specific needs.
Protecting Your Eyes from UV Rays:
Here are some tips to safeguard your eyes.
Wear Sunglasses: Invest in a pair of sunglasses that provide 100% UV protection. Look for sunglasses labeled as blocking both UVA and UVB rays. Wrap-around or oversized frames can offer additional protection by reducing the amount of UV rays entering from the sides.
Choose Wide-Brimmed Hats: When spending time outdoors, especially during sunny days, wear a wide-brimmed hat or a cap with a visor to shield your eyes from direct sunlight.
Use UV-Protective Contact Lenses: If you wear contact lenses, consider using ones with built-in UV protection. However, keep in mind that they do not offer complete eye protection, so wearing sunglasses is still necessary.
Be Mindful of Reflective Surfaces: Remember that UV rays can bounce off reflective surfaces such as water, sand, snow, and even concrete. Take extra precautions by wearing sunglasses in these environments.
Limit Exposure During Peak Sunlight Hours: The sun's rays are strongest between 10 am and 4 pm. Whenever possible, try to minimize your outdoor activities during these hours.
By incorporating these practices into your routine, you can reduce your eyes' exposure to harmful UV rays and lower the risk of eye conditions such as cataracts, macular degeneration, and photokeratitis (sunburn of the eye).
Using Proper Lighting:
Here are some tips to ensure adequate lighting in your environment.
Optimize Natural Lighting: Whenever possible, take advantage of natural light by positioning your workspace or reading area near a window. Natural light is generally softer and provides more balanced illumination.
Avoid Glare: Minimize glare by positioning your computer screen or electronic devices away from windows or direct light sources. Use blinds, curtains, or adjustable shades to control incoming light and reduce glare.
Use Task Lighting: For specific tasks that require focused visual attention, such as reading, sewing, or cooking, use task lighting. Place a desk lamp, floor lamp, or under-cabinet lighting to provide direct illumination onto your workspace.
Choose the Right Bulbs: Opt for bulbs that emit a comfortable, warm white light with a color temperature between 2700K and 3000K. Avoid overly bright or harsh lighting, as it can strain your eyes.
Adjust Lighting Levels: Ensure that the lighting in your home is neither too dim nor too bright. Strive for a balance that allows you to see comfortably without causing eye fatigue or strain.
Use Proper Lighting in Every Room: Adequate lighting should be present in all areas of your home, including the kitchen, living room, bedroom, and bathroom. Consider using a combination of ambient, task, and accent lighting to create a well-lit and visually comfortable environment.
Remember to adjust the lighting according to your specific needs and preferences. If you frequently experience eye strain or discomfort, consider consulting an eye care professional for further guidance.
Taking Regular Breaks from Screens:
ere are some tips to help you incorporate screen breaks into your daily routine.
Follow the 20-20-20 Rule: Every 20 minutes, look away from the screen and focus on an object at least 20 feet away for 20 seconds. This helps relax the focusing muscles in your eyes and reduces eye fatigue.
Blink Frequently: Staring at screens can lead to decreased blinking, which can result in dry and irritated eyes. Make a conscious effort to blink regularly to keep your eyes moist and refreshed.
Practice the Distance Rule: Maintain a comfortable viewing distance from the screen. Ideally, the screen should be about an arm's length away and slightly below eye level to minimize strain on your eyes and neck.
Use the Pomodoro Technique: Incorporate the Pomodoro Technique or a similar productivity method into your screen time. Set a timer for 25 minutes of focused work, followed by a 5-minute break. During these breaks, rest your eyes by looking away from the screen and performing eye exercises or stretching.
Engage in Eye Exercises: Perform simple eye exercises during your screen breaks to relax and strengthen your eye muscles. These exercises may include eye rolls, focusing on near and far objects, or gently massaging your eyelids.
Take Longer Breaks: In addition to regular short breaks, schedule longer breaks throughout the day to give your eyes a more extended rest. Use this time to engage in activities that don't involve screens, such as going for a walk, reading a book, or practicing relaxation techniques.
Remember, screen breaks not only benefit your eyes but also promote overall well-being and productivity. Incorporate these breaks into your daily routine to give your eyes the rest they need and reduce the risk of eye strain and discomfort.
Practicing Good Hygiene:
Here are some tips to follow.
Wash Your Hands: Before touching your eyes or handling contact lenses, always wash your hands thoroughly with soap and water. This helps prevent the transfer of bacteria and other harmful substances to your eyes.
Avoid Touching or Rubbing Your Eyes: Refrain from touching or rubbing your eyes unnecessarily. This can introduce dirt, germs, or irritants, increasing the risk of eye infections or damage to the delicate eye tissues.
Follow Proper Contact Lens Hygiene: If you wear contact lenses, follow your eye care professional's instructions for proper cleaning and disinfecting. Be diligent about replacing your lenses as recommended to prevent eye infections.
Remove Makeup Properly: Remove eye makeup carefully using gentle, oil-free removers. Avoid using expired or contaminated makeup products that can cause eye irritation or infections.
Use Clean Towels and Linens: Ensure that towels, washcloths, and pillowcases are clean to avoid introducing dirt or bacteria to your eyes. Wash these items regularly using fragrance-free and hypoallergenic detergents.
Avoid Sharing Eye-related Items: Do not share items such as towels, eye drops, or contact lens cases with others to minimize the risk of cross-contamination and infections.
Protect Your Eyes During Household Chores: When cleaning, gardening, or using chemicals, wear protective goggles or safety glasses to shield your eyes from potential hazards or irritants.
Be Cautious with Public Spaces: In public places, be mindful of frequently touched surfaces, such as doorknobs, handrails, or elevator buttons. Avoid touching your face, including your eyes, until you have washed your hands.
By practicing good hygiene habits, you can reduce the risk of eye infections, irritations, and other eye-related problems. If you experience persistent eye discomfort or notice any unusual symptoms, consult with an eye care professional for proper evaluation and treatment.
Scheduling Regular Eye Exams:
Here's why it's crucial and how to go about it.
Importance of Regular Eye Exams: Routine eye exams can detect early signs of eye conditions and diseases that may not have noticeable symptoms. This includes conditions like glaucoma, cataracts, macular degeneration, diabetic retinopathy, and more. Early detection allows for prompt treatment and management, preventing potential vision loss or complications.
Frequency of Eye Exams: The frequency of eye exams may vary depending on your age, overall health, and any existing eye conditions. As a general guideline, adults should have a comprehensive eye exam every 1 to 2 years. However, if you have a specific eye condition or are at higher risk due to factors like diabetes or a family history of eye disease, your eye care professional may recommend more frequent exams.
Finding an Eye Care Professional: Look for a qualified optometrist or ophthalmologist who specializes in eye care. Seek recommendations from family, friends, or your primary care physician. Ensure that the eye care professional is licensed and experienced.
Preparing for the Eye Exam: Prior to the exam, make a list of any eye symptoms or concerns you have. Bring along your current eyeglasses or contact lenses, as well as any relevant medical records or medications you are taking. This information will help the eye care professional assess your eye health accurately.
What to Expect during the Exam: A comprehensive eye exam typically includes an assessment of your visual acuity, eye muscle movement, peripheral vision, eye pressure, and examination of the external and internal structures of your eyes. Your eye care professional may also dilate your pupils to get a better view of the retina and conduct additional tests as needed.
Follow-Up and Recommendations: After the exam, your eye care professional will discuss the findings with you and provide recommendations based on your specific needs. This may include a new prescription for glasses or contact lenses, treatment for any identified eye conditions, or guidance on preventive measures.
Remember, even if you don't experience any noticeable eye problems, regular eye exams are crucial for early detection and prevention of potential issues. Stay proactive in scheduling and attending these exams to safeguard your eye health.
Managing Dry Eyes:
Here are some strategies to help manage dry eyes effectively.
Use Artificial Tears: Lubricating eye drops or artificial tears can provide temporary relief from dryness and discomfort. Use preservative-free drops and apply them as needed throughout the day. Avoid eye drops that claim to "get the red out" as they may not provide the necessary lubrication.
Maintain Proper Humidity: Dry indoor air can contribute to dry eyes. Use a humidifier to add moisture to the air, especially during the winter months or in arid climates. Aim for a humidity level of around 30-50%.
Take Breaks from Screens: Prolonged screen time can exacerbate dry eyes. Follow the 20-20-20 rule (explained earlier) and take regular breaks from screens to rest your eyes and reduce eye strain.
Blink Regularly: When focusing on tasks like reading or working on a computer, it's common to blink less frequently, leading to dryness. Make a conscious effort to blink regularly to keep your eyes lubricated.
Protect Your Eyes: Shield your eyes from wind, dust, and other irritants by wearing wrap-around glasses or protective eyewear when outdoors or in dusty environments.
Avoid Environmental Triggers: Minimize exposure to smoke, allergens, and other environmental irritants that can worsen dry eye symptoms.
Maintain Eyelid Hygiene: Clean your eyelids daily with a warm, damp washcloth or gentle eyelid cleanser. This helps remove debris and keeps the eyelid glands clean and functioning properly.
Stay Hydrated: Drinking enough water throughout the day helps maintain overall hydration, including your eyes. Stay adequately hydrated to support tear production.
Adjust Your Environment: Position yourself away from direct airflow from fans, air conditioners, or heaters, as they can contribute to dryness. Use eye protection, such as goggles, when swimming to avoid irritation from chlorinated water.
Consult an Eye Care Professional: If your dry eye symptoms persist or worsen, it's advisable to consult an eye care professional. They can assess your condition, determine the underlying cause, and recommend appropriate treatment options, such as prescription eye drops or other therapies.
Remember, managing dry eyes is an ongoing process, and different approaches may work for different individuals. Be consistent with your strategies and seek professional guidance if needed to find the most effective solutions for your specific situation.
Protecting Your Eyes during Household Chores:
Here are some tips to keep your eyes safe while performing household tasks.
Wear Protective Eyewear: Whenever you engage in tasks that could cause debris, chemicals, or sharp objects to enter your eyes, wear appropriate eye protection. Use safety glasses or goggles that provide a snug fit and have side shields to shield your eyes from all angles.
Use Proper Tools and Equipment: When working with tools or equipment that can generate flying debris, such as hammers, drills, or power saws, ensure that they have appropriate safety guards and follow the manufacturer's instructions for safe usage.
Be Cautious with Cleaning Chemicals: When using household cleaning agents or chemicals, be mindful of potential splashes or fumes that can irritate or damage your eyes. Wear protective eyewear and follow the instructions for handling and ventilation.
Protect Your Eyes in the Garden: When gardening or doing yard work, wear goggles or safety glasses to shield your eyes from flying dirt, plant debris, or chemicals like fertilizers and pesticides.
Be Careful with Hot Liquids and Steam: Take precautions when working with hot liquids or steam, such as boiling water or using steam cleaners. Avoid leaning directly over hot containers to prevent accidental splashing or steam-related eye injuries.
Store Chemicals Properly: Store household chemicals, such as cleaning agents, pesticides, and fertilizers, in a safe and secure place away from the reach of children. Ensure that their containers are tightly closed to prevent accidental spills or exposure to harmful substances.
Avoid Rubbing Your Eyes: If you get dirt, dust, or any foreign object in your eyes while performing household chores, avoid rubbing them. Instead, rinse your eyes gently with clean water or use a sterile eyewash solution to flush out the irritant. If the irritation persists, seek medical attention.
Remember, prevention is key when it comes to protecting your eyes during household chores. By being proactive and using proper eye protection, you can significantly reduce the risk of eye injuries and maintain your eye health
Recognizing Eye Strain Symptoms:
Here are some common signs of eye strain to be aware of.
Dryness or Irritation: You may experience a dry or gritty sensation in your eyes, accompanied by itching or redness.
Eye Fatigue: Your eyes may feel tired, heavy, or strained, especially after prolonged periods of reading, screen time, or other visually demanding activities.
Blurred or Double Vision: You may notice temporary blurry vision or see double, which can be a result of eye muscle fatigue or difficulty focusing.
Headaches: Eye strain can often lead to headaches, especially ones that originate around the forehead or temples.
Sensitivity to Light: Your eyes may become more sensitive to bright lights or glare, causing discomfort or the need to squint.
Difficulty Concentrating: Eye strain can make it challenging to concentrate on tasks or maintain focus, leading to decreased productivity.
Neck, Shoulder, or Back Pain: Prolonged eye strain can cause muscle tension and discomfort in the surrounding areas, such as the neck, shoulders, or upper back.
Increased Tear Production: Paradoxically, eye strain can sometimes lead to excessive tearing as your eyes try to compensate for dryness or irritation.
It's important to note that these symptoms can vary in intensity and may be temporary or persistent. If you consistently experience eye strain symptoms, it's advisable to take proactive measures to alleviate the strain, such as taking regular breaks, adjusting screen settings, or practicing good eye hygiene. If the symptoms persist or worsen, consult an eye care professional for a comprehensive evaluation and guidance.
Conclusion:
In conclusion, as a housewife, it is essential to take proactive steps to prevent and manage common eye problems. By maintaining a healthy lifestyle, protecting your eyes from UV rays, using proper lighting, taking regular breaks from screens, practicing good hygiene, scheduling regular eye exams, and managing dry eyes, you can promote good eye health and reduce the risk of eye strain and discomfort.
Remember to prioritize your eye health by incorporating these practices into your daily routine. Taking care of your eyes not only enhances your overall well-being but also enables you to perform your household duties effectively. If you experience persistent or concerning eye symptoms, consult with an eye care professional for personalized advice and appropriate treatment.
By being proactive and mindful of your eye health, you can enjoy clear vision and maintain optimal eye function for a healthy and fulfilling life as a housewife.