Maintaining healthy skin is essential for girls as it not only contributes to their physical appearance but also plays a significant role in their overall well-being. Healthy skin can boost confidence, improve self-esteem, and protect against various skin issues.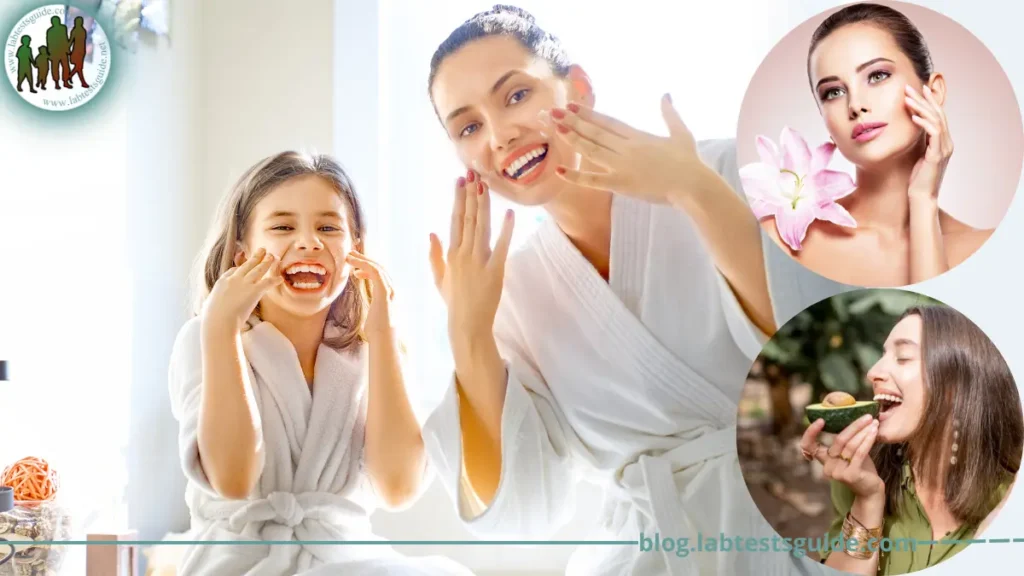 This guide will provide valuable information and tips to help girls understand their skin, develop a daily skincare routine, nourish their skin from within, adopt healthy lifestyle habits, address specific skin concerns, take care of their body, seek professional help when needed, and embrace their natural beauty. By following these guidelines, girls can achieve and maintain radiant, healthy skin that will make them feel confident and beautiful.

Understanding Your Skin:

Skin Types:

Understanding your skin type is crucial for developing an effective skincare routine. Here are the common skin types.
Normal Skin: Normal skin is well-balanced, neither too oily nor too dry. It has a smooth texture, small pores, and a healthy complexion.
Dry Skin: Dry skin lacks moisture and often feels tight or itchy. It may appear dull, flaky, and prone to fine lines and wrinkles.
Oily Skin: Oily skin produces excess sebum, resulting in a shiny appearance, enlarged pores, and a tendency for acne breakouts.
Combination Skin: Combination skin has a mix of oily and dry areas. The T-zone (forehead, nose, and chin) tends to be oilier, while the cheeks are drier.
Sensitive Skin: Sensitive skin is easily irritated, reactive to certain products or environmental factors, and prone to redness, itching, or stinging.
Common Skin Concerns:
Apart from skin types, there are common skin concerns that girls may encounter.
Acne: Acne is a skin condition characterized by pimples, blackheads, whiteheads, and sometimes, cysts. It can be caused by excess oil production, clogged pores, bacteria, hormonal changes, or other factors.
Hyperpigmentation: Hyperpigmentation refers to areas of darkened skin caused by an overproduction of melanin. It can be triggered by sun exposure, acne scars, hormonal changes, or skin injuries.
Aging and Wrinkles: As girls age, they may start experiencing signs of aging, including fine lines, wrinkles, and loss of skin elasticity. This is a natural process influenced by factors like genetics, sun exposure, and lifestyle habits.
Dryness and Dehydration: Dryness occurs when the skin lacks moisture, while dehydration refers to a lack of water content in the skin. Both can result in flaky, rough, and uncomfortable skin.
Sensitivity and Irritation: Some individuals have sensitive skin that reacts negatively to certain ingredients or environmental factors, leading to redness, itching, and irritation.
Understanding your skin type and specific concerns will help you choose the right products and treatments to address your skin's needs effectively.
Daily Skincare Routine:

Daily Skincare Routine: Maintaining a consistent daily skincare routine is essential for keeping your skin healthy and glowing. Here are the key steps to include in your routine:
Cleansing: Cleanse your face twice a day, in the morning and evening, to remove dirt, oil, and impurities that accumulate on the skin. Use a gentle cleanser suitable for your skin type. Avoid harsh scrubbing, as it can irritate the skin. Rinse with lukewarm water and pat dry with a clean towel.
Toning: After cleansing, apply a toner to help balance the pH level of your skin and remove any remaining traces of dirt or cleanser. Toners can also provide hydration and prepare your skin for the next steps of your routine. Choose an alcohol-free toner suitable for your skin type and apply it using a cotton pad or by gently patting it onto your face.
Moisturizing: Moisturizing is crucial for keeping your skin hydrated and maintaining its elasticity. Choose a moisturizer suitable for your skin type and apply it to your face and neck. Massage it in gently using upward motions. Opt for a moisturizer that contains SPF for daytime use to protect your skin from harmful UV rays.
Sun Protection: Apply sunscreen with a broad-spectrum SPF of 30 or higher every day, even on cloudy days. Sunscreen helps protect your skin from the harmful effects of UV radiation, such as sunburn, premature aging, and skin cancer. Apply it as the last step of your skincare routine and reapply throughout the day, especially if you're spending time outdoors.
It's important to note that these are the basic steps of a skincare routine. Depending on your specific skin concerns, you may need to incorporate additional products such as serums, exfoliants, or targeted treatments. Customize your routine based on your skin's needs and consult with a dermatologist or skincare professional if necessary.

Nourishing Your Skin from Within:
In addition to external skincare, nourishing your skin from within is crucial for maintaining healthy skin. Here are some tips to keep your skin healthy from the inside out.
Balanced Diet: Eating a balanced diet rich in fruits, vegetables, whole grains, lean proteins, and healthy fats provides essential nutrients that support skin health. Include foods high in antioxidants, such as berries, leafy greens, and nuts, to protect your skin from damage caused by free radicals.
Hydration: Drink an adequate amount of water throughout the day to keep your skin hydrated. Hydration helps maintain skin elasticity and flushes out toxins. Aim for at least 8 glasses of water per day, or more if you're physically active or in a dry environment.
Vitamins and Supplements: Certain vitamins and supplements can benefit your skin. Vitamin C helps promote collagen production, Vitamin E protects against oxidative stress, and Omega-3 fatty acids support skin health. Consult with a healthcare professional or dermatologist to determine if you need any specific supplements based on your individual needs.
Including these dietary factors can enhance your overall skin health and contribute to a radiant complexion. Remember, a healthy lifestyle and a well-rounded approach to skincare go hand in hand for optimal results.

Healthy Lifestyle Habits:
Adopting healthy lifestyle habits can have a significant impact on your skin's health. Here are some essential habits to incorporate into your daily routine.
Regular Exercise: Engaging in regular physical activity promotes blood circulation, which nourishes your skin and gives it a healthy glow. Exercise also helps reduce stress, which can improve skin conditions like acne. Aim for at least 30 minutes of moderate exercise most days of the week.
Adequate Sleep: Getting enough sleep is vital for skin rejuvenation and overall well-being. During sleep, your body repairs and regenerates cells, including skin cells. Aim for 7-9 hours of quality sleep each night to ensure your skin has enough time to recover and maintain its health.
Stress Management: Chronic stress can contribute to skin issues like acne, eczema, and premature aging. Find healthy ways to manage stress, such as practicing relaxation techniques like meditation or deep breathing exercises, engaging in hobbies, spending time with loved ones, or seeking professional help if needed.
Avoiding Smoking and Alcohol: Smoking and excessive alcohol consumption can have detrimental effects on your skin. Smoking reduces blood flow to the skin, leading to premature aging, dullness, and wrinkles. Alcohol dehydrates the skin and can exacerbate conditions like acne and rosacea. Avoid or limit smoking and alcohol to maintain healthy skin.
By incorporating these healthy lifestyle habits into your routine, you can support your skin's health and improve its overall appearance. Remember, healthy skin is a reflection of a healthy lifestyle.

Skincare Tips for Specific Issues:
Different skin concerns require specific approaches and targeted care. Here are some skincare tips for common specific skin issues.
Acne-Prone Skin:
Cleanse your face twice a day with a gentle cleanser formulated for acne-prone skin.
Avoid harsh scrubbing or picking at acne lesions, as it can lead to scarring and inflammation.
Use non-comedogenic and oil-free products to prevent clogged pores.
Incorporate ingredients like salicylic acid or benzoyl peroxide into your skincare routine to help control acne breakouts.
Consider consulting with a dermatologist for personalized treatment options if over-the-counter products don't show improvement.

Dry Skin:
Use a creamy and hydrating cleanser that doesn't strip away natural oils.
Moisturize your skin regularly with a rich, nourishing moisturizer.
Avoid hot showers or baths, as hot water can further dry out the skin.
Look for moisturizers or serums containing hyaluronic acid, glycerin, or ceramides to help retain moisture.
Consider using a humidifier to add moisture to the air in dry environments.

Oily Skin:
Cleanse your face twice a day with a gentle cleanser formulated for oily skin to remove excess oil.
Avoid heavy or greasy moisturizers and opt for lightweight, oil-free moisturizers.
Use products with ingredients like salicylic acid or tea tree oil to help control oil production and prevent breakouts.
Blotting papers can be helpful throughout the day to absorb excess oil without stripping the skin.
Don't skip moisturizing, as even oily skin needs hydration to maintain balance.

Sensitive Skin:
Choose fragrance-free and hypoallergenic skincare products.
Perform patch tests before using new products to check for any adverse reactions.
Avoid harsh exfoliants and opt for gentle exfoliation methods like enzymatic or chemical exfoliation.
Protect your skin from irritants by using a barrier cream or moisturizer.
Consider consulting with a dermatologist for specific recommendations tailored to your sensitive skin.
Remember, it's important to be patient when addressing specific skin concerns. Results may take time, and if your condition persists or worsens, it's best to seek professional advice from a dermatologist or skincare specialist.

Taking Care of Your Body:

In addition to facial skincare, it's important to extend your skincare routine to the rest of your body. Here are some tips for taking care of your body's skin.
Body Skincare:
Cleanse your body with a gentle, hydrating body wash or soap.
Moisturize your body daily, especially after bathing, to lock in moisture and keep your skin soft and supple.
Pay attention to areas prone to dryness, such as elbows, knees, and heels, and use richer moisturizers or body butters on these areas.
Exfoliate your body regularly to remove dead skin cells and promote smooth, healthy-looking skin.
Protect your body from the sun by applying sunscreen when exposed to UV rays, especially during outdoor activities.

Hair Removal:
Choose a hair removal method that suits your preferences and skin sensitivity, such as shaving, waxing, or using depilatory creams.
Take care to follow proper techniques to minimize irritation or ingrown hairs.
Moisturize the skin after hair removal to soothe and hydrate the area.

Nail Care:
Keep your nails clean and well-trimmed to prevent the buildup of bacteria or dirt.
Use a gentle nail file to shape your nails and avoid rough edges.
Moisturize your cuticles regularly with cuticle oil or cream to keep them soft and prevent dryness.
Apply a base coat before applying nail polish to protect your nails and prevent staining.
Wear gloves while doing household chores or using harsh chemicals to protect your hands and nails.

Taking care of your body's skin ensures an overall healthy and radiant appearance. Remember to listen to your body's needs and address any specific concerns or conditions with appropriate care or professional guidance when necessary.

Seeking Professional Help:

When it comes to maintaining healthy skin, seeking professional help from dermatologists, estheticians, or skincare specialists can be beneficial. Here's how they can assist you.
Dermatologist:
Dermatologists are medical doctors who specialize in diagnosing and treating skin conditions. They can provide expert advice on managing various skin concerns and offer medical treatments, prescriptions, or procedures if needed.
If you have persistent acne, eczema, psoriasis, or other skin conditions, a dermatologist can provide personalized treatment plans tailored to your specific needs.
Dermatologists can also perform skin cancer screenings, offer guidance on sun protection, and address concerns related to aging, pigmentation, or scarring.

Esthetician:
Estheticians are skincare professionals trained in various beauty treatments and skincare techniques.
They can provide facials, professional-grade exfoliation, and specialized treatments targeting specific skin concerns.
Estheticians can analyze your skin, recommend suitable products, and customize skincare routines to address your individual needs.
They can also provide guidance on proper skincare techniques and educate you about maintaining healthy skin.

Specialist Treatments:
Certain skincare concerns may require specialized treatments that go beyond regular skincare routines.
Procedures such as chemical peels, microdermabrasion, laser treatments, or phototherapy can be performed by professionals to address specific concerns like acne scarring, hyperpigmentation, or skin rejuvenation.
These treatments are often done under the supervision of dermatologists or trained skincare specialists, ensuring safety and effectiveness.

Seeking professional help can provide you with expert guidance, personalized treatment plans, and access to advanced skincare procedures. Consult with a dermatologist or esthetician to determine the best course of action for your specific skin concerns.

Embracing Natural Beauty:

While skincare routines and professional help are important, it's equally vital to embrace and appreciate your natural beauty. Here are some tips for embracing your natural beauty.
Confidence and Self-Care:
Confidence is key to embracing your natural beauty. Cultivate self-confidence by practicing self-care, positive affirmations, and surrounding yourself with supportive and uplifting individuals.
Take time for yourself to engage in activities that bring you joy, boost your self-esteem, and promote overall well-being.

Makeup Tips for Enhancing Features:
If you enjoy wearing makeup, use it to enhance your natural features rather than masking them. Embrace a more natural and subtle approach, focusing on enhancing your skin's glow, defining your eyebrows, or adding a touch of mascara to accentuate your eyes.
Emphasize your favorite features while maintaining a natural and effortless look.

Embracing Flaws and Imperfections:
Remember that everyone has unique features and imperfections that make them beautiful. Embrace your individuality and learn to love your perceived flaws.
Shift your mindset towards self-acceptance and practice self-love. Recognize that beauty comes in many forms, and true beauty radiates from within.

By embracing your natural beauty, you can develop a positive relationship with yourself and feel more confident and comfortable in your own skin. Remember, beauty is not solely defined by societal standards, but by your self-acceptance and appreciation of your own unique qualities.

Conclusion:
Maintaining healthy skin as a girl involves a combination of understanding your skin, developing a daily skincare routine, nourishing your skin from within, adopting healthy lifestyle habits, addressing specific skin concerns, taking care of your body, seeking professional help when needed, and embracing your natural beauty.
By understanding your skin type and specific concerns, you can choose the right products and treatments to address your skin's needs effectively. Establishing a consistent daily skincare routine, including cleansing, toning, moisturizing, and sun protection, is crucial for maintaining healthy skin.
Nourishing your skin from within through a balanced diet, hydration, and incorporating essential vitamins and supplements can enhance your overall skin health and radiance.
Adopting healthy lifestyle habits such as regular exercise, adequate sleep, stress management, and avoiding smoking and excessive alcohol consumption can significantly impact your skin's health.
Addressing specific skin issues like acne-prone skin, dry skin, oily skin, or sensitive skin requires tailored skincare approaches and, if necessary, seeking professional help from dermatologists, estheticians, or skincare specialists.
Lastly, embracing your natural beauty is essential. Building confidence, practicing self-care, and appreciating your unique features and imperfections can lead to a positive relationship with yourself and a genuine sense of beauty.
Remember, skincare is a journey, and it requires patience, consistency, and self-care. Embrace the process, and enjoy the benefits of healthy, radiant skin that makes you feel confident and beautiful.