Acne is a common skin condition that occurs when hair follicles become clogged with oil, dead skin cells, and bacteria. It typically manifests as pimples, blackheads, whiteheads, and in more severe cases, cysts or nodules. Acne commonly affects the face, but it can also appear on the chest, back, shoulders, and neck.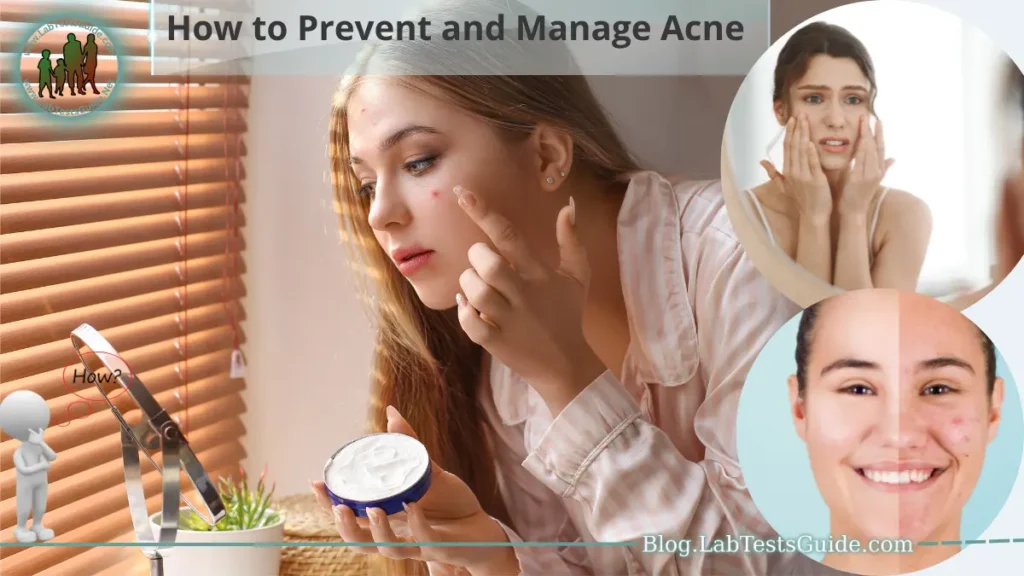 Acne is caused by a combination of factors, including excessive oil production, irregular shedding of dead skin cells, bacteria (Propionibacterium acnes), hormonal changes, and inflammation. Certain risk factors can contribute to the development of acne, such as hormonal imbalances, genetics, certain medications, and lifestyle factors like diet and stress.
What is Acne:
Acne is a common skin condition that affects the hair follicles and oil glands in the skin. It occurs when these follicles become clogged with oil, dead skin cells, and bacteria. This leads to the formation of various types of lesions on the skin, such as pimples, blackheads, whiteheads, nodules, or cysts.
The primary factors that contribute to the development of acne include:
Excessive oil production (sebum): Hormonal changes during puberty or other hormonal imbalances can cause the oil glands to produce more oil than necessary, leading to clogged pores.
Irregular shedding of dead skin cells: The skin cells lining the hair follicles can shed too quickly and clump together with the excess oil, resulting in the formation of plugs that block the pores.
Bacteria: The bacterium called Propionibacterium acnes (P. acnes) is normally present on the skin but can multiply in clogged pores, leading to inflammation and the formation of acne lesions.
Hormonal changes: Hormonal fluctuations, especially during puberty, menstrual cycles, pregnancy, or hormonal disorders, can contribute to the development of acne. Androgens, a type of hormones, can stimulate the oil glands and increase oil production.
Inflammation: When the hair follicles become blocked, the immune system responds by sending white blood cells to the affected area, leading to inflammation and redness.
Acne commonly appears on the face, but it can also affect other areas of the body, such as the chest, back, shoulders, and neck. The severity of acne can vary from mild, with a few occasional blemishes, to severe, with widespread and persistent lesions that can cause pain and scarring.
Preventive Measures for Acne:
Here are some preventive measures you can take to help manage and prevent acne.
Establishing a Consistent Skincare Routine:
Cleanse your face twice a day with a gentle cleanser suitable for your skin type.
Avoid scrubbing your face vigorously, as it can irritate the skin and worsen acne.
Use lukewarm water to wash your face and pat it dry gently with a clean towel.
Cleansing and Exfoliating Techniques:
Use non-comedogenic and oil-free skincare products to avoid clogging the pores.
Avoid using harsh or abrasive scrubs that can irritate the skin.
Consider using gentle chemical exfoliants containing ingredients like salicylic acid or glycolic acid to help unclog pores and remove dead skin cells.
Dietary Considerations for Acne Prevention:
Maintain a balanced diet rich in fruits, vegetables, whole grains, and lean proteins.
Limit consumption of high-glycemic foods like sugary snacks, processed foods, and refined carbohydrates, as they can potentially worsen acne.
Some studies suggest that dairy products and foods high in iodine may trigger acne in certain individuals, so consider moderating your intake.
Managing Stress Levels:
Stress can contribute to hormonal imbalances, which may exacerbate acne. Practice stress management techniques like exercise, meditation, deep breathing, or engaging in hobbies to reduce stress levels.
Avoiding Makeup and Skincare Products that Clog Pores:
Opt for non-comedogenic and oil-free makeup and skincare products.
Remove makeup before going to bed to prevent clogged pores overnight.
Keeping Hair Clean and Off the Face:
Wash your hair regularly to remove excess oil and dirt.
Avoid allowing your hair to come into contact with your face, as hair products and oils can transfer onto the skin and contribute to acne formation.
By incorporating these preventive measures into your daily routine, you can help minimize the occurrence of acne and maintain healthier-looking skin. It's important to note that individual responses to preventive measures may vary, and if you have persistent or severe acne, it is recommended to consult a dermatologist for further evaluation and guidance.
Over-the-Counter Acne Treatments:
Here are some common types of OTC acne treatments.
Topical Treatments with Benzoyl Peroxide:
Benzoyl peroxide is an effective ingredient that kills acne-causing bacteria and helps unclog pores.
It is available in various strengths (2.5% to 10%) and formulations, including cleansers, lotions, gels, and spot treatments.
Start with a lower strength to minimize skin irritation and gradually increase if needed.
Salicylic Acid Products:
Salicylic acid helps unclog pores by exfoliating the skin and removing dead skin cells.
It is available in various OTC products, including cleansers, toners, creams, and gels.
Salicylic acid is particularly useful for treating blackheads and whiteheads.
Retinoids for Acne:
Some OTC products contain retinoids, such as adapalene, which help unclog pores, reduce inflammation, and promote skin cell turnover.
These products may be less potent than prescription-strength retinoids but can still be effective for mild acne.
Sulfur-Based Products:
Sulfur has antimicrobial and anti-inflammatory properties, making it useful for treating acne.
It helps reduce oiliness, unclog pores, and calm acne-related redness.
Sulfur-based products are available in various formulations, including cleansers, masks, and spot treatments.
Natural Remedies for Acne:
Some individuals prefer using natural remedies for acne, such as tea tree oil, witch hazel, aloe vera, or green tea extract.
These natural ingredients may have antimicrobial or anti-inflammatory properties and can be found in OTC acne products.
It's important to note that natural remedies may not be as extensively studied or regulated as conventional OTC treatments.
Prescription Medications for Acne:
Here are some commonly prescribed medications for acne.
Topical Antibiotics:
Topical antibiotics, such as clindamycin or erythromycin, are used to reduce acne-causing bacteria on the skin.
They help decrease inflammation and control mild to moderate acne.
These medications are typically applied directly to the affected areas of the skin.
Oral Antibiotics:
Oral antibiotics, such as tetracycline, doxycycline, or minocycline, are prescribed for moderate to severe acne or acne that does not respond well to topical treatments.
They work by reducing bacteria, inflammation, and oil production.
Oral antibiotics are usually taken for a specific duration as directed by the dermatologist.
Oral Contraceptives (For Females):
Certain oral contraceptives, specifically those containing estrogen and progestin, can help regulate hormones and improve acne in females.
They work by suppressing androgen hormones that contribute to excess oil production.
Oral contraceptives may be prescribed in combination with other acne treatments.
Hormonal Treatments (For Males and Females):
In cases where hormonal imbalances contribute to acne, anti-androgen medications may be prescribed.
Spironolactone is one such medication that can be effective in blocking androgen hormones and reducing oil production.
Hormonal treatments are generally prescribed for females, but they may be considered for males in certain cases.
Isotretinoin (Accutane):
Isotretinoin is a potent oral medication used for severe, nodular acne or acne that hasn't responded to other treatments.
It reduces oil production, shrinks the sebaceous glands, and helps prevent acne formation.
Isotretinoin requires careful monitoring and can have potential side effects, so it is typically prescribed by dermatologists with specific protocols and precautions.
It's important to note that prescription medications for acne should be used under the guidance of a dermatologist. They will evaluate your specific condition, medical history, and potential side effects to determine the most appropriate treatment plan. Regular follow-up appointments and adherence to the prescribed regimen are crucial for monitoring progress and managing any potential side effects.
How to Cleanse Your Face Properly:
Wash your hands: Before starting your facial cleansing routine, make sure your hands are clean to avoid transferring dirt and bacteria to your face.
Choose a suitable cleanser: Select a gentle cleanser that is appropriate for your skin type. Avoid harsh soaps or cleansers that can strip away natural oils and cause dryness.
Wet your face: Splash your face with lukewarm water to moisten the skin before applying the cleanser. Avoid using hot water, as it can be too drying for the skin.
Apply the cleanser: Take a small amount of the cleanser onto your fingertips or a clean facial brush. Gently massage the cleanser onto your face using circular motions. Pay attention to areas prone to oiliness or where makeup is usually applied, such as the forehead, nose, and chin (the T-zone).
Be gentle: Avoid scrubbing your face aggressively, as this can irritate the skin. Instead, use gentle pressure and let the cleanser do its work. Focus on thoroughly cleansing the skin rather than applying excessive force.
Rinse thoroughly: After massaging the cleanser onto your face for about 20-30 seconds, rinse it off completely with lukewarm water. Ensure that no cleanser residue remains on your skin, as it can lead to irritation.
Pat dry: Gently pat your face dry with a clean, soft towel. Avoid rubbing the towel against your skin, as this can cause friction and potential irritation.
Follow with skincare routine: After cleansing, follow up with the rest of your skincare routine, such as applying toner, moisturizer, and any other products that are part of your daily regimen.
Cleanse twice a day: It is generally recommended to cleanse your face twice a day – once in the morning and once in the evening before bed. This helps remove dirt, excess oil, and impurities accumulated throughout the day and night.
Remember, consistency is key when it comes to cleansing your face properly. Stick to a regular routine and use products suitable for your skin type. If you have specific concerns or skin conditions, it's advisable to consult with a dermatologist for personalized guidance and recommendations.
Dermatological Procedures for Acne:
Here are some common dermatological procedures for acne.
Chemical Peels:
Chemical peels involve the application of a chemical solution to the skin, which exfoliates the outer layer and promotes the growth of new, healthier skin.
This procedure helps unclog pores, reduce acne lesions, and improve the texture and tone of the skin.
Chemical peels can vary in strength, from mild to deep peels, depending on the severity of the acne and desired results.
Microdermabrasion:
Microdermabrasion is a non-invasive procedure that exfoliates the skin using a device with fine crystals or a diamond-tipped wand.
It helps remove dead skin cells, unclog pores, and improve the overall texture and appearance of the skin.
Microdermabrasion is particularly effective for treating mild acne, superficial scars, and post-inflammatory hyperpigmentation.
Laser and Light Therapy:
Laser and light therapies involve the use of specific wavelengths of light to target and destroy acne-causing bacteria, reduce inflammation, and shrink sebaceous glands.
These treatments can help improve acne, reduce redness and pigmentation, and promote collagen production for smoother skin.
Different types of laser and light therapies, such as blue light therapy, pulsed-dye laser, or intense pulsed light (IPL), may be used depending on the individual's needs.
Extraction of Blackheads and Whiteheads:
Dermatologists can perform a procedure called "comedo extraction" to manually remove stubborn blackheads and whiteheads.
Using specialized tools, they gently extract the contents of the clogged pores, helping to clear the skin and prevent further breakouts.
This procedure should only be performed by a trained professional to minimize the risk of infection or scarring.
Corticosteroid Injections for Acne Cysts:
For severe acne cysts or nodules, dermatologists may administer corticosteroid injections directly into the lesions.
Corticosteroids help reduce inflammation and rapidly shrink the size of the cyst or nodule.
This procedure can provide quick relief and prevent scarring, but it is typically reserved for severe cases and performed by a dermatologist.
It's important to consult with a dermatologist to determine the most appropriate dermatological procedure for your specific type and severity of acne. They will assess your skin condition, medical history, and treatment goals to recommend the most suitable procedure or combination of treatments. These procedures may require multiple sessions for optimal results, and proper aftercare instructions should be followed to promote healing and minimize any potential side effects.
Lifestyle and Home Remedies:
Here are some lifestyle and home remedies for acne.
Good Hygiene Practices:
Wash your face gently twice a day using a mild cleanser to remove excess oil, dirt, and bacteria.
Avoid overwashing or scrubbing your face, as it can irritate the skin and worsen acne.
Use clean towels, pillowcases, and other personal items that come into contact with your face to prevent bacterial transfer.
Avoiding Picking or Squeezing Acne:
Resist the temptation to pick, squeeze, or pop acne lesions, as it can cause further inflammation, scarring, and potential infection.
Picking at acne can also spread bacteria and lead to more breakouts.
If necessary, consult a dermatologist for proper extraction of acne lesions.
Using Non-comedogenic Products:
Choose skincare and cosmetic products labeled as "non-comedogenic" or "oil-free," as these are less likely to clog pores.
Avoid using heavy, greasy, or pore-clogging products that can contribute to acne formation.
Applying Ice or Warm Compresses:
Applying a cold compress or ice wrapped in a clean cloth can help reduce inflammation, redness, and swelling associated with acne.
A warm compress can help open pores and facilitate the gentle removal of debris.
Managing a Healthy Diet and Lifestyle:
Maintain a balanced diet that includes plenty of fruits, vegetables, whole grains, and lean proteins.
Limit your intake of processed foods, sugary snacks, and high-glycemic-index foods, as they may worsen acne symptoms in some individuals.
Stay well-hydrated by drinking an adequate amount of water daily.
Get regular exercise to promote healthy circulation and reduce stress levels.
While these lifestyle and home remedies can contribute to acne management, it's important to note that individual responses may vary. Some people may see improvement with these practices, while others may require additional medical treatments. If your acne persists, worsens, or causes significant distress, it is recommended to consult with a dermatologist for a comprehensive evaluation and personalized treatment plan.
When to Seek Professional Help:
Here are some situations where consulting a dermatologist is recommended.
Consulting a Dermatologist:
If over-the-counter treatments have been ineffective in improving your acne or if your acne is persistent and causing distress.
If you have moderate to severe acne with numerous papules, pustules, nodules, or cysts.
If you experience frequent acne flare-ups or have acne that is leaving scars or dark spots on your skin.
If your acne is impacting your self-esteem, confidence, or emotional well-being.
If you have underlying medical conditions or are taking medications that may be contributing to your acne.
If you are unsure about the best approach to managing your acne or need personalized guidance.
Signs of Severe Acne or Underlying Conditions:
If you develop painful cysts or nodules that are deep within the skin and leave significant scarring.
If your acne is accompanied by fever, severe pain, or other unusual symptoms.
If you have other concerning skin symptoms, such as rashes, skin infections, or excessive hair growth.
Psychological Impact of Acne:
If acne is significantly affecting your mental health, self-esteem, or overall quality of life.
If you are experiencing emotional distress, social withdrawal, anxiety, or depression related to your acne.
A dermatologist can provide a comprehensive evaluation of your skin, diagnose the type and severity of acne, and recommend an appropriate treatment plan. They may prescribe medications, perform in-office procedures, or suggest lifestyle modifications to help manage your acne effectively. Seeking professional help is particularly important if your acne is severe, persistent, or causing emotional distress, as early intervention can lead to better outcomes and help prevent long-term scarring.
FAQs:
How long does it take for acne to clear up?
The timeline for acne clearance can vary greatly depending on the individual and the severity of their acne. Mild acne may clear up within a few weeks or months with proper treatment, while moderate to severe acne may take several months or even longer to see significant improvement. Consistency with treatment and following a dermatologist's guidance can help expedite the clearing process.
Can certain foods cause acne?
While the relationship between diet and acne is not fully understood, some studies suggest that certain foods may contribute to acne development in certain individuals. High-glycemic foods, dairy products, and foods with a high iodine content have been associated with worsening acne in some people. However, it's important to note that the impact of diet on acne can vary from person to person, and not everyone will experience the same effects. It may be helpful to observe how your skin reacts to different foods and make adjustments accordingly.
Can stress worsen acne?
Stress can potentially exacerbate acne. During times of stress, the body releases certain hormones that can increase oil production and inflammation, leading to the development or worsening of acne. Additionally, stress can disrupt normal sleep patterns, affect overall skin health, and potentially impact the immune system's response to acne-causing bacteria. Managing stress through relaxation techniques, exercise, and self-care practices may help in managing acne.
Are there any natural remedies for acne?
Some natural remedies may help in managing acne. Tea tree oil has antibacterial properties and can be applied topically to reduce acne lesions. Aloe vera gel may have anti-inflammatory effects and can soothe acne-affected skin. Green tea extract and witch hazel are also commonly used natural remedies for acne due to their potential antioxidant and anti-inflammatory properties. However, it's important to note that natural remedies may not work for everyone, and it's advisable to consult with a dermatologist before incorporating them into your routine.
Can wearing makeup make acne worse?
Wearing makeup itself does not necessarily cause acne, but certain makeup products can potentially worsen acne if they are comedogenic (tend to clog pores) or irritating to the skin. It is recommended to choose non-comedogenic, oil-free, and dermatologist-tested makeup products labeled as suitable for acne-prone skin. Additionally, removing makeup thoroughly before bed and practicing good skincare hygiene can help minimize the likelihood of makeup causing acne breakouts.
Conclusion:
Acne is a common skin condition that can affect individuals of all ages. While it can be frustrating and impact self-esteem, there are various preventive measures, treatments, and lifestyle adjustments that can help manage and improve acne.
Preventing acne involves establishing a consistent skincare routine, practicing good hygiene, managing stress levels, and making dietary considerations. Over-the-counter acne treatments, such as benzoyl peroxide, salicylic acid, retinoids, and sulfur-based products, can be effective for mild to moderate acne. In more severe cases, prescription medications like topical or oral antibiotics, oral contraceptives, hormonal treatments, or isotretinoin may be recommended by a dermatologist.
Dermatological procedures, including chemical peels, microdermabrasion, laser and light therapy, extraction of blackheads and whiteheads, and corticosteroid injections, can be utilized to target specific acne concerns and improve the skin's appearance.
In addition to medical treatments, adopting good lifestyle habits and home remedies can support acne management. Practicing proper facial cleansing techniques, avoiding picking or squeezing acne lesions, using non-comedogenic products, and managing a healthy diet and lifestyle can contribute to overall skin health.
It's important to know when to seek professional help, especially if over-the-counter treatments are ineffective, acne is severe, or if there are signs of emotional distress. Dermatologists can provide personalized guidance, diagnose the underlying causes of acne, and recommend appropriate treatments to address individual needs.
Remember, acne management requires patience, consistency, and a holistic approach. With the right combination of preventive measures, treatments, and professional guidance, most individuals can achieve clearer and healthier-looking skin.