The introduction section of the guide on mental health tips for students provides an overview of the importance of mental health for students and sets the context for the subsequent tips and strategies. It highlights the challenges and pressures faced by students and emphasizes the significance of prioritizing mental well-being alongside academic pursuits.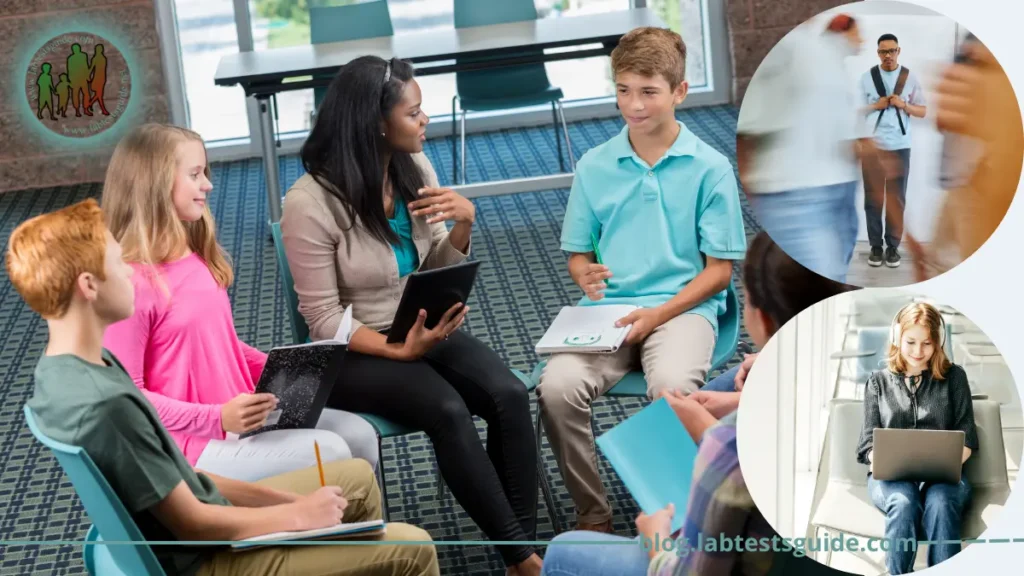 The introduction also acknowledges the prevalence of mental health issues among students and the impact they can have on various aspects of their lives, including academic performance, relationships, and overall quality of life. It aims to create awareness and encourage students to prioritize self-care and seek support when needed.
Importance of Mental Health for Students:
Here are several key reasons highlighting the importance of mental health for students.
Academic Performance: Mental health plays a significant role in academic performance. When students are mentally healthy, they are better able to concentrate, focus, and retain information.
Emotional Well-being: Students face a range of emotional challenges, including stress, anxiety, loneliness, and depression. This, in turn, enhances resilience, self-confidence, and the ability to cope with setbacks, pressures, and social challenges.
Physical Health: Mental health and physical health are interconnected. Poor mental health can lead to physical symptoms such as headaches, fatigue, and compromised immune function. Conversely, engaging in activities that promote mental well-being, such as regular exercise, adequate sleep, and stress management, positively influence physical health.
Relationships and Social Connection: Strong mental health contributes to healthy relationships and positive social connections. Students with good mental health are more likely to build and maintain supportive relationships with peers, friends, family, and mentors.
Personal Growth and Development: College and university years are a time for personal growth and self-discovery. Students who prioritize mental health are better equipped to navigate challenges, explore their interests, and develop their strengths and passions.
Future Success: Mental health significantly influences future success beyond the student years. Students who prioritize their mental well-being are more likely to develop resilience, adaptability, and effective stress management skills..
Recognizing the importance of mental health for students is the first step towards fostering a supportive environment that prioritizes well-being alongside academic achievement. By actively promoting mental health, educational institutions can help students develop the skills and strategies necessary for long-term success and fulfillment.
Tips for Maintaining Good Mental Health:
Take Breaks and Practice Self-Care: Make time for self-care activities that rejuvenate and recharge you. Engage in activities you enjoy, such as hobbies, reading, listening to music, or taking walks in nature. Prioritize self-care by setting aside dedicated time for yourself regularly.
Stay Physically Active: Regular exercise has numerous mental health benefits. Engage in physical activities that you enjoy, such as walking, dancing, yoga, or team sports. Physical activity helps reduce stress, improve mood, increase energy levels, and boost overall well-being.
Eat a Balanced Diet: Nutrition plays a vital role in mental health. Aim for a well-balanced diet that includes fruits, vegetables, whole grains, lean proteins, and healthy fats. Avoid excessive caffeine, sugar, and processed foods, as they can negatively impact your mood and energy levels.
Get Enough Sleep: Establish a consistent sleep routine and prioritize getting enough sleep each night. Aim for 7-9 hours of quality sleep to allow your mind and body to rest and recharge. Avoid excessive screen time before bed and create a comfortable sleep environment.
Build and Maintain Supportive Relationships: Cultivate relationships with friends, family, and mentors who provide support and understanding. Surround yourself with positive influences and engage in meaningful connections. Reach out to others when you need support or someone to talk to.
Manage Time Effectively: Develop good time management skills to reduce stress and increase productivity. Prioritize tasks, set realistic goals, and break them down into smaller, manageable steps. Use tools like calendars or planners to stay organized and create a balanced schedule.
Set Realistic Goals: Set achievable goals that align with your abilities and values. Break big goals into smaller milestones to track progress and maintain motivation. Celebrate achievements along the way to boost self-esteem and maintain a positive mindset.
Seek Help and Support When Needed: Don't hesitate to seek help if you're struggling with your mental health. Reach out to a trusted friend, family member, counselor, or mental health professional. They can provide guidance, support, and resources to help you navigate challenges.
Practice Relaxation Techniques: Incorporate relaxation techniques into your routine to manage stress and promote relaxation. Techniques like deep breathing, meditation, mindfulness, and progressive muscle relaxation can help calm the mind and reduce anxiety.
Remember, everyone's mental health journey is unique, and it's important to find what works best for you. Experiment with different strategies and seek professional guidance if needed. Prioritizing your mental health is essential for overall well-being and academic success.
Strategies for Coping with Stress:
Identify and Address Stressors: Take time to identify the specific sources of stress in your life. It could be academic pressure, deadlines, relationship issues, or personal expectations. Once you identify them, develop strategies to address and manage these stressors effectively.
Develop Healthy Coping Mechanisms: Find healthy ways to cope with stress rather than resorting to unhealthy habits like excessive drinking or drug use. Engage in activities that help you relax and unwind, such as listening to music, practicing art, writing in a journal, or engaging in physical exercise.
Practice Mindfulness and Meditation: Mindfulness and meditation techniques can help calm the mind and reduce stress. Set aside a few minutes each day to practice deep breathing exercises, mindfulness meditation, or guided relaxation techniques. These practices can help you cultivate a sense of calm and improve your ability to manage stress.
Engage in Hobbies and Activities You Enjoy: Carve out time for activities that bring you joy and help you de-stress. Engaging in hobbies, such as playing a musical instrument, painting, gardening, or cooking, can provide a much-needed break from stress and promote a sense of fulfillment.
Seek Support: Don't hesitate to reach out for support when you're feeling overwhelmed. Talk to a trusted friend, family member, or counselor about your stressors and emotions. Sharing your feelings can provide relief and help you gain perspective on your situation.
Maintain a Healthy Lifestyle: Take care of your physical well-being as it can greatly impact your stress levels. Eat a balanced diet, get regular exercise, and prioritize sufficient sleep. A healthy body can better cope with stress and support overall mental well-being.
Establish Boundaries: Learn to set boundaries in your personal and academic life. Be realistic about what you can handle and communicate your limits to others. Saying no to excessive commitments or obligations can help reduce stress and create a healthier balance.
Seek Professional Help: If stress becomes overwhelming or persistent, consider seeking professional help from a counselor or therapist. They can provide guidance, coping strategies, and support tailored to your specific needs.
Remember, coping with stress is a journey, and it may take time to find what works best for you. Be patient with yourself, practice self-compassion, and prioritize self-care to effectively manage stress and promote your overall well-being.
Dealing with Exam and Academic Stress:
Plan and Organize Study Time: Create a study schedule that allows for structured and consistent study sessions. Break down your study material into smaller, manageable chunks and allocate specific time slots for each topic or subject. Planning ahead can reduce last-minute cramming and promote a sense of control.
Break Tasks into Smaller, Manageable Parts: Large projects or assignments can feel overwhelming. Break them down into smaller tasks and set achievable goals for each session. Celebrate your progress along the way, which can help boost motivation and reduce stress.
Practice Effective Study Techniques: Experiment with different study techniques to find what works best for you. Some effective techniques include active reading, summarizing information in your own words, creating flashcards, and teaching concepts to someone else. Find the methods that help you understand and retain information effectively.
Take Regular Breaks During Study Sessions: Breaks are essential for maintaining focus and preventing burnout. Schedule short breaks during your study sessions to rest and recharge. Use this time to engage in activities that relax your mind, such as stretching, taking a walk, listening to music, or practicing deep breathing.
Practice Stress Management Techniques: Incorporate stress management techniques into your routine to cope with exam-related stress. Engage in regular exercise, practice relaxation techniques, such as deep breathing or meditation, and maintain a healthy lifestyle with proper sleep, nutrition, and hydration.
Avoid Procrastination: Procrastination can increase stress levels and reduce productivity. Break the habit by setting realistic deadlines for yourself and using time management techniques. Prioritize tasks, create to-do lists, and hold yourself accountable. Start with small, manageable tasks to build momentum.
Maintain Perspective: Remember that exams are just one aspect of your academic journey. Don't define your self-worth solely by your exam performance. Maintain perspective by focusing on your overall growth, learning, and the effort you put in rather than solely on the grades you receive.
By implementing these strategies, you can reduce exam-related stress and approach your academic challenges with a calmer and more confident mindset. Remember to be kind to yourself and prioritize self-care throughout the exam period.
Managing Peer Pressure and Social Challenges:
Set Boundaries and Assert Yourself: Establish clear personal boundaries and communicate them assertively. Be confident in saying "no" to activities or behaviors that go against your values or make you uncomfortable. Surround yourself with friends who respect and support your boundaries.
Surround Yourself with Positive Influences: Choose friends and social circles that have a positive influence on your well-being. Surrounding yourself with supportive and like-minded individuals can help reduce peer pressure and create a more positive social environment.
Develop Healthy Coping Strategies: Build healthy coping mechanisms to deal with peer pressure and social challenges. Find alternative activities or hobbies that align with your interests and values. Engage in activities that boost your self-esteem, such as pursuing your passions or participating in community service.
Seek Support from Trusted Adults: Reach out to trusted adults, such as parents, teachers, or mentors, when you're facing peer pressure or social challenges. They can provide guidance, advice, and support to help you navigate difficult situations and make informed decisions.
Practice Self-Confidence and Self-Acceptance: Develop a strong sense of self-confidence and self-acceptance. Embrace your unique qualities and interests. When you have confidence in yourself, it becomes easier to resist negative peer pressure and make choices that align with your values.
Learn to Say No: It's okay to say no when you're uncomfortable or when something doesn't align with your values. Practice assertiveness in expressing your boundaries and decisions. Remember that saying no is a sign of strength and self-respect.
Develop Problem-Solving Skills: Enhance your problem-solving skills to navigate social challenges effectively. Develop strategies for assertive communication, conflict resolution, and problem-solving techniques. These skills can help you address social challenges and resolve conflicts in a healthy manner.
Seek Professional Help if Needed: If you're struggling with persistent peer pressure or facing significant social challenges, consider seeking professional help from a counselor or therapist. They can provide guidance, support, and tools to help you navigate these situations and build resilience.
Remember, it's important to prioritize your own well-being and make choices that align with your values and goals. Surround yourself with positive influences, seek support when needed, and stay true to yourself. Managing peer pressure and social challenges is a learning process, and with time and practice, you can develop the skills and confidence to navigate these situations successfully.
Recognizing Signs of Mental Health Issues:
here are some common signs to watch for.
Persistent sadness or low mood: Feeling sad, down, or hopeless for an extended period of time, especially if it interferes with daily functioning and lasts for weeks or months.
Changes in appetite or weight: Significant changes in appetite, such as a loss of interest in eating or excessive overeating, leading to weight loss or weight gain.
Sleep disturbances: Difficulty sleeping, experiencing insomnia, or sleeping excessively beyond what is normal for you.
Loss of interest or pleasure: Losing interest in activities or hobbies that were once enjoyable, feeling a lack of motivation or pleasure in things that used to bring happiness.
Fatigue or low energy: Feeling tired, lacking energy, or experiencing persistent physical and mental exhaustion, even with adequate rest.
Difficulty concentrating or making decisions: Experiencing trouble focusing, making decisions, or experiencing memory problems that significantly impact daily functioning.
Irritability, agitation, or mood swings: Having frequent or intense irritability, restlessness, or mood swings that are not typical for you.
Physical symptoms without an underlying medical cause: Experiencing unexplained physical symptoms, such as headaches, stomachaches, or chronic pain, without a clear medical cause.
Thoughts of self-harm or suicide: Having persistent thoughts of self-harm, suicide, or feeling like a burden to others. If you or someone you know is experiencing suicidal thoughts, seek immediate help from a mental health professional or call emergency helplines.
It's important to note that everyone's experience with mental health issues can be different, and not all individuals will exhibit the same signs. Additionally, some mental health conditions may present with symptoms not listed here. If you suspect that you or someone you know may be experiencing mental health issues, it is recommended to seek professional help from a mental health provider who can assess the situation and provide appropriate support and treatment.
Conclusion:
Prioritizing mental health is crucial for students to thrive academically, emotionally, and socially. By implementing the tips provided, such as practicing self-care, seeking support, managing stress, and setting boundaries, students can maintain good mental health and effectively navigate the challenges they may face.
Recognizing the signs of mental health issues is equally important. Being aware of changes in mood, behavior, and overall well-being can help students and those around them identify when additional support or professional help may be needed.
It's essential to remember that mental health is a personal journey, and what works for one person may not work for another. Each individual should explore and find strategies that best suit their needs and preferences. Seeking professional help from counselors, therapists, or mental health providers can offer valuable guidance and support tailored to individual circumstances.
By fostering a culture of understanding, empathy, and support, educational institutions, families, and communities can contribute to a positive and nurturing environment for students' mental well-being.
Remember, taking care of your mental health is not a sign of weakness but a strength. It allows you to thrive academically, maintain healthy relationships, and live a fulfilling life.