Maintaining a healthy lifestyle requires paying attention to various aspects of our daily routine, and one crucial component is nutrition. A well-balanced diet plays a significant role in promoting overall health and well-being. The food we consume provides the necessary nutrients, vitamins, and minerals that support bodily functions, boost energy levels, and help prevent chronic diseases.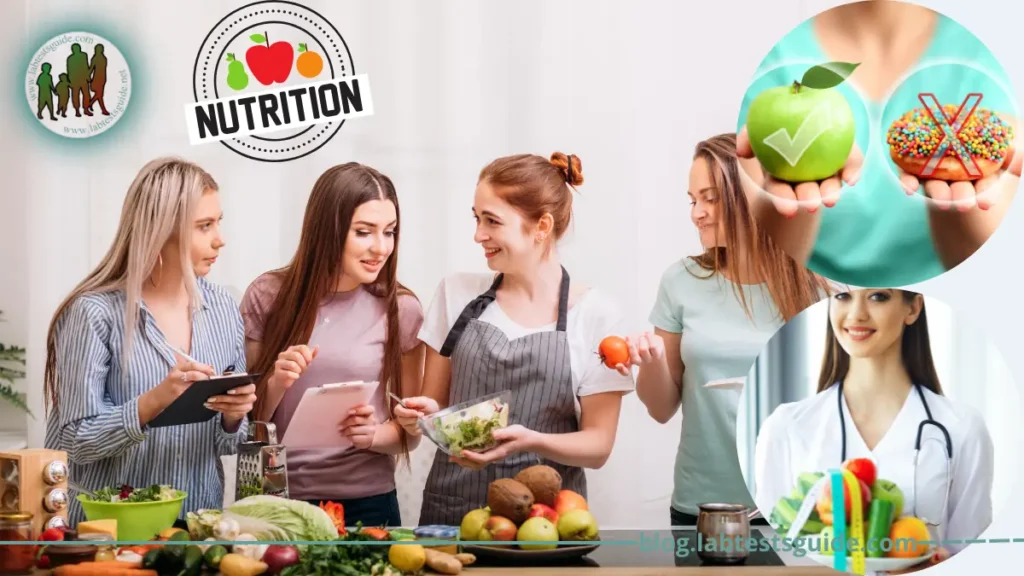 In this guide, we will explore essential nutrition tips for a healthy lifestyle. These tips will cover a range of topics, including macronutrients, vitamins, minerals, antioxidants, portion control, hydration, mindful eating, and more. By incorporating these guidelines into your daily routine, you can make informed choices about the food you consume and improve your overall health.
Remember, nutrition is a personalized journey, and it's important to consult with a healthcare professional or a registered dietitian to ensure that these tips align with your specific dietary needs and any existing medical conditions. With that said, let's dive into the world of nutrition and discover how to nourish our bodies for a healthy and vibrant life.
Importance of a Healthy Diet:
Here are some key reasons why maintaining a healthy diet is essential:
Nutrient Adequacy: A healthy diet ensures that you receive an adequate intake of essential nutrients, including vitamins, minerals, and antioxidants. These nutrients are vital for supporting various bodily functions, such as energy production, immune system function, cell repair, and growth.
Disease Prevention: A balanced and nutritious diet can help prevent the onset of chronic diseases, including heart disease, diabetes, obesity, and certain types of cancer. Consuming a variety of fruits, vegetables, whole grains, lean proteins, and healthy fats can provide the necessary nutrients and phytochemicals that promote overall health and reduce the risk of developing these conditions.
Weight Management: A healthy diet plays a crucial role in maintaining a healthy weight. By choosing nutrient-dense foods and practicing portion control, you can manage your calorie intake and prevent weight gain. Additionally, a balanced diet that includes adequate protein and fiber can help you feel satisfied and reduce the likelihood of overeating.
Energy and Performance: The food we eat serves as fuel for our bodies. A healthy diet provides the energy required for daily activities, exercise, and mental focus. By consuming a balanced mix of carbohydrates, proteins, and healthy fats, you can maintain steady energy levels throughout the day, enhance physical performance, and support cognitive function.
Digestive Health: A diet rich in fiber, whole grains, fruits, and vegetables supports a healthy digestive system. Adequate fiber intake promotes regular bowel movements, helps prevent constipation, and supports a diverse and healthy gut microbiome. This, in turn, can improve overall digestion and reduce the risk of gastrointestinal disorders.
Mental Well-being: Emerging research suggests that diet can have an impact on mental health. A healthy diet that includes omega-3 fatty acids, antioxidants, and B vitamins may help reduce the risk of depression, anxiety, and age-related cognitive decline. By nourishing your body with nutrient-rich foods, you support not only physical health but also mental well-being.
It's important to note that a healthy diet is not about strict restrictions or deprivation. Instead, it's about making mindful choices and developing a sustainable eating pattern that suits your individual needs and preferences. Consulting with a registered dietitian can provide personalized guidance and support in adopting a healthy diet that works best for you.
Balanced Macronutrients:
| | | |
| --- | --- | --- |
| Macronutrient | Description | Food Sources |
| Carbohydrates | Primary source of energy; provides fiber | Whole grains, fruits, vegetables, legumes |
| Proteins | Essential for tissue repair and growth | Lean meats, poultry, fish, eggs, dairy, legumes, tofu |
| Fats | Energy source, aids in nutrient absorption | Avocados, nuts, seeds, olive oil, fatty fish |
Remember to prioritize complex carbohydrates, lean protein sources, and healthy fats while limiting refined carbohydrates and unhealthy fats. Incorporating a variety of foods from each macronutrient group helps ensure a well-balanced diet. Additionally, consulting with a registered dietitian can provide personalized macronutrient recommendations based on your specific needs and goals.
Essential Vitamins and Minerals:
| | | |
| --- | --- | --- |
| Vitamin/Mineral | Description | Food Sources |
| Vitamin C | Supports immune system, wound healing, and iron absorption | Citrus fruits, strawberries, bell peppers |
| Vitamin D | Essential for bone health and calcium absorption | Fatty fish (salmon, mackerel), fortified dairy products, sunlight exposure |
| Calcium | Important for bone health and muscle function | Dairy products, leafy green vegetables, tofu |
| Iron | Required for oxygen transport in the body and prevention of anemia | Red meat, poultry, fish, beans, spinach |
There are many other foods that contain these nutrients. Including a diverse range of fruits, vegetables, whole grains, lean proteins, and dairy products in your diet can help ensure you're getting a variety of essential vitamins and minerals. If you have specific dietary needs or deficiencies, consulting with a healthcare professional or registered dietitian is recommended to develop a personalized nutrition plan.
Antioxidants and Phytochemicals:
Here are some examples of antioxidant-rich foods and their benefits.
Berries: Berries such as blueberries, strawberries, raspberries, and blackberries are packed with antioxidants, including anthocyanins. These compounds have been linked to reducing inflammation, improving brain health, and supporting heart health.
Leafy Green Vegetables: Dark, leafy green vegetables like spinach, kale, and Swiss chard are excellent sources of antioxidants, vitamins, and minerals. They contain compounds like lutein and zeaxanthin, which promote eye health, as well as flavonoids that have anti-cancer and anti-inflammatory properties.
Nuts and Seeds: Nuts and seeds, including almonds, walnuts, chia seeds, and flaxseeds, are rich in antioxidants, healthy fats, and fiber. They provide benefits such as reducing the risk of heart disease, improving brain function, and supporting healthy digestion.
Colorful Fruits and Vegetables: Brightly colored fruits and vegetables, such as oranges, carrots, tomatoes, and bell peppers, contain a variety of antioxidants, including vitamin C, beta-carotene, and lycopene. These antioxidants contribute to overall health and have been associated with a reduced risk of chronic diseases.
Incorporating a variety of antioxidant-rich foods into your diet is essential for optimal health. Aim to consume a rainbow of colorful fruits and vegetables, include nuts and seeds as snacks or in meals, and experiment with different types of berries to maximize your intake of antioxidants and phytochemicals.
It's important to note that while antioxidants and phytochemicals are beneficial, they should be part of a balanced diet that includes other essential nutrients. It's recommended to consult with a healthcare professional or registered dietitian for personalized advice on incorporating antioxidants and phytochemicals into your specific dietary needs.
Hydration:
Here are some key points about hydration and tips for staying properly hydrated.
Importance of Hydration:
Regulates Body Temperature: Water helps regulate body temperature through sweating and evaporation. It prevents overheating and aids in maintaining a stable internal body temperature.
Supports Digestion and Nutrient Absorption: Sufficient hydration is necessary for proper digestion and the absorption of nutrients. It helps break down food, aids in the movement of nutrients through the digestive tract, and prevents constipation.
Enhances Physical Performance: Staying hydrated is crucial for optimal physical performance. Dehydration can lead to reduced endurance, decreased strength, and impaired coordination. It's especially important to maintain hydration during exercise or any physical activity.
Supports Cognitive Function: Proper hydration is vital for optimal brain function. Dehydration can impair cognitive abilities, such as concentration, focus, and memory. Staying hydrated can help improve mental clarity and overall cognitive performance.
Tips for Staying Hydrated:
Drink Plenty of Water: Aim to drink water throughout the day, even when you're not feeling thirsty. Carry a water bottle with you to remind yourself to drink regularly.
Monitor Urine Color: Check the color of your urine as an indicator of hydration. Pale yellow or clear urine usually indicates proper hydration, while darker urine may suggest dehydration.
Include Hydrating Foods: Some fruits and vegetables, such as watermelon, cucumber, oranges, and strawberries, have high water content and can contribute to your overall hydration.
Limit Caffeine and Alcohol: Caffeine and alcohol can have a diuretic effect, increasing fluid loss from the body. Be mindful of their consumption and balance them with adequate water intake.
Set Reminders: Use phone alarms or other reminders to prompt yourself to drink water regularly, especially if you tend to forget.
Remember that individual hydration needs may vary depending on factors such as activity level, climate, and personal health conditions. It's important to listen to your body's thirst cues and adjust your fluid intake accordingly. Consulting with a healthcare professional can provide personalized guidance on your hydration needs. Stay hydrated and make it a priority to drink water consistently throughout the day for optimal health.
Healthy Snacking:
| | |
| --- | --- |
| Snack Idea | Description |
| Apple slices with almond butter | Provides a balance of carbohydrates, fiber, and healthy fats |
| Greek yogurt with berries | High in protein, calcium, and antioxidants |
| Carrot sticks with hummus | Crunchy and satisfying, rich in fiber and vitamins |
| Hard-boiled eggs | Excellent source of protein and nutrients, easy to prepare |
| Mixed nuts and seeds | Provides healthy fats, protein, and fiber, great for on-the-go snacking |
| Sliced cucumber with cottage cheese | Low-calorie snack packed with hydration and protein |
| Whole grain crackers with avocado | Offers fiber, healthy fats, and essential nutrients |
| Veggie sticks with guacamole | Nutrient-dense snack with healthy fats and antioxidants |
Meal Planning and Preparation:
Here are some tips for effective meal planning and preparation:
Set a Schedule: Dedicate a specific time each week to plan your meals. This could be on the weekend or any other convenient day. Consider your weekly activities, work schedule, and family needs when creating your meal plan.
Plan Balanced Meals: Ensure that each meal includes a balance of carbohydrates, proteins, healthy fats, and plenty of vegetables. Aim for variety to ensure you're getting a wide range of nutrients.
Make a Grocery List: Once you have your meal plan, create a grocery list based on the ingredients you'll need. Stick to the list while shopping to avoid impulse purchases of unhealthy foods.
Prep Ingredients in Advance: Spend some time prepping ingredients ahead of time, such as washing and chopping vegetables, marinating meats, or cooking grains. This will save you time during the week and make meal preparation faster and more convenient.
Batch Cooking: Consider preparing larger batches of certain dishes that can be portioned and stored for later meals. This is particularly helpful for busy weekdays when you may not have time to cook from scratch.
Use Storage Containers: Invest in a variety of storage containers to store prepped ingredients and leftovers. This will help keep your fridge organized and make it easier to grab healthy meals or snacks on the go.
Cook in Bulk and Freeze: Prepare extra servings of meals and freeze them in individual portions. This way, you'll always have healthy options available when you're short on time or don't feel like cooking.
Experiment with New Recipes: Keep things interesting by trying new recipes and flavors. Look for healthy recipe ideas online, in cookbooks, or from trusted sources to expand your culinary repertoire.
Stay Flexible: While meal planning is helpful, be flexible and open to changes. Adapt your plan based on fresh produce availability, special occasions, or unexpected events.
By incorporating meal planning and preparation into your routine, you can save time, make healthier choices, and reduce reliance on takeout or processed foods. It allows you to have greater control over your nutrition and ensures you have nutritious meals readily available throughout the week.
Food Allergies and Intolerances:
Here are some key points to consider regarding food allergies and intolerances:
Food Allergies: Food allergies occur when the immune system reacts negatively to specific proteins in certain foods. Common food allergens include peanuts, tree nuts, shellfish, fish, eggs, milk, soy, and wheat. Allergic reactions can range from mild symptoms like hives and itching to severe reactions known as anaphylaxis, which require immediate medical attention. If you have a food allergy, it's essential to avoid the allergen completely and be diligent about reading food labels to check for potential sources of the allergen.
Food Intolerances: Food intolerances are different from allergies and typically involve difficulty digesting or metabolizing certain foods. Lactose intolerance, for example, occurs when the body lacks the enzyme lactase needed to break down lactose, the sugar found in dairy products. Other common intolerances include gluten intolerance (celiac disease or non-celiac gluten sensitivity) and intolerances to certain food additives like sulfites or monosodium glutamate (MSG). Managing food intolerances involves avoiding or minimizing the intake of the offending food or additive.
Reading Labels and Cross-Contamination: When dealing with food allergies and intolerances, it's important to read food labels carefully to identify potential allergens or intolerant ingredients. Manufacturers are required to disclose the presence of common allergens on food labels, making it easier to identify if a product contains an allergen you need to avoid. Additionally, be mindful of cross-contamination, which can occur when allergens are present in the same processing equipment or food preparation area. Opting for certified allergen-free products or preparing meals from scratch can help minimize the risk of cross-contamination.
Seek Professional Guidance: If you suspect you have a food allergy or intolerance, it is recommended to consult with a healthcare professional, such as an allergist, gastroenterologist, or registered dietitian. They can conduct diagnostic tests, provide guidance on managing your condition, and help you develop personalized nutrition plan that meets your dietary needs while avoiding allergens or intolerant foods.
Remember, managing food allergies and intolerances requires vigilance, proper education, and support. With proper care and attention, it is possible to navigate these dietary challenges and maintain a healthy lifestyle.
Conclusion:
Maintaining a healthy lifestyle involves various factors, including balanced macronutrients, essential vitamins and minerals, the importance of a healthy diet, antioxidants and phytochemicals, hydration, healthy snacking, meal planning and preparation, and managing food allergies and intolerances. By incorporating these practices into your daily routine, you can enhance your overall well-being, support your body's nutritional needs, and reduce the risk of chronic diseases.
It's important to remember that everyone's nutritional needs and preferences may vary, and consulting with a healthcare professional or registered dietitian can provide personalized guidance based on your specific requirements. Additionally, adopting a healthy lifestyle is a long-term commitment that requires consistency and a balanced approach.
By making informed choices, being mindful of your dietary habits, and seeking professional advice when necessary, you can embark on a journey towards a healthier lifestyle that nourishes your body and supports your overall well-being.