Having a well-functioning digestive system is essential for overall health and well-being. Proper digestion ensures that our bodies can efficiently extract nutrients from the foods we eat, supporting various bodily functions and providing the energy we need for daily activities. Unfortunately, many people experience digestive issues, such as bloating, indigestion, or constipation, which can significantly impact their quality of life. The good news is that there are several natural and straightforward ways to improve digestion without relying on medications or drastic measures.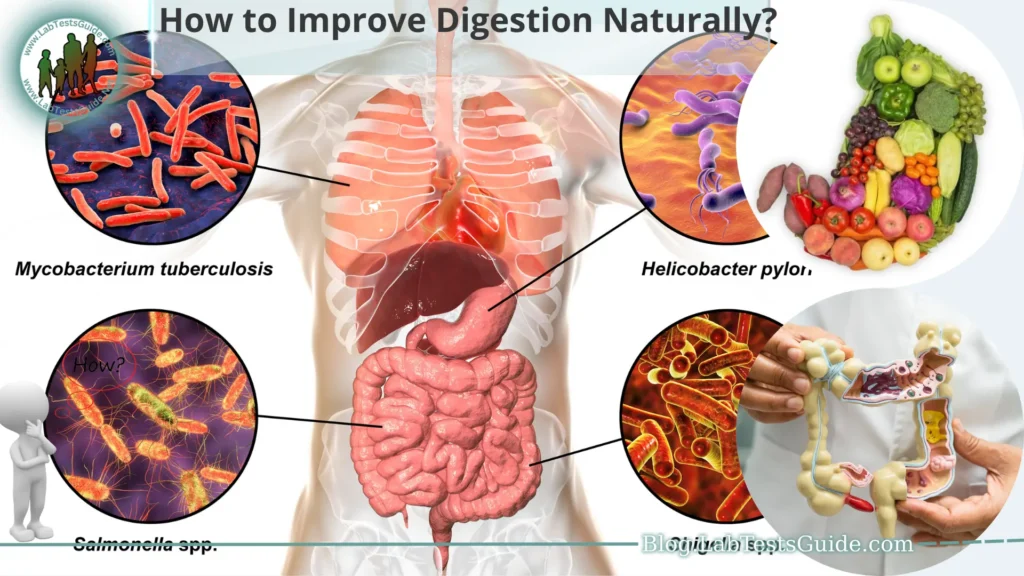 In this comprehensive guide, we will explore a range of practical and natural approaches to enhance digestion. From mindful eating habits and the right dietary choices to the incorporation of digestion-friendly herbs and lifestyle adjustments, we will uncover various strategies that can promote a healthy digestive system. By following these recommendations, you can take proactive steps towards better digestion and pave the way for improved overall health and vitality. Remember, while these tips can be beneficial for many individuals, it's always a good idea to consult with a healthcare professional if you have specific digestive concerns or conditions. Now, let's dive into the world of natural digestive wellness and discover how to nourish our bodies from the inside out.
What Is Digestion and How Does It Work?
Here's how digestion works in points.
Ingestion: The process begins with the intake of food through the mouth. Chewing breaks down the food into smaller pieces, forming a mixture called bolus.
Swallowing: The tongue pushes the bolus to the back of the mouth, triggering the swallowing reflex. The bolus then moves down the esophagus and into the stomach.
Stomach: In the stomach, the bolus is mixed with gastric juices, including hydrochloric acid and digestive enzymes. This creates a semi-liquid substance called chyme.
Small Intestine: The chyme moves into the small intestine, where further digestion occurs. The pancreas releases digestive enzymes to break down proteins, fats, and carbohydrates.
Absorption: As the chyme moves through the small intestine, nutrients, such as amino acids, glucose, fatty acids, and vitamins, are absorbed through the intestinal lining into the bloodstream.
Large Intestine: The remaining waste, including fiber and undigested food particles, enters the large intestine. Here, water and electrolytes are absorbed, and the waste is formed into feces.
Elimination: Feces are stored in the rectum until they are eliminated from the body through the anus during bowel movements.
Role of Gut Microbiota: Throughout the digestive process, the gut is populated by beneficial bacteria known as gut microbiota. These bacteria play a vital role in breaking down certain substances, producing vitamins, and supporting a healthy immune system.
How to Improve Digestion Naturally:
Stay Hydrated: Drink an adequate amount of water throughout the day to help maintain digestive tract function and prevent constipation.
Consume a Balanced Diet: Include plenty of fiber-rich foods like fruits, vegetables, and whole grains. Fiber promotes healthy bowel movements and supports digestive health.
Incorporate Probiotics and Fermented Foods: Probiotics are beneficial bacteria that can aid in digestion. Include yogurt, kefir, sauerkraut, kimchi, and other fermented foods in your diet.
Reduce Processed and Junk Foods: Limit the intake of heavily processed and greasy foods, as they can be harder to digest and may lead to discomfort.
Manage Stress: Chronic stress can negatively impact digestion. Practice stress-reducing techniques like meditation, deep breathing exercises, or yoga.
Get Sufficient Sleep: Aim for 7-9 hours of quality sleep each night. Proper sleep helps regulate digestive hormones and supports overall digestive health.
Avoid Trigger Foods and Beverages: Identify and avoid foods that trigger digestive discomfort or sensitivities in your body.
Maintain a Regular Eating Schedule: Try to eat meals and snacks at consistent times each day to establish a routine for your digestive system.
Stay Active After Meals: Engage in light physical activity, like taking a gentle walk, after eating. Avoid strenuous exercise immediately after meals.
Hygiene and Food Safety: Practice proper handwashing before eating and ensure that food is handled and prepared safely to avoid foodborne illnesses.
Seek Professional Advice: If you experience persistent or severe digestive issues, consult a healthcare provider or a registered dietitian for personalized guidance and support.
Eat Mindfully:
Here's how to eat mindfully.
Slow Down: Take your time while eating and avoid rushing through meals. Chew each bite thoroughly to break down food properly and aid digestion.
Engage Your Senses: Appreciate the colors, textures, and aromas of the food. Engaging multiple senses can enhance your dining experience and satisfaction.
Minimize Distractions: Avoid eating in front of screens or engaging in stressful activities while eating. Create a peaceful environment to fully focus on your meal.
Tune into Hunger Cues: Listen to your body's hunger signals and eat when you are genuinely hungry. Likewise, stop eating when you feel comfortably full.
Be Present: Be fully present with your meal. Put down utensils between bites and savor the flavors and textures of the food.
Acknowledge Your Feelings: Be aware of any emotional triggers that may affect your eating habits. Emotional eating can impact digestion and lead to overeating.
Portion Control: Serve appropriate portion sizes and avoid overeating. Mindful eating helps you recognize when you've had enough.
Enjoy Balanced Meals: Aim for a balanced diet that includes a variety of nutrients. Incorporate fruits, vegetables, whole grains, lean proteins, and healthy fats into your meals.
Practice Gratitude: Take a moment before or after your meal to express gratitude for the nourishing food and the effort put into preparing it.
Stay Hydrated: Drink water throughout your meal to aid digestion and prevent overeating.
Stay Hydrated:
Here's why staying hydrated is important and how you can do it effectively.
Importance of Water in Digestion:
Lubricates the Digestive System: Water helps lubricate the gastrointestinal tract, making it easier for food to move smoothly through the digestive system.
Aids in Nutrient Absorption: Proper hydration supports the absorption of nutrients from the food you eat, allowing your body to get the most out of the nutrients.
Prevents Constipation: Drinking enough water helps soften stools and prevents constipation by facilitating regular bowel movements.
Supports Waste Elimination: Adequate water intake assists in flushing out waste and toxins from the body, promoting a healthy digestive environment.
Tips for Staying Hydrated:
Drink Plenty of Water: Aim to drink at least 8 cups (64 ounces) of water per day. This amount may vary depending on factors like age, activity level, and climate.
Carry a Water Bottle: Keep a reusable water bottle with you throughout the day, making it easier to sip water regularly.
Set Reminders: Use phone alarms or reminders to prompt you to drink water at regular intervals, especially if you tend to forget.
Infuse Water with Fruits or Herbs: Add slices of fruits like lemon, cucumber, or berries, or herbs like mint, basil, or ginger to your water for a refreshing flavor.
Consume Water-Rich Foods: Eat foods with high water content, such as watermelon, cucumber, oranges, and lettuce, to increase your overall water intake.
Listen to Your Thirst: Pay attention to your body's thirst signals and drink water whenever you feel thirsty.
Consume a Balanced Diet:
Here's how to maintain a balanced diet for better digestion.
Include a Variety of Nutrient-Rich Foods:
Fruits and Vegetables: Incorporate a colorful array of fruits and vegetables into your meals. They provide vitamins, minerals, antioxidants, and fiber crucial for digestion and overall health.
Whole Grains: Opt for whole grains like brown rice, quinoa, oats, and whole wheat, as they offer more fiber and nutrients compared to refined grains.
Lean Proteins: Include lean protein sources such as poultry, fish, tofu, legumes, and beans to support muscle health and tissue repair.
Prioritize Fiber Intake:
Soluble Fiber: Found in foods like oats, apples, and beans, soluble fiber dissolves in water and forms a gel-like substance, aiding digestion and promoting a feeling of fullness.
Insoluble Fiber: Found in whole grains, nuts, and vegetables, insoluble fiber adds bulk to stool, preventing constipation and promoting regular bowel movements.
Incorporate Probiotics and Fermented Foods:
Probiotics: Consume foods rich in probiotics, such as yogurt, kefir, kimchi, sauerkraut, and miso. Probiotics promote a healthy balance of gut bacteria, aiding digestion and supporting the immune system.
Fermented Foods: Include fermented foods like kombucha and pickles, as they provide beneficial enzymes and probiotics that contribute to better digestion.
Limit Processed and Sugary Foods:
Reduce the intake of highly processed foods, as they are often low in nutrients and can be harder to digest.
Minimize added sugars, as excessive sugar intake may disrupt gut health and lead to digestive discomfort.
Stay Hydrated: Drink plenty of water throughout the day to maintain digestive tract function and prevent constipation.
Practice Portion Control: Be mindful of portion sizes to avoid overeating and support healthy digestion.
Avoid Skipping Meals: Stick to regular meal times and avoid skipping meals. Consistent eating patterns help maintain stable blood sugar levels and support digestion.
Consider Food Intolerances: Identify and address any food intolerances or sensitivities that may be causing digestive issues.
Incorporate Digestive Herbs and Spices:
Here are some digestive herbs and spices to consider.
Ginger: Ginger is well-known for its digestive properties. It helps stimulate saliva and digestive juices, aiding in the breakdown of food. Ginger can be consumed fresh, as a tea, or added to various dishes.
Peppermint: Peppermint has a calming effect on the digestive system and can help relieve gas and bloating. Peppermint tea is a popular choice for easing digestive discomfort.
Fennel: Fennel seeds are often used as a natural remedy for indigestion and gas. Chew a teaspoon of fennel seeds after meals or drink fennel tea for digestive relief.
Chamomile: Chamomile tea is known for its soothing properties and can help relax the digestive system, making it beneficial for calming an upset stomach.
Cumin: Cumin seeds aid in digestion by promoting the release of digestive enzymes. It is a common spice used in many cuisines around the world.
Coriander: Coriander seeds and leaves can help ease indigestion and bloating. Use coriander as a spice in cooking or consume it as coriander tea.
Turmeric: Turmeric contains curcumin, which has anti-inflammatory properties and may help soothe an inflamed digestive system. It is often used in curries and can be consumed as a turmeric tea or supplement.
Dill: Dill leaves and seeds can be used to improve digestion and reduce bloating. Add fresh dill to salads, soups, or make dill tea.
Cinnamon: Cinnamon can help stabilize blood sugar levels, which can have a positive impact on digestion. Sprinkle cinnamon on oatmeal, yogurt, or in smoothies.
Cardamom: Cardamom is known for its carminative properties, which can help reduce gas and bloating. Add ground cardamom to desserts or brew cardamom tea.
Practice Regular Physical Activity:
Here's how physical activity contributes to better digestion.
Promotes Bowel Regularity: Regular exercise helps stimulate the muscles in the intestines, which can aid in moving food and waste through the digestive tract, reducing the risk of constipation.
Reduces Bloating and Gas: Physical activity can help alleviate bloating and gas by encouraging the movement of gas through the digestive system.
Enhances Blood Flow: Exercise increases blood flow to various organs, including the digestive organs, which supports their function and nutrient absorption.
Supports Gut Health: Regular physical activity has been linked to a more diverse and healthy gut microbiome, which plays a crucial role in digestion and overall well-being.
Manages Stress: Exercise is an effective way to manage stress, which can have a significant impact on digestion. High-stress levels can lead to digestive discomfort and issues.
Helps Control Weight: Maintaining a healthy weight through regular exercise can reduce the risk of obesity-related digestive disorders, such as acid reflux and gallstones.
Improves Insulin Sensitivity: Exercise can improve insulin sensitivity, helping to regulate blood sugar levels and support healthy digestion.
Encourages Mindful Eating: Engaging in physical activity can make you more conscious of your body's hunger and satiety cues, leading to more mindful eating habits.
Types of Physical Activity for Better Digestion:
Cardiovascular Exercise: Activities like walking, running, cycling, swimming, and dancing can help boost circulation and support digestive health.
Yoga: Certain yoga poses, especially those that involve twists and stretches, can aid in digestion by stimulating abdominal organs.
Strength Training: Building and maintaining muscle mass can contribute to better metabolism and overall digestive efficiency.
Stretching: Gentle stretching exercises can help relieve tension in the digestive organs and promote relaxation.
Manage Stress:
Here's how to manage stress for better digestion.
Identify Stress Triggers: Pay attention to situations, people, or activities that trigger stress for you. Understanding your stress triggers can help you develop strategies to cope better.
Practice Relaxation Techniques:
Meditation: Engage in regular meditation to calm the mind, reduce stress hormones, and promote a sense of inner peace.
Deep Breathing Exercises: Practice deep, diaphragmatic breathing to activate the body's relaxation response and reduce stress levels.
Progressive Muscle Relaxation: Tense and relax different muscle groups to release physical tension associated with stress.
Engage in Physical Activity: Regular exercise, such as walking, yoga, or swimming, can help reduce stress and promote overall well-being, including digestive health.
Prioritize Self-Care: Set aside time for activities that bring you joy and relaxation, such as reading, spending time in nature, or pursuing hobbies.
Establish a Sleep Routine: Aim for 7-9 hours of quality sleep each night to support the body's natural stress recovery processes.
Limit Caffeine and Alcohol: Both caffeine and alcohol can contribute to increased stress and digestive discomfort. Moderating their consumption can be beneficial.
Seek Support: Talk to friends, family, or a professional counselor about your stressors. Sharing your feelings can provide emotional relief and new perspectives.
Time Management: Organize your tasks and responsibilities to reduce feelings of overwhelm and stress.
Practice Mindfulness: Be present in the moment and cultivate acceptance of the present situation, reducing unnecessary worry and anxiety.
Laugh and Have Fun: Engaging in activities that make you laugh or bring joy can release endorphins, the body's natural stress relievers.
Consider Relaxing Herbs: Certain herbs like chamomile, valerian root, and passionflower can have calming effects and help manage stress when used in moderation.
Stay Active After Meals:
Here's how staying active after meals can be beneficial.
Promotes Digestive Motility: Light activity, such as taking a leisurely walk, encourages the movement of food through the digestive tract. This can help prevent issues like bloating and indigestion.
Enhances Blood Circulation: Physical activity increases blood flow to the stomach and intestines, supporting the delivery of nutrients and oxygen to aid in the digestion process.
Reduces Acid Reflux: Walking or standing upright after a meal can help reduce the risk of acid reflux by keeping the contents of the stomach from flowing back into the esophagus.
Manages Blood Sugar Levels: After a meal, light physical activity can help regulate blood sugar levels, especially for individuals with prediabetes or diabetes.
Aids in Weight Management: Incorporating activity after meals may help control appetite and contribute to weight management efforts.
Supports Overall Health: Regular physical activity is associated with numerous health benefits, including improved cardiovascular health, better mood, and reduced stress.
Tips for Staying Active After Meals:
Take a Walk: Going for a gentle walk around the neighborhood or park after a meal can be a refreshing way to stay active.
Do Light Housework: Engage in light housework activities, such as washing dishes or tidying up, to keep yourself moving.
Gardening: If you have a garden, spending some time tending to it after meals can be a productive and active way to unwind.
Stretching: Gentle stretching exercises or yoga poses can aid in digestion and promote relaxation.
Avoid Strenuous Exercise: While light activity is beneficial, avoid intense or strenuous exercise immediately after eating, as it may interfere with digestion.
Enjoy Social Activities: Engaging in social activities like walking with friends or playing with pets after meals can make staying active more enjoyable.
Stay Hydrated: Remember to drink water during and after physical activity to stay hydrated and support digestion.
FAQs:
Why is digestion important for overall health?
Digestion is essential for breaking down food into nutrients that the body can absorb and use for energy, growth, and repair. Proper digestion supports overall health, as it ensures the body receives the necessary nutrients to function optimally.
What are some common signs of poor digestion?
Common signs of poor digestion include bloating, gas, indigestion, heartburn, constipation, diarrhea, and irregular bowel movements. Persistent digestive issues may indicate an underlying problem and should be addressed with a healthcare provider.
How can I naturally improve my digestion?
You can naturally improve digestion by adopting mindful eating habits, staying hydrated, consuming a balanced diet with fiber-rich foods and probiotics, incorporating digestive herbs and spices, managing stress, practicing regular physical activity, and getting sufficient sleep.
What are probiotics, and how do they benefit digestion?
Probiotics are beneficial bacteria that support a healthy gut microbiome. They aid in digestion by promoting the balance of gut flora, improving nutrient absorption, and enhancing the function of the digestive system.
Can stress affect digestion?
Yes, stress can negatively impact digestion. High-stress levels can lead to digestive discomfort, reduce blood flow to the digestive organs, and alter gut motility. Managing stress through relaxation techniques and self-care is crucial for maintaining digestive health.
Is it essential to drink water during meals?
While drinking water during meals is a personal preference, it's generally advisable to avoid excessive fluid intake with meals, as it may dilute digestive juices. However, staying hydrated throughout the day is essential for proper digestion.
How can I identify foods that trigger digestive issues for me?
Keeping a food diary and monitoring your symptoms can help identify specific foods that trigger digestive discomfort. Eliminate suspected trigger foods one at a time and observe changes in symptoms to pinpoint potential culprits.
Is it better to exercise before or after meals for digestion?
Light physical activity after meals, such as walking, is generally recommended for supporting digestion. Vigorous exercise immediately after eating may divert blood flow away from the digestive system and could lead to discomfort.
When should I consult a healthcare provider for digestive issues?
If you experience persistent or severe digestive issues, such as chronic bloating, abdominal pain, or changes in bowel habits, it's essential to seek medical advice. A healthcare provider can help diagnose and address any underlying digestive conditions or concerns.
Conclusion:
In conclusion, improving digestion naturally is essential for overall health and well-being. By adopting simple yet effective strategies like mindful eating, staying hydrated, consuming a balanced diet with digestive herbs and probiotics, managing stress, and engaging in regular physical activity, we can support our digestive system and promote better digestion. These lifestyle changes not only aid in nutrient absorption and waste elimination but also contribute to a healthier gut microbiome and reduced digestive discomfort. Remember that small, consistent adjustments in our daily habits can lead to significant improvements in digestive health and pave the way for a more balanced and vibrant life. As always, consulting with healthcare professionals can provide personalized guidance for specific digestive concerns or conditions.