In today's fast-paced and highly demanding world, maintaining mental focus and concentration has become increasingly challenging. Whether it's studying for exams, tackling work projects, or simply staying engaged in daily activities, our ability to concentrate can significantly impact our performance and overall well-being.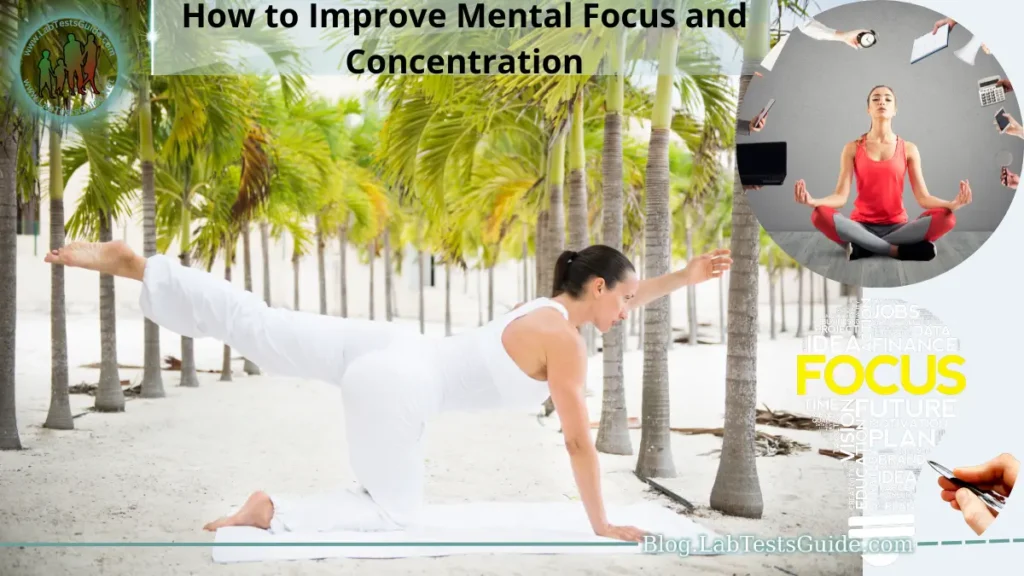 This guide aims to provide practical strategies and techniques to help improve your mental focus and concentration. It will explore the factors that affect concentration, the benefits of enhanced focus, and various lifestyle changes that can positively impact your cognitive abilities. Additionally, the guide will delve into specific techniques, such as mindfulness and goal setting, along with cognitive training exercises and strategies to optimize your digital habits.
Understanding Mental Focus and Concentration:
Distractions: External distractions, such as noise, interruptions, or environmental factors, can disrupt our focus. Internal distractions, such as intrusive thoughts or worries, can also hinder concentration.
Fatigue and sleep deprivation: Lack of adequate sleep and fatigue can impair cognitive function and make it difficult to maintain focus and concentration.
Stress and anxiety: High levels of stress and anxiety can interfere with concentration and make it challenging to stay focused on tasks.
Nutrition and hydration: Poor diet and dehydration can impact cognitive function and reduce mental clarity, making it harder to concentrate.
Physical fitness: Regular physical exercise can improve cognitive function, including focus and concentration.
Mental and emotional state: Emotional factors, such as boredom, lack of interest, or low motivation, can affect mental focus.
Multitasking: Trying to juggle multiple tasks simultaneously can divide attention and make it difficult to concentrate fully on any one task.
Technology and digital distractions: Constant connectivity to technology and excessive use of digital devices can lead to distractions and reduced focus.
Benefits of Improved Mental Focus:
Improving mental focus and concentration can have several benefits, including.
Enhanced productivity: Improved focus allows you to work more efficiently and accomplish tasks in less time.
Better learning and retention: Concentrated focus helps in better understanding and retention of information, leading to improved learning outcomes.
Sharper decision-making: Clear focus enables you to assess situations, evaluate options, and make informed decisions more effectively.
Increased creativity: By maintaining focused attention, you can tap into your creative potential and generate innovative ideas.
Reduced stress and frustration: When you can concentrate on tasks without being easily distracted, you experience less stress and frustration.
Improved overall well-being: Enhanced focus contributes to a sense of accomplishment, self-confidence, and satisfaction in your daily activities.
Understanding the factors that affect mental focus and recognizing the benefits of improved concentration lays the foundation for implementing strategies and techniques to enhance your cognitive abilities.
Assessing Your Current Mental Focus:
Self-Reflection:
Take some time for self-reflection to assess your current level of mental focus. Consider the following questions.
How easily do you get distracted during tasks?
Do you find it challenging to maintain focus for extended periods?
Are you often forgetful or have difficulty remembering details?
Do you frequently find your mind wandering during conversations or activities?
Are there specific situations or environments where you struggle more with focus?
Honest self-reflection can provide valuable insights into your current level of mental focus and help identify areas for improvement.
Attention Span Evaluation:
Evaluate your attention span by engaging in activities that require sustained focus. Set a timer and try to concentrate on a specific task, such as reading a book or working on a project, without getting distracted. Note how long you can maintain your focus before your mind starts to wander or you feel the urge to check your phone or engage in other distractions.
By objectively assessing your attention span, you can gauge your current ability to sustain mental focus and identify any patterns or challenges that may arise.
Identifying Distractions:
Identify the common distractions that interfere with your mental focus. These distractions can be external (such as noise, notifications, or interruptions) or internal (such as wandering thoughts or worries). Keep a record of the distractions that commonly disrupt your concentration throughout the day.
Lifestyle Changes for Improved Mental Focus:
Regular Sleep Patterns: Establish a consistent sleep schedule and aim for 7-9 hours of quality sleep each night. Prioritize creating a relaxing bedtime routine, avoiding stimulating activities and electronic devices before bed, and ensuring your sleep environment is comfortable and conducive to restful sleep. Sufficient sleep helps improve cognitive function, attention, and overall mental focus.
Balanced Diet and Hydration: Maintain a balanced diet that includes nutrient-rich foods, such as fruits, vegetables, whole grains, lean proteins, and healthy fats. Avoid excessive consumption of sugary and processed foods, as they can lead to energy crashes and decreased mental clarity. Additionally, stay hydrated by drinking an adequate amount of water throughout the day, as dehydration can impair cognitive function.
Physical Exercise: Engage in regular physical exercise, as it promotes blood flow to the brain and releases endorphins that enhance mood and cognitive function. Aim for at least 150 minutes of moderate-intensity aerobic exercise per week, along with strength training exercises. Find activities you enjoy, such as walking, jogging, dancing, or yoga, and make them a part of your routine.
Stress Management Techniques: Develop effective stress management techniques to reduce the impact of stress on your mental focus. This can include practices like deep breathing exercises, mindfulness meditation, yoga, or engaging in hobbies and activities that help you relax and unwind. Find healthy outlets for stress and prioritize self-care to maintain optimal cognitive function.
Creating a Productive Environment: Designate a dedicated and organized workspace that minimizes distractions and promotes focus. Keep your workspace clean and clutter-free, establish a routine, and set clear goals and priorities for each day. Minimize noise, limit access to distractions like social media, and consider using tools such as noise-canceling headphones or productivity apps to aid concentration.
Techniques and Strategies for Mental Focus Enhancement:
Mindfulness and Meditation: Practice mindfulness meditation to improve your ability to stay present and focused. Set aside dedicated time each day to engage in mindfulness exercises, such as focusing on your breath or observing your thoughts without judgment. This practice enhances your awareness of distractions and trains your mind to redirect attention back to the task at hand.
Deep Breathing Exercises: Deep breathing exercises can help calm the mind, reduce stress, and improve focus. Take slow, deep breaths, inhaling deeply through your nose and exhaling fully through your mouth. Focus your attention on your breath, allowing it to anchor you in the present moment and promote mental clarity.
Goal Setting and Prioritization: Set clear goals and priorities to guide your focus and concentration. Break down larger tasks into smaller, manageable steps, and create a schedule or to-do list that outlines specific objectives and deadlines. By having a clear direction, you can maintain focus and work systematically towards achieving your goals.
Time Management Techniques: Utilize effective time management techniques to optimize your productivity and concentration. Techniques like the Pomodoro Technique, where you work for a set period (e.g., 25 minutes) and then take a short break, can help maintain focus and prevent burnout. Experiment with different time management strategies to find the ones that work best for you.
Single-Tasking vs. Multitasking: Engage in single-tasking rather than multitasking whenever possible. Multitasking can divide your attention and decrease overall productivity. Instead, focus on one task at a time, complete it to the best of your ability, and then move on to the next. This approach allows for deeper concentration and more efficient task completion.
Cognitive Training and Brain Exercises:
Memory Improvement Techniques
Engage in memory improvement exercises to sharpen your cognitive abilities and enhance mental focus. Some techniques include.
Mnemonic devices: Use mnemonic strategies, such as acronyms, visualization, or chunking, to improve memory retention.
Memory games: Play memory-enhancing games like matching games, puzzles, or card games that require you to remember and recall information.
Mental associations: Create mental associations or connections between new information and existing knowledge to aid memory recall.
Practice retrieval: Test yourself by recalling information without referring to external sources. This practice strengthens memory retrieval and improves focus.
Mental Puzzles and Games: Solve mental puzzles, such as crosswords, Sudoku, logic puzzles, or riddles. These activities challenge your problem-solving skills, improve cognitive flexibility, and help sustain mental focus.
Focus-Building Apps and Tools: Utilize focus-building apps and tools designed to enhance cognitive abilities. These apps often include brain-training exercises, attention-enhancing games, and exercises that improve memory, attention, and mental flexibility. Some popular apps include Lumosity, Elevate, and Peak.
How to Optimize Digital Habits:
Digital Detox and Screen Time Management: Take regular breaks from digital devices to give your brain a rest and reduce digital overload. Set specific times or days when you disconnect from screens and engage in activities that don't involve technology. Additionally, establish boundaries and limits on your screen time by setting specific time limits or using apps that track and restrict usage.
Organizing Digital Information: Maintain a well-organized digital environment to reduce distractions and improve focus. Keep your digital files, emails, and documents neatly organized and use tools like folders, labels, or tags to easily locate and access information. Minimize clutter and create a streamlined digital workspace that promotes efficiency and reduces mental distractions.
Limiting Social Media Distractions: Manage your social media usage to prevent it from becoming a constant source of distraction. Set specific times for checking social media and limit the amount of time spent on these platforms. Disable notifications or use apps that block or limit access to social media during specific periods. Be mindful of the content you consume and choose to follow accounts that provide value and inspiration rather than distractions.
What are Seeking Professional Help:
Consulting a Healthcare Provider: If you're facing persistent difficulties with mental focus and concentration, it can be beneficial to consult a healthcare provider, such as a primary care physician or a mental health professional. They can assess your specific situation, provide a proper diagnosis if necessary, and offer guidance and treatment options tailored to your needs.
Therapy and Counseling Options: Therapy and counseling can be valuable resources for addressing challenges related to mental focus and concentration. Cognitive-behavioral therapy (CBT) or other evidence-based therapies can help identify and modify underlying thought patterns, behaviors, and habits that may be contributing to difficulties in focus. A therapist or counselor can provide support, guidance, and specific strategies to improve mental focus and concentration.
Medication and Supplements: In certain cases, healthcare providers may prescribe medications or recommend supplements to address underlying conditions that affect mental focus and concentration. These could include medications for attention deficit hyperactivity disorder (ADHD) or supplements that support cognitive function. It's important to consult with a healthcare professional before considering any medication or supplement to ensure it is safe and appropriate for your specific needs.
Remember that: seeking professional help is a proactive step towards addressing any persistent challenges with mental focus and concentration. Healthcare providers can offer personalized advice, treatment options, and support to help you improve your cognitive abilities and overall well-being.
Maintaining Consistency and Persistence:
Developing a Routine: Establish a daily routine that supports mental focus and concentration. Set specific times for activities such as work, study, exercise, breaks, and relaxation. Stick to your routine as much as possible, as consistency helps train your mind to focus during designated times and reduces decision fatigue.
Tracking Progress and Adjusting Strategies: Regularly track your progress in improving mental focus and concentration. Keep a journal or use apps to monitor your productivity, identify patterns, and evaluate the effectiveness of different strategies. Based on your observations, adjust and refine your techniques and approaches to find what works best for you.
Building Resilience and Motivation: Improving mental focus and concentration takes time and effort, so it's essential to build resilience and maintain motivation. Celebrate small victories and milestones along the way to stay motivated. Seek support from friends, family, or communities with similar goals to keep you accountable and inspired. Remind yourself of the benefits and positive outcomes that come with improved focus and concentration.
By maintaining consistency, tracking progress, and staying motivated, you can cultivate and sustain the habits and strategies necessary for enhancing mental focus and concentration. Building resilience helps you overcome obstacles and setbacks, ensuring that you persist in your journey towards improved cognitive abilities.
FAQs:
How long does it take to improve mental focus and concentration?
The time it takes to improve mental focus and concentration varies from person to person. It depends on various factors, including individual characteristics, dedication to practicing techniques, and consistency in implementing lifestyle changes. Some people may notice improvements within a few weeks, while others may require more time. It's important to be patient, persistent, and maintain a proactive approach towards enhancing mental focus.
Are there any supplements or medications that can improve mental focus?
There are some supplements and medications that claim to enhance mental focus and concentration. However, it's crucial to consult with a healthcare professional before considering any supplements or medications. They can provide guidance based on your specific needs and circumstances. Keep in mind that a healthy lifestyle, including adequate sleep, nutrition, exercise, and stress management, forms the foundation for improved mental focus, and supplements or medications should be considered as complementary, if appropriate.
Can technology help improve mental focus?
Technology can be both a helpful tool and a distraction when it comes to improving mental focus. There are various apps and tools available that can assist in organizing tasks, setting reminders, and minimizing distractions. However, it's important to strike a balance and use technology mindfully. Limiting screen time, managing digital distractions, and establishing healthy digital habits can contribute to improved mental focus.
Can meditation alone improve mental focus?
Meditation is a powerful practice that can enhance mental focus and concentration. Regular meditation cultivates mindfulness, improves attentional control, and trains the mind to redirect focus. However, for comprehensive improvement in mental focus, it's beneficial to combine meditation with other strategies such as goal setting, time management, and adopting a healthy lifestyle. The integration of multiple techniques and approaches tends to yield the best results.
Can stress affect mental focus and concentration?
Yes, stress can significantly impact mental focus and concentration. High levels of stress can overload the mind, leading to difficulty in focusing on tasks, memory lapses, and decreased cognitive performance. Stress management techniques, such as mindfulness, deep breathing exercises, and relaxation practices, can help reduce stress and improve mental focus.
Conclusion:
Improving mental focus and concentration is a valuable endeavor that can have a profound impact on various aspects of your life. By implementing the strategies and techniques outlined in this guide, you can enhance your cognitive abilities, increase productivity, and achieve better outcomes in your work, studies, and daily activities.