Having a healthy digestive system is essential for overall well-being and maintaining optimal health, and as a girl, there are various ways you can improve digestion and support your digestive health. Digestion plays a crucial role in breaking down the food you eat, absorbing nutrients, and eliminating waste from your body. When your digestion is functioning well, you're more likely to experience better energy levels, a stronger immune system, and improved overall health. In this guide, we will explore effective strategies and tips to enhance digestion specifically tailored for girls. By incorporating these practices into your lifestyle, you can enjoy the benefits of a well-functioning digestive system and feel your best.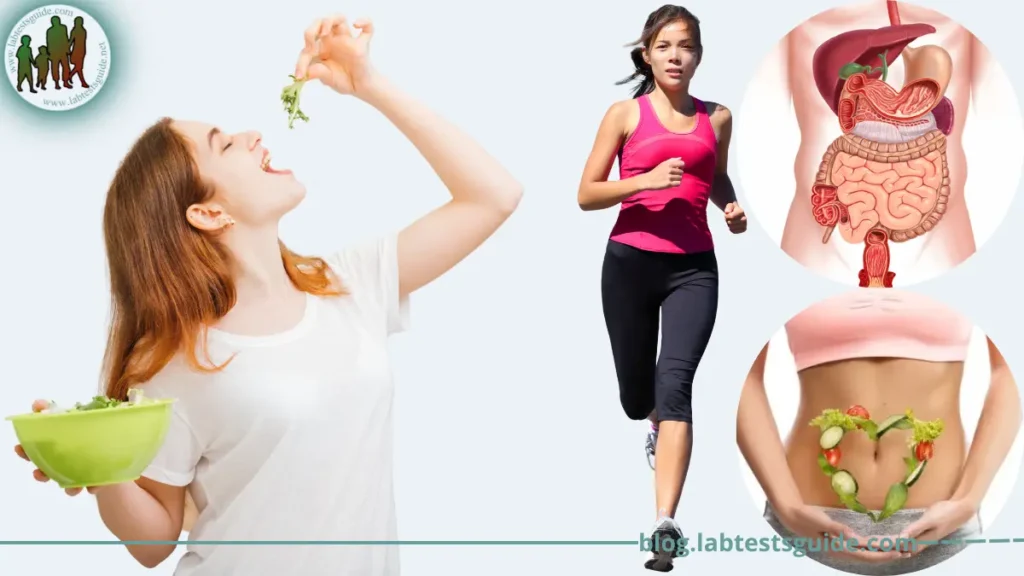 Balanced diet:
Here are some important aspects of a balanced diet.
Include a variety of food groups: Your meals should consist of a mix of fruits, vegetables, whole grains, lean proteins, and healthy fats. Each food group offers different nutrients that are essential for digestion and overall health.
Fiber-rich foods: Include ample amounts of fiber in your diet through foods like whole grains, legumes, fruits, and vegetables. Fiber adds bulk to your stool, promotes regular bowel movements, and helps prevent constipation.
Choose lean proteins: Opt for lean protein sources such as poultry, fish, beans, lentils, and tofu. Protein is important for the growth and repair of body tissues, including the digestive system.
Healthy fats: Incorporate healthy fats like avocados, nuts, seeds, and olive oil into your diet. These fats help in the absorption of fat-soluble vitamins and provide a source of energy.
Stay hydrated: Drink an adequate amount of water throughout the day. Water aids in digestion, helps soften the stool, and prevents constipation.
Portion control: Practice mindful eating and pay attention to portion sizes. Overeating can strain the digestive system, so aim for balanced and moderate portion sizes.
Limit processed and high-fat foods: Processed foods, fried foods, and those high in saturated fats can be harder to digest. Limit your intake of these foods and opt for healthier alternatives.
Be mindful of food intolerances: Some girls may have specific food intolerances or sensitivities that can affect digestion. Pay attention to how your body reacts to certain foods and consider eliminating or reducing them if necessary.
Remember, every person's nutritional needs may vary, so it's essential to listen to your body and consult with a healthcare professional or a registered dietitian for personalized dietary recommendations. They can provide guidance tailored to your specific needs and help you create a balanced diet that supports your digestive health.
Hydration:
Here are some important points to consider regarding hydration and its impact on digestion.
Water and digestive function: Drinking an adequate amount of water is essential for proper digestion. Water helps soften the stool, making it easier to pass and preventing constipation. It also helps in the breakdown of food and the absorption of nutrients.
Prevents dehydration: Dehydration can lead to various digestive issues such as constipation, bloating, and an upset stomach. It is important to stay hydrated to ensure the smooth functioning of your digestive system.
Optimal water intake: The general recommendation for water intake is to drink at least 8 cups (64 ounces) of water per day. However, individual water needs may vary depending on factors such as activity level, climate, and overall health.
Hydrating foods: In addition to drinking water, you can also increase your hydration levels through consuming water-rich foods. Fruits and vegetables like watermelon, cucumber, oranges, and lettuce have high water content and can contribute to your overall hydration.
Timing of water consumption: It's beneficial to drink water before and after meals. Drinking water before a meal can help stimulate digestive juices and prepare your stomach for food. Consuming water after a meal aids in the digestion process and prevents dehydration.
Listen to your body's thirst cues: Pay attention to your body's signals for thirst and drink water whenever you feel thirsty. Thirst is a sign that your body needs hydration.
Consider electrolyte balance: Electrolytes like sodium, potassium, and magnesium play a role in maintaining proper hydration. Including electrolyte-rich foods or drinks, such as coconut water or homemade electrolyte solutions, can be beneficial, especially during periods of intense physical activity or in hot weather.
Remember that while it's important to stay hydrated, excessive water intake can also have negative effects. Avoid overhydrating as it can disrupt the balance of electrolytes in your body. If you have any specific health conditions or concerns, it's always best to consult with a healthcare professional for personalized hydration recommendations.
Chew food thoroughly:
Chewing your food thoroughly is an often overlooked but important aspect of improving digestion as a girl. Proper chewing aids in the digestion process and offers several benefits.
Breaks down food: Chewing breaks down food into smaller particles, making it easier for your digestive system to process. It mechanically breaks apart food, increasing the surface area and exposing it to digestive enzymes.
Enhances nutrient absorption: Thoroughly chewing your food allows for better absorption of nutrients. When food is properly broken down, the nutrients are more readily available for absorption in the small intestine.
Promotes satiety: Chewing food thoroughly gives your brain time to register that you are eating, which can help prevent overeating. It takes approximately 20 minutes for the brain to receive signals of fullness, so chewing slowly allows you to feel satisfied with smaller portions.
Aids in digestion of carbohydrates: The process of chewing starts the breakdown of carbohydrates through the action of enzymes in saliva. Amylase, an enzyme in saliva, begins breaking down complex carbohydrates into simpler sugars, which helps facilitate their digestion.
Supports gut health: Thoroughly chewing your food can aid in gut health by promoting better digestion and reducing the likelihood of digestive discomfort. When food is properly chewed, it's easier for the stomach and intestines to process, reducing the potential for bloating, gas, and indigestion.
To improve your chewing habits, consider the following tips:
Take smaller bites of food.
Chew slowly and consciously, savoring each bite.
Aim to chew each mouthful of food until it becomes liquid-like before swallowing.
Put down utensils or food between bites to allow for proper chewing.
Minimize distractions during meals to focus on your chewing and eating process.
By incorporating thorough chewing into your eating routine, you can support better digestion, nutrient absorption, and overall digestive health.
Include fiber-rich foods:
Here's why fiber is important and some examples of fiber-rich foods you can incorporate into your meals.
Promotes regular bowel movements: Fiber adds bulk to your stool, which helps prevent constipation and promotes regular bowel movements. It can also help alleviate symptoms of diarrhea by absorbing excess water in the digestive tract.
Supports gut health: Fiber acts as a prebiotic, providing nourishment for beneficial gut bacteria. This helps maintain a healthy balance of gut flora, which is essential for optimal digestion and overall well-being.
Regulates blood sugar levels: Fiber slows down the absorption of sugar, preventing rapid spikes in blood sugar levels. This can be particularly beneficial for girls with conditions like polycystic ovary syndrome (PCOS) or diabetes.
Promotes satiety and weight management: High-fiber foods tend to be more filling, which can help control appetite and support weight management goals. They take longer to chew and digest, providing a sense of fullness and reducing the likelihood of overeating.
Examples of fiber-rich foods: Incorporate the following fiber-rich foods into your diet:
Whole grains: Quinoa, brown rice, oats, whole wheat bread, and whole wheat pasta.
Legumes: Beans, lentils, chickpeas, and peas.
Fruits: Berries, apples, pears, oranges, and bananas.
Vegetables: Broccoli, spinach, Brussels sprouts, carrots, and sweet potatoes.
Nuts and seeds: Almonds, chia seeds, flaxseeds, and walnuts.

When increasing your fiber intake, it's important to do so gradually and drink plenty of water throughout the day. This helps prevent digestive discomfort and allows fiber to do its job effectively.
Remember that individual fiber needs may vary, so it's best to consult with a healthcare professional or a registered dietitian for personalized recommendations based on your specific dietary requirements and health conditions.
Avoid skipping meals:

Here's why regular meal consumption is beneficial for your digestive health.
Steady energy levels: Skipping meals, especially breakfast, can lead to fluctuations in blood sugar levels and energy crashes. Eating regular meals helps maintain steady energy levels throughout the day, which supports proper digestion.
Prevents overeating: When you skip a meal, you may become excessively hungry and tend to overeat during your next meal. Overeating can put strain on your digestive system and lead to discomfort, bloating, and indigestion.
Maintains a regular eating pattern: Establishing a consistent eating routine helps regulate your body's digestive processes. Regular meal times signal your body to release digestive enzymes and prepare for food intake, promoting efficient digestion.
Supports nutrient absorption: Consuming regular meals ensures that your body receives a steady supply of essential nutrients throughout the day. This promotes optimal nutrient absorption and utilization by the body.
Supports bowel regularity: Regular meal consumption, combined with an adequate intake of fiber and fluids, helps promote regular bowel movements and prevents constipation.
To avoid skipping meals:
Plan your meals in advance: Create a meal plan for the week, including breakfast, lunch, dinner, and snacks. This will help you stay organized and ensure that you have all the necessary ingredients on hand.
Pack portable snacks: Keep healthy snacks, such as nuts, fruits, yogurt, or granola bars, with you to prevent skipping meals when you're on the go or faced with time constraints.
Make time for breakfast: Start your day with a balanced breakfast that includes protein, whole grains, and fruits or vegetables. This will kickstart your metabolism and provide you with energy for the day.
Listen to your body's hunger cues: Pay attention to your body's signals of hunger and eat when you feel genuinely hungry. Avoid waiting until you're extremely hungry, as this can lead to overeating.
Opt for smaller, frequent meals: If you find it challenging to eat large meals, consider consuming smaller, more frequent meals throughout the day. This approach can help you meet your nutritional needs without feeling overwhelmed by large portions.
Remember, it's important to listen to your body and make adjustments based on your individual needs. If you have specific dietary requirements or concerns, it's always a good idea to consult with a healthcare professional or a registered dietitian for personalized advice.

Manage stress:
Here's why stress management is important and some strategies you can incorporate.
Impact on digestion: Stress activates the body's "fight-or-flight" response, which can disrupt normal digestion. It can slow down or speed up digestion, affect nutrient absorption, and increase sensitivity to digestive symptoms.
Stress and gut-brain connection: The gut and brain are closely interconnected through the gut-brain axis. Stress can disrupt this communication, leading to changes in gut motility, gut permeability, and the balance of gut bacteria, which can impact digestion.
Mindful eating: Practicing mindful eating can help reduce stress and improve digestion. Take time to eat your meals in a calm environment, savor each bite, and pay attention to your body's hunger and fullness cues.
Regular exercise: Engaging in regular physical activity, such as walking, yoga, or other forms of exercise, can help reduce stress levels. Exercise promotes the release of endorphins, which are known as "feel-good" hormones that can alleviate stress and promote overall well-being.
Stress reduction techniques: Explore stress reduction techniques that work for you, such as deep breathing exercises, meditation, journaling, listening to calming music, spending time in nature, or engaging in hobbies that bring you joy.
Time management: Proper time management can help reduce stress. Prioritize tasks, set realistic goals, and create a schedule that allows for regular breaks and self-care activities. This can help create a sense of control and reduce stress levels.
Social support: Maintain strong social connections and seek support from family, friends, or support groups. Sharing your feelings and concerns with others can help alleviate stress and provide a sense of comfort.
Adequate sleep: Getting enough restful sleep is crucial for stress management. Establish a consistent sleep routine and create a sleep-friendly environment to support quality sleep.
Seek professional help if needed: If stress becomes overwhelming and affects your daily life, consider seeking support from a mental health professional who can provide guidance and strategies to manage stress effectively.
By incorporating stress management techniques into your lifestyle, you can reduce the impact of stress on your digestive system and promote better digestion and overall well-being. Remember that finding the right stress management strategies may involve some trial and error, so be patient and persistent in finding what works best for you.
Stay active:
Here's why staying active is beneficial and some tips to incorporate physical activity into your routine.
Enhances digestion: Exercise can help stimulate the muscles in your gastrointestinal tract, promoting better digestion and regular bowel movements. It can also help reduce the risk of constipation and bloating.
Manages weight: Regular physical activity supports weight management, which is important for maintaining a healthy digestive system. Being overweight or obese can increase the risk of digestive disorders such as acid reflux, gallbladder problems, and fatty liver disease.
Reduces stress: Exercise is known to reduce stress levels, and stress can negatively impact digestion. By engaging in physical activity, you can lower stress hormone levels, which can have a positive effect on your digestive health.
Increases blood flow: Exercise improves blood circulation, including to your digestive organs. This can enhance nutrient absorption and promote optimal functioning of the digestive system.
Boosts metabolism: Physical activity can increase your metabolic rate, helping your body efficiently process and utilize nutrients from food. This can contribute to better digestion and energy balance.
Tips for staying active:
Choose activities you enjoy: Find activities that you genuinely enjoy, such as dancing, swimming, cycling, hiking, or playing a sport. This makes it more likely that you'll stick with them long-term.
Set realistic goals: Set achievable goals for your physical activity, whether it's a certain number of steps per day, a specific workout duration, or a target number of active days per week.
Incorporate movement throughout the day: Look for opportunities to be active throughout the day, such as taking the stairs instead of the elevator, going for short walks during breaks, or stretching during study or work breaks.
Make it social: Exercise with friends or join group fitness classes. Having a workout buddy or participating in social activities can make exercising more enjoyable and help you stay motivated.
Gradually increase intensity: If you're new to exercise, start with low-impact activities and gradually increase the intensity and duration as you build strength and endurance.
Listen to your body: Pay attention to your body's signals and adjust your activity level accordingly. Rest when needed and avoid pushing yourself too hard, especially if you're recovering from an injury or illness.

Remember to consult with a healthcare professional before starting any new exercise routine, especially if you have any underlying health conditions or concerns. They can provide personalized guidance based on your specific needs and capabilities.
Consider probiotics:
Here's why probiotics are important and how you can incorporate them into your routine.
Gut health and digestion: Probiotics help maintain a healthy balance of beneficial bacteria in your gut. They can enhance digestion by aiding in the breakdown and absorption of nutrients, promoting regular bowel movements, and supporting overall gut health.
Alleviates digestive issues: Probiotics have been found to be helpful in managing certain digestive issues such as irritable bowel syndrome (IBS), inflammatory bowel disease (IBD), and diarrhea. They can help reduce symptoms like bloating, gas, and abdominal discomfort.
Boosts immune function: A significant portion of our immune system resides in the gut. Probiotics can strengthen the immune response and help protect against infections and harmful pathogens that can impact digestion.
Sources of probiotics: Probiotics can be obtained through certain foods and dietary supplements. Some food sources of probiotics include yogurt, kefir, sauerkraut, kimchi, miso, tempeh, and kombucha. When choosing probiotic foods, look for options that contain live and active cultures.
Probiotic supplements: Probiotic supplements are available in various forms, including capsules, tablets, and powders. When selecting a probiotic supplement, consider the specific strains and their benefits, the number of live bacteria per serving, and any specific recommendations from your healthcare provider.
Timing and dosage: Follow the recommended dosage instructions provided by the manufacturer or healthcare professional when taking probiotics. The timing of consumption can vary depending on the specific probiotic strain and formulation. Some people find it helpful to take probiotics with or before meals to maximize their effectiveness.
Consult a healthcare professional: If you have specific digestive concerns or health conditions, it's advisable to consult with a healthcare professional, such as a gastroenterologist or a registered dietitian. They can provide guidance on the appropriate probiotic strains and dosages that may be beneficial for your specific situation.
It's important to note that while probiotics have shown benefits for many individuals, they may not be suitable for everyone. Some people may experience mild digestive discomfort when starting probiotics, which usually subsides after a short period. If you have any concerns or experience persistent adverse effects, consult your healthcare provider.
Lastly, maintaining a balanced diet, incorporating fiber-rich foods, staying hydrated, managing stress, and adopting a healthy lifestyle overall can also contribute to optimal digestion alongside the potential benefits of probiotics.
Conclusion:

In conclusion, improving digestion as a girl involves adopting various strategies and habits that support optimal digestive health. By following a balanced diet, staying hydrated, managing stress, and incorporating healthy practices into your lifestyle, you can promote better digestion and overall well-being.
A balanced diet that includes fiber-rich foods, such as whole grains, legumes, fruits, vegetables, nuts, and seeds, can provide the necessary nutrients and promote regular bowel movements. Avoiding skipping meals helps maintain steady energy levels and prevents overeating.
Hydration is essential for proper digestion, as it helps soften stool and prevent constipation. Drinking an adequate amount of water throughout the day supports optimal digestion.
Chewing food thoroughly aids in the mechanical breakdown of food and enhances the release of digestive enzymes. This practice promotes better digestion and nutrient absorption.
Managing stress is crucial, as stress can disrupt digestion. Engaging in relaxation techniques, maintaining a healthy lifestyle, seeking social support, and practicing stress reduction activities can help manage stress levels and improve digestion.
Considering probiotics, either through probiotic-rich foods or supplements, can support a healthy balance of gut bacteria, enhance digestion, and alleviate certain digestive issues. Consulting with a healthcare professional can provide guidance on probiotic strains and dosages suitable for your specific needs.
By incorporating these strategies into your daily routine and making conscious choices to prioritize your digestive health, you can improve digestion and experience greater overall wellness as a girl. Remember that individual needs may vary, so it's always a good idea to consult with healthcare professionals for personalized advice based on your specific circumstances.