Anxiety disorders are a common mental health condition that affects millions of people worldwide. They encompass a range of disorders, including generalized anxiety disorder (GAD), panic disorder, social anxiety disorder (SAD), specific phobias, and more. These disorders can cause significant distress and interfere with daily functioning, but the good news is that effective management strategies are available.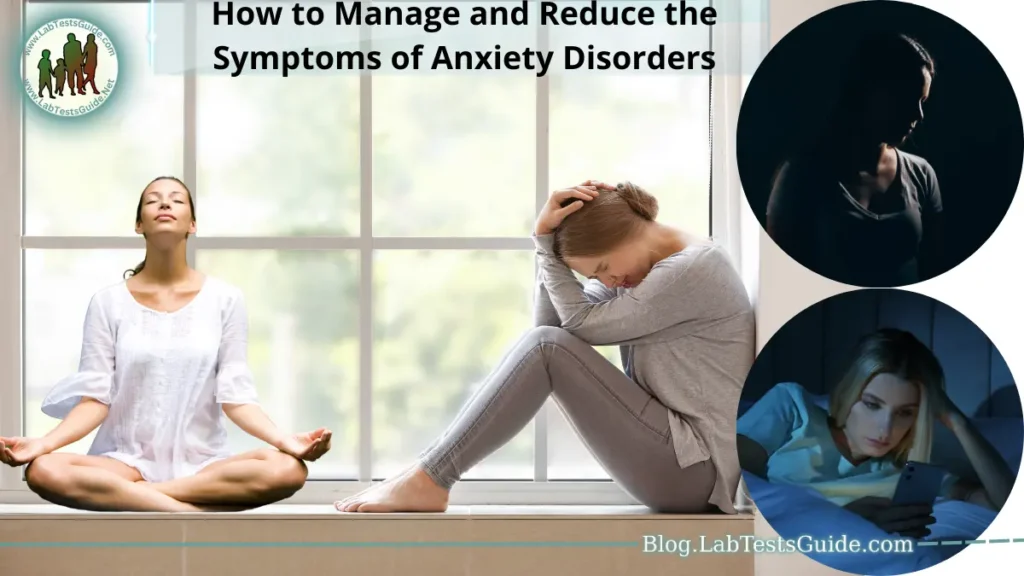 This guide aims to provide you with an overview of various approaches to managing and reducing the symptoms of anxiety disorders. It will cover both professional interventions and self-help techniques that can be incorporated into your daily life. It's important to note that while these strategies can be helpful for many individuals, each person's experience with anxiety is unique, and what works for one person may not work for another. Therefore, it's essential to seek professional advice and tailor these approaches to your specific needs.
Introduction to Anxiety Disorders:
Definition of Anxiety Disorders:
Anxiety disorders are mental health conditions characterized by excessive and persistent feelings of fear, worry, and apprehension that go beyond normal levels of stress and can significantly impact daily functioning.
Common Types of Anxiety Disorders:
Common Types of Anxiety Disorders:
Generalized Anxiety Disorder (GAD): GAD is characterized by excessive and uncontrollable worry and anxiety about various aspects of life, such as work, relationships, health, or everyday situations. The worry is often disproportionate to the actual circumstances, and individuals with GAD may experience physical symptoms like restlessness, fatigue, muscle tension, and difficulty concentrating.
Panic Disorder: Panic disorder involves recurrent and unexpected panic attacks, which are intense episodes of fear or discomfort that reach their peak within minutes. Panic attacks are often accompanied by physical symptoms such as heart palpitations, shortness of breath, chest pain, trembling, and a sense of impending doom. People with panic disorder often worry about future panic attacks and may change their behavior to avoid triggering them.
Social Anxiety Disorder (Social Phobia): Social anxiety disorder is characterized by an intense fear and avoidance of social situations due to a fear of being embarrassed, humiliated, or judged by others. People with social anxiety may experience anxiety in various social settings, including parties, public speaking, or even everyday interactions. Physical symptoms can include blushing, trembling, sweating, and difficulty speaking.
Specific Phobias: Specific phobias involve an intense and irrational fear of specific objects or situations. Common phobias include heights, spiders, flying, needles, and confined spaces. The fear is excessive and leads to avoidance behaviors to prevent encountering the feared object or situation. Exposure to the phobia trigger can trigger extreme anxiety or panic attacks.
Obsessive-Compulsive Disorder (OCD): OCD is characterized by the presence of obsessive thoughts and compulsive behaviors. Obsessions are intrusive and repetitive thoughts, images, or urges that cause distress, while compulsions are repetitive behaviors or mental acts performed to alleviate anxiety or prevent a feared outcome. Common obsessions include concerns about cleanliness, symmetry, or harm, while common compulsions involve excessive hand-washing, checking, or counting.
Post-Traumatic Stress Disorder (PTSD): PTSD occurs after experiencing or witnessing a traumatic event. Symptoms may include intrusive memories, nightmares, flashbacks, avoidance of triggers associated with the trauma, negative changes in mood and cognition, and heightened arousal. PTSD can significantly impact daily functioning and quality of life.
Understanding Anxiety Symptoms:
Physical Symptoms of Anxiety:
Rapid Heartbeat: Anxiety can cause an increased heart rate, often described as a racing or pounding heart. This physiological response is a result of the body's "fight or flight" response to perceived threats or stressors.
Shortness of Breath: Anxiety may lead to a feeling of breathlessness or difficulty breathing. Individuals may experience shallow, rapid breathing or feel like they cannot take a deep breath. This can contribute to a sense of discomfort or panic.
Muscle Tension: Anxiety can cause muscle tension and tightness, commonly felt in the neck, shoulders, and back. Individuals may experience muscle aches, stiffness, or even tension headaches as a result of chronic muscle tension.
Trembling or Shaking: Anxiety can manifest as trembling or shaking of the hands, legs, or other parts of the body. These physical symptoms may be more noticeable during periods of heightened anxiety or during panic attacks.
Sweating: Anxiety can trigger excessive sweating, even in the absence of physical exertion or high temperatures. Sweating may occur on the palms of the hands, underarms, or throughout the body and can be accompanied by feelings of warmth.
Gastrointestinal Distress: Anxiety can affect the digestive system, leading to symptoms such as stomachaches, nausea, diarrhea, or constipation. Some individuals may experience an increase in acid reflux or indigestion during periods of anxiety.
Dizziness or lightheadedness: Anxiety can cause a feeling of dizziness or lightheadedness. Individuals may feel unsteady on their feet or as if they might faint. These sensations are often a result of changes in blood pressure and breathing patterns.
Fatigue or Insomnia: Anxiety can disrupt sleep patterns, leading to difficulties falling asleep or staying asleep. Individuals may also experience restless, unrefreshing sleep, which can contribute to daytime fatigue and low energy levels.
Changes in Appetite: Anxiety can impact appetite, leading to either an increase or decrease in food intake. Some individuals may experience a loss of appetite or have difficulty eating due to feelings of nausea, while others may engage in emotional eating and experience weight gain.
Headaches or Migraines: Anxiety can contribute to the development or exacerbation of headaches or migraines. These headaches may be tension-type headaches or migraines triggered by stress and tension.
Cognitive Symptoms of Anxiety:
Excessive Worry: Anxiety often involves persistent and excessive worry about various aspects of life, such as health, work, relationships, or future events. The worry is often unrealistic or disproportionate to the actual situation and can be challenging to control.
Racing Thoughts: Anxiety can lead to a rapid stream of racing thoughts, where the mind jumps from one worry or fear to another. These thoughts may feel overwhelming and difficult to turn off, contributing to increased anxiety and difficulty focusing on the present moment.
Catastrophic Thinking: Individuals with anxiety may engage in catastrophic thinking, imagining and exaggerating the worst-case scenarios. They may anticipate negative outcomes or imagine the worst possible consequences of their actions, even when the likelihood of these events is low.
Negative Self-Talk: Anxiety can lead to a negative and self-critical inner dialogue. Individuals may constantly criticize themselves, doubt their abilities, or engage in negative self-judgment. This negative self-talk further fuels anxiety and undermines self-confidence.
Overgeneralization: Anxious individuals may tend to overgeneralize specific events or situations, drawing broad and negative conclusions based on isolated incidents. For example, they may have a negative experience in a social setting and generalize it to believe that they will always fail in social situations.
Mind Reading: Anxiety can lead individuals to assume they know what others are thinking or feeling, even without concrete evidence. They may jump to negative conclusions about others' perceptions of them or anticipate criticism or rejection.
Difficulty Concentrating: Anxiety can make it challenging to concentrate and focus on tasks at hand. The mind may be preoccupied with anxious thoughts, making it difficult to engage in activities that require sustained attention and mental clarity.
Memory Problems: Anxiety can impact memory function, particularly short-term memory. Individuals may have difficulty recalling information, forget important details, or experience gaps in memory due to the heightened stress and cognitive overload associated with anxiety.
Overthinking: Anxious individuals often engage in excessive rumination and overthinking. They may repeatedly analyze past events, worry about future scenarios, and play out various "what if" scenarios in their minds, which can contribute to increased anxiety and mental fatigue.
Behavioral Symptoms of Anxiety:
Avoidance: Individuals with anxiety may engage in avoidance behaviors to escape or reduce their anxiety. They may avoid certain places, situations, or activities that they associate with triggering their anxiety. For example, someone with social anxiety might avoid social gatherings or public speaking.
Restlessness: Anxiety can manifest as restlessness, where individuals may find it challenging to sit still or relax. They may constantly fidget, pace back and forth, or engage in repetitive movements as a way to release their nervous energy.
Irritability: Anxiety can contribute to increased irritability and a reduced tolerance for stressors. Individuals may become easily agitated, short-tempered, or snap at others. Small inconveniences or disruptions may escalate their anxiety and lead to outbursts.
Sleep disturbances: Anxiety can disrupt sleep patterns, leading to difficulties falling asleep, staying asleep, or experiencing restless sleep. Individuals may also have vivid dreams or nightmares related to their anxieties, further impacting their quality of sleep.
Changes in appetite: Anxiety can affect appetite, leading to either an increase or decrease in food intake. Some individuals may experience a loss of appetite, leading to weight loss, while others may engage in emotional eating and experience weight gain.
Hypervigilance: Anxiety can make individuals hyperaware of their surroundings and excessively attentive to potential threats or dangers. They may constantly scan their environment for signs of danger, leading to heightened sensitivity to noises, movements, or changes in their surroundings.
Difficulty concentrating: Anxiety can interfere with concentration and focus. Individuals may find it challenging to pay attention to tasks, follow conversations, or retain information. Their mind may be preoccupied with anxious thoughts, making it difficult to concentrate on the present moment.
Overpreparation: In an attempt to alleviate anxiety, individuals may engage in overpreparation. They may excessively plan, double-check details, or seek reassurance to ensure everything goes smoothly and to minimize potential sources of anxiety.
Seeking Professional Help:
Here are some key points to consider when seeking professional help.
Recognizing the Need for Professional Assistance:
If your anxiety symptoms significantly impact your daily life, relationships, or overall functioning, it may be time to seek professional help.
Common signs that indicate the need for professional assistance include persistent and excessive worry, avoidance behaviors, panic attacks, and interference with work or school performance.
Types of Mental Health Professionals:
Psychiatrists: Medical doctors who specialize in mental health and can diagnose and treat anxiety disorders. They can prescribe medication if necessary.
Psychologists: Professionals with expertise in understanding human behavior and mental processes. They provide therapy, including evidence-based approaches for anxiety disorders.
Therapists/Counselors: Trained professionals who offer counseling and therapy services. They may have different specialties and use various therapeutic approaches.
Primary Care Physicians: Your regular doctor can assess your symptoms, provide initial support, and refer you to mental health specialists if needed.
Finding the Right Therapist or Counselor:
Look for professionals experienced in treating anxiety disorders or specializing in cognitive behavioral therapy (CBT) or other evidence-based treatments.
Consider factors such as their qualifications, credentials, experience, and compatibility with your personality and communication style.
Seek recommendations from trusted sources, such as healthcare providers, friends, or family members who have had positive experiences with therapists.
Initial Assessment and Treatment Planning:
During your initial sessions, the mental health professional will conduct an assessment to better understand your symptoms, triggers, and any underlying factors contributing to your anxiety.
They will work with you to develop a personalized treatment plan that may include therapy, medication, or a combination of both.
Openly communicate your goals, concerns, and preferences to ensure collaborative decision-making throughout the treatment process.
Remember that seeking professional help is a brave and proactive step towards managing your anxiety. It allows you to gain insights into your condition, learn coping strategies, and receive the necessary support on your journey to recovery.
Psychotherapy and Counseling:
Here are some commonly used psychotherapeutic approaches for anxiety disorders.
Cognitive Behavioral Therapy (CBT):
CBT is one of the most extensively researched and effective therapies for anxiety disorders.
It focuses on identifying and challenging negative thought patterns and beliefs that contribute to anxiety.
Through CBT, individuals learn practical skills to replace anxious thoughts with more realistic and adaptive thinking, leading to a reduction in anxiety symptoms.
Exposure Therapy:
Exposure therapy is often used for specific phobias and panic disorder.
It involves gradually and systematically exposing individuals to feared situations or objects in a safe and controlled manner.
Over time, repeated exposure helps to reduce anxiety and desensitize the individual to their fears.
Dialectical Behavior Therapy (DBT):
DBT was originally developed to treat borderline personality disorder, but it has also shown effectiveness in addressing anxiety disorders.
DBT combines elements of cognitive-behavioral techniques with mindfulness and acceptance-based strategies.
It focuses on developing skills for emotional regulation, distress tolerance, and interpersonal effectiveness.
Acceptance and Commitment Therapy (ACT):
ACT aims to help individuals accept their anxious thoughts and feelings without trying to eliminate or suppress them.
It focuses on clarifying personal values and committing to actions that align with those values, even in the presence of anxiety.
ACT emphasizes mindfulness and teaches individuals to detach from unhelpful thoughts and engage in meaningful life activities.
Other Effective Therapeutic Approaches:
Mindfulness-Based Stress Reduction (MBSR) and Mindfulness-Based Cognitive Therapy (MBCT) integrate mindfulness practices into therapy to reduce anxiety and enhance well-being.
Psychodynamic therapy explores how unconscious processes and early life experiences contribute to anxiety symptoms.
Supportive therapy provides a safe space for individuals to express their concerns and receive empathic support.
Medication Options:
Here are some commonly used medication options.
Selective Serotonin Reuptake Inhibitors (SSRIs):
SSRIs are commonly prescribed antidepressant medications that also have anxiolytic (anti-anxiety) properties.
Examples of SSRIs include sertraline (Zoloft), escitalopram (Lexapro), fluoxetine (Prozac), and paroxetine (Paxil).
SSRIs work by increasing the levels of serotonin, a neurotransmitter associated with mood regulation, in the brain.
Benzodiazepines:
Benzodiazepines are sedative medications that provide rapid relief for acute anxiety symptoms.
Examples include alprazolam (Xanax), clonazepam (Klonopin), lorazepam (Ativan), and diazepam (Valium).
Benzodiazepines work by enhancing the calming effects of a neurotransmitter called gamma-aminobutyric acid (GABA).
Buspirone:
Buspirone is a medication specifically approved for the treatment of generalized anxiety disorder (GAD).
It is a non-benzodiazepine medication that acts as a partial agonist of serotonin receptors.
Buspirone is generally not associated with sedation or addiction potential, making it a preferred option for long-term anxiety management.
Beta-Blockers:
Beta-blockers, such as propranolol (Inderal), are primarily used to treat high blood pressure and certain heart conditions.
They can also help reduce the physical symptoms of anxiety, such as rapid heartbeat, tremors, and sweating.
Beta-blockers work by blocking the effects of adrenaline, a hormone involved in the body's stress response.
It's important to note that medication should be prescribed and monitored by a qualified healthcare professional. They will consider factors such as the type and severity of anxiety, individual health history, and potential side effects when determining the most appropriate medication and dosage. It may take some time to find the right medication and dosage that works best for you, as individual responses can vary.
Lifestyle Modifications and Self-Care:
Here are some strategies to consider.
Stress Management Techniques:
Engage in stress-reducing activities such as deep breathing exercises, progressive muscle relaxation, and guided imagery.
Practice time management, prioritize tasks, and break them down into smaller, more manageable steps.
Incorporate activities that bring you joy and relaxation, such as hobbies, creative outlets, or spending time in nature.
Regular Exercise and Physical Activity:
Engage in regular physical activity as it helps reduce anxiety and improves overall well-being.
Choose activities you enjoy, such as walking, jogging, dancing, swimming, or yoga.
Aim for at least 30 minutes of moderate-intensity exercise most days of the week.
Healthy Sleep Habits:
Establish a consistent sleep routine by going to bed and waking up at the same time each day.
Create a sleep-friendly environment that is dark, quiet, and comfortable.
Limit exposure to screens (e.g., smartphones, tablets, computers) before bedtime and practice relaxation techniques to promote better sleep.
Balanced Diet and Nutrition:
Eat a well-balanced diet that includes whole grains, lean proteins, fruits, vegetables, and healthy fats.
Limit or avoid excessive consumption of caffeine, as it can contribute to anxiety symptoms.
Consider including foods rich in omega-3 fatty acids (e.g., fatty fish, flaxseeds, chia seeds) and magnesium (e.g., spinach, almonds, avocados), which may have a positive impact on anxiety.
Limiting Alcohol, Caffeine, and Substance Use:
Alcohol and substance use can worsen anxiety symptoms and interfere with treatment.
Limit alcohol consumption and avoid using substances as a coping mechanism for anxiety.
Be mindful of caffeine intake from sources such as coffee, tea, energy drinks, and some sodas, as it can increase feelings of anxiety.
Relaxation and Mindfulness Techniques:
Practice deep breathing exercises, meditation, mindfulness, or yoga to promote relaxation and reduce anxiety.
Set aside dedicated time each day for these practices, even if it's just a few minutes.
Use smartphone apps or online resources that offer guided meditation or relaxation exercises.
Relaxation and Mindfulness Techniques:
Here are some commonly used relaxation and mindfulness techniques.
Deep Breathing Exercises:
Practice diaphragmatic breathing by inhaling deeply through your nose, allowing your abdomen to rise, and exhaling slowly through your mouth. Focus on the sensation of your breath.
Try box breathing: Inhale for a count of four, hold for a count of four, exhale for a count of four, and hold for a count of four. Repeat this pattern several times.
Progressive Muscle Relaxation:
Starting from your toes, progressively tense and then relax each muscle group in your body. Move up through your legs, abdomen, arms, and face.
Focus on the contrast between tension and relaxation in each muscle group, promoting a sense of physical and mental relaxation.
Meditation and Mindfulness Practices:
Set aside dedicated time for meditation, even if it's just a few minutes each day. Sit in a comfortable position, focus on your breath, and observe your thoughts without judgment.
Practice mindfulness by intentionally paying attention to the present moment, engaging your senses, and accepting experiences without trying to change them.
Yoga and Tai Chi:
Engage in yoga or tai chi, which combine physical movement, breath awareness, and mindfulness. These practices promote relaxation, flexibility, and mind-body connection.
Attend classes or follow guided videos or apps specifically designed for anxiety reduction.
Guided Imagery:
Close your eyes and visualize a peaceful, serene place. Imagine the sights, sounds, and sensations associated with this place.
Use guided imagery recordings or apps that provide soothing narratives to guide you through calming mental imagery exercises.
Grounding Techniques:
Use grounding techniques to bring your focus to the present moment and reduce anxiety. Examples include:
Focusing on your senses: Notice and describe the things you see, hear, feel, smell, and taste around you.
5-4-3-2-1 Technique: Identify and name five things you can see, four things you can touch, three things you can hear, two things you can smell, and one thing you can taste.
Remember, relaxation and mindfulness techniques require practice and consistency to be effective. Aim to incorporate them into your daily routine, especially during times of heightened anxiety. These techniques can be used alongside therapy and other anxiety management strategies to enhance overall well-being. If you find it challenging to practice these techniques independently, consider seeking guidance from a therapist or using apps that provide guided relaxation and mindfulness exercises.
Social Support and Communication:
Here are some key aspects of social support and communication.
Building a Supportive Network:
Seek out supportive individuals in your life, such as family members, friends, or trusted colleagues, who can provide emotional support and understanding.
Join support groups or online communities specific to anxiety disorders where you can connect with others who share similar challenges and experiences.
Participate in activities or hobbies that allow you to meet new people and expand your social network.
Seeking Understanding from Loved Ones:
Educate your loved ones about anxiety disorders to help them understand the nature of your condition.
Clearly communicate your needs, triggers, and boundaries, so they can provide appropriate support.
Express your feelings and concerns openly and honestly with trusted individuals, allowing them to provide emotional support when needed.
Joining Support Groups or Online Communities:
Consider joining local or online support groups specifically focused on anxiety disorders.
These groups offer a supportive environment where you can share experiences, gain insights, and learn coping strategies from others who are going through similar challenges.
Online communities provide the convenience of connecting with individuals worldwide who can offer support and advice.
Active Listening and Effective Communication:
Practice active listening when engaging in conversations. Give your full attention to the speaker, show empathy, and validate their feelings and experiences.
Communicate your needs and boundaries assertively and respectfully. Expressing your thoughts and concerns in a clear and constructive manner can help reduce anxiety-inducing misunderstandings.
Consider developing assertiveness skills to express yourself confidently and advocate for your needs.
Seeking Professional Help:
Engage with mental health professionals who can offer specialized support and guidance tailored to your anxiety disorder.
Therapy provides a confidential and non-judgmental space to discuss your concerns and receive professional insights and strategies.
Psychologists, psychiatrists, and counselors can provide therapy and help you develop coping mechanisms and communication skills to manage anxiety more effectively.
Remember, building a supportive network and effective communication requires effort and vulnerability. It's important to surround yourself with individuals who uplift and understand you. Don't hesitate to seek professional help if you need additional support in managing anxiety disorders. Together, social support and effective communication can contribute significantly to your overall well-being.
Coping Strategies for Anxiety Symptoms:
Here are some coping strategies that can be helpful.
Thought Stopping and Reframing Techniques:
When you notice anxious thoughts, practice thought stopping by mentally saying "stop" or using a physical gesture to interrupt the pattern.
Challenge and reframe negative thoughts by replacing them with more realistic and positive ones. Focus on evidence that contradicts anxious thoughts.
Grounding Exercises :Engage your senses to ground yourself in the present moment. Notice and describe five things you can see, four things you can touch, three things you can hear, two things you can smell, and one thing you can taste.
Journaling and Expressive Writing: Write down your anxious thoughts and feelings in a journal. This can help you gain insights, process emotions, and identify patterns or triggers.
Consider expressive writing, where you freely express your emotions without worrying about grammar or punctuation. It can provide a release and promote self-reflection.
Engaging in Hobbies and Creative Outlets: Find activities that bring you joy and provide a sense of accomplishment. Engaging in hobbies or creative outlets, such as art, music, cooking, or gardening, can distract your mind from anxiety and promote relaxation.
Self-Care Practices: Prioritize self-care activities that promote relaxation and well-being. This can include taking warm baths, practicing self-compassion, engaging in mindfulness exercises, or treating yourself with kindness and understanding.
Stress Reduction Techniques: Incorporate stress management techniques into your routine, such as deep breathing exercises, progressive muscle relaxation, or engaging in activities like yoga or tai chi.
Explore stress reduction techniques that resonate with you and practice them regularly to alleviate anxiety symptoms.
Seeking Distractions: Engage in activities that divert your attention from anxious thoughts, such as reading a book, watching a movie, listening to music, or playing games.
Select activities that capture your interest and provide a positive and engaging distraction.
Stress Reduction in Daily Life:
Here are some strategies to help you effectively manage and reduce stress.
Time Management and Prioritization:
Create a schedule or to-do list to prioritize tasks and allocate time for each activity.
Break tasks into smaller, more manageable steps to avoid feeling overwhelmed.
Learn to say no to additional commitments when your plate is already full.
Setting Realistic Goals and Expectations:
Set realistic and achievable goals for yourself. Break larger goals into smaller, attainable milestones.
Avoid perfectionism and acknowledge that it's okay to make mistakes or experience setbacks.
Celebrate your accomplishments, no matter how small they may seem.
Assertiveness and Boundary Setting:
Practice assertiveness by expressing your needs, opinions, and boundaries clearly and respectfully.
Learn to say "yes" when you genuinely want to, and "no" when necessary, without feeling guilty.
Establish and communicate boundaries with others to protect your time and well-being.
Relaxation Breaks and Self-Care Practices:
Take short breaks throughout the day to engage in relaxation exercises, deep breathing, or mindfulness practices.
Prioritize self-care activities that promote relaxation and reduce stress, such as taking walks, practicing yoga, or engaging in hobbies you enjoy.
Make time for activities that bring you joy, whether it's spending time with loved ones, reading a book, or listening to music.
Healthy Work-Life Balance:
Strive for a healthy balance between work, personal life, and leisure activities.
Set boundaries around work hours and create dedicated time for relaxation, hobbies, and spending time with loved ones.
Disconnect from work-related tasks and technology during non-work hours to allow for mental and emotional rejuvenation.
Healthy Lifestyle Habits:
Engage in regular physical activity, as exercise can help reduce stress and promote overall well-being.
Prioritize sleep and establish a consistent sleep routine to ensure adequate rest and recovery.
Maintain a balanced diet by incorporating nutritious foods that support optimal brain function and energy levels.
Creating a Personalized Anxiety Management Plan:
Here are steps to guide you in creating your own plan.
Identify Triggers and Warning Signs:
Reflect on situations, thoughts, or events that tend to trigger your anxiety. Note any physical or emotional warning signs that indicate increased anxiety.
Common triggers can include specific situations, social interactions, certain thoughts or beliefs, or even physiological factors like lack of sleep or excessive caffeine intake.
Define Your Goals:
Determine what you want to achieve with your anxiety management plan. It could be reducing the frequency or intensity of anxiety symptoms, improving coping skills, or enhancing overall well-being.
Set specific, measurable, attainable, relevant, and time-bound (SMART) goals to help guide your progress.
Develop Coping Strategies and Action Plans:
Explore coping strategies that work best for you. Consider the techniques discussed earlier, such as relaxation exercises, grounding techniques, cognitive reframing, and self-care practices.
Select a range of strategies that can be employed in different situations. For example, deep breathing exercises may help in the moment, while engaging in hobbies can provide long-term stress relief.
Create action plans for each coping strategy, outlining how and when you will implement them when triggers or warning signs arise.
Regular Monitoring and Evaluation:
Keep track of your anxiety symptoms, triggers, and the effectiveness of your coping strategies. Use a journal or tracking app to record your experiences.
Evaluate the impact of your coping strategies on your symptoms and overall well-being. Modify or refine your strategies as needed based on your observations and feedback from mental health professionals, if applicable.
Seek Professional Guidance:
Consult with a mental health professional to gain insights, receive feedback, and refine your anxiety management plan.
They can provide guidance, offer additional coping strategies, and help you navigate challenges along the way.
FAQs:
How long does it take to see improvements when managing anxiety disorders?
The timeline for improvement can vary depending on individual circumstances. Some people may start noticing positive changes within a few weeks of implementing treatment strategies, while others may take longer. Consistency, commitment, and working closely with mental health professionals can contribute to better outcomes.
Can lifestyle modifications and self-care alone be enough to manage anxiety disorders?
Lifestyle modifications and self-care practices are valuable components of anxiety management but may not be sufficient as standalone treatments for moderate to severe anxiety disorders. They are often most effective when combined with therapy and, if necessary, medication. It's important to consult with a healthcare professional to develop a comprehensive treatment plan.
Are there natural supplements or herbal remedies that can help with anxiety disorders?
Some natural supplements, such as certain herbs (e.g., lavender, chamomile) and supplements like omega-3 fatty acids or magnesium, have been suggested to have potential benefits for anxiety. However, it's important to consult with a healthcare professional before starting any supplements as they may interact with medications or have contraindications.
Can exercise really help reduce anxiety symptoms?
Yes, exercise has been shown to have a positive impact on anxiety symptoms. Physical activity releases endorphins, which are natural mood boosters. Regular exercise can help reduce stress, improve sleep, increase self-confidence, and promote overall well-being. However, it's important to choose activities that you enjoy and consult with a healthcare professional before starting a new exercise regimen.
Is it possible to manage anxiety disorders without medication?
Yes, it is possible to manage anxiety disorders without medication, particularly for mild to moderate cases. Psychotherapy, lifestyle modifications, and self-care practices can be effective in reducing symptoms and improving quality of life. However, for severe or persistent anxiety disorders, medication may be recommended as part of the treatment plan. The best approach varies for each individual, and it's important to work with a healthcare professional to determine the most appropriate course of action.
Can anxiety disorders be cured completely?
Anxiety disorders are treatable conditions, and many individuals experience significant improvements in their symptoms with proper treatment. However, the concept of a complete "cure" can vary. Some individuals may achieve long-term remission or effectively manage their symptoms to the point where they no longer interfere significantly with daily life. Ongoing self-care practices and continued support can help maintain a healthy mental state.
Conclusion:
Managing and reducing the symptoms of anxiety disorders is a journey that requires a comprehensive approach. Through a combination of seeking professional help, incorporating effective coping strategies, and making lifestyle modifications, it is possible to achieve better control over anxiety and improve overall well-being.