The concept of herbal supplements, bridging their historical use with modern relevance. It piques interest in the forthcoming exploration of their benefits and usage, providing a glimpse into the world of natural health enhancement.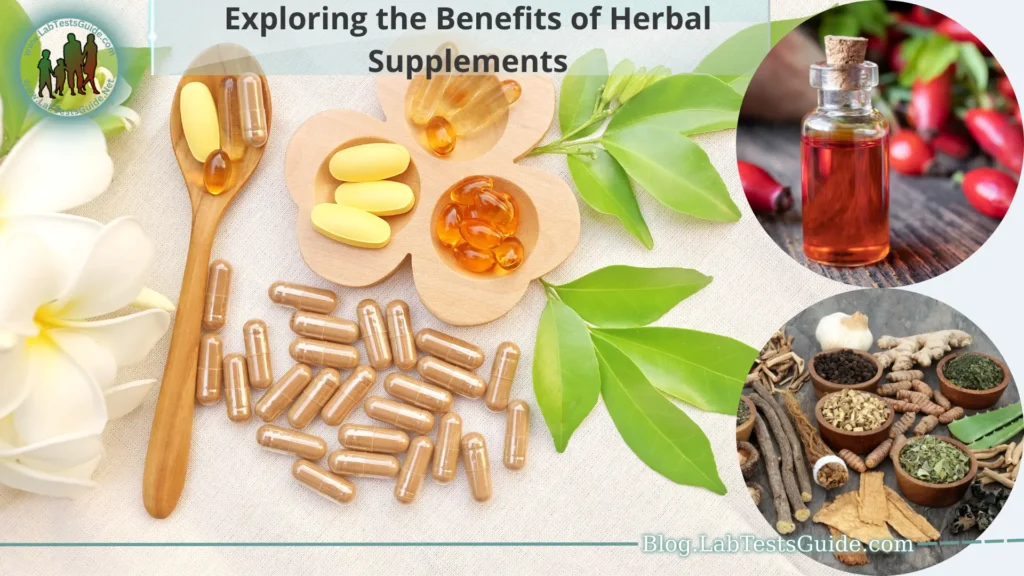 What is Herbal Medicine?
Natural Tradition: Herbal medicine, also known as herbalism or phytotherapy, is a traditional form of medicine that utilizes plants and plant extracts for therapeutic purposes.
Historical Roots: The use of herbs for healing dates back to ancient civilizations, where plants were valued for their medicinal properties and were an integral part of medical practices.
Holistic Approach: Herbal medicine takes a holistic approach to health, considering the interconnectedness of the body, mind, and environment.
Active Compounds: Herbs contain bioactive compounds such as alkaloids, flavonoids, and essential oils, which contribute to their therapeutic effects.
Diverse Forms: Herbal remedies come in various forms including teas, tinctures, capsules, and topical applications, allowing for different methods of consumption and application.
Cultural Significance: Different cultures have developed their own herbal traditions based on the plants native to their regions and their knowledge of their properties.
Individualized Treatment: Herbalists often tailor treatments to an individual's specific needs, considering factors like medical history, constitution, and current health status.
Complementary to Modern Medicine: Herbal medicine can complement conventional medical treatments and is sometimes used alongside them for a more comprehensive approach to healing.
Scientific Interest: Modern research aims to validate the efficacy and safety of herbal remedies through scientific studies, contributing to the growing body of evidence on their benefits.
Potential Benefits: Herbal medicine is believed to offer a wide range of benefits including immune support, stress reduction, pain relief, and support for various bodily systems.
Cautions and Considerations: While generally considered natural, herbal remedies can have side effects and interactions with medications. Consulting a healthcare professional is advised, especially for those with pre-existing medical conditions.
Cultivating and Sourcing: As the popularity of herbal medicine continues to grow, sustainable cultivation and responsible sourcing of herbs become important to ensure their availability for future generations.
How to Incorporate Herbal Supplements into Your Routine:
Research and Education: Begin by researching the specific herbal supplements you're interested in. Understand their potential benefits, mechanisms of action, and possible interactions.
Consult a Professional: Consult a healthcare provider or a qualified herbalist before adding any new supplements to your routine. They can offer personalized guidance based on your health history and needs.
Choose Quality Products: Opt for reputable brands that adhere to quality standards. Look for supplements that are third-party tested for purity and potency.
Start Slowly: Introduce one herbal supplement at a time to gauge your body's response. Starting with a lower dose allows you to monitor for any adverse reactions.
Follow Recommendations: Read and follow the dosage recommendations provided on the supplement packaging or as advised by your healthcare professional.
Consistency is Key: Herbal supplements often require consistent use to experience their potential benefits. Incorporate them into your daily routine and take them as directed.
Timing Matters: Some supplements are best taken with food, while others are more effective on an empty stomach. Pay attention to timing instructions for optimal absorption.
Listen to Your Body: Monitor how your body responds to the supplement. If you experience any adverse effects, discontinue use and consult a healthcare professional.
Track Your Progress: Keep a journal to record any changes you notice over time. This can help you determine if the herbal supplement is having the desired effects.
Consider Combinations: Some herbal supplements work synergistically when combined. However, consult a professional before combining multiple supplements.
Adjust as Needed: Your body's needs can change over time. Adjust your supplement routine based on changes in your health, lifestyle, and goals.
Maintain an Overall Healthy Lifestyle: Herbal supplements are just one aspect of wellness. Incorporate them into a balanced lifestyle that includes a nutritious diet, regular exercise, and stress management.
Regular Check-ins: Schedule periodic follow-ups with your healthcare provider to discuss your supplement use and any changes in your health.
Commonly Used Herbal Supplements:
Echinacea: Believed to support the immune system and help fight off colds and infections.
Ginkgo Biloba: Often used for cognitive enhancement and believed to improve memory and cognitive function.
Turmeric and Curcumin: Known for their anti-inflammatory and antioxidant properties, they may support joint health and overall well-being.
Ginseng: Adaptogenic herb that is thought to enhance energy, reduce stress, and support immune function.
Valerian Root: Used as a natural remedy for insomnia and anxiety due to its potential calming effects.
St. John's Wort: Traditionally used for mood support and believed to have antidepressant properties.
Garlic: Known for its potential cardiovascular benefits and immune system support.
Chamomile: Often consumed as a tea to promote relaxation, ease digestive discomfort, and support sleep.
Milk Thistle: Thought to support liver health and detoxification due to its antioxidant properties.
Saw Palmetto: Commonly used for prostate health and potentially alleviating symptoms of benign prostatic hyperplasia (BPH).
Ginger: Known for its digestive benefits and potential anti-nausea effects.
Peppermint: Used to soothe digestive issues, alleviate headaches, and provide a cooling sensation.
Licorice Root: May support gastrointestinal health and provide anti-inflammatory effects.
Ashwagandha: An adaptogenic herb used for stress reduction, immune support, and energy enhancement.
Hawthorn Berry: Believed to promote cardiovascular health by supporting blood circulation and heart function.
Health Benefits of Herbal Supplements:
Immune System Support: Certain herbs like echinacea, elderberry, and astragalus are believed to enhance the immune system's response to infections and help prevent illnesses.
Cognitive Enhancement: Herbs such as ginkgo biloba and bacopa monnieri may support cognitive function, memory, and mental clarity.
Anti-Inflammatory Effects: Turmeric, ginger, and boswellia are known for their anti-inflammatory properties, which may help reduce inflammation and alleviate conditions like arthritis.
Stress and Anxiety Reduction: Adaptogenic herbs like ashwagandha, rhodiola, and holy basil are thought to help the body adapt to stress and promote a sense of calm.
Sleep Improvement: Valerian root, chamomile, and passionflower are commonly used to support relaxation and improve sleep quality.
Digestive Health: Peppermint, ginger, and fennel are known for their digestive benefits, helping alleviate symptoms like bloating, indigestion, and gas.
Cardiovascular Support: Hawthorn berry, garlic, and olive leaf are believed to promote heart health by supporting blood circulation and cholesterol levels.
Pain Relief: Willow bark, devil's claw, and capsaicin (from chili peppers) are natural options that may help manage pain, especially in conditions like osteoarthritis.
Antioxidant Protection: Herbs like green tea, grape seed extract, and rosemary are rich in antioxidants that help protect cells from oxidative stress.
Hormonal Balance: Certain herbs like black cohosh and chasteberry may help regulate hormonal imbalances, particularly in women's health.
Respiratory Health: Herbs such as mullein and thyme are used to support respiratory health and ease symptoms of coughs and congestion.
Skin Health: Calendula, aloe vera, and tea tree oil are often used topically to soothe skin irritations and promote healing.
Urinary Tract Health: Cranberry and dandelion root are known for their potential benefits in supporting urinary tract health.
Considerations and Precautions:
Consult a Healthcare Professional: Before starting any herbal supplement, consult your healthcare provider, especially if you have underlying health conditions, are pregnant or nursing, or are taking medications.
Potential Interactions: Some herbal supplements can interact with prescription medications, over-the-counter drugs, or other supplements, affecting their efficacy or safety.
Allergic Reactions: Individuals can be allergic to certain herbs. Be cautious and discontinue use if you experience allergic reactions such as itching, rash, or difficulty breathing.
Dosage and Duration: Follow the recommended dosage instructions. Using more than the recommended amount doesn't necessarily provide more benefits and may increase the risk of side effects.
Quality and Sourcing: Choose supplements from reputable brands that adhere to quality standards and provide transparent information about their sourcing and testing practices.
Side Effects: Herbal supplements can have side effects. Common side effects include digestive discomfort, headaches, and allergic reactions.
Pregnancy and Breastfeeding: Some herbs are contraindicated during pregnancy and breastfeeding. Always consult a healthcare provider before using any herbal supplement during these periods.
Children and Elderly: Dosages for children and the elderly may differ from those for adults. Seek professional guidance for appropriate dosing.
Long-Term Use: The long-term effects of many herbal supplements are not fully understood. Avoid continuous use without breaks and periodic evaluations.
Regulation and Safety: Herbal supplements are not regulated as rigorously as pharmaceutical drugs. Be cautious and ensure that the product you choose meets safety standards.
Incorporating Herbal Supplements into Your Routine:
Research and Knowledge: Educate yourself about different herbal supplements. Understand their uses, potential benefits, and any potential risks or interactions.
Consult a Professional: Before starting any herbal supplement, consult a healthcare provider or herbalist. They can provide personalized recommendations based on your health status and goals.
Choose High-Quality Products: Select reputable brands that offer high-quality herbal supplements. Look for products that are third-party tested for purity and potency.
Start with One Supplement: Begin with one herbal supplement at a time. This allows you to gauge its effects and any potential reactions more accurately.
Follow Dosage Instructions: Adhere to the recommended dosage instructions provided on the supplement packaging or by your healthcare provider.
Timing and Consistency: Some supplements are best taken with food, while others are more effective on an empty stomach. Consistency is key for optimal results.
Monitor Your Body: Pay attention to how your body responds to the supplement. Note any positive changes or adverse effects.
Keep a Journal: Maintain a journal to track your supplement use, dosage, and any changes you notice in your health or well-being.
Assess Long-Term Effects: Regularly evaluate the effects of the supplement over time. Adjust dosage or frequency if needed.
Combine with a Healthy Lifestyle: Herbal supplements work best as part of a holistic approach to health. Eat a balanced diet, exercise regularly, and manage stress.
Be Patient: Herbal supplements might take time to show noticeable effects. Be patient and allow your body to adapt.
The Place of Herbal Supplements in Modern Medicine:
Complementary and Alternative Medicine (CAM): Herbal supplements are commonly associated with CAM, which encompasses practices outside conventional medicine. They offer alternative options for individuals seeking a holistic approach to health and wellness.
Holistic Care: Herbal supplements align with the holistic philosophy that considers the interconnectedness of various aspects of health—physical, mental, emotional, and spiritual.
Supporting Wellness: Herbal supplements can be used to support wellness, often focusing on preventive measures and enhancing overall well-being.
Cultural and Historical Significance: Many cultures have rich traditions of herbal medicine. Herbal supplements provide a bridge between ancient wisdom and modern science.
Research and Evidence: Scientific research is growing to understand the efficacy and safety of herbal supplements. Some herbs have demonstrated potential benefits, leading to increased interest from the medical community.
Adjunct to Conventional Treatment: Herbal supplements may be used alongside conventional medical treatments, helping manage symptoms, minimize side effects, or enhance the overall therapeutic effect.
Personalized Treatment: Herbal medicine often involves personalized treatment plans that consider an individual's unique health history, constitution, and preferences.
Mind-Body Connection: Many herbal supplements, like adaptogens, target the mind-body connection by helping the body adapt to stressors and promote emotional well-being.
Potential Limitations: Herbal supplements are not a replacement for evidence-based medical treatments, especially in acute or severe conditions where conventional medicine is necessary.
Educational Integration: Some medical schools and healthcare institutions are incorporating education about herbal supplements into their curriculum to provide a comprehensive understanding of healthcare options.
Regulation and Safety: While regulations vary, governing bodies in some countries are establishing guidelines for the manufacturing, labeling, and marketing of herbal supplements to ensure safety and quality.
FAQs:
What are herbal supplements?
Herbal supplements are natural products made from plants or plant extracts that are taken orally or applied topically. They are commonly used for their potential health benefits.
Are herbal supplements safe?
While many herbal supplements are considered safe, it's important to consult a healthcare professional before using them, especially if you have underlying health conditions or are taking medications.
Do herbal supplements have side effects?
Yes, herbal supplements can have side effects, just like any other medication. Common side effects include digestive issues, allergic reactions, and interactions with other medications.
Are herbal supplements regulated?
Regulations for herbal supplements vary by country. Some countries have established guidelines for quality, safety, and labeling, but regulations might not be as strict as those for pharmaceutical drugs.
Can I take herbal supplements with my prescription medications?
Some herbal supplements can interact with prescription medications, affecting their effectiveness or safety. It's important to consult a healthcare provider before combining them.
How long does it take to see results from herbal supplements?
The time it takes to see results varies depending on the supplement and individual factors. Some people notice effects within a few weeks, while others might take longer.
Can I take multiple herbal supplements at once?
It's best to consult a healthcare provider before combining multiple herbal supplements. Some combinations might interact or lead to undesirable effects.
Are herbal supplements suitable for children and the elderly?
Dosages for children and the elderly might differ from those for adults. It's important to seek guidance from a healthcare provider before giving herbal supplements to these groups.
Can pregnant or breastfeeding women use herbal supplements?
Pregnant and breastfeeding women should consult a healthcare provider before using herbal supplements, as some herbs can have adverse effects during these periods.
Can herbal supplements cure diseases?
Herbal supplements are often used to support overall health and wellness, but they are not a replacement for medical treatments. Claims of "curing" diseases should be approached with caution.
Conclusion:
In conclusion, herbal supplements offer a bridge between the rich traditions of natural healing and modern wellness practices. While their potential benefits are widely acknowledged, their integration into a comprehensive approach to health requires careful consideration. As individuals explore the diverse array of herbal options available, it's imperative to prioritize safety by consulting healthcare professionals, being aware of potential interactions, and remaining open to a holistic understanding of well-being. Striking a balance between the wisdom of the past and the advancements of the present, herbal supplements empower individuals to take an active role in their health journey while embracing the complexities of modern medicine.