Promoting healthy growth hormone secretion is crucial for the optimal development and growth of children. Growth hormone plays a vital role in stimulating cell reproduction, regulating metabolism, and promoting bone and muscle growth. It is primarily produced and released by the pituitary gland, and its secretion is influenced by various factors.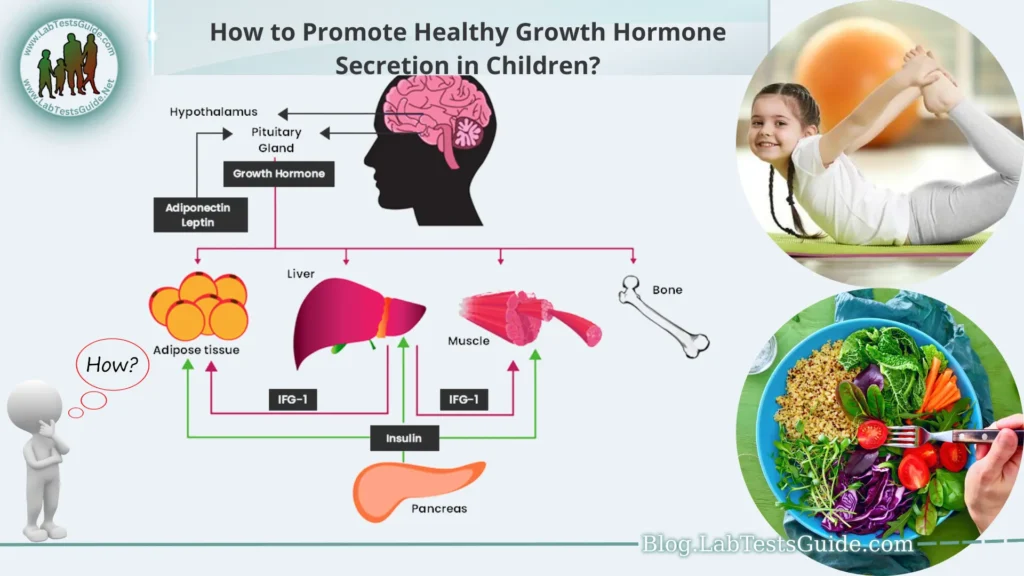 We will explore strategies and interventions to promote healthy growth hormone secretion in children. We will discuss lifestyle factors, such as nutrition, exercise, and sleep, which play a significant role in optimizing GH production. Additionally, we will address the importance of avoiding factors that hinder GH secretion, such as chronic stress and a sedentary lifestyle.
what is the Importance of (GH) in Children's Development?
Here are some key reasons why GH is important.
Stimulates Physical Growth: GH is responsible for stimulating the growth of bones, muscles, and organs. During childhood and adolescence, GH promotes linear growth, allowing children to reach their genetically predetermined height potential. It helps increase the length and thickness of long bones, resulting in overall growth and development.
Regulates Metabolism: GH plays a vital role in regulating the body's metabolism. It promotes the breakdown of fats for energy utilization, helps maintain proper blood glucose levels, and enhances protein synthesis. These metabolic functions are essential for overall growth, body composition, and energy balance.
Supports Bone Mineralization: GH stimulates the production of insulin-like growth factor-1 (IGF-1), which promotes bone mineralization and the formation of new bone tissue. This is crucial for achieving optimal bone density and strength, reducing the risk of fractures and osteoporosis later in life.
Enhances Muscle Development: GH contributes to muscle growth and development by increasing protein synthesis and reducing protein breakdown. It helps in building lean muscle mass, improving muscle strength, and overall physical performance.
Supports Organ Development: GH influences the growth and development of various organs, including the heart, liver, and kidneys. It helps ensure their proper functioning and development during childhood.
Affects Cognitive Function: Research suggests that GH may play a role in cognitive function and brain development. It is believed to influence memory, attention, and learning abilities in children.
Supports Immune Function: GH has immunomodulatory effects, meaning it helps regulate and support the immune system. It plays a role in the production and function of immune cells, which are essential for fighting off infections and maintaining overall health.
Influences Pubertal Development: GH contributes to the onset and progression of puberty. It helps stimulate the development of secondary sexual characteristics, such as increased height, muscle mass, and changes in body composition.
Maintaining a Healthy Lifestyle:
Here are some key factors to consider.
Balanced Diet:
Nutrient-Rich Foods: Provide a diet rich in essential nutrients, including proteins, carbohydrates, healthy fats, vitamins, and minerals. Include a variety of fruits, vegetables, whole grains, lean meats, fish, legumes, and dairy products.
Adequate Protein Intake: Protein is crucial for growth and muscle development. Include good sources of protein such as lean meats, poultry, fish, eggs, dairy products, legumes, and nuts.
Essential Vitamins and Minerals: Ensure sufficient intake of vitamins and minerals important for growth and development, such as vitamin D, calcium, iron, zinc, and magnesium. These can be obtained through a well-balanced diet or dietary supplements, if recommended by a healthcare professional.
Regular Exercise:
Aerobic Activities: Encourage regular aerobic exercises such as running, swimming, cycling, or playing sports. These activities stimulate blood circulation and help maintain a healthy body weight.
Strength Training: Include age-appropriate strength training exercises to promote muscle development and bone health. This can include activities like bodyweight exercises, resistance bands, or light weights under proper supervision
Sufficient Sleep:
Importance of Sleep for GH Secretion: Adequate sleep is crucial for the release of growth hormone. Ensure children have a consistent sleep schedule and prioritize quality sleep.
Establishing a Bedtime Routine: Create a soothing bedtime routine that promotes relaxation and good sleep hygiene. This may include activities like reading, taking a warm bath, or practicing relaxation techniques.
Avoiding Factors That Hinder GH Secretion:
Here are some key factors to consider.
Chronic Stress: Chronic stress can negatively impact GH secretion. Help children manage stress by creating a supportive environment, encouraging open communication, and promoting stress-reducing activities such as hobbies, relaxation techniques, and mindfulness exercises.
Obesity and Excessive Body Fat: Excess body fat, particularly visceral fat, can interfere with GH secretion. Encourage a healthy body weight through a balanced diet and regular physical activity. Limit the consumption of sugary drinks, processed foods, and high-calorie snacks. Promote a lifestyle that includes regular exercise and an active routine.
Sedentary Lifestyle: Prolonged periods of inactivity and a sedentary lifestyle can reduce GH secretion. Encourage children to engage in regular physical activity, limit screen time, and incorporate movement breaks throughout the day. Encourage activities like outdoor play, sports, dancing, or bike riding.
Disrupted Sleep Patterns: Inadequate or disrupted sleep can hinder GH secretion. Ensure children have a consistent sleep schedule and create a sleep-friendly environment. Minimize exposure to electronic devices before bedtime, maintain a cool and dark bedroom, and establish a relaxing bedtime routine to promote quality sleep.
Medical Interventions:
Here are a few medical interventions that can be considered.
Consultation with a Pediatric Endocrinologist: If you suspect that your child may have an issue with GH secretion or growth, it is essential to consult with a pediatric endocrinologist. These specialists are trained to diagnose and manage conditions related to growth and hormone imbalances. They will evaluate your child's medical history, perform physical examinations, and order necessary tests to assess GH secretion and overall hormonal function.
Growth Hormone Therapy: Growth hormone therapy may be recommended by a pediatric endocrinologist if your child has been diagnosed with growth hormone deficiency or other conditions that can benefit from GH treatment. Growth hormone therapy involves the administration of synthetic GH to supplement the naturally produced hormone in the body. It is typically administered through injections.
Indications for Growth Hormone Treatment: Growth hormone treatment may be considered in cases of growth hormone deficiency, Turner syndrome, Prader-Willi syndrome, chronic kidney disease, short stature associated with certain genetic conditions, and other medical conditions affecting growth.
Treatment Process and Monitoring: If growth hormone therapy is prescribed, the pediatric endocrinologist will determine the appropriate dosage and treatment schedule for your child. Regular follow-up visits will be necessary to monitor the response to treatment, assess growth progress, and make any necessary adjustments.
Psychological Support and Stress Reduction:
Here are some strategies to consider.
Mental Health Impact on GH Secretion: Psychological factors, such as stress, anxiety, and emotional well-being, can influence GH secretion. High levels of stress can disrupt the hormone balance in the body and hinder GH production. Therefore, it is important to prioritize mental health and provide psychological support to children.
Strategies for Stress Reduction:
Relaxation Techniques: Encourage children to practice relaxation techniques such as deep breathing exercises, progressive muscle relaxation, or guided imagery. These techniques can help reduce stress, promote a sense of calm, and support healthy hormone production.
Mindfulness and Meditation: Teach children mindfulness techniques and meditation practices. Mindfulness involves being present in the moment and cultivating a non-judgmental awareness of thoughts and emotions. Regular practice can help reduce stress and enhance overall well-being.
Emotional Support: Create a nurturing and supportive environment for children. Encourage open communication, active listening, and validation of their feelings. Provide emotional support and help them develop healthy coping mechanisms to manage stress.
Balanced Schedule: Ensure that children have a balanced schedule that allows for adequate rest, recreation, and relaxation. Avoid overscheduling and excessive academic or extracurricular pressures, as these can contribute to stress levels.
Healthy Relationships: Foster positive relationships in the child's life, including family, friends, and supportive mentors. Healthy social connections can provide emotional support and help reduce stress.
Monitoring and Assessment:
Here are key aspects to consider.
Regular Check-ups and Growth Measurements: Schedule regular visits with a pediatrician or pediatric endocrinologist to monitor your child's growth and development. During these visits, height, weight, and other growth parameters will be measured and compared to growth charts to assess growth patterns.
Hormone Level Testing: If there are concerns about GH secretion or growth, the pediatric endocrinologist may recommend hormone level testing. This involves blood tests to measure GH and other related hormones to evaluate GH production and functioning.
Evaluation of Treatment Effectiveness: If growth hormone therapy is being administered, regular assessments will be conducted to evaluate the effectiveness of the treatment. These assessments may include growth measurements, hormone level testing, and monitoring of other relevant parameters.
FAQs:
What is growth hormone deficiency (GHD)?
Growth hormone deficiency is a medical condition characterized by inadequate production or secretion of growth hormone by the pituitary gland. It can result in stunted growth and development in children.
How is growth hormone deficiency diagnosed?
Diagnosis of growth hormone deficiency typically involves medical evaluation by a pediatric endocrinologist, assessment of growth patterns, physical examination, and hormone level testing, including measuring GH levels.
Are there natural ways to stimulate growth hormone secretion in children?
Yes, there are natural ways to promote healthy growth hormone secretion. These include maintaining a balanced diet with adequate protein, engaging in regular exercise, ensuring sufficient sleep, and managing stress levels.
Can growth hormone therapy be used to treat short stature in children?
Yes, growth hormone therapy is commonly used to treat short stature in children with growth hormone deficiency or certain medical conditions that affect growth. It involves administering synthetic growth hormone to supplement the body's own production.
Are there any side effects of growth hormone therapy?
While growth hormone therapy is generally safe, it may have some side effects, such as injection site reactions, fluid retention, joint pain, and rare cases of increased pressure within the skull. It's important to closely monitor children undergoing growth hormone therapy and consult with a healthcare professional.
Can psychological factors affect growth hormone secretion?
Yes, psychological factors such as chronic stress and emotional well-being can influence growth hormone secretion. High levels of stress and poor mental health can disrupt the hormone balance in the body and impact growth hormone production.
Is it normal for growth hormone secretion to vary throughout the day?
Yes, growth hormone secretion follows a pulsatile pattern, with higher levels typically occurring during sleep and in the early hours of the morning. GH secretion can vary throughout the day, and its release is influenced by factors such as exercise, stress, and nutrition.
Conclusion:
In conclusion, promoting healthy growth hormone secretion in children is crucial for their optimal growth and development. By maintaining a healthy lifestyle through a balanced diet, regular exercise, and sufficient sleep, and by avoiding factors that hinder GH secretion such as chronic stress and a sedentary lifestyle, we can create an environment that supports the natural production of growth hormone. In some cases, medical interventions, including consultation with a pediatric endocrinologist and growth hormone therapy, may be necessary. Additionally, providing psychological support, stress reduction techniques, and monitoring growth progress through regular check-ups and assessments play important roles in ensuring the healthy growth and well-being of children.