Chronic pain is a persistent and long-lasting discomfort or pain that persists for more than three to six months. Unlike acute pain, which is temporary and serves as a warning sign of injury or illness, chronic pain can continue even after the initial cause or injury has healed. It can significantly impact a person's quality of life, leading to physical limitations, emotional distress, and reduced overall well-being.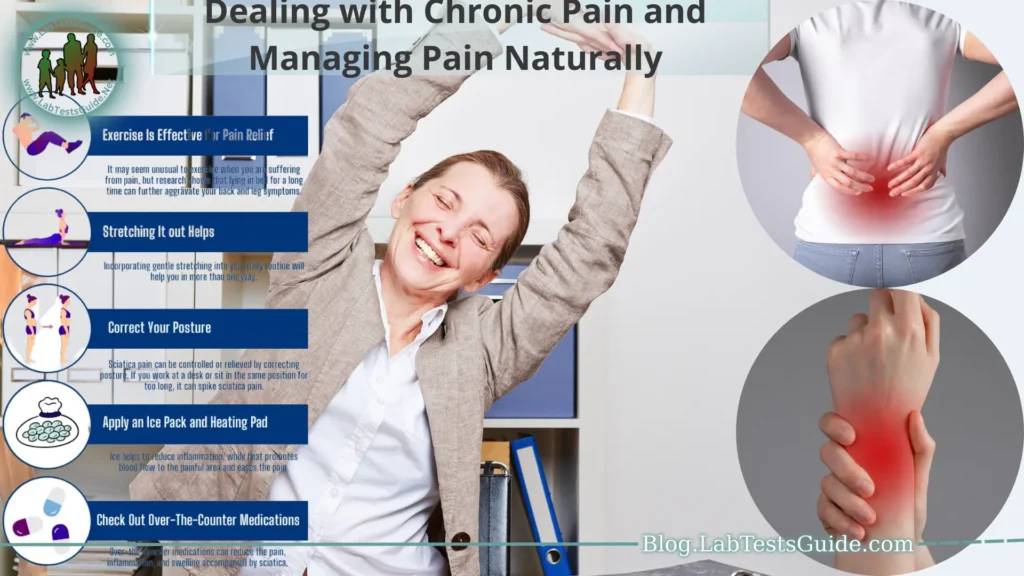 Chronic pain can be caused by various factors, including underlying medical conditions, such as arthritis, fibromyalgia, or nerve damage. It can also result from injuries, surgeries, or other trauma. Sometimes, the exact cause of chronic pain may not be apparent.
Living with chronic pain can be challenging, as it can affect daily activities, sleep patterns, mood, and overall functioning. However, there are numerous approaches and strategies available to manage chronic pain effectively, both through conventional medical treatments and natural methods.
Understanding Chronic Pain:
Here are some key aspects to consider when seeking to understand chronic pain.
Types of Chronic Pain: Chronic pain can manifest in various ways, and it's important to recognize the different types. Some common types of chronic pain include musculoskeletal pain (e.g., back pain, neck pain), neuropathic pain (resulting from nerve damage or dysfunction), headaches, and visceral pain (arising from internal organs). Each type may have unique characteristics and treatment approaches.
Causes of Chronic Pain: Chronic pain can have numerous underlying causes. It may stem from an injury, trauma, surgery, or an ongoing medical condition such as arthritis, fibromyalgia, or autoimmune disorders. It can also result from nerve damage, inflammation, or abnormalities in the nervous system. Identifying the root cause of chronic pain is crucial for developing an effective treatment plan.
Impact of Chronic Pain on Daily Life: Chronic pain can have a profound impact on various aspects of a person's life. It can lead to physical limitations, affecting mobility and the ability to engage in daily activities. Chronic pain can also contribute to emotional distress, such as depression, anxiety, and reduced overall quality of life. Understanding the comprehensive impact of chronic pain helps in addressing its effects holistically.
Pain Perception and Individual Differences: Pain is a subjective experience, and individuals may have different pain thresholds and tolerances. Factors such as genetics, past experiences, psychological state, and social support can influence how individuals perceive and cope with chronic pain. Recognizing the individual differences in pain perception can help tailor treatment approaches accordingly.
The Biopsychosocial Model of Chronic Pain: The biopsychosocial model provides a comprehensive framework for understanding chronic pain. It recognizes that chronic pain is influenced by biological, psychological, and social factors. Biological factors include physical health, genetics, and neurochemical processes. Psychological factors encompass emotional well-being, thoughts, beliefs, and coping mechanisms. Social factors involve relationships, support networks, and environmental influences. Adopting a holistic approach that addresses all these aspects can be beneficial in managing chronic pain effectively.
By understanding the various dimensions of chronic pain, individuals can work with healthcare professionals to develop a personalized treatment plan that takes into account the underlying causes, individual differences, and the comprehensive impact on their lives. This approach can enhance the effectiveness of pain management strategies and improve overall well-being.
Conventional Treatments for Chronic Pain:
Here are some common conventional treatment options for chronic pain.
Medications for Pain Relief: Over-the-counter and prescription medications can help alleviate chronic pain. Nonsteroidal anti-inflammatory drugs (NSAIDs), such as ibuprofen or naproxen, can reduce inflammation and relieve mild to moderate pain. For more severe pain, opioid medications may be prescribed, but their use requires careful monitoring due to the risk of dependence and addiction. Other medications, such as antidepressants, anticonvulsants, or muscle relaxants, may be prescribed for specific types of chronic pain.
Physical Therapy and Rehabilitation: Physical therapy aims to improve physical function, reduce pain, and enhance mobility through targeted exercises, stretching, and manual therapies. Physical therapists may also use modalities like heat, cold, ultrasound, or electrical stimulation to manage pain and promote healing. Rehabilitation programs can be tailored to address specific conditions and individual needs.
Invasive Procedures and Surgeries: In some cases, invasive procedures or surgeries may be considered for chronic pain management. Examples include nerve blocks, epidural injections, radiofrequency ablation, or spinal cord stimulation. These interventions are typically recommended when conservative treatments have not provided sufficient relief or when there are specific anatomical issues contributing to the pain.
Occupational and Vocational Therapy: Occupational therapy focuses on improving function and independence in daily activities, while vocational therapy assists individuals in returning to work or finding suitable employment despite their chronic pain. These therapies provide strategies to adapt to physical limitations, manage pain at work, and enhance overall productivity.
Psychological Interventions: Psychological approaches, such as cognitive-behavioral therapy (CBT), can be effective in managing chronic pain. CBT helps individuals identify and modify negative thoughts and behaviors related to pain, develop coping strategies, and improve overall psychological well-being. Additionally, counseling or psychotherapy can provide emotional support and help individuals navigate the emotional challenges associated with chronic pain.
Assistive Devices and Mobility Aids: Assistive devices, such as braces, splints, or crutches, can provide support and alleviate pain in specific areas. Mobility aids, such as canes or walkers, can help individuals with mobility limitations maintain independence and reduce strain on painful joints.
It's important to note that the choice of conventional treatments depends on the specific type and cause of chronic pain. Healthcare professionals, such as physicians, pain specialists, or physical therapists, can assess individual circumstances and develop a comprehensive treatment plan that may involve a combination of these interventions. Regular communication with healthcare providers is crucial to monitor the effectiveness of treatments and make necessary adjustments over time.
Natural Approaches to Managing Chronic Pain:
Here are some natural approaches to consider.
Mind-Body Techniques:
Relaxation and Breathing Exercises: Deep breathing, progressive muscle relaxation, and guided imagery techniques can promote relaxation, reduce muscle tension, and alleviate pain.
Meditation and Mindfulness: Practicing meditation and mindfulness can help cultivate a calm and focused state of mind, reducing the perception of pain and improving emotional well-being.
Exercise and Physical Activity:
Low-Impact Exercises: Engaging in low-impact activities like walking, swimming, or cycling can help strengthen muscles, improve flexibility, and promote overall fitness without placing excessive stress on joints or muscles.
Stretching and Flexibility Exercises: Incorporating stretching and flexibility exercises into a daily routine can enhance range of motion, relieve muscle tension, and improve posture, thereby reducing pain and stiffness.
Diet and Nutrition:
Anti-Inflammatory Foods: Consuming a balanced diet rich in anti-inflammatory foods, such as fruits, vegetables, whole grains, fatty fish, and healthy fats, can help reduce inflammation in the body and alleviate pain.
Omega-3 Fatty Acids: Adding omega-3 fatty acids, found in fatty fish, flaxseeds, chia seeds, and walnuts, to your diet may help reduce inflammation and provide pain relief.
Herbal Remedies and Supplements:
Turmeric: The active compound in turmeric, called curcumin, has anti-inflammatory properties and may help alleviate pain. It can be consumed as a spice or taken as a supplement.
Ginger: Ginger contains compounds with analgesic and anti-inflammatory effects. Incorporating fresh ginger into meals or consuming ginger supplements may provide pain relief.
Willow Bark: Willow bark extract contains salicin, a compound similar to aspirin, which has been used traditionally for pain relief. It can be taken in supplement form.
Heat and Cold Therapy:

Hot Packs and Heating Pads: Applying heat to the affected area can help relax muscles, improve blood flow, and relieve pain. Hot packs, heating pads, warm showers, or warm baths can provide soothing relief.
Cold Packs and Ice Massages: Cold therapy can help reduce inflammation and numb the area, providing temporary pain relief. Cold packs or ice massages can be applied to the affected area for short durations.
It's important to note that natural approaches may not work for everyone, and their effectiveness can vary. It is advisable to consult with healthcare professionals, such as a naturopathic doctor or an integrative medicine practitioner, before incorporating natural remedies or supplements into your pain management plan. They can provide guidance, assess potential interactions or contraindications, and help develop an individualized approach that complements your specific needs and medical history.
Lifestyle Modifications for Pain Management:
Here are some lifestyle modifications to consider for pain management.
Stress Reduction Techniques:
Deep Breathing Exercises: Practicing deep breathing exercises can help activate the body's relaxation response, reducing stress and tension that can exacerbate pain.
Yoga and Tai Chi: Engaging in gentle, low-impact exercises like yoga or tai chi can promote relaxation, improve flexibility, and enhance mind-body awareness, which can help manage chronic pain.
Support Networks and Counseling:
Seeking Emotional Support: Connecting with friends, family, or support groups can provide emotional support, understanding, and empathy, which can help individuals cope with the emotional aspects of chronic pain.
Cognitive-Behavioral Therapy (CBT): CBT can assist individuals in identifying and modifying negative thoughts, beliefs, and behaviors related to pain. It can also provide valuable coping strategies for managing pain and improving overall well-being.
Healthy Eating Habits:
Balanced Diet: Consuming a balanced diet that includes a variety of fruits, vegetables, whole grains, lean proteins, and healthy fats can support overall health and provide the necessary nutrients for optimal well-being.
Weight Management: Maintaining a healthy weight can reduce stress on joints and muscles, potentially easing pain symptoms in conditions such as arthritis or back pain.
Regular Physical Activity: Engaging in regular physical activity, within the limits of your pain tolerance, can help improve physical function, release endorphins (natural pain-relieving chemicals), and enhance overall well-being. Consult with a healthcare professional or physical therapist to identify safe and appropriate exercises for your specific condition.
Remember that lifestyle modifications should be tailored to individual needs and preferences. It's advisable to work with healthcare professionals, such as physicians, pain specialists, or therapists, who can provide guidance, support, and personalized recommendations based on your specific condition and circumstances. They can assist in developing a comprehensive pain management plan that incorporates lifestyle modifications alongside other treatment approaches.
Alternative Therapies for Chronic Pain:
Here are a few examples.
Acupuncture: Acupuncture is an ancient Chinese practice that involves inserting thin needles into specific points on the body. It is believed to stimulate the flow of energy and promote balance within the body. Acupuncture has been shown to provide pain relief for various chronic pain conditions, including back pain, osteoarthritis, and migraines.
Chiropractic Care: Chiropractic care involves manual adjustments and manipulation of the spine and other joints to improve alignment, reduce pain, and enhance overall function. It is commonly used for conditions such as back pain, neck pain, and headaches. Chiropractors may also incorporate other modalities like massage or physical therapy exercises into their treatment approach.
Massage Therapy: Massage therapy involves manipulating soft tissues of the body to improve circulation, reduce muscle tension, and promote relaxation. It can be beneficial for chronic pain by alleviating muscular pain and improving flexibility. Different techniques, such as Swedish massage, deep tissue massage, or trigger point therapy, may be used depending on the individual's needs.
Transcutaneous Electrical Nerve Stimulation (TENS): TENS therapy involves the use of a small battery-operated device that delivers low-level electrical impulses to nerve endings through electrodes placed on the skin. It is thought to interfere with pain signals and promote the release of endorphins, providing temporary pain relief for conditions like musculoskeletal pain, neuropathic pain, or postsurgical pain.
It's important to note that alternative therapies should be pursued under the guidance of trained practitioners who specialize in these approaches. It is advisable to consult with healthcare professionals to determine the suitability and safety of these therapies for your specific condition. Integrating alternative therapies with conventional treatments and maintaining open communication with healthcare providers can help ensure comprehensive and effective pain management.
Integrating Multiple Approaches for Pain Management:
Here are some considerations for integrating multiple approaches for pain management.
Personalized Treatment Plan: Work with healthcare professionals to develop a personalized treatment plan that takes into account your specific condition, medical history, preferences, and goals. This plan may involve a combination of conventional treatments, natural approaches, lifestyle modifications, and alternative therapies.
Collaboration and Communication: Foster open communication and collaboration among your healthcare team, including physicians, pain specialists, physical therapists, naturopathic doctors, or alternative therapy practitioners. Regularly update them on your progress, treatment outcomes, and any changes in symptoms. This allows for adjustments, optimization, and coordination of different approaches.
Holistic Approach: Embrace a holistic approach that addresses various aspects of pain, including physical, psychological, and social dimensions. Combining conventional treatments with natural approaches and lifestyle modifications can provide a more comprehensive approach to pain management.
Sequential or Combination Therapies: Depending on your condition and preferences, different approaches can be used sequentially or in combination. For example, you may start with conventional treatments, such as medications or physical therapy, and gradually incorporate natural approaches like diet and exercise. Alternative therapies, such as acupuncture or massage therapy, can be used alongside conventional treatments for added benefit.
Self-Management and Empowerment: Take an active role in your pain management by practicing self-care and self-management strategies. This may involve incorporating self-help techniques, such as relaxation exercises, mindfulness practices, or self-massage, into your daily routine. Educate yourself about your condition, stay informed about new research and treatments, and engage in activities that promote self-empowerment.
Conclusion:
Chronic pain can significantly impact a person's quality of life, but with the right management strategies, it is possible to find relief and improve overall well-being. In this discussion, we explored various approaches to managing chronic pain, including conventional treatments, natural approaches, lifestyle modifications, and alternative therapies.
Conventional treatments, such as medications, physical therapy, and surgical interventions, play a crucial role in providing pain relief and improving function. Natural approaches, such as mind-body techniques, exercise, and dietary changes, offer additional avenues for pain management by promoting relaxation, reducing inflammation, and enhancing overall health.