Pregnancy is a miraculous and transformative journey that brings both joy and responsibility. Ensuring a healthy pregnancy is of paramount importance for the well-being of both the expectant mother and the developing baby. From preconception planning to postpartum care, each stage is critical in nurturing a healthy pregnancy.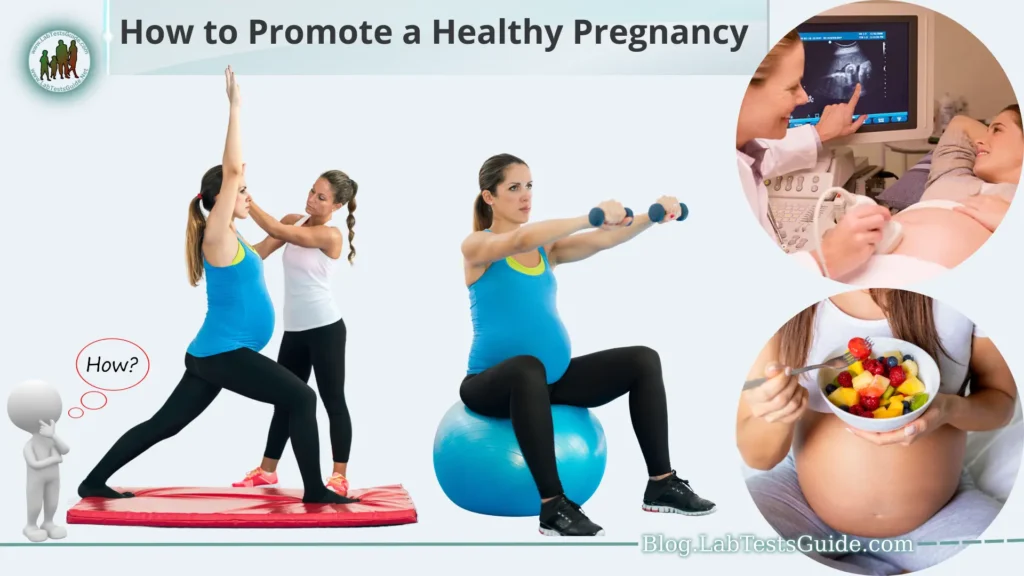 In this guide, we will explore a comprehensive set of practices and guidelines to promote a healthy and successful pregnancy. From nutritional considerations and safe exercise routines to managing stress and avoiding harmful substances, we will cover essential aspects that contribute to a positive and fulfilling pregnancy experience. Remember, every pregnancy is unique, and consulting with healthcare professionals is crucial to tailor these recommendations to individual needs and circumstances. Let us embark on this journey together, embracing the wonder of pregnancy while prioritizing the well-being of both mother and child.
What Is a Healthy Pregnancy?
Regular Prenatal Care: Seeking early and consistent prenatal check-ups with healthcare providers to monitor the baby's growth and ensure the mother's health is on track.
Balanced Nutrition: Maintaining a well-rounded and nutritious diet, rich in essential vitamins, minerals, and nutrients, to support the baby's development and the mother's well-being.
Proper Hydration: Staying adequately hydrated is crucial during pregnancy to support the body's functions and prevent complications.
Regular Exercise: Engaging in safe and moderate physical activity as advised by healthcare professionals to promote overall health and prepare the body for childbirth.
Avoiding Harmful Substances: Eliminating or minimizing the consumption of alcohol, tobacco, recreational drugs, and certain medications that can harm the developing baby.
Managing Stress: Implementing stress-relief techniques and seeking emotional support to cope with the emotional challenges that can arise during pregnancy.
Sufficient Rest and Sleep: Ensuring an adequate amount of rest and sleep to support the body's energy levels and overall well-being.
Understanding Labor and Delivery: Educating oneself about the childbirth process, childbirth classes, and creating a birth plan to feel prepared and empowered.
Preparing for Postpartum: Being aware of postpartum care and support, as well as establishing a support network to assist during the postpartum period.
Monitoring High-Risk Factors: Identifying and addressing any high-risk factors or complications during pregnancy, seeking specialist care as needed.
Safe Environment: Ensuring a safe and comfortable environment for the expectant mother and baby, free from potential hazards.
Emotional Well-being: Prioritizing mental health and seeking help if experiencing pregnancy-related anxiety or mood disorders.
How to Promote a Healthy Pregnancy:
Here are essential tips and guidelines to help ensure a positive and successful pregnancy journey.
Preconception Planning: Before conception, schedule a visit with a healthcare provider to assess your medical history, identify any risk factors, and discuss the importance of taking prenatal vitamins, including folic acid.
Balanced Nutrition: Follow a well-rounded and nutrient-rich diet that includes a variety of fruits, vegetables, whole grains, lean proteins, and dairy products. Pay attention to foods rich in iron, calcium, and essential vitamins like A, C, and D.
Stay Hydrated: Drink plenty of water throughout the day to support bodily functions and maintain amniotic fluid levels.
Regular Exercise: Engage in safe and moderate physical activity, such as walking, swimming, or prenatal yoga, to improve circulation, manage weight gain, and reduce pregnancy discomforts.
Prenatal Care: Attend regular prenatal check-ups to monitor the baby's growth, check the mother's health, and address any concerns or potential complications.
Avoid Harmful Substances: Eliminate alcohol, tobacco, recreational drugs, and limit caffeine intake to reduce the risk of birth defects and developmental issues.
Manage Stress: Practice relaxation techniques like deep breathing, meditation, or prenatal yoga to cope with stress and maintain emotional well-being.
Get Adequate Rest: Ensure you are getting enough sleep and rest as needed, especially as pregnancy progresses.
Educate Yourself: Attend childbirth classes, read books, and gather information about labor, delivery, and postpartum care to feel more prepared and confident.
Create a Support Network: Surround yourself with supportive and understanding individuals, including family, friends, or support groups, to share your experiences and seek advice if needed.
Prepare for Postpartum: Familiarize yourself with postpartum care and resources, as the early postpartum period can be physically and emotionally challenging.
Maintain Proper Hygiene: Practice good hygiene habits to reduce the risk of infections during pregnancy.
Monitor High-Risk Factors: If you have any pre-existing health conditions or experience pregnancy complications, seek specialized care and follow your healthcare provider's recommendations closely.
Communicate with Your Healthcare Provider: Always be open and honest with your healthcare provider about any concerns or questions you may have during pregnancy.
Preconception Planning:
Here are key aspects of preconception planning.
Visiting Your Healthcare Provider: Schedule a preconception appointment with your healthcare provider or obstetrician-gynecologist (OB/GYN) to discuss your plans for pregnancy and address any pre-existing health conditions.
Assessing Medical History and Risk Factors: During the preconception visit, your healthcare provider will review your medical history and assess any potential risk factors that could impact your pregnancy.
Taking Prenatal Vitamins and Folic Acid: Start taking prenatal vitamins, which contain essential nutrients like folic acid, at least three months before trying to conceive. Folic acid helps reduce the risk of neural tube defects in the baby.
Immunizations: Ensure that you are up-to-date on necessary vaccinations, as some infections can pose risks during pregnancy. Discuss with your healthcare provider about vaccinations like rubella and varicella if you're not immune.
Managing Chronic Conditions: If you have any chronic health conditions like diabetes, hypertension, or thyroid disorders, work with your healthcare provider to manage them effectively before becoming pregnant.
Lifestyle Changes: Adopt a healthy lifestyle by maintaining a balanced diet, exercising regularly, quitting smoking, and avoiding alcohol and recreational drugs.
Genetic Counseling: Consider genetic counseling if you or your partner have a family history of genetic disorders or if you have concerns about inherited conditions.
Emotional and Mental Well-being: Address any emotional or mental health concerns with professional help if needed, as mental well-being is essential for a healthy pregnancy.
Tracking Ovulation: If you're trying to conceive, track your menstrual cycle and identify your most fertile days to maximize the chances of getting pregnant.
Reduce Exposure to Environmental Hazards: Minimize exposure to harmful substances or chemicals at home or work that could negatively affect fertility or pregnancy.
Financial Planning: Discuss financial matters and prepare for the costs associated with prenatal care, childbirth, and postpartum expenses.
Nutrition and Diet:
Here are essential guidelines for maintaining a balanced and nutritious diet during pregnancy.
Balanced Diet: Aim for a well-rounded diet that includes a variety of food groups, such as fruits, vegetables, whole grains, lean proteins, and dairy products. This ensures a diverse intake of essential nutrients.
Folic Acid: Start taking prenatal vitamins that contain folic acid before and during early pregnancy to help prevent neural tube defects in the baby's brain and spine.
Iron-Rich Foods: Consume iron-rich foods like lean meats, poultry, fish, legumes, and fortified cereals to support the increased blood volume during pregnancy and prevent anemia.
Calcium Intake: Ensure an adequate intake of calcium through dairy products, leafy green vegetables, and calcium-fortified foods to support the baby's bone development.
Omega-3 Fatty Acids: Include sources of omega-3 fatty acids, such as fatty fish (e.g., salmon, sardines), chia seeds, and walnuts, to support the baby's brain and eye development.
Protein: Get enough protein from sources like lean meats, eggs, dairy products, beans, lentils, and tofu to support the growth of the baby's tissues.
Limit Processed Foods: Minimize the consumption of processed and fast foods, as they often lack essential nutrients and may contain excessive salt, sugar, or unhealthy fats.
Stay Hydrated: Drink plenty of water throughout the day to maintain proper hydration and support various bodily functions.
Foods to Avoid: Avoid certain foods that may pose a risk during pregnancy, such as raw or undercooked meats, fish high in mercury, unpasteurized dairy products, and certain soft cheeses.
Caffeine Moderation: Limit caffeine intake to a moderate amount (around 200-300 mg per day) as excessive caffeine consumption may affect fetal development.
Small, Frequent Meals: Opt for smaller, more frequent meals to alleviate pregnancy-related nausea and maintain stable blood sugar levels.
Smart Snacking: Choose healthy snacks like fruits, yogurt, nuts, and whole-grain crackers to provide sustained energy and additional nutrients.
Mealtime Hygiene: Practice proper food safety and hygiene, washing fruits and vegetables thoroughly, and handling raw meats with care to prevent foodborne illnesses.
Dietary Restrictions: Inform your healthcare provider about any dietary restrictions or allergies you may have to ensure appropriate dietary choices.
Physical Activity and Exercise:
Here are important guidelines for physical activity and exercise during pregnancy.
Consult with Your Healthcare Provider: Before starting any exercise program, seek approval from your healthcare provider or OB/GYN, especially if you have any medical conditions or complications during pregnancy.
Choose Low-Impact Activities: Opt for low-impact exercises that are gentle on the joints and reduce the risk of injury. Walking, swimming, stationary cycling, and prenatal yoga are great options.
Avoid High-Risk Activities: Refrain from activities with a high risk of falling or impact, such as contact sports, skiing, horseback riding, or activities that involve lying flat on your back for an extended period.
Listen to Your Body: Pay attention to your body's cues during exercise. If you experience pain, dizziness, or shortness of breath, stop immediately and rest.
Warm-Up and Cool Down: Always start with a gentle warm-up and end your exercise session with a cool-down to gradually increase and decrease your heart rate.
Stay Hydrated: Drink plenty of water before, during, and after exercise to maintain proper hydration.
Avoid Overexertion: Be mindful not to overexert yourself during workouts. Pregnancy is not the time to push for personal bests or intense training.
Pelvic Floor Exercises: Include pelvic floor exercises (Kegels) to strengthen the muscles that support the bladder, uterus, and bowels, which can be beneficial during pregnancy and childbirth.
Modify as Pregnancy Progresses: As your pregnancy advances, some exercises may need to be modified or avoided altogether. Consult with a prenatal fitness expert for safe modifications.
Supportive Clothing: Wear comfortable and supportive clothing, including a well-fitting sports bra, to minimize discomfort and provide adequate support during exercise.
Regularity: Aim for at least 150 minutes of moderate-intensity exercise spread throughout the week. Even short bouts of exercise can be beneficial.
Consider Prenatal Classes: Joining prenatal fitness classes or working with a certified prenatal exercise specialist can provide personalized guidance and create a supportive environment.
Posture and Body Alignment: Be mindful of maintaining proper posture and body alignment during exercises to reduce strain on the back and joints.
Stop If Needed: If you feel any pain, dizziness, vaginal bleeding, or any other concerning symptoms during exercise, stop immediately and seek medical attention.
Prenatal Care and Regular Check-ups:
Here are important points regarding prenatal care and regular check-ups during pregnancy.
Schedule Your First Visit Early: Ideally, schedule your first prenatal appointment as soon as you suspect you are pregnant or receive a positive home pregnancy test.
Regular Check-up Schedule: Follow the recommended prenatal visit schedule provided by your healthcare provider. Typically, it involves monthly visits during the first and second trimesters, biweekly visits during the third trimester, and weekly visits during the final weeks leading up to the due date.
Comprehensive Physical Examinations: During prenatal check-ups, expect a thorough physical examination that includes checking blood pressure, weight, and measuring the baby's growth and position.
Blood and Urine Tests: Prenatal care often includes routine blood and urine tests to monitor the mother's health, check for potential complications, and ensure the baby's well-being.
Ultrasound Scans: Ultrasound scans are used at various points during pregnancy to visualize the baby's development, assess fetal growth, and detect any potential abnormalities.
Monitoring Baby's Heartbeat: At prenatal check-ups, healthcare providers may listen to the baby's heartbeat to ensure it is strong and within a healthy range.
Nutritional Guidance: Prenatal care includes counseling on nutrition and diet to ensure the expectant mother is receiving the necessary nutrients for her and the baby's health.
Addressing Concerns and Questions: Prenatal check-ups provide an opportunity to discuss any concerns, questions, or discomforts experienced during pregnancy with the healthcare provider.
Monitoring High-Risk Pregnancies: For pregnancies considered high-risk due to pre-existing medical conditions or other factors, more frequent and specialized prenatal care may be required.
Preparing for Labor and Delivery: Towards the end of the pregnancy, prenatal care may include discussions about birth plans, delivery options, and what to expect during labor and delivery.
Postpartum Planning: In the later stages of pregnancy, prenatal care may also involve preparing for postpartum care and the initial period after childbirth.
Emotional Support: Prenatal check-ups provide an opportunity for emotional support and guidance, addressing any anxieties or emotional challenges that arise during pregnancy.
Informed Decision-Making: Prenatal visits offer information and education to empower expectant parents to make informed decisions about their pregnancy, childbirth, and postpartum care.
Managing Stress and Emotional Well-being:
Here are effective strategies for managing stress and promoting emotional well-being during pregnancy.
Identify Stress Triggers: Recognize the factors that contribute to stress in your life and try to minimize or cope with them effectively.
Practice Relaxation Techniques: Engage in relaxation practices like deep breathing, meditation, mindfulness, or progressive muscle relaxation to reduce stress and promote calmness.
Stay Active: Regular physical activity can help reduce stress hormones and boost mood. Choose activities you enjoy and that are safe for pregnancy.
Communication: Openly communicate with your partner, family, or close friends about your feelings and concerns, allowing for emotional support.
Seek Professional Help: If you feel overwhelmed or unable to manage stress on your own, consider speaking to a mental health professional who has experience working with pregnant individuals.
Sleep Well: Prioritize getting sufficient sleep and rest to help the body cope with stress and fatigue.
Engage in Relaxing Activities: Pursue activities that bring joy and relaxation, such as reading, listening to soothing music, taking nature walks, or practicing hobbies.
Support Systems: Build a support network of friends, family members, or support groups to share experiences and receive emotional support.
Limit Exposure to Negative Influences: Minimize exposure to negative news or stressful situations, as they can add unnecessary stress during pregnancy.
Pamper Yourself: Treat yourself to self-care activities like prenatal massages, warm baths, or spending time doing activities that make you feel good.
Stay Positive: Focus on positive thoughts and affirmations, which can help improve overall emotional well-being.
Attend Prenatal Classes: Join prenatal classes or support groups to connect with other expectant parents and gain valuable insights on managing stress during pregnancy.
Delegate Tasks: Don't hesitate to seek help and delegate tasks when needed, whether it's at work, home, or other responsibilities.
Practice Time Management: Organize your schedule and prioritize tasks to reduce unnecessary stress and create more time for relaxation and self-care.
Avoiding Harmful Substances:
Here are essential guidelines for avoiding harmful substances.
Alcohol: Completely avoid alcohol during pregnancy, as it can cause birth defects, developmental issues, and lifelong health problems for the baby.
Tobacco: Quit smoking and avoid exposure to secondhand smoke, as smoking during pregnancy increases the risk of premature birth, low birth weight, and other complications.
Recreational Drugs: Avoid all forms of recreational drugs, including marijuana, cocaine, heroin, and other illicit substances, as they can harm the baby's development and lead to serious health issues.
Prescription and Over-the-Counter Medications: Consult with your healthcare provider before taking any medications during pregnancy, including over-the-counter drugs. Some medications can be harmful to the baby and may need to be substituted with safer alternatives.
Herbal Supplements: Be cautious with herbal supplements, as some may not be safe during pregnancy. Always consult with your healthcare provider before using any herbal remedies.
Caffeine: Limit caffeine intake to a moderate amount, as excessive caffeine consumption may be linked to adverse pregnancy outcomes. Stick to around 200-300 mg per day, equivalent to 1-2 cups of coffee.
Environmental Toxins: Minimize exposure to environmental toxins such as lead, mercury, and certain chemicals. This includes avoiding certain types of fish high in mercury and using safe household cleaning products.
Beauty and Personal Care Products: Be cautious with beauty and personal care products that may contain harmful chemicals. Choose products labeled as "pregnancy-safe" or consult with your healthcare provider for recommendations.
X-rays and Radiation: Inform healthcare providers about your pregnancy before any medical procedures involving X-rays or radiation. Whenever possible, avoid unnecessary exposure to radiation during pregnancy.
Hot Tubs and Saunas: Avoid spending extended periods in hot tubs, saunas, or any activity that raises your body temperature significantly, as it may pose risks to the developing baby.
Food Safety: Follow food safety guidelines to prevent foodborne illnesses. Avoid consuming undercooked or raw meats, unpasteurized dairy products, and certain soft cheeses.
Occupational Hazards: If you work in an environment that exposes you to hazardous substances or conditions, consult with your employer and healthcare provider to ensure your safety during pregnancy.
Stress and Emotional Toxins: Avoid stressful or emotionally toxic situations that may impact your well-being during pregnancy. Prioritize emotional health and seek support if needed.
FAQs:
Can I continue exercising during pregnancy?
Yes, exercise is generally safe and beneficial during pregnancy. However, it's essential to consult your healthcare provider to ensure the chosen exercises are appropriate for your individual situation.
What foods should I avoid during pregnancy?
Avoid consuming raw or undercooked meats, unpasteurized dairy products, certain soft cheeses, fish high in mercury, and excessive caffeine during pregnancy.
When should I start taking prenatal vitamins?
Ideally, start taking prenatal vitamins that include folic acid before conception and continue throughout pregnancy to support the baby's development.
How can I manage morning sickness and nausea during pregnancy?
Eat small, frequent meals, stay hydrated, and try ginger or mint to alleviate nausea. If severe morning sickness (hyperemesis gravidarum) persists, consult your healthcare provider.
Is it safe to travel during pregnancy?
In most cases, travel is safe during pregnancy, especially in the early and mid-stages. However, consult your healthcare provider before making travel plans, especially for long trips or in high-risk pregnancy situations.
How much weight should I gain during pregnancy?
The appropriate weight gain during pregnancy depends on your pre-pregnancy weight. Generally, women with a normal BMI are recommended to gain around 25-35 pounds during pregnancy.
Can I dye my hair or use beauty products during pregnancy?
Some hair dyes and beauty products contain chemicals that may be harmful during pregnancy. Consider using pregnancy-safe products or consult your healthcare provider for recommendations.
How can I manage pregnancy-related back pain?
Engage in prenatal exercises that strengthen the core and back muscles, practice good posture, use supportive pillows, and consider prenatal massages for back pain relief.
Are prenatal classes necessary?
Prenatal classes can be beneficial as they provide information on childbirth, postpartum care, and parenting. They also offer an opportunity to connect with other expectant parents and ask questions to experienced professionals.
Conclusion:
In conclusion, promoting a healthy pregnancy is a multifaceted journey that requires careful attention to various aspects of physical, emotional, and mental well-being. Through preconception planning, maintaining a balanced diet, engaging in safe physical activity, regular prenatal care, and avoiding harmful substances, expectant mothers can create a nurturing environment for their developing babies. Additionally, managing stress and seeking emotional support are crucial in ensuring a positive pregnancy experience. By following these guidelines and seeking guidance from healthcare professionals, each expectant mother can embark on this extraordinary journey with confidence, embracing the wonder of pregnancy while prioritizing the health and happiness of both herself and her precious baby.