Back pain is a common condition that can be caused by various factors such as muscle strain, poor posture, injury, or underlying medical conditions. While severe or chronic back pain may require medical intervention, many cases of mild to moderate back pain can be effectively managed at home using natural remedies.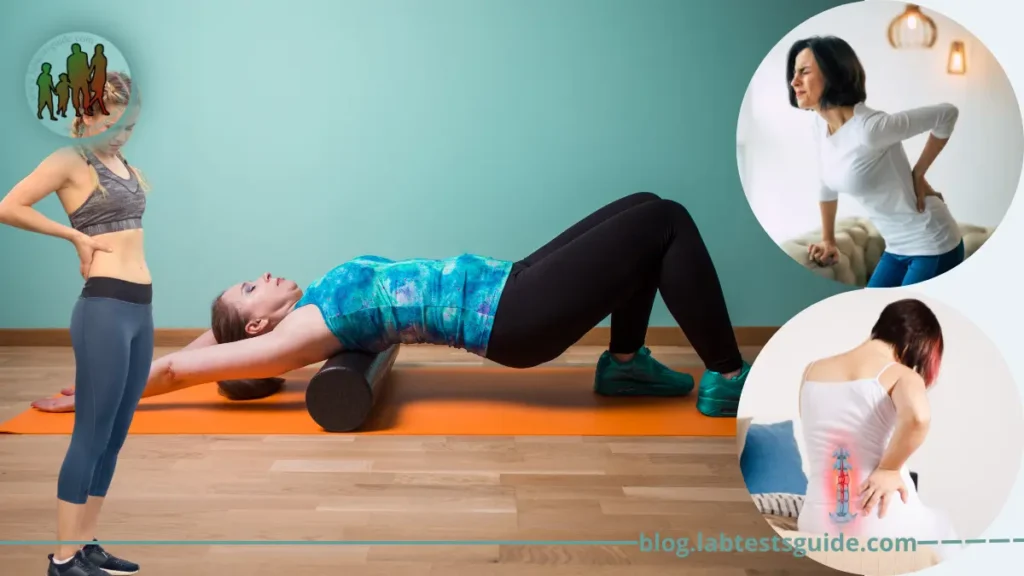 This section will provide an overview of relieve back pain, its causes, and the benefits of using home remedies for relief. It's important to note that if you have a serious back injury or if your pain persists or worsens, it is advisable to consult with a healthcare professional.
Rest and Gentle Movement:
Rest is an essential component of back pain relief. When you experience back pain, it's crucial to give your body time to heal and recover. Adequate rest allows the injured muscles or tissues to repair themselves.
When resting, find a comfortable position that supports your back. You can try lying on your back with a pillow under your knees or lying on your side with a pillow between your knees for added support.
Gentle Stretching and Exercises: While rest is important, complete inactivity can lead to stiffness and muscle weakness. Gentle movement and targeted exercises can help improve flexibility, strengthen the muscles, and alleviate back pain. However, it's essential to avoid activities that may exacerbate your pain or strain your back further.
Here are a few gentle stretching and exercise options for back pain relief.
Knee-to-Chest Stretch: Lie on your back, bend your knees, and bring one knee up toward your chest. Hold the stretch for 20-30 seconds and repeat with the other leg.
Cat-Camel Stretch: Start on your hands and knees. Arch your back upwards like a stretching cat, then let your back sway down, creating a dip like a camel. Repeat this motion slowly and gently.
Pelvic Tilts: Lie on your back with your knees bent. Gently tilt your pelvis upward, pressing your lower back against the floor, then release and let your back arch slightly. Repeat this movement several times.
Walking: Engage in low-impact activities like walking, which can help improve circulation, promote healing, and strengthen the back muscles.
Swimming or Water Aerobics: These exercises provide a gentle and supportive environment for the entire body, including the back. The buoyancy of water reduces pressure on the spine and allows for greater range of motion.
It's important to consult with a healthcare professional or a qualified physical therapist to determine the most suitable exercises for your specific condition and to ensure proper form and technique. Start with gentle movements and gradually increase intensity as your pain improves and your strength builds.
Heat and Cold Therapy:
Heat and cold therapy are commonly used home remedies to relieve back pain. Both approaches can help reduce inflammation, soothe muscles, and provide temporary relief. However, it's important to understand when to use heat or cold therapy, as they have different effects on the body.
Applying Heat Therapy: Heat therapy is beneficial for relaxing muscles, improving blood circulation, and easing stiffness. It can be particularly effective for chronic back pain or muscle tension.
Here's how to apply heat therapy: Hot Compress: Apply a hot compress, hot water bottle, or heating pad to the affected area. Make sure the temperature is warm, but not too hot to avoid burns. Leave it on for 15-20 minutes at a time and repeat several times a day.
Warm Bath or Shower: Take a warm bath or shower, allowing the water to target the painful area. Enjoy the warmth for 15-20 minutes.
Moist Heat Packs: Use commercially available moist heat packs that can be heated in a microwave. Follow the instructions provided and apply them to your back.
Heat therapy should not be used on inflamed or swollen areas, open wounds, or if you have a condition that impairs your ability to sense temperature properly.
Using Cold Therapy:
Cold therapy helps numb the affected area, reduce inflammation, and alleviate acute pain. It is particularly useful for acute injuries or sudden flare-ups of pain.
Follow these guidelines when using cold therapy.
Cold Compress: Apply an ice pack, gel pack, or a bag of frozen vegetables wrapped in a thin cloth to the painful area. Apply it for 15-20 minutes at a time, several times a day.
Ice Massage: Freeze water in a paper cup and peel off the top to expose the ice. Gently massage the affected area in a circular motion with the ice for about 5-10 minutes.
Cold Showers: Take a cool shower, directing the water to the back area for relief.
It's important to never apply ice directly to the skin, as it can cause ice burns. Always wrap ice packs or use a cloth barrier to protect your skin.
Alternating Heat and Cold Therapy: Some individuals find relief by alternating between heat and cold therapy. This approach can help improve circulation, reduce inflammation, and provide a soothing effect. Start with either heat or cold therapy for 15-20 minutes, then switch to the other therapy for the same duration. Always end with the therapy that provides the most relief for you.
Experiment with heat and cold therapy to determine which one works best for your specific back pain. If you have any pre-existing medical conditions, such as poor circulation or diabetes, consult with a healthcare professional before using heat or cold therapy.
Herbal Remedies:
Here are some herbal remedies commonly used to alleviate back pain.
Turmeric: Turmeric is a spice known for its anti-inflammatory properties. It contains a compound called curcumin, which has been shown to reduce pain and inflammation. You can incorporate turmeric into your diet by adding it to dishes or taking it as a supplement. However, consult with a healthcare professional before starting any supplements, especially if you have underlying medical conditions or are taking other medications.
Ginger: Ginger is another herb with potent anti-inflammatory properties. It can help relieve pain and reduce inflammation in the body. You can consume ginger by adding it to meals, drinking ginger tea, or taking ginger supplements. It's important to note that ginger may interact with certain medications, so consult with your healthcare provider before using it as a supplement.
Epsom Salt Bath: Epsom salt, also known as magnesium sulfate, can be added to a warm bath to help relax muscles and relieve tension. The magnesium in Epsom salt is believed to reduce inflammation and promote pain relief. Add about 1-2 cups of Epsom salt to a warm bath and soak for 15-20 minutes. Make sure to follow the instructions on the Epsom salt packaging and consult with a healthcare professional if you have any medical conditions.
Willow Bark: Willow bark is a natural remedy that contains salicin, a compound similar to aspirin. It has analgesic and anti-inflammatory properties that can help alleviate back pain. You can find willow bark in the form of tea, capsules, or tinctures. However, it's important to use willow bark under the guidance of a healthcare professional, especially if you have allergies, are taking medications, or have underlying health conditions.
Before using any herbal remedies, it's crucial to consult with a healthcare professional, especially if you are pregnant, breastfeeding, have allergies, or are taking medications. They can provide personalized guidance and ensure the safe and appropriate use of herbal remedies for your specific situation.
Essential Oils:
Here are some commonly used essential oils for back pain.
Lavender Oil: Lavender oil has a calming and soothing effect on the body. It can help relax muscles, reduce tension, and alleviate discomfort. Apply a few drops of lavender oil to the affected area and gently massage it in. You can also add a few drops to a warm bath for a relaxing soak.
Peppermint Oil: Peppermint oil has a cooling sensation that can provide temporary pain relief. It has analgesic properties and can help reduce muscle spasms. Dilute peppermint oil with a carrier oil, such as coconut oil or almond oil, and apply it to the back area. Avoid applying it near the face or on broken skin.
Eucalyptus Oil: Eucalyptus oil has anti-inflammatory and analgesic properties. It can help reduce pain, swelling, and muscle stiffness. Mix a few drops of eucalyptus oil with a carrier oil and gently massage it onto the affected area. You can also add a few drops to a warm compress and apply it to the back for relief.
When using essential oils, it's important to dilute them with a carrier oil before applying them to the skin to avoid irritation or allergic reactions. Conduct a patch test before using any new essential oil to ensure you don't have any adverse reactions. Additionally, if you have any pre-existing medical conditions or are pregnant or breastfeeding, consult with a healthcare professional before using essential oils.
Essential oils should not be ingested unless under the guidance of a qualified aromatherapist or healthcare professional. Always follow the recommended dosage and usage instructions provided with the essential oils.
Proper Posture and Ergonomics:
Here are some tips to improve your posture and create an ergonomic environment.
Importance of Posture:
Here are some key points to remember for good posture.
Stand tall: Keep your shoulders back, chin parallel to the ground, and your weight evenly distributed on both feet.
Sit properly: Sit with your back against the chair, feet flat on the floor or a footrest, and knees at a 90-degree angle. Use a lumbar roll or a cushion to support the natural curve of your lower back.
Lift with care: Bend at your knees and hips, not your back, when lifting heavy objects. Hold objects close to your body and avoid twisting while lifting.
Sleep in a supportive position: Use a mattress and pillow that provide proper support to your spine. Avoid sleeping on your stomach, as it can strain your neck and back.
Ergonomic Tips for Daily Activities
Ergonomics involves optimizing your workspace and daily activities to minimize strain and promote comfort. Consider the following ergonomic tips.
Office ergonomics: Adjust your chair and desk height so that your feet are flat on the floor and your arms rest comfortably on the desk. Use a supportive chair with an adjustable backrest and armrests. Position your computer monitor at eye level and use a keyboard and mouse that allow your wrists to maintain a neutral position.
Driving ergonomics: Adjust your car seat to support your lower back. Sit at a comfortable distance from the pedals and steering wheel. Use a cushion or lumbar roll if needed.
Mobile device usage: Hold your mobile device at eye level to avoid straining your neck. Take regular breaks and avoid prolonged hunching over your device.
Standing ergonomics: If you have a standing desk, ensure that it is at the proper height to maintain good posture. Use an anti-fatigue mat to reduce strain on your legs and feet.

By practicing good posture and incorporating ergonomic principles into your daily activities, you can help alleviate back pain, prevent future issues, and promote a healthier spine. If you need additional guidance, consider consulting with an ergonomics specialist or physical therapist for personalized recommendations.
Massage Therapy:
Here are some massage techniques you can try.
Self-Massage:
Self-massage can be done using your hands, a foam roller, or a tennis ball. Here are a few techniques you can use.
Effleurage: Use long, sweeping strokes with moderate pressure along the length of your back.
Kneading: Use your fingers or palms to knead the muscles gently in circular motions.
Trigger point release: Apply pressure to specific tender points in your back to release tension. Use a tennis ball or your fingers to apply pressure and hold it for a few seconds.
Explore different techniques and find what works best for you. Start with light pressure and gradually increase as needed. If you experience any pain or discomfort, stop the massage and consult with a healthcare professional.
Professional Massage Therapy:
Seeking the expertise of a professional massage therapist can provide additional benefits for back pain relief. They are trained in various massage techniques and can tailor the session to address your specific needs. Some common types of massages that may help with back pain include.
Swedish massage: This gentle massage technique involves long, flowing strokes to promote relaxation and improve circulation.
Deep tissue massage: This technique applies deeper pressure to target the deeper layers of muscles and connective tissues, helping to alleviate chronic muscle tension and pain.
Sports massage: This massage focuses on addressing specific areas of tension or injury, commonly seen in athletes or individuals with active lifestyles.
Myofascial release: This technique targets the fascia, the connective tissue surrounding muscles, to release tension and restore mobility.
It's essential to choose a licensed and experienced massage therapist. Discuss your back pain concerns and any specific areas of discomfort with them to ensure they can provide the appropriate treatment.
Massage therapy can provide temporary relief from back pain, but it may not address the underlying cause. If your back pain persists or worsens, it's important to consult with a healthcare professional for a comprehensive evaluation and appropriate treatment plan.
Mind-Body Techniques:
Here are some commonly practiced mind-body techniques.
Yoga: Yoga combines physical postures, breathing exercises, and meditation to promote flexibility, strength, and relaxation. It can help improve posture, increase body awareness, and reduce muscle tension. Certain yoga poses and sequences specifically target the back and can provide relief for back pain. It's important to practice under the guidance of a qualified instructor, especially if you're new to yoga or have specific back conditions.
Tai Chi: Tai Chi is a gentle and slow-moving martial art that involves a series of flowing movements and deep breathing. It promotes balance, flexibility, and mind-body connection. Tai Chi exercises can help improve posture, strengthen muscles, and reduce back pain. Classes are available for various skill levels, and it's best to learn from a qualified instructor.
Meditation: Meditation involves focusing the mind and achieving a state of deep relaxation and inner calm. It can help reduce stress, alleviate anxiety, and improve overall well-being. Regular meditation practice may also have a positive impact on managing pain perception, including back pain. Guided meditation, mindfulness meditation, or breathing exercises can be beneficial in managing back pain and promoting relaxation.
Progressive Muscle Relaxation: Progressive muscle relaxation is a technique that involves tensing and then releasing different muscle groups in the body to promote relaxation. It can help reduce muscle tension and promote overall relaxation. This technique can be done independently or with the guidance of an audio recording or a trained professional.
Biofeedback: Biofeedback is a method that helps individuals become aware of and gain control over their physiological responses, such as muscle tension and heart rate. It uses electronic sensors to provide real-time feedback, enabling individuals to learn techniques to control their bodily functions. Biofeedback techniques can help manage stress, reduce muscle tension, and potentially alleviate back pain.
These mind-body techniques can be effective in managing back pain, but it's important to find the approach that works best for you. It may be beneficial to start with guidance from a qualified instructor or therapist who can help you learn and practice the techniques correctly. As always, consult with a healthcare professional if you have any underlying medical conditions or concerns.
When to Seek Professional Help:
Here are some signs that indicate it's time to consult a healthcare professional.
Severe or Persistent Pain: If your back pain is severe, debilitating, or persists for more than a few weeks despite home remedies and self-care measures, it's important to seek medical attention. Severe pain may indicate a more serious underlying condition that requires professional evaluation.
Pain Radiating Down the Legs: If you experience pain, numbness, tingling, or weakness that radiates down one or both legs, it could be a sign of nerve compression or a herniated disc. This condition, known as sciatica, often requires medical intervention for proper diagnosis and treatment.
Loss of Bladder or Bowel Control: If you experience difficulty controlling your bladder or bowel movements along with back pain, it could indicate a serious condition such as cauda equina syndrome. This is a medical emergency, and immediate medical attention is necessary.
Trauma or Injury: If your back pain is the result of a significant injury, fall, or accident, it's important to seek medical help to rule out fractures, spinal cord injury, or other severe damage.
Back Pain with Systemic Symptoms: If you have back pain accompanied by fever, unexplained weight loss, night sweats, or other systemic symptoms, it could be a sign of an underlying condition such as infection, cancer, or inflammatory disorders. Consult a healthcare professional for a proper evaluation.
Progressive Weakness or Loss of Function: If you experience progressive weakness, difficulty walking, or a loss of coordination along with back pain, it could indicate nerve damage or a spinal cord problem. Seeking immediate medical attention is essential in such cases.
Underlying Health Conditions: If you have a pre-existing medical condition, such as osteoporosis, rheumatoid arthritis, or a history of cancer, and you develop new or worsening back pain, it's important to consult your healthcare provider for evaluation and management.
Remember, a healthcare professional, such as a primary care physician, orthopedic specialist, or physical therapist, can provide a comprehensive evaluation, diagnose the underlying cause of your back pain, and recommend appropriate treatment options. They can also offer guidance on managing chronic back pain and preventing further complications.
Conclusion:
Back pain can be a common and bothersome issue, but there are several home remedies that can help alleviate the discomfort. Resting and gentle movement can promote healing and prevent further strain on the back. Heat and cold therapy can provide temporary pain relief and reduce inflammation. Herbal remedies, such as turmeric and ginger, can offer natural anti-inflammatory benefits. Essential oils, like lavender and peppermint, can be used topically for soothing relief. Maintaining proper posture and practicing ergonomics can prevent back pain and promote spinal health. Massage therapy, mind-body techniques, and seeking professional help when needed are also effective strategies for managing back pain.
It's important to remember that while home remedies can provide relief for mild to moderate back pain, it's crucial to seek professional help if the pain is severe, persistent, or accompanied by other concerning symptoms. A healthcare professional can evaluate the underlying cause of the pain and provide appropriate medical treatment or referral to a specialist if needed.
By combining home remedies, self-care practices, and professional guidance, you can effectively manage and alleviate back pain, improving your overall well-being and quality of life.