The landscape of healthcare is undergoing a transformative shift with the emergence of AI-powered robotic nursing assistants. These technological marvels represent a fusion of artificial intelligence and robotics, poised to revolutionize the way healthcare professionals deliver patient care. As the demands on healthcare systems continue to grow, there is a pressing need for innovative solutions that can alleviate the strain on human resources while maintaining and enhancing the quality of care. Robotic nursing assistants equipped with advanced AI capabilities offer a promising avenue to address this challenge by providing crucial support to healthcare professionals in various clinical settings.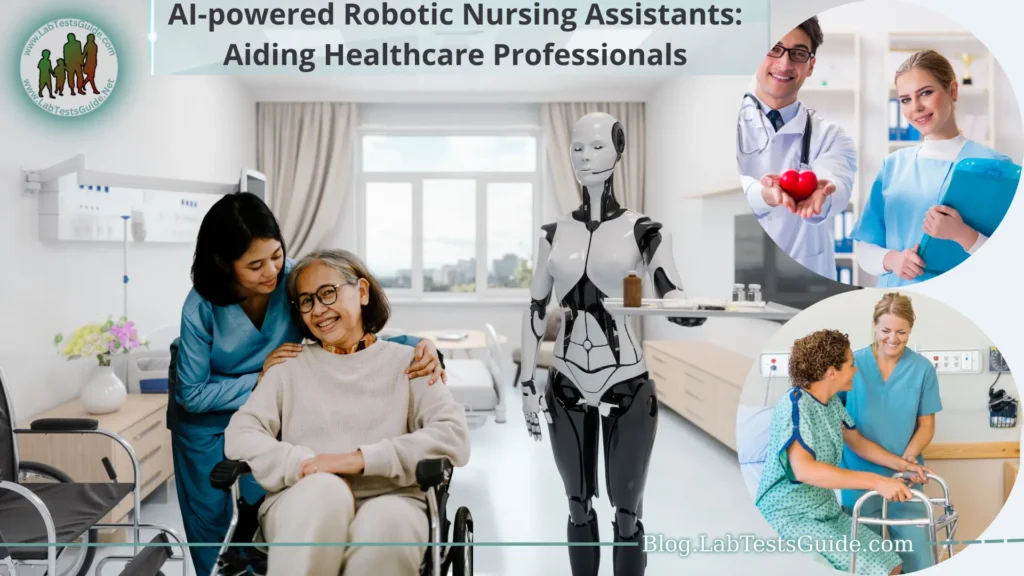 What to Anticipate in the Patient-Care Journey?
Here's what healthcare professionals can anticipate as these advanced technologies become integral to healthcare settings.
Enhanced Monitoring and Data Collection:
Continuous and real-time monitoring of patients' vital signs and health metrics.
Timely alerts to healthcare providers in case of any anomalies or critical changes.
Accurate and comprehensive data collection, leading to more informed decision-making.
Precise Medication Administration:
Automated medication dispensing and administration, reducing the risk of errors.
Adherence to prescribed medication schedules, improving patient outcomes.
Integration with electronic health records (EHR) for seamless tracking of medication history.
Personalized Patient Interaction:
Natural language processing enabling AI-powered assistants to engage in conversations with patients.
Tailored communication based on patients' preferences and emotional needs.
Emotional support through empathetic interactions, enhancing the patient experience.
Efficient Workflow Optimization:
Assistance in routine tasks such as patient transfers, bed adjustments, and meal delivery.
Streamlined workflows, allowing nurses to focus on complex and critical care tasks.
Reduction of physical strain on healthcare professionals, promoting overall well-being.
Data-Driven Insights and Predictive Analytics:
AI-driven analysis of patient data to identify patterns and trends.
Early detection of potential health complications, enabling proactive interventions.
Improved resource allocation and capacity planning based on predictive analytics.
Collaborative Care Coordination:
Integration of robotic nursing assistants into interdisciplinary care teams.
Facilitation of communication among healthcare professionals, enhancing care coordination.
Shared access to patient information, leading to more comprehensive and coordinated care.
Continuous Learning and Adaptation:
Machine learning algorithms that continuously improve based on interactions and data.
Adaptation to individual patient needs and changing healthcare scenarios.
Rapid integration of new medical knowledge and protocols into practice.
Ethical and Regulatory Considerations:
Ethical discussions around the use of AI in patient care and decision-making.
Compliance with healthcare regulations and patient data privacy.
Balancing human oversight with AI autonomy to ensure patient safety.
How AI-Powered Robotic Nursing Assistants Are Shaping the Healthcare Landscape:
Here's a closer look at the ways in which these advanced technologies are shaping the future of healthcare.
Elevating Patient-Centric Care:
Personalized interactions between patients and robotic assistants improve patient engagement and satisfaction.
Timely responses to patient queries and needs contribute to a more patient-centric care approach.
Enhanced emotional support fosters a holistic healing environment, benefiting patient well-being.
Optimizing Resource Allocation:
Robotic nursing assistants assist with routine tasks, allowing human healthcare professionals to focus on complex and critical activities.
Efficient use of human resources leads to improved patient-to-nurse ratios and reduced burnout.
Better allocation of time and skills results in higher-quality care delivery.
Enabling Remote Patient Monitoring:
AI-powered assistants extend care beyond traditional healthcare settings through remote patient monitoring.
Real-time transmission of patient data enables timely interventions and reduces hospital readmissions.
Enhanced telehealth capabilities expand access to care, particularly for patients in remote areas.
Enhancing Clinical Decision-Making:
AI-driven insights from patient data support evidence-based clinical decisions.
Predictive analytics identify early signs of deterioration, allowing proactive interventions.
Integration of AI recommendations with healthcare professionals' expertise results in more informed choices.
Driving Healthcare Innovation:
The collaboration between AI and healthcare professionals drives innovation in medical practices.
Continuous learning algorithms improve diagnosis accuracy and treatment strategies over time.
Opportunities for interdisciplinary research emerge, leading to novel medical breakthroughs.
Mitigating Workforce Shortages:
In the face of healthcare workforce shortages, robotic nursing assistants alleviate the burden on human staff.
The deployment of AI-powered assistants contributes to the sustainability of healthcare services, even in challenging scenarios.
Ethical and Societal Implications:
The integration of AI in healthcare prompts discussions on ethical considerations, including patient consent, privacy, and decision-making.
Society grapples with the evolving role of technology in patient care and the boundaries of human-AI collaboration.
Balancing technological advancement with ethical standards becomes a crucial aspect of healthcare governance.
Preparing for Future Challenges:
As technology evolves, healthcare professionals must adapt their skills to collaborate effectively with AI-powered assistants.
Training programs for healthcare personnel encompass a blend of clinical expertise and AI proficiency.
The healthcare industry faces the challenge of regulatory frameworks that keep pace with rapid technological advancements.
Understanding Robotic Nursing Assistants:
Definition and Functionality:
Robotic nursing assistants are automated devices with sensors, actuators, and intelligent algorithms.
They perform tasks like monitoring vital signs, administering medication, and assisting with patient mobility.
Free healthcare professionals from routine tasks, allowing them to focus on critical care.
Evolution and Technological Advancements:
Robotic nursing assistants have evolved with advancements in robotics, AI, and healthcare technology.
Started with basic functions like patient lifting, now incorporate AI-driven features and decision-making capabilities.
Greater sophistication enables broader roles in patient care across different healthcare contexts.
Role in Healthcare Settings:
Deployed in hospitals, nursing homes, rehabilitation centers, and home care environments.
Collaborate with healthcare professionals to streamline workflows and optimize resource allocation.
Assist with daily tasks, enable remote patient monitoring, and enhance overall healthcare efficiency.
Benefits and Considerations:
Enhanced Patient Care: Consistent monitoring and support lead to improved patient well-being.
Reduced Workload: Healthcare professionals experience reduced physical strain, allowing more focus on critical tasks.
Data-Driven Insights: Generate valuable data for evidence-based decision-making and trend analysis.
Addressing Workforce Challenges: Mitigate challenges of healthcare staff shortages and resource limitations.
Ethical and Human-Centered Considerations:
Integration raises questions about maintaining the human touch in patient care.
Ethical considerations include patient consent, privacy, and the balance between human and AI interaction.
Striving for a harmonious blend of technological innovation and compassionate patient care.
Integration of Artificial Intelligence:
AI's Role in Healthcare:
AI encompasses technologies like machine learning and natural language processing.
Machine learning allows machines to learn from data and make intelligent decisions.
AI in healthcare aims to process medical data, recognize patterns, and aid clinical decision-making.
AI Applications in Robotic Nursing Assistants:
Personalized Care: AI enables tailored patient interactions based on preferences and history.
Predictive Analytics: AI analyzes data to forecast health issues, facilitating timely interventions.
Natural Language Processing: Robots engage in conversations, providing emotional support and addressing queries.
Diagnostic Assistance: AI aids in diagnosing medical conditions by comparing symptoms and medical literature.
Benefits of AI Integration:
Enhanced Patient Monitoring: Real-time patient data improves monitoring accuracy.
Efficient Resource Allocation: Optimized task assignment for both human and robotic resources.
Data-Driven Insights: AI analysis offers deeper insights for clinical decision-making.
Reduced Errors: AI-powered assistants minimize medication errors and human-related mistakes.
Continuous Learning: AI systems improve over time through data feedback.
Future Possibilities:
AI integration enhances efficiency, accuracy, and patient care outcomes.
Potential for AI to assist in complex medical procedures and surgeries.
Continual learning improves diagnostic accuracy and treatment recommendations.
Challenges and Considerations:
Ethics and Consent: Ethical concerns around AI decision-making and patient consent.
Data Privacy: Ensuring patient data security in AI-driven processes.
Human-AI Collaboration: Balancing AI autonomy with human oversight for safe and effective care.
Enhanced Patient Care and Interaction:
Personalized Patient Engagement:
AI-powered robots offer tailored interactions based on patients' preferences and medical histories.
Natural language processing enables empathetic conversations, addressing emotional needs.
Patients feel heard and understood, leading to improved engagement and satisfaction.
Continuous Monitoring of Vital Signs:
Robotic assistants equipped with sensors provide real-time tracking of vital signs.
Immediate alerts for healthcare professionals in case of anomalies or critical changes.
Timely interventions enhance patient safety and reduce complications.
Accurate Medication Administration:
AI ensures precise medication dispensing and adherence to schedules.
Integration with electronic health records (EHR) maintains medication history.
Reduces the risk of medication errors, improving patient outcomes.
Emotional Support and Companionship:
Robotic nursing assistants engage patients in conversations, offering companionship.
Emotional support through empathetic interactions alleviates stress and anxiety.
Enhanced well-being positively influences recovery and overall patient experience.
Facilitating Rehabilitation and Mobility:
AI-powered robots assist patients in rehabilitation exercises and mobility tasks.
Ensures consistent and guided movements, reducing the risk of injuries.
Healthcare professionals focus on therapy planning and overseeing progress.
Patient Education and Empowerment:
AI-driven assistants provide patients with information about their conditions and treatments.
Empower patients to make informed decisions about their healthcare journey.
Improved health literacy leads to better self-management and adherence.
Efficiency in Care Coordination:
Collaborative communication between robotic assistants and healthcare teams.
Shared patient information streamlines care coordination and reduces communication gaps.
Enhanced team efficiency ensures comprehensive and well-coordinated care.
Data-Driven Insights for Personalized Care:
AI analysis of patient data identifies trends, aiding in personalized care plans.
Predictive analytics anticipate potential health issues, enabling proactive interventions.
Healthcare professionals make informed decisions based on comprehensive insights.
Addressing Challenges and Concerns:
Ethical Considerations:
AI's decision-making raises questions about accountability and transparency.
Ensuring AI's actions align with human-defined ethical standards.
Balancing AI autonomy with human oversight to prevent unintended consequences.
Privacy and Data Security:
Safeguarding patient data collected by robotic nursing assistants.
Complying with regulations like HIPAA to ensure patient privacy.
Establishing secure data transmission and storage protocols.
Human-AI Collaboration:
Defining clear roles for healthcare professionals and robotic assistants.
Building trust between patients and AI-powered devices.
Training healthcare personnel to effectively collaborate with AI.
Cultural and Societal Acceptance:
Addressing cultural variations in accepting robotic assistance in healthcare.
Overcoming societal concerns about AI replacing human caregivers.
Communicating the benefits and limitations of robotic nursing assistants.
Technical Reliability and Maintenance:
Ensuring the consistent functioning of robotic systems.
Developing mechanisms for prompt maintenance and repair.
Minimizing downtime to avoid disruption in patient care.
Regulatory Frameworks:
Developing regulations that keep pace with rapidly evolving AI technology.
Ensuring compliance with medical device regulations and standards.
Harmonizing international guidelines for consistent implementation.
Integration into Healthcare Workflow:
Seamlessly integrating robotic nursing assistants into existing workflows.
Training healthcare professionals to collaborate effectively with AI.
Overcoming resistance to change and encouraging adoption.
Transparency and Explainability:
Making AI-driven decisions transparent and understandable to healthcare professionals and patients.
Providing explanations for AI's recommendations to foster trust.
Avoiding "black-box" AI systems to ensure accountability.
Case Studies: AI-powered Robotic Nursing Assistants in Action:
Hospital Deployments: RoboNurseCare:
Context: A large urban hospital facing nurse shortages and high patient volumes.
Solution: Deployed AI-powered robotic nursing assistants, RoboNurseCare, for patient monitoring, medication delivery, and basic patient care tasks.
Impact: Reduced nurse workload by handling routine tasks, allowing nurses to focus on critical care. Enhanced patient monitoring led to early detection of deteriorations. Improved patient satisfaction due to personalized interactions and timely assistance.
Home Healthcare Settings: HomeBot Health Companion:
Context: Aging population requiring ongoing care and monitoring at home.
Solution: Introduced HomeBot Health Companion, an AI-driven robot, to provide companionship, medication reminders, and emergency response.
Impact: Improved patients' quality of life by addressing isolation and assisting with medication adherence. Real-time communication with healthcare providers allowed for remote monitoring and intervention.
Rehabilitation Assistance: PhysioCareBot:
Context: Rehabilitation center aiming to enhance therapy outcomes for patients recovering from injuries.
Solution: Implemented PhysioCareBot, an AI-powered robot, to guide patients through personalized rehabilitation exercises.
Impact: Consistent and accurate exercise assistance resulted in faster recovery times. AI-generated progress reports informed therapists' decisions, optimizing therapy plans for each patient.
Pediatric Care: PediaPal Companion:
Context: Pediatric ward in a hospital seeking to alleviate children's anxiety during hospital stays.
Solution: Introduced PediaPal Companion, an AI-powered robotic companion that engages in interactive play and provides emotional support.
Impact: Reduced children's stress and anxiety levels through play-based interactions. Enabled children to express their emotions and concerns, aiding healthcare providers in addressing their needs.
Training and Adoption:
Personnel Training: Bridging the Gap
Educational Programs: Develop comprehensive training modules for healthcare professionals to effectively collaborate with robotic nursing assistants.
Technical Proficiency: Offer workshops on operating and troubleshooting robotic systems.
AI Familiarity: Enhance AI literacy among medical staff to understand AI's role and capabilities.
Cultural and Ethical Sensitivity: Navigating Acceptance
Cultural Competence: Provide sensitivity training to address cultural variations in accepting robotic assistance.
Ethical Discussions: Engage healthcare personnel in conversations about AI's ethical implications in patient care.
Human-AI Partnership: Emphasize AI as a complementary tool, not a replacement, in patient care.
Collaborative Workflows: Seamless Integration
Process Redesign: Adapt healthcare workflows to integrate robotic assistants efficiently.
Interdisciplinary Training: Foster collaboration among different medical specialties and AI experts.
Role Definition: Clearly outline the roles of human professionals and robotic assistants to avoid confusion.
User-Friendly Interfaces: Enhancing Adoption
Intuitive Design: Develop user interfaces that are user-friendly and easy to navigate.
Training Simulations: Provide simulation exercises to familiarize healthcare professionals with AI interactions.
Feedback Mechanisms: Incorporate user feedback to refine and optimize the robotic assistant's user experience.
Change Management and Communication: Overcoming Resistance
Clear Communication: Transparently communicate the benefits of AI integration and address concerns.
Change Champions: Appoint AI advocates within healthcare teams to drive adoption and address challenges.
Continuous Support: Offer ongoing training and technical assistance to ensure a smooth transition.
Measuring Success and Continuous Improvement:
Performance Metrics: Establish key performance indicators (KPIs) to evaluate the impact of robotic nursing assistants.
Feedback Loops: Gather feedback from both healthcare professionals and patients to identify areas for improvement.
Iterative Training: Continuously update training programs based on evolving technology and user needs.
Ensuring Patient-Centric Care: Empowering Patients
Patient Education: Educate patients about the role of robotic nursing assistants in their care.
Informed Consent: Ensure patients understand AI's involvement and provide informed consent.
Patient Feedback: Incorporate patient feedback to enhance the patient experience and adapt AI interactions.
Future Directions and Innovations:
Advanced Clinical Decision Support: Augmenting Expertise
Integration of AI-powered robotic assistants with clinical databases for real-time diagnostic and treatment recommendations.
AI algorithms analyzing vast patient data to provide evidence-based insights, enhancing healthcare professionals' decision-making.
Autonomous Surgical Assistance: Surgical Precision
AI-guided robotic systems assisting surgeons during procedures, enhancing precision and reducing invasiveness.
Real-time analysis of surgical data to aid in complex surgeries, leading to better outcomes and faster recovery.
Telemedicine and Remote Care Enhancement: Expanding Access
AI-powered robotic nursing assistants equipped with telehealth capabilities for remote patient monitoring and consultation.
Bridging healthcare gaps in underserved areas, extending quality care to a wider patient population.
Emotional Intelligence and Empathy: Humanizing Technology
Advancements in natural language processing and emotion recognition for more empathetic interactions.
AI-powered assistants detecting patients' emotional states and responding with appropriate support.
Personalized Treatment Plans: Tailoring Care
AI-driven analysis of patient data to create highly individualized treatment plans.
Customized interventions based on genetics, lifestyle, and patient preferences for optimized care outcomes.
Collaborative Learning and Knowledge Sharing: Networking Intelligence
AI-enabled robotic assistants sharing insights and experiences across different healthcare settings.
Collaborative learning leading to collective improvements in patient care protocols and outcomes.
Ethical AI Frameworks: Ensuring Responsibility
Development of standardized ethical frameworks for AI in healthcare, addressing transparency, accountability, and patient consent.
Guidelines to ensure that AI-powered robotic nursing assistants uphold ethical principles in decision-making.
Human-Robot Team Dynamics: Seamless Integration
Further research into enhancing human-robot interaction and collaboration.
Designing interfaces that facilitate intuitive communication between healthcare professionals and robotic assistants.
Continuous Learning and Adaptation: Dynamic Evolution
AI systems continuously updating knowledge and skills based on real-world interactions.
Rapid integration of emerging medical knowledge and practices to ensure up-to-date patient care.
FAQs:
What are AI-powered robotic nursing assistants?
AI-powered robotic nursing assistants are advanced machines equipped with artificial intelligence (AI) capabilities and sensors. They assist healthcare professionals by performing tasks such as patient monitoring, medication administration, and providing emotional support.
How do AI-powered robotic nursing assistants enhance patient care?
These assistants offer personalized interactions, continuous vital sign monitoring, accurate medication administration, emotional support, and rehabilitation assistance. Their AI-driven insights contribute to more informed decision-making and proactive interventions.
Are AI-powered robotic nursing assistants replacing human healthcare professionals?
No, they are designed to collaborate with healthcare professionals, not replace them. Robotic assistants handle routine and repetitive tasks, allowing human caregivers to focus on complex care and critical decision-making.
What ethical considerations are associated with AI integration in patient care?
Ethical concerns include accountability for AI decisions, patient consent for AI involvement, and maintaining the human touch in patient interactions. Striking a balance between technology and ethical standards is crucial.
How are patients reacting to AI-powered robotic nursing assistants?
Patient reactions vary. Some appreciate the personalized interactions and enhanced support, while others may have concerns about privacy and the human-AI dynamic. Clear communication and education can address these concerns.
How are healthcare professionals trained to work with AI-powered robotic nursing assistants?
Training programs cover technical aspects of operating and troubleshooting robotic systems, AI literacy, and collaborative workflows. Cultural sensitivity and ethical discussions are also part of training.
What role do AI-powered robotic nursing assistants play in telemedicine?
They can facilitate remote patient monitoring, consultations, and follow-ups, extending quality care to patients in remote or underserved areas through telehealth capabilities.
How do AI-powered robotic nursing assistants contribute to surgical procedures?
In surgical settings, these assistants offer real-time data analysis, enhancing surgical precision and reducing invasiveness. They provide valuable insights and guidance to surgeons during complex procedures.
Can AI-powered robotic nursing assistants adapt to changing medical knowledge?
Yes, these assistants can continuously learn and adapt based on real-world interactions. They integrate emerging medical knowledge and practices to ensure up-to-date patient care.
How will AI-powered robotic nursing assistants shape the future of healthcare?
These assistants hold the potential to optimize patient care, improve outcomes, and address healthcare workforce shortages. They are expected to play a pivotal role in transforming healthcare delivery through technological innovation and collaboration.
Conclusion:
In conclusion, the integration of AI-powered robotic nursing assistants represents a paradigm shift in healthcare, ushering in a new era of patient-centered care, operational efficiency, and technological advancement. These intelligent machines, equipped with AI capabilities, offer personalized interactions, enhanced monitoring, precise medication administration, and collaborative support for healthcare professionals. While navigating ethical considerations and addressing challenges, the transformative potential of AI-powered robotic nursing assistants in optimizing patient outcomes, alleviating workforce pressures, and driving healthcare innovation is undeniable. As the journey towards a harmonious collaboration between human expertise and cutting-edge technology continues, the future holds promising possibilities for revolutionizing the healthcare landscape and enhancing the holistic well-being of both patients and healthcare providers.