The rapid advancement of technology has ushered in a new era in the field of surgery, characterized by the integration of robotic assistants and artificial intelligence (AI) into medical procedures. This paradigm shift has the potential to revolutionize surgical practices, offering improved precision, efficiency, and patient outcomes. As we delve into the transformative landscape of surgery in the digital age, this document explores the symbiotic relationship between robotic assistance and AI-guided procedures, examining their historical context, benefits, challenges, and the ethical considerations that accompany their implementation.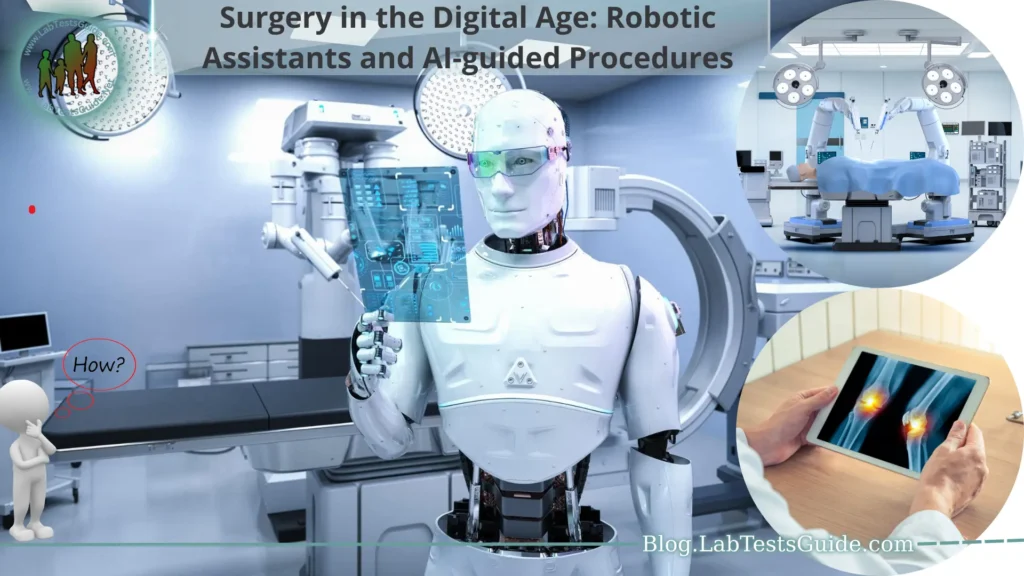 What Is Surgery in the Digital Age?
Integration of Technology: Surgery in the digital age involves the seamless integration of cutting-edge technologies, including robotic assistants and artificial intelligence, into traditional surgical practices.
Precision and Accuracy: Digital surgery enhances precision and accuracy through the use of robotic systems that can perform intricate maneuvers with greater steadiness and reduced risk of human error.
Data-Driven Insights: The digital era enables surgeons to make informed decisions by leveraging AI algorithms that analyze vast amounts of patient data, medical literature, and real-time information during procedures.
Personalized Treatment: Digital surgery allows for personalized treatment plans, as AI can assist in tailoring surgical approaches based on a patient's unique anatomy, medical history, and potential risks.
Minimally Invasive Techniques: Robotic assistants facilitate minimally invasive procedures, often leading to smaller incisions, shorter recovery times, and reduced postoperative complications.
Remote Expertise: Surgeons can collaborate across geographical boundaries through telemedicine, with experts providing guidance and even remotely controlling robotic systems for complex surgeries.
Continuous Learning: AI-driven surgical systems have the ability to learn and adapt over time, improving their performance based on feedback from numerous procedures.
Ethical Considerations: The adoption of digital surgery raises ethical concerns related to patient consent, privacy, data security, and the role of human expertise in a technologically driven environment.
Paradigm Shift: Surgery in the digital age represents a significant paradigm shift, challenging traditional surgical practices while offering unparalleled advancements in patient care and medical innovation.
How to Embrace Robotic Assistants and AI-Guided Procedures in Modern Surgery:
Understanding the Technology Landscape:
Familiarize yourself with the various types of robotic assistants and AI applications available in the field of surgery.
Stay updated on the latest advancements and research in robotic surgery and AI-guided procedures.
Education and Training:
Seek specialized training programs and workshops that offer hands-on experience with robotic surgical systems and AI tools.
Collaborate with institutions and organizations that provide certification in digital surgery techniques.
Identifying Appropriate Use Cases:
Determine the specific surgeries or procedures where robotic assistance and AI guidance can provide the most significant benefits.
Consult with colleagues and experts to assess the feasibility and potential impact of implementing these technologies.
Collaboration and Team Integration:
Build a multidisciplinary team that includes surgeons, robotics engineers, data scientists, and AI specialists.
Foster effective communication and collaboration among team members to ensure seamless integration of technology into surgical workflows.
Data Collection and Analysis:
Implement systems to collect and manage surgical data, including pre-operative imaging, intra-operative data, and post-operative outcomes.
Utilize AI algorithms to analyze this data for insights that can inform surgical decisions and improve patient outcomes.
Ethical and Regulatory Compliance:
Adhere to ethical guidelines and regulations concerning patient consent, data privacy, and the responsible use of AI in healthcare.
Stay informed about evolving legal and regulatory frameworks related to robotic surgery and AI in medical procedures.
Adapting Surgical Techniques:
Work closely with robotic systems to adapt surgical techniques for optimal compatibility, taking advantage of the technology's strengths.
Consider the ergonomic aspects of working with robotic arms and interfaces.
Real-Time Decision Support: Embrace AI-driven real-time decision support systems that provide insights and recommendations during surgeries, enhancing your decision-making process.
Continuous Learning and Improvement:
Embrace a mindset of continuous improvement by actively seeking feedback from colleagues, patients, and AI algorithms.
Stay open to refining your skills and techniques based on data-driven insights.
Robotic Surgical Assistants:
Historical Evolution:
Explore the timeline of robotic surgical assistants, from their initial conceptualization to their integration into modern medical practices.
Understand key milestones and breakthroughs that have shaped the development of robotic surgical systems.
Types of Robotic Surgical Systems:
Examine various categories of robotic surgical assistants, including teleoperated systems, autonomous robots, and collaborative robotic platforms.
Compare the features, benefits, and limitations of each type to identify their suitability for different surgical procedures.
Components and Mechanisms:
Delve into the mechanical and technological components that constitute robotic surgical systems, such as robotic arms, end-effectors, cameras, and control interfaces.
Understand how these components work together to enable precise and controlled movements during surgery.
Surgical Applications:
Explore a range of surgical disciplines where robotic assistants have found applications, including urology, gynecology, cardiovascular surgery, orthopedics, and more.
Highlight successful case studies and noteworthy examples of robotic-assisted procedures.
Advantages of Robotic Assistance:
Discuss the benefits of using robotic surgical assistants, such as enhanced dexterity, reduced hand tremors, and the ability to perform complex maneuvers.
Highlight improved visualization and magnification capabilities provided by robotic systems.
Challenges and Limitations:
Address challenges associated with robotic surgical assistants, including high costs of implementation, training requirements, and potential technical malfunctions.
Explore limitations related to the lack of tactile feedback and the need for skilled operators.
Human-Robot Collaboration:
Explore the concept of human-robot collaboration in surgery, where surgeons work alongside robotic systems to achieve optimal outcomes.
Highlight examples of procedures where a symbiotic relationship between humans and robots is crucial.
Training and Skill Development:
Discuss the training pathways for surgeons to become proficient in operating robotic systems.
Explore simulation-based training and the importance of hands-on experience with robotic surgical platforms.
Future Trends and Innovations: Investigate ongoing research and developments in robotic surgical assistants, including advancements in AI integration, miniaturization of robotic components, and improved haptic feedback.
Ethical and Societal Implications:
Examine ethical considerations surrounding the use of robotic surgical assistants, including issues of responsibility, accountability, and patient safety.
Discuss the potential impact on the job market for surgeons and surgical assistants.
Artificial Intelligence in Surgery:
Introduction to AI in Surgery:
Define the role of artificial intelligence (AI) in the context of surgical procedures and medical practices.
Provide an overview of how AI technologies are transforming surgical workflows.
Medical Imaging and Diagnostics:
Explore how AI is revolutionizing medical imaging interpretation, aiding in early detection and accurate diagnosis of conditions through techniques like computer-aided detection and image segmentation.
Highlight specific modalities such as radiology, pathology, and dermatology.
Machine Learning for Surgical Planning:
Discuss the application of machine learning algorithms in surgical planning, including preoperative assessments, risk prediction, and treatment recommendations.
Explain how AI-driven predictive models can guide surgeons in decision-making.
Real-time Decision Support:
Examine real-time AI-driven decision support systems that provide insights and recommendations during surgery, aiding in critical choices based on live data feeds.
Highlight the integration of AI with robotic surgical systems for improved outcomes.
Personalized Treatment Pathways:
Explore how AI algorithms analyze patient data to tailor treatment plans to individual characteristics, optimizing surgical approaches and postoperative care.
Discuss the potential to minimize complications and improve recovery times.
Data Integration and Insights:
Discuss the challenges and benefits of integrating disparate data sources, such as electronic health records, wearable devices, and genomic information, to generate comprehensive patient insights.
Highlight AI's ability to uncover patterns and correlations within complex data sets.
Automated Documentation and Reporting: Explain how AI can automate surgical documentation and reporting, reducing administrative burdens on surgeons and improving accuracy in record-keeping.
Challenges and Ethical Considerations:
Address ethical dilemmas related to AI in surgery, including transparency, bias mitigation, patient consent, and the responsibility of decision-making in automated systems.
Discuss strategies to ensure AI's responsible and equitable use.
Regulatory Approval and Standardization:
Examine the regulatory landscape surrounding AI-powered medical devices and software applications.
Highlight the need for standardized evaluation and validation processes to ensure patient safety.
Collaboration between Clinicians and AI Experts:
Explore the importance of interdisciplinary collaboration between surgeons, medical professionals, and AI experts to develop effective AI solutions.
Discuss potential challenges in communication and knowledge sharing between these domains.
Synergy of Robotics and AI in Surgery:
Introduction to Synergy:
Establish the concept of synergy between robotic assistants and artificial intelligence (AI) in the field of surgery.
Highlight how the combined power of these technologies can lead to enhanced surgical capabilities and patient outcomes.
Integration of Robotic Systems and AI Algorithms:
Discuss how robotic surgical assistants can be augmented with AI algorithms to provide real-time insights, decision support, and predictive analytics.
Explain how AI can enhance the precision and adaptability of robotic movements.
Enhanced Surgical Precision and Minimally Invasive Techniques:
Explore how the precision and steadiness of robotic arms, coupled with AI-guided navigation, result in finer movements during surgery.
Emphasize the benefits of such precision in enabling minimally invasive procedures.
Improving Surgical Outcomes and Patient Safety:
Detail how the collaborative use of robotics and AI contributes to reduced surgical errors, shorter recovery times, and improved patient safety.
Highlight case studies showcasing successful outcomes achieved through this synergy.
Real-time Feedback and Decision Support:
Explain how AI algorithms analyze real-time data from robotic sensors, providing surgeons with instant feedback and insights.
Discuss the potential for AI to suggest alternative approaches in complex scenarios.
Optimization of Surgical Workflows:
Discuss how the integration of robotic and AI technologies optimizes surgical workflows by streamlining tasks, reducing delays, and enhancing efficiency.
Explore applications in preoperative planning, intraoperative navigation, and postoperative monitoring.
Learning from Data and Continuous Improvement:
Illustrate how AI can learn from historical surgical data to refine surgical techniques and outcomes over time.
Highlight the concept of adaptive algorithms that evolve with experience.
Complex Procedures and Beyond: Showcase examples of complex surgical procedures that greatly benefit from the synergy of robotics and AI, such as intricate microsurgeries or procedures requiring extreme precision.
Barriers to Integration:
Address challenges associated with integrating robotic systems and AI, including technical compatibility, interoperability, and data security.
Discuss ongoing research and initiatives aimed at overcoming these barriers.
Interdisciplinary Collaboration:
Stress the importance of collaboration between surgeons, robotic engineers, AI experts, and data scientists to develop and refine integrated systems.
Highlight successful interdisciplinary projects that have pushed the boundaries of surgical innovation.
Training and Education for Digital Surgery:
Introduction to Digital Surgery Training:
Explain the growing importance of training and education in the context of digital surgery, which encompasses robotic assistants and AI-guided procedures.
Highlight the need for surgeons to acquire new skills to leverage advanced technologies.
Specialized Training Programs:
Detail the availability of specialized training programs designed to educate surgeons on the operation of robotic systems and AI tools.
Highlight renowned institutions and organizations offering comprehensive digital surgery courses.
Hands-on Experience with Robotic Systems:
Emphasize the significance of practical hands-on experience with robotic surgical systems to develop proficiency in controlling robotic arms and interfaces.
Discuss simulation-based training platforms that offer a risk-free environment for skill development.
Integration of AI in Surgical Training:
Explore how AI can be integrated into surgical training, providing virtual mentors, predictive modeling, and real-time feedback during simulated procedures.
Illustrate the benefits of AI-guided training in enhancing decision-making skills.
Collaborative Learning Environments:
Discuss the value of collaborative learning environments, where surgeons interact with peers and experts to exchange insights, techniques, and experiences.
Highlight the role of workshops, conferences, and online platforms in fostering collaboration.
Virtual Reality and Simulation:
Explain the role of virtual reality (VR) and augmented reality (AR) in surgical education, allowing trainees to practice procedures in immersive virtual environments.
Discuss the potential of VR/AR in recreating complex surgical scenarios.
Ethical Considerations in Training:
Address ethical concerns related to training on AI-guided procedures, including ensuring that trainees understand the limitations and capabilities of the technology.
Advocate for responsible and transparent training practices.
Certification and Credentialing:
Discuss the importance of standardized certification and credentialing processes for surgeons who wish to incorporate digital surgery techniques into their practice.
Explore the establishment of competency-based assessments.
Continuing Medical Education (CME):
Emphasize the need for continuous learning and professional development in the rapidly evolving field of digital surgery.
Encourage surgeons to engage in ongoing CME activities to stay updated on technological advancements.
Patient-Centered Communication Skills:
Highlight the significance of developing effective communication skills when discussing digital surgery options with patients.
Address potential concerns and misinformation to build patient trust in technology-assisted procedures.
Patient Perspectives and Societal Impact:
Understanding Patient Perspectives:
Explore how patients perceive and experience surgical procedures involving robotic assistants and AI technologies.
Discuss patient concerns, expectations, and attitudes toward the integration of these technologies into their healthcare journey.
Improved Surgical Outcomes and Safety:
Examine how the utilization of robotic assistants and AI-guided procedures can lead to improved surgical outcomes, reduced complications, and enhanced patient safety.
Highlight patient stories that showcase positive experiences resulting from these advancements.
Minimally Invasive Approaches and Recovery:
Discuss how robotic surgery's focus on minimally invasive techniques contributes to shorter hospital stays, reduced pain, and faster recovery times.
Share patient testimonials that illustrate the benefits of quicker postoperative recuperation.
Patient Education and Informed Consent:
Emphasize the importance of providing comprehensive patient education about the role of robotics and AI in their surgical journey.
Discuss how informed consent processes have evolved to include discussions about technology-assisted procedures.
Addressing Patient Concerns:
Address common patient concerns related to technology-driven surgery, such as the role of the surgeon, potential errors in robotic systems, and long-term impacts.
Provide evidence-based information to alleviate misconceptions.
Accessibility and Affordability:
Analyze the socioeconomic implications of robotic and AI-guided procedures, including considerations of accessibility and affordability for patients from diverse backgrounds.
Discuss efforts to ensure equitable access to advanced surgical techniques.
Ethical and Privacy Considerations:
Discuss patients' rights to privacy and informed consent when AI technologies are involved in their treatment.
Explore how medical institutions handle patient data and protect sensitive information.
Psychological Impact and Patient Well-being:
Examine the psychological effects of undergoing surgery with the assistance of robotic systems and AI.
Highlight strategies to support patients' emotional well-being and alleviate anxiety.
Public Perception and Trust:
Analyze the role of media, public perception, and pop culture in shaping how patients view technology-driven surgery.
Explore ways to build patient trust in robotic assistants and AI-guided procedures.
FAQs:
What is digital surgery?
Digital surgery refers to the integration of advanced technologies such as robotic assistants and artificial intelligence (AI) into surgical procedures. These technologies aim to enhance precision, improve outcomes, and streamline surgical workflows.
How do robotic surgical assistants work?
Robotic surgical assistants are mechanical systems with robotic arms that are controlled by surgeons. These robots enable surgeons to perform complex maneuvers with enhanced precision and stability, often using minimally invasive techniques.
What role does AI play in surgery?
AI in surgery involves the use of algorithms and machine learning to analyze medical data, assist in diagnostics, aid in surgical planning, provide real-time decision support, and improve patient outcomes through personalized treatment pathways.
Are robotic-assisted surgeries safer than traditional surgeries?
Robotic-assisted surgeries have the potential to enhance safety by reducing the risk of human errors, providing better visualization, and enabling minimally invasive approaches. However, successful outcomes depend on the surgeon's skills and the technology's capabilities.
How can surgeons get trained in digital surgery techniques?
Surgeons can undergo specialized training programs that offer hands-on experience with robotic systems and AI tools. These programs often include simulation-based training and collaboration with experts in the field.
What ethical considerations are associated with AI-guided procedures?
Ethical considerations include patient consent for technology-assisted procedures, transparency about the roles of AI and human surgeons, potential biases in AI algorithms, and data privacy concerns in handling patient information.
How accessible is digital surgery technology?
Accessibility varies based on factors such as geographic location, healthcare infrastructure, and economic resources. Efforts are being made to make digital surgery technology more accessible and affordable to a wider range of patients.
What impact does technology have on patient recovery times?
Technology-driven surgical techniques, such as minimally invasive procedures facilitated by robotic systems, can lead to shorter hospital stays, reduced pain, and faster recovery times for patients.
How do patients feel about robotic surgery and AI-guided procedures?
Patient perspectives vary, with some patients embracing the benefits of enhanced precision and quicker recovery, while others may have concerns about technology's role in surgery. Informed patient education is key to addressing these concerns.
What does the future hold for surgery in the digital age?
The future promises continuous advancements in robotic assistants, AI algorithms, and their integration into surgical practices. This could lead to more sophisticated AI-driven decision support systems, increased automation, and further improvements in patient outcomes.
Conclusion:
In conclusion, the marriage of robotic assistants and AI-guided procedures has ushered surgery into an era of unprecedented precision and innovation. The symbiotic relationship between these technologies offers enhanced surgical capabilities, improved patient outcomes, and streamlined workflows. As digital surgery becomes increasingly integral to medical practice, it is imperative for surgeons, healthcare institutions, and technology developers to collaborate closely, addressing ethical considerations, ensuring comprehensive training, and maintaining patient-centered care. This transformative landscape holds the promise of shaping a future where surgical interventions are safer, more effective, and tailored to individual patient needs, underscoring the remarkable potential of surgery in the digital age.