Maintaining a healthy social life is crucial for overall well-being and happiness. Human beings are social creatures, and our connections with others play a significant role in shaping our mental, emotional, and physical health. In today's fast-paced and digital world, it's easy to become disconnected and isolated, leading to feelings of loneliness and unhappiness. This guide is designed to provide valuable tips and strategies to help you cultivate and sustain a fulfilling social life.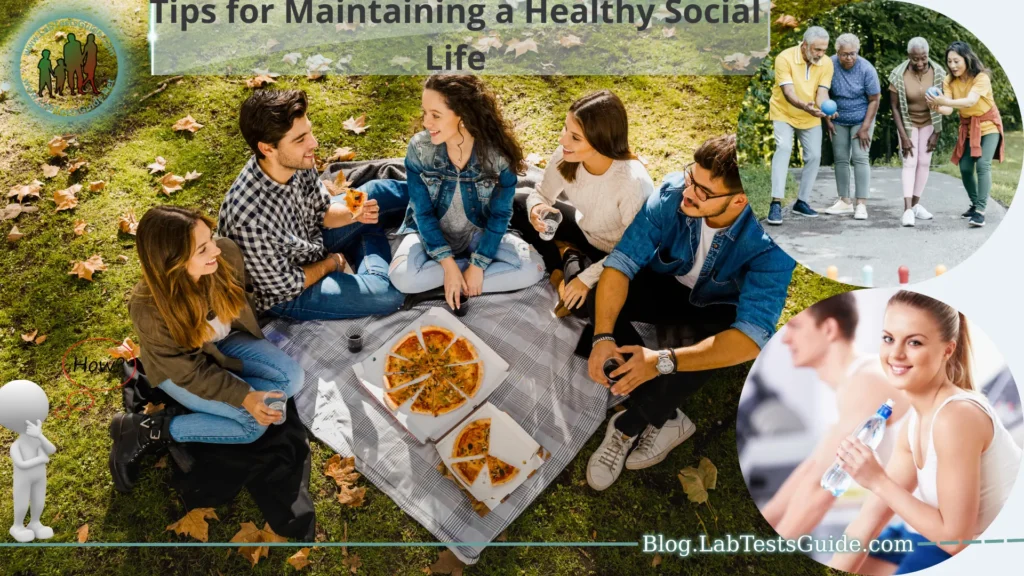 In the following sections, we will explore the importance of understanding your social needs, nurturing existing relationships, and expanding your social circle. Additionally, we will delve into the role of online social networking and the significance of planning regular social activities. Effective communication, conflict resolution, setting boundaries, and embracing new experiences will be discussed to enhance your social skills. Moreover, we will address the potential challenges of social anxiety and isolation, offering guidance on seeking help when needed. By incorporating these insights into your life, you can build and maintain a vibrant social life that fosters meaningful connections and enriches your overall well-being.
What Is a Healthy Social Life and Why Is It Important?
Definition of a Healthy Social Life: A healthy social life refers to the ability to establish and maintain positive, meaningful relationships with others. It involves engaging in regular social interactions, fostering connections with friends, family, and peers, and participating in various social activities.
Emotional Well-being: A healthy social life contributes significantly to emotional well-being. Interacting with others and having strong social connections can reduce feelings of loneliness, stress, and anxiety, leading to increased happiness and a sense of belonging.
Mental Health Benefits: Engaging in social activities and conversations can stimulate the brain and enhance cognitive functions. It promotes mental agility, improves memory, and may even lower the risk of mental health issues, such as depression and cognitive decline.
Physical Health Benefits: Studies have shown that individuals with robust social networks tend to have better physical health. Having supportive friends and family can lead to reduced blood pressure, improved immune function, and a lower risk of chronic diseases.
Increased Resilience: Social support is crucial during challenging times. A healthy social life provides a strong support system that can help individuals cope with life's difficulties, increasing resilience and the ability to bounce back from setbacks.
Opportunities for Personal Growth: Engaging with diverse social groups exposes individuals to new perspectives, ideas, and experiences. This fosters personal growth, broadens one's horizons, and encourages open-mindedness.
Networking and Professional Advancement: A healthy social life can extend to professional circles as well. Networking with colleagues, mentors, and peers can lead to career opportunities, collaborations, and access to valuable resources.
Fulfillment of Social Needs: Human beings have innate social needs for connection, belonging, and companionship. A healthy social life fulfills these needs, leading to a greater sense of purpose and life satisfaction.
Positive Influence on Overall Health: Maintaining a healthy social life has been linked to a longer life expectancy and better overall health outcomes. It reinforces the concept of "social wellness," an essential component of a balanced and fulfilling lifestyle.
Enhanced Communication and Social Skills: Regular social interactions provide opportunities to practice communication, active listening, and empathy, which are valuable skills applicable in various aspects of life.
How to Nurture and Strengthen Existing Social Relationships:
Here are some practical tips to help you do just that.
Regular Communication: Stay in touch with your friends and loved ones through regular communication. Reach out through phone calls, texts, video chats, or even in-person meetups if possible. Showing genuine interest in their lives and being an attentive listener strengthens your bond.
Quality Time Together: Make an effort to spend quality time with your social circle. Plan outings, coffee dates, or activities that you all enjoy. Shared experiences create lasting memories and strengthen the emotional connection.
Express Appreciation and Gratitude: Don't hesitate to express your appreciation and gratitude for their presence in your life. Simple acts of kindness, compliments, and expressions of thankfulness go a long way in nurturing relationships.
Support During Difficult Times: Be there for your friends during challenging moments in their lives. Offer emotional support, lend a helping hand, or simply be a compassionate listener when they need to talk.
Celebrate Milestones: Acknowledge and celebrate important milestones and achievements in each other's lives. Whether it's a birthday, promotion, or personal accomplishment, celebrating together fosters a sense of camaraderie.
Avoid Judgment and Criticism: Create a safe and non-judgmental space for your friends to express themselves. Avoid being overly critical or dismissive of their thoughts and feelings.
Resolve Conflicts Respectfully: Disagreements are normal in any relationship. When conflicts arise, address them with respect and empathy. Listen to each other's perspectives and work towards finding a resolution that benefits both parties.
Be Reliable and Trustworthy: Build trust within your social circle by being reliable and keeping your commitments. If you say you'll be there, follow through. Trust is the foundation of strong relationships.
Celebrate Each Other's Success: Be genuinely happy for your friends' achievements and successes. Celebrate their victories and support them in their endeavors.
Offer Support Without Being Asked: Sometimes, people may not directly ask for help even when they need it. Offer your support proactively and let your friends know you are there for them.
Expand Your Social Circle:
Here are some practical steps to help you expand your social circle.
Attend Social Events and Meetups: Look for local events, community gatherings, or hobby-based meetups in your area. These events offer opportunities to meet like-minded individuals with shared interests.
Join Clubs or Organizations: Consider joining clubs, groups, or organizations that align with your passions or hobbies. Whether it's a book club, sports team, volunteering group, or a professional association, these settings provide a platform to connect with others.
Take Classes or Workshops: Enroll in classes or workshops that interest you. It could be an art class, a cooking workshop, or a dance lesson. Such environments often encourage interaction and provide a chance to make new friends.
Utilize Social Media: Engage in social media platforms focused on connecting people with similar interests. Join online communities, forums, or groups that resonate with your hobbies or aspirations.
Attend Networking Events: Attend networking events related to your professional field or industries of interest. These gatherings can lead to valuable connections and potential career opportunities.
Volunteer in Your Community: Volunteer work not only allows you to give back to society but also exposes you to individuals who share your philanthropic interests.
Attend Meetups or Gatherings with Friends of Friends: When your current friends invite you to social gatherings, consider attending even if you don't know everyone. This can lead to meeting new people and expanding your social circle through mutual connections.
Take Initiative to Introduce Yourself: In social settings, don't be afraid to introduce yourself to others. Smile, make eye contact, and initiate friendly conversations.
Attend Social Mixers or Speed Dating Events: Social mixers and speed dating events are designed explicitly for meeting new people. They can be an excellent way to initiate conversations with strangers in a relaxed atmosphere.
Be Approachable and Open-Minded: Display approachability and open-mindedness when meeting new people. Be curious about others' experiences and willing to learn from them.
Participate in Group Activities: Engage in group activities like team sports, hiking clubs, or group fitness classes. Shared experiences in these settings can help you bond with others.
Host Social Gatherings: Organize social events at your home or a public venue and invite both current friends and acquaintances, as well as new people you'd like to get to know better.
Embrace Online Social Networking:
Here's how you can make the most of online social networking.
Choose Appropriate Platforms: There is a wide range of social networking platforms available, each catering to different interests and purposes. Choose platforms that align with your interests and goals. Examples include Facebook for general connections, LinkedIn for professional networking, and Meetup for finding local events.
Create an Engaging Profile: Your profile serves as your digital representation, so make it interesting and authentic. Use a clear profile picture and write a compelling bio that reflects your personality and interests.
Join Groups and Communities: Engage in groups or online communities that focus on topics you are passionate about. Participate in discussions, share your insights, and interact with others who share similar interests.
Reach Out to New People: Don't be afraid to initiate conversations with people you find interesting or who share common interests. Send personalized messages or comments to establish connections.
Be Respectful and Mindful: Practice online etiquette and respect other users' boundaries. Avoid engaging in harmful or controversial discussions, and be mindful of the information you share.
Participate in Virtual Events: Many online platforms offer virtual events, webinars, or live streams. Participate in these events to learn, network, and connect with like-minded individuals.
Share Your Passions and Expertise: Post content related to your passions or professional expertise. Whether it's articles, photos, or videos, sharing your interests can attract people who resonate with your content.
Stay Updated and Engaged: Regularly check your notifications and respond to messages and comments promptly. Being active and engaged on the platform helps maintain connections.
Join Online Challenges or Campaigns: Participate in online challenges or social campaigns related to your interests. This can lead to meaningful interactions with others who share your enthusiasm.
Use Video Calls for Deeper Connections: When appropriate, suggest moving conversations to video calls. Video chats allow for more personal interactions and can strengthen your virtual connections.
Plan Regular Social Activities:
Here are some steps to help you plan and organize enjoyable social gatherings.
Identify Interests and Preferences: Start by identifying your interests and the interests of your social circle. Consider activities that you all enjoy or would like to try together.
Create a Social Calendar: Establish a social calendar to plan regular activities. Set specific dates and times for gatherings to ensure everyone can participate.
Rotate Hosting Responsibilities: Share the responsibility of hosting social activities among your friends or group members. Rotating hosts allows everyone to take turns and adds variety to the gatherings.
Brainstorm Activity Ideas: Collaborate with your social circle to brainstorm activity ideas. Consider outdoor excursions, game nights, movie screenings, cultural events, potluck dinners, or day trips to nearby attractions.
Use Digital Tools for Coordination: Utilize messaging apps or online platforms to coordinate plans, share ideas, and keep everyone informed about upcoming events.
Plan Seasonal or Themed Events: Organize seasonal or themed events to make gatherings more fun and memorable. Themes could include costume parties, beach outings, holiday celebrations, or themed movie nights.
Consider Different Time Frames: Plan activities that suit different time frames, so everyone can participate. Some may prefer shorter gatherings during weekdays, while others might prefer longer weekend get-togethers.
Be Mindful of Budgets: Keep in mind the financial constraints of your group members while planning activities. Choose activities that are affordable for everyone involved.
Incorporate Social Mixers: For larger social circles or when introducing new friends, consider organizing social mixers to facilitate mingling and help people get to know each other.
Stay Open to New Ideas: Be open to trying new activities and exploring different interests. It's an excellent way to foster a sense of adventure and keep social gatherings fresh and exciting.
Practice Active Social Skills:
Here are some tips to help you improve your social skills.
Active Listening: Focus on being a good listener during conversations. Give your full attention, maintain eye contact, and avoid interrupting. Show genuine interest in what others are saying, and ask follow-up questions to demonstrate your engagement.
Effective Communication: Practice clear and concise communication. Be mindful of your tone and body language, as they convey important messages in addition to your words.
Empathy and Understanding: Cultivate empathy by putting yourself in others' shoes and trying to understand their feelings and perspectives. Show compassion and support when someone shares their experiences or challenges.
Engage in Small Talk: Practice starting conversations and engaging in small talk to build rapport with new acquaintances. Topics can range from current events to shared interests or experiences.
Initiate Social Interactions: Don't be afraid to take the initiative in social settings. Approach new people with a friendly demeanor and introduce yourself, making it easier for others to connect with you.
Maintain Positive Body Language: Pay attention to your body language. Stand or sit up straight, offer a warm smile, and use open gestures to convey approachability and confidence.
Use Names and Active Acknowledgment: Address people by their names, as it helps create a more personal connection. Use active acknowledgment, such as nodding and using verbal cues, to show that you are actively engaged in the conversation.
Avoid Dominating Conversations: Be mindful of not dominating conversations. Allow others to share their thoughts and feelings, and give everyone a chance to contribute to the discussion.
Respect Personal Boundaries: Respect others' personal space and boundaries. Be aware of social cues and adjust your behavior accordingly to ensure everyone feels comfortable.
Handle Conflicts Constructively: When conflicts arise, address them constructively and respectfully. Focus on understanding each other's perspectives and finding common ground for resolution.
Learn to Manage Conflict:
Here are some strategies to help you effectively handle conflicts.
Stay Calm and Respectful: When conflicts arise, try to remain calm and composed. Avoid raising your voice or resorting to aggressive behavior. Treat the other person with respect and dignity, even if you disagree.
Listen Actively: Practice active listening during conflicts. Let the other person express their thoughts and feelings without interruption. Demonstrate understanding and empathy for their perspective.
Seek to Understand: Make an effort to understand the root cause of the conflict. Ask open-ended questions to gather more information and gain insights into the other person's feelings and concerns.
Use "I" Statements: When discussing your own feelings and thoughts, use "I" statements instead of accusatory language. For example, say, "I feel hurt when…" rather than "You always make me feel…"
Focus on the Issue, Not the Person: Address the specific issue at hand rather than attacking the person. Avoid personal attacks or blaming, as they can escalate the conflict.
Find Common Ground: Look for areas of agreement and shared interests. Finding common ground can help build a foundation for resolving the conflict.
Brainstorm Solutions: Work together to brainstorm potential solutions to the conflict. Be open to compromise and be willing to find win-win outcomes.
Take a Break if Needed: If emotions are running high and the conflict becomes intense, consider taking a short break to cool off before continuing the discussion.
Use Positive Body Language: Non-verbal cues play a significant role in conflict resolution. Maintain open body language, make eye contact, and avoid crossing your arms, which can signal defensiveness.
Avoid Escalation: Refrain from escalating the conflict with hurtful or aggressive language. Stay focused on finding a resolution rather than winning an argument.
FAQs:
Why is a healthy social life important for overall well-being?
A healthy social life is crucial for overall well-being because humans are social beings. Meaningful social connections provide emotional support, reduce stress and loneliness, and contribute to mental and physical health. It also promotes personal growth, helps build resilience, and enhances one's sense of belonging and purpose.
How can I balance my social life with other responsibilities?
Balancing your social life with other responsibilities requires effective time management and setting priorities. Create a schedule that allocates time for social activities while ensuring you meet your work, family, and personal commitments. Be mindful of overcommitting and learn to say no when necessary to avoid burnout.
What can I do to overcome social anxiety and feel more comfortable in social situations?
Overcoming social anxiety takes time and practice. Start by gradually exposing yourself to social situations, starting with smaller gatherings and gradually progressing to larger ones. Seek professional help if needed, such as cognitive-behavioral therapy, to learn coping strategies and build confidence in social settings.
How do I make new friends and expand my social circle?
To make new friends and expand your social circle, engage in activities that interest you and join clubs, classes, or community events related to your hobbies. Be open and approachable, initiate conversations, and attend networking events or social mixers to meet new people.
What are some ways to nurture and maintain long-distance friendships?
Maintaining long-distance friendships requires regular communication through calls, texts, or video chats. Plan virtual hangouts or activities together, send thoughtful messages, and make an effort to visit each other whenever possible. Remember to celebrate important milestones and be supportive of each other's lives despite the distance.
How can I handle conflicts with friends or family members in a healthy way?
Handling conflicts with friends or family members in a healthy way involves active listening, seeking to understand each other's perspectives, and finding common ground for resolution. Avoid personal attacks, stay calm, and be respectful. If needed, consider seeking a neutral mediator's help to facilitate the resolution process.
What can I do if I feel socially isolated or lonely?
If you feel socially isolated or lonely, take proactive steps to reconnect with others. Reach out to friends or family members, join social groups or clubs that interest you, or consider volunteering to meet new people. Seek professional support or counseling if feelings of loneliness persist or become overwhelming.
How can I strike a balance between online social networking and face-to-face interactions?
Striking a balance between online social networking and face-to-face interactions involves being mindful of screen time and setting boundaries. Allocate time for both virtual and in-person interactions, and prioritize meaningful face-to-face connections when possible to strengthen relationships.
What are some social activities that can be done virtually or online?
There are numerous social activities that can be done virtually or online, such as virtual game nights, online classes or workshops, video call hangouts, virtual book clubs, and participating in virtual events or webinars.
How can I maintain a healthy social life during busy or challenging times, such as a pandemic or personal crisis?
During busy or challenging times, maintaining a healthy social life may require adjusting expectations and being flexible. Focus on quality over quantity in your social interactions, prioritize self-care, and stay connected through virtual means if in-person gatherings are limited. Lean on your support system for emotional support during personal crises, and seek professional help if needed.
Conclusion:
In conclusion, maintaining a healthy social life is essential for overall well-being and happiness. Meaningful social connections provide emotional support, reduce stress, and promote mental and physical health. By understanding our social needs, nurturing existing relationships, expanding our social circle, and embracing online networking, we can foster strong and meaningful connections with others. Engaging in regular social activities, practicing active social skills, managing conflicts constructively, and seeking support when needed are all vital aspects of cultivating a vibrant social life. Whether it's celebrating successes, providing emotional support during tough times, or simply enjoying shared experiences, investing in our social connections enriches our lives and contributes to a fulfilling and joyful existence.