The introduction section provides an overview of morning sickness during pregnancy, including its definition, causes, and prevalence. It sets the stage for the subsequent sections by establishing the importance of understanding and managing morning sickness diring Pregnancy.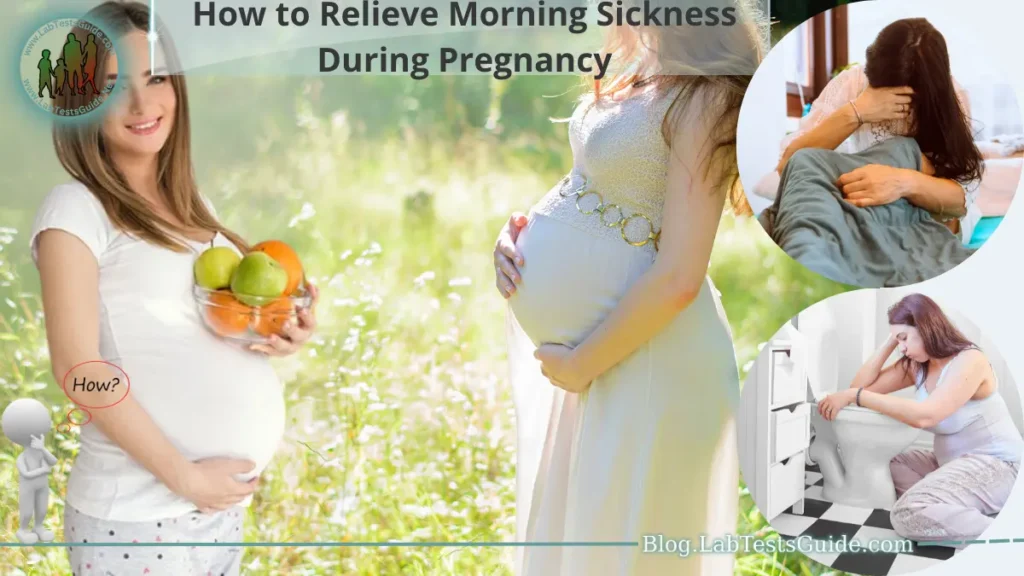 By introducing the topic of morning sickness and establishing its significance, the introduction section sets the foundation for the subsequent sections that will delve into various strategies and techniques to relieve this common pregnancy symptom.
What is the causes of morning sickness During Pregnancy?
Here are some potential causes of morning sickness.
Hormonal Changes:
Increased levels of human chorionic gonadotropin (hCG): This hormone is produced by the placenta and is known to rise significantly during early pregnancy. Higher levels of hCG have been associated with increased incidences of morning sickness.
Estrogen and progesterone fluctuations: These hormones also undergo significant changes during pregnancy and are believed to contribute to nausea and vomiting.
Sensitivity to Odors and Smells: Pregnant individuals may experience heightened sensitivity to certain odors and smells, which can trigger nausea and vomiting.
Digestive System Changes:
Slowed digestion: Pregnancy hormones can relax the muscles in the digestive tract, leading to a slower rate of digestion. This may contribute to feelings of nausea.
Increased stomach acid: The production of stomach acid may increase during pregnancy, leading to feelings of queasiness.
Psychological and Emotional Factors:
Stress and anxiety: Emotional factors and psychological stress may exacerbate the symptoms of morning sickness.
Individual Factors: Each person's body and pregnancy experience are unique, and factors such as genetics, personal health history, and overall sensitivity may influence the likelihood and severity of morning sickness.
It's important to note that these causes are not definitive and can vary from person to person. The exact interplay of these factors and their contribution to morning sickness are still areas of ongoing research.
Understanding Morning Sickness:
Morning sickness refers to the nausea and vomiting experienced by many pregnant individuals, particularly during the early stages of pregnancy. It is a common pregnancy symptom that can vary in duration and intensity from person to person. In this section, we will explore the symptoms, typical duration, and the difference between morning sickness and hyperemesis gravidarum (severe morning sickness).
Symptoms of Morning Sickness:
Nausea: A persistent feeling of queasiness or an urge to vomit.
Vomiting: The act of expelling stomach contents through the mouth.
Loss of appetite: A decreased desire to eat or aversion to certain foods.
Sensitivity to smells: Increased sensitivity to odors, which may trigger nausea.
Fatigue: Feeling tired or weak due to the physical and emotional toll of morning sickness.
Typical Duration:
Morning sickness often starts around the 6th week of pregnancy and tends to peak between weeks 8 and 12. However, some individuals may experience it earlier or later.
For many pregnant individuals, morning sickness subsides by the end of the first trimester (around week 12-14). However, it can persist throughout the entire pregnancy for some.
Difference between Morning Sickness and Hyperemesis Gravidarum:
Hyperemesis gravidarum is a severe form of morning sickness that affects a small percentage of pregnant individuals.
Symptoms of hyperemesis gravidarum are more intense and prolonged than typical morning sickness. They may include severe nausea, excessive vomiting, weight loss, dehydration, and electrolyte imbalances.
Hyperemesis gravidarum can have a significant impact on a person's health and may require medical intervention, including hospitalization, to manage the symptoms.
Understanding the symptoms, duration, and the difference between typical morning sickness and hyperemesis gravidarum is important for pregnant individuals to gauge the severity of their symptoms and seek appropriate support and medical care if needed.
Lifestyle Modifications:
Lifestyle modifications can be effective in relieving morning sickness during pregnancy. Making certain changes to your diet, hydration, and meal planning can help alleviate symptoms. In this section, we will explore lifestyle modifications that can be beneficial for managing morning sickness:
Dietary Changes and Recommendations:
Eat small, frequent meals: Consuming smaller, more frequent meals throughout the day can help prevent an empty stomach, which may contribute to nausea.
Avoid triggers: Identify and avoid foods or smells that trigger your morning sickness symptoms. Common triggers include strong odors, spicy or greasy foods, and foods with strong flavors.
Choose bland foods: Opt for plain, easy-to-digest foods such as crackers, toast, rice, and boiled potatoes. These foods may be better tolerated when experiencing nausea.
Consume protein-rich snacks: Including protein-rich snacks like nuts, yogurt, or cheese can help stabilize blood sugar levels and prevent nausea.
Consider prenatal vitamins: Discuss with your healthcare provider whether adjusting the timing or type of prenatal vitamins you take can help reduce nausea.
Hydration and Fluid Intake Tips:
Sip fluids slowly: Rather than drinking large amounts of liquid at once, sip fluids slowly throughout the day to stay hydrated without overwhelming your stomach.
Try cold or flavored beverages: Some pregnant individuals find relief from morning sickness symptoms by drinking cold or flavored beverages like herbal teas, ginger ale, or ice chips.
Experiment with temperature and texture: Some find relief from nausea by drinking warm liquids like herbal tea or consuming popsicles or frozen fruit.
Meal Planning and Eating Strategies:
Eat a light snack before bed: Having a small, protein-rich snack before bed can help prevent morning nausea by keeping your blood sugar stable overnight.
Eat dry or plain foods in the morning: Keep some dry crackers or plain toast by your bedside and consume them before getting out of bed in the morning. This can help settle your stomach before starting your day.
Get out of bed slowly: Avoid sudden movements or getting up quickly, as they can trigger or worsen morning sickness. Take your time when getting out of bed to allow your body to adjust gradually.
These lifestyle modifications aim to reduce triggers, maintain stable blood sugar levels, and provide adequate hydration, which can contribute to relieving morning sickness symptoms. Experimenting with different strategies and finding what works best for you is important, as individual responses may vary.
Natural Remedies:
Here are some natural remedies that can potentially help alleviate morning sickness.
Ginger:
Ginger has long been used as a natural remedy for nausea. It can be consumed in various forms, including ginger tea, ginger candies, ginger ale, or adding fresh ginger to meals.
Consider trying ginger supplements, such as ginger capsules or tablets, after consulting with your healthcare provider.
Peppermint:
Peppermint is known for its soothing properties and can help alleviate nausea. Sip on peppermint tea or suck on peppermint candies to relieve morning sickness symptoms.
Be cautious with peppermint if you experience heartburn, as it can sometimes worsen the condition.
Lemon:
The scent of lemon or the act of sucking on lemon slices can help reduce nausea for some individuals. You can also try adding lemon slices or lemon juice to your water or herbal tea.
Lemon-flavored candies or popsicles may also provide relief.
Acupressure Bands:
Acupressure bands, also known as nausea bands or wristbands, apply pressure to specific acupressure points on your wrists. These bands are believed to alleviate nausea and vomiting.
Wear the bands as instructed, typically by placing them on your wrists and adjusting the pressure to a comfortable level.
Aromatherapy:
Certain scents, such as lavender or peppermint essential oils, may help relieve morning sickness symptoms. Inhale the aroma directly from the bottle or use a diffuser to disperse the scent in your environment.
Ensure the essential oils you use are safe for pregnancy and follow recommended guidelines for their use.
It's essential to remember that natural remedies may have varying degrees of effectiveness for different individuals. What works for one person may not work for another. Additionally, it's always a good idea to consult with your healthcare provider before trying any new remedies, especially if you have any underlying health conditions or are taking medications. They can provide personalized advice and guidance based on your specific situation.
Medical Interventions:
Here are some medical interventions that may be recommended.
Over-the-Counter Medications:
Vitamin B6 (Pyridoxine): Your healthcare provider may recommend taking vitamin B6 supplements to help alleviate nausea and vomiting. It is generally considered safe for most pregnant individuals, but the appropriate dosage should be discussed with your healthcare provider.
Antacids: Antacids can help relieve heartburn and indigestion, which may contribute to morning sickness symptoms. Choose those specifically formulated for use during pregnancy.
Prescription Medications: Antiemetics: In severe cases of morning sickness or hyperemesis gravidarum, your healthcare provider may prescribe antiemetic medications to help control nausea and vomiting. These medications may include doxylamine and pyridoxine (Diclegis), promethazine, or ondansetron. The use of prescription medications during pregnancy should be closely monitored by a healthcare professional.
Intravenous Fluids: In severe cases of hyperemesis gravidarum that lead to dehydration and nutritional deficiencies, hospitalization and intravenous (IV) fluids may be required to restore hydration and provide necessary nutrients.
Alternative Therapies: In some cases, alternative therapies such as acupuncture or hypnosis may be considered to help manage morning sickness symptoms. It is crucial to consult with a qualified practitioner who has experience working with pregnant individuals.
It is important to remember that the decision to use medical interventions should be made in consultation with your healthcare provider, who can assess the severity of your symptoms and provide appropriate guidance. They will consider the potential risks and benefits associated with each intervention and tailor the treatment plan to your specific needs.
Tips for Everyday Life:
Here are some tips to help you cope with morning sickness in your daily activities.
Morning Routines:
Take your time: Allow yourself extra time in the morning to move slowly and avoid rushing, as sudden movements can trigger nausea.
Eat a light snack: Have a small, protein-rich snack, such as crackers or a piece of fruit, before getting out of bed to help settle your stomach.
Nausea Management at Work or School:
Plan breaks: Take short breaks throughout the day to rest and relax in a quiet space. Find a comfortable spot to sit or lie down when needed.
Fresh air: Step outside or open a window to get some fresh air, as this can help alleviate nausea.
Optimize your workspace: Ensure your workspace is well-ventilated, free from strong odors, and comfortable. Avoid triggers like certain foods or perfumes.
Traveling while Experiencing Morning Sickness:
Plan ahead: If you know you'll be traveling, make sure to pack some nausea-relief essentials, such as ginger candies or acupressure bands.
Stay hydrated: Carry a water bottle with you to stay hydrated while on the go.
Consider motion sickness remedies: If you're prone to motion sickness, consult your healthcare provider about safe options for managing motion sickness symptoms during travel.
Support from Loved Ones and Pregnancy Communities:
Seek understanding: Inform your loved ones, colleagues, and friends about your morning sickness, so they can provide support and understanding.
Join pregnancy support groups: Connect with other pregnant individuals who are experiencing similar challenges. They can provide a supportive network and share tips and coping strategies.
Stress Management and Self-Care Practices:
Prioritize self-care: Make time for activities that help you relax and reduce stress, such as taking warm baths, practicing gentle exercises like prenatal yoga, or engaging in mindfulness and meditation.
Get enough rest: Ensure you are getting sufficient sleep and rest to help alleviate fatigue and promote overall well-being.
Remember that everyone's experience with morning sickness is different, so it's important to find what works best for you. Don't hesitate to communicate with your healthcare provider if morning sickness is significantly impacting your daily life or if you require additional support and guidance.
When Morning Sickness Worsens:
Hyperemesis Gravidarum (HG):
Hyperemesis gravidarum is a severe form of morning sickness that affects a small percentage of pregnant individuals.
Symptoms of HG include persistent and severe nausea, excessive vomiting (more than three to four times a day), weight loss, dehydration, and electrolyte imbalances.
If you are unable to keep any food or fluids down, experience significant weight loss, or notice signs of dehydration such as dark urine or dizziness, it's crucial to seek immediate medical attention.
When to Seek Medical Attention:
If your morning sickness symptoms are significantly impacting your ability to eat, drink, or perform daily activities, it's important to reach out to your healthcare provider.
Contact your healthcare provider if you are experiencing severe or prolonged vomiting, are unable to keep fluids down, or have concerns about your overall well-being.
They can evaluate your symptoms, assess your hydration levels, and determine the best course of action, which may include prescribing medications or recommending hospitalization for intravenous fluids and nutritional support if necessary.
Communicating with Your Healthcare Provider:
It's crucial to maintain open communication with your healthcare provider throughout your pregnancy, especially when experiencing worsening morning sickness.
Keep them informed about any changes in your symptoms, the frequency and severity of vomiting, changes in weight, or concerns about dehydration.
They can provide personalized guidance, monitor your health, and ensure you and your baby receive the necessary support and care.
Remember, your healthcare provider is the best resource to help you navigate and manage worsening morning sickness. They will assess your specific situation, determine the appropriate interventions, and ensure your well-being throughout your pregnancy.
FAQs:
When does morning sickness typically start and end during pregnancy?
Morning sickness usually begins around the 6th week of pregnancy and commonly subsides by the end of the first trimester, around weeks 12 to 14. However, the timing can vary from person to person.
Is morning sickness only experienced in the morning?
No, despite its name, morning sickness can occur at any time of the day. Some individuals may experience it primarily in the morning, while others may experience symptoms throughout the day or in the evening.
Are there any foods or drinks that can help alleviate morning sickness symptoms?
Certain foods and drinks may provide relief for some individuals. Ginger, peppermint, lemon, and bland foods like crackers or toast are commonly used to help ease nausea. Experimenting with different options can help determine what works best for you.
Should I be concerned if I'm not experiencing morning sickness during pregnancy?
No, not experiencing morning sickness is not necessarily a cause for concern. Every pregnancy is different, and while morning sickness is a common symptom, not all individuals will experience it.
How can I manage morning sickness while working or attending school?
Managing morning sickness in work or school settings can involve planning breaks, ensuring a well-ventilated workspace, and having snacks available to alleviate symptoms. Communicating with your employer or school about your condition and potential accommodations can also be helpful.
Can morning sickness harm my baby?
In general, morning sickness does not pose a risk to the baby. However, if morning sickness is severe and leads to dehydration or weight loss, it's important to seek medical attention to ensure both your and your baby's well-being.
Will morning sickness affect the nutritional intake for my baby?
While morning sickness can temporarily affect your ability to eat and keep food down, the baby can still receive adequate nutrition from your body's reserves. However, if you are concerned about your nutritional intake, speak with your healthcare provider about potential supplements or dietary adjustments.
Conclusion:
In conclusion, morning sickness is a common and often manageable symptom experienced by many pregnant individuals. While the exact causes and remedies can vary from person to person, understanding the symptoms, duration, and available strategies for relief can help individuals navigate this challenging phase of pregnancy. From lifestyle modifications and natural remedies to medical interventions when necessary, there are numerous options to alleviate morning sickness and ensure the well-being of both the pregnant individual and the baby. With open communication with healthcare providers, support from loved ones, and self-care practices, individuals can find ways to cope with morning sickness and look forward to a healthier and more comfortable pregnancy journey.