Food poisoning is a common yet preventable public health issue that affects millions of people worldwide each year. It occurs when we consume food or beverages contaminated with harmful bacteria, viruses, parasites, toxins, or chemicals, leading to various gastrointestinal symptoms and, in severe cases, even life-threatening complications. The consequences of food poisoning can be particularly severe for vulnerable individuals, such as young children, pregnant women, the elderly, and those with weakened immune systems. However, by understanding the principles of food safety and implementing proper practices in handling, preparing, and storing food, we can significantly reduce the risk of foodborne illnesses.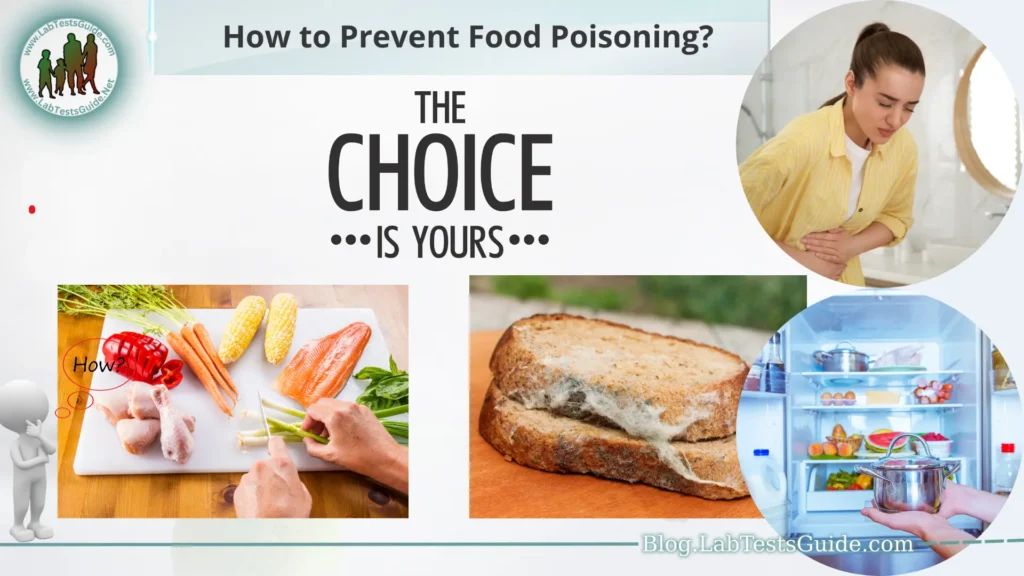 This comprehensive guide aims to educate and empower individuals to take proactive measures to prevent food poisoning. By familiarizing ourselves with the sources of contamination, high-risk foods, and potential hazards, we can make informed decisions to safeguard our health and the health of our loved ones. From safe food handling practices in the kitchen to making wise choices when shopping for groceries or dining out, this guide will provide essential information to stay food-safe and enjoy meals without fear of food poisoning. Remember, prevention is the key, and by implementing the strategies outlined here, we can create a safer and healthier food environment for everyone.
What is Food Poisoning?
Here are the key points to understand about food poisoning.
Definition: Food poisoning is a broad term used to describe illnesses resulting from the ingestion of contaminated food, which can include bacteria, viruses, parasites, toxins, or chemicals.
Common Causes: The main culprits behind food poisoning are bacteria like Salmonella, E. coli, Campylobacter, and Listeria, as well as viruses such as norovirus and rotavirus. Contaminated water and improper handling and preparation can also lead to food poisoning.
Symptoms: Food poisoning symptoms typically manifest within hours or days after consuming contaminated food. Common symptoms include nausea, vomiting, diarrhea, abdominal pain, fever, and headache.
Severity: While most cases of food poisoning are mild and resolve on their own, some can be severe, leading to dehydration and other complications. Certain pathogens can cause life-threatening illnesses, especially in vulnerable individuals.
High-Risk Foods: Certain foods are more prone to contamination and pose a higher risk of causing food poisoning. Examples include raw or undercooked meat, poultry, eggs, dairy products, seafood, and unwashed fresh produce.
Prevention: Preventing food poisoning involves proper food safety practices, including adequate cooking, refrigeration, hygiene, and avoiding cross-contamination.
Risk Groups: Some individuals are more susceptible to severe food poisoning, including young children, pregnant women, elderly individuals, and those with weakened immune systems.
Reporting and Surveillance: Public health authorities monitor and investigate foodborne outbreaks to identify the source of contamination and prevent further cases.
Seeking Medical Attention: If symptoms of food poisoning are severe, prolonged, or accompanied by warning signs like bloody stools or high fever, medical attention should be sought promptly.
Food Safety Education: Educating the public about safe food handling and proper food preparation is essential to reduce the incidence of food poisoning and improve public health outcomes.
How to Store Food Safely:
Proper food storage is crucial in preventing foodborne illnesses and maintaining the freshness and quality of food. Follow these essential tips to ensure safe food storage at home.
Refrigerate Perishable Foods Promptly: Perishable items like meat, poultry, dairy products, and cooked leftovers should be refrigerated within two hours of cooking or purchase. In hot weather (above 90°F or 32°C), reduce the time to one hour.
Use an Appliance Thermometer: Place an appliance thermometer in your refrigerator and freezer to ensure they are operating at safe temperatures. The refrigerator should be kept at 40°F (4°C) or below, and the freezer at 0°F (-18°C).
Store Raw Meat Separately: Keep raw meat, poultry, and seafood in sealed containers or plastic bags to prevent juices from dripping onto other foods and causing cross-contamination.
Utilize Different Refrigerator Zones: Understand the different temperature zones in your refrigerator. Store ready-to-eat foods on higher shelves and raw meats on lower shelves to prevent drips onto other foods.
Label and Date Containers: Always label leftovers and other stored items with their contents and the date of storage. This practice helps you keep track of freshness and avoid consuming expired food.
Store Raw Meat on the Bottom Shelf of the Fridge: To prevent cross-contamination, place raw meats on the bottom shelf of the refrigerator, so their juices won't drip onto other foods.
Follow "First In, First Out" (FIFO) Principle: When storing food, use older items first and place newly purchased items at the back. This way, you minimize waste and ensure older items are consumed before they expire.
Keep the Fridge Clean: Regularly clean your refrigerator and freezer to remove spills and spoiled food, reducing the risk of bacterial growth and odors.
Use Airtight Containers: Store leftovers and prepared foods in airtight containers to maintain their freshness and prevent exposure to contaminants.
Keep Dry Goods in a Cool, Dry Place: Store non-perishable items like canned goods, cereals, and dry pasta in a cool, dry pantry or cupboard away from direct sunlight and heat sources.
Monitor Expiry Dates: Regularly check the expiry dates of packaged foods and discard anything that has passed its use-by or best-before date.
Safe Food Shopping:
Here are some valuable tips for safe food shopping.
Choose Reputable Retailers: Shop at well-established grocery stores, supermarkets, or farmers' markets known for their commitment to food safety and hygiene.
Check Expiry Dates: Always examine the "use-by" or "best-before" dates on perishable and non-perishable items. Avoid purchasing products that are close to or past their expiration dates.
Inspect Packaging: Avoid products with damaged, dented, or swollen packaging, as they may be compromised or potentially contaminated.
Select Fresh Produce Carefully: When buying fresh fruits and vegetables, inspect them for bruises, mold, or signs of spoilage. Choose items that look fresh and have vibrant colors.
Buy Cold and Frozen Foods Last: When shopping, pick up refrigerated and frozen items just before you check out, so they spend less time at room temperature.
Keep Raw Meats Separated: If purchasing raw meats, poultry, or seafood, place them in separate plastic bags to prevent cross-contamination with other foods in your shopping cart.
Use Insulated Bags: Consider using insulated bags or coolers for transporting perishable items, especially during hot weather, to maintain their freshness and safety.
Opt for Pasteurized Products: Choose pasteurized milk, juices, and dairy products, as pasteurization kills harmful bacteria and pathogens.
Avoid Unpasteurized Products: Refrain from buying unpasteurized or raw milk, cheese, and juices, as they can carry dangerous bacteria.
Be Cautious with Hot Foods: If purchasing hot, ready-to-eat foods from deli counters or food vendors, ensure they are held at safe temperatures (above 140°F or 60°C) to minimize the risk of bacterial growth.
Read Food Labels: Pay attention to food labels for information about allergens, ingredients, and nutritional content. This helps you make informed choices and avoid products that may trigger allergies or sensitivities.
Follow Storage Instructions: If buying products that require refrigeration or freezing, make sure to follow the storage instructions provided on the packaging.
Practice Good Hygiene: Before and after handling food during shopping, wash your hands thoroughly with soap and water or use hand sanitizer.
Use Contactless Payment: Whenever possible, use contactless payment methods to reduce physical contact with surfaces and help maintain good hygiene.
Eating Out Safely:
Choose Reputable Establishments: Opt for restaurants, cafes, and eateries with a good reputation for cleanliness and safe food handling practices.
Check Food Inspection Scores: In many places, food establishments are required to display their food inspection scores. Look for these scores to gauge the establishment's compliance with food safety regulations.
Observe Food Handling Practices: Pay attention to how food is prepared and served. Staff should wear gloves or use utensils when handling ready-to-eat foods, and they should follow proper hygiene practices.
Inspect the Environment: Check the overall cleanliness and hygiene of the restaurant. Look for clean tables, utensils, and restrooms, as these factors indicate the establishment's commitment to food safety.
Be Cautious with Buffets and Salad Bars: If choosing a buffet or salad bar, ensure that the food is protected with sneeze guards, and the serving utensils are clean. Avoid foods that appear undercooked or have been sitting out for an extended period.
Communicate Food Allergies: If you have food allergies or dietary restrictions, inform the server and kitchen staff about your specific requirements to avoid cross-contamination.
Be Mindful of High-Risk Foods: Be cautious when ordering raw or undercooked foods like sushi, oysters, or rare meat, as these dishes have a higher risk of contamination.
Opt for Well-Cooked Foods: Choose thoroughly cooked dishes, as cooking at high temperatures kills harmful bacteria and pathogens.
Avoid Cross-Contamination: Ensure that raw and cooked foods are kept separate on your plate, and don't use the same utensils for both unless they have been properly washed.
Check Beverages: Ensure that beverages are served in clean glasses or containers, and avoid drinking from communal containers.
Follow COVID-19 Guidelines: If dining during the ongoing COVID-19 pandemic, follow the restaurant's safety guidelines, such as wearing masks, using hand sanitizers, and practicing social distancing.
Trust Your Instincts: If something seems off or if you have doubts about the food or the establishment's cleanliness, it's better to choose a different place to eat.
Handling Leftovers:
Refrigerate Promptly: As soon as the meal is finished, refrigerate leftover food within two hours (or one hour in hot weather) to prevent the growth of harmful bacteria.
Divide into Small Portions: Divide large portions of leftovers into smaller containers. This allows the food to cool faster and ensures even chilling in the refrigerator.
Store in Airtight Containers: Transfer leftovers to airtight containers or wrap them tightly in plastic wrap or aluminum foil. This helps maintain the food's quality and prevents odors from spreading.
Label and Date: Clearly label each container with the contents and the date it was stored. Consume or freeze the leftovers within 3 to 4 days.
Use the "2-Hour Rule": If leftovers have been sitting at room temperature for more than two hours (or one hour in hot weather), discard them to avoid the risk of food poisoning.
Reheating Safely: When reheating leftovers, ensure they reach a safe internal temperature of 165°F (74°C) throughout to kill any bacteria that might have grown.
Avoid Reheating Multiple Times: It's best to reheat leftovers only once. Repeated reheating can promote bacterial growth and reduce food quality.
Freeze for Long-Term Storage: If you won't consume the leftovers within a few days, freeze them for longer storage. Use freezer-safe containers or resealable plastic bags, and remember to label them with the contents and date.
Defrost Safely: If you plan to eat frozen leftovers, thaw them in the refrigerator or use the microwave's defrost setting. Avoid thawing at room temperature to prevent bacteria from multiplying.
Reheat Thoroughly from Frozen: If reheating frozen leftovers, ensure they reach an internal temperature of 165°F (74°C) to ensure they are safe to eat.
Discard If Unsure: If you're unsure about the safety or quality of leftovers, it's better to err on the side of caution and discard them.
Be Mindful of Cross-Contamination: When handling leftovers, use separate utensils and cutting boards for raw and cooked foods to prevent cross-contamination.
Water Safety:
Drink Potable Water: Only consume water that is known to be safe for drinking. In many areas, tap water provided by public water utilities is treated and regularly tested to meet safety standards. If you're unsure about the water quality, consider using a water filter or choose bottled water.
Boil Water: Boiling is an effective method to make water safe for drinking. Bring the water to a rolling boil for at least one minute (or three minutes at higher altitudes) to kill harmful bacteria, viruses, and parasites.
Use Water Filters: If you use well water or suspect your tap water's safety, consider using water filters certified to remove specific contaminants. Look for filters with NSF/ANSI Standard 53 or 58 certifications for water purification.
Regularly Test Private Wells: If you rely on a private well for water supply, get it tested at least once a year for potential contaminants, including bacteria, nitrates, and other pollutants.
Store Water Properly: If you store drinking water for emergencies or when traveling, use clean, food-grade containers and keep them tightly sealed to prevent contamination.
Be Cautious During Travel: When traveling to areas with questionable water quality, drink bottled water, avoid ice made from tap water, and use bottled or boiled water for brushing teeth.
Avoid Drinking Untreated Surface Water: Refrain from drinking water directly from streams, rivers, or ponds, as it may contain harmful pathogens or pollutants.
Practice Water Conservation: Water conservation not only helps the environment but also reduces the strain on water treatment systems, potentially improving water quality.
Maintain Plumbing and Water Systems: Regularly inspect and maintain your plumbing and water systems to prevent leaks and potential contamination sources.
Be Wary of Disasters: In the aftermath of natural disasters, such as floods or earthquakes, the water supply may become contaminated. Boil water or use bottled water until authorities confirm its safety.
Educate Children about Water Safety: Teach children about the importance of safe drinking water and how to recognize potential risks.
Report Water Quality Concerns: If you notice any changes in the taste, color, or odor of your tap water, or if you suspect contamination, report it to your local water utility or health department.
Personal Hygiene:
Handwashing: Wash your hands frequently with soap and water for at least 20 seconds, especially after using the restroom, before eating, and after coughing or sneezing. Handwashing helps remove germs and prevent the transmission of infections.
Bathing and Showering: Take regular showers or baths to keep your body clean and free from dirt, sweat, and bacteria. Pay attention to areas prone to sweating, such as underarms and feet.
Oral Hygiene: Brush your teeth at least twice a day and floss daily to remove food particles and plaque. Regular dental check-ups are also essential to maintain oral health.
Hair Care: Keep your hair clean and groomed. Regularly wash your hair with a suitable shampoo to remove dirt and oil.
Nail Care: Trim your nails regularly and keep them clean. Avoid biting or chewing nails to prevent the spread of germs from your hands to your mouth.
Clean Clothing: Wear clean clothes and change them regularly. Wash your clothes, bed linens, and towels frequently to prevent the buildup of bacteria and odor.
Use Deodorant: Use deodorant or antiperspirant to control body odor and keep your underarms fresh throughout the day.
Menstrual Hygiene: Practice proper menstrual hygiene by using clean and appropriate menstrual products. Change pads or tampons frequently to avoid infection.
Respiratory Hygiene: Cover your mouth and nose with a tissue or your elbow when coughing or sneezing to prevent the spread of respiratory droplets and germs.
Foot Care: Keep your feet clean and dry, especially between the toes. Wear clean socks and well-fitting shoes to prevent foot odor and fungal infections.
Avoid Sharing Personal Items: Refrain from sharing personal items like towels, razors, or toothbrushes, as this can spread germs and infections.
Stay Vaccinated: Keep up to date with vaccinations recommended by healthcare professionals to protect against preventable diseases.
Manage Illness: If you are sick, take appropriate measures to prevent the spread of illness, such as staying home, covering your mouth when coughing, and avoiding close contact with others.
Recognizing Food Poisoning Symptoms:
Here are common food poisoning symptoms to be aware of.
Nausea and Vomiting: Feeling queasy or experiencing sudden vomiting is a common sign of food poisoning. Vomiting helps the body get rid of harmful toxins or pathogens.
Diarrhea: Foodborne illnesses often cause diarrhea, which can be frequent, watery, or even bloody in some cases.
Abdominal Pain and Cramps: Stomach pain and cramping are common symptoms of food poisoning, resulting from irritation or inflammation in the digestive tract.
Fever: Many types of food poisoning can lead to a fever, which is the body's response to infection.
Headache: Some foodborne pathogens can cause headaches or migraines as part of their symptoms.
Muscle Aches: Feeling achy or experiencing muscle pain is possible with certain types of food poisoning.
Fatigue: Feeling tired or weak can be a result of the body's efforts to fight off the infection caused by contaminated food.
Dehydration: Persistent diarrhea and vomiting can lead to dehydration, characterized by decreased urination, dry mouth, and feeling lightheaded.
Onset Time: Food poisoning symptoms typically start within a few hours to a few days after consuming contaminated food. The exact onset time may vary depending on the causative agent.
Duration: In mild cases, food poisoning symptoms may resolve within a few days. However, some severe infections can last longer, and medical attention may be required.
High-Risk Individuals: Certain groups, such as young children, pregnant women, the elderly, and those with weakened immune systems, may experience more severe symptoms and complications.
Specific Symptoms for Different Pathogens: Some foodborne pathogens may cause unique symptoms. For example, norovirus can lead to rapid-onset vomiting and diarrhea, while Salmonella may cause fever and severe abdominal cramps.
FAQs:
What is food poisoning, and how does it happen?
Food poisoning is an illness caused by consuming contaminated food or beverages. It occurs when harmful bacteria, viruses, parasites, toxins, or chemicals are ingested, leading to gastrointestinal symptoms and, in severe cases, life-threatening complications.
What are the common symptoms of food poisoning?
The symptoms of food poisoning can vary, but common ones include nausea, vomiting, diarrhea, abdominal pain, fever, headache, and dehydration. The onset of symptoms usually occurs within hours or days after consuming contaminated food.
How long do food poisoning symptoms last?
The duration of food poisoning symptoms depends on the type of contaminant and the individual's health. Mild cases may resolve within a few days, while severe infections can last longer. It's essential to seek medical attention if symptoms are severe, prolonged, or worsening.
What are high-risk foods for causing food poisoning?
High-risk foods include raw or undercooked meat, poultry, eggs, seafood, unpasteurized dairy products, and unwashed fresh produce. These foods are more susceptible to contamination and can carry harmful pathogens.
How can I prevent food poisoning?
To prevent food poisoning, practice proper food safety measures, such as washing hands before handling food, cooking food to the correct temperature, refrigerating perishable items promptly, and avoiding cross-contamination.
What should I do if I suspect food poisoning?
If you suspect food poisoning, ensure you stay hydrated and rest. Most cases resolve on their own. However, seek medical attention if symptoms are severe, persistent, or if you belong to a high-risk group (e.g., pregnant women, elderly, immunocompromised).
Can I reheat leftovers to make them safe to eat?
Yes, you can reheat leftovers to make them safe to eat. Ensure they reach an internal temperature of 165°F (74°C) throughout to kill any bacteria that may have grown.
How can I ensure water safety for drinking?
Drink potable water from reputable sources like public water utilities. Boiling water for at least one minute is an effective method to make it safe for drinking. You can also use water filters certified to remove contaminants.
How often should I wash my hands to prevent foodborne illnesses?
Wash your hands frequently with soap and water for at least 20 seconds, especially after using the restroom, before eating, and after coughing or sneezing.
Are there any specific food safety precautions for pregnant women?
Pregnant women should avoid certain high-risk foods, like unpasteurized dairy products and certain types of fish with high mercury levels. They should also follow general food safety guidelines to reduce the risk of foodborne illnesses.
Conclusion:
In conclusion, maintaining food safety and personal hygiene practices is paramount in preventing food poisoning and safeguarding our health. By understanding the risks associated with contaminated food, high-risk foods, and potential sources of infection, we can make informed decisions in our daily lives. Implementing proper food storage, handling leftovers safely, and following safe food shopping and dining practices are essential steps to reduce the risk of foodborne illnesses. Additionally, practicing regular handwashing, oral hygiene, and overall personal cleanliness helps protect ourselves and others from infectious diseases. With these proactive measures, we can create a healthier and safer environment, ensuring that our meals and daily activities are enjoyed without the fear of food poisoning and its potential consequences.