Maintaining good eye health is essential for everyone, regardless of gender. However, as a girl, there are specific factors and considerations that can affect your eye health. This guide aims to provide you with valuable information on preventing and managing common eye problems that girls may encounter.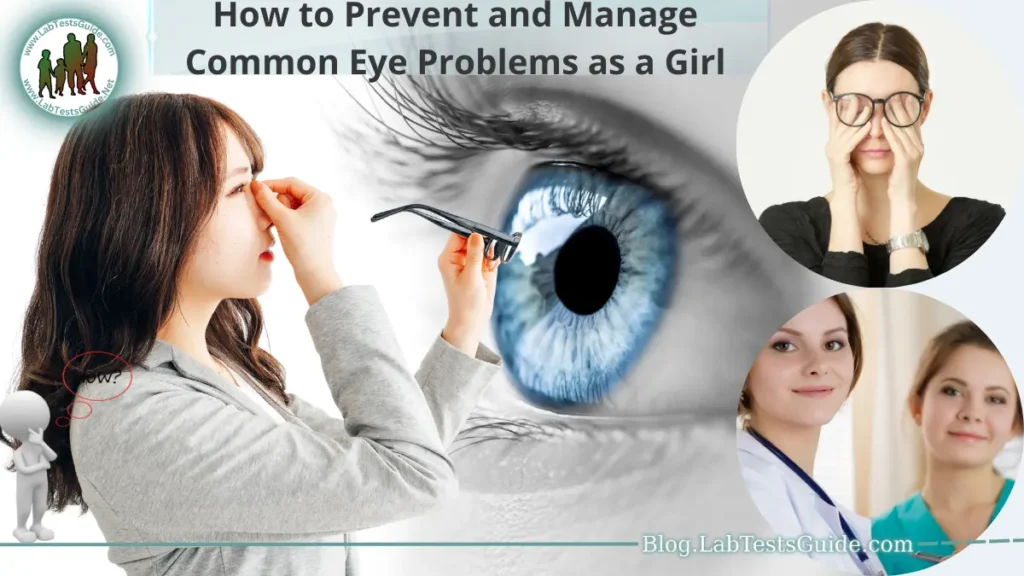 Your eyes play a vital role in your daily life, allowing you to see the world around you and engage in various activities. Taking proactive steps to protect your eyes can help prevent potential issues and ensure optimal visual health throughout your life.
In this guide, we will explore the importance of eye health, common eye problems that girls may experience, and practical tips for prevention. We will also discuss effective strategies for managing and addressing common eye problems should they arise. Remember, while this guide provides general information, it is crucial to consult with a healthcare professional or an ophthalmologist for personalized advice and treatment. Let's dive into the world of eye health and discover how you can protect and care for your eyes as a girl.
Importance of Eye Health:
Here are some key reasons why eye health is important, particularly for girls.
Clear Vision: Good eye health ensures clear vision, allowing you to see objects, people, and details with clarity. Clear vision is essential for daily activities such as reading, studying, driving, and participating in sports or hobbies.
Learning and Academic Performance: As a girl, proper vision is vital for your educational journey. Good eyesight enables you to read textbooks, view presentations, and engage in classroom activities effectively. Regular eye exams and early detection of vision problems can help optimize your learning potential.
Personal Safety: Clear vision contributes to your personal safety. Whether you're crossing the road, navigating unfamiliar environments, or participating in physical activities, having good vision helps you identify potential hazards and stay safe.
Digital Device Usage: In today's digital age, girls often spend significant time using smartphones, tablets, and computers. Prolonged screen time can strain your eyes and lead to digital eye strain. Taking steps to protect your eyes while using digital devices is essential for long-term eye health.
Eye Aesthetics: Eyes are a prominent feature of your face and contribute to your overall appearance. Maintaining good eye health can help prevent issues such as redness, puffiness, and dryness, enhancing the aesthetics of your eyes.
Preventing Eye Diseases: Taking care of your eyes from a young age can help prevent various eye diseases and conditions that may develop later in life, such as cataracts, glaucoma, and age-related macular degeneration.
By prioritizing your eye health and adopting healthy habits, you can maintain clear vision, reduce the risk of eye problems, and enjoy optimal visual well-being. The following sections will provide practical tips for preventing and managing common eye problems as a girl.
Common Eye Problems in Girls:
Girls can experience various eye problems that may require attention and management. Some of the common eye problems faced by girls include.
Myopia (Nearsightedness): Myopia is a refractive error that causes distant objects to appear blurry while close objects remain clear. It is a common eye problem among girls and can affect academic performance if left uncorrected.
Hyperopia (Farsightedness): Hyperopia is a refractive error where nearby objects appear blurry while distant objects may be clearer. It can cause eye strain and difficulty focusing on close-up tasks.
Astigmatism: Astigmatism is a refractive error that causes distorted or blurred vision at all distances. It occurs when the cornea or lens of the eye has an irregular shape.
Dry Eyes: Dry eyes occur when your eyes do not produce enough tears or the tears evaporate too quickly. It can cause discomfort, redness, itching, and a gritty sensation in the eyes.
Conjunctivitis (Pink Eye): Conjunctivitis is an inflammation of the conjunctiva, the thin clear tissue covering the white part of the eye and the inner surface of the eyelids. It can cause redness, itching, tearing, discharge, and a gritty feeling.
Eye Allergies: Allergies can affect the eyes, leading to symptoms such as itching, redness, watering, and swelling. Common allergens include pollen, dust mites, pet dander, and certain medications.
Stye: A stye is a tender, red bump that forms on the eyelid. It occurs when an oil gland at the base of the eyelash becomes infected. Styes can cause pain, swelling, and sensitivity to light.
Computer Vision Syndrome: Computer Vision Syndrome, also known as digital eye strain, is a condition caused by prolonged computer, tablet, or smartphone use. It can lead to symptoms such as eyestrain, dryness, blurred vision, and headaches.
Understanding these common eye problems can help you be proactive in their prevention and management. The next section will provide tips on preventing these eye problems and maintaining good eye health as a girl.
Prevention Tips:
Here are some tips to help you prevent eye problems as a girl.
Maintain a Healthy Diet: Eat a balanced diet rich in fruits, vegetables, and foods high in vitamins A, C, and E, as well as omega-3 fatty acids. These nutrients support eye health and help prevent age-related eye conditions.
Protect Your Eyes from the Sun: When you're outdoors, wear sunglasses that block 100% of UVA and UVB rays to protect your eyes from harmful ultraviolet (UV) radiation. Additionally, wear a wide-brimmed hat for added protection.
Practice Good Hygiene: Wash your hands regularly, especially before touching your eyes or applying eye makeup. Avoid sharing eye cosmetics to prevent the spread of bacteria and reduce the risk of eye infections.
Take Breaks from Screen Time: If you spend extended periods in front of a computer, smartphone, or tablet, follow the 20-20-20 rule. Every 20 minutes, look away from the screen and focus on an object 20 feet away for 20 seconds. This helps reduce eye strain and fatigue.
Avoid Rubbing Your Eyes: Rubbing your eyes can introduce dirt, bacteria, and allergens, increasing the risk of eye infections and irritation. Instead, use a clean tissue or a gentle eye wash to clean your eyes if necessary.
Practice Contact Lens Hygiene: If you wear contact lenses, follow proper hygiene practices. Clean and disinfect your lenses as recommended, replace them on schedule, and avoid sleeping or swimming with your lenses in.
Maintain a Proper Distance and Lighting: When reading or using electronic devices, maintain a proper distance and ensure adequate lighting. Avoid reading in dimly lit areas, as it can strain your eyes.
Regular Eye Exams: Schedule regular comprehensive eye exams with an optometrist or ophthalmologist. Eye exams can detect vision problems, eye diseases, and other issues early on, allowing for timely intervention and treatment.
Stay Hydrated: Drink plenty of water to keep your body and eyes hydrated. Proper hydration helps maintain tear production and prevents dry eyes.
Limit Screen Time before Bed: Avoid excessive screen time before bedtime. The blue light emitted by electronic devices can disrupt your sleep pattern and lead to digital eye strain.
By incorporating these preventive measures into your daily routine, you can significantly reduce the likelihood of encountering common eye problems and promote long-term eye health. However, if you do experience any eye problems, it's important to know how to manage them effectively, which we will discuss in the next section.
Managing Common Eye Problems:
Here are some strategies for managing common eye problems as a girl.
Dry Eyes:
Use artificial tears or lubricating eye drops to relieve dryness and provide moisture to the eyes.
Take breaks from activities that contribute to dry eyes, such as prolonged computer use, and blink regularly to keep the eyes lubricated.
Avoid exposure to dry environments and use a humidifier if necessary.
If dry eyes persist or worsen, consult an eye care professional for further evaluation and treatment options.
Eye Strain:
Follow the 20-20-20 rule mentioned earlier to give your eyes regular breaks during prolonged screen time.
Ensure proper lighting and reduce glare on your computer or device screen.
Adjust your screen's brightness and contrast to comfortable levels.
Practice good posture and maintain an ergonomic setup to reduce strain on your neck and eyes.
Consider using computer glasses with blue light filters to minimize eye strain.
Conjunctivitis (Pink Eye):
Practice good hygiene by washing your hands frequently and avoiding touching or rubbing your eyes.
Use a clean, warm compress to soothe the eyes and remove crusts or discharge.
Avoid wearing contact lenses until the infection clears, and replace any eye makeup or applicators used during the infection.
Consult a healthcare professional for proper diagnosis and treatment, as conjunctivitis can be caused by viral, bacterial, or allergic factors.
Stye:
Apply warm compresses to the affected eyelid several times a day to help relieve pain and promote healing.
Avoid squeezing or popping the stye, as it can worsen the infection.
Maintain good eyelid hygiene by gently cleansing the area with a mild cleanser.
If the stye does not improve or becomes more painful, seek medical attention.
Eye Allergies:
Identify and avoid allergens that trigger your eye allergies, such as pollen, pet dander, or dust mites.
Use over-the-counter antihistamine eye drops or oral antihistamines to alleviate symptoms.
Keep windows closed during high pollen seasons and use air purifiers or filters to minimize allergens indoors.
Consult an allergist or ophthalmologist for allergy testing and potential treatment options if symptoms persist.
Computer Vision Syndrome:
Follow the prevention tips mentioned earlier to reduce digital eye strain.
Ensure proper ergonomics and adjust your workstation to minimize discomfort and strain.
Take regular breaks, practice eye exercises, and consider using specialized computer glasses or blue light filters.
Optimize your display settings, such as font size and brightness, for comfortable viewing.

Remember, these management strategies are general guidelines, and it's essential to consult with an eye care professional for an accurate diagnosis and personalized treatment plan for specific eye problems. Timely professional intervention can help address underlying causes and provide appropriate care.
Knowing when to seek professional help is crucial for managing eye problems effectively, as discussed in the next section.
When to Seek Professional Help:
Here are some indications that you should consult an eye care professional.
Severe or Persistent Symptoms: If you experience severe eye pain, sudden changes in vision, or persistent symptoms that do not improve with home remedies or over-the-counter treatments, it is important to seek immediate medical attention.
Eye Injuries: In case of an eye injury, whether it's a foreign object in the eye, a chemical exposure, or a traumatic injury, seek immediate medical assistance. Do not rub or apply pressure to the eye, as it may worsen the condition.
Eye Infections: If you suspect an eye infection, such as conjunctivitis, and home remedies do not provide relief within a couple of days, consult an eye care professional for proper diagnosis and treatment. This is especially important if there is significant pain, discharge, or worsening redness.
Changes in Vision: Any sudden or significant changes in vision, such as blurred vision, double vision, or loss of vision, require immediate evaluation by an eye care professional.
Eye Diseases and Conditions: If you have been diagnosed with an eye disease or condition, such as glaucoma, cataracts, or macular degeneration, it is important to follow up with regular check-ups and appointments with your eye care specialist. They can monitor the condition and provide appropriate treatments or interventions.
Contact Lens Issues: If you wear contact lenses and experience persistent discomfort, redness, blurred vision, or irritation, remove the lenses and consult your eye care professional. They can evaluate the fit of your lenses, identify any underlying issues, and recommend appropriate solutions.
Routine Eye Exams: Regular comprehensive eye exams are essential for maintaining optimal eye health. It is recommended to have an eye exam at least once every two years, or as advised by your eye care professional. These exams can detect potential issues, even if you don't have noticeable symptoms.
Remember, your eye care professional is the best resource for accurate diagnosis, personalized treatment, and ongoing eye health management. If you are unsure or concerned about any aspect of your eye health, it is always better to seek professional guidance.
Conclusion:
As a girl, taking care of your eye health is crucial for your overall well-being and quality of life. By following preventive measures and practicing good eye care habits, you can minimize the risk of common eye problems and maintain clear vision. Remember to:
Maintain a healthy diet rich in eye-healthy nutrients.
Protect your eyes from the sun with sunglasses and hats.
Practice good hygiene and avoid sharing eye cosmetics.
Take regular breaks from screen time and practice proper ergonomics.
Avoid rubbing your eyes and practice contact lens hygiene.
Schedule regular eye exams with an eye care professional.
In case you experience any eye problems, it's important to seek professional help when needed. Severe or persistent symptoms, eye injuries, infections, changes in vision, eye diseases, contact lens issues, and routine eye exams all warrant a visit to an eye care professional.
By prioritizing your eye health and seeking professional guidance when necessary, you can maintain optimal visual health and enjoy the beauty of the world around you. Take care of your eyes, and they will continue to support you in all your endeavors.