Promoting healthy eating habits in the workplace is crucial for the overall well-being and productivity of employees. With long working hours and demanding schedules, it's easy for employees to prioritize convenience over nutrition, leading to poor dietary choices. However, by creating a supportive environment and implementing effective strategies, employers can encourage their workforce to adopt healthier eating habits.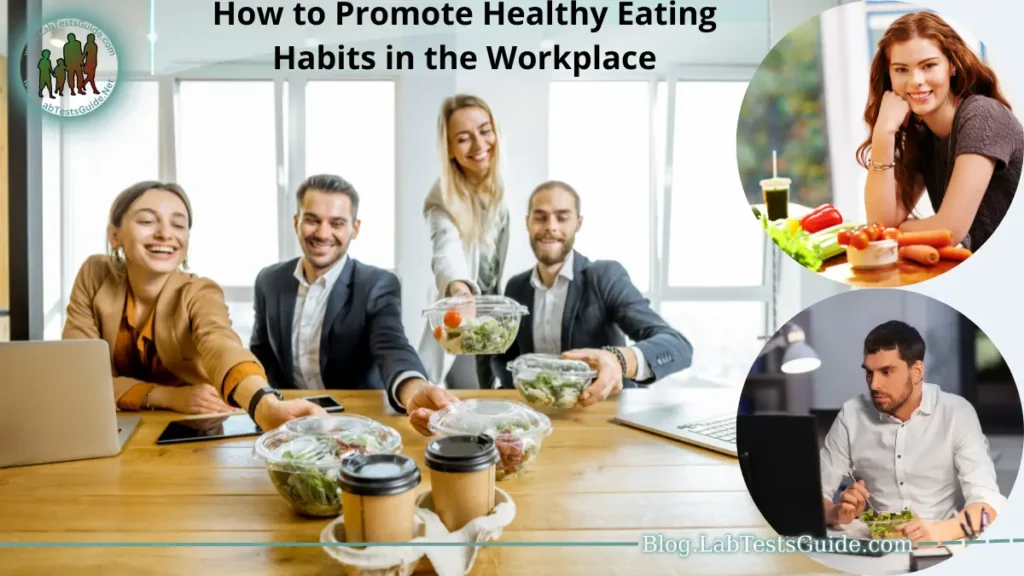 This guide aims to provide a comprehensive overview of strategies and initiatives that can be implemented in the workplace to promote healthy eating. From providing healthy food options to offering nutritional education and fostering a culture of health, these initiatives can help employees make informed choices and develop sustainable habits that support their physical and mental well-being.
Benefits of Healthy Eating in the Workplace:
Here are some key advantages.
Improved Physical Health: Healthy eating provides essential nutrients and supports overall physical health. By consuming a balanced diet, employees can reduce the risk of chronic diseases such as obesity, heart disease, diabetes, and certain types of cancer. This leads to lower healthcare costs and decreased absenteeism due to illness.
Increased Energy and Productivity: Proper nutrition fuels the body and brain, providing employees with sustained energy levels throughout the day. By incorporating nutritious foods into their diet, employees can experience increased focus, mental clarity, and productivity. Healthy eating also enhances cognitive function and memory, promoting better decision-making and problem-solving abilities.
Enhanced Mood and Mental Well-being: Diet plays a crucial role in mental health. A well-balanced diet rich in vitamins, minerals, and omega-3 fatty acids can help improve mood, reduce stress levels, and prevent mental health issues such as depression and anxiety. By encouraging healthy eating habits, employers can contribute to the overall well-being and happiness of their employees.
Weight Management: Maintaining a healthy weight is important for overall health. By promoting healthy eating habits, employers can support employees in managing their weight effectively. This can lead to increased self-confidence, improved body image, and reduced risk of weight-related health issues.
Team Building and Engagement: Encouraging healthy eating habits can foster a sense of community and team spirit among employees. Group activities such as healthy cooking classes, team challenges, or shared nutritious meals can promote camaraderie and create opportunities for social interaction, boosting employee morale and engagement.
Positive Work Environment: A workplace that prioritizes health and wellness creates a positive and supportive atmosphere. When healthy eating is promoted and practiced by both employers and employees, it sets a positive example and establishes a culture of well-being. This can contribute to higher job satisfaction, increased employee retention, and a stronger company culture.
By recognizing and promoting the benefits of healthy eating in the workplace, employers can empower their employees to make positive changes in their dietary habits and enjoy a healthier, happier, and more productive work environment.
How to Create a Supportive Environment:
Here are some strategies to establish such an environment.
Provide Healthy Food Options:
Stock the office cafeteria, vending machines, and snack areas with a variety of healthy food options such as fresh fruits, vegetables, whole grain snacks, and low-sugar beverages.
Ensure that healthy options are visibly displayed and easily accessible, while less nutritious choices are minimized or kept less prominent.
Collaborate with food service providers to offer balanced meal options that cater to different dietary preferences and restrictions.
Encourage Healthy Snacking:
Promote snacking on nutritious foods by providing options like nuts, seeds, yogurt, granola bars, or cut-up fruits and vegetables.
Consider organizing healthy snack stations or providing communal fruit bowls for employees to grab healthy snacks throughout the day.
Discourage the availability of high-sugar and high-calorie snacks in common areas.
Promote Water Intake:
Make clean drinking water readily available throughout the workplace by installing water dispensers or providing filtered water pitchers.
Encourage employees to stay hydrated by placing reminders or providing refillable water bottles as incentives.
Limit or discourage the availability of sugary beverages and instead promote water as the primary beverage choice.
Support Healthy Eating Habits during Meetings and Events:
When organizing office meetings or events, offer healthy catering options that include a variety of fruits, vegetables, whole grains, and lean proteins.
Avoid or limit the presence of sugary snacks, pastries, and processed foods in these settings.
Encourage employees to bring their own healthy meals or snacks to meetings or provide reimbursement for healthy food expenses.
Create Dedicated Eating Spaces:
Designate specific areas for employees to eat their meals comfortably, away from workstations.
Provide well-equipped and clean break rooms or lunchrooms with tables, chairs, and refrigeration facilities for employees to store and enjoy their meals.
Make these spaces inviting and encourage employees to take regular breaks and enjoy their meals mindfully.
Involve Employees in Decision-Making:
Seek employee input and involve them in decision-making processes related to workplace food choices, menu planning, and wellness initiatives.
Conduct surveys or focus groups to gather feedback and preferences, and use that information to shape the food environment accordingly.
Empower employees to take ownership of their workplace wellness by establishing wellness committees or teams to drive initiatives.
Creating a supportive environment involves actively promoting and facilitating healthy eating choices while removing barriers to accessing nutritious options. By implementing these strategies, employers can empower their employees to make healthier choices and foster a culture of well-being in the workplace.
Offer Nutritional Education:
Here are some ways to offer nutritional education.
Conduct Workshops and Seminars:
Organize workshops or seminars led by nutrition experts, dieticians, or health professionals to educate employees about healthy eating habits.
Cover topics such as the importance of a balanced diet, understanding food labels, portion control, meal planning, and healthy cooking techniques.
Allow for interactive sessions where employees can ask questions and engage in discussions to deepen their understanding.
Share Educational Materials:
Distribute informative materials such as brochures, pamphlets, or handouts that provide practical tips and guidance on healthy eating.
Include information on portion sizes, recommended daily intake of nutrients, and examples of nutritious food choices.
Display posters or infographics in common areas that highlight the benefits of different food groups and offer healthy recipe ideas.
Provide Access to Online Resources:
Curate a list of reliable online resources, websites, or mobile applications that offer nutrition-related information, healthy recipes, and meal planning tools.
Share these resources with employees through email newsletters, internal communication platforms, or the company's intranet.
Collaborate with Nutrition Professionals:
Partner with local nutrition professionals or dieticians to provide one-on-one consultations or personalized nutrition plans for interested employees.
Offer incentives or subsidies to encourage employees to seek professional guidance for their dietary needs.
Incorporate Nutrition into Employee Training Programs:
Integrate basic nutrition education into onboarding programs or employee training sessions to ensure that new hires are aware of the company's commitment to health and wellness.
Include modules on nutrition and wellness in employee wellness programs or initiatives.
Organize Cooking Demonstrations or Classes:
Arrange cooking demonstrations or healthy cooking classes where employees can learn practical skills and techniques for preparing nutritious meals.
Focus on simple, quick, and budget-friendly recipes that can be easily replicated at home.
Encourage Healthy Recipe Sharing:
Create a platform or online group where employees can share their favorite healthy recipes, meal ideas, or cooking tips.
Organize recipe contests or challenges to motivate employees to try new healthy recipes and showcase their culinary skills.
By offering nutritional education, employers can empower employees with the knowledge and tools they need to make healthier food choices. This education should focus on practical tips, guidance, and resources that are relevant to their everyday lives. Over time, this knowledge can contribute to sustained healthy eating habits in the workplace and beyond.
Encourage Physical Activity:
Here are some strategies to encourage physical activity among employees.
Promote Regular Breaks:
Encourage employees to take regular breaks throughout the day to engage in physical activity.
Encourage short walks or stretching breaks to break up sedentary behavior and promote movement.
Provide designated break areas with comfortable seating, walking paths, or outdoor spaces to encourage employees to get moving during breaks.
Establish Walking or Fitness Challenges:
Organize walking or fitness challenges where employees can track their steps, physical activity minutes, or other fitness metrics.
Create friendly competitions or team-based challenges to foster camaraderie and motivation.
Offer incentives or rewards for achieving specific milestones or goals.
Provide Access to Exercise Facilities:
If feasible, provide on-site exercise facilities such as a gym, fitness center, or yoga studio.
Subsidize or provide discounted memberships to nearby fitness centers or gyms.
Collaborate with local fitness professionals to offer discounted fitness classes or personal training sessions.
Incorporate Movement into Meetings and Events:
Encourage walking meetings or standing meetings where employees can move around while discussing business matters.
Organize team-building activities or events that involve physical activity, such as sports tournaments, group hikes, or fitness classes.
Implement Active Commuting Initiatives:
Promote alternative modes of transportation such as biking, walking, or carpooling to encourage employees to be physically active during their commute.
Provide amenities such as bicycle racks, shower facilities, or changing rooms to support active commuting.
Support Workplace Wellness Programs:
Establish wellness programs that include physical activity components, such as fitness challenges, exercise classes, or wellness workshops.
Offer subsidies or reimbursements for fitness-related expenses, such as gym memberships, fitness equipment, or sports league registrations.
Lead by Example:
Encourage managers and leaders to lead by example by incorporating physical activity into their daily routines.
Managers can schedule walking meetings, participate in fitness challenges, or share their own fitness journeys to inspire and motivate employees.
Promote Active Lifestyle Resources:
Share resources and information on local fitness events, community sports leagues, or recreational activities that employees can participate in outside of work.
Provide access to fitness apps, online workout videos, or virtual fitness classes that employees can utilize at their convenience.
By creating a supportive environment and implementing initiatives that encourage physical activity, employers can foster a workplace culture that values and promotes an active lifestyle. Regular movement and exercise not only benefit employees' physical health but also contribute to increased energy, reduced stress, and improved overall well-being.
Foster a Culture of Health:
Here are some strategies to foster a culture of health.
Lead by Example:
Leadership should actively participate in and model healthy behaviors, demonstrating their commitment to a healthy lifestyle.
Encourage managers and supervisors to prioritize their own well-being and openly share their personal health journeys.
Incorporate health and wellness goals into performance evaluations and recognize leaders who prioritize their health.
Create Healthy Social Norms:
Establish workplace policies and practices that support healthy behaviors, such as designated wellness breaks or flexible scheduling to accommodate physical activity.
Encourage social support and peer accountability by organizing wellness challenges, group activities, or team-building exercises that focus on health and well-being.
Celebrate and recognize employees who adopt healthy habits and achieve their wellness goals.
Provide Wellness Resources and Tools:
Offer resources such as employee assistance programs (EAPs), wellness portals, or wellness apps that provide information, support, and tools for healthy living.
Collaborate with health professionals to provide health screenings, assessments, or workshops on various health topics.
Offer access to mental health resources and promote the importance of mental well-being alongside physical health.
Integrate Wellness into Organizational Policies:
Include wellness initiatives and goals in the company's mission, vision, and values statements.
Incorporate wellness components into employee benefits packages, such as health insurance coverage for preventive services, gym memberships, or wellness program incentives.
Implement policies that support work-life balance, such as flexible work schedules, remote work options, or family-friendly policies.
Communication and Awareness:
Regularly communicate and raise awareness about the importance of health and wellness through company-wide emails, newsletters, or intranet platforms.
Share success stories, testimonials, and educational materials related to health and well-being.
Organize lunch-and-learn sessions, webinars, or guest speaker events on topics like nutrition, stress management, mindfulness, and fitness.
Involve Employees in Decision-Making:
Encourage employee involvement and engagement by soliciting feedback and ideas for wellness initiatives.
Establish wellness committees or employee-led groups that can contribute to shaping wellness programs and activities.
Conduct surveys or focus groups to gather employee preferences and tailor wellness offerings to their needs.
Recognize and Reward Healthy Habits:
Acknowledge and celebrate employees who adopt and maintain healthy habits.
Implement reward systems or incentives for achieving wellness goals, such as gift cards, additional time off, or other tangible rewards.
Create a system where employees can publicly recognize and appreciate their peers' efforts towards a healthy lifestyle.
By fostering a culture of health, employers create an environment where employees feel supported and encouraged to prioritize their well-being. This, in turn, leads to increased employee engagement, improved morale, reduced healthcare costs, and a more productive and thriving workforce.
Implement Wellness Programs:
Here are some steps to implement wellness programs effectively.
Assess Employee Needs and Interests:
Conduct surveys, focus groups, or anonymous questionnaires to gather insights into employees' wellness needs, interests, and preferences.
Use the collected data to identify the key areas of focus for your wellness program, such as physical fitness, stress management, nutrition, or mental health.
Set Clear Goals and Objectives:
Define specific, measurable, achievable, relevant, and time-bound (SMART) goals for your wellness program.
Align the goals with your organization's mission, values, and overall wellness objectives.
Consider both short-term and long-term objectives to ensure a comprehensive and sustainable approach.
Design a Variety of Wellness Activities:
Develop a range of wellness activities and initiatives that cater to different employee interests and preferences.
Include options such as fitness challenges, mindfulness workshops, nutrition workshops, health screenings, stress management programs, and team-building activities.
Collaborate with wellness experts, health professionals, or external partners to provide specialized programs or services.
Communicate and Promote the Program:
Create a clear and comprehensive communication plan to promote the wellness program to employees.
Utilize various communication channels, such as email newsletters, posters, intranet platforms, or dedicated wellness portals, to raise awareness about the program and its benefits.
Highlight success stories, testimonials, and tangible outcomes from the program to generate interest and engagement.
Provide Resources and Support:
Allocate resources and budget to support the implementation of the wellness program.
Provide necessary tools, equipment, or facilities to facilitate wellness activities, such as fitness equipment, relaxation areas, or healthy snack options.
Offer access to reliable wellness resources, online platforms, or apps that provide educational materials, tracking tools, or fitness programs.
Encourage Employee Participation:
Create incentives or rewards for employee participation and engagement in the wellness program.
Offer recognition or incentives for achieving specific wellness milestones or goals.
Foster a supportive environment where employees feel comfortable and encouraged to participate in wellness activities without fear of judgment or repercussions.
Evaluate and Adjust the Program:
Continuously monitor and evaluate the effectiveness of the wellness program.
Collect feedback from participants through surveys or focus groups to identify areas for improvement or to gather suggestions for future initiatives.
Use the feedback and data collected to make necessary adjustments and enhancements to the program over time.
Remember that wellness programs should be tailored to the specific needs and culture of your workplace. By implementing a comprehensive and well-rounded wellness program, employers can create a positive and supportive environment that promotes employee well-being and helps them lead healthier lives both inside and outside of work.
Evaluate and Adjust Strategies:
Here are some steps to evaluate and adjust your wellness program strategies.
Collect Feedback and Employee Input:
Conduct surveys, focus groups, or individual feedback sessions to gather employee feedback on their experiences with the wellness program.
Ask specific questions about the effectiveness of different initiatives, areas for improvement, and suggestions for future activities.
Consider anonymous feedback options to encourage honest and open responses.
Monitor Health Metrics and Outcomes:
Track relevant health metrics to assess the impact of the wellness program. This may include data such as participation rates, changes in biometric measurements, or employee self-reported health outcomes.
Analyze the collected data to identify trends, improvements, or areas where further attention is needed.
Ensure data privacy and confidentiality when collecting and analyzing health-related information.
Assess Program Engagement and Participation:
Evaluate the level of employee engagement and participation in the wellness program activities.
Review attendance records, completion rates, and employee feedback to understand which initiatives are most popular and effective.
Identify any barriers or challenges that may be hindering participation and brainstorm solutions to address them.
Review Program Budget and Resources:
Evaluate the allocation of resources and budget for the wellness program.
Assess the effectiveness of the resources utilized and determine if any adjustments are necessary.
Consider reallocating resources to initiatives that have shown the most impact or explore new opportunities for collaboration or sponsorship.
Analyze Cost-effectiveness and Return on Investment (ROI):
Assess the cost-effectiveness of different wellness program initiatives by comparing the resources invested with the achieved outcomes.
Calculate the ROI by measuring the financial impact of the program, such as reduced healthcare costs, decreased absenteeism, or increased productivity.
Use this information to make informed decisions about program adjustments and to communicate the program's value to stakeholders.
Continuously Improve and Adapt Initiatives:
Based on the feedback, data, and evaluation results, identify areas for improvement and develop action plans to address them.
Modify or replace initiatives that are not achieving the desired outcomes or are not aligned with employee needs and interests.
Stay informed about emerging wellness trends and best practices to ensure the program remains up-to-date and relevant.
Communicate Updates and Changes:
Clearly communicate any adjustments or changes to the wellness program to employees.
Explain the rationale behind the modifications and highlight how the changes will benefit employees' health and well-being.
Keep employees informed about upcoming initiatives and encourage their continued engagement and participation.
By regularly evaluating and adjusting your wellness program strategies, you can ensure that the program remains effective, engaging, and aligned with the needs of your employees. The feedback and data gathered through evaluation help inform decision-making and allow for continuous improvement, ultimately leading to a successful and impactful wellness program in the workplace.
FAQs:
Why is promoting healthy eating habits in the workplace important?
Promoting healthy eating habits in the workplace is important because it supports employee well-being and contributes to a positive work environment. Healthy eating can improve physical health, energy levels, and productivity. It also reduces the risk of chronic diseases, fosters a positive mood, and enhances mental well-being.
How can employers promote healthy eating habits in the workplace?
Employers can promote healthy eating habits by providing healthy food options, encouraging healthy snacking, promoting water intake, offering nutritional education, encouraging physical activity, fostering a culture of health, implementing wellness programs, and continuously evaluating and adjusting strategies.
What are the benefits of implementing wellness programs in the workplace?
Implementing wellness programs in the workplace has several benefits. It can improve employee health and well-being, increase productivity and engagement, reduce absenteeism, lower healthcare costs, foster a positive work environment, and enhance employee satisfaction and retention.
How can employers involve employees in wellness initiatives?
Employers can involve employees in wellness initiatives by seeking their input and feedback, establishing wellness committees or teams, organizing focus groups or surveys, encouraging peer support and accountability, and recognizing and rewarding employee participation and achievements.
How can employers measure the effectiveness of their wellness programs?
Employers can measure the effectiveness of their wellness programs by collecting feedback and employee input, monitoring health metrics and outcomes, assessing program engagement and participation rates, reviewing the program budget and resources, analyzing cost-effectiveness and ROI, and continuously evaluating and adjusting the program based on data and results.
What are some examples of wellness program initiatives in the workplace?
Examples of wellness program initiatives in the workplace include offering fitness challenges, providing access to exercise facilities, organizing nutrition workshops or cooking classes, promoting stress management techniques, encouraging walking or standing meetings, implementing mental health support programs, and offering incentives for healthy behaviors.
How can employers create a culture of health in the workplace?
Employers can create a culture of health in the workplace by leading by example, establishing healthy social norms, providing wellness resources and tools, integrating wellness into organizational policies, promoting communication and awareness, involving employees in decision-making, and recognizing and rewarding healthy habits.
Conclusion:
Promoting healthy eating habits in the workplace is a valuable investment in the well-being of employees and the overall success of the organization. By creating a supportive environment, offering nutritional education, encouraging physical activity, and fostering a culture of health, employers can empower their employees to make healthier choices and lead balanced lives.