The sense of hearing plays a crucial role in our everyday lives, allowing us to communicate, enjoy music, and perceive the sounds of the world around us. However, hearing loss is a prevalent and often preventable problem, particularly among teenagers. This guide aims to provide valuable information on hearing loss and its prevention specifically tailored for teens.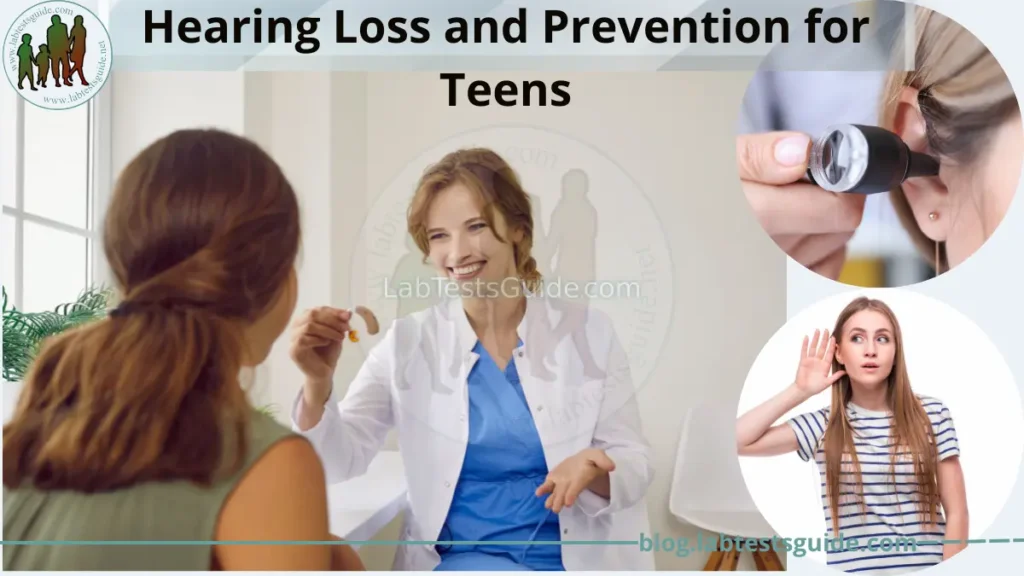 Section I provides an overview of hearing loss, defining what it is and emphasizing the importance of healthy hearing for effective communication and overall well-being. It also highlights the causes and risk factors that can contribute to hearing loss during the teenage years.
Section II explores the different types of hearing loss, including conductive hearing loss, sensorineural hearing loss, and mixed hearing loss. Understanding these distinctions is essential for recognizing the specific characteristics and impacts of each type.
In Section III, we delve into the signs and symptoms of hearing loss that teenagers should be aware of. Recognizing these indicators early on can prompt timely intervention and prevent further hearing damage. From difficulty hearing or understanding speech to experiencing tinnitus, these warning signs should not be overlooked.
Section IV focuses on the prevention of hearing loss among teens. It offers practical advice on how to avoid exposure to loud noises, such as attending concerts or using personal electronic devices at high volumes. Implementing simple strategies like using ear protection and taking listening breaks can significantly reduce the risk of hearing loss.
Section V covers the treatment options available for hearing loss, including medical interventions, hearing aids, cochlear implants, and assistive listening devices. It aims to inform teenagers about the resources and support available if they suspect or are diagnosed with hearing loss.
Finally, the guide concludes in Section VI by emphasizing the importance of protecting one's hearing throughout life. It encourages teenagers to take preventative measures and seek professional help if they suspect they are experiencing hearing loss. By doing so, they can preserve their long-term hearing health and enjoy a better quality of life.
Remember, knowledge and action are the keys to preventing hearing loss, and this guide aims to equip teens with the necessary information to make informed decisions about their hearing health.
Types of Hearing Loss:
The following are the main types of hearing loss.
Conductive Hearing Loss: Conductive hearing loss occurs when sound is unable to pass efficiently through the outer or middle ear. It is typically caused by blockages, malformations, or damage to the ear structures responsible for conducting sound. Common causes include earwax buildup, ear infections, fluid in the middle ear, perforated eardrum, or abnormalities in the ear canal or ossicles (tiny bones in the middle ear). Conductive hearing loss is often treatable or reversible with medical interventions.
Sensorineural Hearing Loss: Sensorineural hearing loss is the most common type of permanent hearing loss. It results from damage or dysfunction in the inner ear (cochlea) or the auditory nerve pathways leading to the brain. This type of hearing loss may be caused by factors such as aging, prolonged exposure to loud noises, genetics, certain medications (ototoxic drugs), infections, or head trauma. Sensorineural hearing loss typically affects the clarity and volume of sounds, making it difficult to understand speech or hear certain frequencies.
Mixed Hearing Loss: Mixed hearing loss refers to a combination of both conductive and sensorineural hearing loss. Individuals with mixed hearing loss experience a combination of issues in both the outer/middle ear and the inner ear or auditory nerve. It means there is a problem with sound transmission through the outer or middle ear, as well as damage to the inner ear structures. Treatment for mixed hearing loss may involve a combination of medical interventions, hearing aids, or other assistive devices.
Central Hearing Loss: Central hearing loss is a less common type that occurs due to damage or dysfunction in the central auditory pathways or the brain's ability to process sound. It can result from conditions such as tumors, stroke, traumatic brain injury, or neurological disorders. Central hearing loss can affect the ability to understand speech even when the sound reaches the ear normally.
Functional Hearing Loss: Functional hearing loss is a type of hearing loss that does not have a physiological basis. It is usually due to psychological or emotional factors, where the individual perceives hearing loss even though their auditory system is functioning normally. It is important to differentiate functional hearing loss from other types through thorough evaluation by a healthcare professional.
Understanding the specific type of hearing loss is crucial for appropriate diagnosis, treatment, and management. It is recommended to consult with an audiologist or a hearing healthcare professional for a comprehensive evaluation if hearing loss is suspected.
Signs and Symptoms of Hearing Loss:
The following are common signs and symptoms.
Difficulty Hearing or Understanding Speech:
One of the primary signs of hearing loss is struggling to hear or understand speech, especially in noisy environments or when multiple people are speaking simultaneously. The individual may frequently ask others to repeat themselves or misunderstand conversations, leading to communication difficulties.
Turning Up the Volume:
People with hearing loss often find themselves frequently turning up the volume on televisions, radios, or personal electronic devices to compensate for their decreased hearing ability. They may perceive that others are speaking softly when, in fact, the issue lies with their hearing.
Social Withdrawal and Isolation:
Hearing loss can impact social interactions, leading to feelings of isolation and withdrawal. Individuals may avoid social gatherings or situations where they anticipate difficulty in understanding conversations. They might experience frustration or embarrassment when they cannot actively participate in discussions.
Struggling with Phone Conversations:
Hearing loss can make it challenging to comprehend conversations over the phone. Individuals may have difficulty hearing the person on the other end clearly, often asking for repetitions or mishearing important information.
Frequently Misunderstanding Directions or Instructions:
If someone frequently misinterprets instructions or directions, it could indicate a hearing loss issue. This can occur in various settings, such as school, work, or at home, where verbal instructions are given.
Tinnitus:
Tinnitus refers to perceiving sounds like ringing, buzzing, or hissing in the ears without any external source. While it can have various causes, it is often associated with hearing loss. If tinnitus persists or worsens, it may be an indication of underlying hearing difficulties.
Difficulty Localizing Sounds:
People with hearing loss may have trouble determining the direction from which sounds are coming. They might struggle to identify where specific sounds originate, which can affect their spatial awareness and safety.
Fatigue or Strained Listening:
Hearing loss can be physically and mentally exhausting. Straining to hear conversations or sounds for extended periods can lead to fatigue, headaches, and increased stress levels.
It is important to note that these signs and symptoms can vary in severity and may develop gradually over time. If you or someone you know experiences any of these indications, it is advisable to seek a comprehensive hearing evaluation from a qualified healthcare professional, such as an audiologist, who can accurately assess the individual's hearing and provide appropriate guidance or treatment options.
Prevention of Hearing Loss:
The following are key strategies for the prevention of hearing loss.
Avoiding Exposure to Loud Noises: Limit exposure to loud noises in recreational activities such as concerts, clubs, or sporting events. Keep the volume at a moderate level when using headphones or earbuds. Use noise-canceling headphones in noisy environments to reduce the need for turning up the volume.
Using Ear Protection: Wear earplugs or earmuffs in noisy environments, such as construction sites, music concerts, or when using power tools. Choose ear protection that provides an appropriate noise reduction rating (NRR) for the specific noise level.
Turning Down the Volume: Lower the volume on personal electronic devices, including smartphones, music players, and televisions. Follow the "60/60 rule": Listen at a maximum of 60% volume for no more than 60 minutes at a time.
Taking Listening Breaks: Give your ears regular breaks from loud sounds or continuous exposure to noise. Find quiet environments to rest and allow your ears to recover from noise exposure.
Monitoring Occupational Noise: If working in a noisy environment, ensure that workplace safety regulations regarding noise exposure are followed. Use hearing protection provided by employers, such as earplugs or earmuffs, and attend regular hearing screenings.
Being Mindful of Medications: Some medications, known as ototoxic drugs, can contribute to hearing loss or worsen existing hearing problems. Consult with a healthcare professional about potential side effects on hearing.
Educating and Raising Awareness: Spread awareness about the importance of hearing protection among friends, family, and the community. Encourage others to adopt hearing-friendly practices and take steps to prevent hearing loss.
Regular Hearing Check-ups: Schedule regular hearing screenings with an audiologist or hearing healthcare professional, especially if there are concerns about hearing loss or exposure to loud noise.

By following these preventive measures and making conscious choices to protect our hearing, we can significantly reduce the risk of hearing loss and maintain good auditory health throughout our lives. Remember, prevention is key, and taking proactive steps today can help preserve our hearing for the future.
Conclusion:
In conclusion, the treatment of hearing loss involves a range of options aimed at improving an individual's hearing ability, communication skills, and overall quality of life. Medical interventions such as surgeries and medications can address specific causes of hearing loss, while hearing aids and cochlear implants offer amplification and restoration of auditory perception.
Assistive listening devices play a significant role in enhancing communication in various environments, and communication strategies and training can help individuals optimize their listening skills and interact effectively with others. Rehabilitation and therapy programs provide comprehensive support for individuals with hearing loss, including auditory training, speech therapy, occupational therapy, and psychological support.
Education and advocacy efforts are crucial in creating awareness about hearing loss, promoting inclusive environments, and providing necessary accommodations for individuals with hearing loss. Regular check-ups, preventive measures, and adopting hearing-friendly practices contribute to the prevention of hearing loss and the maintenance of good auditory health.
It is important for individuals with hearing loss to seek professional help and guidance from audiologists or hearing healthcare professionals who can provide personalized recommendations and treatment options based on their specific needs and circumstances. With proper diagnosis, intervention, and support, individuals with hearing loss can significantly improve their communication abilities, regain confidence, and lead fulfilling lives.