The introduction provides an overview of teenage anxiety, its definition, prevalence, and the impact it has on teenagers' lives. It sets the stage for understanding the topic and its significance. The introduction may include the following points.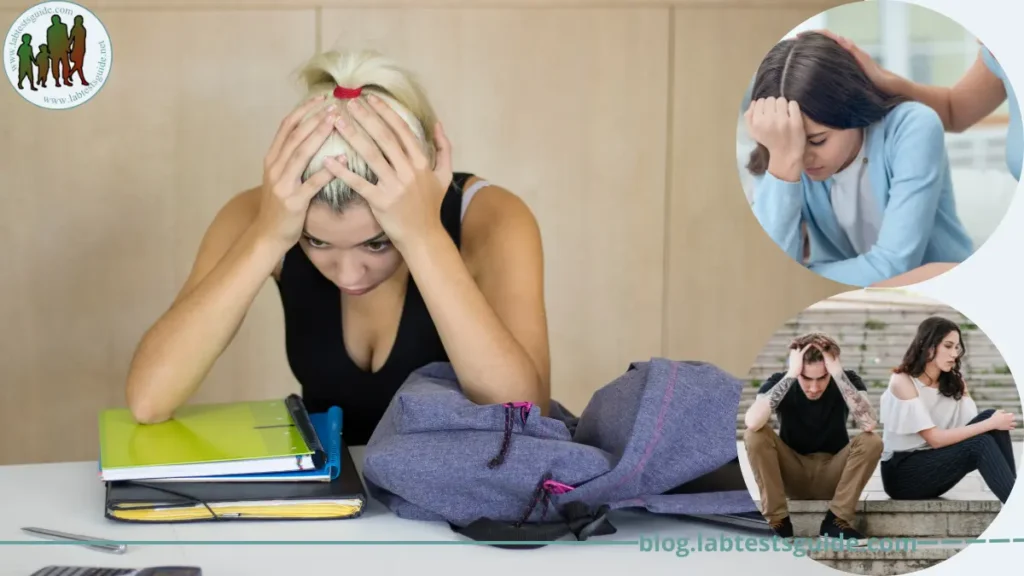 Definition of anxiety: Explain what anxiety is and how it manifests in individuals, focusing on teenagers.
Prevalence of anxiety in teenagers: Provide statistics or research findings regarding the high rates of anxiety among teenagers in recent years.
Impact of anxiety on teenagers' lives: Discuss how anxiety affects various aspects of teenagers' lives, such as their academic performance, social interactions, family relationships, and overall well-being.
The introduction serves as a foundation for delving into the causes, symptoms, types, and management strategies for teenage anxiety. It aims to create awareness and emphasize the importance of addressing this issue for the well-being of teenagers.
Causes of Teenage Anxiety:
Here are some common causes.
Biological factors: Some teenagers may be genetically predisposed to anxiety disorders. Chemical imbalances in the brain, hormonal changes during adolescence, and a family history of anxiety or mental health disorders can contribute to the development of anxiety in teenagers.
Environmental factors: Certain environmental factors can contribute to teenage anxiety. High levels of stress at home, such as parental conflict, financial difficulties, or a chaotic household, can impact a teenager's emotional well-being. Additionally, exposure to traumatic events, abuse, or neglect can significantly increase the risk of developing anxiety.
Social factors: Teenagers are particularly susceptible to social pressures and expectations. Issues such as peer pressure, bullying, social isolation, or feelings of inadequacy can trigger or exacerbate anxiety. The desire to fit in, fear of judgment, and constant comparison to others can contribute to a teenager's anxiety levels.
Academic pressure: Academic demands, including excessive workload, high expectations, fear of failure, and the pressure to succeed, can lead to significant anxiety in teenagers. The fear of not meeting academic goals or disappointing parents and teachers can create a stressful environment that contributes to anxiety.
Family dynamics: Family dynamics play a crucial role in a teenager's mental health. Overprotective or authoritarian parenting styles, lack of emotional support, or unhealthy communication patterns can contribute to anxiety. Conflict within the family, parental mental health issues, or a history of family instability can also impact a teenager's anxiety levels.
It is essential to recognize that these causes often interact with each other, and individual experiences may vary. Understanding the underlying causes can help inform appropriate interventions and support systems for teenagers dealing with anxiety.
Common Symptoms of Teenage Anxiety:
Here are some common symptoms of teenage anxiety.
Physical symptoms:
Increased heart rate or palpitations
Shortness of breath or feeling suffocated
Muscle tension or trembling
Fatigue or low energy levels
Sweating or clammy hands
Headaches or stomachaches without a medical cause
Dizziness or lightheadedness

Emotional symptoms:
Excessive worry or fear about everyday situations
Feelings of restlessness or being on edge
Irritability or mood swings
Difficulty concentrating or racing thoughts
Feelings of helplessness or a sense of impending doom
Intense feelings of anxiety or panic
Difficulty controlling worries

Behavioral symptoms:
Avoidance of social situations or isolating oneself
Changes in sleep patterns, such as insomnia or excessive sleeping
Changes in appetite or eating habits
Difficulty with decision-making or indecisiveness
Procrastination or avoidance of responsibilities
Excessive seeking of reassurance or approval from others
Compulsive behaviors or rituals to reduce anxiety

It's important to note that these symptoms can overlap with other mental health conditions, so a professional evaluation is essential for an accurate diagnosis. If you or someone you know is experiencing these symptoms and they are significantly interfering with daily functioning and well-being, it is advisable to seek support from a mental health professional. They can provide a proper diagnosis and develop an appropriate treatment plan to help manage teenage anxiety.
Types of Teenage Anxiety Disorders:
Here are some common types of anxiety disorders that can affect teenagers.
Generalized Anxiety Disorder (GAD): Teenagers with GAD experience excessive worry and anxiety about a wide range of everyday situations and events. They often have difficulty controlling their worries and may exhibit symptoms such as restlessness, irritability, muscle tension, and difficulty concentrating. The worries are typically disproportionate to the actual circumstances.
Social Anxiety Disorder (SAD): SAD is characterized by an intense fear or anxiety related to social situations. Teenagers with SAD may have a persistent fear of being embarrassed, humiliated, or judged by others. They may avoid social interactions, experience significant distress in social settings, and have difficulty making friends or participating in group activities.
Panic Disorder: Teenagers with panic disorder experience recurrent panic attacks, which are sudden and intense periods of extreme fear or discomfort. Panic attacks can be accompanied by physical symptoms such as a racing heart, shortness of breath, dizziness, chest pain, and a sense of impending doom. The fear of future panic attacks can lead to significant anxiety and avoidance behaviors.
Obsessive-Compulsive Disorder (OCD): OCD involves the presence of obsessions, which are intrusive and distressing thoughts, and compulsions, which are repetitive behaviors or mental acts performed to reduce anxiety. Common obsessions among teenagers may include fears of contamination, unwanted aggressive or taboo thoughts, or a need for symmetry. Compulsions are often ritualistic behaviors such as excessive handwashing, counting, or checking.
Post-Traumatic Stress Disorder (PTSD): Teenagers who have experienced or witnessed a traumatic event may develop PTSD. Symptoms include intrusive thoughts or memories of the trauma, nightmares, flashbacks, avoidance of reminders of the trauma, emotional numbing, hyperarousal, and changes in mood and behavior. PTSD can significantly impact a teenager's daily functioning and overall well-being.
It's important to note that these are not the only anxiety disorders that can affect teenagers. Other anxiety disorders, such as specific phobias or separation anxiety disorder, may also occur. A professional evaluation by a mental health expert is crucial for an accurate diagnosis and appropriate treatment planning.
Impact of Teenage Anxiety:
Here are some common impacts of teenage anxiety
Academic performance and school-related issues:
Difficulty concentrating: Anxiety can make it challenging for teenagers to focus on their schoolwork, leading to decreased academic performance.
Procrastination: Anxiety may contribute to procrastination and avoidance of tasks, resulting in incomplete assignments or missed deadlines.
Test anxiety: Teenagers with anxiety may experience heightened anxiety before and during exams, which can impair their ability to perform to their potential.

Social relationships and peer interactions:
Social isolation: Teenagers with anxiety may withdraw from social activities, leading to a sense of isolation and difficulty forming or maintaining friendships.
Impaired social skills: Anxiety can hinder a teenager's ability to engage in social interactions, express themselves, and establish meaningful connections with peers.
Bullying and victimization: Anxiety can make teenagers more vulnerable to bullying or victimization, further impacting their social well-being.

Family dynamics and relationships:
Increased family conflict: Teenagers with anxiety may experience heightened tension or conflict within the family, as anxiety symptoms can affect communication and relationships.
Overprotective parenting: Anxiety can lead parents to become overly protective, which may restrict a teenager's autonomy and hinder their emotional growth.
Caregiver stress: Anxiety in teenagers can also create stress and worry for parents or caregivers, impacting their own well-being and family dynamics.

Physical health and well-being:
Sleep disturbances: Anxiety can disrupt sleep patterns, leading to difficulties falling asleep, staying asleep, or experiencing restful sleep.
Physical health issues: Chronic anxiety may contribute to physical health problems, such as headaches, stomachaches, muscle tension, and weakened immune function.
Increased risk of other mental health disorders: Teenagers with untreated anxiety are at a higher risk of developing other mental health conditions, such as depression or substance abuse disorders.

Risk of substance abuse and self-harm:
Coping mechanisms: Some teenagers may turn to substance abuse or self-harming behaviors as maladaptive coping mechanisms to manage their anxiety.
Increased vulnerability: Anxiety can make teenagers more vulnerable to peer pressure and experimentation with substances or engage in self-destructive behaviors.

It is crucial to address teenage anxiety promptly to minimize its impact on various aspects of a teenager's life. Seeking professional help and implementing appropriate interventions and support systems can significantly improve their well-being and overall quality of life.
Strategies for Managing Teenage Anxiety:
Here are some effective strategies for managing teenage anxiety.
Seeking professional help and therapy:
Consult with a mental health professional: A qualified therapist or counselor can provide an accurate diagnosis, offer guidance, and develop a personalized treatment plan for managing anxiety.
Cognitive-Behavioral Therapy (CBT): CBT is a commonly used therapy approach that helps teenagers identify and change negative thought patterns and behaviors associated with anxiety.
Other therapy options: Depending on the individual's needs, other therapeutic approaches, such as mindfulness-based therapy or exposure therapy, may be beneficial.

Relaxation techniques and stress management:
Deep breathing exercises: Teach teenagers deep breathing techniques to help them relax and reduce anxiety in the moment.
Progressive muscle relaxation: Guiding teenagers through tensing and relaxing different muscle groups can promote physical and mental relaxation.
Mindfulness and meditation: Encourage the practice of mindfulness and meditation to help teenagers focus on the present moment and reduce anxiety.

Healthy lifestyle habits:
Regular exercise: Engaging in physical activity releases endorphins and helps reduce anxiety. Encourage teenagers to incorporate regular exercise into their routine.
Balanced diet: Promote a nutritious diet that includes foods rich in vitamins and minerals, as a healthy diet can positively impact mood and overall well-being.
Adequate sleep: Establish a consistent sleep routine, ensuring teenagers get sufficient restorative sleep, as lack of sleep can worsen anxiety symptoms.

Developing healthy coping mechanisms:
Encourage self-care activities: Help teenagers identify and engage in activities they enjoy, such as hobbies, creative outlets, or spending time with friends, to reduce stress and anxiety.
Problem-solving skills: Teach teenagers effective problem-solving techniques to approach challenges and reduce anxiety associated with them.
Journaling: Encourage teenagers to keep a journal to express their thoughts and emotions, providing an outlet for self-reflection and emotional processing.

Supportive social networks and relationships:
Encourage open communication: Create a safe and supportive environment where teenagers feel comfortable discussing their feelings and concerns.
Foster positive relationships: Help teenagers establish healthy connections with supportive friends and family members who can provide emotional support and understanding.
Peer support groups: Explore the availability of peer support groups or extracurricular activities where teenagers can interact with peers who may share similar experiences.

Remember that each teenager is unique, and not all strategies will work equally for everyone. It is important to tailor the approach to individual needs and seek professional guidance when necessary. Consistency, patience, and ongoing support are key to managing teenage anxiety effectively.
Tips for Parents and Caregivers:
Here are some tips for parents and caregivers to help support teenagers dealing with anxiety
Recognizing signs of anxiety in teenagers:
Educate yourself: Learn about the signs and symptoms of anxiety in teenagers to better understand what your teenager may be experiencing.
Observe behavior: Pay attention to changes in behavior, mood swings, physical symptoms, or academic difficulties that may indicate anxiety.

Open communication and active listening:
Create a safe and non-judgmental space: Encourage open and honest conversations where your teenager feels comfortable expressing their feelings and concerns without fear of judgment.
Active listening: Listen attentively to your teenager without interrupting, offering reassurance, and validating their experiences. Avoid dismissing their worries or downplaying their emotions.

Creating a supportive and safe environment:
Foster a nurturing environment: Cultivate a home environment that promotes emotional well-being, with clear expectations, healthy boundaries, and a balance between support and independence.
Reduce stressors: Identify and address potential stressors in your teenager's life, such as excessive academic pressure or conflicts within the family, and work on finding solutions together.

Encouraging self-care and healthy coping mechanisms:
Model self-care: Take care of your own physical and mental well-being, demonstrating healthy coping mechanisms, such as exercise, relaxation techniques, and engaging in activities you enjoy.
Teach coping skills: Help your teenager develop healthy coping mechanisms, such as deep breathing, journaling, or engaging in hobbies or creative outlets.

Involving professionals when necessary:
Seek professional help: If your teenager's anxiety significantly impacts their daily life or if you are concerned about their well-being, consult with a mental health professional for an accurate diagnosis and appropriate treatment options.
Collaborate with professionals: Work together with therapists, counselors, or doctors involved in your teenager's care to ensure consistent support and effective treatment.

Supporting academic needs:
Communicate with teachers: Establish open lines of communication with your teenager's teachers to inform them about their anxiety and collaborate on strategies to support academic performance.
Advocate for accommodations: If necessary, work with the school to implement reasonable accommodations, such as extended deadlines or a quiet space for exams, to reduce anxiety triggers.

Remember that supporting a teenager with anxiety can be a long-term process. Patience, understanding, and consistent support are essential. Encourage your teenager's autonomy while providing a safety net and professional guidance when needed.
Conclusion:
Teenage anxiety is a prevalent and significant issue that can have a profound impact on the lives of teenagers. Understanding the causes, symptoms, and types of anxiety disorders is crucial in addressing and managing this condition effectively. From biological and environmental factors to academic pressure and social dynamics, various factors contribute to teenage anxiety.
The impacts of teenage anxiety are far-reaching, affecting academic performance, social relationships, family dynamics, physical health, and overall well-being. It is essential for parents, caregivers, and professionals to recognize these impacts and provide the necessary support and interventions.
Managing teenage anxiety involves a multi-faceted approach, including seeking professional help, employing relaxation techniques and stress management strategies, adopting healthy lifestyle habits, developing coping mechanisms, and fostering supportive social networks. Each teenager is unique, and it may take time to find the most effective strategies for managing their anxiety.
Parents and caregivers play a crucial role in supporting teenagers with anxiety. By recognizing the signs, creating a supportive environment, encouraging open communication, and promoting self-care and healthy coping mechanisms, they can make a positive difference in their teenager's journey towards managing anxiety.
It is important to remember that professional help should be sought when necessary, and a collaborative approach involving mental health professionals, parents, caregivers, and educators can provide comprehensive support for teenagers dealing with anxiety.
By working together and providing the necessary understanding, empathy, and resources, we can help teenagers navigate their anxiety and support their overall well-being during this critical stage of their lives.