Fitness and Exercise Tips: Teenage years are a crucial time for physical development, and regular exercise plays an important role in promoting overall health and well-being. Unfortunately, many teenagers are not meeting recommended physical activity guidelines and are missing out on the many benefits of exercise. In this guide, we will explore the benefits of exercise for teens, the different types of exercise that are most beneficial, how much exercise is needed for optimal health, and tips for incorporating exercise into daily routines. Additionally, we will discuss ways to stay motivated and safe while exercising. By following these fitness and exercise tips, teenagers can establish healthy habits that will benefit them now and into adulthood.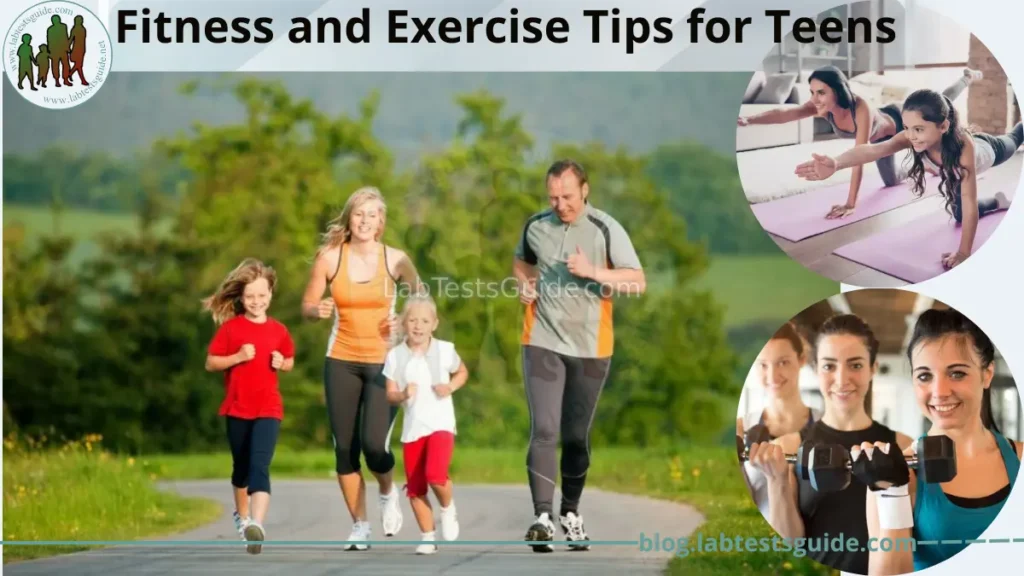 Benefits of Exercise for Teens:
Regular exercise offers numerous physical and mental health benefits for teenagers.
Improved Cardiovascular Health: Exercise can improve heart and lung function, lower blood pressure, and reduce the risk of heart disease and stroke.
Increased Muscular Strength and Endurance: Exercise can help build muscle mass and strength, which can improve physical performance and reduce the risk of injury.
Improved Bone Health: Weight-bearing exercise, such as running, jumping, and resistance training, can help build and maintain strong bones and reduce the risk of osteoporosis later in life.
Improved Mood and Mental Health: Exercise has been shown to reduce symptoms of anxiety and depression, increase self-esteem, and improve overall mood.
Reduced risk of chronic diseases: Regular exercise can help reduce the risk of chronic diseases, such as type 2 diabetes, obesity, and certain types of cancer.
Improved Sleep : Exercise can help improve the quality and duration of sleep, which is essential for overall health and well-being.
Improved Academic Performance: Regular exercise has been linked to improved academic performance, including better memory and concentration.
Enhanced Social Connections: Exercise can provide opportunities for social interaction and help build strong social connections.
In general, regular exercise can improve the physical health, mental health, and general quality of life of adolescents.
Types of Exercise for Teens:
There are three main types of exercise that are important for teenagers.
Aerobic exercise: This type of exercise, also known as cardio, involves continuous rhythmic movements that increase your heart rate and breathing. Examples of aerobic exercise include running, bicycling, swimming, dancing, and team sports.
Strength training: This type of exercise involves the use of resistance to build and strengthen muscles. Examples of strength training exercises include pushups, squats, lunges, and the use of dumbbells or resistance bands.
Flexibility exercises: This type of exercise involves stretching and moving the joints through their full range of motion to improve flexibility and range of motion. Examples of flexibility exercises include yoga, stretching, and Pilates.
For optimal health, teens should try to incorporate all three types of exercise into their weekly routine. This can help improve cardiovascular health, build strength and stamina, reduce the risk of injury, and improve overall physical and mental well-being.
How Much Exercise is Needed for Teens:
The amount of exercise recommended for teens depends on their age and level of physical activity. In general, the American Heart Association and the World Health Organization recommend that teens get at least 60 minutes of moderate to vigorous physical activity every day.
Moderate-intensity activities include brisk walking, bicycling, dancing, and swimming. Vigorous intensity activities include running, playing sports, and strength training.
In addition to regular aerobic exercise, teens should also incorporate strength and flexibility exercises into their weekly routine. Strength training exercises should be done at least two days a week, targeting all major muscle groups. Flexibility exercises should be performed daily, holding each stretch for at least 10-30 seconds.
It's important to note that the 60-minute recommendation is a minimum, and teens may benefit from additional physical activity. Encouraging adolescents to participate in regular physical activity is important in promoting general health and well-being.
Tips for Incorporating Exercise into Daily Routine:
Here are some tips for incorporating exercise into a teenager's daily routine.
Make it fun: Find activities that the teenager enjoys, such as dancing, playing sports, or hiking, to make exercise more enjoyable.
Set achievable goals: Encourage the teenager to set achievable goals, such as running a certain distance or lifting a certain weight, to help stay motivated.
Make it a social activity: Encourage the teenager to exercise with friends or join a sports team to make exercise a social activity.
Be active throughout the day: Encourage the teenager to be active throughout the day by taking the stairs instead of the elevator, walking or biking to school, or doing household chores that require physical activity.
Use technology: There are many apps and devices available that can track physical activity and provide motivation and encouragement.
Mix it up: Encourage the teenager to try different types of exercise, such as swimming, yoga, or weightlifting, to prevent boredom and avoid overuse injuries.
Set a schedule: Set aside specific times for exercise each day to make it a regular part of the daily routine.
By incorporating exercise into their daily routine, teenagers can establish healthy habits that will benefit them now and into adulthood.
Staying Motivated to Exercise:
Staying motivated to exercise can be challenging, especially for teenagers.
Set realistic goals: Set achievable goals that are specific, measurable, and time-bound. This will help the teenager see progress and stay motivated.
Mix it up: Varying the type and intensity of exercise can help prevent boredom and make it more enjoyable.
Find a workout partner: Exercising with a friend or family member can provide motivation and accountability.
Use positive self-talk: Encourage the teenager to use positive self-talk and focus on their accomplishments rather than their shortcomings.
Reward progress: Celebrate milestones and progress with non-food rewards such as new workout clothes or equipment.
Keep it convenient: Make exercise convenient and accessible by finding activities that can be done at home or in the local community.
Focus on the benefits: Remind the teenager of the numerous benefits of exercise, such as improved mood, increased energy, and reduced risk of chronic diseases.
By using these tips, teenagers can stay motivated to exercise and establish healthy habits that will benefit them throughout their lives.
Safety Considerations for Teenage Exercise:
Here are some safety tips for teenage exercise.
Warm-up and cool down: Encourage the teenager to warm up and cool down before and after exercise to prevent injury.
Wear appropriate clothing and footwear: The teenager should wear clothing and footwear that is comfortable and appropriate for the activity.
Stay hydrated: Encourage the teenager to drink plenty of water before, during, and after exercise to prevent dehydration.
Use proper technique: Ensure the teenager uses proper technique when performing exercises to prevent injury.
Increase intensity gradually: Encourage the teenager to gradually increase the intensity and duration of exercise to avoid overuse injuries.
Avoid exercise in extreme temperatures: The teenager should avoid exercising in extreme temperatures, such as during extreme heat or cold, to prevent heat exhaustion, heat stroke, or hypothermia.
Consult a doctor: If the teenager has a medical condition or injury, they should consult a doctor before starting or changing their exercise routine.
By following these safety considerations, teenagers can reduce the risk of injury and exercise safely and effectively.
Conclusion:
In conclusion, exercise is an essential part of a healthy lifestyle for teenagers. Regular physical activity can improve physical and mental health, boost self-esteem, and help maintain a healthy weight. It is important for teenagers to incorporate a variety of exercises into their routine, set realistic goals, and stay motivated. Additionally, it is crucial for teenagers to follow safety considerations to prevent injury and ensure that they are exercising safely. By establishing healthy exercise habits now, teenagers can set themselves up for a lifetime of health and wellness.