Reducing sugar and processed food intake is a proactive step towards improving our overall well-being and adopting a healthier lifestyle. However, breaking free from these habits can be challenging, as they are often deeply ingrained in our daily routines. This guide aims to provide practical tips and strategies to help you reduce your consumption of sugar and processed foods.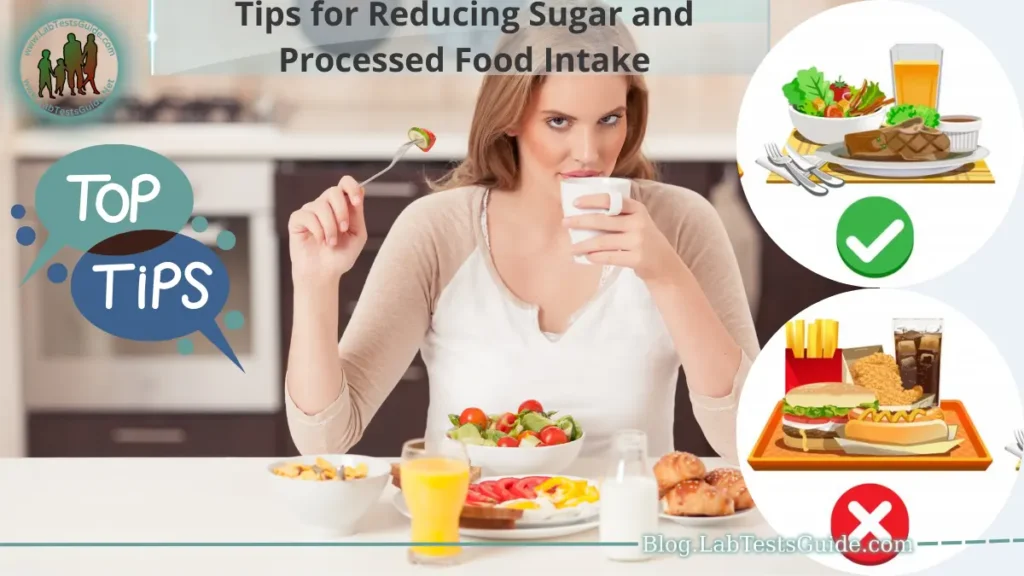 Understanding the Impact of Sugar and Processed Foods:
Here are some key health risks associated with high sugar and processed food intake:
Obesity: Sugar-sweetened beverages and processed foods often contain high levels of added sugars and unhealthy fats. These can contribute to weight gain and increase the risk of obesity.
Diabetes: Regularly consuming sugary foods and drinks can lead to insulin resistance, a condition in which the body becomes less responsive to the hormone insulin. Insulin resistance is a major risk factor for type 2 diabetes.
Heart Disease: Diets high in added sugars and processed foods have been linked to an increased risk of heart disease. These foods can raise blood pressure, contribute to high cholesterol levels, and promote inflammation in the body.
Dental Problems: Excessive sugar consumption, especially in the form of sugary snacks and beverages, can lead to tooth decay and cavities.
Nutrient Deficiencies: Processed foods often lack essential nutrients, such as vitamins, minerals, and fiber, while being high in calories. Relying heavily on these foods can result in nutrient deficiencies and poor overall nutrition.
Benefits of Reducing Sugar and Processed Food Intake:
Reducing sugar and processed food intake offers numerous benefits for your health and well-being. Some of the advantages include.
Weight Management: Lowering sugar and processed food consumption can help with weight management and reduce the risk of obesity.
Improved Blood Sugar Control: By reducing sugar intake, you can better regulate blood sugar levels and lower the risk of developing type 2 diabetes.
Enhanced Heart Health: Choosing whole foods over processed options can improve heart health by reducing the intake of unhealthy fats, added sugars, and sodium.
Better Dental Health: Cutting back on sugary snacks and beverages can protect your teeth from decay and promote better oral health.
Balanced Nutrition: Prioritizing whole foods and minimizing processed foods can ensure a more nutrient-dense diet, providing essential vitamins, minerals, and fiber.
Tips for Reducing Sugar Intake
Read Food Labels and Identify Hidden Sugars.
Pay attention to the ingredients list and look for hidden sources of sugar, such as high-fructose corn syrup, sucrose, dextrose, and other sweeteners.
Be aware that sugar can be listed under different names, so familiarize yourself with alternative names for sugar.
Choose products with no added sugars or opt for those with lower sugar content.
Choose Whole Foods and Cook at Home: Select whole, unprocessed foods like fruits, vegetables, lean proteins, and whole grains.
Cook meals at home using fresh ingredients, allowing you to have control over the amount of sugar added to your dishes.
Gradually Reduce Sugar in Beverages: Cut back on sugary drinks like soda, sweetened tea, and fruit juices.
Replace these beverages with water, herbal tea, infused water, or unsweetened alternatives.
If you enjoy sweetened beverages, gradually reduce the amount of sugar or switch to healthier options with natural sweeteners.
Find Healthier Alternatives to Satisfy Sweet Cravings: Choose whole fruits as a nutritious and naturally sweet snack.
Opt for desserts and snacks made with healthier alternatives like fresh fruit, dark chocolate, or homemade treats using natural sweeteners like honey or maple syrup in moderation.
Be Mindful of Artificial Sweeteners: While artificial sweeteners may provide low or zero-calorie alternatives, they may still contribute to cravings for sweet foods. Limit your consumption of artificial sweeteners and consider using them as a temporary bridge to gradually reduce overall sweetness in your diet.
Tips for Reducing Processed Food Intake:
Identify Processed Foods in Your Diet: Learn to recognize processed foods by reading ingredient labels and looking for additives, preservatives, and artificial ingredients.
Processed foods are often found in packages, cans, or boxes, so focus on incorporating more fresh, whole foods into your diet.
Cook from Scratch and Use Fresh Ingredients: Prepare meals at home using fresh, whole ingredients like fruits, vegetables, whole grains, and lean proteins.
Cooking from scratch allows you to have control over the ingredients and avoid hidden additives and excessive sodium.
Plan Meals and Snacks Ahead of Time: Plan your meals and snacks in advance to avoid relying on convenience foods when you're busy or on-the-go.
Prepare and portion out healthy snacks, such as cut-up veggies, fruits, nuts, or homemade granola bars, to have on hand.
Incorporate Whole Grains, Fruits, and Vegetables: Choose whole grains like brown rice, quinoa, oats, and whole wheat bread instead of refined grains.
Increase your intake of fruits and vegetables, which are packed with essential nutrients and fiber.
Be Cautious of Packaged Convenience Foods: Minimize your consumption of packaged snacks, frozen meals, and fast food, as they tend to be highly processed.
Instead, opt for homemade versions of these foods using fresh, wholesome ingredients.
Developing Healthy Eating Habits
Practice Portion Control: Pay attention to portion sizes and serve yourself appropriate amounts of food.
Use smaller plates and bowls to help control portion sizes visually.
Listen to your body's hunger and fullness cues to avoid overeating.
Increase Fiber Intake: Include high-fiber foods like fruits, vegetables, whole grains, legumes, and nuts in your diet.
Fiber helps keep you feeling full, aids in digestion, and promotes overall digestive health.
Drink Plenty of Water: Stay hydrated by drinking an adequate amount of water throughout the day.
Water helps maintain overall health, supports digestion, and can help curb unnecessary snacking.
Opt for Healthy Fats and Proteins: Choose lean sources of protein such as poultry, fish, beans, and tofu.
Incorporate healthy fats from sources like avocados, nuts, seeds, and olive oil.
Balancing your meals with protein and healthy fats helps you feel satisfied and promotes stable energy levels.
Seek Support from Friends and Family: Engage in healthy eating habits with the support of those around you.
Surround yourself with friends and family who share similar health goals and can provide encouragement and accountability.
Building a Sustainable Lifestyle:
Prioritize Long-Term Changes: Instead of relying on short-term diets or quick fixes, focus on making sustainable changes to your eating habits.
Aim to develop lifelong habits that promote a healthy and balanced lifestyle.
Embrace a Variety of Foods: Include a wide range of fruits, vegetables, whole grains, lean proteins, and healthy fats in your diet.
Enjoy different flavors, textures, and colors to ensure you're getting a diverse array of nutrients.
Practice Mindful Eating: Slow down and savor your meals, paying attention to the taste, texture, and enjoyment of each bite.
Listen to your body's hunger and fullness cues and eat until you're satisfied, not overly full.
Plan and Prepare Meals: Plan your meals and snacks in advance to ensure you have nutritious options available.
Set aside time for meal prep to make cooking at home easier and more convenient during busy days.
Stay Active: Incorporate regular physical activity into your daily routine to support overall health and weight management.
Find activities you enjoy, whether it's walking, dancing, swimming, or any other form of exercise.
Practice Self-Care: Take care of your mental and emotional well-being, as it plays a significant role in your overall health.
Engage in activities that help you relax, manage stress, and maintain a positive mindset.
Seek Professional Guidance: Consider consulting with a registered dietitian or nutritionist who can provide personalized guidance and support.
They can help you develop a sustainable meal plan and address any specific dietary needs or concerns you may have.
FAQs:
Is it necessary to completely eliminate sugar from my diet?
No, it's not necessary to completely eliminate sugar from your diet. However, it's beneficial to reduce your overall sugar intake and make healthier choices. Focus on consuming natural sugars found in fruits and limit added sugars from processed foods.
Are all processed foods unhealthy?
Not all processed foods are unhealthy. There is a distinction between minimally processed foods (such as frozen vegetables, canned beans) and highly processed foods (like sugary snacks, fast food). It's best to choose minimally processed options and read labels to avoid additives, excessive sodium, and unhealthy fats.
How can I satisfy my sweet cravings without consuming sugar?
You can satisfy your sweet cravings by opting for healthier alternatives. Choose fresh fruits, such as berries or a piece of dark chocolate with a higher percentage of cocoa. You can also experiment with natural sweeteners like honey or maple syrup in moderation.
How can I make healthier choices when dining out or traveling?
When dining out, look for healthier options on the menu, such as salads, grilled proteins, and vegetable-based dishes. Ask for dressings and sauces on the side to control the amount you consume. When traveling, pack your own nutritious snacks like nuts, seeds, or cut-up fruits to avoid relying on processed snacks.
How long does it take to reduce sugar cravings?
The time it takes to reduce sugar cravings can vary from person to person. It may take a few weeks or even a few months to adjust to a lower sugar intake. Being consistent with healthier choices and gradually reducing your sugar consumption can help reduce cravings over time.
Can I replace processed foods with homemade alternatives?
Yes, replacing processed foods with homemade alternatives is a great approach. You have more control over the ingredients and can choose whole, nutritious options. Experiment with homemade versions of snacks, meals, and sauces using fresh ingredients.
Is it okay to consume artificial sweeteners as a sugar substitute?
Artificial sweeteners can be used in moderation, but it's important to be mindful of their potential effects. Some people may experience digestive issues or an increased desire for sweet foods when consuming artificial sweeteners. It's best to limit their use and consider natural sweeteners as alternatives.
Conclusion:
In conclusion, reducing sugar and processed food intake is a crucial step towards improving our health and well-being. By implementing the tips and strategies provided, such as reading food labels, cooking at home, and developing healthy eating habits, we can gradually transition to a more nutritious and sustainable diet. By making mindful choices and prioritizing whole, unprocessed foods, we can reduce the risks of obesity, diabetes, heart disease, and other health issues associated with excessive sugar and processed food consumption. Additionally, by embracing a balanced and mindful approach to nutrition, we can support our overall vitality and well-being. Remember, small changes can make a big difference, and with commitment and perseverance, we can achieve long-term success in reducing sugar and processed food intake, leading to a healthier and happier lifestyle.